World Cup Match Moments: Day 20
Uruguay and Brazil have won seven World Cups between them, a third of all World Cups that have been played. They came into the quarterfinals in Russia missing key players but boasting the tournament's toughest defenses. Friday, though, was for the new guard. Without top scorer Edinson Cavani, Uruguay struggled to respond when France went up on Raphael Varane's header. And when Antoine Griezmann's tricky blast from outside the box glanced off Fernando Muslera's hands and into the net to make it 2-0, scrappy Uruguay was minutes from going home in tears.
Brazil was about to be feeling the same thing. Everything seemed to be clicking for Neymar & Co., who like the Uruguayans had allowed just one goal in four matches. Then a Belgium header went off Fernandinho and into his net — the record 11th own-goal of the tournament — and the stout Brazilian defense parted for Romelu Lukaku to feed to Kevin De Bruyne on a break, and De Bruyne's rocket had the Brazilians in trouble. They pulled one back and had chances to tie. They couldn't, they are done, and Belgium is moving on.
Uruguay's Luis Suarez, center, controls the ball during the quarterfinal match between Uruguay and France at the 2018 soccer World Cup in the Nizhny Novgorod Stadium, in Nizhny Novgorod, Russia, Friday, July 6, 2018. (AP Photo/Petr David Josek)
France goalkeeper Hugo Lloris, front left, and Uruguay's Cristhian Stuani, front right, challenge for the ball during the quarterfinal match between Uruguay and France at the 2018 soccer World Cup in the Nizhny Novgorod Stadium, in Nizhny Novgorod, Russia, Friday, July 6, 2018. (AP Photo/David Vincent)
France's Raphael Varane, right, and Antoine Griezmann celebrate after Varane scored his side's first goal during the quarterfinal match between Uruguay and France at the 2018 soccer World Cup in the Nizhny Novgorod Stadium, in Nizhny Novgorod, Russia, Friday, July 6, 2018. (AP Photo/Petr David Josek)
France's Raphael Varane, right, is challenged by Uruguay's Cristhian Stuani during the quarterfinal match between Uruguay and France at the 2018 soccer World Cup in the Nizhny Novgorod Stadium, in Nizhny Novgorod, Russia, Friday, July 6, 2018. (AP Photo/Martin Meissner)
Uruguay goalkeeper Fernando Muslera is beaten by a shot from France's Antoine Griezmann for his side's second goal during the quarterfinal match between Uruguay and France at the 2018 soccer World Cup in the Nizhny Novgorod Stadium, in Nizhny Novgorod, Russia, Friday, July 6, 2018. (AP Photo/Natacha Pisarenko)
Uruguay players protest to referee Nestor Pitana of Argentina that France's Kylian Mbappe, on the ground, is overreacting after taking a dive during the quarterfinal match between Uruguay and France at the 2018 soccer World Cup in the Nizhny Novgorod Stadium, in Nizhny Novgorod, Russia, Friday, July 6, 2018. (AP Photo/Natacha Pisarenko)
France's Benjamin Pavard, top, and Uruguay's Cristian Rodriguez challenge for the ball during the quarterfinal match between Uruguay and France at the 2018 soccer World Cup in the Nizhny Novgorod Stadium, in Nizhny Novgorod, Russia, Friday, July 6, 2018. (AP Photo/Petr David Josek)
France's Paul Pogba, center, clashes with Uruguay's Luis Suarez, left, and Lucas Torreira during the quarterfinal match between Uruguay and France at the 2018 soccer World Cup in the Nizhny Novgorod Stadium, in Nizhny Novgorod, Russia, Friday, July 6, 2018. (AP Photo/Natacha Pisarenko)
France players and supporters celebrate after the quarterfinal match between Uruguay and France at the 2018 soccer World Cup in the Nizhny Novgorod Stadium, in Nizhny Novgorod, Russia, Friday, July 6, 2018. (AP Photo/Martin Meissner)
Uruguay's Edinson Cavani embraces teammate Luis Suarez, left, at the end of the quarterfinal match between Uruguay and France at the 2018 soccer World Cup in the Nizhny Novgorod Stadium, in Nizhny Novgorod, Russia, Friday, July 6, 2018. (AP Photo/Hassan Ammar)
Brazil goalkeeper Alisson, center, fails to stop Belgium's first goal during the quarterfinal match between Brazil and Belgium at the 2018 soccer World Cup in the Kazan Arena, in Kazan, Russia, Friday, July 6, 2018. (AP Photo/Thanassis Stavrakis)
Belgium's Kevin De Bruyne, center, celebrates after scoring his side's second goal during the quarterfinal match between Brazil and Belgium at the 2018 soccer World Cup in the Kazan Arena, in Kazan, Russia, Friday, July 6, 2018. (AP Photo/Frank Augstein)
Referee Milorad Mazic from Serbia, left, gestures as he speaking to Brazil's Neymar during the quarterfinal match between Brazil and Belgium at the 2018 soccer World Cup in the Kazan Arena, in Kazan, Russia, Friday, July 6, 2018. (AP Photo/Frank Augstein)
Brazil's Neymar holds his shinbone during the quarterfinal match between Brazil and Belgium at the 2018 soccer World Cup in the Kazan Arena, in Kazan, Russia, Friday, July 6, 2018. (AP Photo/Francisco Seco)
Brazil's Neymar takes a fall while battling Belgium's Axel Witsel, center, and Thomas Meunier, right, during the quarterfinal match between Brazil and Belgium at the 2018 soccer World Cup in the Kazan Arena, in Kazan, Russia, Friday, July 6, 2018. (AP Photo/Andre Penner)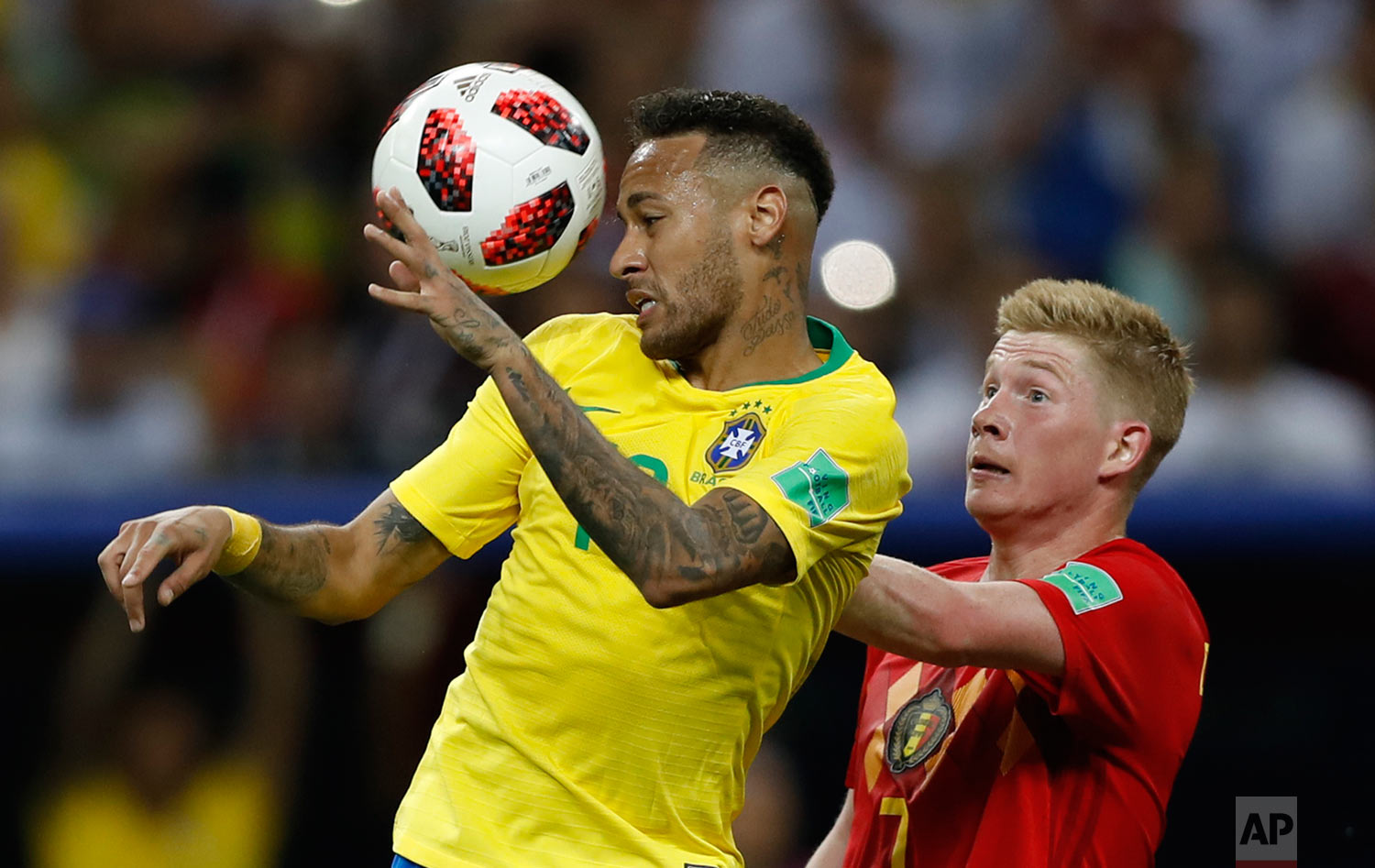 Brazil's Neymar, left, and Belgium's Kevin De Bruyne go for a header during the quarterfinal match between Brazil and Belgium at the 2018 soccer World Cup in the Kazan Arena, in Kazan, Russia, Friday, July 6, 2018. (AP Photo/Francisco Seco)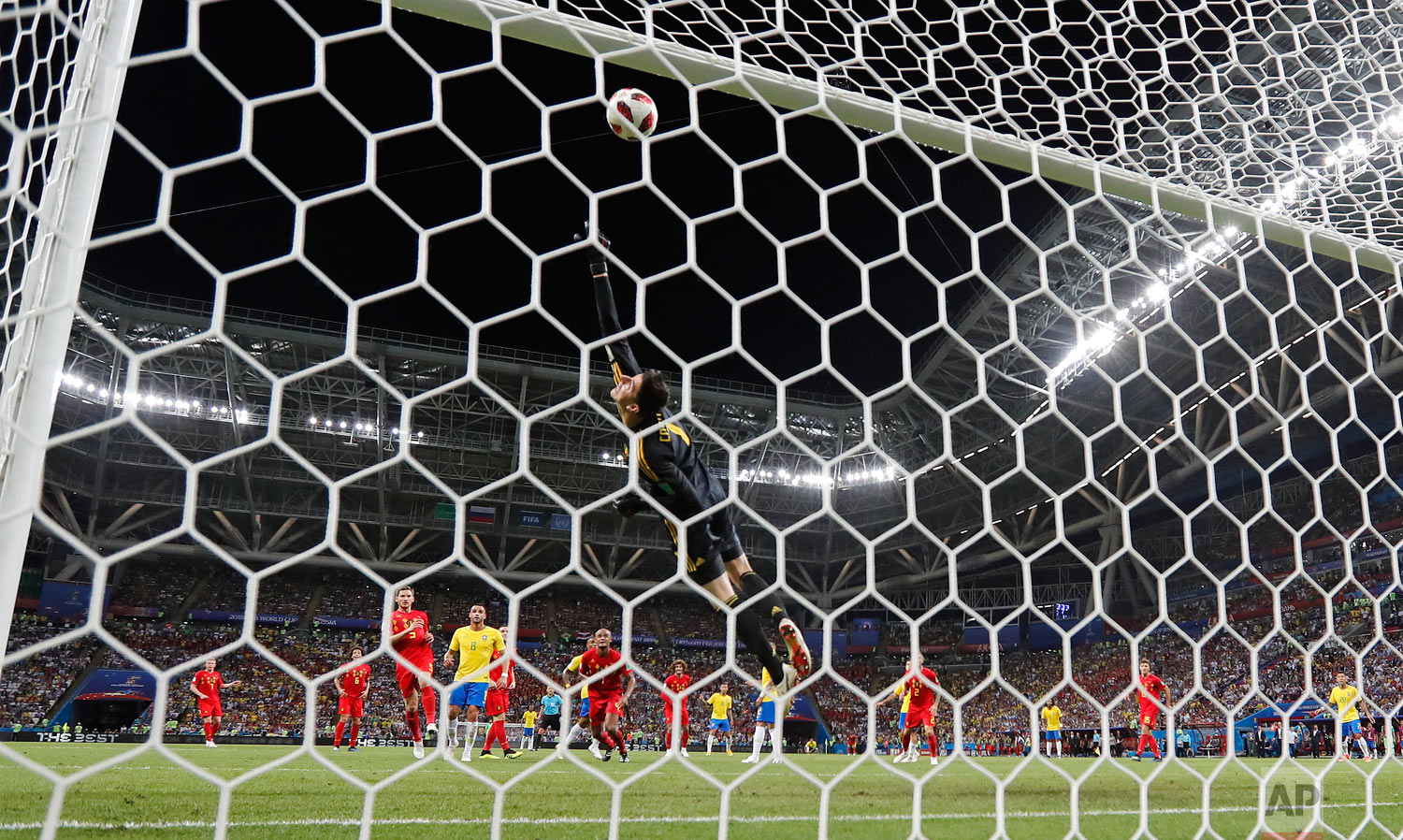 Belgium goalkeeper Thibaut Courtois saves from Brazil's Neymar during the quarterfinal match between Brazil and Belgium at the 2018 soccer World Cup in the Kazan Arena, in Kazan, Russia, Friday, July 6, 2018. (AP Photo/Frank Augstein)
Brazil's Neymar reacts as Belgium players celebrate after Brazil is knocked out by Belgium following their quarterfinal match at the 2018 soccer World Cup in the Kazan Arena, in Kazan, Russia, Friday, July 6, 2018. (AP Photo/Andre Penner)
Belgium's Axel Witsel, centre celebrates after the final whistle as Belgium defeat Brazil in their quarterfinal match between Brazil and Belgium at the 2018 soccer World Cup in the Kazan Arena, in Kazan, Russia, Friday, July 6, 2018. Belgium won the game 2-1. (AP Photo/Matthias Schrader)
Belgium's Kevin De Bruyne (7) celebrates after the final whistle as Belgium defeat Brazil in their quarterfinal match between Brazil and Belgium at the 2018 soccer World Cup in the Kazan Arena, in Kazan, Russia, Friday, July 6, 2018. Belgium won the game 2-1. (AP Photo/Matthias Schrader)