World Cup Match Moments: Day 19
Even in the World Cup, a moment can change a match completely. Witness the way the round of 16 wrapped up Wednesday. Sweden and Switzerland were well into the second half of a grinding game in which both defense-minded sides looked content to slug it out and head to penalties. Then, seemingly out of nowhere, Emil Forsberg tried a straight-ahead shot from 20 yards, Manuel Akanji stuck out a foot to stop it and deflected it into the net. Like that, Sweden had a lead it wouldn't give up and a berth in the quarterfinals.
England had a similar 1-0 win over Colombia all sewn up in the late game, scratching out the lead on a Harry Kane penalty kick. Then Yerry Mina rose above the crowd and buried a header off a corner kick deep in injury time, and suddenly a Colombia win started to seem inevitable. The momentum had swung the other way, and England's miserable history in shootouts came rushing back to mind. It did indeed come to penalties, but this time, it was England's moment.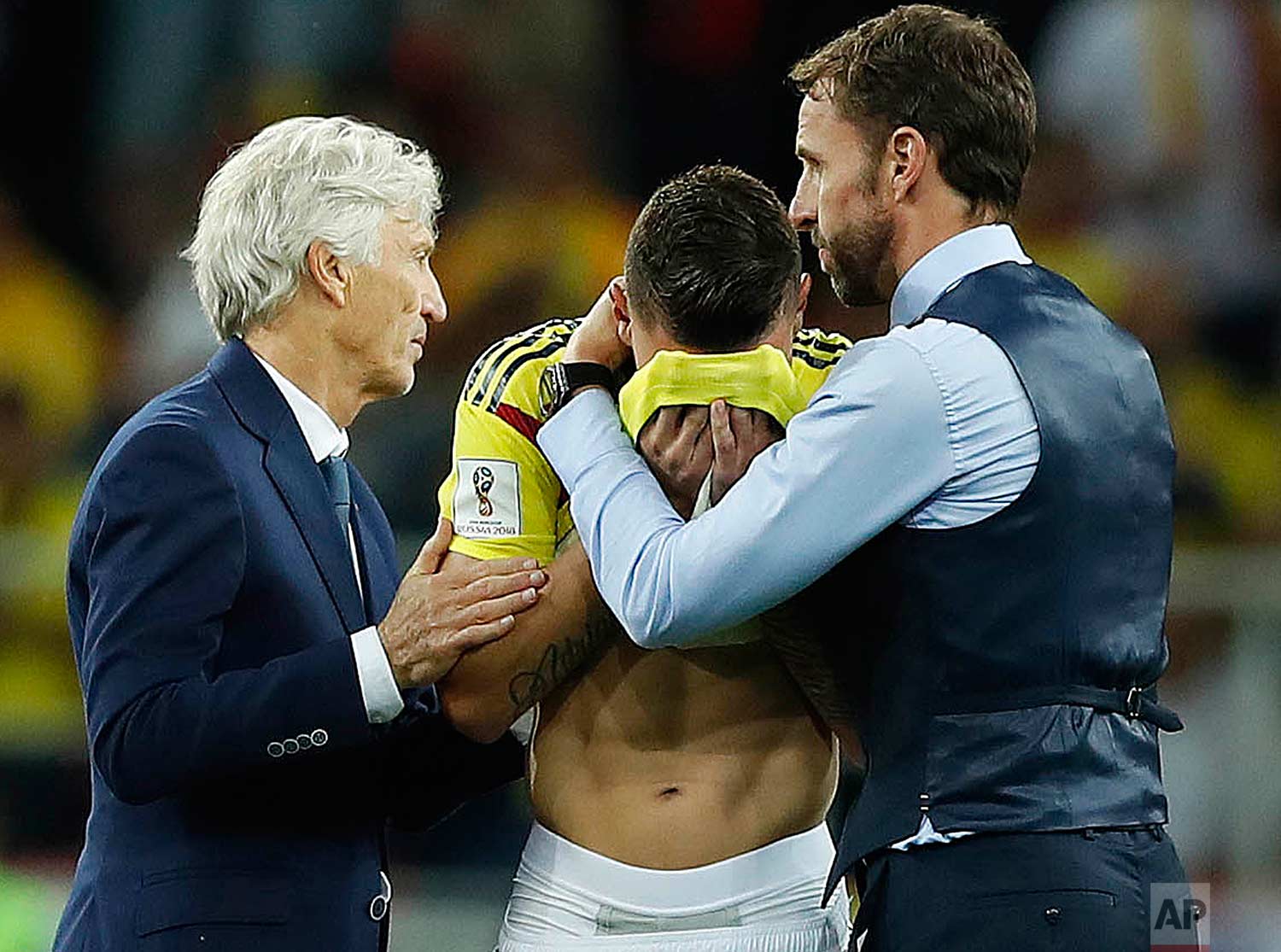 Colombia head coach Jose Pekerman, left, and England head coach Gareth Southgate, right, comfort Colombia's Mateus Uribe after the round of 16 match between Colombia and England at the 2018 soccer World Cup in the Spartak Stadium, in Moscow, Russia, Tuesday, July 3, 2018. (AP Photo/Alastair Grant)
Colombia's Carlos Sanchez, front right, fouls England's Harry Kane to give a penalty during the round of 16 match between Colombia and England at the 2018 soccer World Cup in the Spartak Stadium, in Moscow, Russia, Tuesday, July 3, 2018. (AP Photo/Victor R. Caivano)
Switzerland's Manuel Akanji, right, reacts at the end of the match after Sweden defeated Switzerland during the round of 16 match between Switzerland and Sweden at the 2018 soccer World Cup in the St. Petersburg Stadium, in St. Petersburg, Russia, Tuesday, July 3, 2018. (AP Photo/Efrem Lukatsky)
Sweden's Victor Lindelof, left, heads for the ball with Switzerland's Granit Xhaka during the round of 16 match between Switzerland and Sweden at the 2018 soccer World Cup in the St. Petersburg Stadium, in St. Petersburg, Russia, Tuesday, July 3, 2018. (AP Photo/Efrem Lukatsky)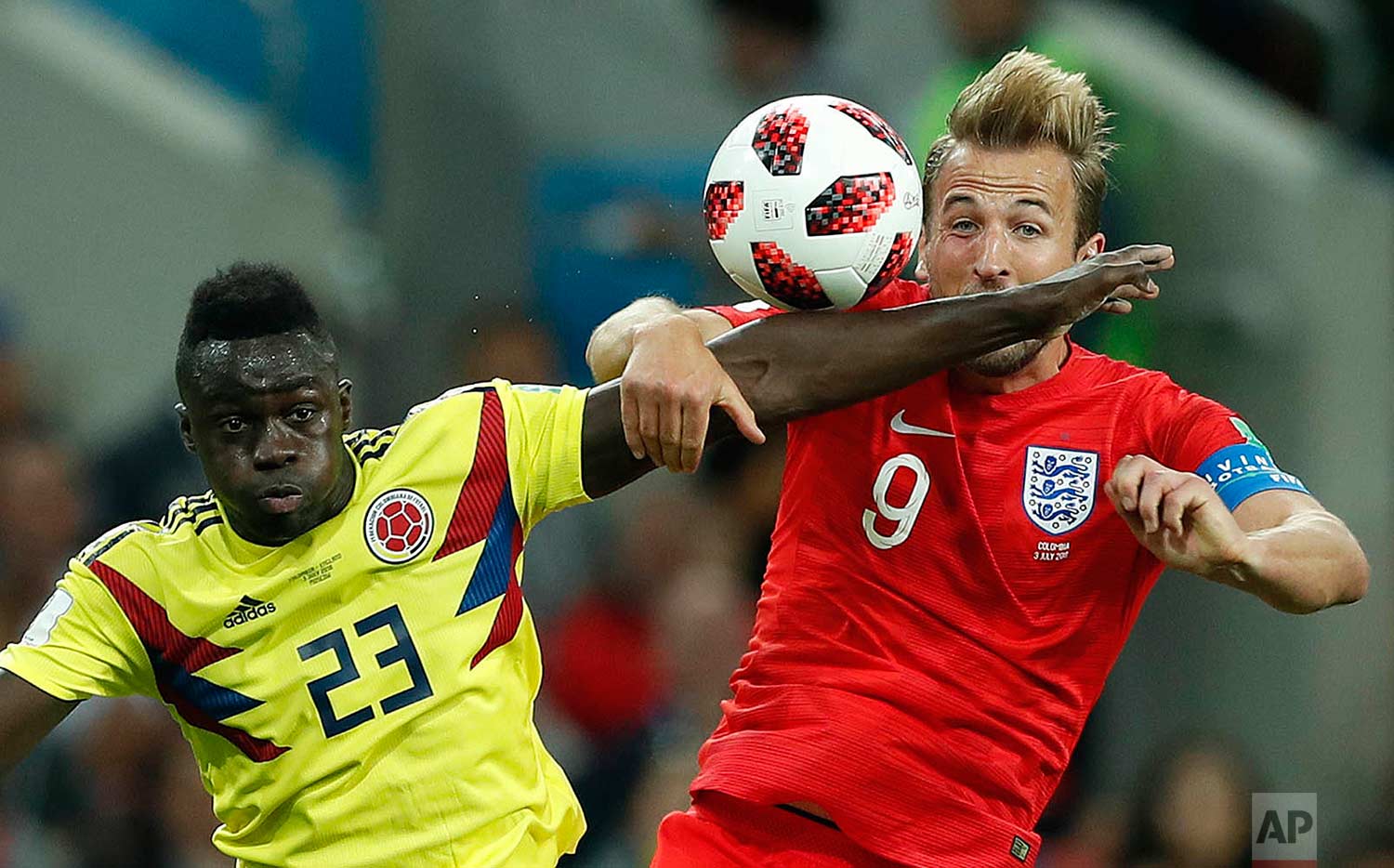 Colombia's Davinson Sanchez, left, and England's Harry Kane challenge for the ball during the round of 16 match between Colombia and England at the 2018 soccer World Cup in the Spartak Stadium, in Moscow, Russia, Tuesday, July 3, 2018. (AP Photo/Alastair Grant)
Colombia's Juan Cuadrado, right, fouls England's Danny Rose during the round of 16 match between Colombia and England at the 2018 soccer World Cup in the Spartak Stadium, in Moscow, Russia, Tuesday, July 3, 2018. (AP Photo/Victor R. Caivano)
Switzerland's Valon Behrami hugs a woman after the round of 16 match between Switzerland and Sweden at the 2018 soccer World Cup in the St. Petersburg Stadium, in St. Petersburg, Russia, Tuesday, July 3, 2018. Sweden won 1-0. (AP Photo/Gregorio Borgia)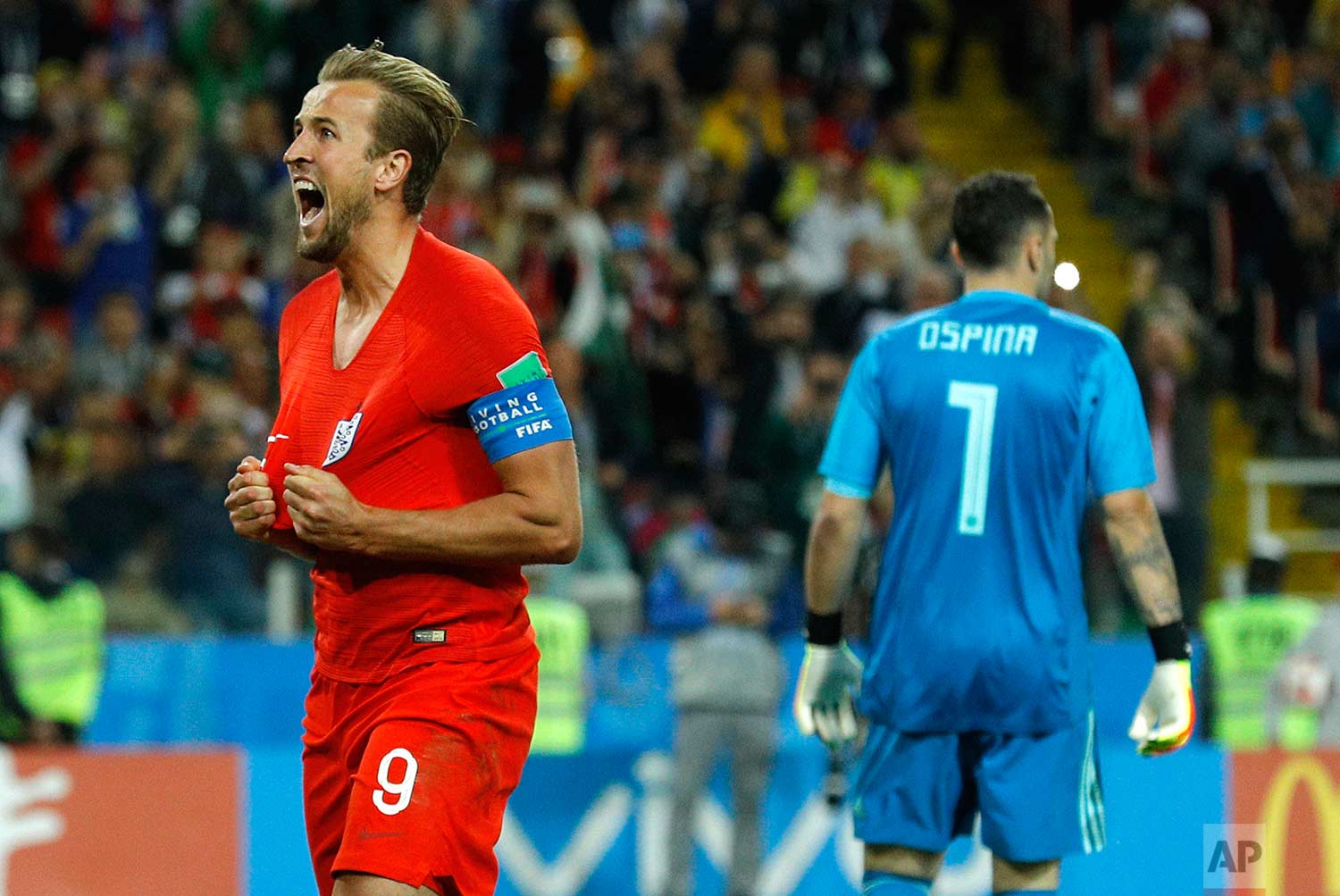 England's Harry Kane celebrates after scoring his side's first goal during the round of 16 match between Colombia and England at the 2018 soccer World Cup in the Spartak Stadium, in Moscow, Russia, Tuesday, July 3, 2018. (AP Photo/Victor R. Caivano)
Sweden's Marcus Berg, left, battles for the ball with Switzerland's Johan Djourou during the round of 16 match between Switzerland and Sweden at the 2018 soccer World Cup in the St. Petersburg Stadium, in St. Petersburg, Russia, Tuesday, July 3, 2018. (AP Photo/Darko Bandic)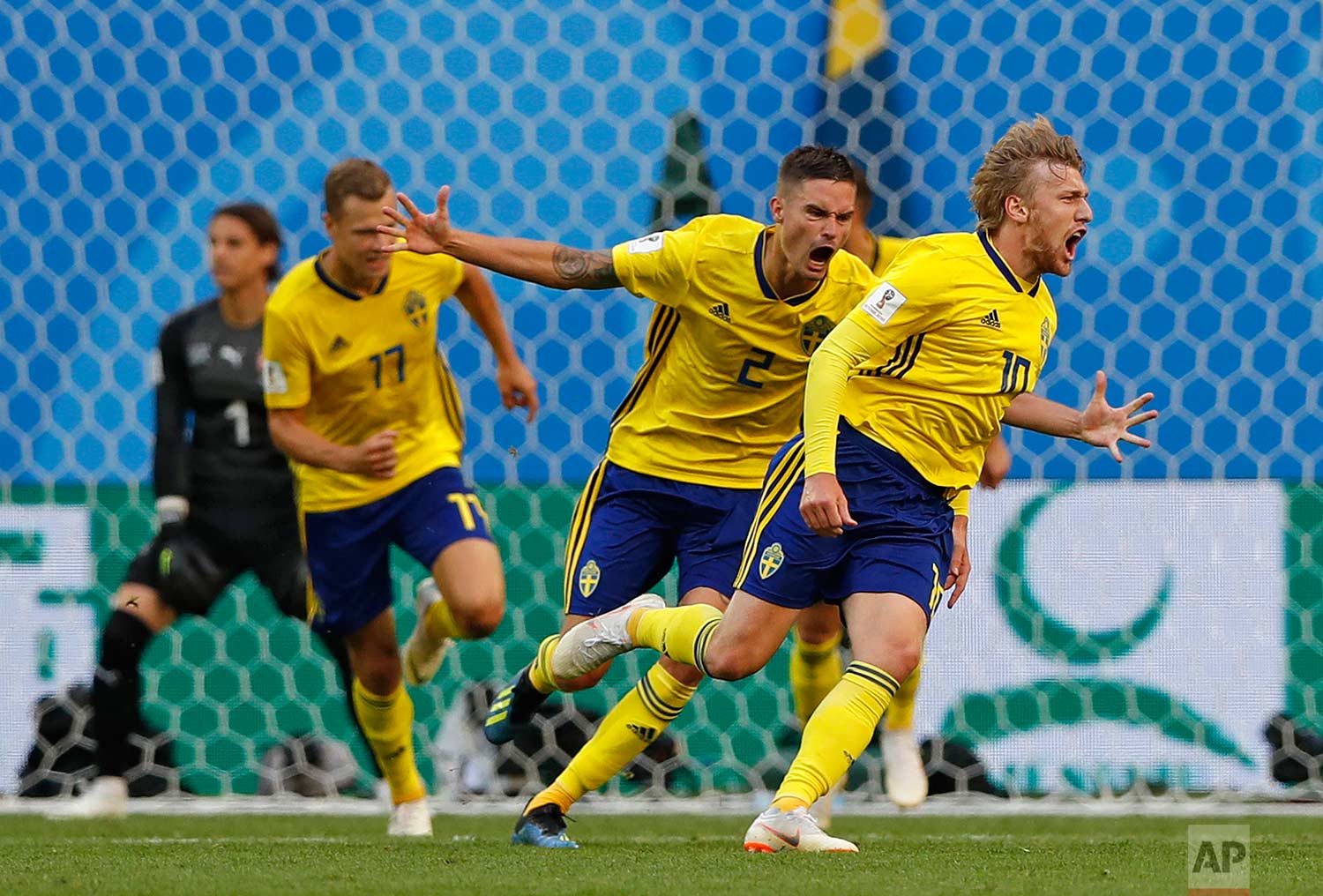 Sweden's Emil Forsberg, right, celebrates with teammates after scoring the opening goal during the round of 16 match between Switzerland and Sweden at the 2018 soccer World Cup in the St. Petersburg Stadium, in St. Petersburg, Russia, Tuesday, July 3, 2018. (AP Photo/Darko Bandic)
England's Harry Kane tries to control the ball during the round of 16 match between Colombia and England at the 2018 soccer World Cup in the Spartak Stadium, in Moscow, Russia, Tuesday, July 3, 2018. (AP Photo/Matthias Schrader)
England goalkeeper Jordan Pickford saves a penalty during the round of 16 match between Colombia and England at the 2018 soccer World Cup in the Spartak Stadium, in Moscow, Russia, Tuesday, July 3, 2018. (AP Photo/Matthias Schrader)
Sweden teammates celebrate after winning the round of 16 match between Switzerland and Sweden at the 2018 soccer World Cup in the St. Petersburg Stadium, in St. Petersburg, Russia, Tuesday, July 3, 2018. (AP Photo/Martin Meissner)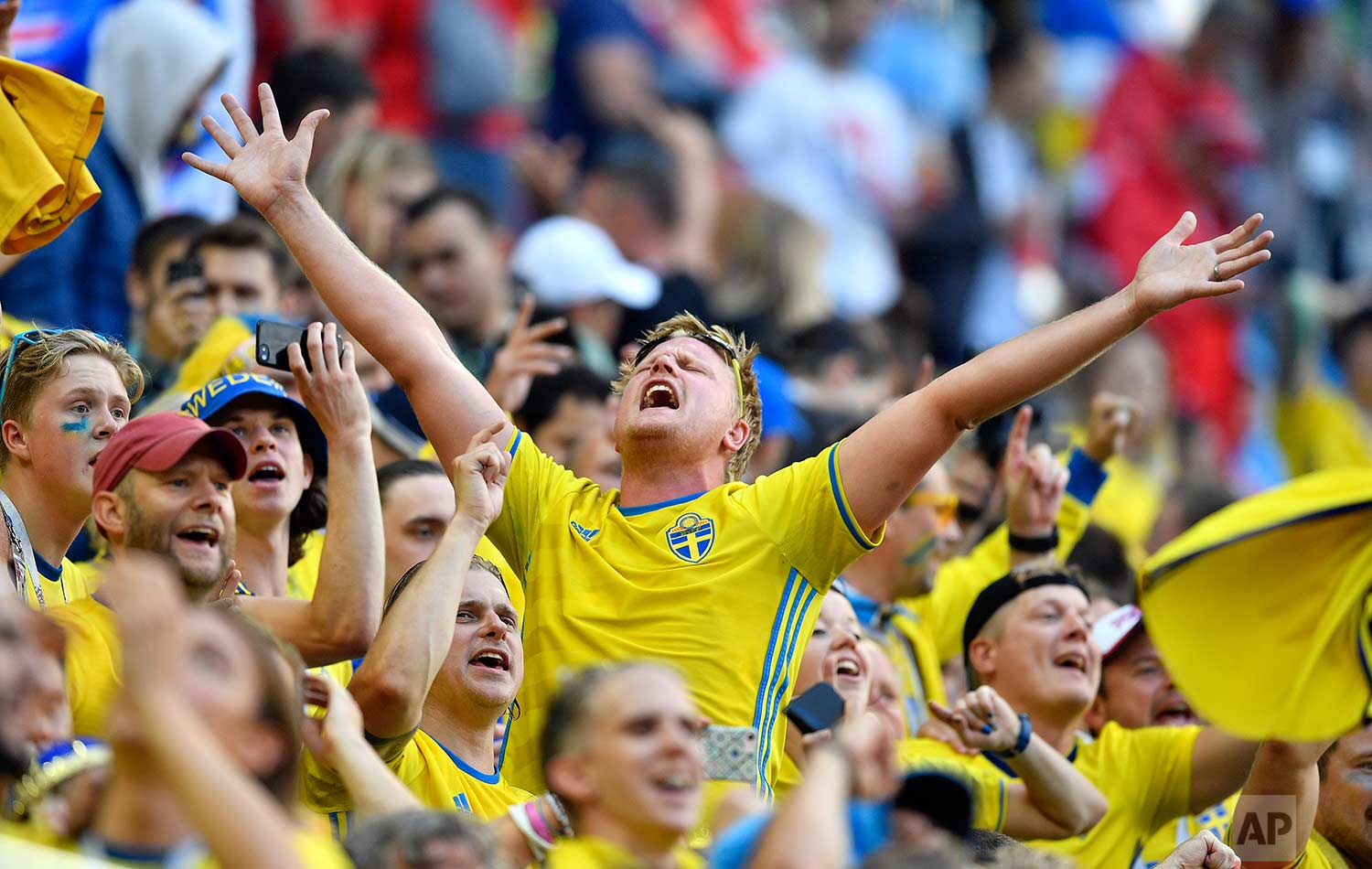 Sweden supporters celebrate after their team won the round of 16 match between Switzerland and Sweden at the 2018 soccer World Cup in the St. Petersburg Stadium, in St. Petersburg, Russia, Tuesday, July 3, 2018. (AP Photo/Martin Meissner)
Colombia's Mateus Uribe fails to score on a penalty in the round of 16 match between Colombia and England at the 2018 soccer World Cup in the Spartak Stadium, in Moscow, Russia, Tuesday, July 3, 2018. England eliminates Colombia 4-3 on penalties after the game ends 1-1. (AP Photo/Matthias Schrader)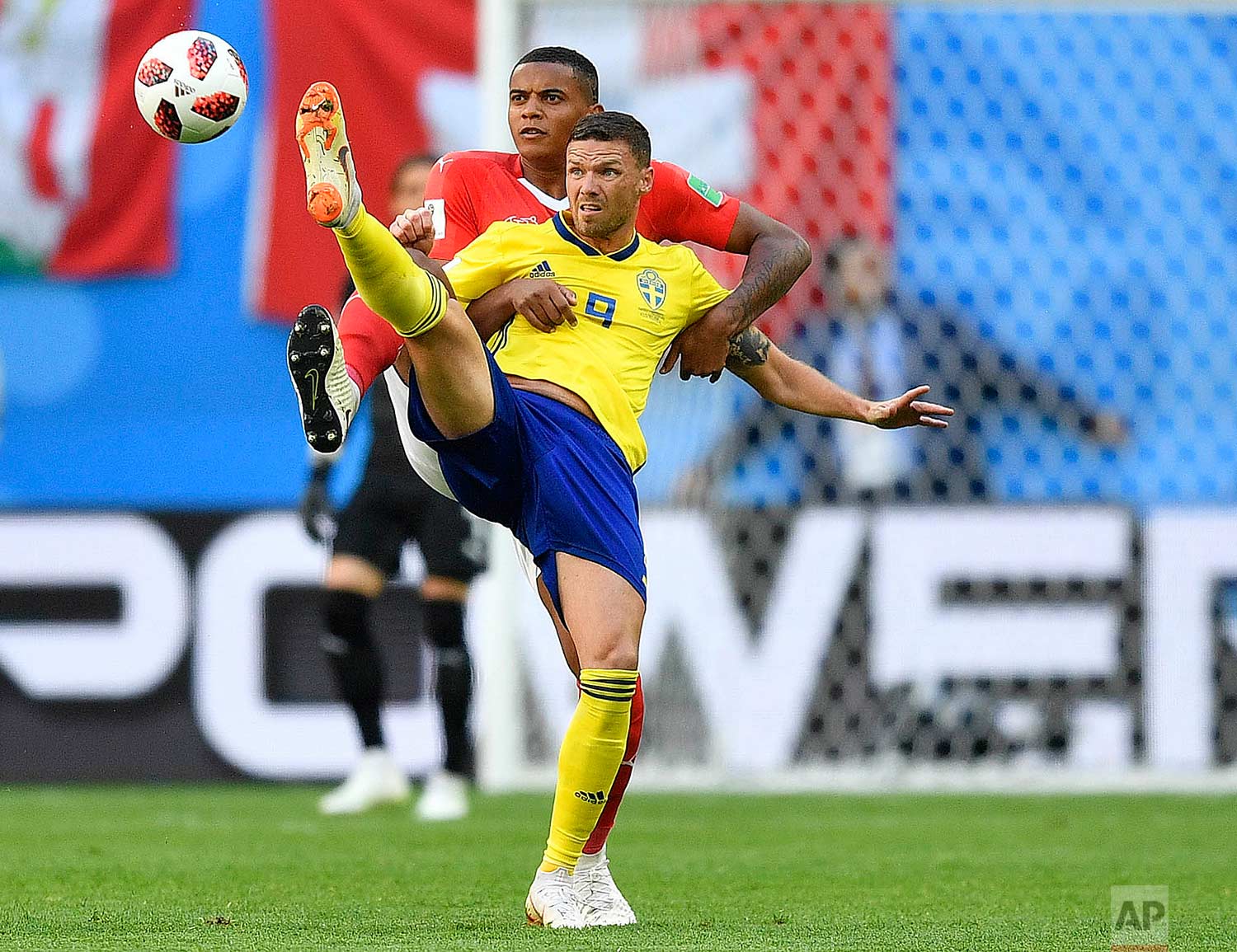 Switzerland's Manuel Akanji, rear, and Sweden's Marcus Berg challenge for the ball during the round of 16 match between Switzerland and Sweden at the 2018 soccer World Cup in the St. Petersburg Stadium, in St. Petersburg, Russia, Tuesday, July 3, 2018. (AP Photo/Martin Meissner)
Colombia's Radamel Falcao, left, vies for a ball with England's Ashley Young during the round of 16 match between Colombia and England at the 2018 soccer World Cup in the Spartak Stadium, in Moscow, Russia, Tuesday, July 3, 2018. (AP Photo/Victor R. Caivano)
England's Harry Kane, right, goalkeeper Jordan Pickford, centre, and Kieran Trippier celebrate at the end of the round of 16 match between Colombia and England at the 2018 soccer World Cup in the Spartak Stadium, in Moscow, Russia, Tuesday, July 3, 2018. England won after a penalty shoot out. (AP Photo/Victor R. Caivano)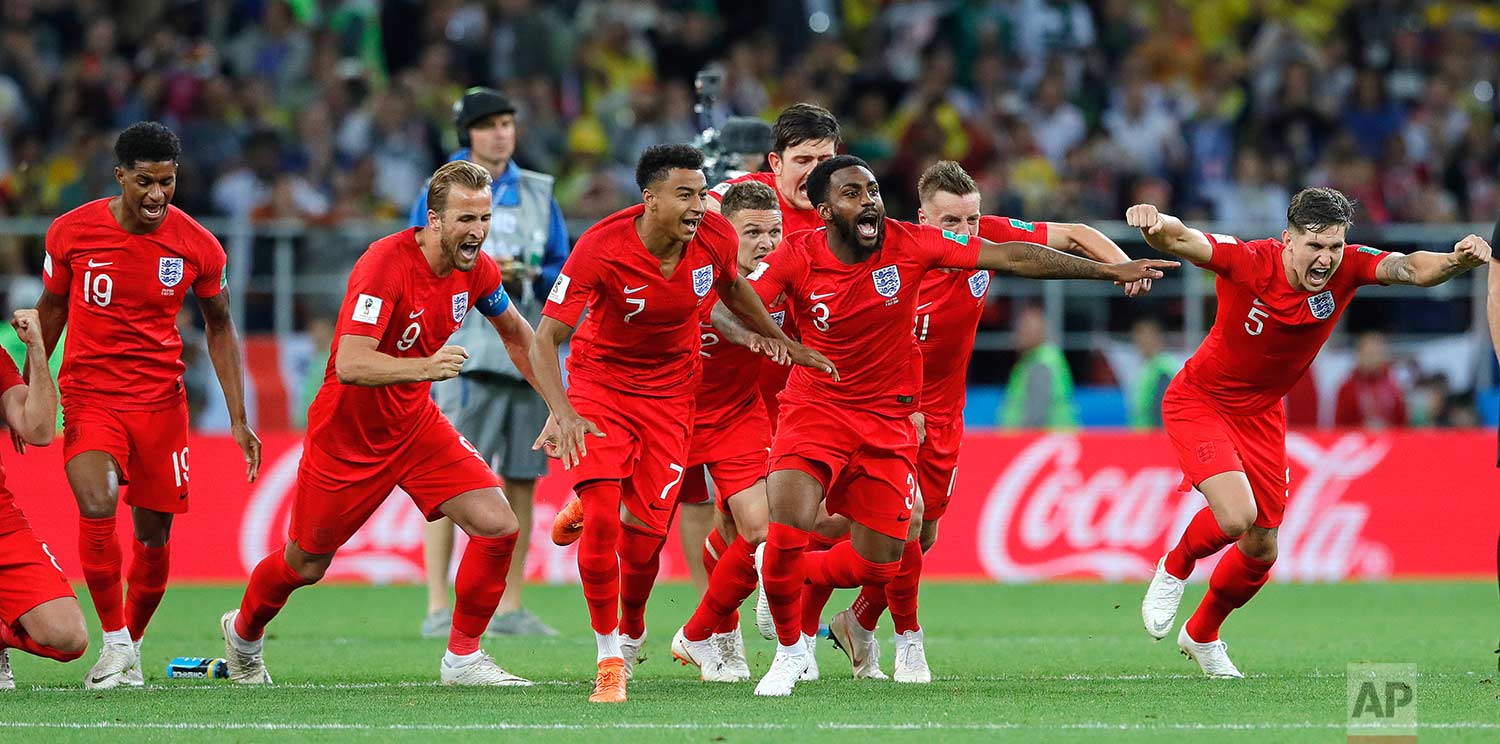 England's players celebrate after defeated Colombia in a penalty shoot out during the round of 16 match between Colombia and England at the 2018 soccer World Cup in the Spartak Stadium, in Moscow, Russia, Tuesday, July 3, 2018. (AP Photo/Ricardo Mazalan)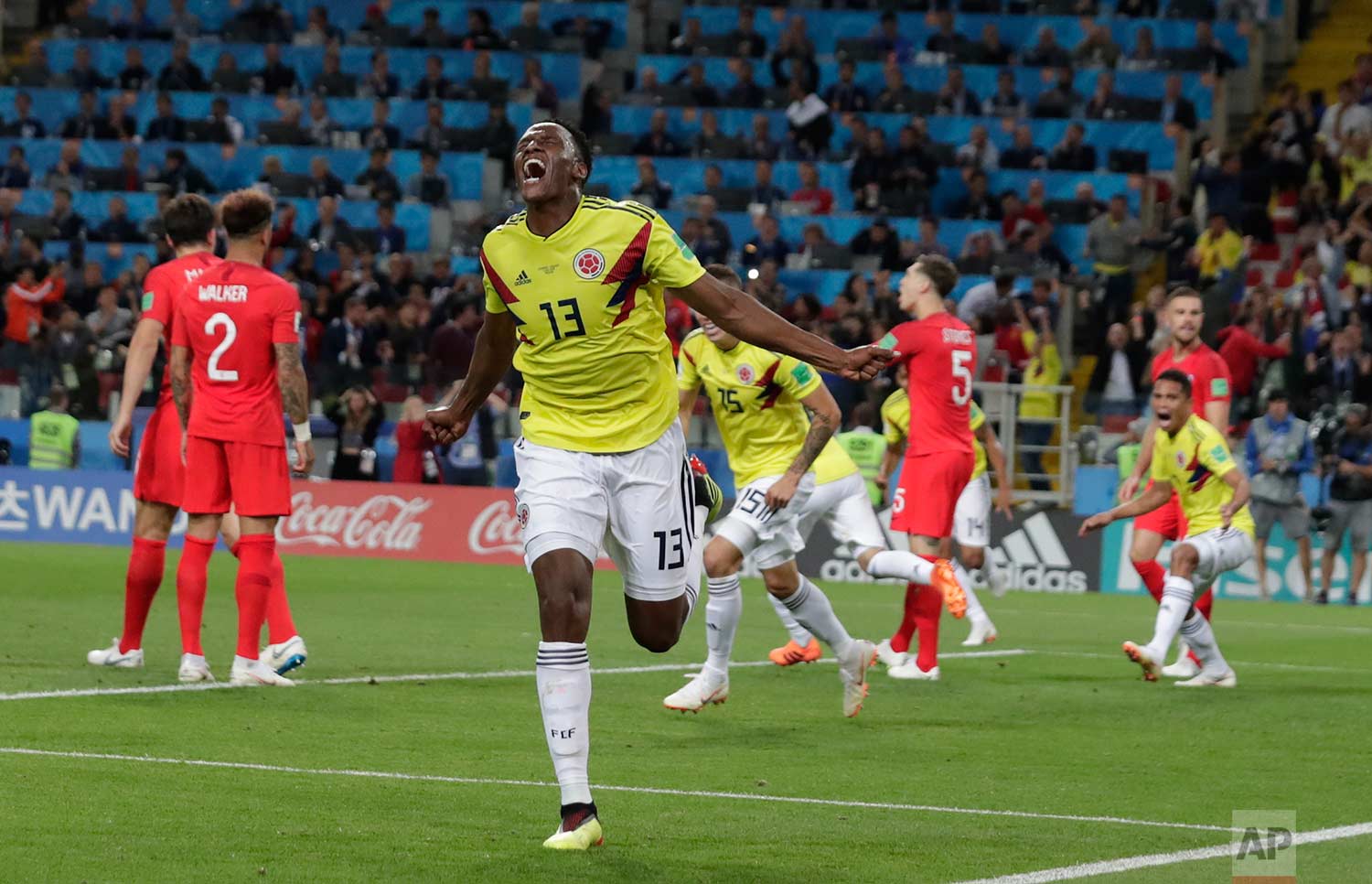 Colombia's Yerry Mina celebrates after scoring his first side's goal during the round of 16 match between Colombia and England at the 2018 soccer World Cup in the Spartak Stadium, in Moscow, Russia, Tuesday, July 3, 2018. (AP Photo/Ricardo Mazalan)
Colombia's Radamel Falcao fights for the ball with England's John Stones, right, during the round of 16 match between Colombia and England at the 2018 soccer World Cup in the Spartak Stadium, in Moscow, Russia, Tuesday, July 3, 2018. (AP Photo/Antonio Calanni)
Switzerland's Johan Djourou, left, duels for the ball with Sweden's Marcus Berg during the round of 16 match between Switzerland and Sweden at the 2018 soccer World Cup in the St. Petersburg Stadium, in St. Petersburg, Russia, Tuesday, July 3, 2018. (AP Photo/Dmitri Lovetsky)
Switzerland's Valon Behrami, rear, and Sweden's Emil Forsberg challenge for the ball during the round of 16 match between Switzerland and Sweden at the 2018 soccer World Cup in the St. Petersburg Stadium, in St. Petersburg, Russia, Tuesday, July 3, 2018. (AP Photo/Martin Meissner)