AP monthly staff photo contest
Each month The Associated Press honors photographers for outstanding coverage while on assignment.
The winners for the July 2019 AP Photo Contest are Dennis M. Rivera Pichardo for News Photography Single Image, demonstrations in Puerto Rico; Jerome Delay for News Photography Story, series on the Ebola crisis in Congo DRC.
Manu Fernandez for Feature Photography Single Image, for Spain LGBTQ Pride coverage.
Anupam Nath for Feature Photography Story, for his story on the Ambubachi festival in India.
Mark Schiefelbein for Sports Photography Single Image, of Swimming Worlds diving coverage in South Korea.
Mark Baker, Mark Schiefelbein and Lee Jin-man for Sports Photography Story, for coverage during the Swimming Worlds in South Korea.
Congratulations to all the photographers for their outstanding work. This month's winning images, judged by Yirmiyan Arthur, Manish Swarup and Altaf Qadri, are featured below.
News Photography Single Image | Dennis M. Rivera Pichardo
Demonstration
A demonstrator with a Puerto Rican flag reacts during clashes in San Juan, Puerto Rico, Wednesday, July 17, 2019. Thousands of people marched to the governor's residence in San Juan chanting demands for Gov. Ricardo Rossello to resign after the leak of online chats that show him making misogynistic slurs and mocking his constituents. (AP Photo/Dennis M. Rivera Pichardo)
News Photography Story | Jerome Delay
Congo Ebola
In this July 13, 2019 photo, health workers wearing protective suits tend to an Ebola victim kept in an isolation cube in Beni, Congo DRC. In a year, more than 1,600 people in eastern Congo have died of Ebola, as the virus has spread in areas too dangerous for health teams to access. (AP Photo/Jerome Delay)
In this July 16, 2019 photo, light shines on freshly dug graves in Beni, Congo DRC. (AP Photo/Jerome Delay)
In this July 16, 2019 photo, health workers dressed in protective gear begin their shift at an Ebola treatment center in Beni, Congo DRC. (AP Photo/Jerome Delay)
In this July 13, 2019 photo, health workers dressed in protective gear check on Ivette Adania, 24, a mother of four whose husband died of Ebola, at an Ebola treatment center in Beni, Congo DRC. (AP Photo/Jerome Delay)
In this July 13, 2019 photo, health workers dressed in protective gear check on a patient isolated in a plastic cube at an Ebola treatment center in Beni, Congo DRC. (AP Photo/Jerome Delay)
In this July 14, 2019 photo, a woman waits at the morgue for the body of her relative to be cleared for burial in Beni, Congo DRC. (AP Photo/Jerome Delay)
In this July 16, 2019 photo, a health worker rests at the end of his shift at an Ebola treatment center in Beni, Congo DRC. (AP Photo/Jerome Delay)
In this July 14, 2019 photo, Red Cross workers carry the remains of 16-month-old Muhindo Kakinire rom the morgue into a truck as health workers disinfect the area in Beni, Congo DRC. (AP Photo/Jerome Delay)
In this July 13, 2019 photo, Congolese journalists broadcast an Ebola awareness program from a local radio station in Beni, Congo DRC. (AP Photo/Jerome Delay)
In this July 14, 2019 photo, burial workers dressed in protective gear carry the remains of Mussa Kathembo, an Islamic scholar who had prayed over those who were sick, and died of Ebola, in Beni, Congo DRC. (AP Photo/Jerome Delay)
In this July 14, 2019 photo, Ismael Kasereka, 14, weeps at the funeral of his uncle and aunt in Beni, Congo DRC. Mussa Kathembo, an Islamic scholar who had prayed over those who were sick, and his wife Asiya both died of Ebola. (AP Photo/Jerome Delay)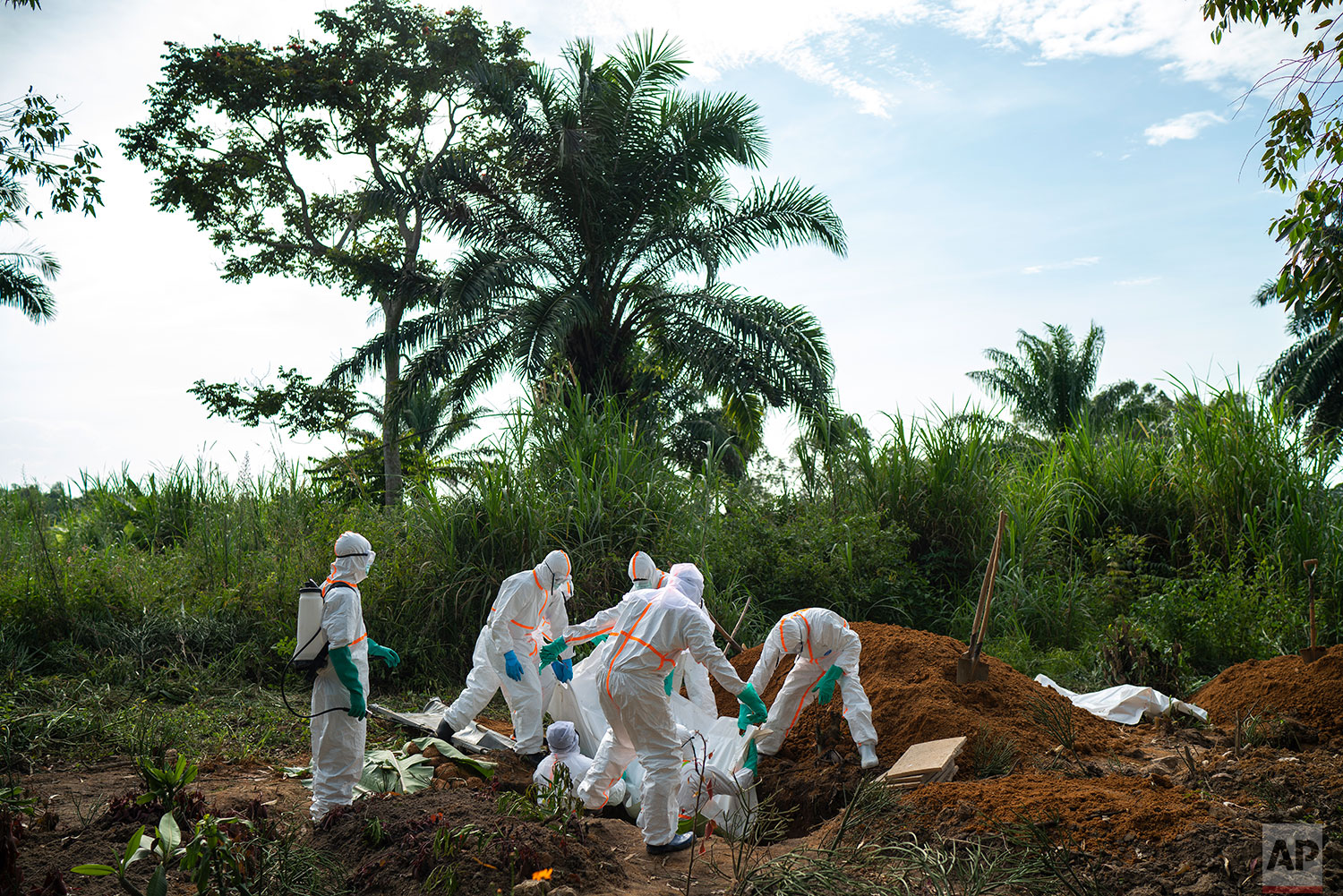 In this July 14, 2019 photo, burial workers bury the remains of Mussa Kathembo, an Islamic scholar who had prayed over those who were sick in Beni, Congo DRC. Kathembo died of Ebola. (AP Photo/Jerome Delay)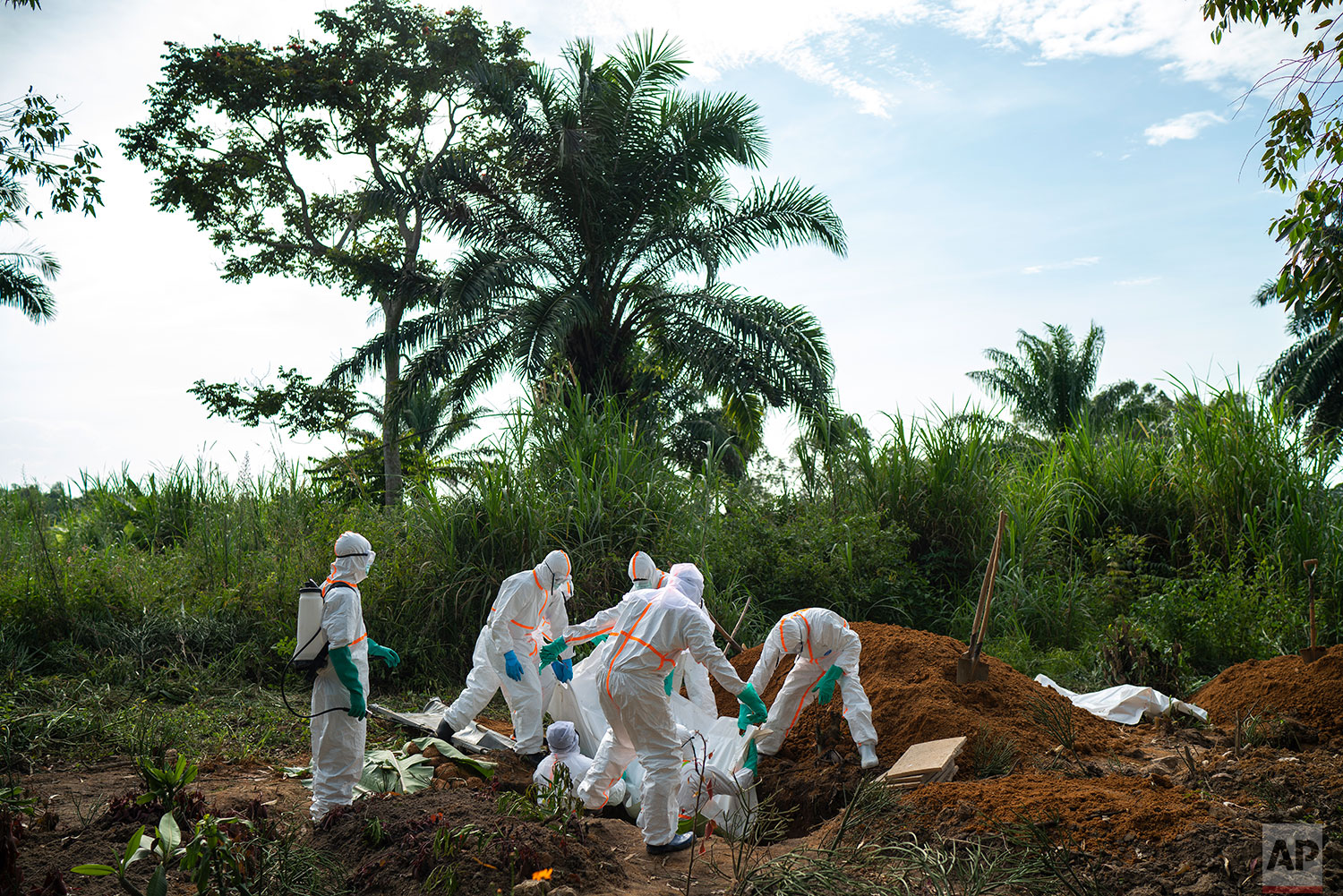 Feature Photography Single Image | Manu Fernandez
Spain LGBTQ Pride
Participants walk during the annual LGBTQ pride parade in Madrid, Spain, Saturday, July 6, 2019. European cities celebrated LGBTQ pride with colorful parades that also became platforms for political demands and a push back against far-right populist parties. AP Photo/Manu Fernandez)
Feature Photography Story | Anupam Nath
India Bleeding Goddess
Monika Deb Nath, 45, offers prayers before taking a dip in the temple pond at the Kamakhya temple during the Ambubachi festival in Gauhati, India, June 25, 2019 . Monika, 45, and her husband have visited the Kamakhya temple four years in a row for the annual Ambubachi festival, praying for a miracle to heal their son from cerebral palsy, which has left him with almost no control over his own body. The temple is presided over by the goddess Kamakhya, the most important goddess of tantric worship, an esoteric form of Hinduism. (AP Photo/Anupam Nath)
Monika Deb Nath, 45, uses a hand fan and rests on the floor with her son Gopal, 17, at the Kamakhya temple during the Ambubachi festival in Gauhati, India, June 25, 2019 . Monika, 45, and her husband have visited the Kamakhya temple four years in a row for the annual Ambubachi festival, praying for a miracle to heal their son from cerebral palsy, which has left him with almost no control over his own body. The temple is presided over by the goddess Kamakhya, the most important goddess of tantric worship, an esoteric form of Hinduism.(AP Photo/Anupam Nath)
Monika Deb Nath, 45, offers prayers at the Kamakhya temple during the Ambubachi festival in Gauhati, India, June 25, 2019 . Monika, 45, and her husband have visited the Kamakhya temple four years in a row for the annual Ambubachi festival, praying for a miracle to heal their son from cerebral palsy, which has left him with almost no control over his own body. The temple is presided over by the goddess Kamakhya, the most important goddess of tantric worship, an esoteric form of Hinduism.(AP Photo/Anupam Nath)
devotees gather at the Kamakhya temple for the Ambubachi festival in Gauhati, India, June 25, 2019 . The temple is presided over by the goddess Kamakhya, the most important goddess of tantric worship, an esoteric form of Hinduism. The four-day Ambubachi festival is a celebration of Kamakhya's yearly menstrual cycle, and it brings hundreds of thousands of devotees to the temple. (AP Photo/Anupam Nath)
Monika Deb Nath, 45, washes the feet of her son Gopal at the Kamakhya temple during the Ambubachi festival in Gauhati, India, June 25, 2019 . Monika, 45, and her husband have visited the Kamakhya temple four years in a row for the annual Ambubachi festival, praying for a miracle to heal their son from cerebral palsy, which has left him with almost no control over his own body. The temple is presided over by the goddess Kamakhya, the most important goddess of tantric worship, an esoteric form of Hinduism.(AP Photo/Anupam Nath)
A Sadhu, or Hindu holy man, blesses devotees during Ambubachi festival at Kamakhya templein Gauhati, India, June 25, 2019 . The temple is presided over by the goddess Kamakhya, the most important goddess of tantric worship, an esoteric form of Hinduism. The four-day Ambubachi festival is a celebration of Kamakhya's yearly menstrual cycle, and it brings hundreds of thousands of devotees to the temple. (AP Photo/Anupam Nath)
Monika Deb Nath, 45, feeds her son Gopal, 17, at the Kamakhya temple during the Ambubachi festival in Gauhati, India, June 25, 2019 . Monika, 45, and her husband have visited the Kamakhya temple four years in a row for the annual Ambubachi festival, praying for a miracle to heal their son from cerebral palsy, which has left him with almost no control over his own body. The temple is presided over by the goddess Kamakhya, the most important goddess of tantric worship, an esoteric form of Hinduism.(AP Photo/Anupam Nath)
Monika Deb Nath, 45, cleans the floor of urine excreted by her son Gopal, 17, at the Kamakhya temple during the Ambubachi festival in Gauhati, India, June 25, 2019 . Monika, 45, and her husband have visited the Kamakhya temple four years in a row for the annual Ambubachi festival, praying for a miracle to heal their son from cerebral palsy, which has left him with almost no control over his own body. The temple is presided over by the goddess Kamakhya, the most important goddess of tantric worship, an esoteric form of Hinduism.(AP Photo/Anupam Nath)
Monika Deb Nath, 45, helps her son Gopal, 17, towards his wheelchair at the Kamakhya temple during the Ambubachi festival in Gauhati, India, June 25, 2019 . Monika, 45, and her husband have visited the Kamakhya temple four years in a row for the annual Ambubachi festival, praying for a miracle to heal their son from cerebral palsy, which has left him with almost no control over his own body. The temple is presided over by the goddess Kamakhya, the most important goddess of tantric worship, an esoteric form of Hinduism.(AP Photo/Anupam Nath)
Monika Deb Nath, 45, stands beside her son Gopal, 17, at the Kamakhya temple during the Ambubachi festival in Gauhati, India, June 25, 2019 . Monika, 45, and her husband have visited the Kamakhya temple four years in a row for the annual Ambubachi festival, praying for a miracle to heal their son from cerebral palsy, which has left him with almost no control over his own body. The temple is presided over by the goddess Kamakhya, the most important goddess of tantric worship, an esoteric form of Hinduism.(AP Photo/Anupam Nath)
a devotee dressed as goddess Kamakhya attends the Ambubachi festival at the Kamakhya temple in Gauhati, India, June 25, 2019 . The temple is presided over by the goddess Kamakhya, the most important goddess of tantric worship, an esoteric form of Hinduism. The four-day Ambubachi festival is a celebration of Kamakhya's yearly menstrual cycle, and it brings hundreds of thousands of devotees to the temple. (AP Photo/Anupam Nath)
devotees perform rituals sitting on steps of the Kamakhya temple during the Ambubachi festival in Gauhati, India, June 25, 2019 . The temple is presided over by the goddess Kamakhya, the most important goddess of tantric worship, an esoteric form of Hinduism. The four-day Ambubachi festival is a celebration of Kamakhya's yearly menstrual cycle, and it brings hundreds of thousands of devotees to the temple. (AP Photo/Anupam Nath)
Sports Photography Single Image | Mark Schiefelbein
High Dive
Viacheslav Kolesnikov of Ukraine dives during the men's high diving competition at the World Swimming Championships in Gwangju, South Korea, Wednesday, July 24, 2019. (AP Photo/Mark Schiefelbein)
Sports Photography Story | Mark Baker, Mark Schiefelbein and Lee Jin-man
Ukraine perform their routine during the artistic swimming team free final at the World Swimming Championships in Gwangju, South Korea, Saturday, July 20, 2019. (AP Photo/Mark Baker)
South Korea Swimming Worlds
Gold medalist Gary Hunt of Britain dives during the men's high diving competition at the World Swimming Championships in Gwangju, South Korea, Wednesday, July 24, 2019. (AP Photo/Mark Schiefelbein)
In this Friday, July 12, 2019, file photo, Defne Bakirci of Turkey competes in the preliminaries of solo technical artistic swimming at the World Swimming Championships in Gwangju, South Korea. (AP Photo/Mark Schiefelbein, File)
China's Sun Yang reacts after winning the men's 400m freestyle final at the World Swimming Championships in Gwangju, South Korea, Sunday, July 21, 2019. (AP Photo/Lee Jin-man)
Russia's Aleksandr Bondar and Viktor Minibaev compete in the men's 10m platform synchro diving final at the World Swimming Championships in Gwangju, South Korea, Monday, July 15, 2019. (AP Photo/Lee Jin-man )
United States' Caeleb Dressel celebrates after winning the men's 100m freestyle final at the World Swimming Championships in Gwangju, South Korea, Thursday, July 25, 2019. (AP Photo/Lee Jin-man)
Spain's Ona Carbonell performs her routine in the artistic swimming solo free preliminary at the World Swimming Championships in Gwangju, South Korea, Monday, July 15, 2019. (AP Photo/Mark Baker)
Italy compete in the highlight team final at the World Swimming Championships in Gwangju, South Korea, Monday, July 15, 2019. (AP Photo/Mark Baker)
Canada's Jennifer Abel performs her routine in the women's 3m springboard diving event at the World Swimming Championships in Gwangju, South Korea, Thursday, July 18, 2019. (AP Photo/Lee Jin-man )
United States' Caeleb Dressel swims in his heat of the men's 100m butterfly at the World Swimming Championships in Gwangju, South Korea, Friday, July 26, 2019. (AP Photo/Mark Schiefelbein)
Swimmers reach for drink bottles while competing in the men's 10km open water swim at the World Swimming Championships in Yeosu, South Korea, Tuesday, July 16, 2019. (AP Photo/Mark Schiefelbein)
Italian players and mangement celebrate after defeating Spain in their men's water polo gold medal match at the World Swimming Championships in Gwangju, South Korea, Saturday, July 27, 2019. (AP Photo/Mark Schiefelbein)