AP monthly staff photo contest
Each month The Associated Press honors photographers for outstanding coverage while on assignment.
The winners for the March 2019 AP Photo Contest are Carolyn Kaster for News Photography Single Image, of President Donald Trump hugging the American flag, Mark Baker for News Photography Story, for his coverage of the mass shooting at a mosque in central Christchurch.
Andrew Medichini for Feature Photography Single Image of his a long exposure of people walking by the Spanish Steps in Rome.
David Goldman for Feature Photography Story, for his coverage of the homeless families left behind after Hurricane Michael.
Rebecca Blackwell for Sports Photography Single Image of Pumas' goalkeeper Miguel Fraga and Antonio Calanni for Sports Photography Story, for his story on the Italian soccer net factory.
Congratulations to all the photographers for their outstanding work. This month's winning images are featured below.
News Photography Single Image | Carolyn Kaster
President Donald Trump hugs the American flag as he arrives to speak at Conservative Political Action Conference, CPAC 2019, in Oxon Hill, Md., Saturday, March 2, 2019. (AP Photo/Carolyn Kaster)
News Photography Story | Mark Baker
A man reacts as he speaks on a mobile phone outside a mosque following a shooting in central Christchurch, New Zealand, Friday, March 15, 2019. (AP Photo/Mark Baker)
Ambulance staff take a man from outside a mosque in central Christchurch, New Zealand, Friday, March 15, 2019. (AP Photo/Mark Baker)
A body lies on the footpath outside a mosque in central Christchurch, New Zealand, Friday, March 15, 2019. (AP Photo/Mark Baker)
Police console a man outside a mosque in central Christchurch, New Zealand, Friday, March 15, 2019. (AP Photo/Mark Baker)
Flower rest at a road block, as a Police officer stands guard near the Linwood mosque, site of one of the mass shootings at two mosques in Christchurch, New Zealand, Saturday, March 16, 2019. (AP Photo/Mark Baker)
A mourner prays near the Linwood mosque in Christchurch, New Zealand, Tuesday, March 19, 2019. (AP Photo/Mark Baker)
Mourners carry a body at Memorial Park Cemetery in Christchurch, New Zealand, Friday, March 22, 2019. Funerals continued following the March 15 mosque attacks where 50 worshippers were killed by a white supremacist. (AP Photo/Mark Baker)
Mourners embrace following a burial ceremony at Memorial Park Cemetery in Christchurch, New Zealand, Friday, March 22, 2019. (AP Photo/Mark Baker)
Zaid Mustafa, son and brother of victims from last week's mosque shootings is welcomed to Friday prayers at Hagley Park in Christchurch, New Zealand, Friday, March 22, 2019. Thousands of people gathered in a Christchurch city park near the Al Noor mosque where a gunman killed some of the 50 worshippers in a white supremacist attack on two mosques. (AP Photo/Mark Baker)
Mourners pay their respects at a makeshift memorial near the Masjid Al Noor mosque in Christchurch, New Zealand, Saturday, March 16, 2019. (AP Photo/Mark Baker)
New Zealand Prime Minister Jacinda Ardern waves as she leaves Friday prayers at Hagley Park in Christchurch, New Zealand, Friday, March 22, 2019. Thousands of people gathered in a Christchurch city park near the Al Noor mosque where a gunman killed some of the 50 worshippers in a white supremacist attack on two mosques. (AP Photo/Mark Baker)
A young muslim woman cries during a gathering for the "March for Love" in Hagley Park following last week's mosque attacks in Christchurch, New Zealand March 23, 2019. (AP Photo/Mark Baker)
Feature Photography Single Image | Andrew Medichini
In this photo made with a long exposure, people walk by the Spanish Steps in Rome, Monday, March 25, 2019. (AP Photo/Andrew Medichini)
Feature Photography Story | David Goldman
Diahnn "Shelly" Summers, right, embraces Lori Hogan, who is currently living in a tent in Summers' backyard months after Hurricane Michael hit in Youngstown, Fla, Wednesday, Jan. 23, 2019. "This is the first time I've felt comfortable since the hurricane," said Hogan. "This is home for me and I love it." A small village has popped up in Summers' backyard outside Panama City: Where there once was an empty grassy space, tents now form a circle around a fir tree with Christmas lights. The tents are currently home for local residents who are still homeless months after Hurricane Michael screamed ashore with 155-mph winds, flattening, blowing away or rendering uninhabitable thousands of houses. (AP Photo/David Goldman)
Mystie Gregory, right, kisses her twenty-month-old daughter Neala as her fiancé Gary LaPlant looks on while playing on a trampoline in the backyard where several local residents are living in tents after becoming homeless from Hurricane Michael in Youngstown, Fla, Wednesday, Jan. 23, 2019. Gregory said they left their apartment for several days to take a break from living without electricity. When they got back, she says, it had been rented to another family. (AP Photo/David Goldman)
James Huebner sits in his tent in the backyard of a home where he's living with his son and brother after becoming homeless from Hurricane Michael in Youngstown, Fla, Wednesday, Jan. 23, 2019. Huebner has never been homeless before and says they can't find any affordable available housing in the area where they need to remain because of his brother's job at a nearby Walmart store. (AP Photo/David Goldman)
Diahnn "Shelly" Summers, right, prepares dinner for local residents left homeless by Hurricane Michael who are living in tents in her backyard as Jacinta Wheeler, left, who is one of those left homeless, helps Summers' daughter, Gabby, 7, with her homework in Youngstown, Fla, Wednesday, Jan. 23, 2019. Before she landed in Summers' back yard, Wheeler, whose apartment was damaged by the hurricane, joined other residents in an encampment dubbed "Tent City" in a different part of town. Officials forced them all to leave due to concerns about safety and hygiene. (AP Photo/David Goldman)
Mystie Gregory, rear right, serves herself dinner with fellow local residents left homeless by Hurricane Michael who are living in tents in the backyard of Diahnn "Shelly" Summers, right, in Youngstown, Fla, Wednesday, Jan. 23, 2019. Summers tries to make them feel at home, inviting them to dine at their table each evening and leaving the Christmas lights on the fir tree in the backyard to retain a sense of cheer. (AP Photo/David Goldman)
Workers repair a roof at night under trees left bare by Hurricane Michael in Panama City, Fla, Tuesday, Jan. 22, 2019. Some residents have been able to make their homes livable again with cosmetic repairs. Others simply left town: The county's student population is down 14 percent. For those still considered homeless their options are: move in with relatives, turn hotel rooms into temporary apartments, or get a tent. (AP Photo/David Goldman)
Jacinta Wheeler checks her phone in the entryway of her tent in the backyard of a home where she's living after becoming homeless from Hurricane Michael in Youngstown, Fla, Wednesday, Jan. 23, 2019. Wheeler, whose apartment was damaged by the hurricane, has been working construction jobs and helping make repairs to neighbors' properties while she stays in her tent. "Everybody wants the American dream," the Trinidad native said. "If this is the dream, I don't want it." (AP Photo/David Goldman)
Gene Hogan blows on a campfire outside the tent he's living in since becoming homeless from Hurricane Michael in Youngstown, Fla, Wednesday, Jan. 23, 2019. Hotel vouchers and trailers provided by the Federal Emergency Management Agency are helping ease the pain, but for many residents living in tents is their only option. (AP Photo/David Goldman)
Twenty-month-old Neala Clark sits on the floor of the tent she has been living in with her mother, Mystie Gregory, left, and fiancé, Gary LaPlant, as he loads their personal belongings into a car taking them to a hallway home he found for them in the middle of a rain storm in Youngstown, Fla, Wednesday, Jan. 23, 2019. "You make the most of it, but it makes you feel like a failure as a parent, even though it's out of your control," Gregory said. (AP Photo/David Goldman)
Twenty-month-old Neala Clark cries as her mother's fiancé, Gary LaPlant, loads their personal belongings from the tent they're living in into a car taking them to a halfway home LaPlant found for them in the middle of a rain storm in Youngstown, Fla, Wednesday, Jan. 23, 2019. After the family spent the night at the halfway home, they planned to return the next day to live in their tent in the Summer's backyard where they feel more comfortable. "It's such a positive environment out there despite the mess everyone had gone through," said LaPlant's fiancee, Mystie Gregory. (AP Photo/David Goldman)
Lori Hogan, hugs her dog, Boo Boo, after losing him during a rain storm which brought on a panic attack for Hogan who is currently living in a tent in a backyard months after Hurricane Michael hit in Youngstown, Fla, Wednesday, Jan. 23, 2019. Hogan and her husband were living in a tent on the beach after Michael destroyed their home when police officers told them they had to move somewhere else or they would be arrested. (AP Photo/David Goldman)
Diahnn "Shelly" Summers, right, looks out over the tents she set up in her backyard for homeless Hurricane Michael evacuees in Youngstown, Fla, Wednesday, Jan. 23, 2019. "There is nowhere for them to go," Summers said. "When you don't have a home, you have no sense of safety, no sense of belonging, no security. You don't even know where you're going to sleep without getting into trouble. It's the worst feeling." (AP Photo/David Goldman)
Sports Photography Single Image | Rebecca Blackwell
Pumas' goalkeeper Miguel Fraga watches as a scoring attempt by Dorados is intercepted by teammate Alan Mendoza, in their Copa MX quarterfinal match at Olympic University Stadium in Mexico City, Tuesday, March 12, 2019. (AP Photo/Rebecca Blackwell)
Sports Photography Story | Antonio Calanni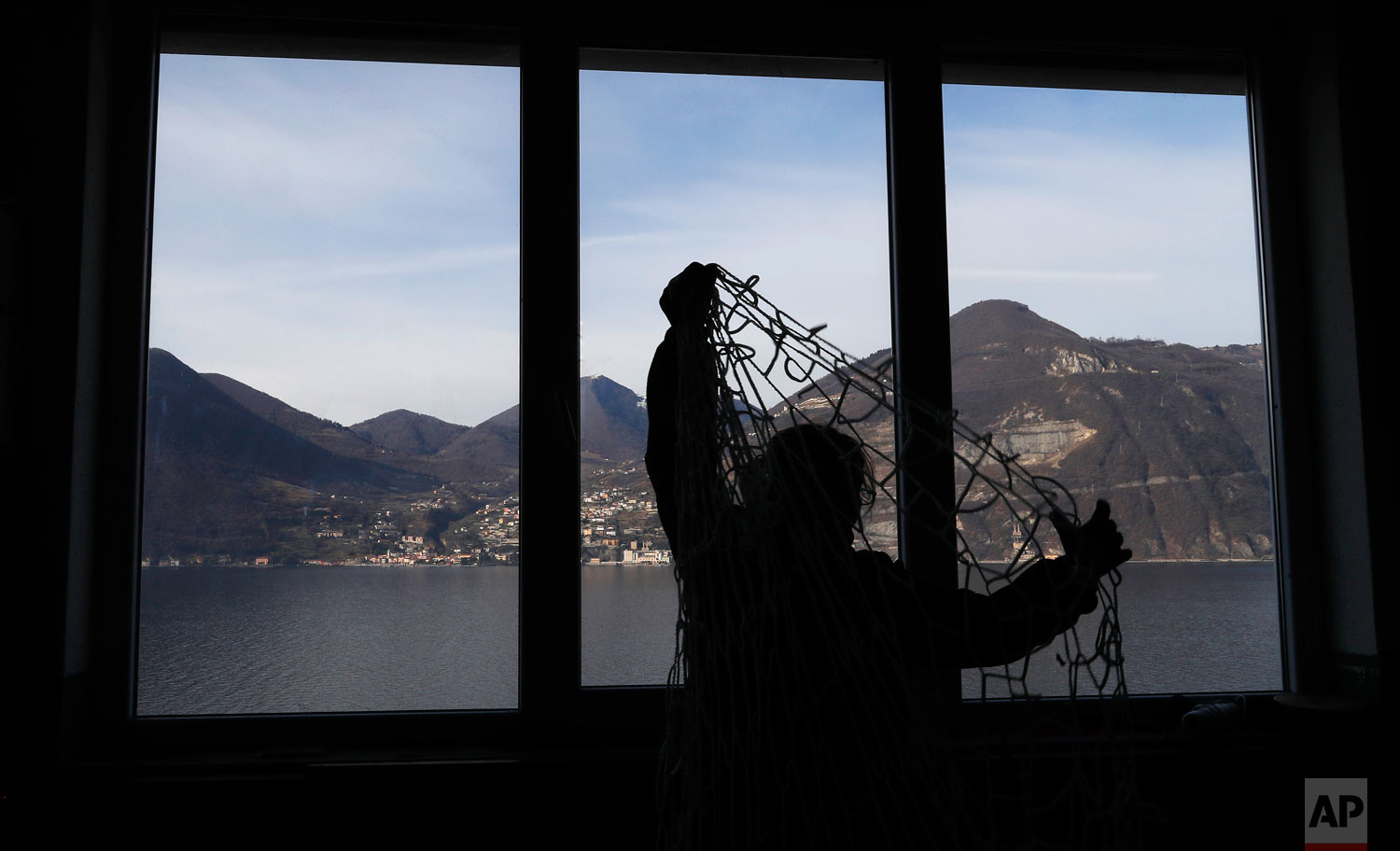 In this photo taken on Wednesday, Feb. 6, 2019, a woman works at "La Rete" (The Net) factory in Monte Isola, Lake Iseo, northern Italy. Step off the ferry onto Monte Isola and it feels like going back in time. The factory of La Rete S.r.l. _ an old-fashioned producer of nets for soccer goals _ is indeed a throwback. Workers still use their hands to weave the nets that have been used at World Cups stretching back to the 1990 tournament in Italy, throughout Serie A and in recent Champions League finals, too. (AP Photo/Antonio Calanni)
In this photo taken on Wednesday, Feb. 6, 2019, a view of Monte Isola, Lake Iseo, northern Italy. Step off the ferry onto Monte Isola and it feels like going back in time. (AP Photo/Antonio Calanni)
In this photo taken on Thursday, Feb. 7, 2019, a woman works at "La Rete" (The Net) factory in Monte Isola, Lake Iseo, northern Italy. Step off the ferry onto Monte Isola and it feels like going back in time. (AP Photo/Antonio Calanni)
In this photo taken on Wednesday, Feb. 6, 2019, a woman works at "La Rete" (The Net) factory in Monte Isola, Lake Iseo, northern Italy. (AP Photo/Antonio Calanni)
In this photo taken on Wednesday, Feb. 6, 2019, a woman works at "La Rete" (The Net) factory in Monte Isola, Lake Iseo, northern Italy. Step off the ferry onto Monte Isola and it feels like going back in time. The factory of La Rete S.r.l. , an old-fashioned producer of nets for soccer goals, is indeed a throwback. Workers still use their hands to weave the nets that have been used at World Cups stretching back to the 1990 tournament in Italy, throughout Serie A and in recent Champions League finals, too. There used to be several net producers on Monte Isola but La Rete is the last company still running. "Historically, this is a territory where nets have been made. It started with fishing and hunting then was slowly transformed into nets for sports," said Elio Agnesi, who along with partner (and Monte Isola mayor) Fiorello Turla, has been running the company for 40 years. Monte Isola is a picturesque island located in the middle of Lake Iseo in northern Italy. All of the company's 18 workers and reside on the island and use scooters to reach the factory each day on narrow paths. (AP Photo/Antonio Calanni)
In this photo taken on Wednesday, Feb. 6, 2019, a woman works at "La Rete" (The Net) factory in Monte Isola, Lake Iseo, northern Italy. (AP Photo/Antonio Calanni)
In this photo taken on Wednesday, Feb. 6, 2019, a woman works at "La Rete" (The Net) factory in Monte Isola, Lake Iseo, northern Italy. (AP Photo/Antonio Calanni)
In this photo taken on Wednesday, Feb. 6, 2019, a woman works at "La Rete" (The Net) factory in Monte Isola, Lake Iseo, northern Italy. (AP Photo/Antonio Calanni)
In this photo taken on Wednesday, Feb. 6, 2019, a woman works at "La Rete" (The Net) factory in Monte Isola, Lake Iseo, northern Italy. (AP Photo/Antonio Calanni)
In this photo taken on Wednesday, Feb. 6, 2019, a view of Monte Isola, Lake Iseo, northern Italy. (AP Photo/Antonio Calanni)
In this photo taken on Wednesday, Feb. 6, 2019, a woman works at "La Rete" (The Net) factory in Monte Isola, Lake Iseo, northern Italy. (AP Photo/Antonio Calanni)
In this photo taken on Tuesday, March 12, 2019 through a net made by "La Rete" factory, Juventus' Cristiano Ronaldo celebrates after scoring his side's third goal during the Champions League round of 16, 2nd leg, soccer match between Juventus and Atletico Madrid at the Allianz stadium in Turin, Italy. Step off the ferry onto Monte Isola and it feels like going back in time. The factory of La Rete S.r.l. _ an old-fashioned producer of nets for soccer goals _ is indeed a throwback. Workers still use their hands to weave the nets that have been used at World Cups stretching back to the 1990 tournament in Italy, throughout Serie A and in recent Champions League finals, too. (AP Photo/Antonio Calanni)