Pictures of the week
Here's your look at highlights from the weekly AP photo report, a gallery featuring a mix of front-page photography, the odd image you might have missed and lasting moments our editors think you should see.
This week's images include the Scripps National Spelling Bee, the French Open tennis tournament and a fashion show in Chantilly, north of Paris.
This gallery contains photos from the week of May 26-June 1, 2018.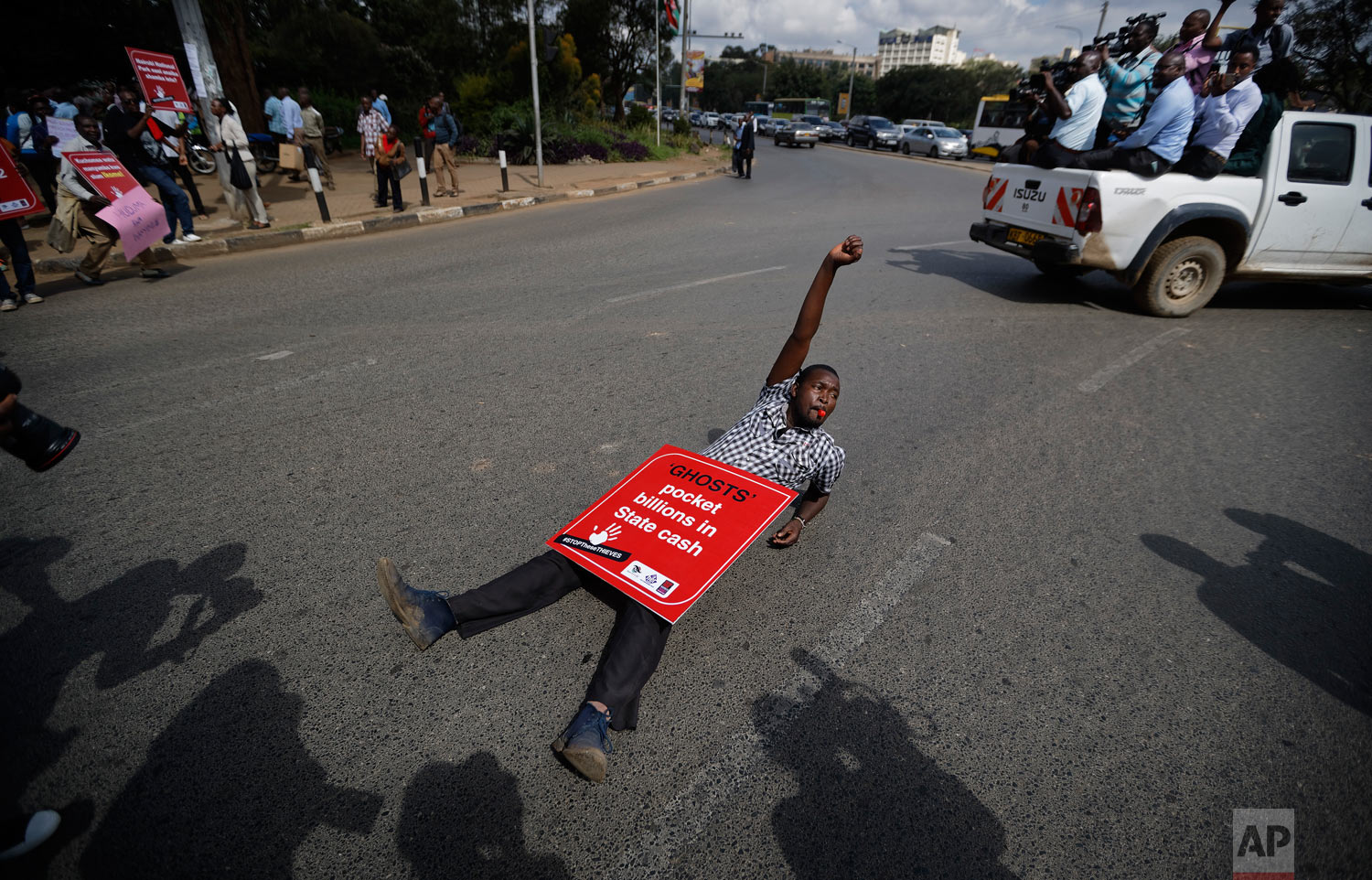 A protester lies down on the street during an anti-corruption demonstration by hundreds of protesters who marched to the Parliament and Supreme Court in downtown Nairobi, Kenya, Thursday, May 31, 2018. Kenya's leader is under increasing pressure as outrage grows over a number of corruption scandals involving tens of millions of dollars revealed in recent weeks around the ministries of health, energy, agriculture, public service and youth. (AP Photo/Ben Curtis)
A model wears a creation for Dior's Cruise 2019 fashion collection in Chantilly, north of Paris, Friday, May 25, 2018. (AP Photo/Thibault Camus)
A Kashmiri man prays inside the Shah-e-Hamdan mosque during Ramadan in Srinagar, Indian controlled Kashmir, Friday, June 1, 2018. Islam's holiest month is a period of intense prayer, dawn-to-dusk fasting and nightly feasts. (AP Photo/Dar Yasin)
In this Thursday, May 31, 2018, photo tourists are reflected in sunglasses on Maya Bay on Phi Phi island in Krabi province, Thailand. Maya Bay on Phi Phi Leh Island in the Andaman Sea will close to tourists for four months from Friday to give its coral reefs and sea life a chance to recover from an onslaught that began nearly two decades ago. (AP Photo/Sakchai Lalit)
A fisherman checks his rod as the sun rises behind him while fishing off a jetty into the Atlantic Ocean, Friday, June 1, 2018, in Bal Harbour, Fla. (AP Photo/Wilfredo Lee)
A bubble artist performs with soap bubbles in front of the Old Opera in Frankfurt, Germany, Friday, June 1, 2018. (AP Photo/Michael Probst)
A small flock of sheep graze in a field overlooking Tel Aviv as part of a project to bring back the nature to the city like it use to be, in Tel Aviv, Israel, Monday, May 28, 2018. (AP Photo/Oded Balilty)
An airborne migrant worker kicks a rattan ball during a game of Chinlone in a field flooded by rain water in Bangkok, Thailand, Thursday, May 31, 2018. The popular Burmese sport Chinlone, a combination of sport and dance, is played between two teams consisting of six players each, passing a rattan ball back and forth with feet, knees and heads. (AP Photo/Gemunu Amarasinghe)
In this Wednesday, May 30, 2018, photo, people and motorists in morning rush hour are reflected on an electronic display panel advertising a video footage of Chinese President Xi Jinping near the Central Business District in Beijing. Chinese factory activity grew at its fastest rate in eight months on stronger demand, a survey showed Thursday, May 31, 2018 in a positive sign for the world's No. 2 economy despite trade tensions with the U.S. China's services industry is playing a bigger role as communist leaders upgrade economic growth, shifting it from a worn-out model based on wasteful trade and investment to one focused on domestic spending. (AP Photo/Andy Wong)
People cool off from the summer heat under an open air shower in Baghdad, Iraq, Wednesday, May 30, 2018. The temperature in Baghdad reached 109 F (42 C) on Wednesday. (AP Photo/Hadi Mizban)
Jared Donaldson, of the U.S, slams a forehand to Bulgaria's Grigor Dimitrov during their second round match of the French Open tennis tournament at the Roland Garros stadium, Wednesday, May 30, 2018 in Paris. (AP Photo/Thibault Camus)
Shiva Yeshlur, 13, from Rock Springs, Wyo., jumps into the air after correctly spelling "diastrophism" during the third round of the Scripps National Spelling Bee in Oxon Hill, Md., Wednesday, May 30, 2018. (AP Photo/Cliff Owen)
A boy dressed as dancing devil stands against a wall during a traditional celebration in Naiguata, Venezuela, Thursday, May 31, 2018. Carrying in their hands striking masks mostly animals and sea monsters, hundreds of men, women and children went out to dance frantically as possessed by evil spirits in an ancient ritual known as Dancing Devils of Naiguata, the unorthodox way of the coastal towns of Venezuela to venerate God during the celebrations of Corpus Christi. (AP Photo/Ariana Cubillos)