Pictures of the week
Here's your look at highlights from the weekly AP photo report, a gallery featuring a mix of front-page photography, the odd image you might have missed and lasting moments our editors think you should see.
This gallery contains photos from the week of Feb. 25 - March 2, 2018.
China Politics
Security personnel stand guard outside of the Great Hall of the People near the portrait of Chinese leader Mao Zedong at Tiananmen Gate in Beijing, Friday, March 2, 2018. The annual meetings of China's top legislative bodies are set to begin on Saturday, during which the two-term limit on China's presidency is expected to be removed. (AP Photo/Mark Schiefelbein)
Paris Fashion Dries Van Noten
A model wears a creation for Dries Van Noten's ready-to-wear fall/winter 2018/2019 fashion collection presented in Paris, Wednesday, Feb. 28, 2018. (AP Photo/Kamil Zihnioglu)
Mexico Tennis Acapulco Open
Germany's Alexander Zverev serves during his match against countryman Peter Gojowczyk at the Mexican Tennis Open in Acapulco, Mexico, Wednesday, Feb. 28, 2018.(AP Photo/Rebecca Blackwell)
South Asia Holi
A man's face is smeared with color by another during festivities for Holi, the Hindu festival of colors, in Mumbai, India, Friday, March. 2, 2018. (AP Photo/Rajanish Kakade)
Philippines Daily Life
A woman arranges the hair of a girl as they sell candies and cigarettes beside a street in metropolitan Manila, Philippines on Friday, March 2, 2018. Makeshift stalls of street vendors are common along pedestrian lanes in the crowded capital. (AP Photo/Aaron Favila)
Malaysia Daily Life
The sun rises behind Petronas Twin Towers in Kuala Lumpur, Malaysia, Wednesday, Feb. 28, 2018. Petronas Twin Towers were the tallest buildings in the world from 1998 to 2004 and remain the tallest twin towers in the world today. (AP Photo/Sadiq Asyraf)
California Storms
A man walks his dog at Ocean Beach as the sun sets in San Francisco, Tuesday, Feb. 27, 2018. Forecasters said the next weather system will arrive in Northern California on Wednesday, and reach the south by Thursday, bringing much more precipitation. (AP Photo/Jeff Chiu)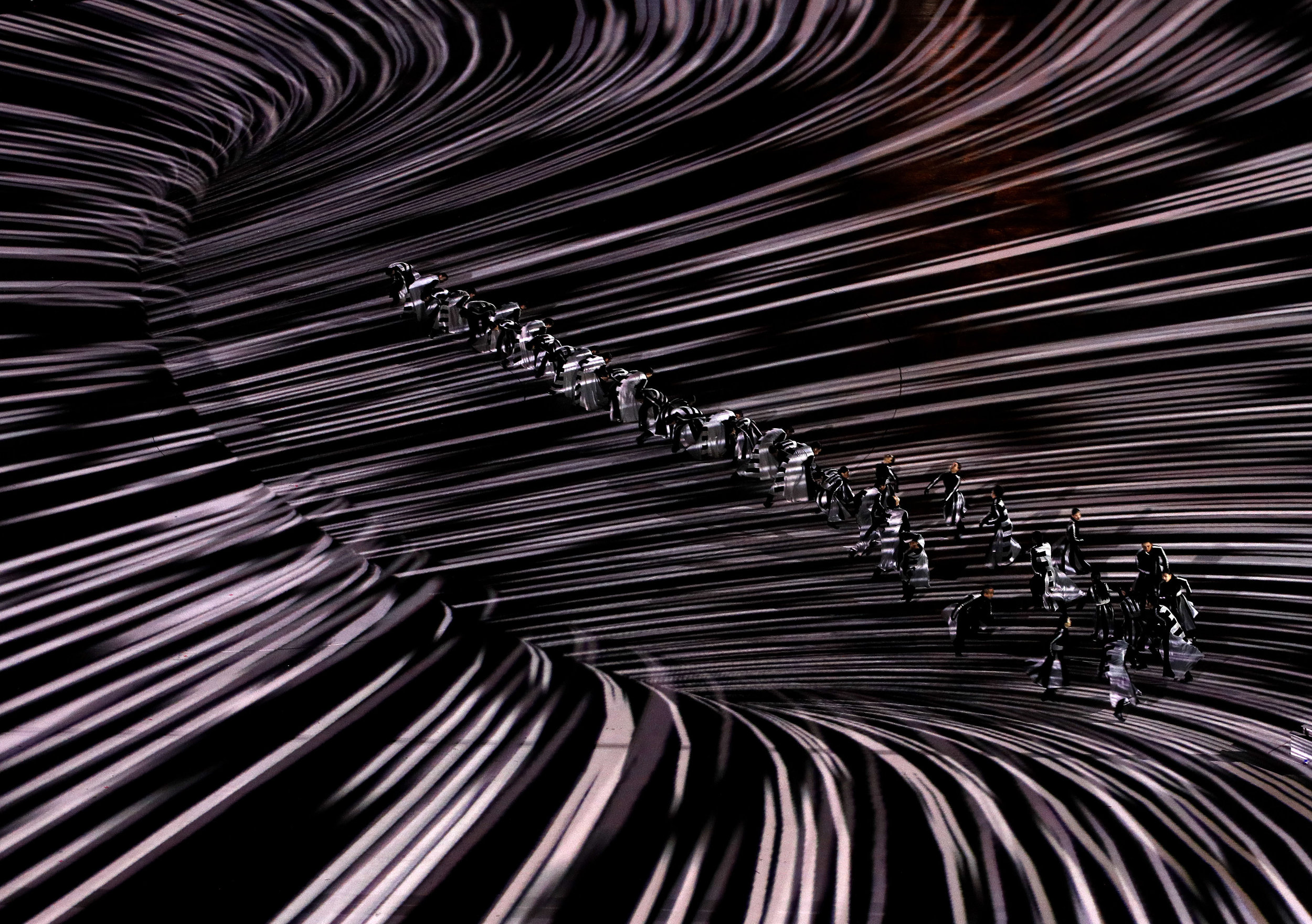 Pyeongchang Olympics Closing Ceremony
Performers dance during the closing ceremony of the 2018 Winter Olympics in Pyeongchang, South Korea, Sunday, Feb. 25, 2018. (AP Photo/Charlie Riedel)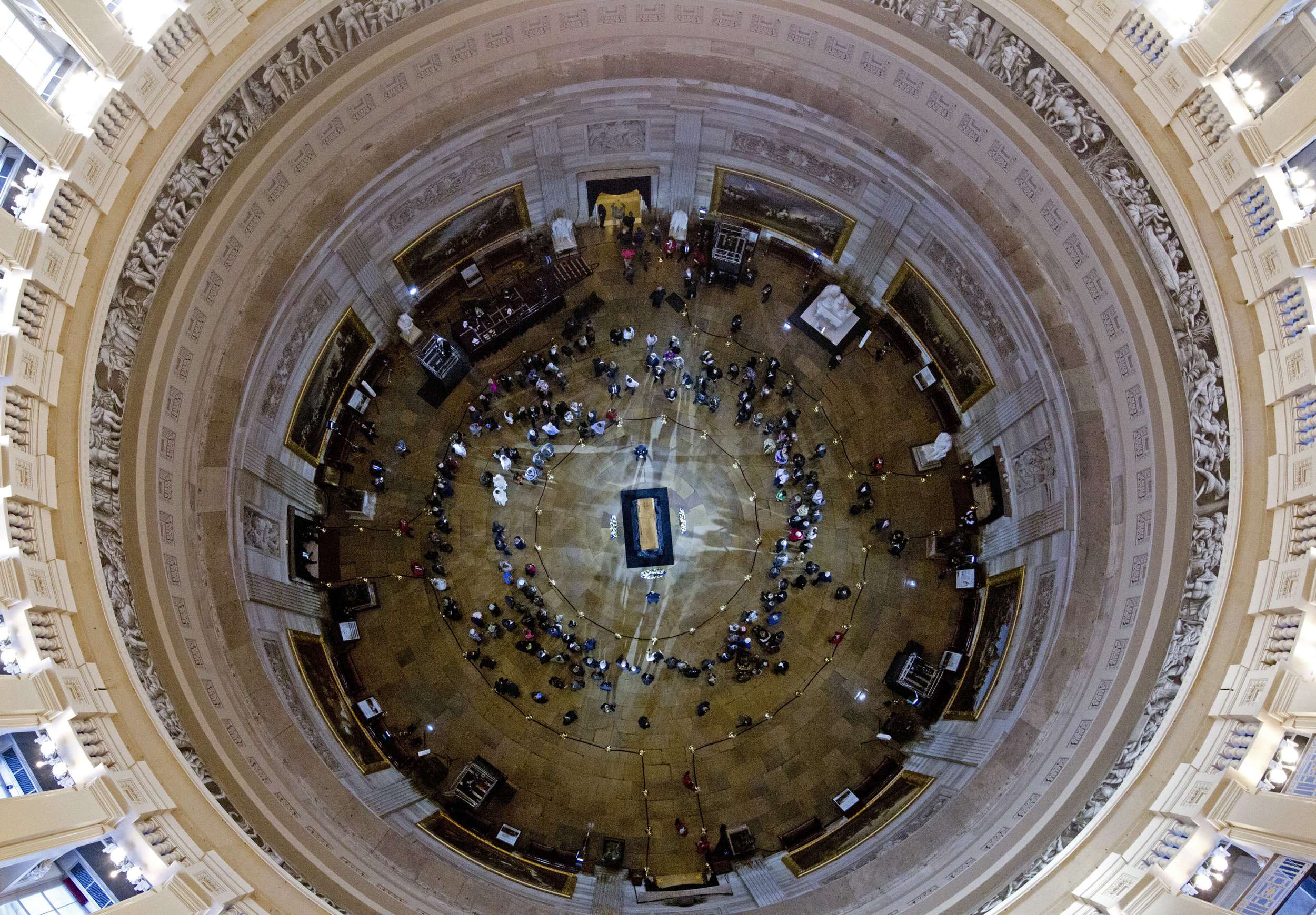 Billy Graham
Visitors pay their respects as the casket of Reverend Billy Graham lies in honor at the Rotunda of the U.S. Capitol Building in Washington, Wednesday, Feb. 28, 2018. It's a rare honor for a private citizen to lie in honor at the Capitol. Graham died Wednesday in his sleep at his North Carolina home. He was 99. (AP Photo/Jose Luis Magana)
Golden Knights Kings Hockey
Vegas Golden Knights defenseman Brayden McNabb, right, swats the puck away from the goal as goaltender Marc-Andre Fleury is out of position during the third period of an NHL hockey game against the Los Angeles Kings, Monday, Feb. 26, 2018, in Los Angeles. The Kings won 3-2. (AP Photo/Mark J. Terrill)
This gallery was produced by Donald King and Courtney Dittmar in New York.