AP monthly staff photo contest
Each month The Associated Press management honors photographers for outstanding coverage while on assignment.
The winners for the July 2017 AP Staff Photo Contest are Ariana Cubillos and Fernando Llano in News Photography for "Venezuela Crisis," Alvaro Barrientos in Feature Photography for "Running of the Bulls," and Christophe Ena and Peter Dejong in Sports Photography for "Tour de France."
Congratulations to all the photographers for their outstanding work. This month's winning images are featured below.
News Photography | Ariana Cubillos and Fernando Llano
Venezuela Crisis
The silhouette of an anti-government protester is seen through a Venezuelan flag during a call by the opposition to block roads for 10 hours in Caracas, Venezuela, Monday, July 10, 2017. Opposition protests demanding new elections and decrying triple-digit inflation, food shortages and worsening crime continue as President Nicolas Maduro pushes forward with his plan to draft a new constitution (AP Photo/Fernando Llano)
Venezuela Crisis
Opposition lawmakers brawl with pro-government militias who are trying to force their way into the National Assembly during a special session coinciding with Venezuela's independence day, in Caracas, Wednesday, July 5, 2017. At least five lawmakers were injured in the attack. Despite the violence, lawmakers later approved a plan by the opposition to hold a symbolic referendum July 16 to give voters the chance to reject President Nicolas Maduro's plans to draft a new political charter. (AP Photos/Fernando Llano)
Venezuela Crisis
Bolivarian National Guards fire rubber bullets as they advance on anti-government demonstrators in Caracas, Venezuela, Friday, July 28, 2017, two days before the vote to begin the rewriting of Venezuela's constitution. Protesters say the election of a constitutional assembly will allow President Nicolas Maduro to eliminate democratic checks and balances and install an authoritarian single-party system. (AP Photo/Ariana Cubillos)
Venezuela Crisis
An anti-government protester lobs a homemade petrol bomb at security forces launching tear gas and rubber bullets at protesters marching to the Supreme Court in Caracas, Venezuela, Thursday, July 6, 2017. Opposition protests demanding new elections and decrying triple-digit inflation, food shortages and worsening crime continue as President Nicolas Maduro pushes forward with his plan to draft a new constitution. (AP Photo/Fernando Llano)
Venezuela Crisis
A medic carries a child to safety after he was affected by tear gas during protests in Caracas, Venezuela, Saturday, July 1, 2017. Demonstrators are taking the the streets after three months of continued protests that has seen the country's chief prosecutor Luisa Ortega barred from leaving the country and her bank accounts frozen, by the Supreme Court following her mounting criticisms of President Nicolas Maduro. (AP Photo/Ariana Cubillos)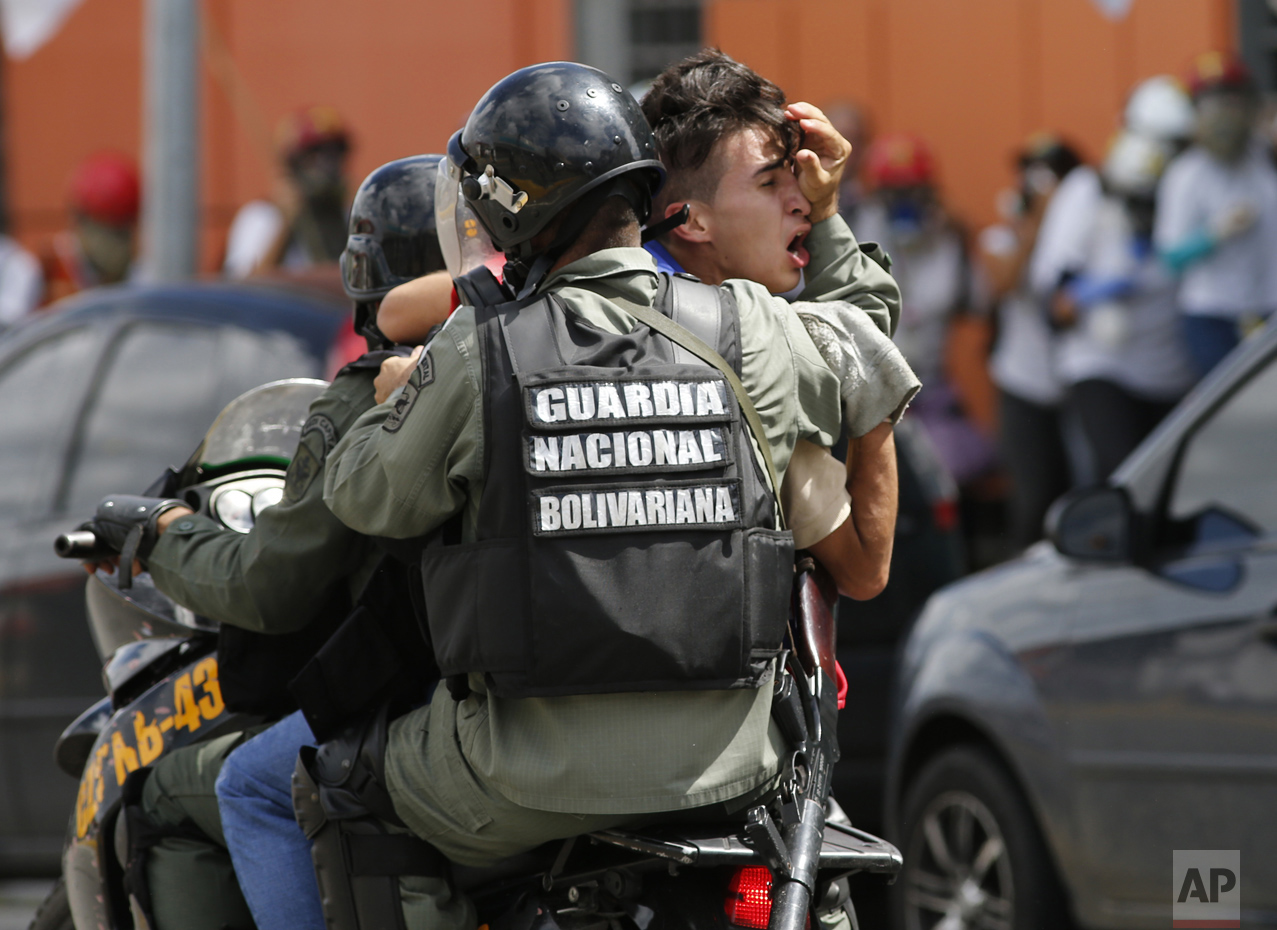 Venezuela Crisis
A protester taking part in an anti-government march to the Supreme Court is detained and driven away by Bolivarian National Guard soldiers in Caracas, Venezuela, Thursday, July 6, 2017. Opposition protests demanding new elections and decrying triple-digit inflation, food shortages and worsening crime continue as President Nicolas Maduro pushes forward with his plan to draft a new constitution. (AP Photo/Ariana Cubillos)
Venezuela Crisis
Anti-government protesters run from advancing Venezuelan Bolivarian National Guard officers on the first day of a 48-hour general strike in protest of government plans to rewrite the constitution, in Caracas, Venezuela, Wednesday, July 26, 2017. President Nicolas Maduro is promoting the constitution rewrite as a means of resolving Venezuela's political standoff and economic crisis, but opposition leaders are boycotting it. (AP Photo/Ariana Cubillos)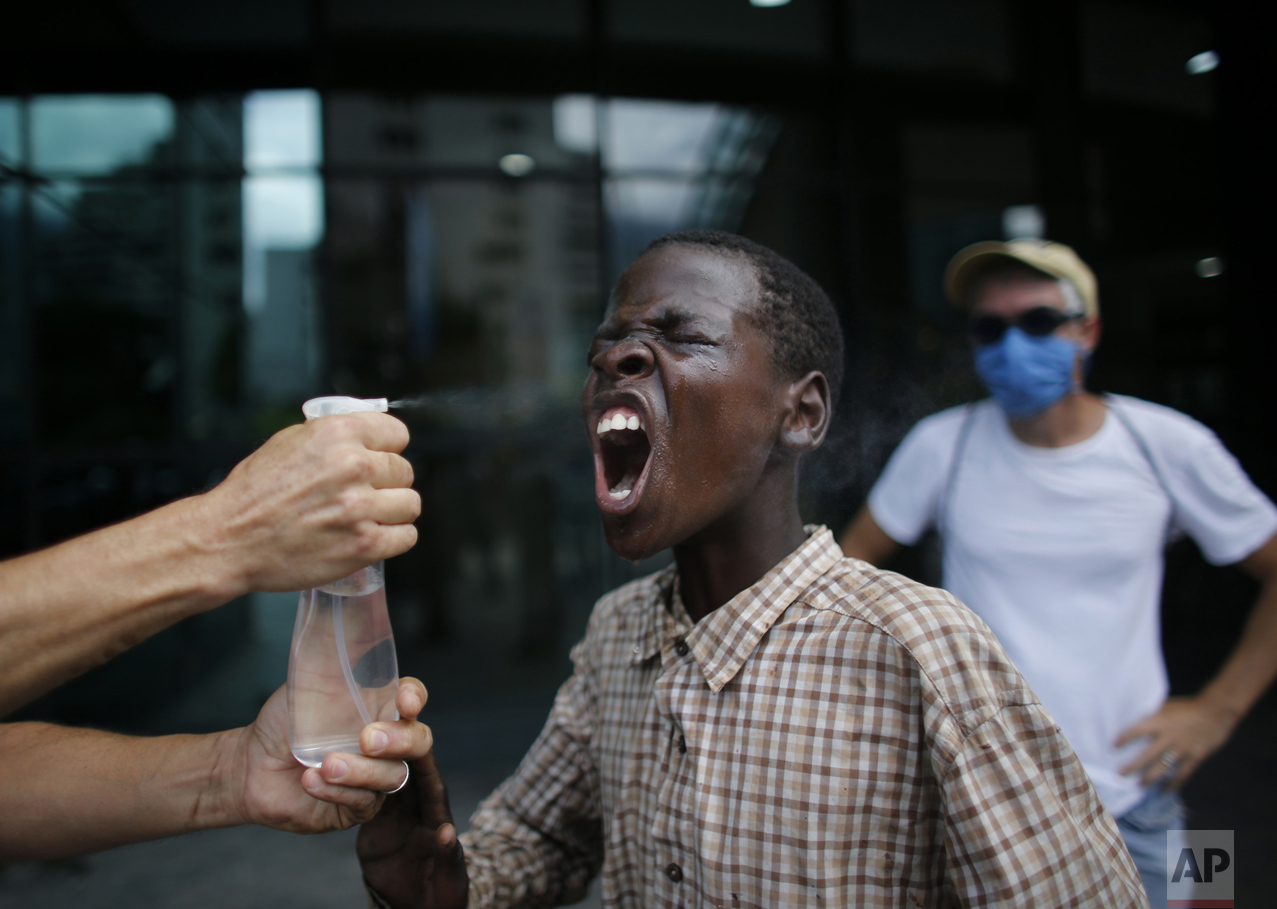 Venezuela Crisis
A youth has his face rinsed from the effects of tear gas after security forces lobbed tear gas at demonstrators sheltering inside a shopping mall during a protest march in Caracas, Venezuela, Thursday, July 6, 2017. The demonstrators were marching towards the supreme court when they were intercepted by authorities. Opposition protests demanding new elections and decrying triple-digit inflation, food shortages and worsening crime continue as President Nicolas Maduro pushes forward with his plan to draft a new constitution. (AP Photo/Ariana Cubillos)
Venezuela Crisis
An anti-government demonstrator jumps on a car that later was burned during clashes with National Guards in Caracas, Venezuela, Thursday, July 20, 2017. Venezuelan President Nicolas Maduro and his opponents faced a crucial showdown Thursday as the country's opposition called for a 24-hour national strike. (AP Photo/Ariana Cubillos)
Venezuela Crisis
An anti-government demonstrator and her daughter wrapped in the Venezuelan flag walk on an empty street in Caracas, Venezuela, Sunday, July 30, 2017. Venezuelans appear to be abstaining in massive numbers in a show of silent protest against a vote to select a constitutional assembly giving the government virtually unlimited powers. Across the capital on Sunday, dozens of polling places were empty or had a few dozens or hundreds of people outside, orders of magnitude less than the turnout in recent elections. (AP Photo/Ariana Cubillos)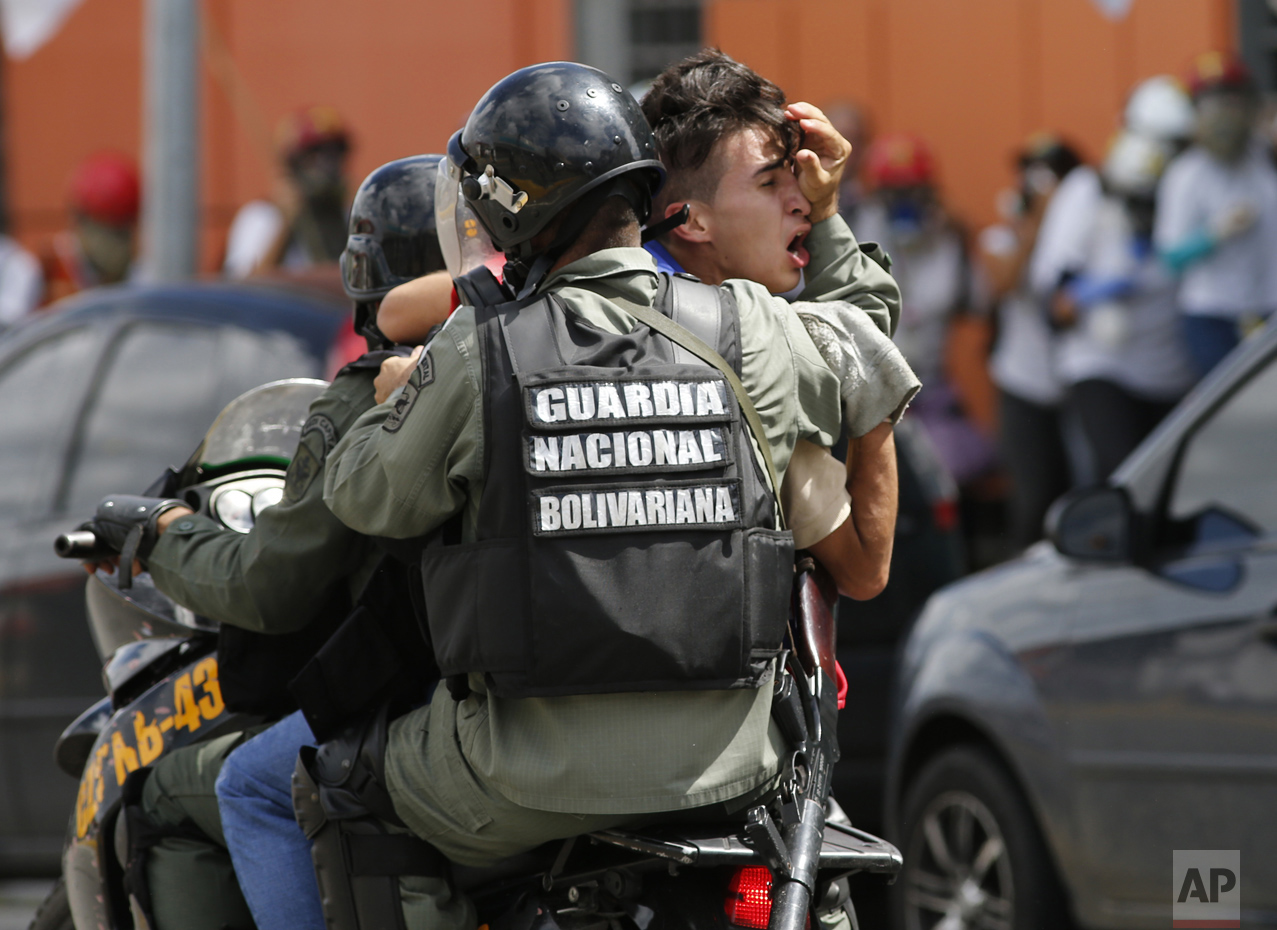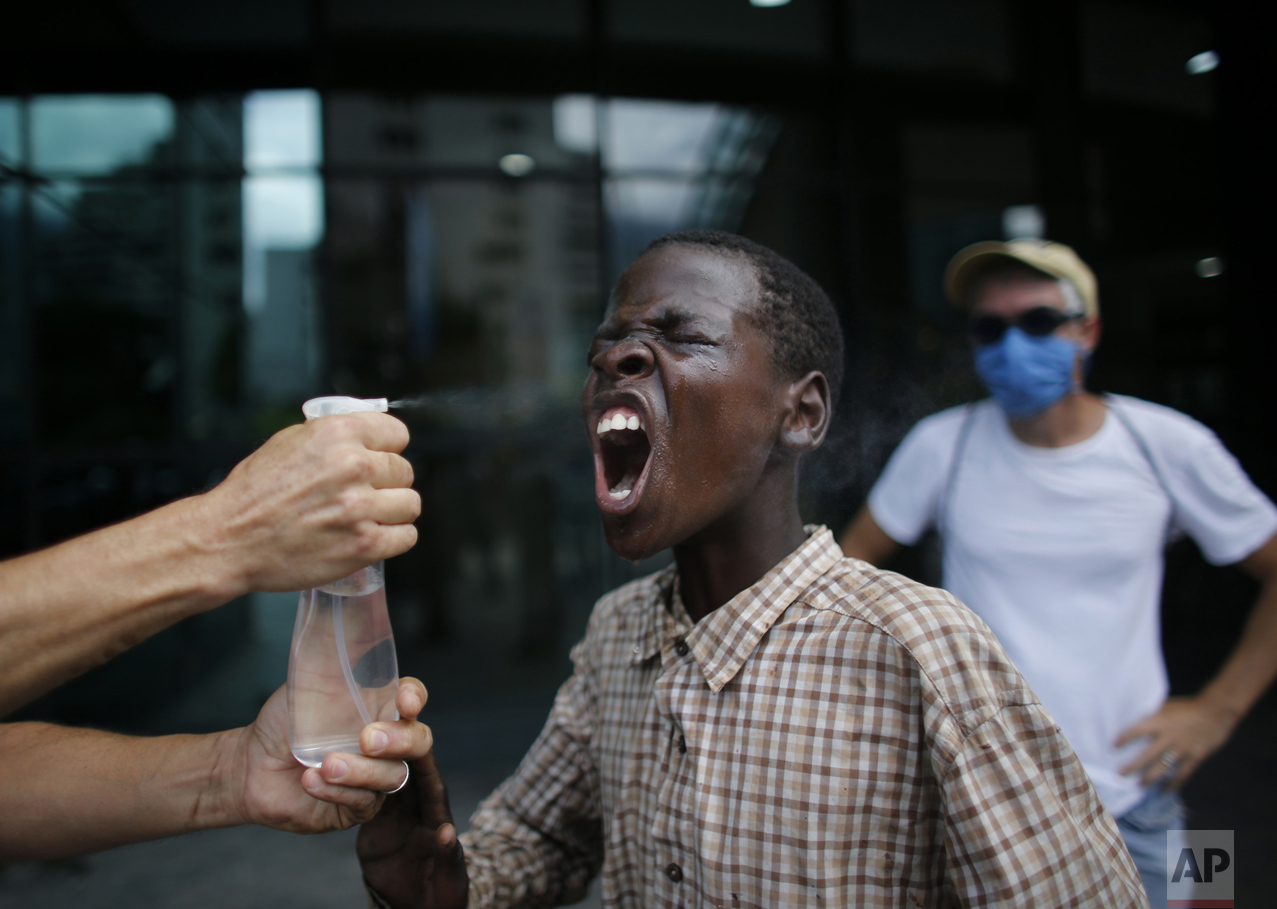 Feature Photography | Alvaro Barrientos
Running of the Bulls
Revellers run next to Nunez del Cuvillo's fighting bulls during the running of the bulls at the San Fermin Festival, in Pamplona, northern Spain, Thursday, July 13, 2017. Revellers from around the world flock to Pamplona every year to take part in the eight days of the running of the bulls. (AP Photo/Alvaro Barrientos)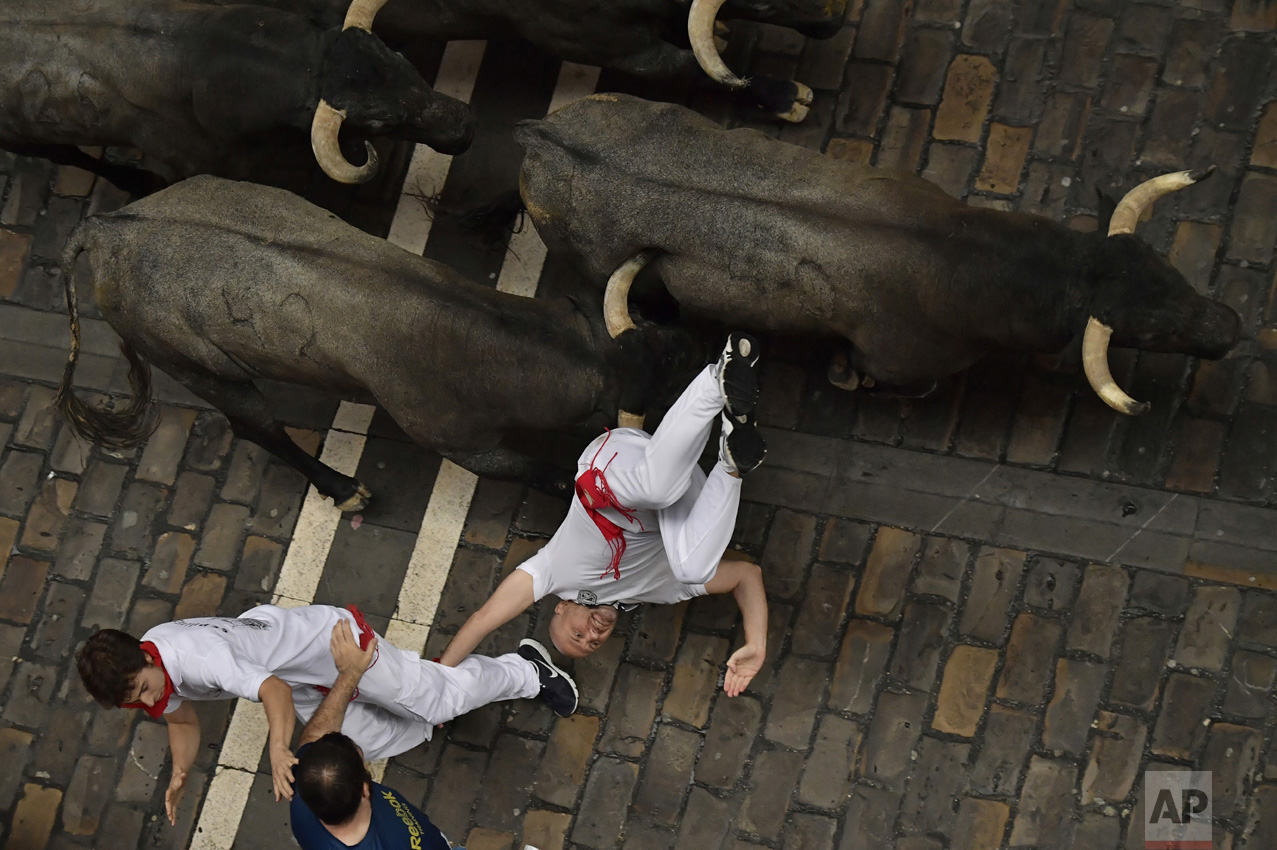 Running of the Bulls
A revellers falls in front of Jose Escolar fighting bulls during the second running of the bulls at the San Fermin Festival, in Pamplona, northern Spain, Saturday, July 8, 2017. Revellers from around the world flock to Pamplona every year to take part in the eight days of the running of the bulls. (AP Photo/Alvaro Barrientos)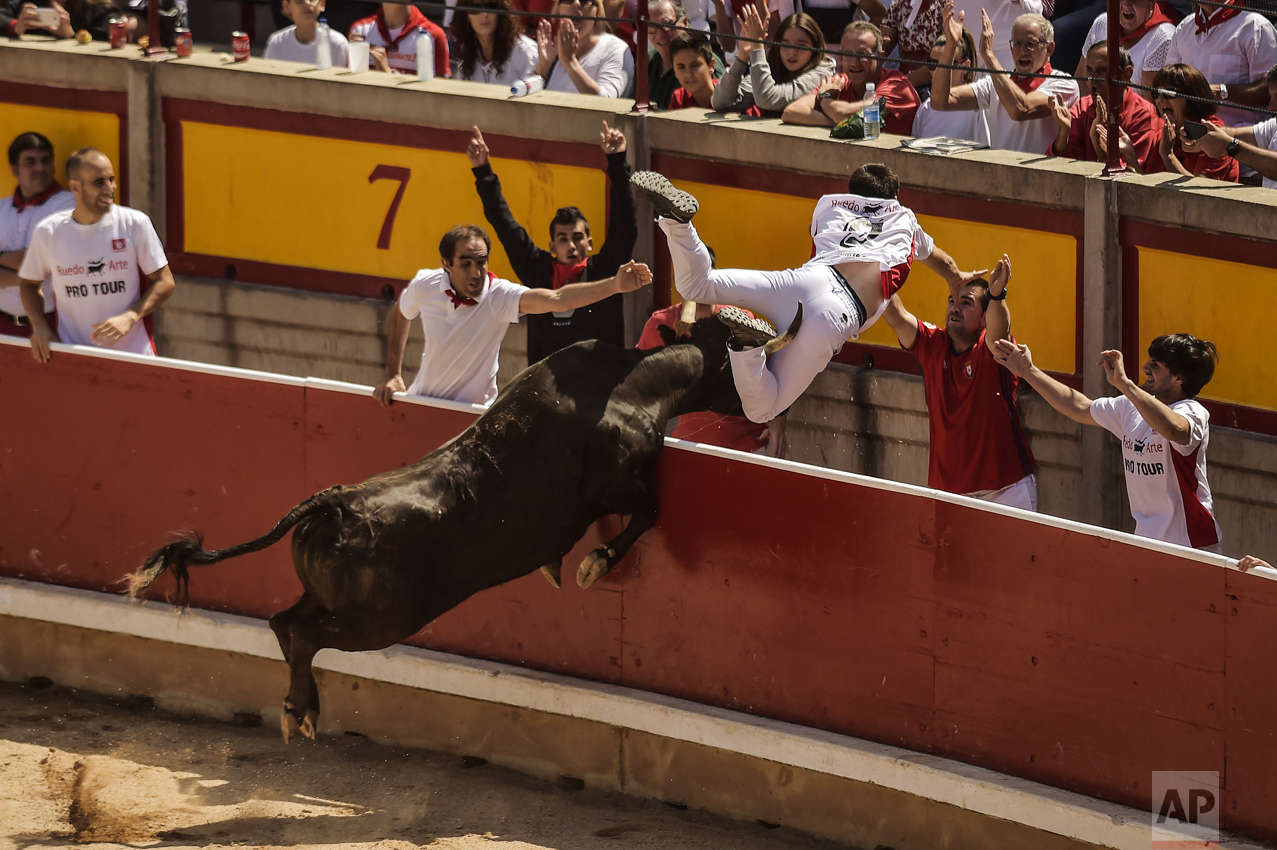 Running of the Bulls
A participant called ''Recortador'' jumps the barrier while being chased by a calf during the ''Recortadores'' festival at the San Fermin Festival, in Pamplona, northern Spain, Sunday, July 9, 2017. (AP Photo/Alvaro Barrientos)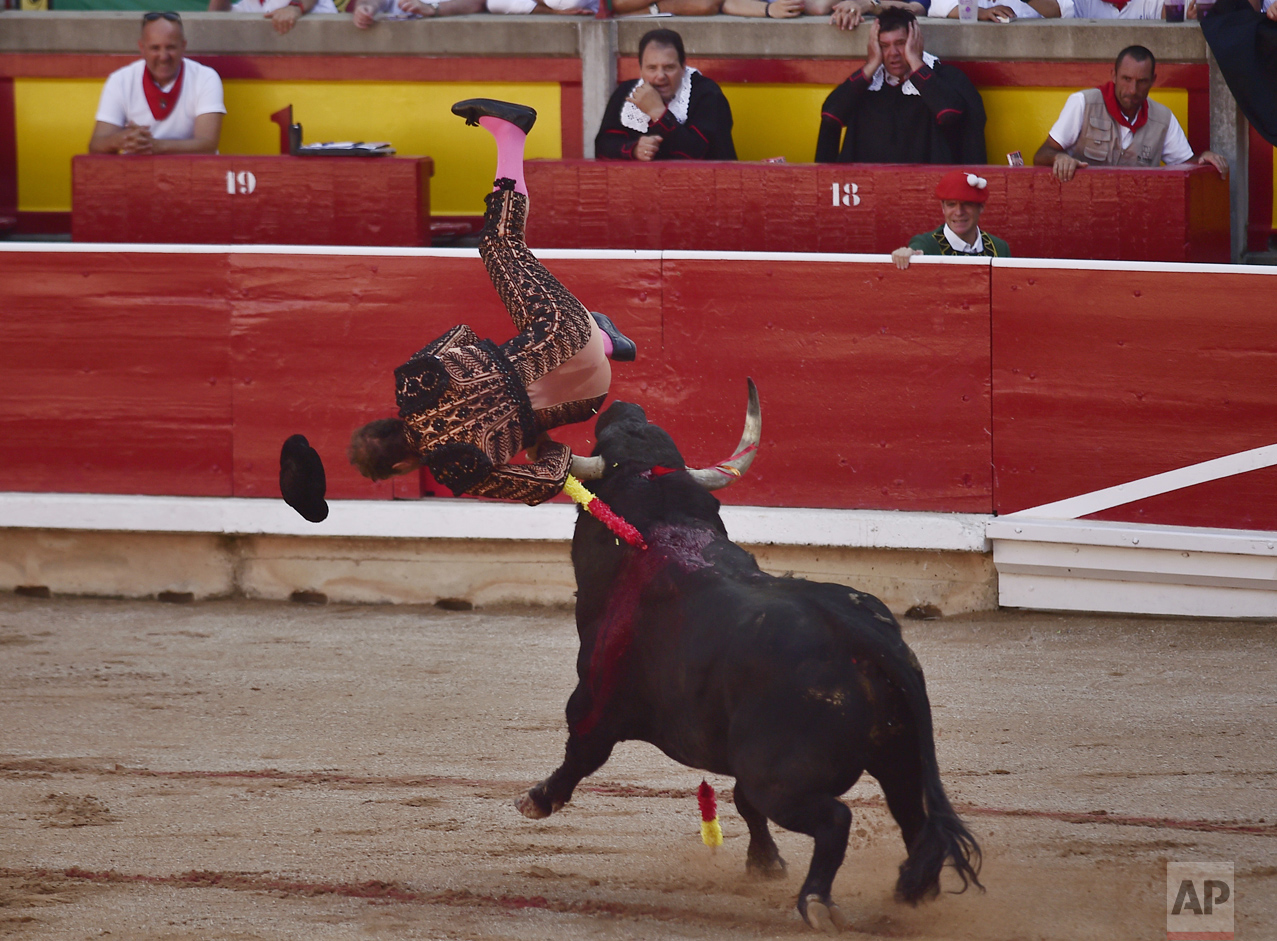 Running of the Bulls
A 'Banderillo' assistant bullfighter is gored by a bull from the Puerto de San Lorenzo ranch during a bullfight at the San Fermin Fiestas in Pamplona, Spain, Sunday, July 9, 2017. (AP Photo/Alvaro Barrientos)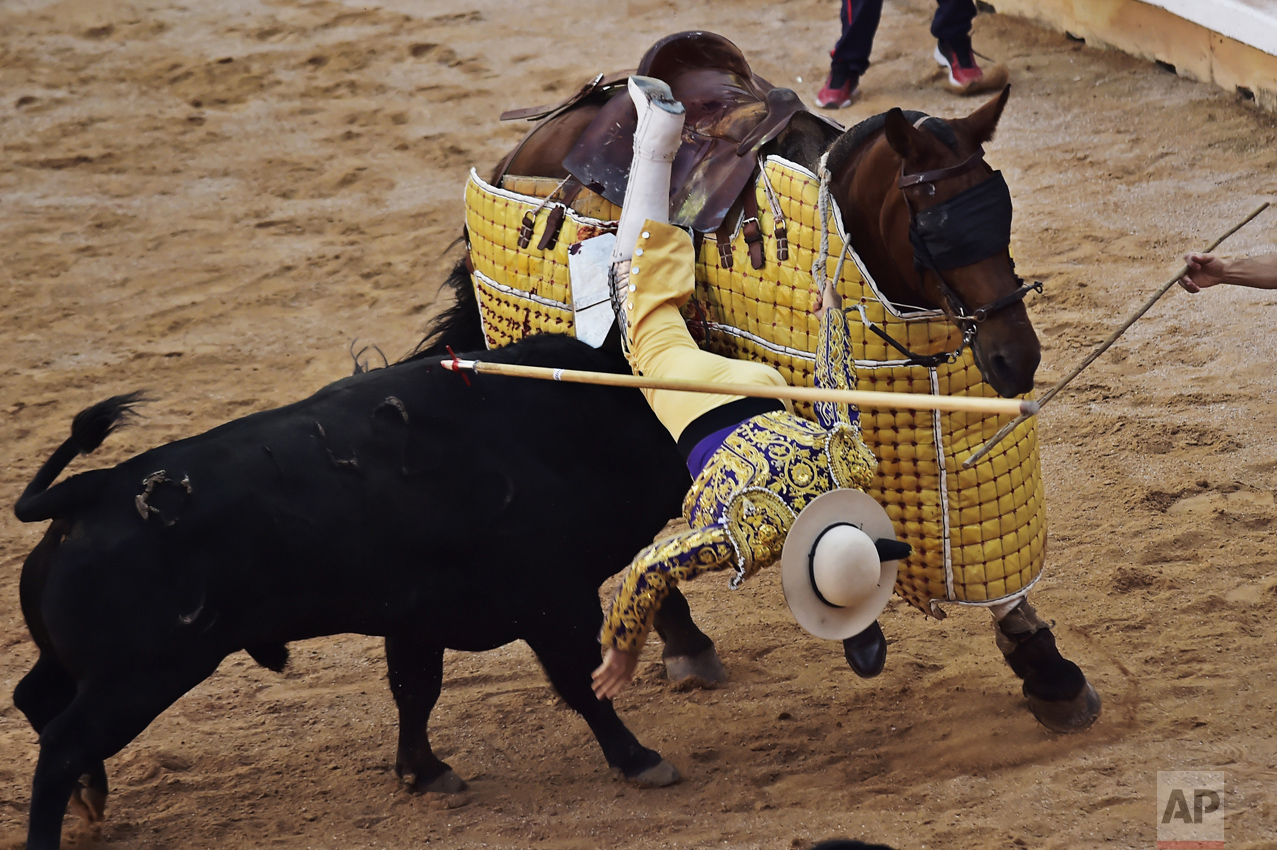 Running of the Bulls
A 'Picador' assistant bullfighter falls from his horse after stabbing a bull from the Puerto de San Lorenzo ranch with a lance during a bullfight at the San Fermin Fiestas in Pamplona, Spain, Sunday, July 9, 2017. (AP Photo/Alvaro Barrientos)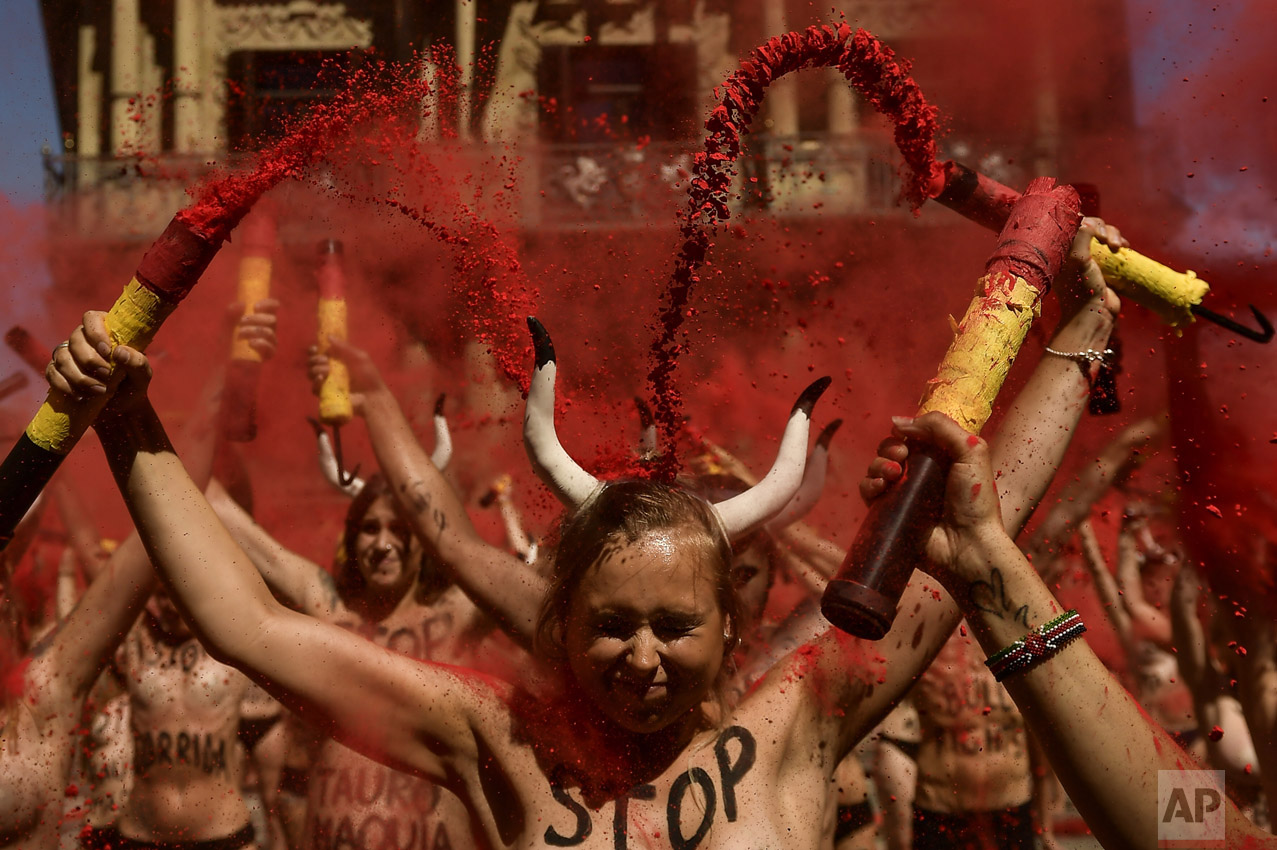 Running of the Bulls
Demonstrators brake ''banderillas'' with red dust during a protest against bullfighting in front of the City Hall a day before of the famous San Fermin festival, in Pamplona, northern Spain, Wednesday, July 5, 2017. The festival will begin on July 6 with the ''txupinazo'' opening ceremony, with people participating in bull runs, music and dance, through the old city. (AP Photo/Alvaro Barrientos)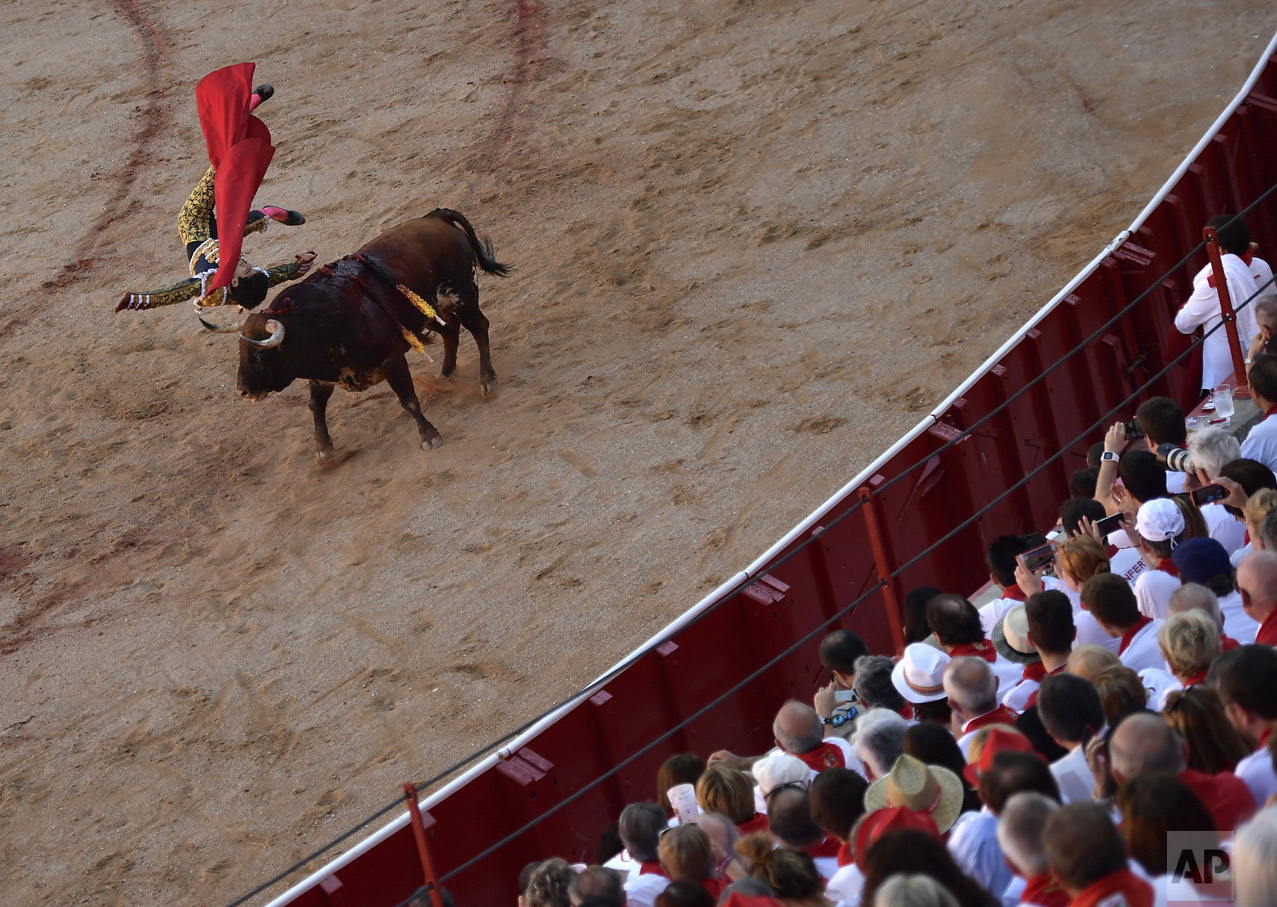 Running of the Bulls
Spanish bullfighter Lopez Simon is gored by a bull from Victoriano del Rio ranch during a bullfight at the San Fermin Fiestas in Pamplona, Spain, Wednesday July 12, 2017. (AP Photo/Alvaro Barrientos)
Running of the Bulls
Spanish bullfighter Lopez Simon is gored by a bull from Victoriano del Rio ranch during a bullfight at the San Fermin Fiestas in Pamplona, Spain, Wednesday July 12, 2017. (AP Photo/Alvaro Barrientos)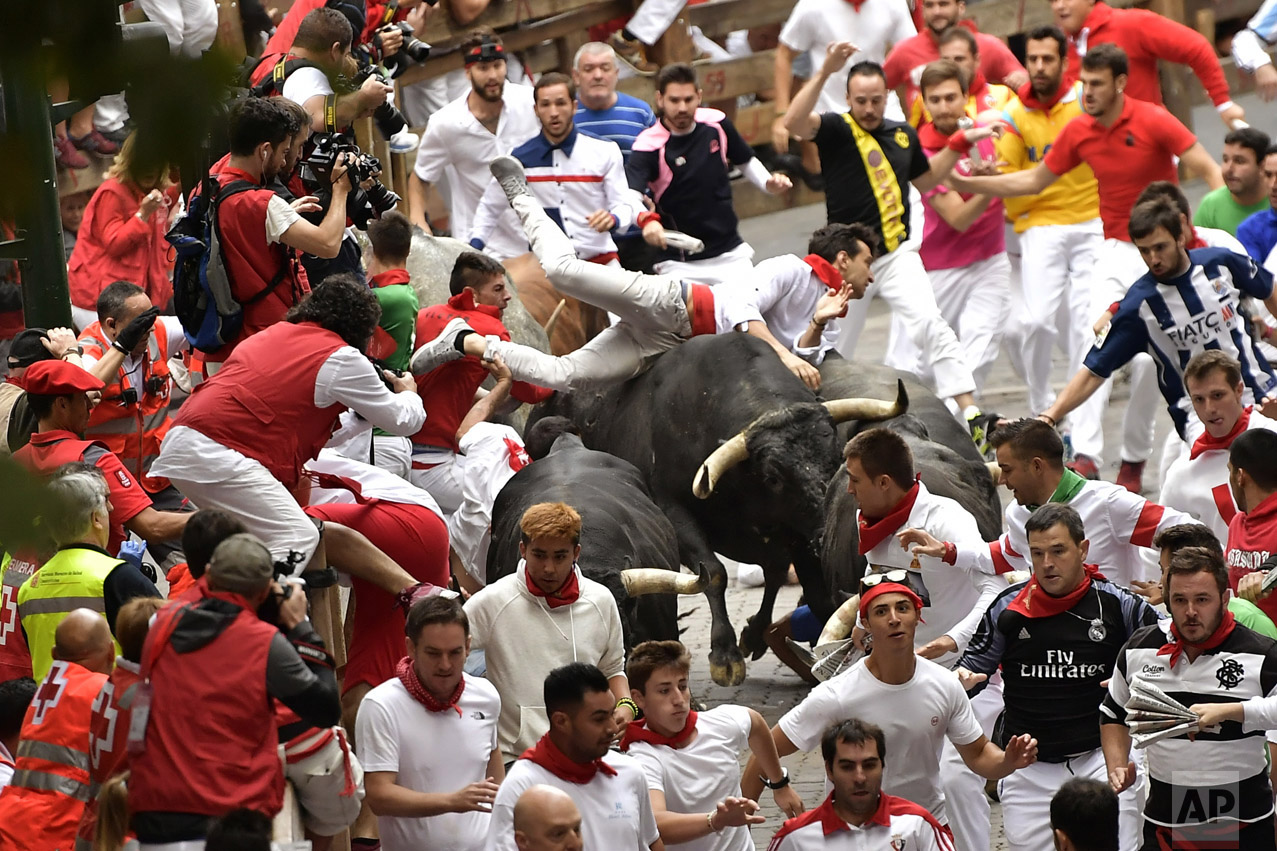 Running of the Bulls
Revellers run in front of Miura's fighting bulls during the running of the bulls at the San Fermin Festival, in Pamplona, northern Spain, Friday, July 14, 2017. Revellers from around the world flock to Pamplona every year to take part in the eight days of the running of the bulls. (AP Photo/Alvaro Barrientos)
Running of the Bulls
Spanish bullfighter Rafaelillo is pushed by a bull from Miura ranch at the San Fermin Festival, in Pamplona, northern Spain, Friday, July 14, 2017. (AP Photo/Alvaro Barrientos)
Running of the Bulls
A detail of Spanish bullfighter Ruben Pinar and his assistant while preparing before a bullfight at the San Fermin Festival, in Pamplona, northern Spain, Friday, July 14, 2017. (AP Photo/Alvaro Barrientos)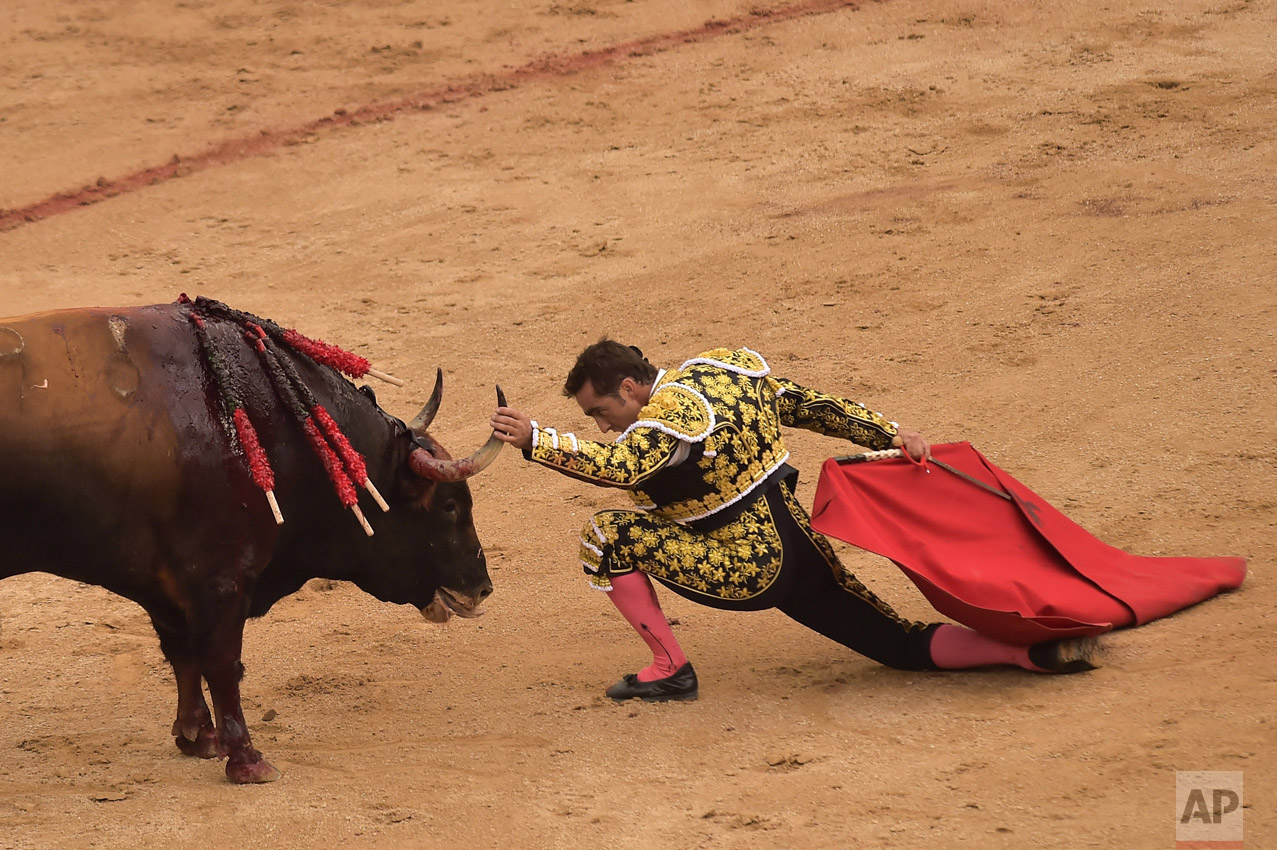 Running of the Bulls
Spanish bullfighting El Fandi, challenges a Fuente Ymbro's fighting bull during a bullfighting at the San Fermin Festival, in Pamplona, northern Spain, Monday, July 10, 2017. (AP Photo/Alvaro Barrientos)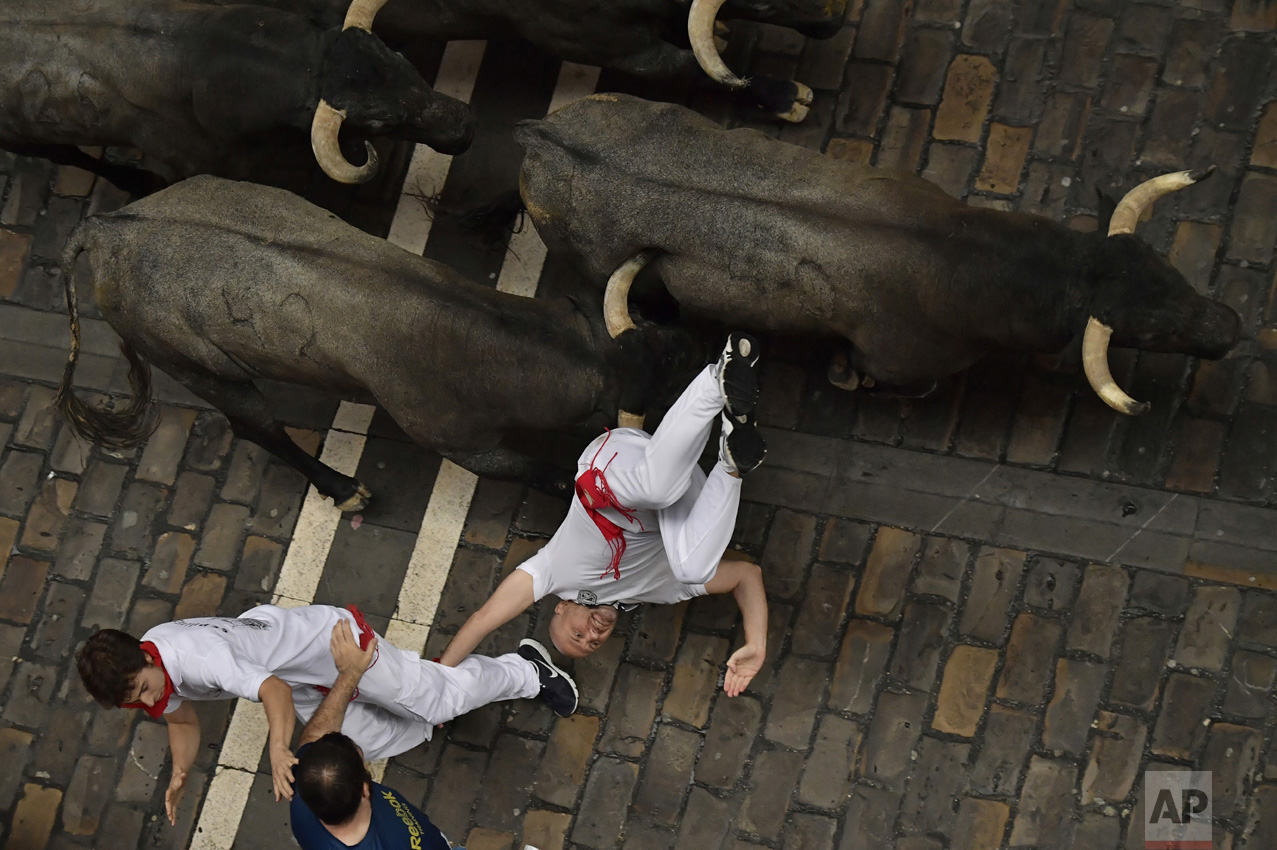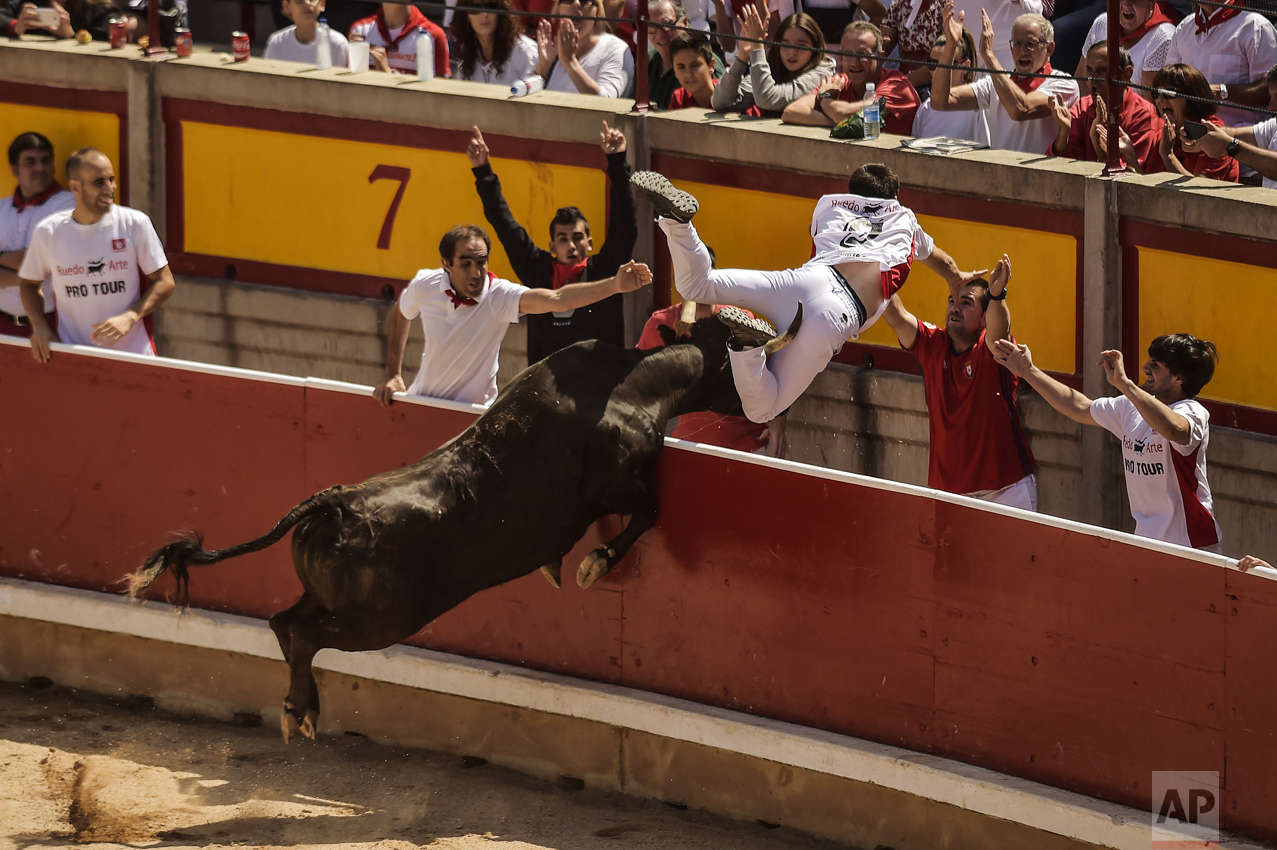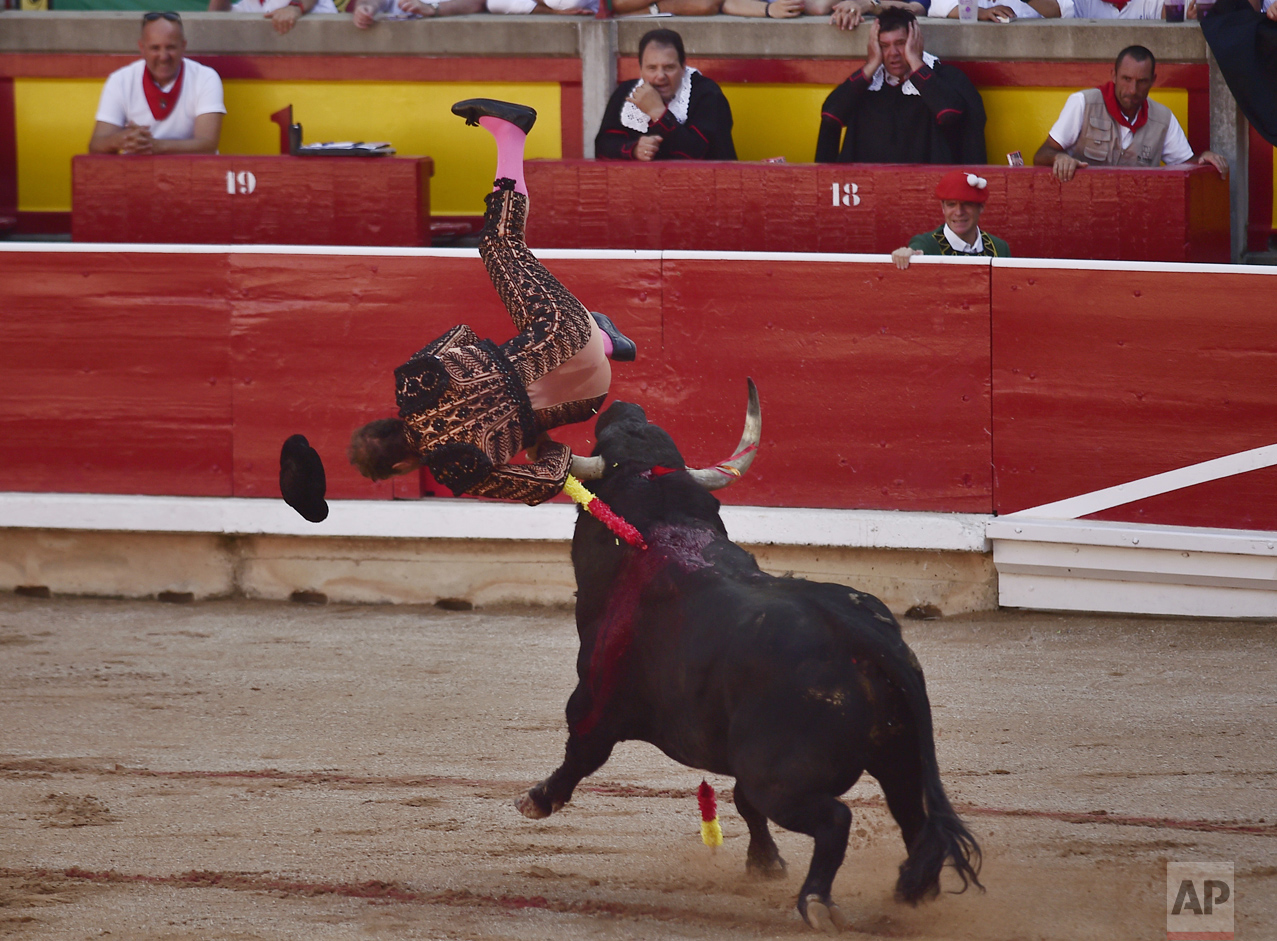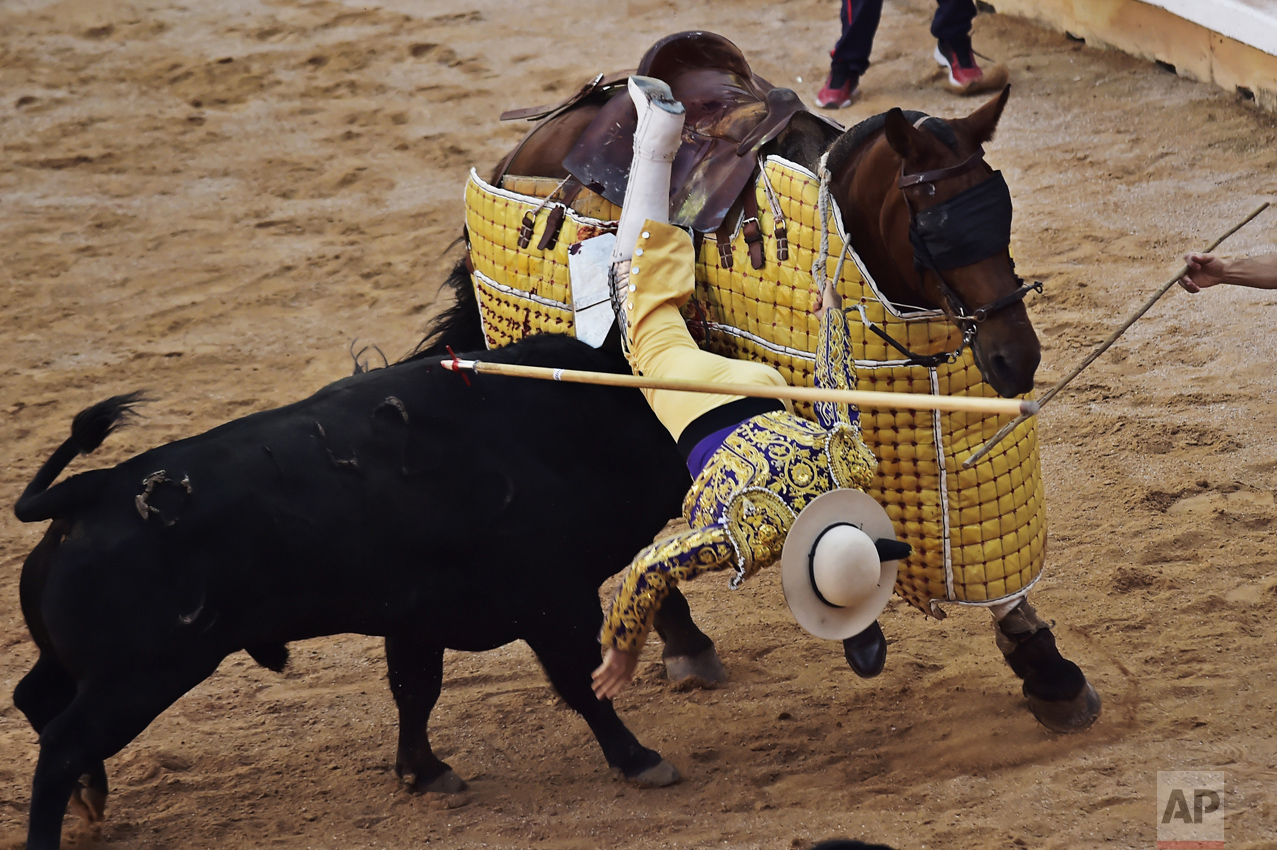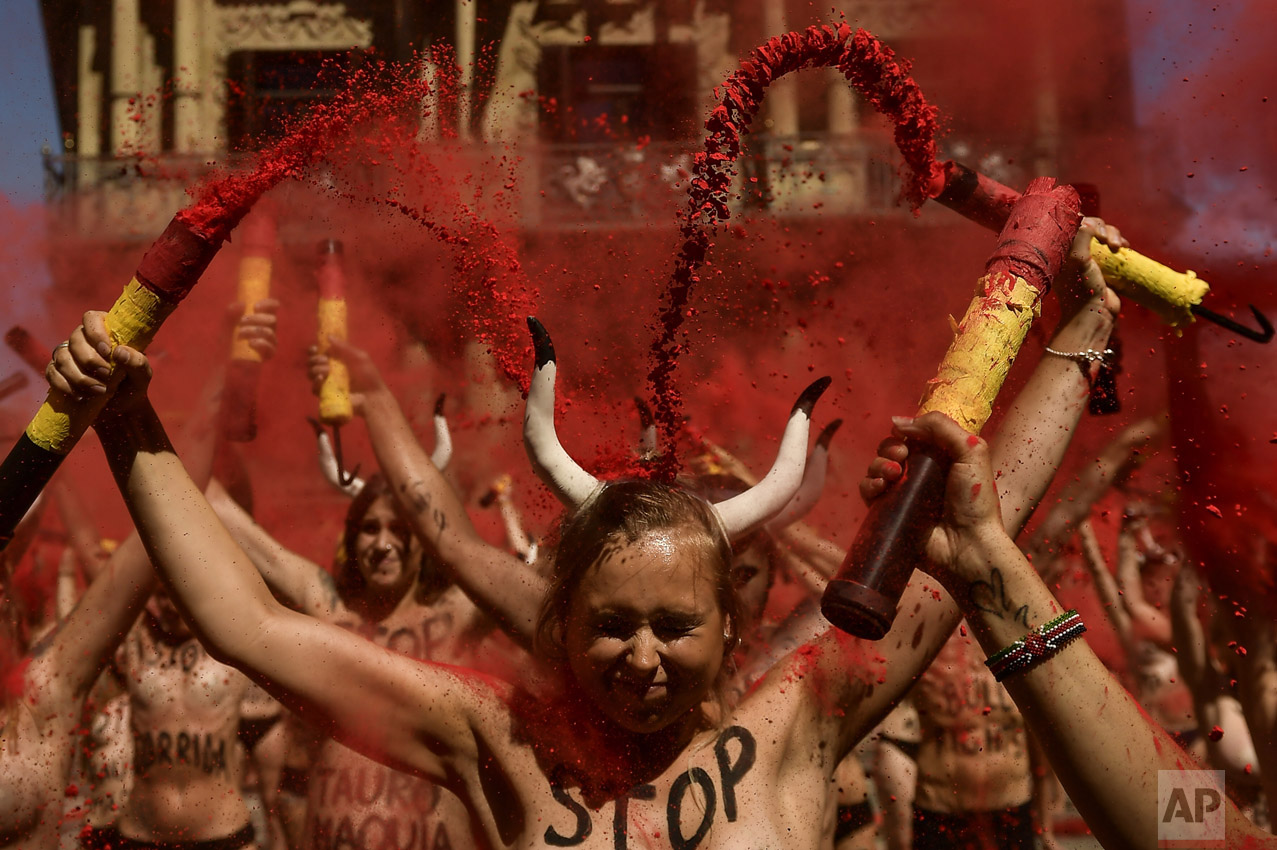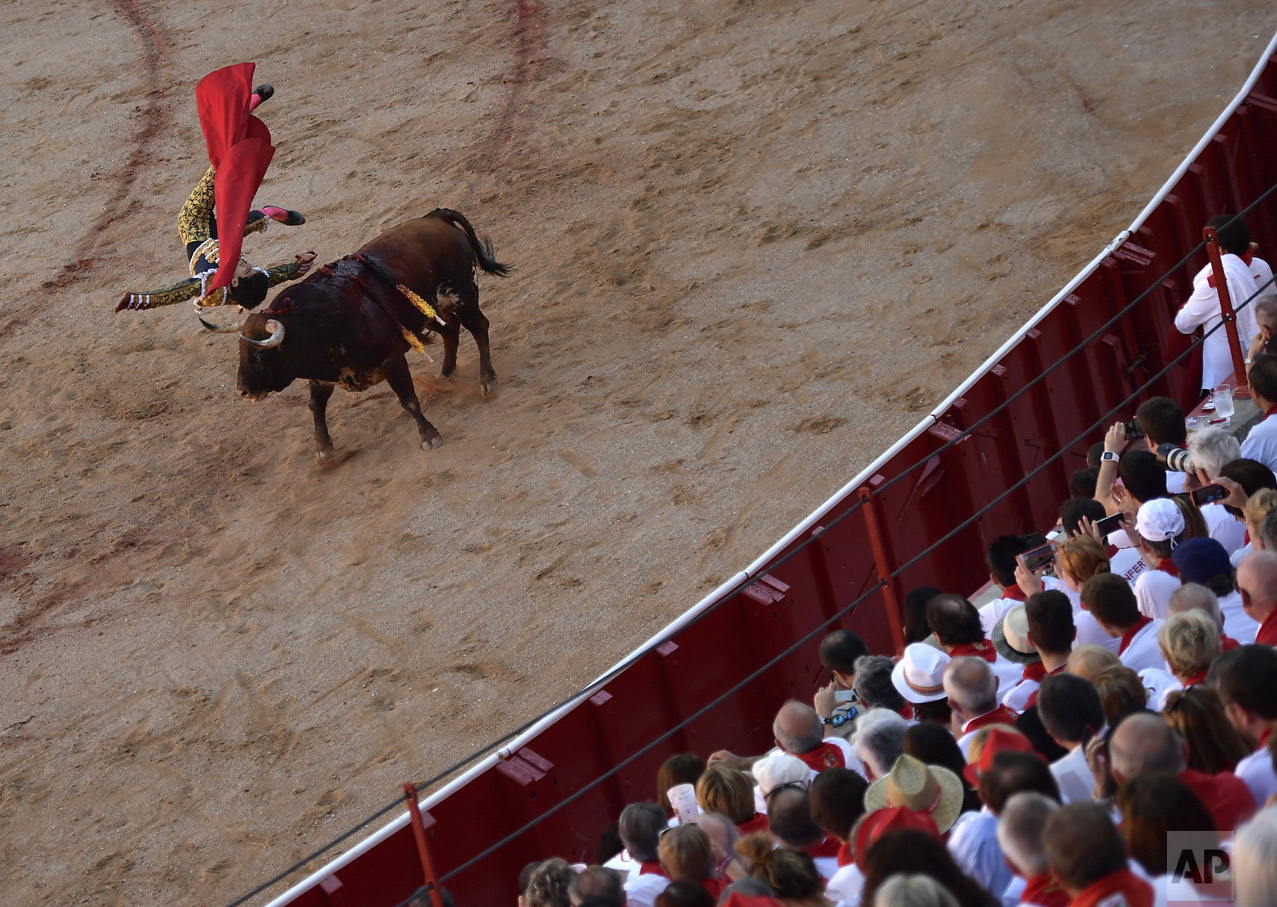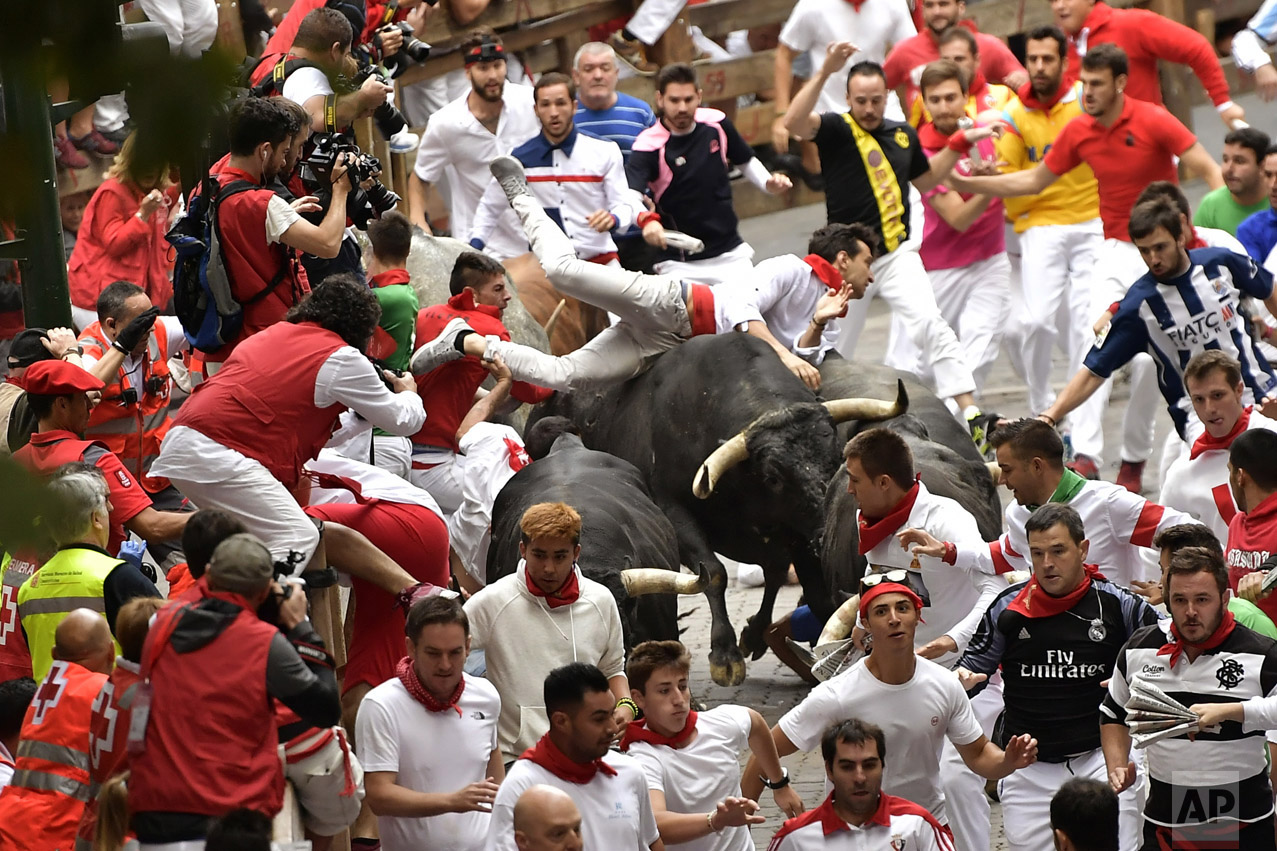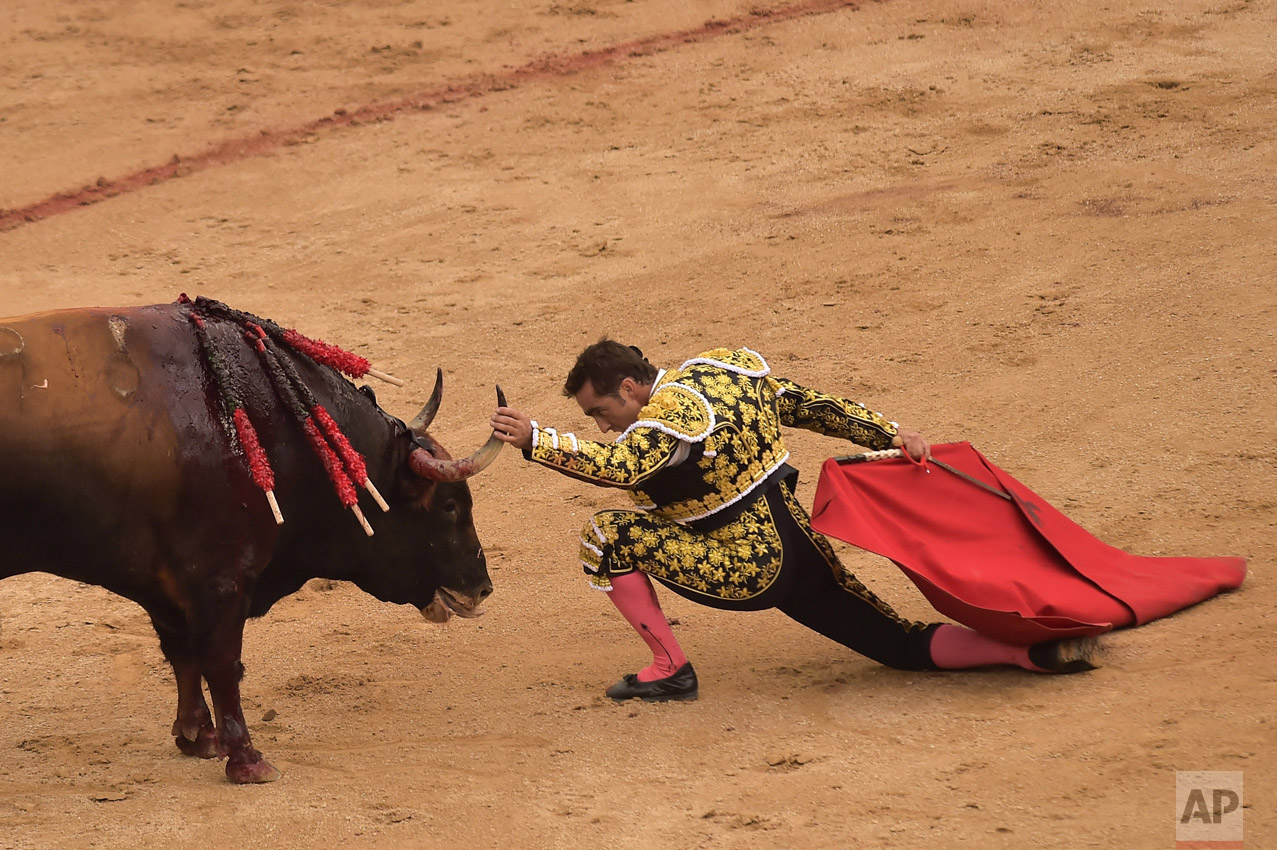 Sports Photography | Christophe Ena and Peter Dejong
Tour de France
France's Romain Bardet rides to win the twelfth stage of the Tour de France cycling race over 214.5 kilometers (133.3 miles) with start in Pau and finish in Peyragudes, France,Thursday, July 13, 2017. (AP Photo/Christophe Ena)
Tour de France
A screaming Manuele Mori of Italy lies on the road after crashing during the ninth stage of the Tour de France cycling race over 181.5 kilometers (112.8 miles) with start in Nantua and finish in Chambery, France, Sunday, July 9, 2017. Mori's injury forced him to abandon the race. (AP Photo/Christophe Ena)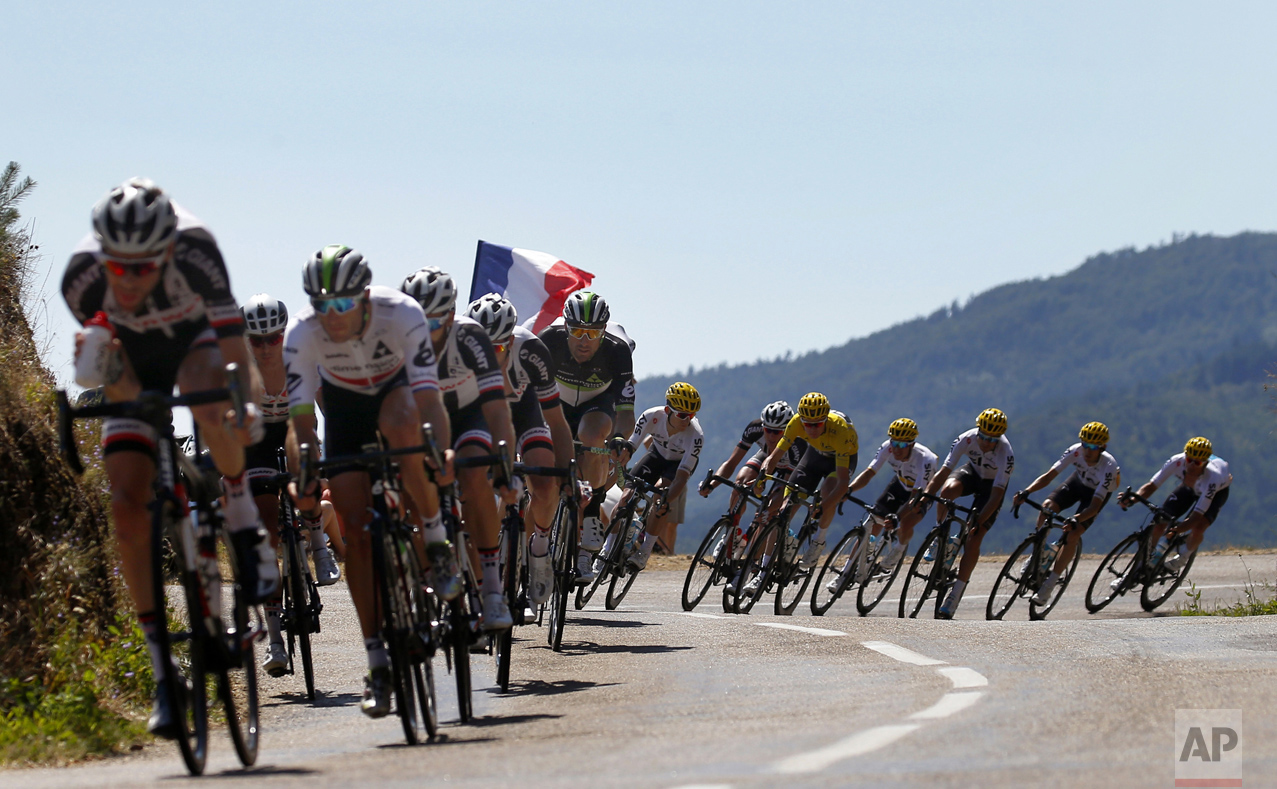 Tour de France
The pack with Britain's Chris Froome, wearing the overall leader's yellow jersey speeds down col du Rouvey pass during the sixteenth stage of the Tour de France cycling race over 165 kilometers (102.5 miles) with start in Le Puy-en-Velay and finish in Romans-sur-Isere, France,, Tuesday, July 18, 2017. (AP Photo/Peter Dejong)
Tour de France
Australia's Richie Porte gets medical assistance after crashing in the descent of the Mont du Chat pass during the ninth stage of the Tour de France cycling race over 181.5 kilometers (112.8 miles) with start in Nantua and finish in Chambery, France, Sunday, July 9, 2017. (AP Photo/Christophe Ena)
Tour de France
The pack passes through a tunnel during the ninth stage of the Tour de France cycling race over 181.5 kilometers (112.8 miles) with start in Nantua and finish in Chambery, France, Sunday, July 9, 2017. Mori's injury forced him to abandon the race. (AP Photo/Christophe Ena)
Tour de France
The pack passes a field of sunflowers during the fourteenth stage of the Tour de France cycling race over 181.5 kilometers (112.8 miles) with start in Blagnac and finish in Rodez, France, Saturday, July 15, 2017. (AP Photo/Peter Dejong)
Tour de France
Spectators watch the pack with Britain's Chris Froome, wearing the overall leader's yellow jersey, and Denmark's Jakob Fuglsang, pass during the seventh stage of the Tour de France cycling race over 213.5 kilometers (132.7 miles) with start in Troyes and finish in Nuits-Saint-Georges, France, Friday, July 7, 2017. (AP Photo/Christophe Ena)
Tour de France
Germany's sprinter Marcel Kittel celebrates as he crosses the finish line to win the sixth stage of the Tour de France cycling race over 216 kilometers (134 miles) with start in Vesoul and finish in Troyes, France, Thursday, July 6, 2017. (AP Photo/Peter Dejong)
Tour de France
Germany's John Degenkolb, left, and Britain's Mark Cavendish crash during the sprint of the fourth stage of the Tour de France cycling race over 207.5 kilometers (129 miles) with start in Mondorf-les-Bains, Luxembourg, and finish in Vittel, France, Tuesday, July 4, 2017. (AP Photo/Christophe Ena)
Tour de France
The riders pass through Sisteron during the nineteenth stage of the Tour de France cycling race over 222.5 kilometers (138.3 miles) with start in Embrun and finish in Salon-de-Provence, France, Friday, July 21, 2017. (AP Photo/Christophe Ena)
Tour de France
France's Warren Barguil, wearing the best climber's dotted jersey celebrates as he crosses the finish line to win the eighteenth stage of the Tour de France cycling race over 179.5 kilometers (111.5 miles) with start in Briancon and finish on Izoard pass, France, Thursday, July 20, 2017. (AP Photo/Christophe Ena)