Middle East in review
Middle East in review is a monthly gallery that features some of the top photojournalism made by AP photographers based in the Middle East published in the past month.
This month's selection begins in Mosul, Iraq, where displaced Iraqis flee their homes due to fighting between Iraqi security forces and Islamic State militants. At the Khazer camp for displaced people in northern Iraq, a wedding is celebrated a month after a young couple fled fighting in Mosul.
In Afghanistan, ten ethnic Hazara women and girls practice the martial arts of Shaolin on a hilltop in the west of Kabul, preparing for the day that Afghanistan can send its women's team to the Shaolin world championship in China. In the northern Gaza Strip, Palestinian rescue members evacuate a woman from her flooded home during a heavy rain storm in Jabaliya refugee camp.
In Lebanon, an aide to Grand Mufti Sheikh Abdel-Latif Derian tries to convince visiting French far-right presidential candidate Marine Le Pen to wear a headscarf during her meeting with the Mufti but she refused.
In the West Bank, Palestinian protestors mark the 12th anniversary of their campaign against Israel's separation barrier in the West Bank village of Bilin near Ramallah.
In Egypt, American tourists from Washington laugh as they visit the Citadel of Salah al-Din, a preserved medieval site, and one of the most important landmarks in Cairo.
In Tehran, Iran, school girls attend an annual rally commemorating the anniversary of the 1979 Islamic revolution, which toppled the late pro-U.S. Shah, Mohammad Reza Pahlavi.
This gallery was curated by Maya Alleruzzo, Chief Associated Press photo editor for the Mideast, Afghanistan & Pakistan.
Displaced Iraqis flee their homes due to fighting between Iraqi security forces and Islamic State militants, on the western side of Mosul, Iraq, Saturday, Feb. 25. 2017. (AP Photo/ Khalid Mohammed)
Iraqi special forces arrest a suspected Islamic State militant in Mosul, Iraq, Saturday, Feb. 25. 2017.(AP Photo/Khalid Mohammed)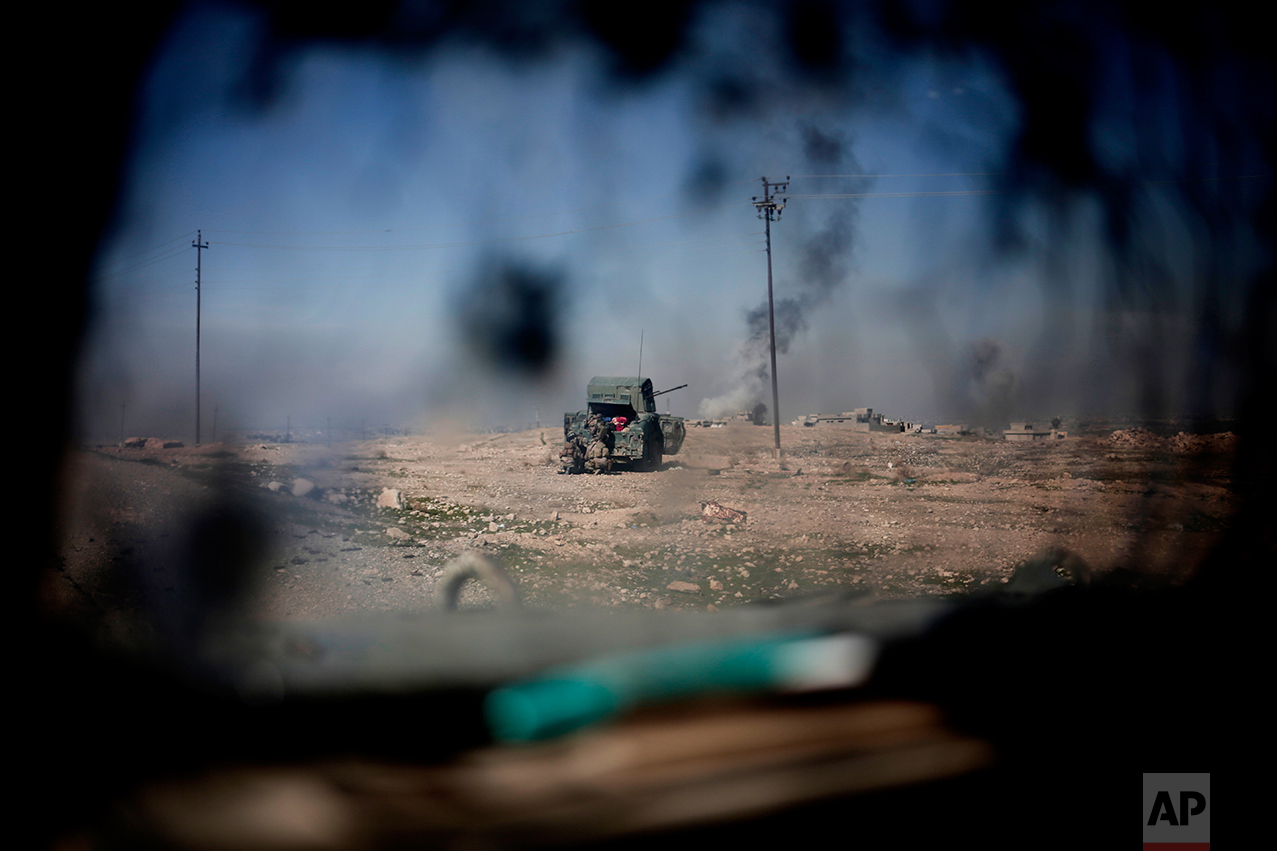 Iraqi police forces fire from a humvee at Islamic State positions from a hill side outside the town of Abu Saif, Monday, Feb. 20, 2017. (AP Photo/Bram Janssen)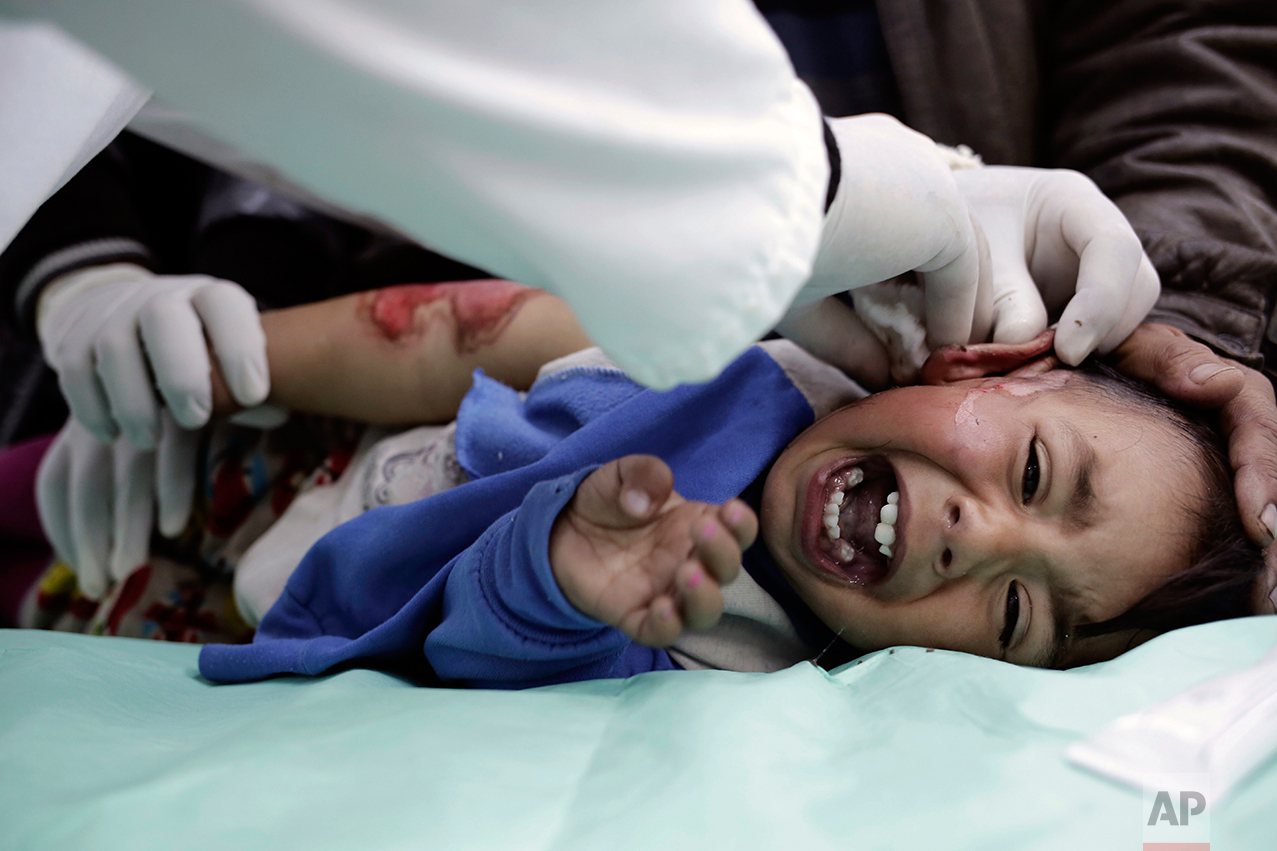 A child with severe burns, from scalding water, cries out in pain as a medic cleans his wounds at a hospital in the Zahra neighborhood of Mosul, Iraq, Tuesday, Feb. 14, 2017. Doctors in the small clinic in eastern Mosul say that since the operation to retake the city began months ago, they've only received intermittent deliveries of supplies. (AP Photo/Bram Janssen)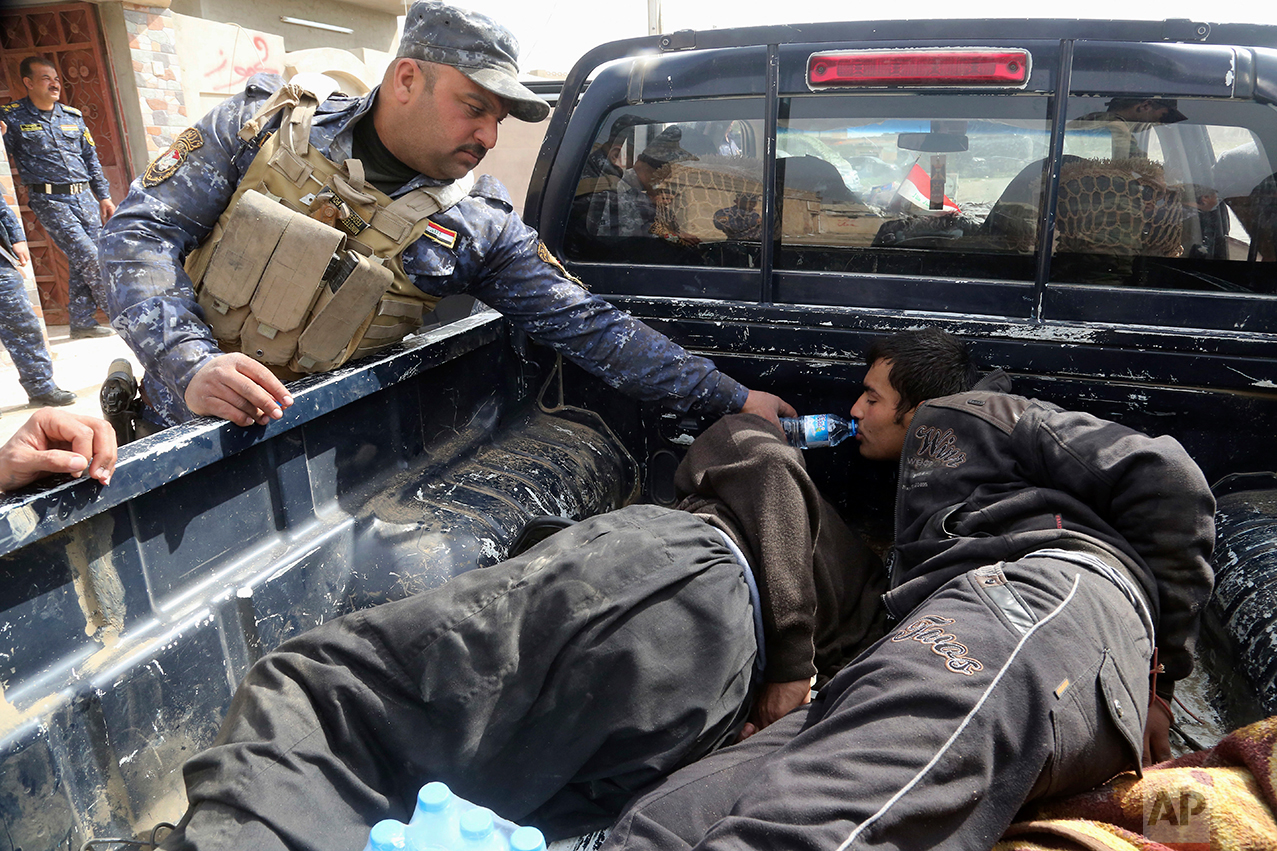 An Iraqi Federal policeman gives water to one of two handcuffed suspected Islamic State militants after they were arrested inside their home on the western side of Mosul, Iraq, Monday, Feb. 27. 2017. (AP Photo/Khalid Mohammed)
An Iraqi soldier distribute cigarettes, which were banned by Islamic State militants, to displaced men who fled their homes due to fighting between Iraqi security forces and militants as they wait for a security check at an Iraqi Army base, west of Mosul, Iraq, Sunday, Feb. 26. 2017. (AP Photo/Khalid Mohammed)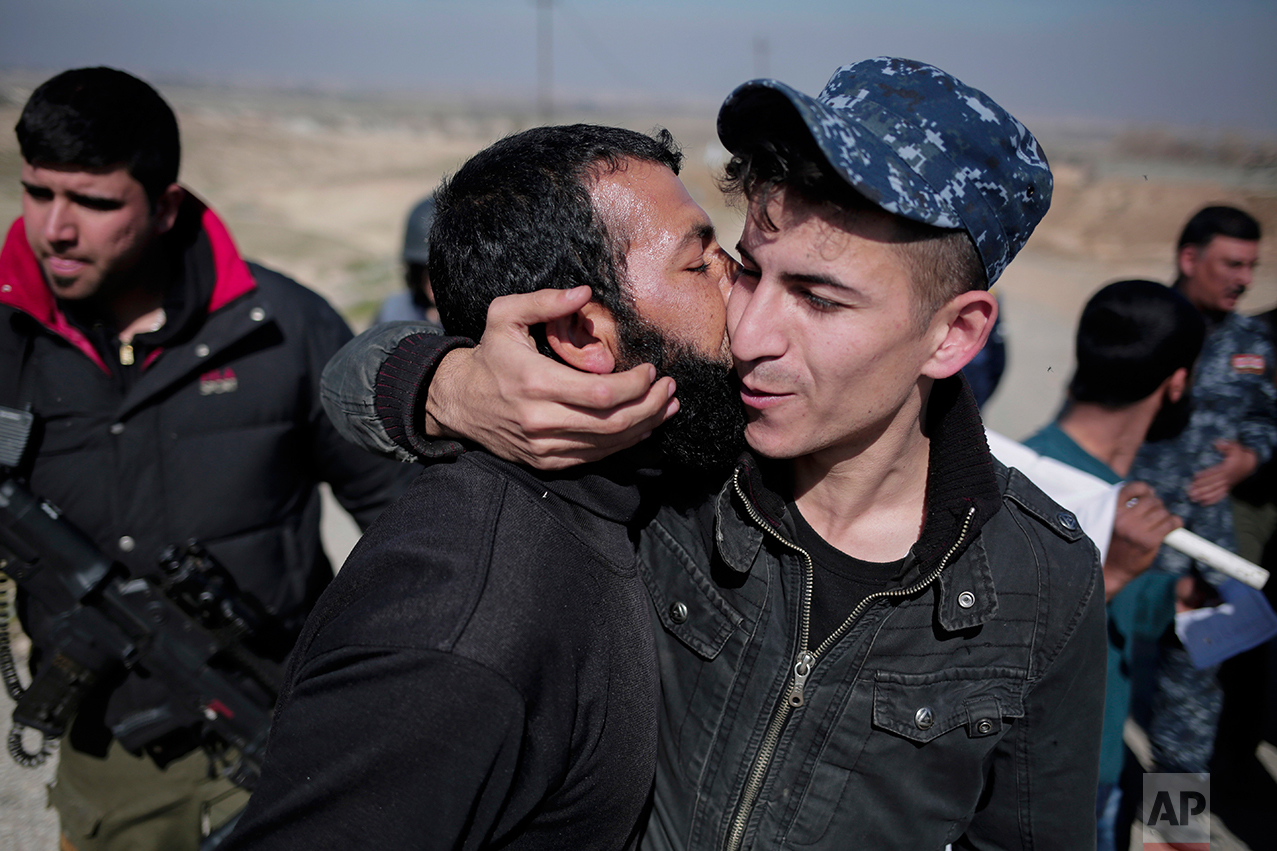 A civilian kisses a federal police officer after escaping Islamic State territory in the town of Abu Saif, Tuesday, Feb. 21, 2017. Iraqi forces advanced into the southern outskirts of Mosul in a push to drive Islamic State militants from the city's western half, as the visiting U.S. defense secretary met with officials to discuss the fight against the extremists.(AP Photo/Bram Janssen)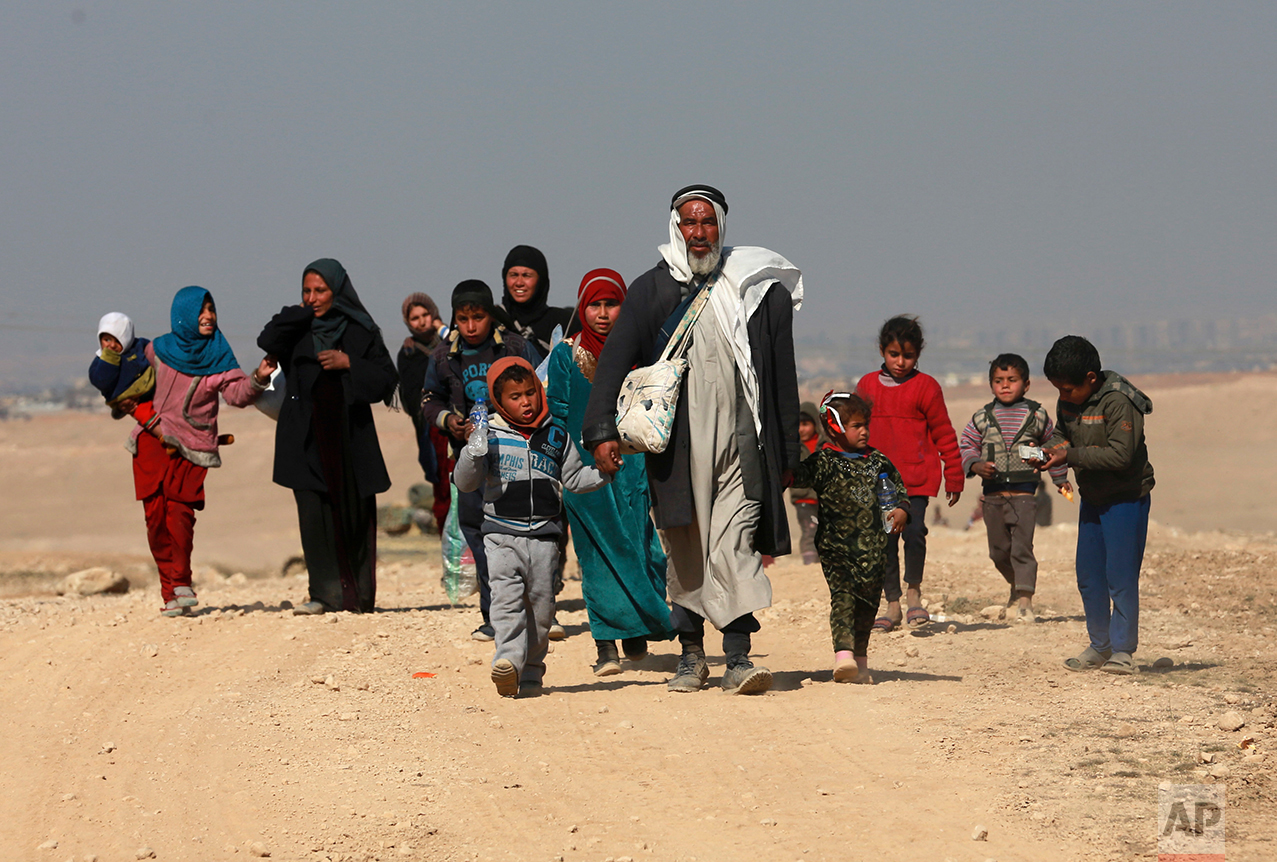 Displaced Iraqis flee their homes due to fighting between Iraqi special forces and Islamic State militants, on the western side of Mosul, Iraq, Thursday, Feb. 2017.(AP Photo/ Khalid Mohammed)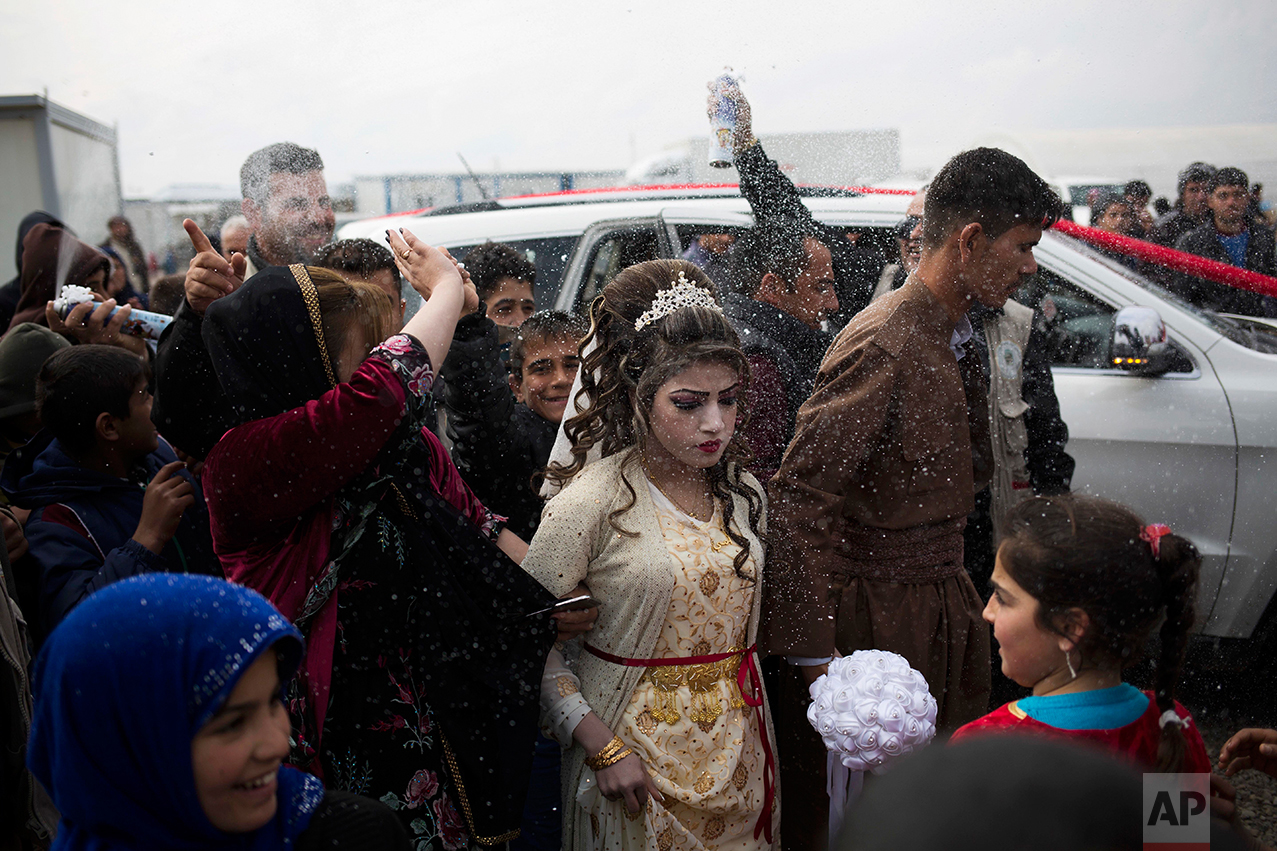 Hussein Zeino Danoon and Shahad Ahmed Abed arrive at the Khazer camp for people displaced from Mosul for their wedding on Thursday, Feb. 16, 2017. It's the second marriage to take place in the IDP camps east of the city where tens of thousands are living, having fled the fighting in Mosul. (AP Photo/Bram Janssen)
Safana Hamad, a displaced Iraqi mother, holds her daughter Manar's doll and jacket while mourning over her body, after the four-year-old was killed in an Islamic State mortar attack while trying to flee fighting between Iraqi security forces and Islamic State militants, in western Mosul, Iraq on Sunday, Feb. 26, 2027. (AP Photo/Susannah George)
Family members grieve over the body of their father Ahmed Ayad who was killed by Islamic State mortar attack as they tried to flee the fight between Iraqi security forces and Islamic State militants, in the western side of Mosul, Iraq, Sunday, Feb. 26. 2017. (AP Photo/Khalid Mohammed)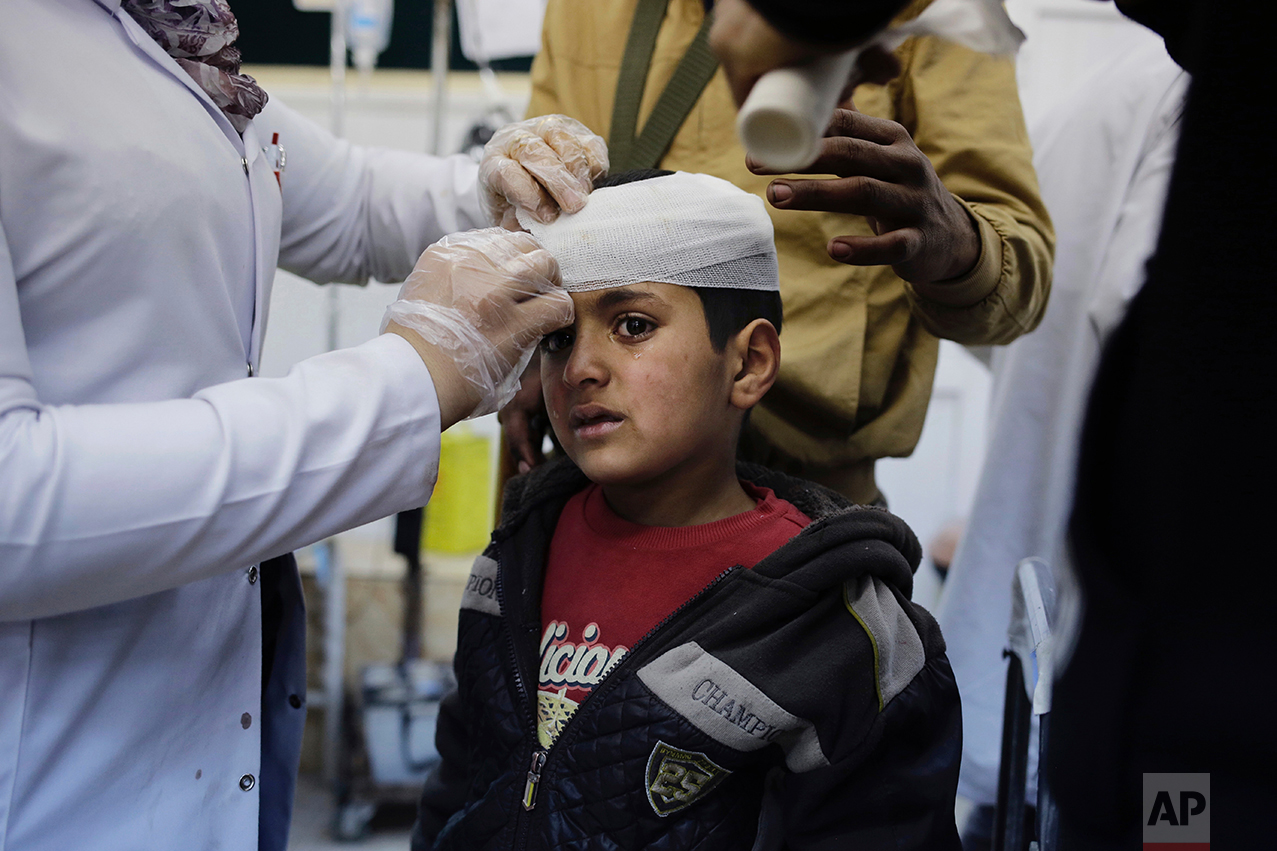 A boy, who was wounded by shrapnel from a mortar fired by Islamic State militants, cries as he is treated by doctors at a clinic in the Zahra district in Mosul, Iraq on Monday, Feb. 16, 2017. Doctors say they receive dozens of people every day wounded from incoming mortars fired from west Mosul to the liberated eastern part. (AP Photo/Bram Janssen)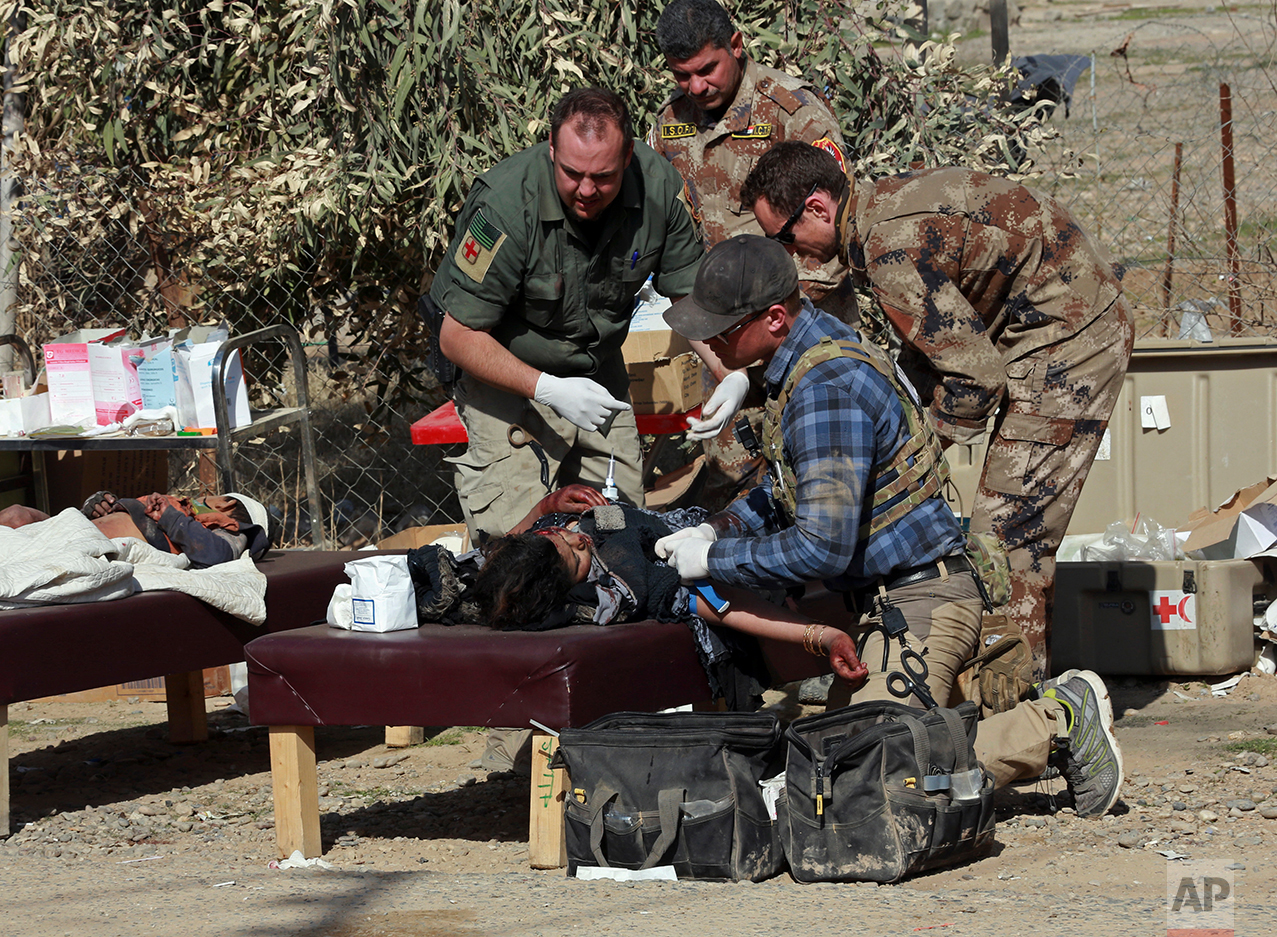 Western and Iraqi paramedics give first aid to a civilian, injured by Islamic State militant mortars, in western Mosul, Iraq, Sunday, Feb. 26. 2017.(AP Photo/Khalid Mohammed)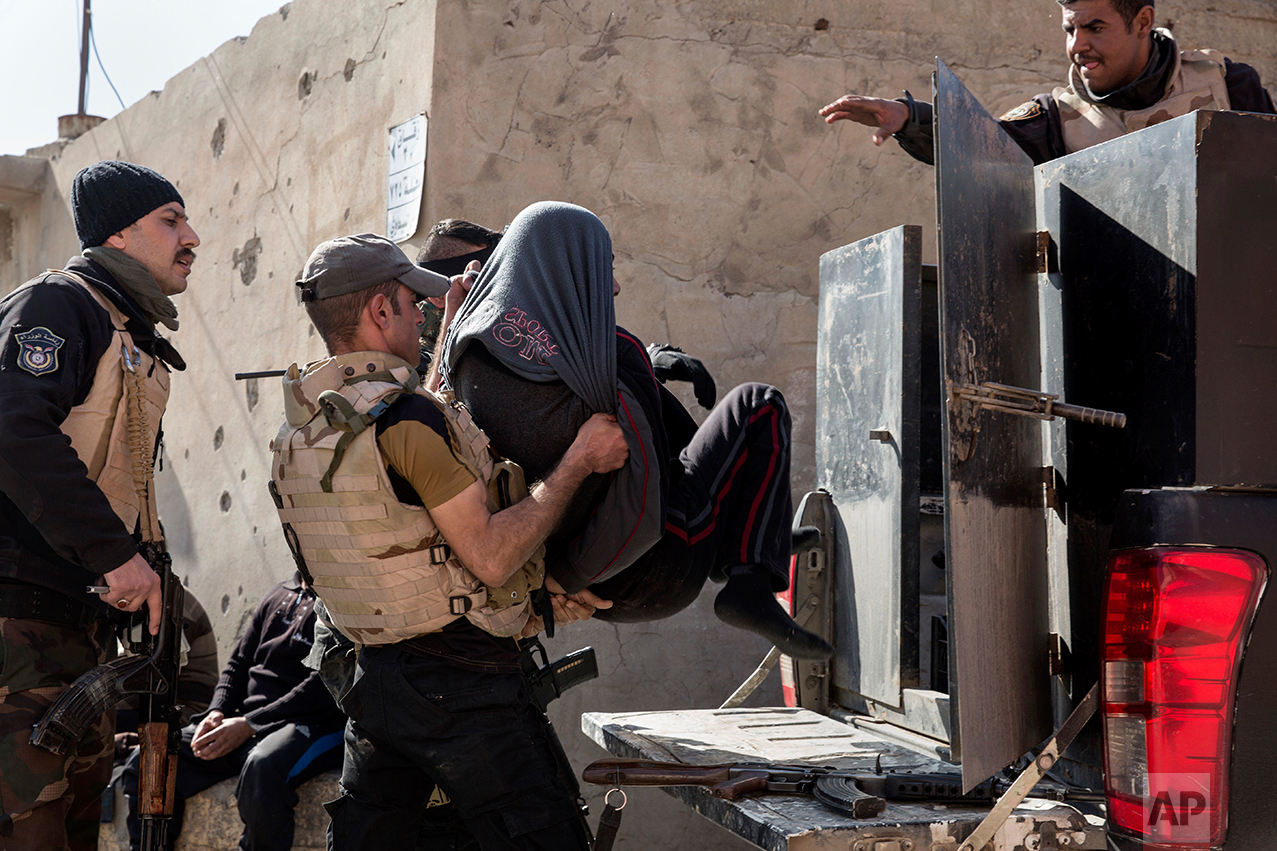 Iraqi security officers place a suspected Islamic State group member into the back of a waiting pickup truck, in east Mosul on Feb. 21, 2017. (AP Photo/John Beck)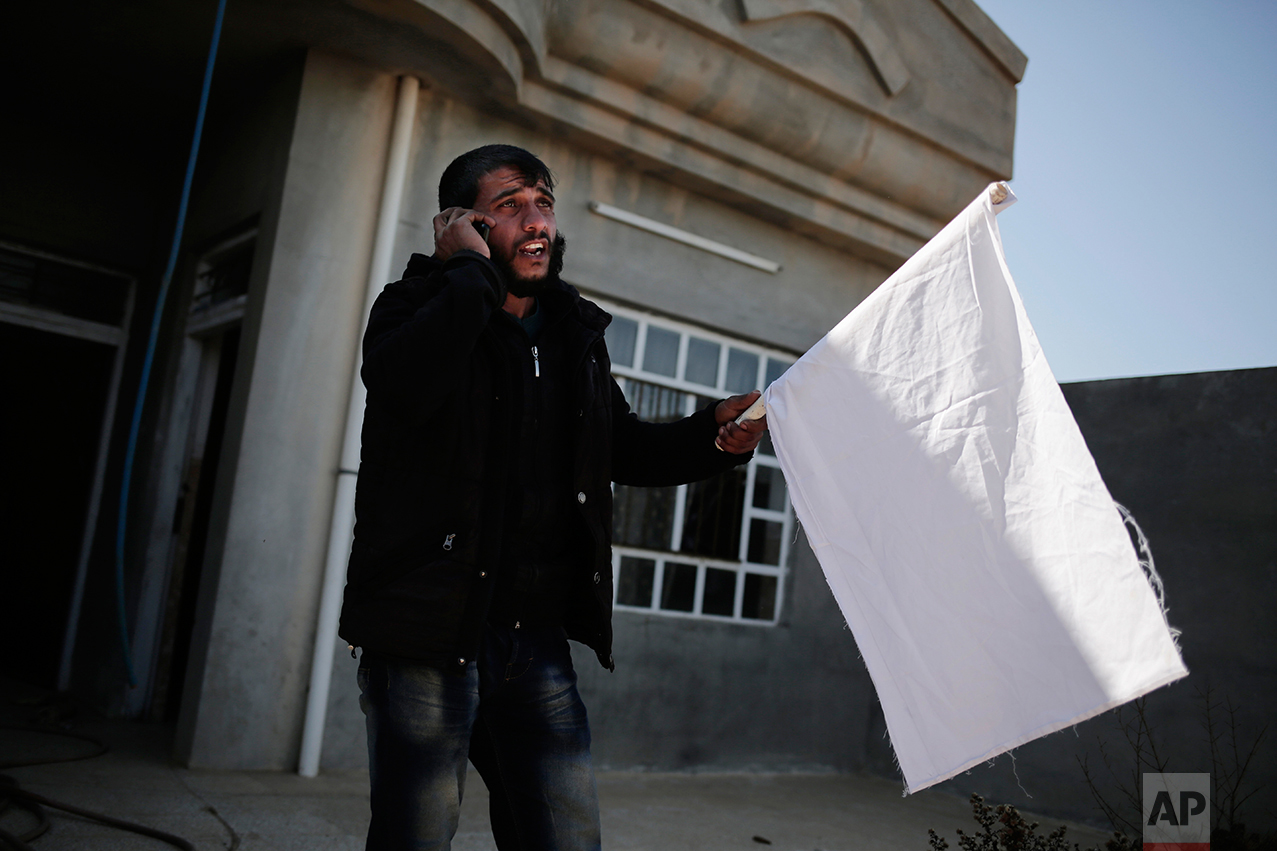 A civilian who escaped Islamic State territory phones his family he left behind, Tuesday, Feb. 21, 2017 in Abu Saif, Iraq.(AP Photo/Bram Janssen)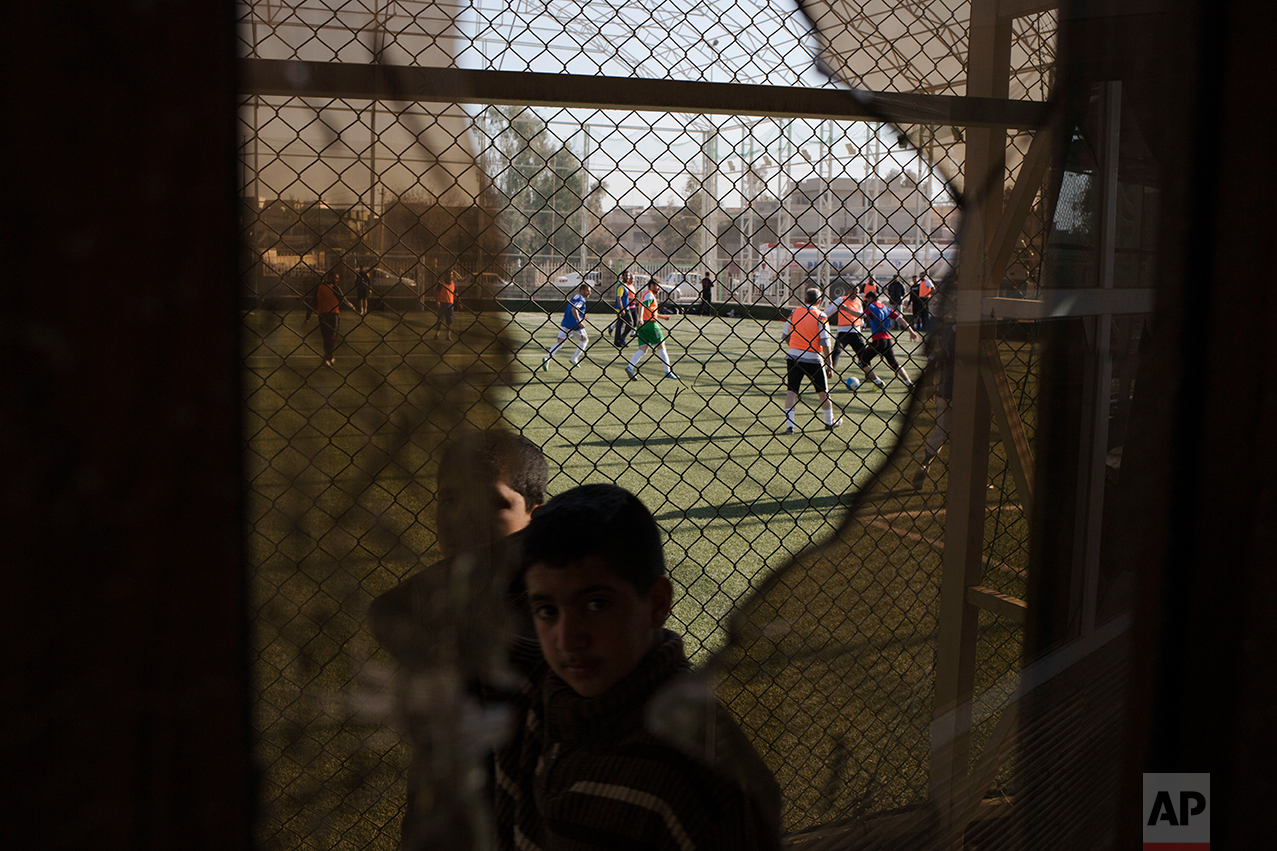 A child passes a broken window, damaged by fighting between Iraqi forces and Islamic State militants, while Mosul residents play soccer in the background on Feb. 7, 2017. After months of fighting, Mosul residents can finally practice their favorite game again at the soccer field in the eastern part of the city—and this time without the changes imposed by Islamic State militants. (AP Photo/Bram Janssen)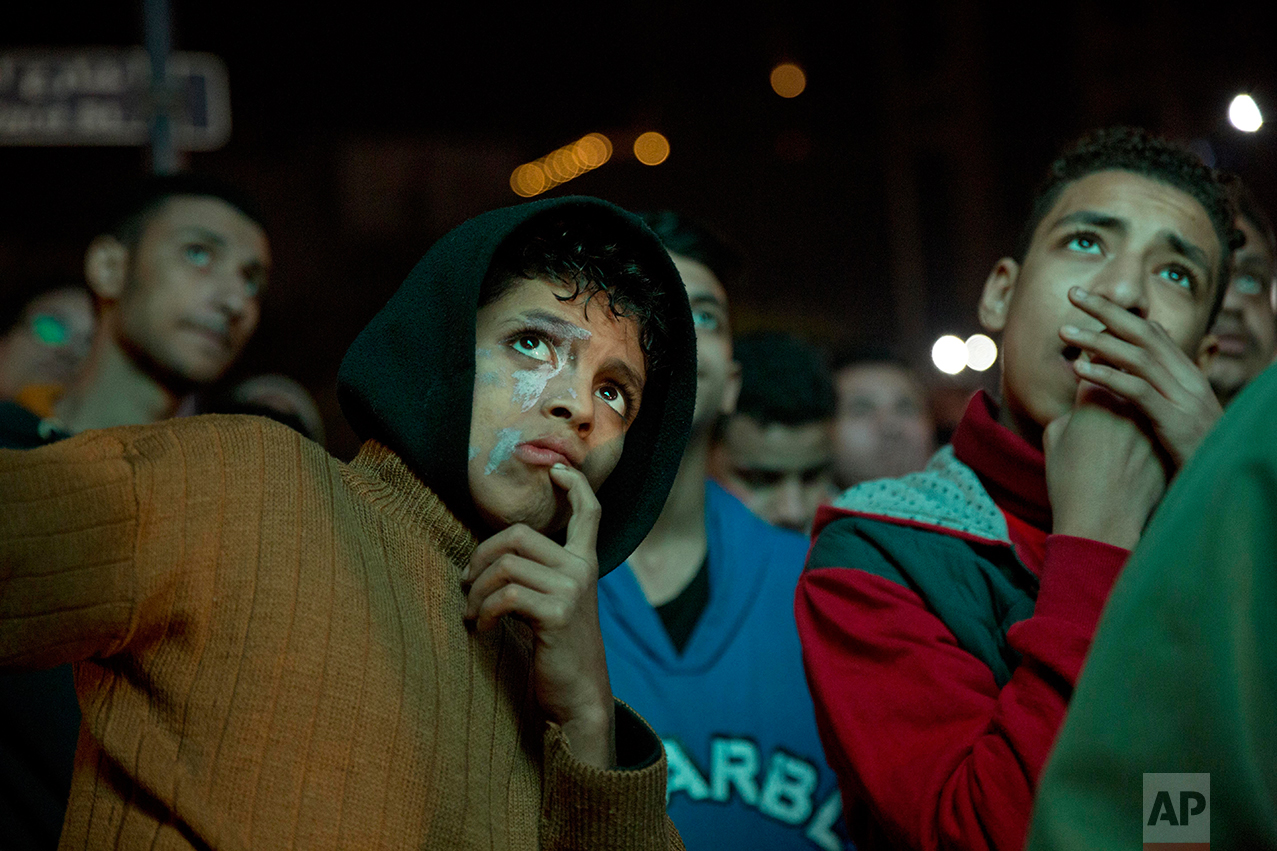 People watch Egypt and Cameroon play the final match in the African Cup of Nations on a large outdoor screen, in the Mohandeseen neighborhood of Cairo, Egypt, Sunday, Feb. 5, 2017. Cameron won 2-1, in the Gabonese capital, Libreville. (AP Photo/Thomas Hartwell)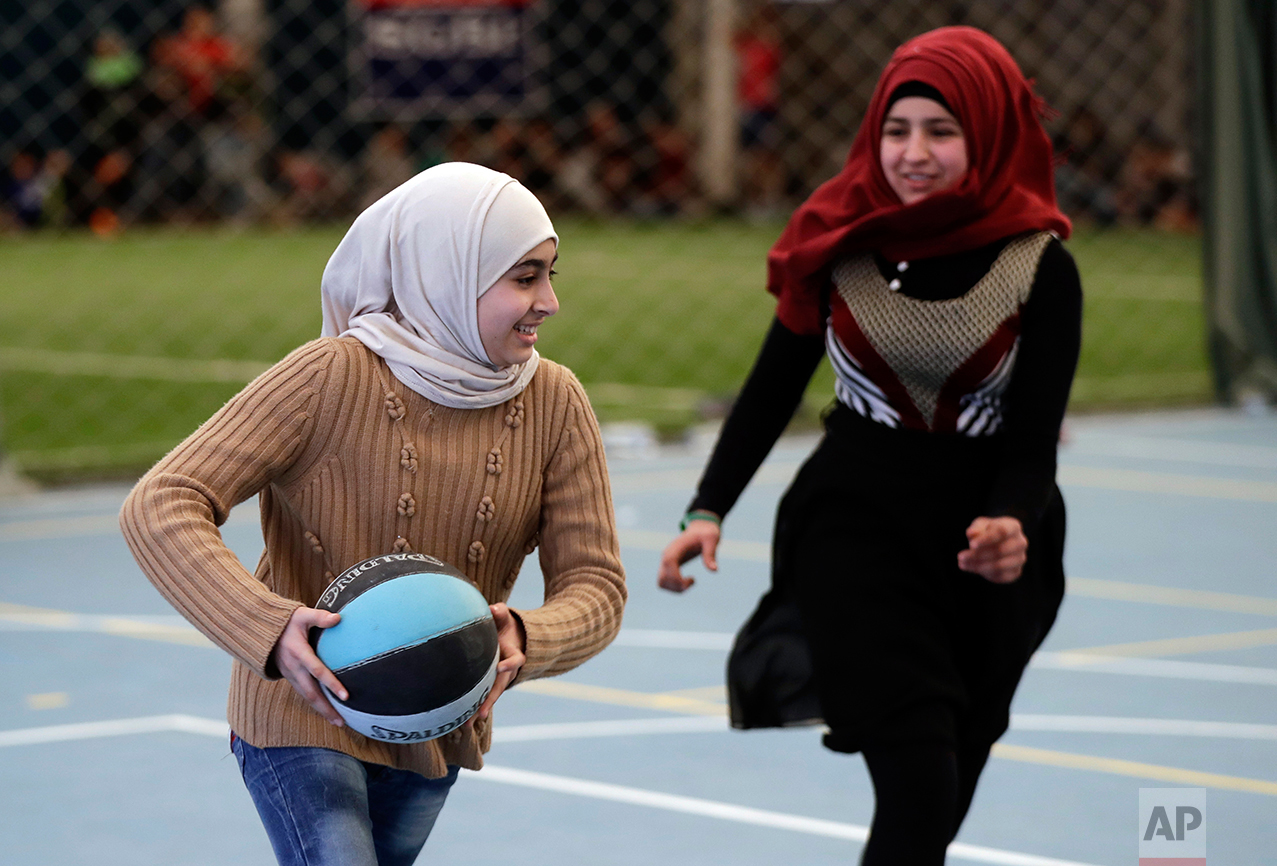 Syrian refugee girls play a basketball game at a private sports club, southern Beirut, Lebanon on Sunday, Feb. 19, 2017. (AP Photo/Hussein Malla)
Shaolin martial arts students follow their trainer, Sima Azimi, 20, in black, during a practice session on a hilltop in Kabul, Afghanistan, Tuesday, Jan. 25, 2017. The ten ethnic Hazara women and girls practice the martial arts of Shaolin on a hilltop in the west of Kabul. They are preparing for the day that Afghanistan can send its women's team to the Shaolin world championship in China. (AP Photos/Massoud Hossaini)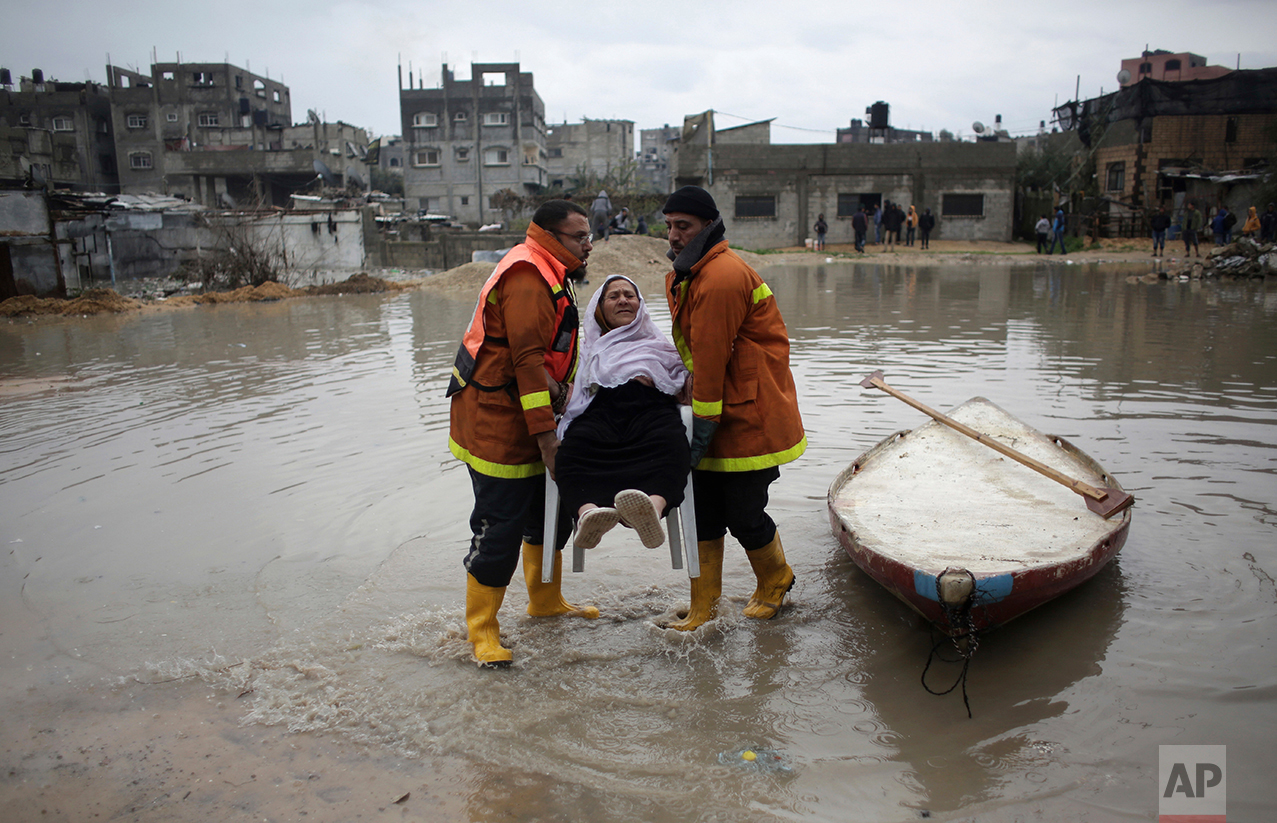 Palestinian rescue members evacuate a woman from her flooded home during a heavy rain storm in Jabaliya refugee camp, northern Gaza Strip, Thursday, Feb. 16, 2017 (AP Photo/ Khalil Hamra)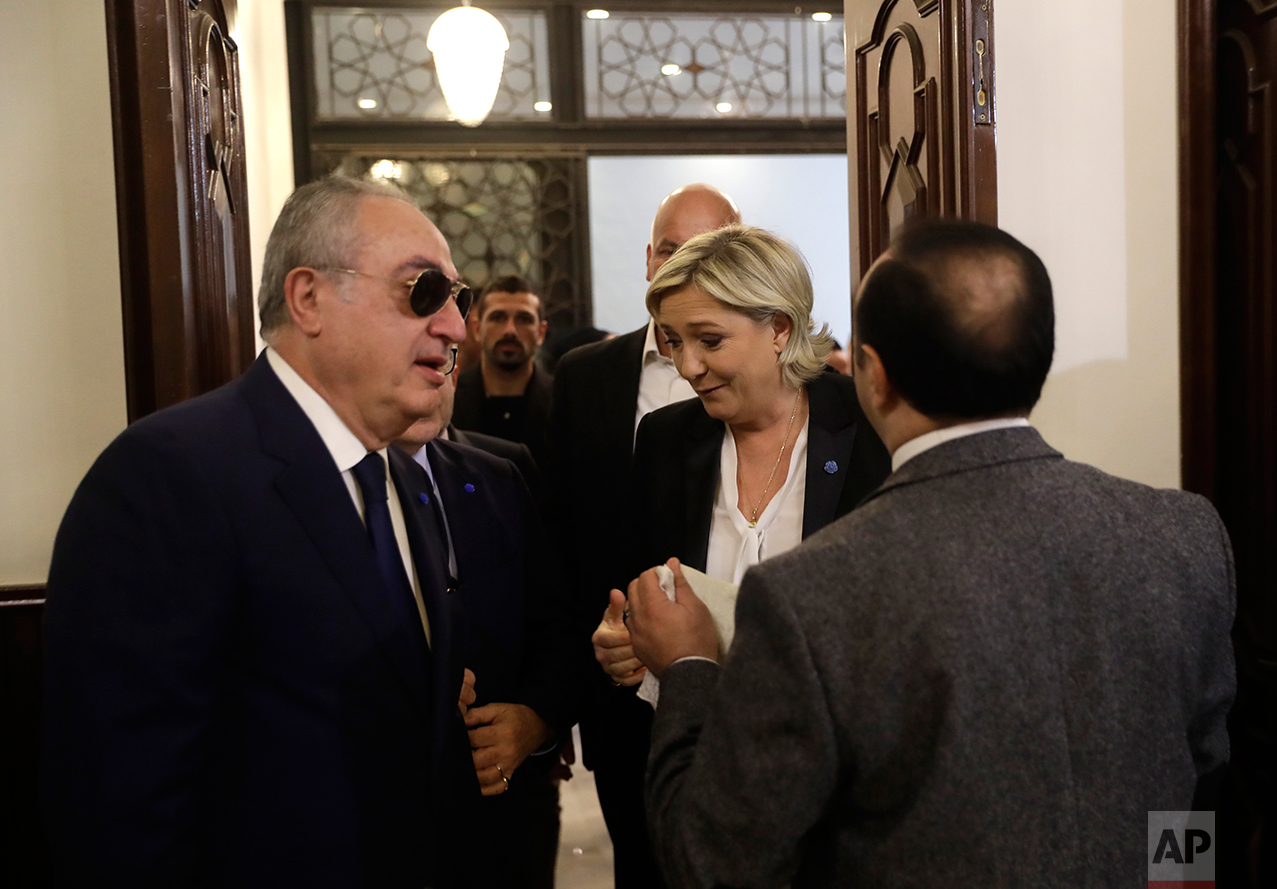 An aide of Lebanon's Grand Mufti Sheikh Abdel-Latif Derian, right, holds a head scarf as he tries to convince French far-right presidential candidate Marine Le Pen, center, to wear it during her meeting with the Mufti but she refused, at Dar al-Fatwa the headquarters of the Sunni Mufti, in Beirut, Lebanon, Tuesday, Feb. 21, 2017. Le Pen refused to go into a meeting with Lebanon's Grand mufti after his aides asked her to wear a head scarf. Le Pen said she met in the past with the Grand mufti of Egypt's Al-Azhar, one of the world's top Sunni clerics, without wearing a veil. Once she was told it is different here, Le Pen walked toward her car and left. (AP Photo/Hussein Malla)
Elina Svitolina of Ukraine reacts in a final match against Caroline Wozniacki of Denmark during the Dubai Tennis Championships in Dubai, United Arab Emirates, Saturday, Feb. 25, 2017. Svitolina defeated Wozniacki 6-4, 6-2. (AP Photo/Kamran Jebreili)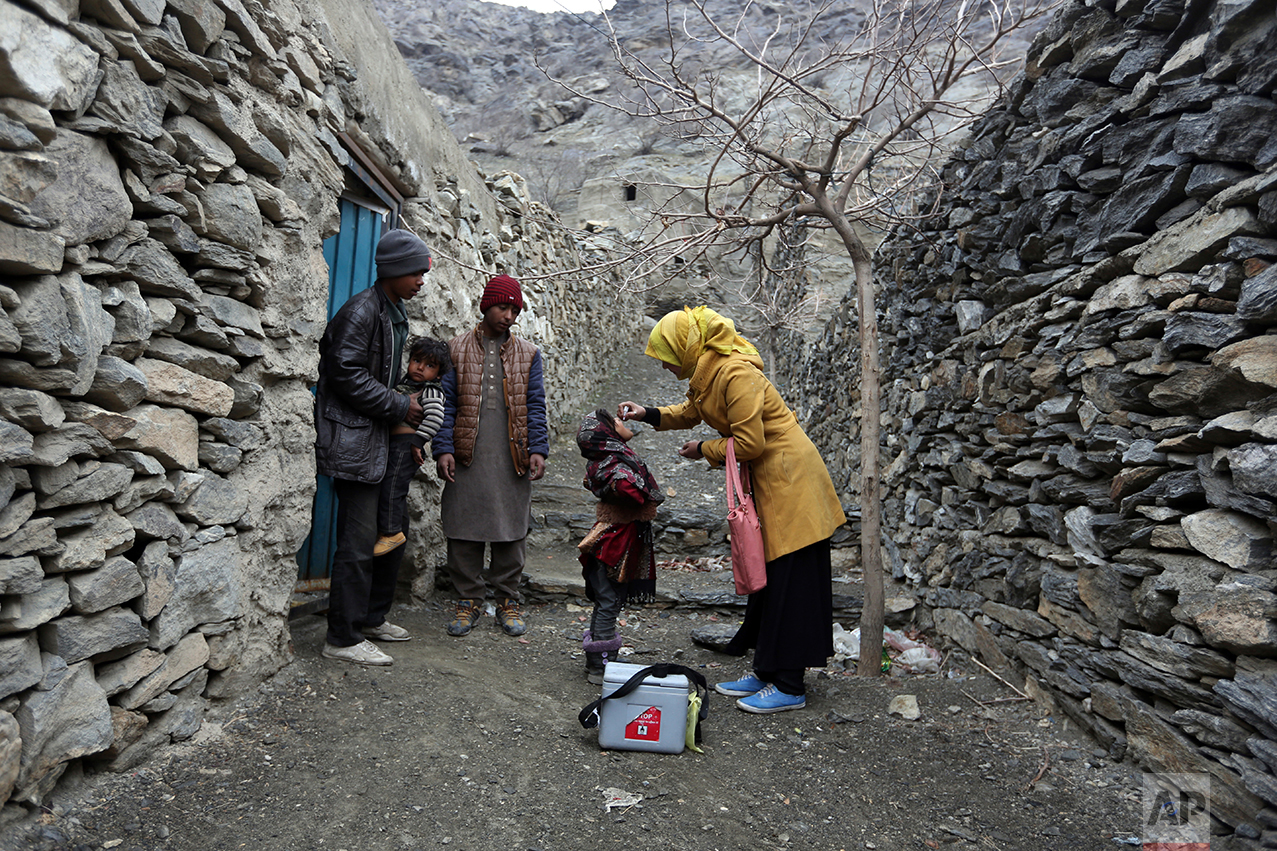 An Afghan health worker vaccinates a child as relatives watch during a campaign to eliminate polio on the outskirts of Kabul, Afghanistan, Tuesday, Feb. 28, 2017. (AP Photo/Rahmat Gul)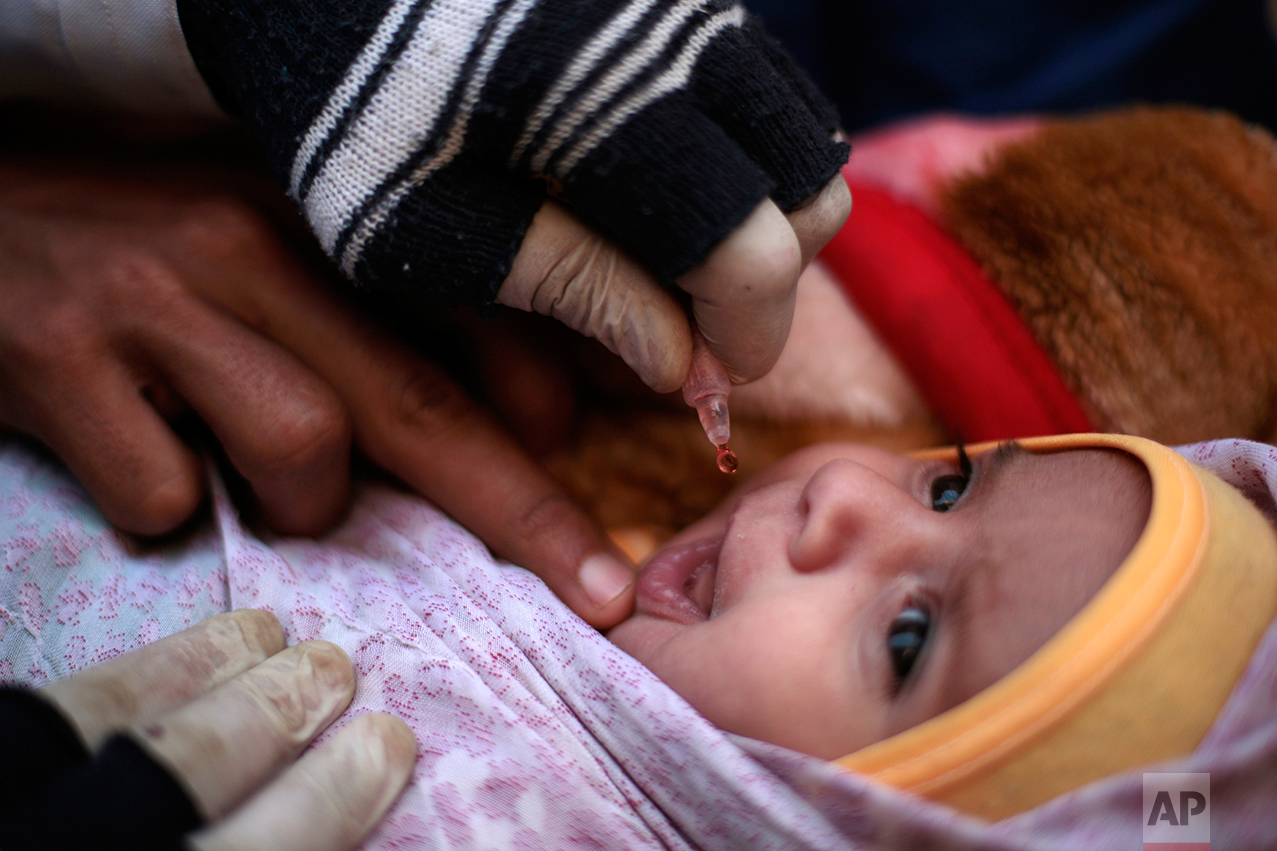 An infant receives a polio vaccination during a house-to-house polio immunization campaign in Sanaa, Yemen, Tuesday, Feb. 21, 2017. (AP Photo/Hani Mohammed)
Andres Petroselli, an artist from Santa Fe, Argentina, works on a 3-D picture in Dubai, United Arab Emirates, Monday, Feb. 27, 2017. Artists who focus on 3-D pictures have gathered in Dubai for the Dubai Canvas 3-D Art Festival, which runs from March 1 through March 7. (AP Photo/Jon Gambrell)
Palestinian protesters climb over the separation barrier with Israel during a demonstration marking the 12th anniversary of their campaign against Israel's separation barrier in the West Bank village of Bilin near Ramallah, Friday, Feb. 17, 2017. (AP Photo/Majdi Mohammed)
Israeli forces' flares light up the night sky of Gaza City, Monday, Feb. 6, 2017. Israel's military fired on Hamas installations in Gaza after a rocket launched from the territory exploded inside Israel on Monday, with no reports of casualties on either side. Israel holds Hamas responsible for all incoming fire. (AP Photo/Adel Hana)
Military aircraft fly in formation as fireworks explode at the International Defense Exhibition and Conference, known by the acronym IDEX, in Abu Dhabi, United Arab Emirates, Sunday, Feb. 19, 2017. (AP Photo/Jon Gambrell)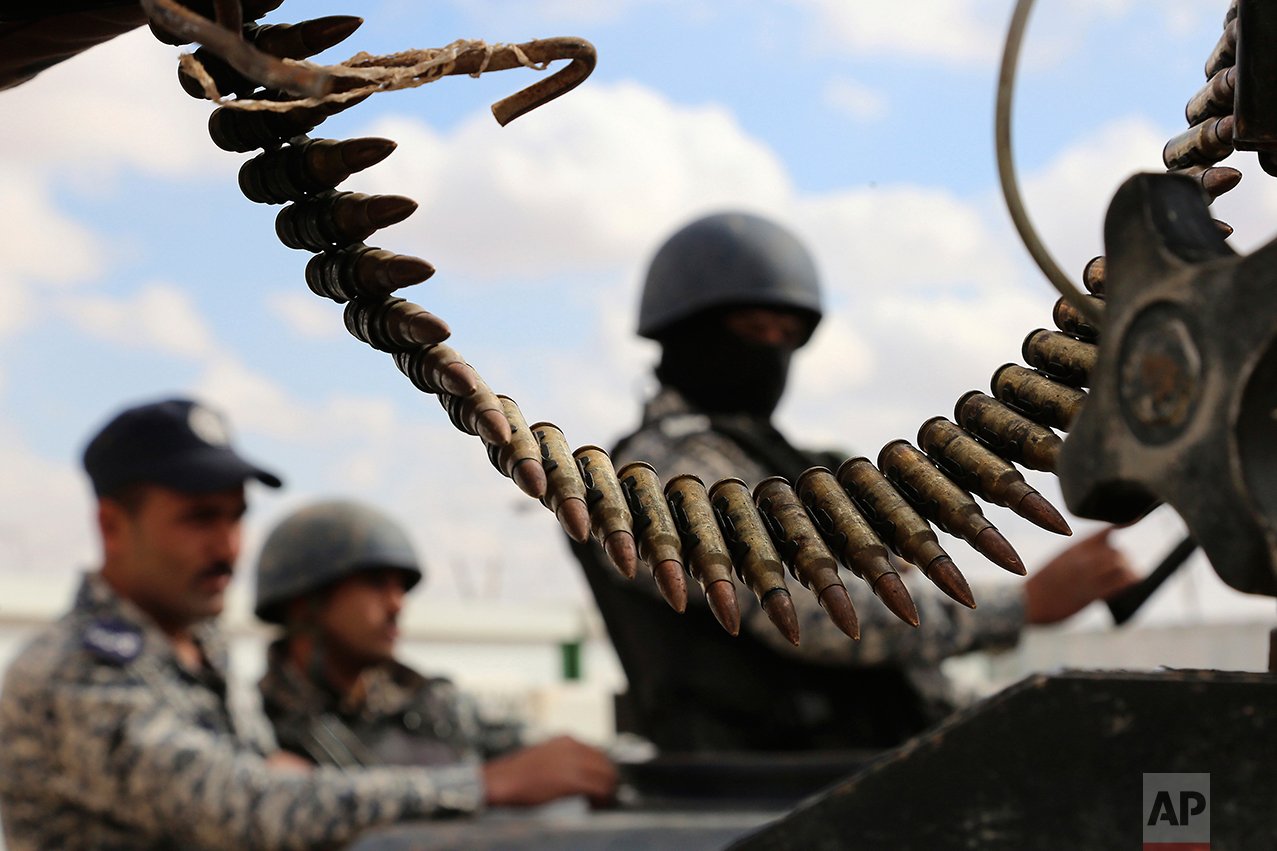 A Jordanian soldier stands at the north eastern border with Syria, close to the informal Rukban camp on Feb. 14, 2017. The commander of Jordan's border guards says Islamic State extremists are expanding their influence in the sprawling border camp for tens of thousands of displaced Syrians, posing a growing threat to the U.S.-allied kingdom. (AP Photo/ Raad Adayleh)
A Palestinian gunman from the Fatah movement, holds his weapon as he stands next to a charred car during clashes between the Palestinian Fatah Movement and Islamic groups in the Ein el-Hilweh refugee camp, in the southern port city of Sidon, Lebanon, Tuesday, Feb 28, 2017. Clashes erupted in a densely-packed Palestinian refugee camp in southern Lebanon on Tuesday, wounding at least four people, including a three-year-old boy with a bullet-wound to the head, Palestinian security officials said. (AP Photo/Mohammed Zaatari)
Palestinians inspect the damaged chicken farm was hit and destroyed by an overnight Israeli Airstrike, in Gaza City, Tuesday, Feb. 7, 2017. (AP Photo/ Khalil Hamra)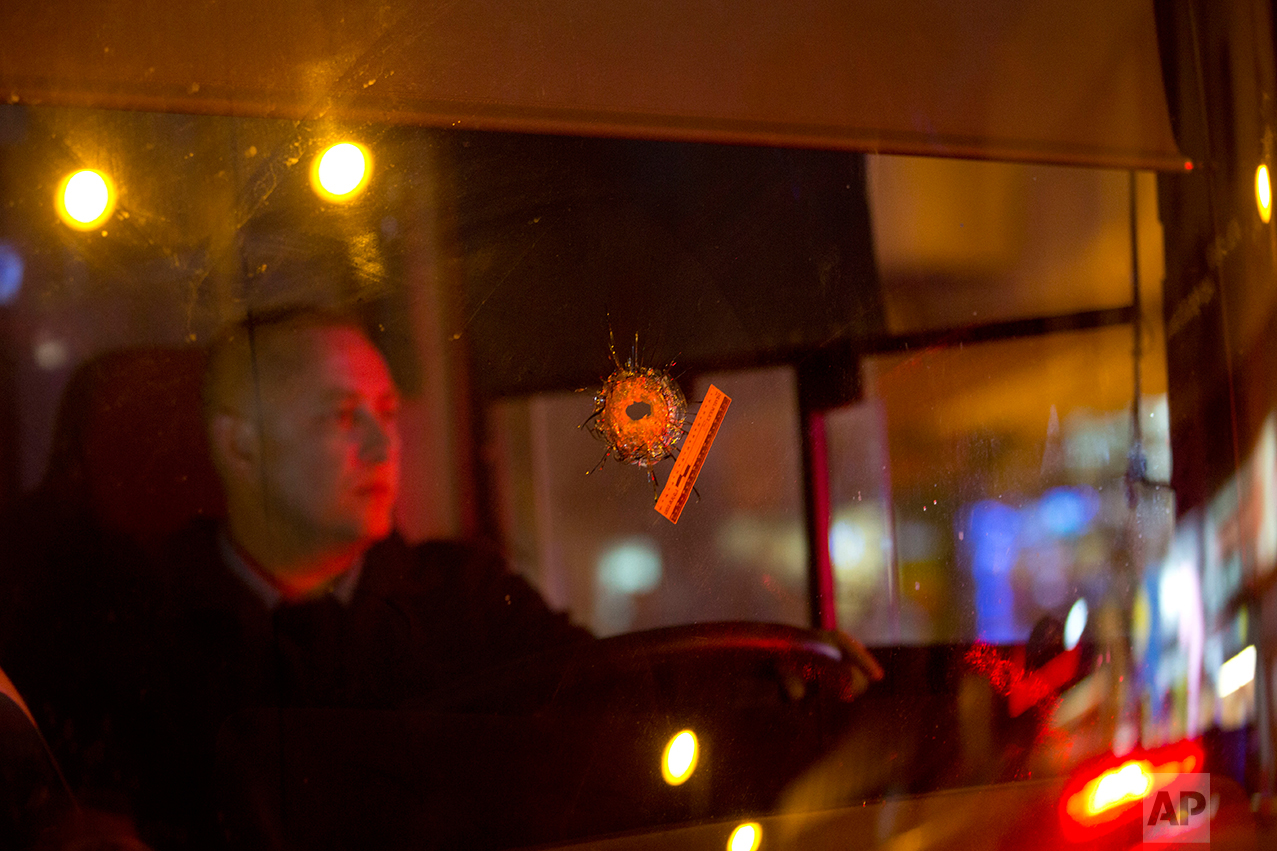 A bullet hole is seen on the windshield of a bus at the scene of a shooting attack in Petah Tikva, Israel, Thursday, Feb. 9, 2017. (AP Photo/Oded Balilty)
Egyptian Christian Ezzat Yaacoub Ishak, who fled el-Arish in North Sinai with his family two days ago due to fighting, stands in his newly rented apartment, in Ismailia, 120 kilometers (75 miles) east of Cairo, Egypt, Sunday, Feb. 26, 2017. Egyptian Christians fearing attacks by Islamic State militants are fleeing the volatile northern part of the Sinai Peninsula for a fourth day, after a string of sectarian killings there sent hundreds fleeing and raised accusations the government is failing to protect the minority. (AP Photo/Nariman El-Mofty)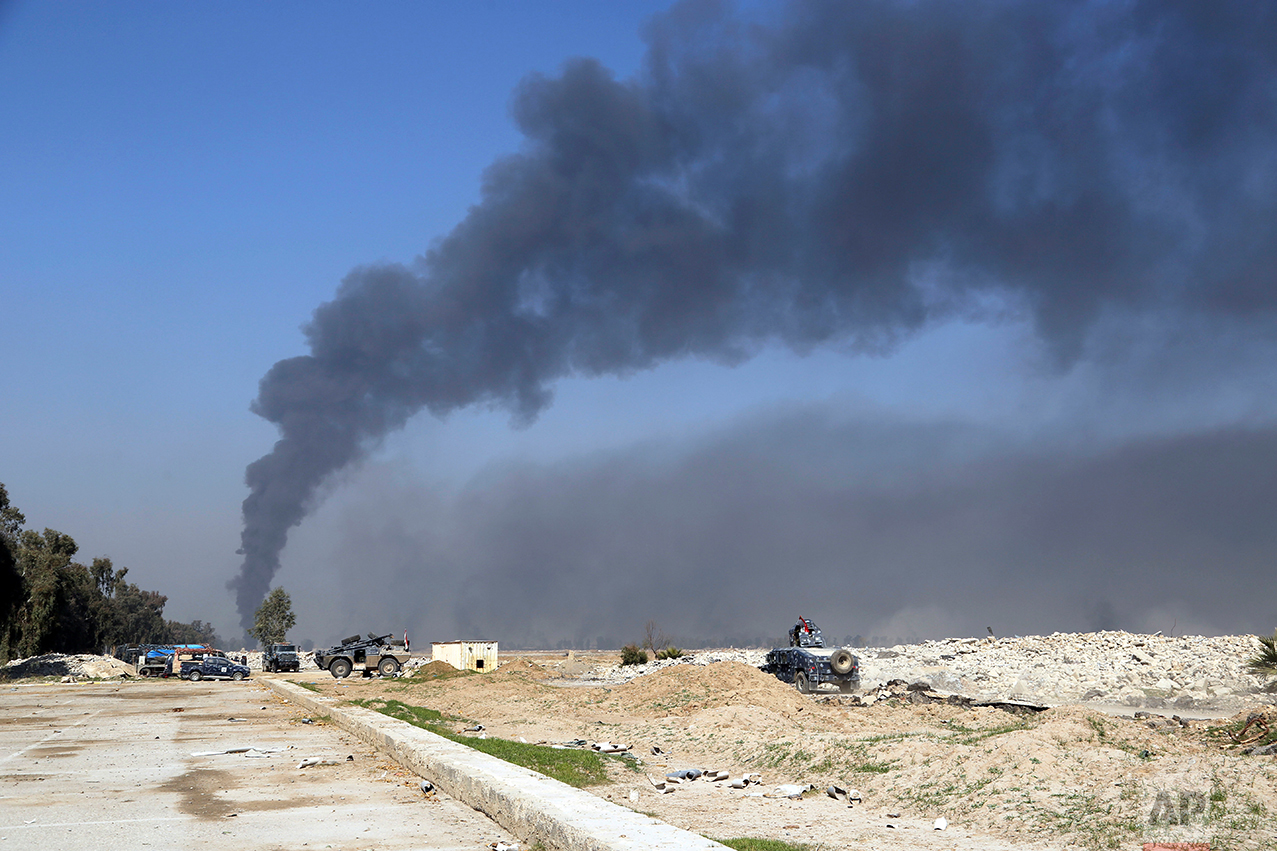 Smoke rises Iraqi security forces deploy inside Mosul's international airport, Iraq, Feb. 24. 2017. (AP Photo/ Khalid Mohammed)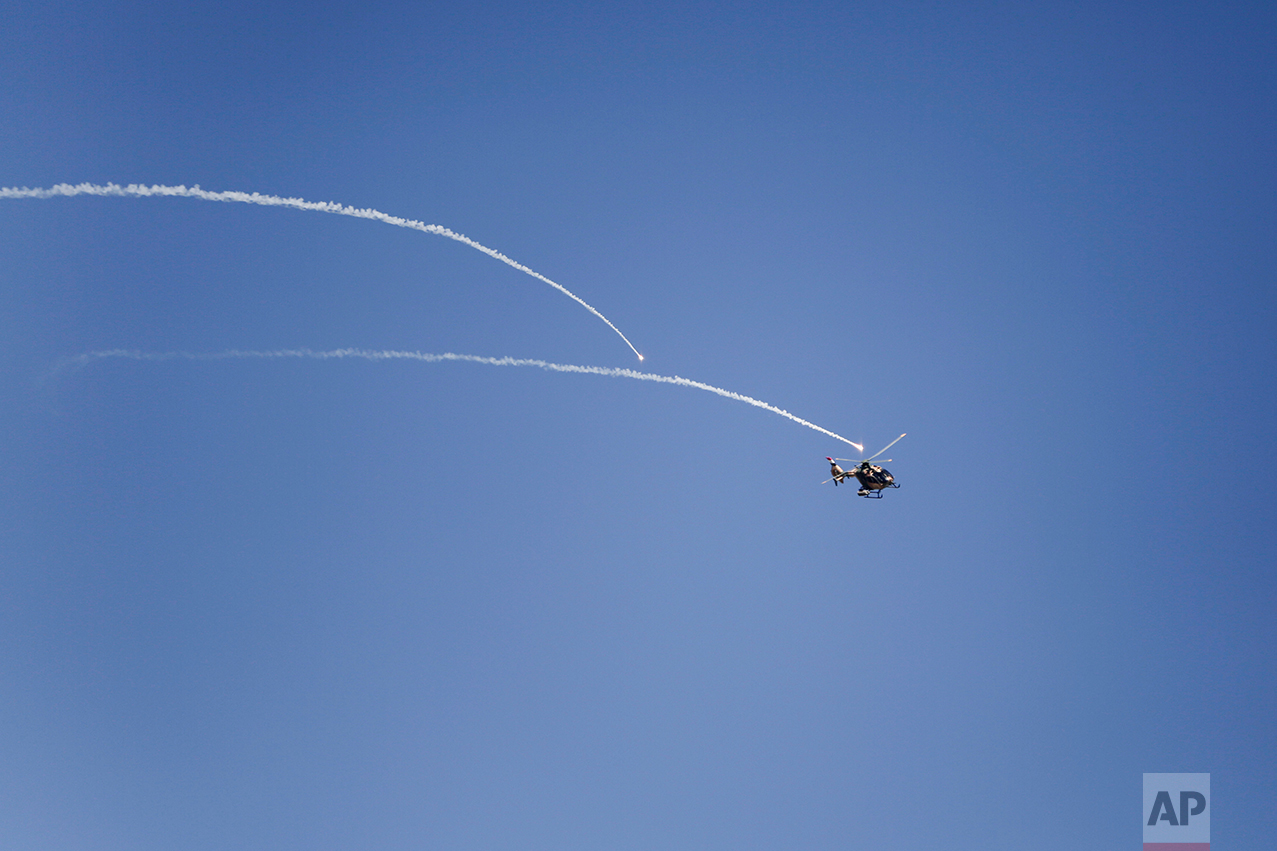 An Iraqi army helicopter fires at Islamic State militant positions outside the town of Abu Saif, Monday, Feb. 20, 2017. (AP Photo/Bram Janssen)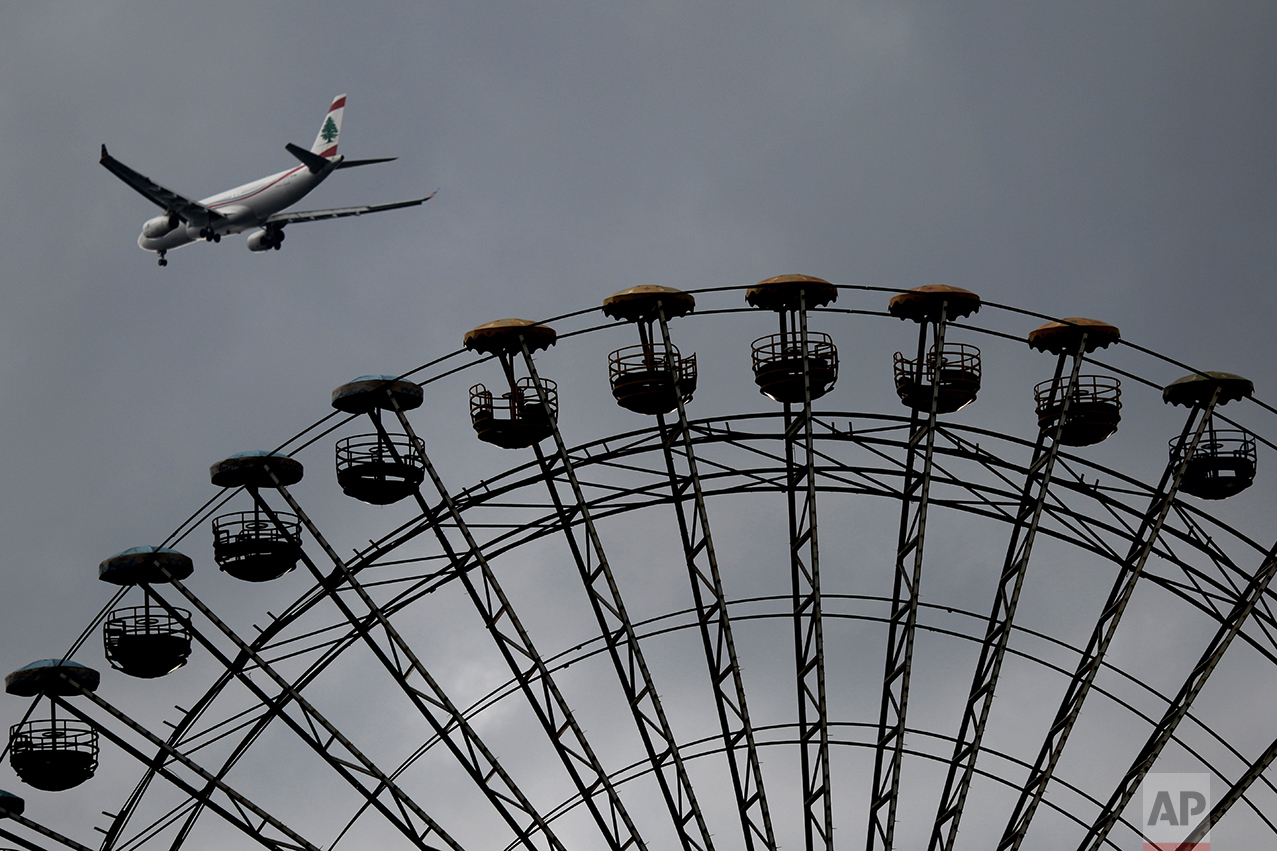 A Middle East Airlines passenger plane passes an empty Ferris wheel under cloudy skies, in Beirut, Lebanon, Sunday, Feb. 12, 2017. (AP Photo/Hassan Ammar)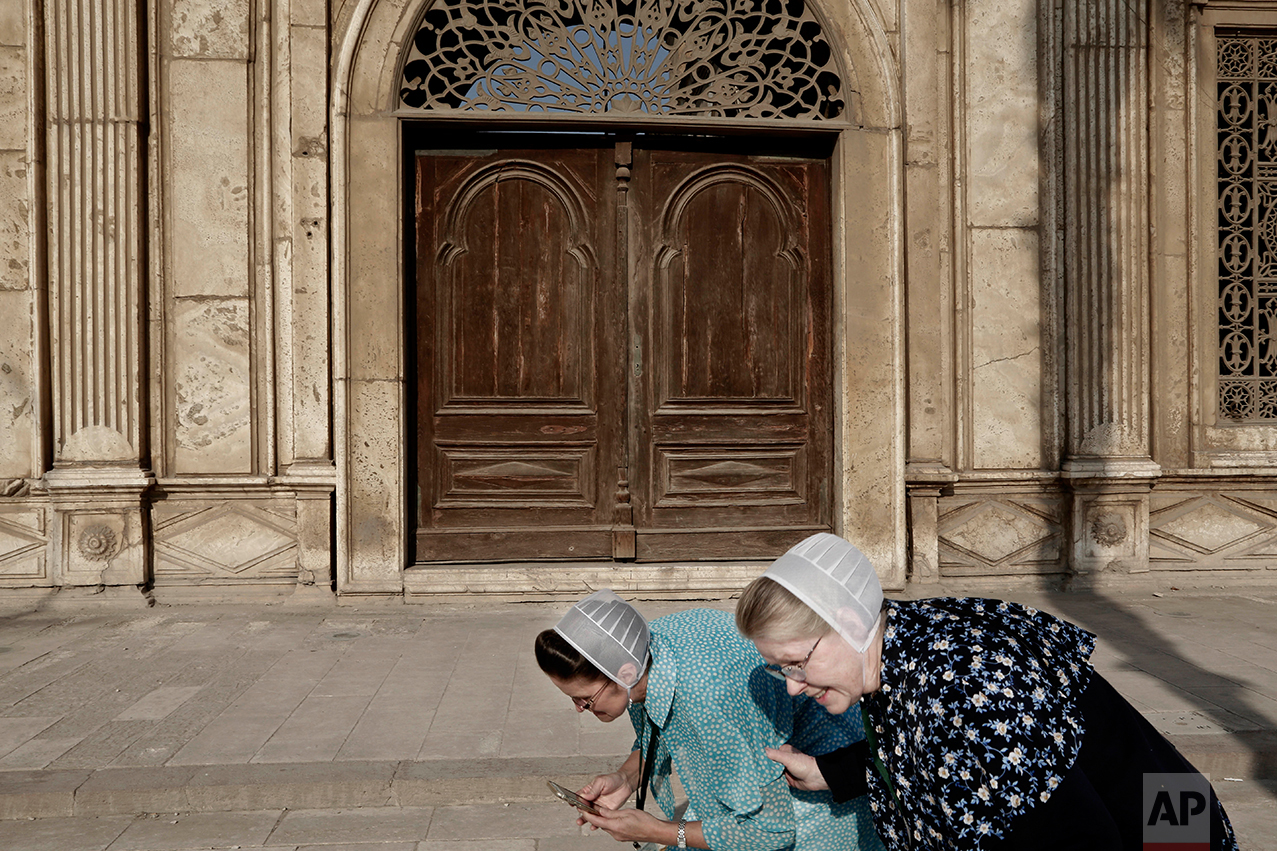 American tourists from Washington laugh as they visit the Citadel of Salah al-Din, a preserved medieval site, and one of the most important landmarks in Cairo, Egypt, Sunday, Feb. 19, 2017. (AP Photo/Nariman El-Mofty)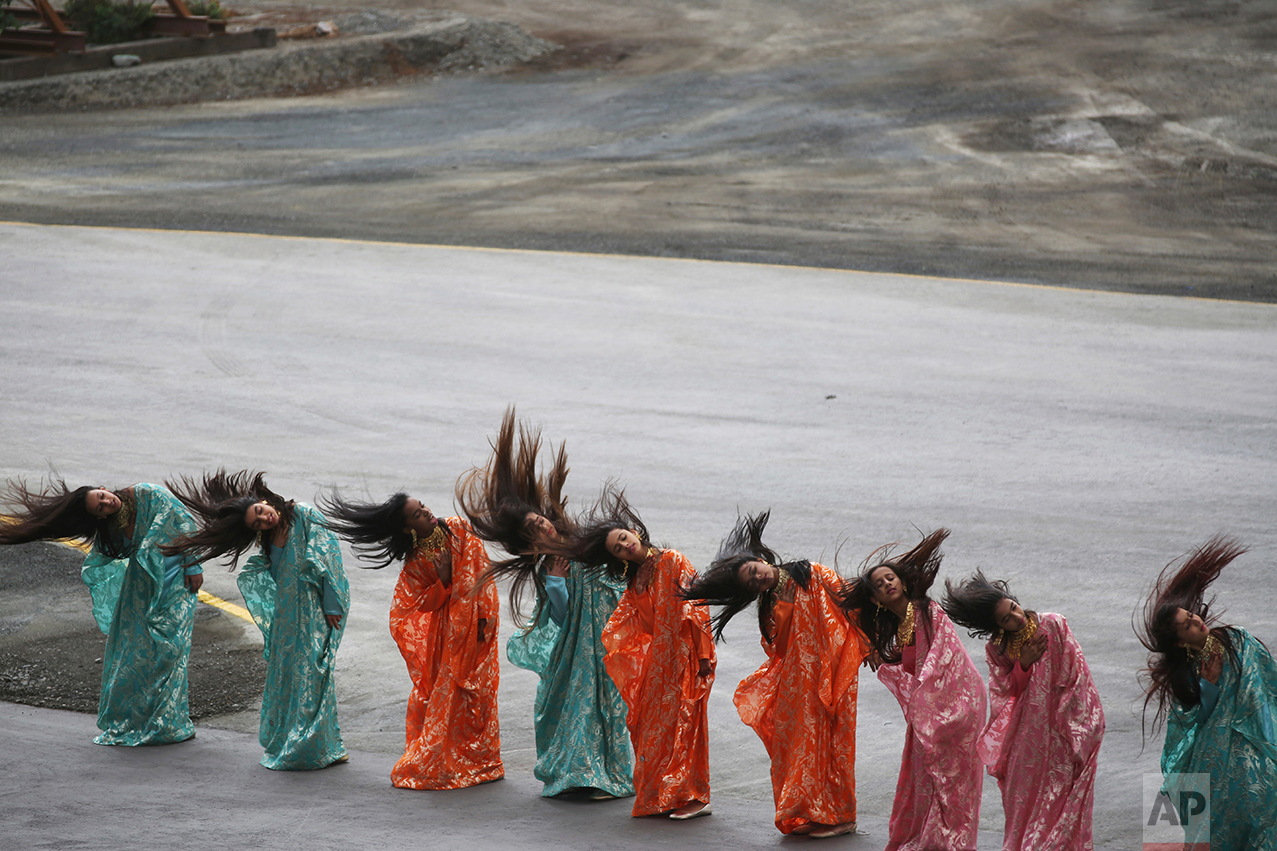 Young Emirati girls dance at the start of the International Defense Exhibition and Conference, known by the acronym IDEX, in Abu Dhabi, United Arab Emirates, Sunday, Feb. 19, 2017. (AP Photo/Jon Gambrell)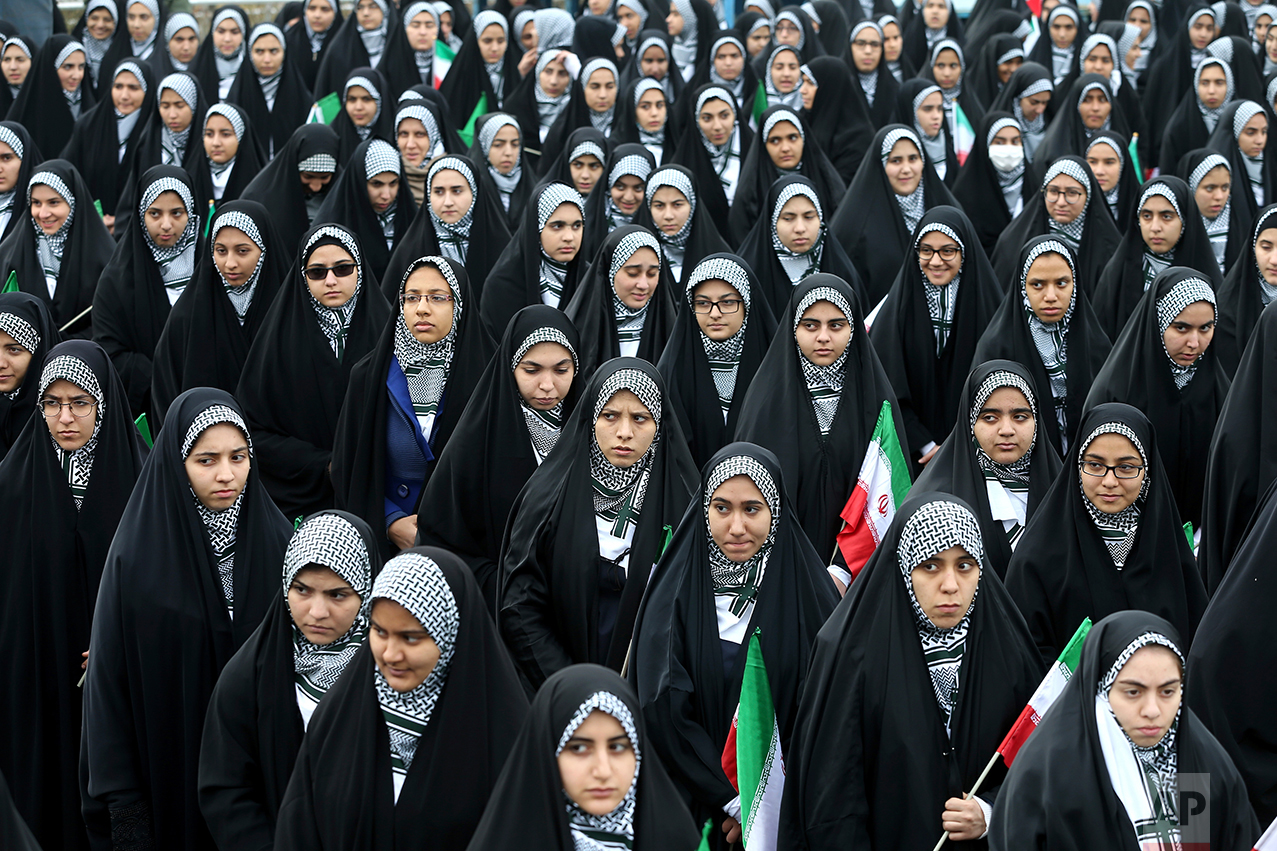 Iranian school girls attend an annual rally commemorating the anniversary of the 1979 Islamic revolution, which toppled the late pro-U.S. Shah, Mohammad Reza Pahlavi, in Tehran, Iran, Friday, Feb. 10, 2017. (AP Photo/Ebrahim Noroozi)
Neighbors of Sheik Omar Abdel-Rahman, who was convicted of plotting terror attacks in New York City in the decade before 9/11, peer from their home to watch his funeral outside the Grand Mosque, in the Nile Delta town of Gamalia, Egypt, Wednesday, Feb. 22, 2017. (AP Photo/Amr Nabil)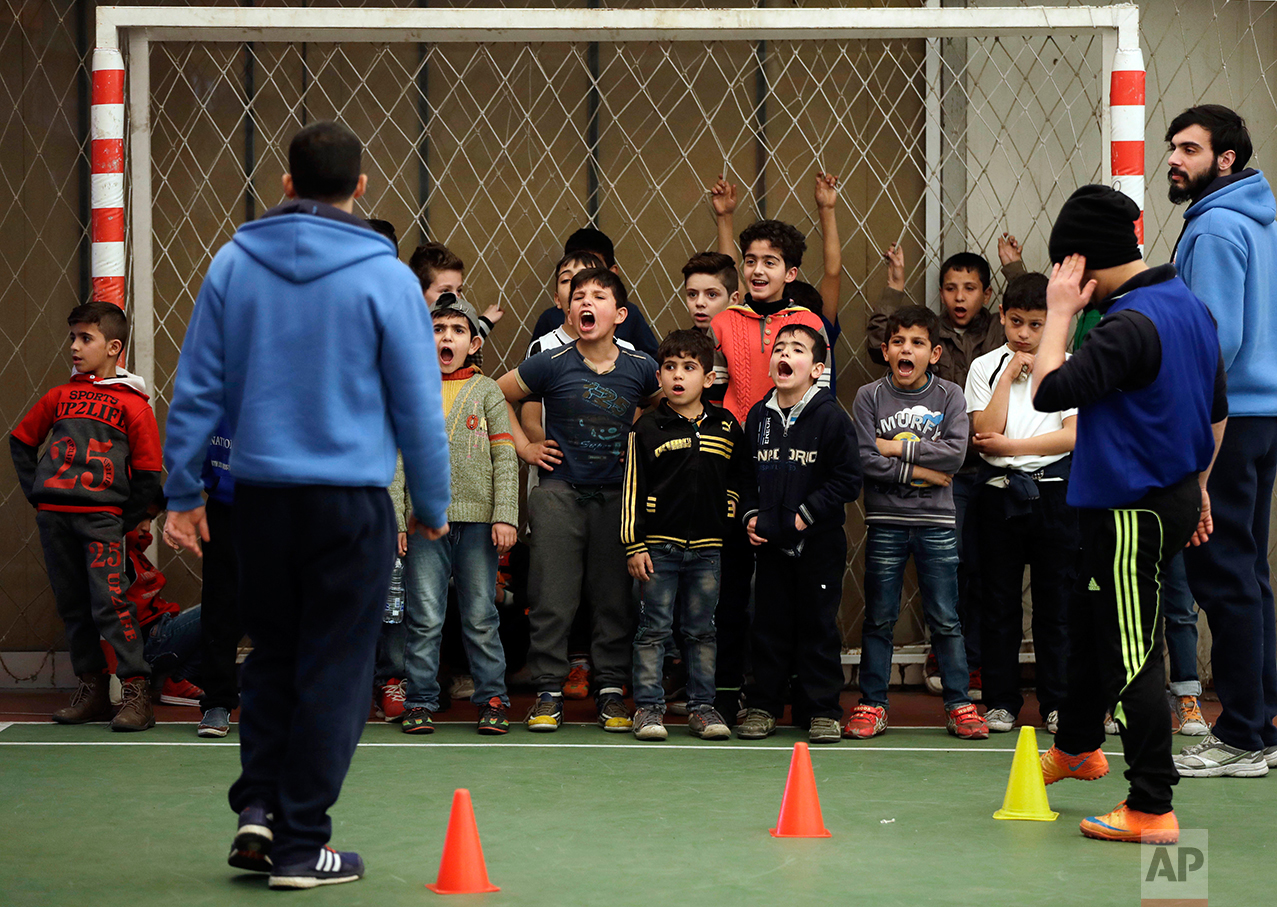 Syrian refugee boys scream as they attend a soccer training session at a private sports club, southern Beirut, Lebanon on Sunday, Feb. 19, 2017. Every Sunday the gymnasium in Beirut echoes with the shouting and laughter of dozens of children, mostly Syrian refugees enjoying a rare escape from a grim and cloistered life in exile. (AP Photo/Hussein Malla)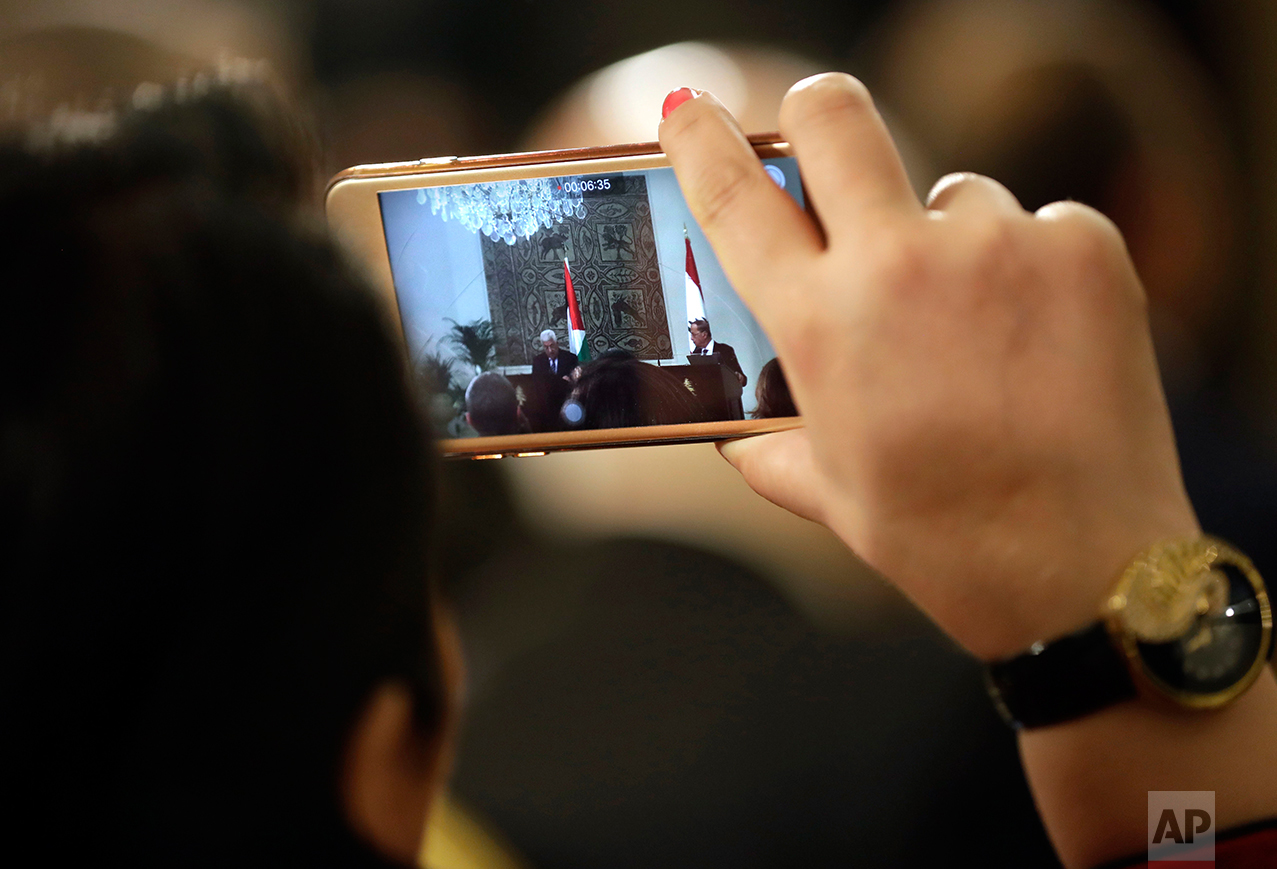 A Lebanese journalist recording through her mobile phone the speeches of Palestinian president Mahmoud Abbas and his Lebanese counterpart Michel Aoun, at the presidential palace, in Baabda east Beirut, Lebanon, Thursday, Feb. 23, 2017. Abbas is in Beirut for two days visit to meet with Lebanese officials. (AP Photo/Hussein Malla)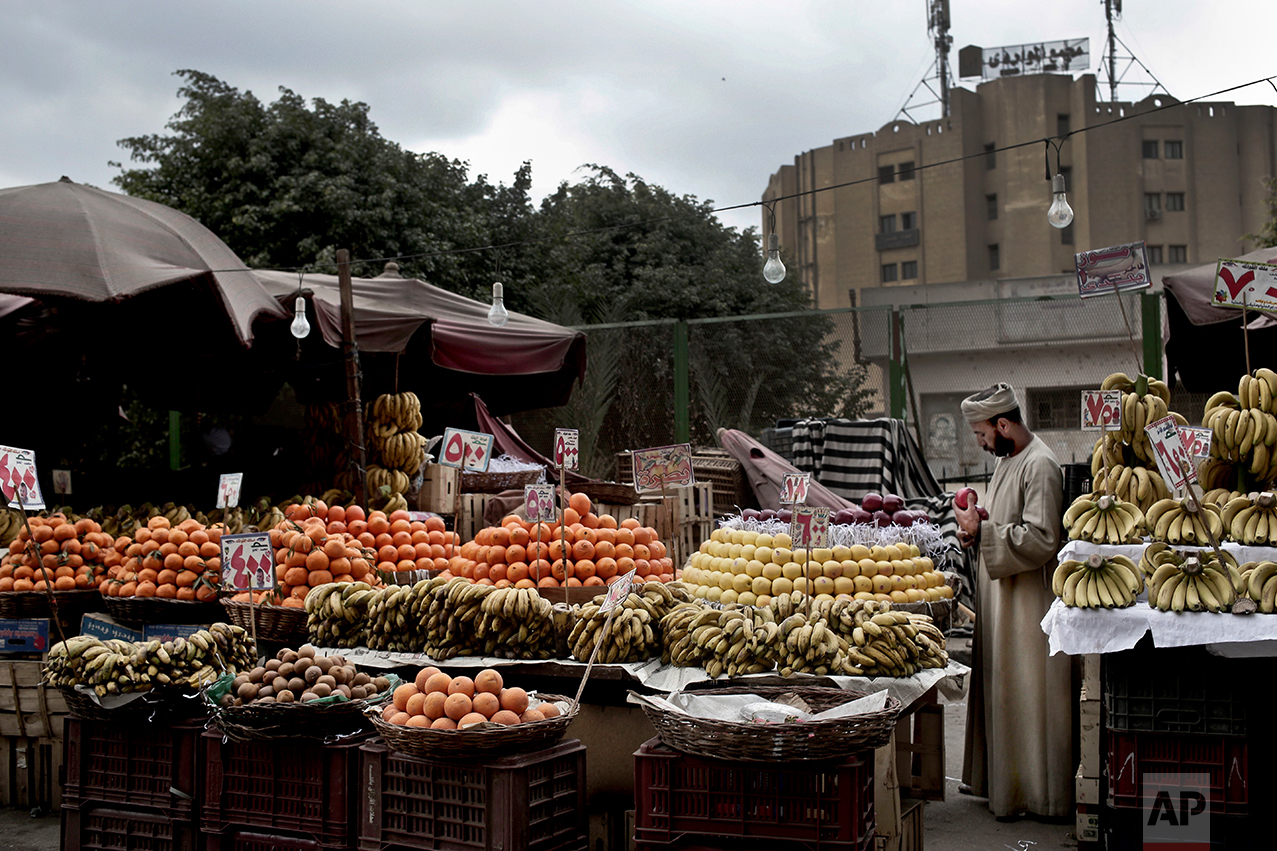 A fruit vendor checks an apple as he waits for customers in the Sayeda Zeinab neighborhood of Cairo, Egypt on Feb. 14, 2017. Egyptians are cutting spending and trying to make it through the country's worst inflation in a decade under President Abdel-Fattah el-Sissi's economic reforms. With inflation now nearing 30 percent _ and little public space for discontent _ they're finding they can do little else but bear down and hope the promised benefits of reform eventually come. (AP Photo/Nariman El-Mofty)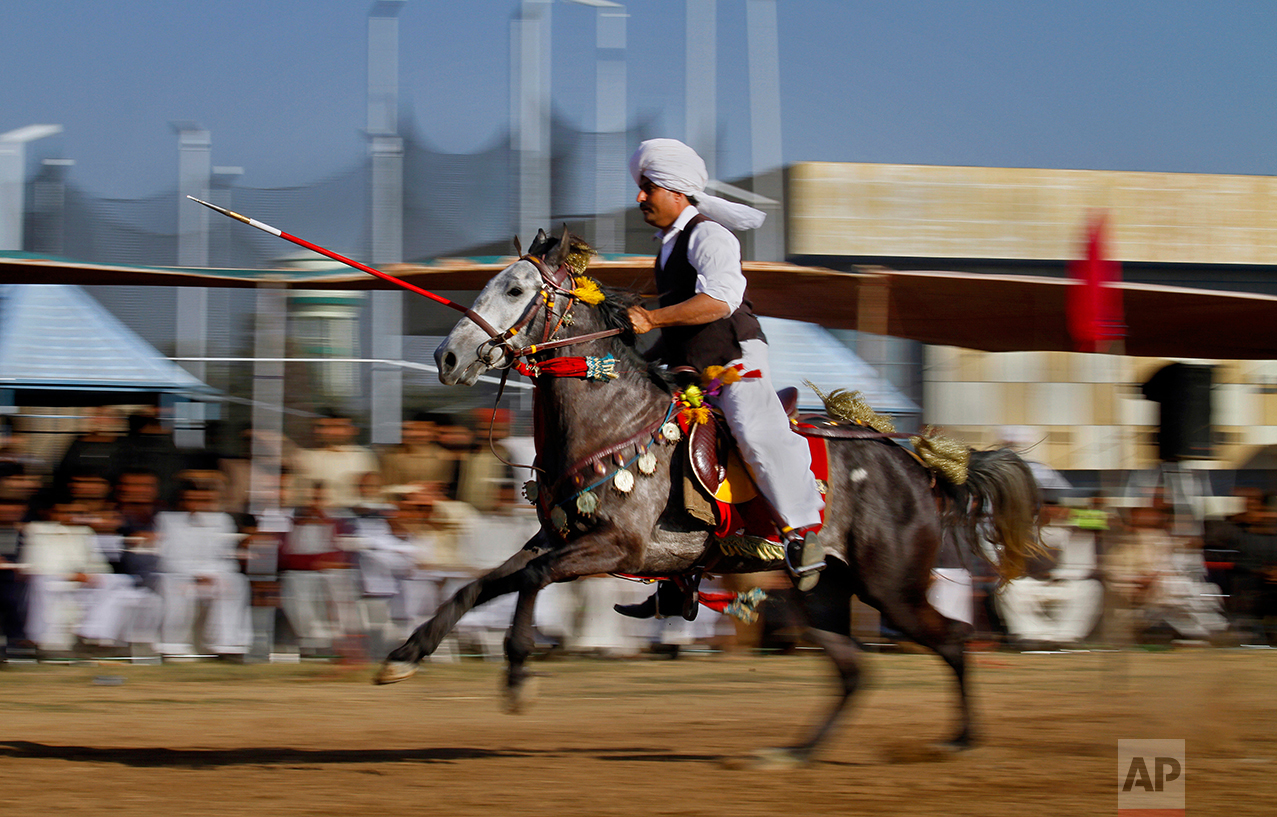 A Pakistani rider races to target a wooden peg during a tent pegging competition organized by the Pakistan Sports Board, in Islamabad, Pakistan, Sunday, Feb. 26, 2017. In tent pegging, a horseman gallops and uses a sword or a lance to pierce, pick up, and carry away a wooden peg. (AP Photo/Anjum Naveed)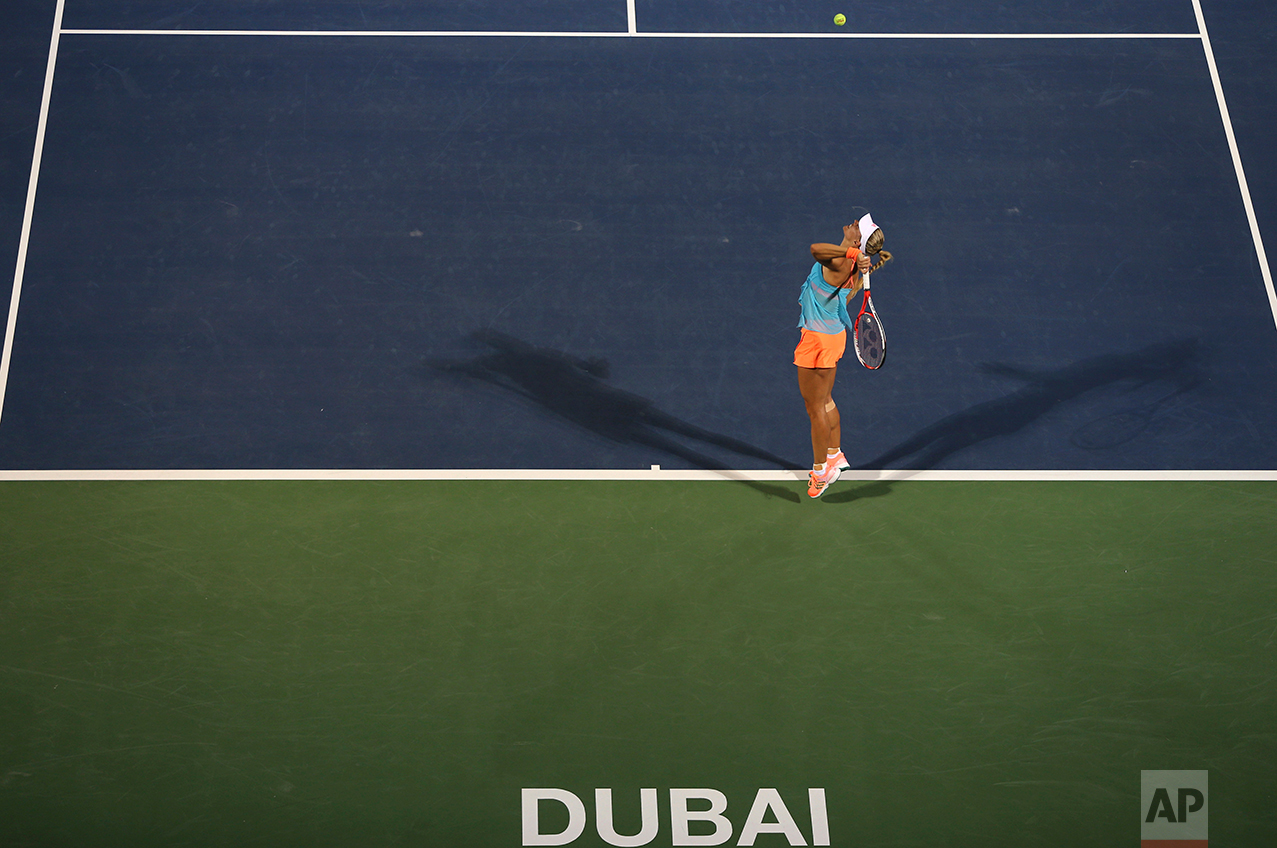 Angelique Kerber of Germany serves the ball to Elina Svitolina of Ukraine during a semi final match of the Dubai Tennis Championships in Dubai, United Arab Emirates, Friday, Feb. 24, 2017. (AP Photo/Kamran Jebreili)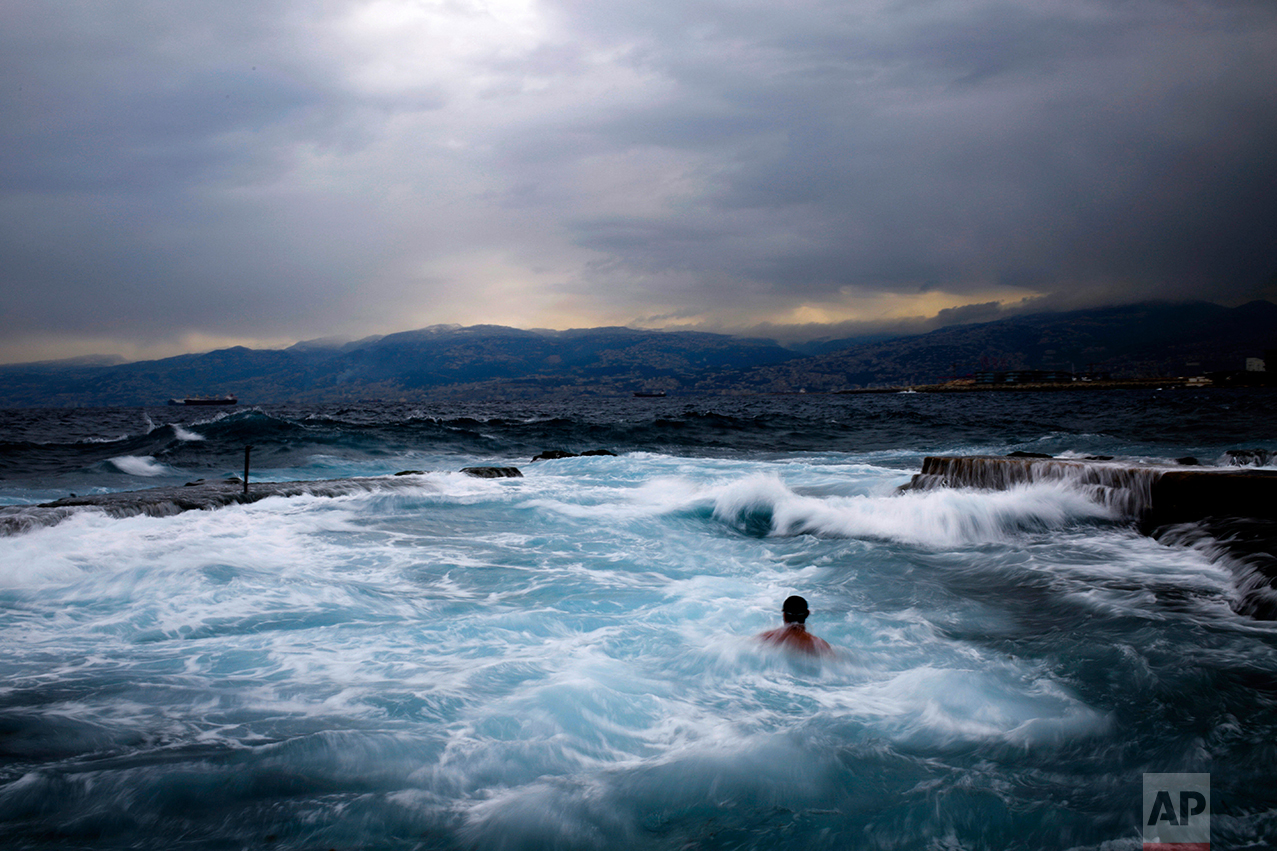 Men swim during in the early morning in the Mediterranean sea in cool temperatures of 8 degrees celsius, 46.4 Fahrenheit, across Beirut, Lebanon, Thursday, Feb. 16, 2017. (AP Photo/Hassan Ammar)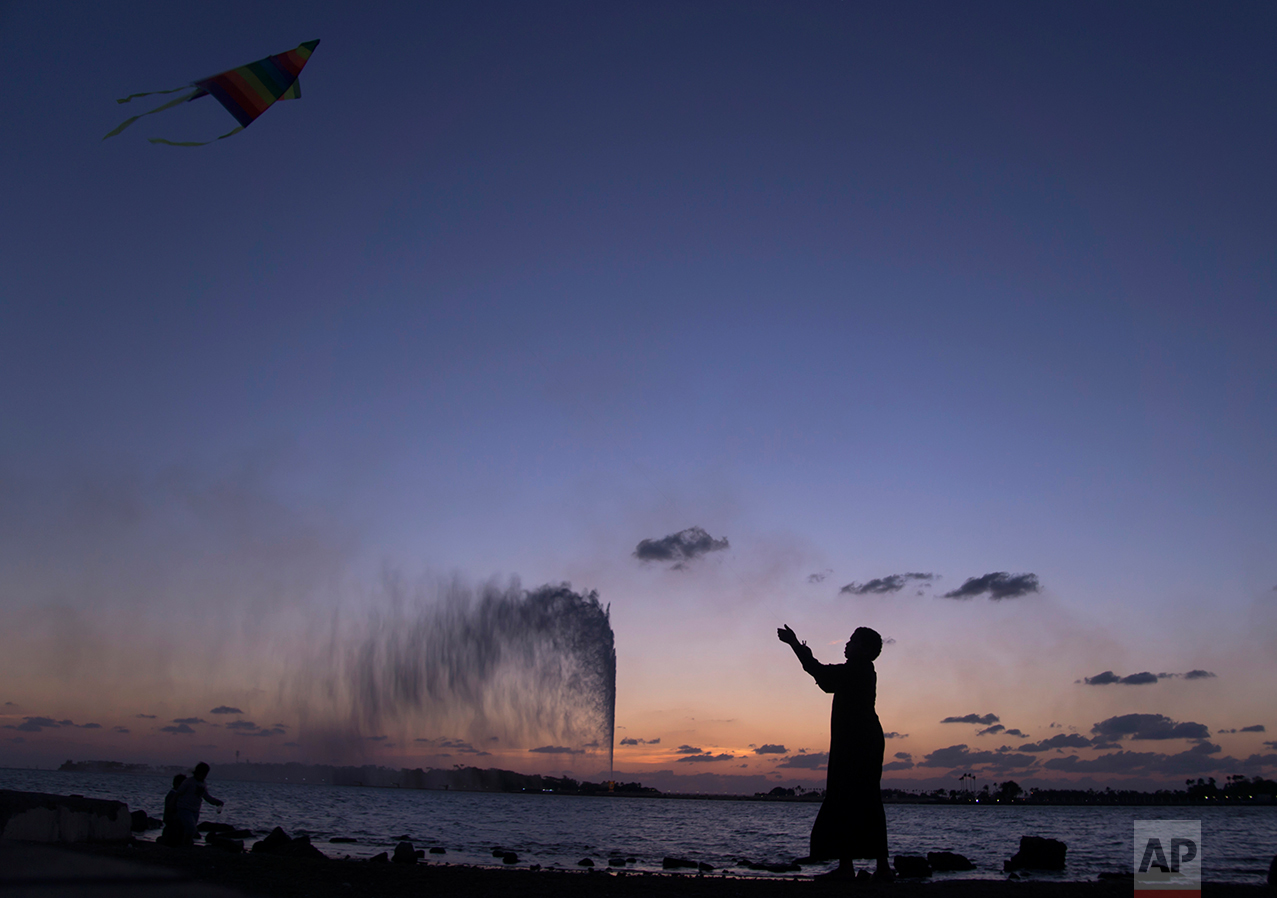 A boy flies a kite on the Red Sea beach near the landmark Jiddah fountain, in Jiddah, Saudi Arabia, Monday, Feb. 20, 2017. (AP Photo/Amr Nabil)
Palestinian laborers work at a construction site in a new housing project in the Israeli settlement of Maale Adumim, near Jerusalem, Tuesday, Feb. 7, 2017. (AP Photo/Oded Balilty)
Nat Castañeda
Visual artist and Digital Storyteller at The Associated Press