Sports in review: June 2016
Over the last month, we have gathered a selection of some of our favorite sports moments captured by AP photographers. Here's a look at some of the high intensity, high impact moments from around the world.
See these photos on APImages.com
France Tennis French Open
Serbia's Novak Djokovic lays on the clay in a heart in drew after defeating Britain's Andy Murray during their final match of the French Open tennis tournament at the Roland Garros stadium, Sunday, June 5, 2016 in Paris. Djokovic won 3-6, 6-1, 6-2, 6-4. (AP Photo/David Vincent)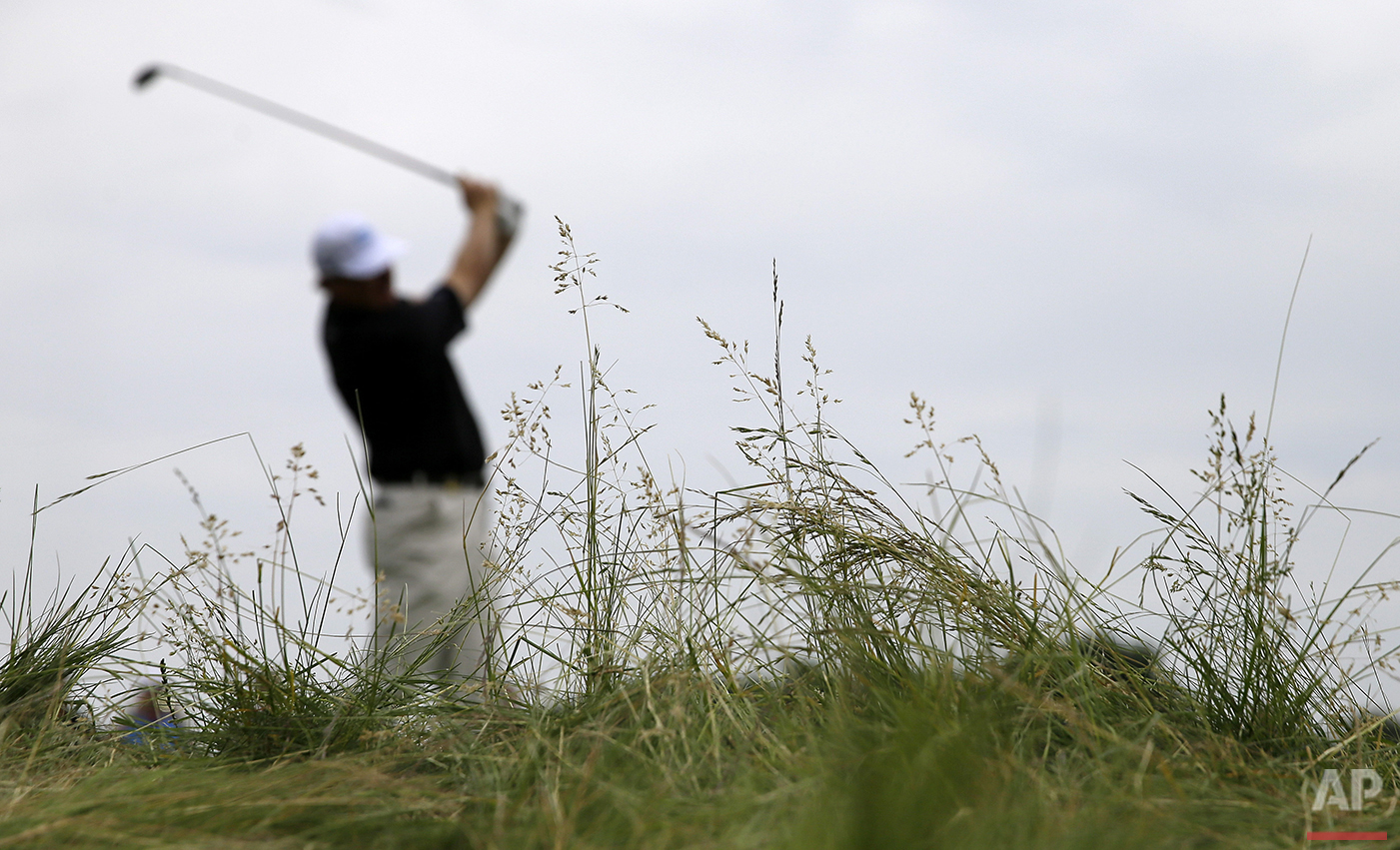 US Open Golf
Ernie Els, of South Africa, watches his tee shot on the seventh hole during a practice round for the U.S. Open golf championship at Oakmont Country Club on Wednesday, June 15, 2016, in Oakmont, Pa. (AP Photo/John Minchillo)
Stanley Cup Hockey
Pittsburgh Penguins players celebrate after beating the San Jose Sharks during Game 6 of the NHL hockey Stanley Cup Finals, Sunday, June 12, 2016, in San Jose, Calif. The Pittsburgh Penguins won 3-1 to win the series 4-2. (AP Photo/Marcio Jose Sanchez)
Soccer Euro 2016 Russia Wales
Wales supporters cheer during the Euro 2016 Group B soccer match between Russia and Wales at the Stadium municipal in Toulouse, France, Monday, June 20, 2016. (AP Photo/Hassan Ammar)
Dubai Kites
A man sails high above the Persian Gulf at Kite Beach in Dubai, United Arab Emirates, Monday, June 13, 2016. As observant Muslims fast during a windy hot day during the Islamic holy month of Ramadan, westerners practice kite surfing. (AP Photo/Kamran Jebreili)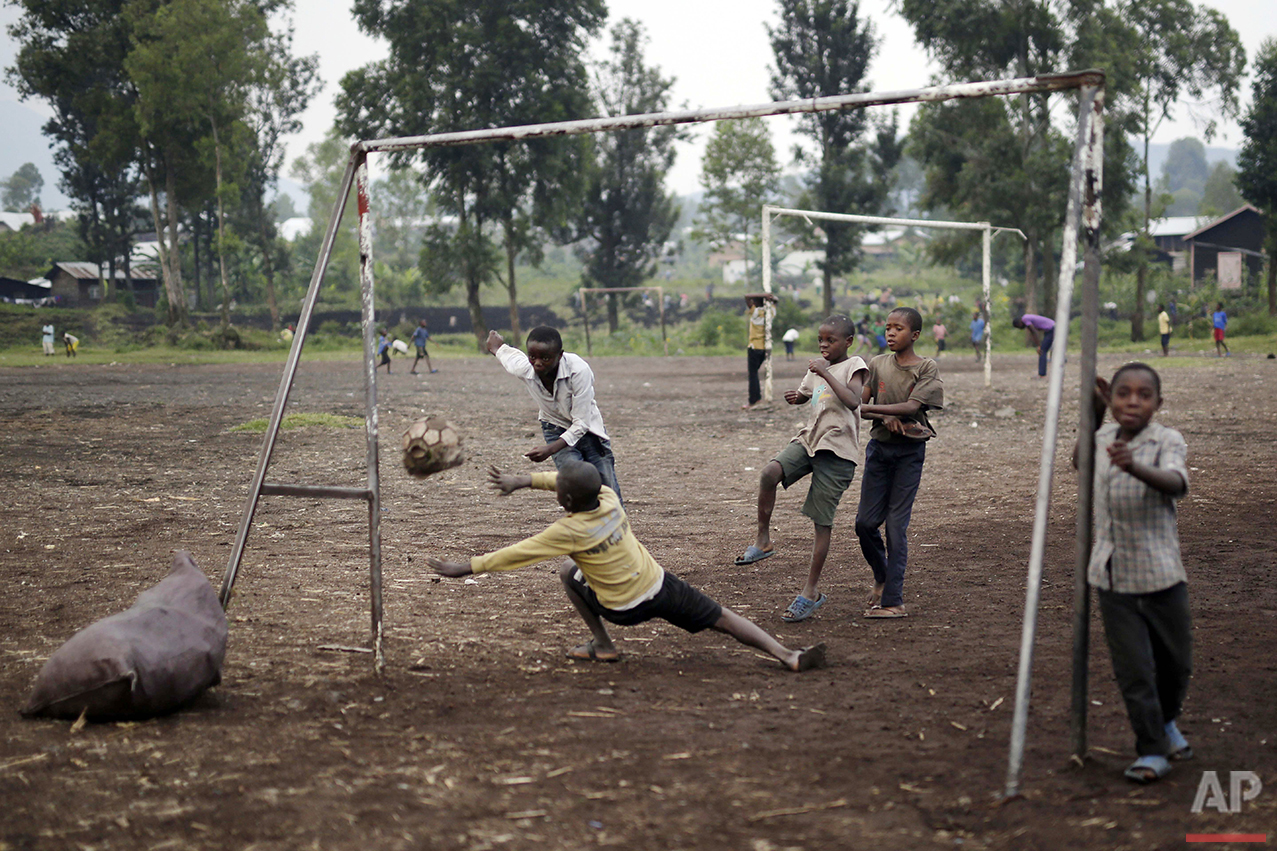 Congo DRC Soccer
Congolese children play soccer on a dirt field in Goma, Democratic Republic of Congo, Saturday, June 18, 2016. One goal was scored with the old deflated ball the children use to play with. (AP Photo/Jerome Delay)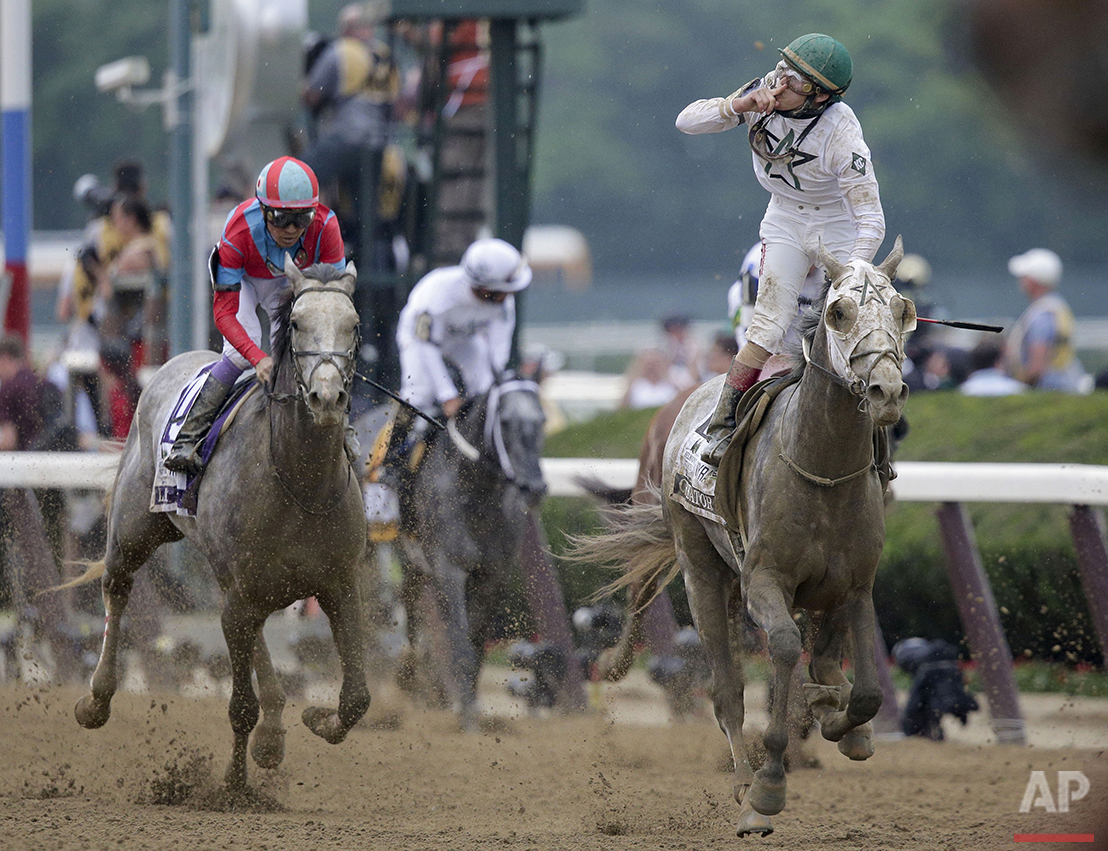 Belmont Stakes Horse Racing
Irad Ortiz Jr., riding Creator, celebrates after winning the 148th running of the Belmont Stakes horse race, Saturday, June 11, 2016, in Elmont, N.Y. (AP Photo/Peter Morgan)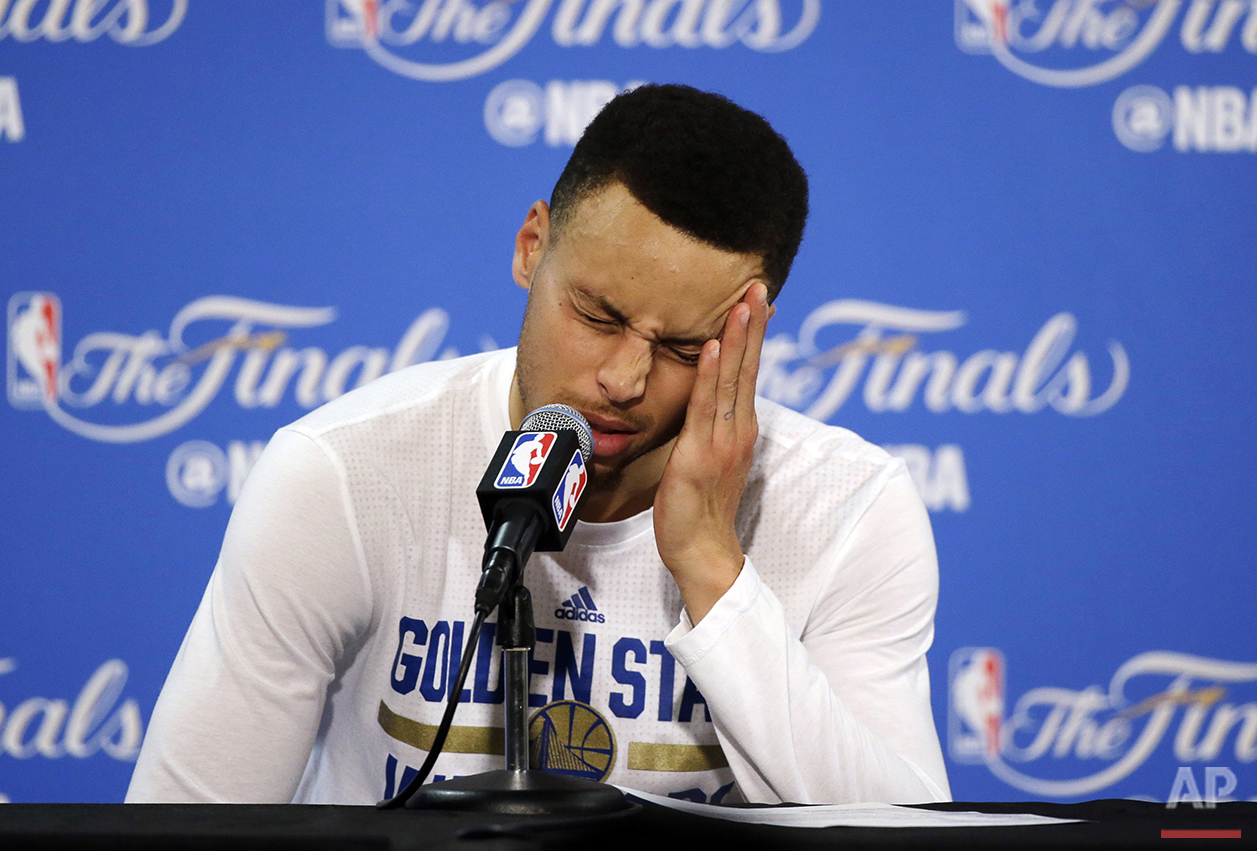 NBA Finals Cavaliers Warriors Basketball
Golden State Warriors' Stephen Curry answers questions during a post-game news conference after Game 7 of basketball's NBA Finals on Sunday, June 19, 2016, in Oakland, Calif. Cleveland won 93-89. (AP Photo/Eric Risberg)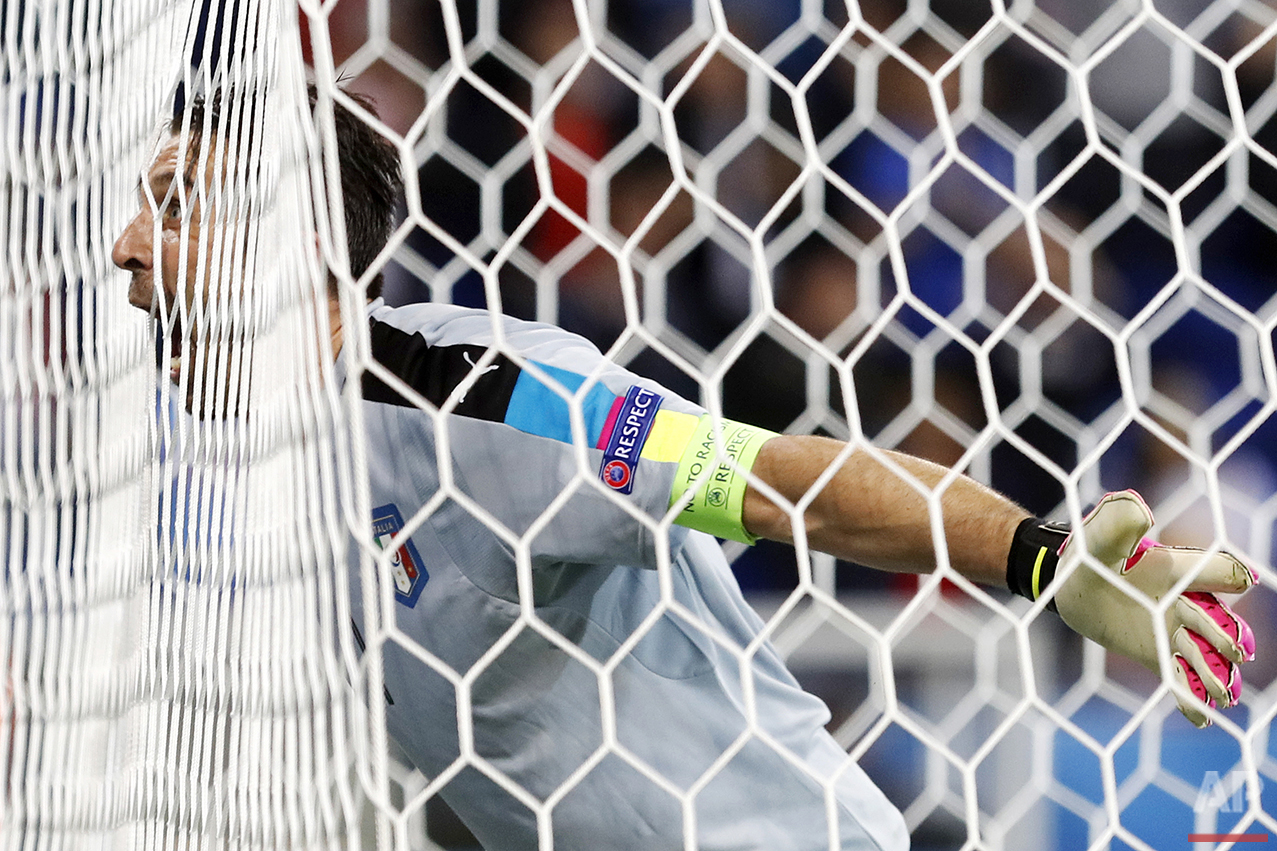 Soccer Euro 2016 Belgium Italy
Italy goalkeeper Gianluigi Buffon celebrates at the end of the Euro 2016 Group E soccer match between Belgium and Italy at the Grand Stade in Decines-Charpieu, near Lyon, France, Monday, June 13, 2016. (AP Photo/Laurent Cipriani)
Muhammad Ali Memorial
A pedestrian passes a mural of Muhammad Ali painted on the side of a building Monday, June 6, 2016, in Louisville, Ky. The president of Turkey and king of Jordan joined the long line of world leaders, religious figures and superstars set to speak at Ali's funeral Friday. (AP Photo/David Goldman)
NASCAR Pocono Auto Racing
Kurt Busch celebrates with his team in Victory Lane after winning the NASCAR Sprint Cup series auto race at Pocono Raceway, Monday, June 6, 2016, in Long Pond, Pa. (AP Photo/Matt Slocum)
NASCAR Michigan Xfinity Auto Racing
Heat waves distort this image of drivers following the pace car during the NASCAR Xfinity series auto race at Michigan International Speedway, Saturday, June 11, 2016 in Brooklyn, Mich. (AP Photo/Carlos Osorio)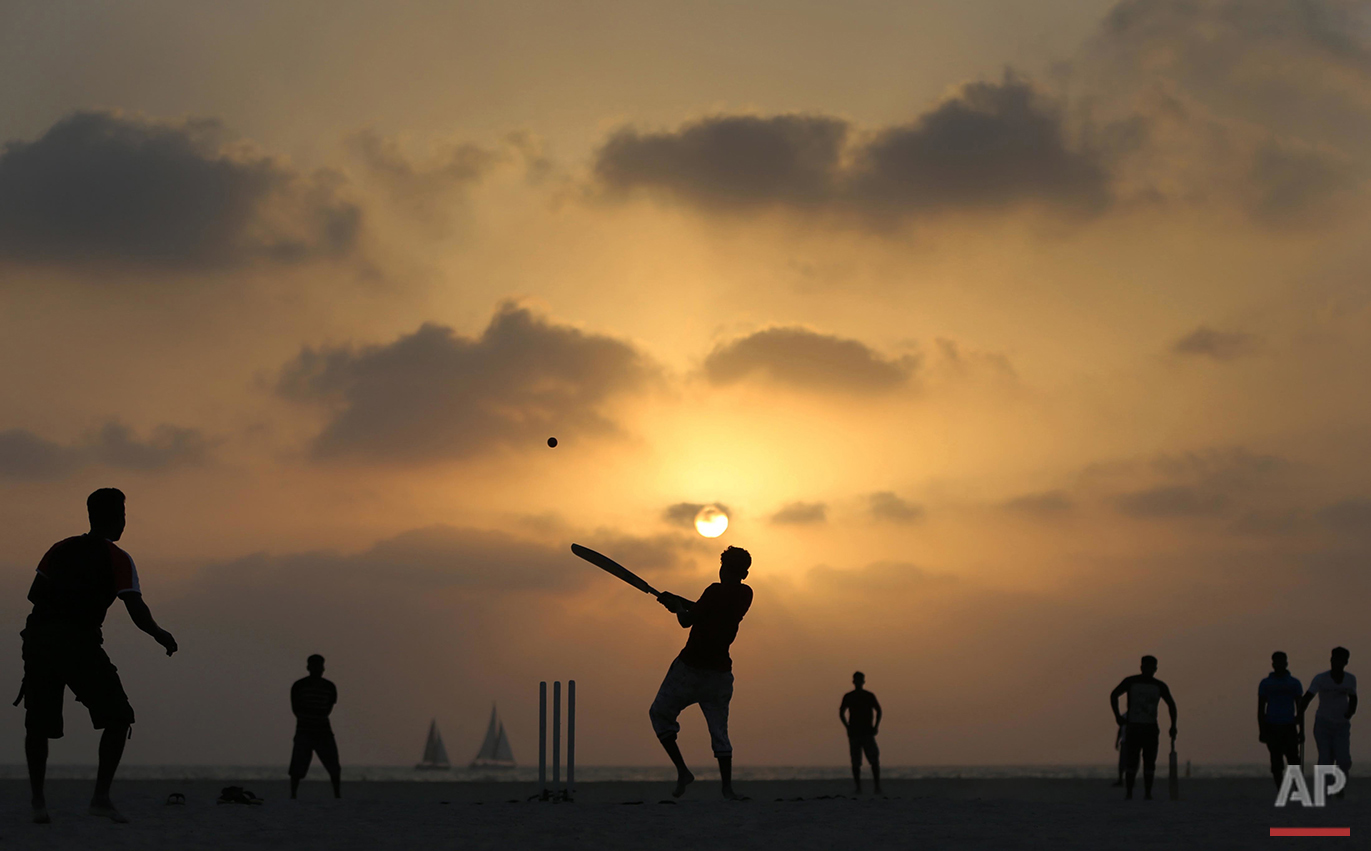 Mideast Emirates Fishermen
While the sun sets, Asian fishermen from the newly developed Jumeirah Fishing Harbour at the Umm Suqeim district, play cricket by the Gulf waters in Dubai, United Arab Emirates, Tuesday, June 14, 2016. (AP Photo/Kamran Jebreili)
Soccer Euro 2016 Spain
Spain's Hector Bellerin, center right, exercises during training session with his teammates at the Allianz Riviera stadium in Nice, France, Thursday, June 16, 2016. (AP Photo/Manu Fernandez)
Brewers Dodgers Baseball
Angel Rodriguez, 35, attends a baseball game between the Los Angeles Angels and the Minnesota Twins, Thursday, June 16, 2016, in Los Angeles. (AP Photo/Jae C. Hong)
Champion Cavaliers Basketball
NBA champion Cleveland Cavaliers Lebron James, center, holds up the NBA championship trophy alongside teammates Kyrie Irving, left, Kevin Love, rear right, J.R. Smith, right, and Tristan Thompson, front, as they arrive at the airport, Monday, June 20, 2016, in Cleveland. (AP Photo/John Minchillo)
Cavaliers Parade Basketball
Cleveland Cavaliers fans watch from a parking garage as the car carrying Cavaliers' LeBron James passes during a parade celebrating the Cleveland Cavaliers' NBA Championship in downtown Cleveland, Wednesday, June 22, 2016. (AP Photo/Gene J. Puskar)
Copa America Centenario Argentina Chile Soccer
Spectators cheer before the Copa America Centenario championship soccer match between Argentina and Chile, Sunday, June 26, 2016, in East Rutherford, N.J. (AP Photo/Matt Slocum)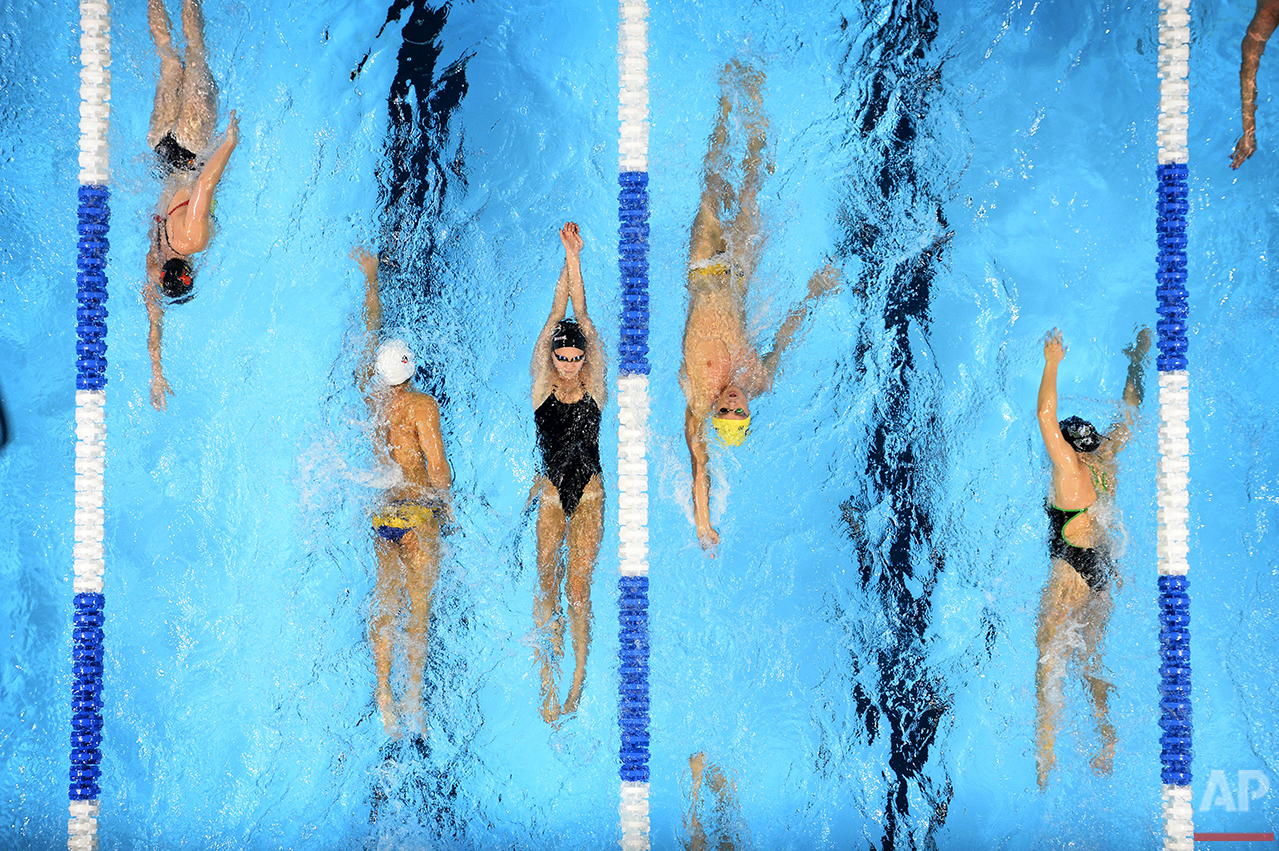 US Swim Trials Swimming
Swimmers warm up prior to preliminaries at the U.S. Olympic swimming trials, Monday, June 27, 2016, in Omaha, Neb. (AP Photo/Mark J. Terrill)
Howe Visitation Hockey
A fan leaves a tribute to Gordie Howe, the man known as Mr. Hockey, outside Joe Louis Arena, the home of the Detroit Red Wings, his team for much of his NHL Hall of Fame career, Tuesday, June 14, 2016 in Detroit. (AP Photo/Carlos Osorio)
APTOPIX US Womens Gymnastics Championships
Madison Kocian competes on the balance beam during the U.S. women's gymnastics championships, Friday, June 24, 2016, in St. Louis. (AP Photo/Tony Gutierrez)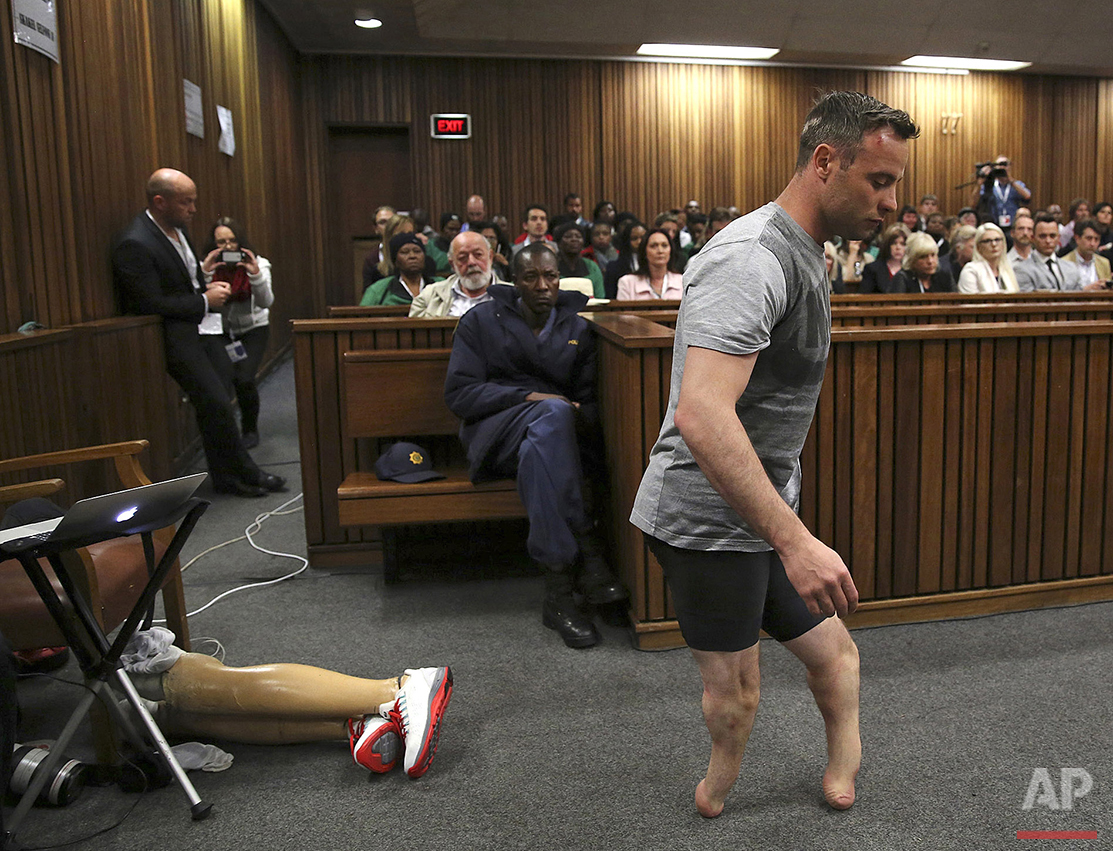 Oscar Pistorius
Oscar Pistorius' prosthetics lay on the floor as he walks on his amputated legs during argument in mitigation of sentence by his defense attorney Barry Roux in the High Court in Pretoria, South Africa, Wednesday, June 15, 2016. An appeals court found Pistorius guilty of murder and not a lesser charge of culpable homicide for the shooting death of his girlfriend Reeva Steenkamp. (Siphiwe Sibeko via AP, Pool)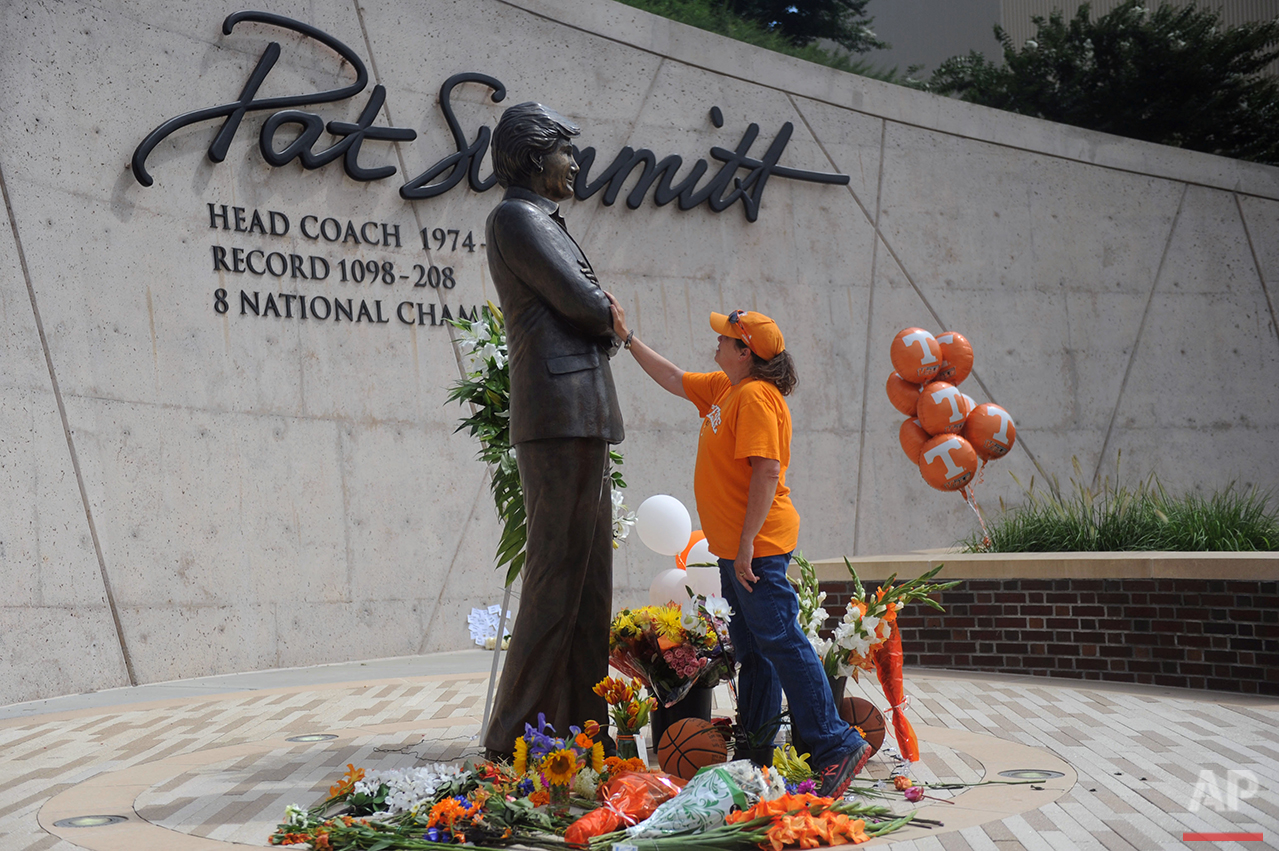 Obit Pat Summitt Basketball
Teresa Olive, of Knoxville, Tenn., touches a statue of Pat Summitt as she pays her respects at the University of Tennessee, on Tuesday, June 28, 2016, in Knoxville, Tenn. Summitt, the winningest coach in Division I college basketball history who uplifted the women's game from obscurity to national prominence during her career at Tennessee, died Tuesday morning, June 28, 2016. She was 64. (Caithe McMekin/Knoxville News Sentinel via AP)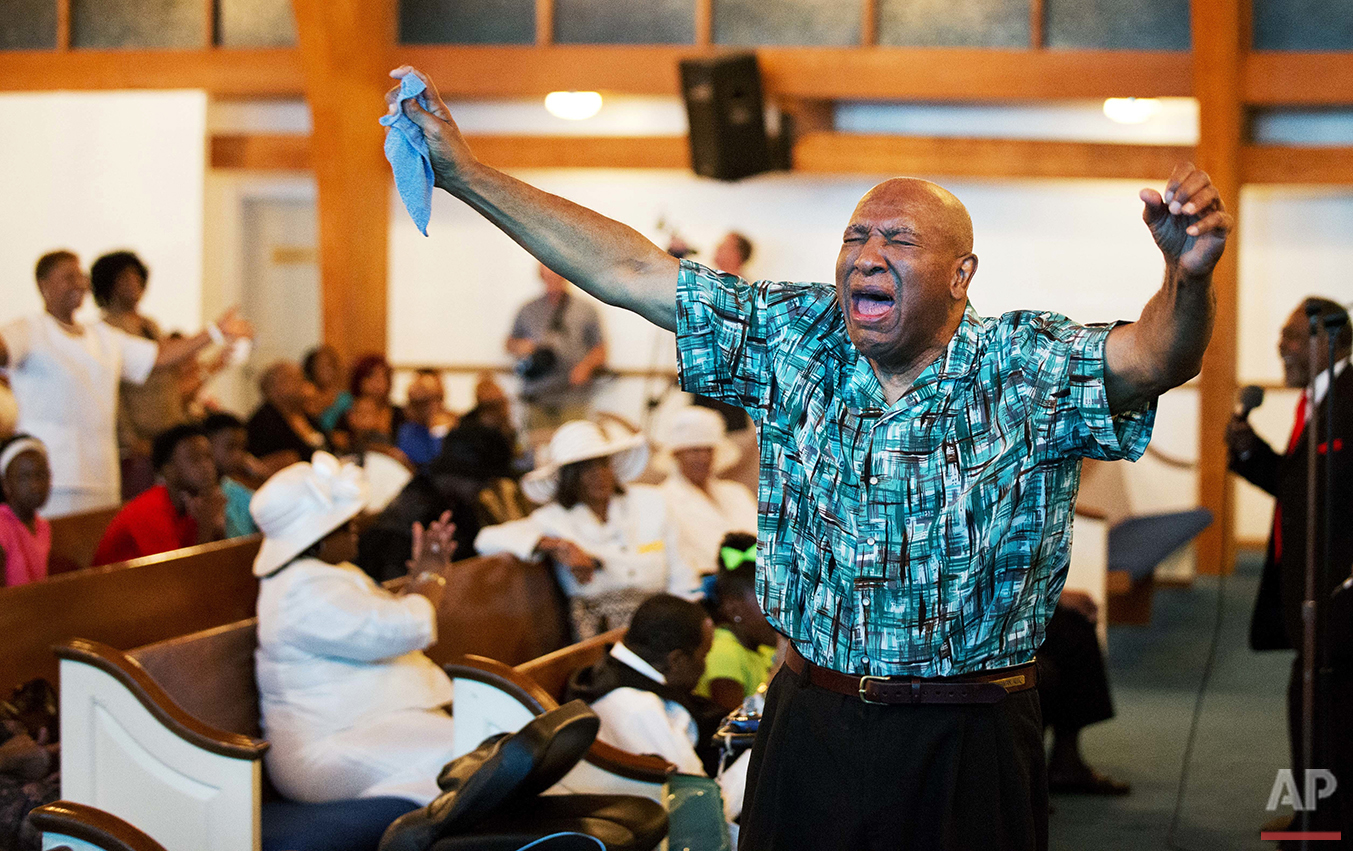 Muhammad Ali Kentucky Home
Rahaman Ali, brother of Muhammad Ali, cries during a service at King Solomon Missionary Baptist Church where Ali's father worshipped and where Muhammad Ali would occasionally accompany him, Sunday, June 5, 2016, in Louisville, Ky. Muhammad Ali, the magnificent heavyweight champion whose fast fists and irrepressible personality transcended sports and captivated the world, died Friday at the age of 74. (AP Photo/David Goldman)
Britain Wimbledon Tennis
Serena Williams of the U.S celebrates a point against Amara Safikovic of Switzerland during their women's singles match on day two of the Wimbledon Tennis Championships in London, Tuesday, June 28, 2016. (AP Photo/Ben Curtis)
Follow AP photographers on Twitter: http://twitter.com/AP/lists/ap-photographers
Spotlight is the blog of AP Images, the world's largest collection of historical and contemporary photos. AP Images provides instant access to AP's iconic photos and adds new content every minute of every day from every corner of the world, making it an essential source of photos and graphics for professional image buyers and commercial customers. Whether your needs are for editorial, commercial, or personal use, AP Images has the content and the expert sales team to fulfill your image requirements. Visit apimages.com to learn more.
Written content on this site is not created by the editorial department of AP, unless otherwise noted.
AP Images on Twitter | AP Images on Facebook | AP Images on Instagram