May 2015 - 1, News, Sports
Julia Weeks
Andres Kudacki, Carlo Baroncini, Darron Cummings, David J- Phillip, Dolores Ochoa, Felipe Dana, Gail Burton, Hassan Ammar, Isaac Brekken, Kirsty Wigglesworth, Marcio Jose Sanchez, Mark Humphrey, Mark J- Terrill, Natacha Pisarenko, Peter Dejong, Tony Dejak
Comment
Sports roundup
Over the last few weeks, we have gathered a selection of some of our favorite sports moments captured by AP photographers.
Here's a look at some of the high intensity, high impact moments from around the world.
APTOPIX Italy Soccer Serie A
Juventus' coach Massimiliano Allegri is thrown in the air in celebration at the end of a Serie A soccer match between Sampdoria and Juventus, at the Luigi Ferraris stadium in Genoa, Italy, Saturday, May 2, 2015. Juventus clinched a fourth successive Serie A title with a 1-0 win at Sampdoria on Saturday but put its trophy celebrations on ice with a crucial Champions League match in just three days. (AP Photo/Carlo Baroncini)
APTOPIX Netherlands Cycling Amstel Gold Race
Race winner Michal Kwiatkowki of Poland, center right in rainbow jersey, rides in the pack near the village of Schin op Geul during the 50th edition of the Amstel Gold cycling race with start in Maastricht and finish in Valkenburg, Netherlands, Sunday, April 19, 2015. (AP Photo/Peter Dejong)
APTOPIX Bulls Cavaliers Basketball
Cleveland Cavaliers forward LeBron James (23) shoots over Chicago Bulls center Joakim Noah during the first half of Game 1 in a second-round NBA basketball playoff series Monday, May 4, 2015, in Cleveland. (AP Photo/Tony Dejak)
APTOPIX White Sox Orioles Baseball
Baltimore Orioles pitcher Ubaldo Jimenez delivers a pitch against the Chicago White Sox in the first inning of a baseball game without fans Wednesday, April 29, 2015, in Baltimore. Due to security concerns the game was closed to the public. (AP Photo/Gail Burton)
APTOPIX Argentina Soccer
Boca Juniors fans cheer for their team during a local tournament soccer match against River Plate in Buenos Aires, Argentina, Sunday, May 3, 2015. (AP Photo/Natacha Pisarenko)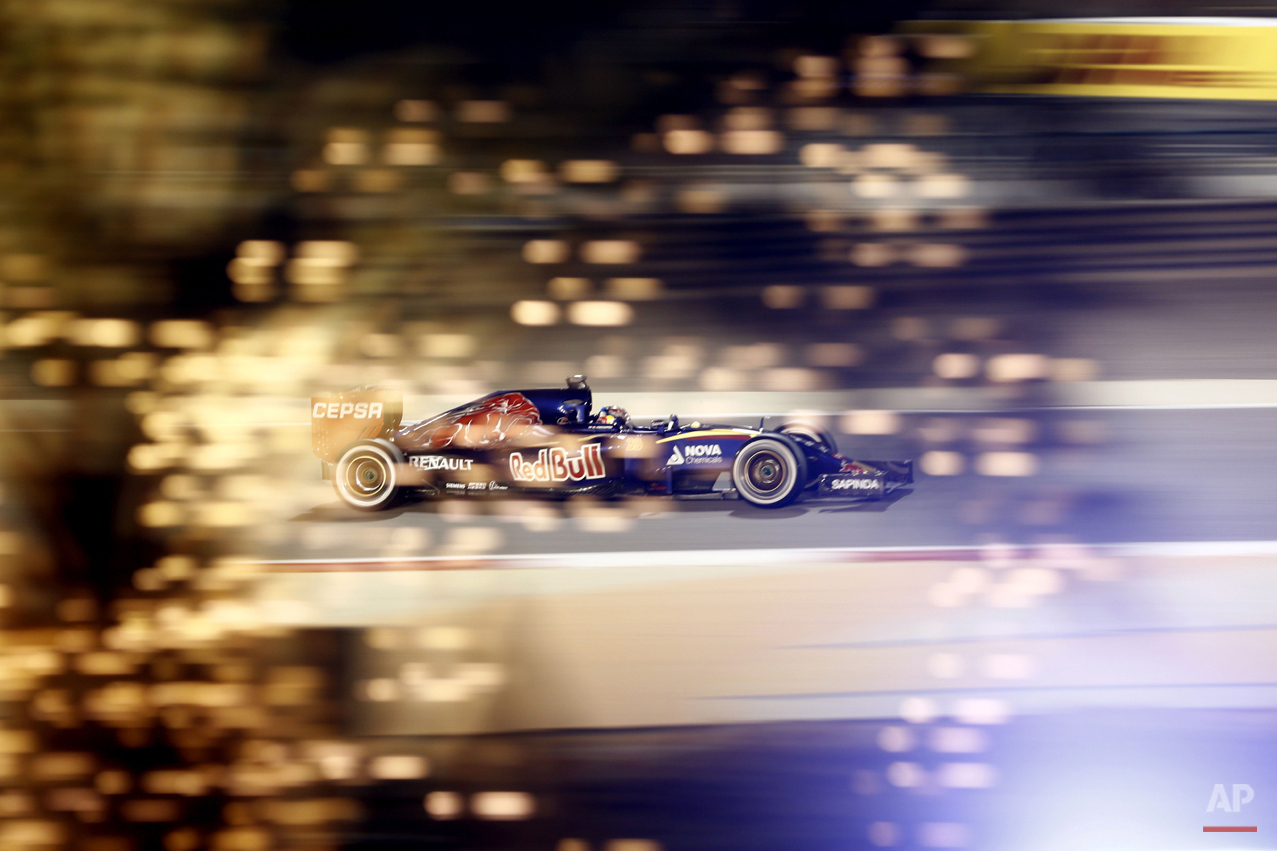 APTOPIX Mideast Bahrain F1 GP Auto Racing
Toro Rosso driver Max Verstappen of the Netherlands steers his car during the Bahrain Formula One Grand Prix at the Formula One Bahrain International Circuit in Sakhir, Bahrain, Sunday, April 19, 2015. (AP Photo/Hassan Ammar)
APTOPIX Kentucky Derby Horse Racing
Sara Ward looks up before the 141st running of the Kentucky Oaks horse race at Churchill Downs Friday, May 1, 2015, in Louisville, Ky. (AP Photo/Darron Cummings)
APTOPIX Mayweather Pacquiao Boxing
Floyd Mayweather Jr., left, hits Manny Pacquiao, from the Philippines, during their welterweight title fight on Saturday, May 2, 2015 in Las Vegas. (AP Photo/Isaac Brekken)
APTOPIX Kentucky Derby Horse Racing
Victor Espinoza rides American Pharoah to victory in the 141st running of the Kentucky Derby horse race at Churchill Downs Saturday, May 2, 2015, in Louisville, Ky. (AP Photo/David J. Phillip)
APTOPIX Draft 49ers Armstead Football
San Francisco 49ers first-round draft pick Arik Armstead, right, has his photo taken on the stage by his father Guss after an NFL football news conference Friday, May 1, 2015, in Santa Clara, Calif. (AP Photo/Marcio Jose Sanchez)
APTOPIX Ecuador Chile Soccer Copa Libertadores
Fans of Ecuador's Emelec display a giant flag during a Copa Libertadores soccer match against Chile's Universidad de Chile in Guayaquil, Ecuador, Wednesday, April 22, 2015. Emelec defeated Universidad de Chile by 2-0 and made it to next round. (AP Photo/Dolores Ochoa)
APTOPIX Britain London Marathon
Eliud Kipchoge of Kenya wins the Men's race in the 35th London Marathon, Sunday, April 26, 2015. (AP Photo/Kirsty Wigglesworth)
APTOPIX Brazil Soccer
Vasco's Madson celebrates with fans after winning the Rio de Janeiro state championship against Botafogo 2-1 at the Maracana stadium in Rio de Janeiro, Brazil, Sunday, May 3, 2015. (AP Photo/Felipe Dana)
APTOPIX Spain Madrid Open Tennis
Juan Monaco from Argentina serves during the Madrid Open tennis tournament match against Milos Raonic from Canada in Madrid, Spain, Tuesday, May 5, 2015. (AP Photo/Andres Kudacki)
APTOPIX Trail Blazers Grizzlies Basketball
Memphis Grizzlies guard Vince Carter (15) celebrates with fans as he leaves the court after the Grizzlies defeated the Portland Trail Blazers in Game 5 of an NBA basketball playoff series Wednesday, April 29, 2015, in Memphis, Tenn. The Grizzlies won 99-93 to win the series 4-1. (AP Photo/Mark Humphrey)
APTOPIX Mariners Angels Baseball
Fans wear sombreros in an attempt to break a world record during the fifth inning of a baseball game between the Los Angeles Angels and the Seattle Mariners, Tuesday, May 5, 2015, in Anaheim, Calif. (AP Photo/Mark J. Terrill)
---
See more images from Sports Roundup 
Spotlight is the blog of AP Images, the world's largest collection of historical and contemporary photos. AP Images provides instant access to AP's iconic photos and adds new content every minute of every day from every corner of the world, making it an essential source of photos and graphics for professional image buyers and commercial customers.  Whether your needs are for editorial, commercial, or personal use, AP Images has the content and the expert sales team to fulfill your image requirements. Visit apimages.com to learn more. 
Written content on this site is not created by the editorial department of AP, unless otherwise noted. 
AP Images on Twitter | AP Images on Facebook | AP Images on Google+