Archivist Update: Dogs in warfare
In honor of National Dog Day on August 26, we feature photos of K-9 service dogs from the Associated Press photo archive that span from WWII to the Vietnam War.
A trained German shepherd dog and his soldier-master guard, a vital American defense position in the Hawaiian Island in an undated photo. The army sentry is equipped with rifle, metal helmet, experience and human brain. His four-footed assistant has acute sense of hearing and smell and thorough training in school operated by dogs for defense. Five thousands of these canine soldiers have been trained to guard important Hawaiian fortifications and shore lines and more are currently in "schools." (AP Photo)
U.S. Adviser Lt. Col. Burr M. Willey, of Ayer, Mass., fired his rifle as he moved up Route 13 with a South Vietnamese army unit toward An Loc, besieged provincial capital north of Saigon. In this scene in Vietnam, May 19, 1972, Willey was followed by his faithful dog Moose and South Vietnamese troops. On June 19, the colonel and his dog were killed during a rocket attack in the area along Route 13. (AP Photo/Nick Ut)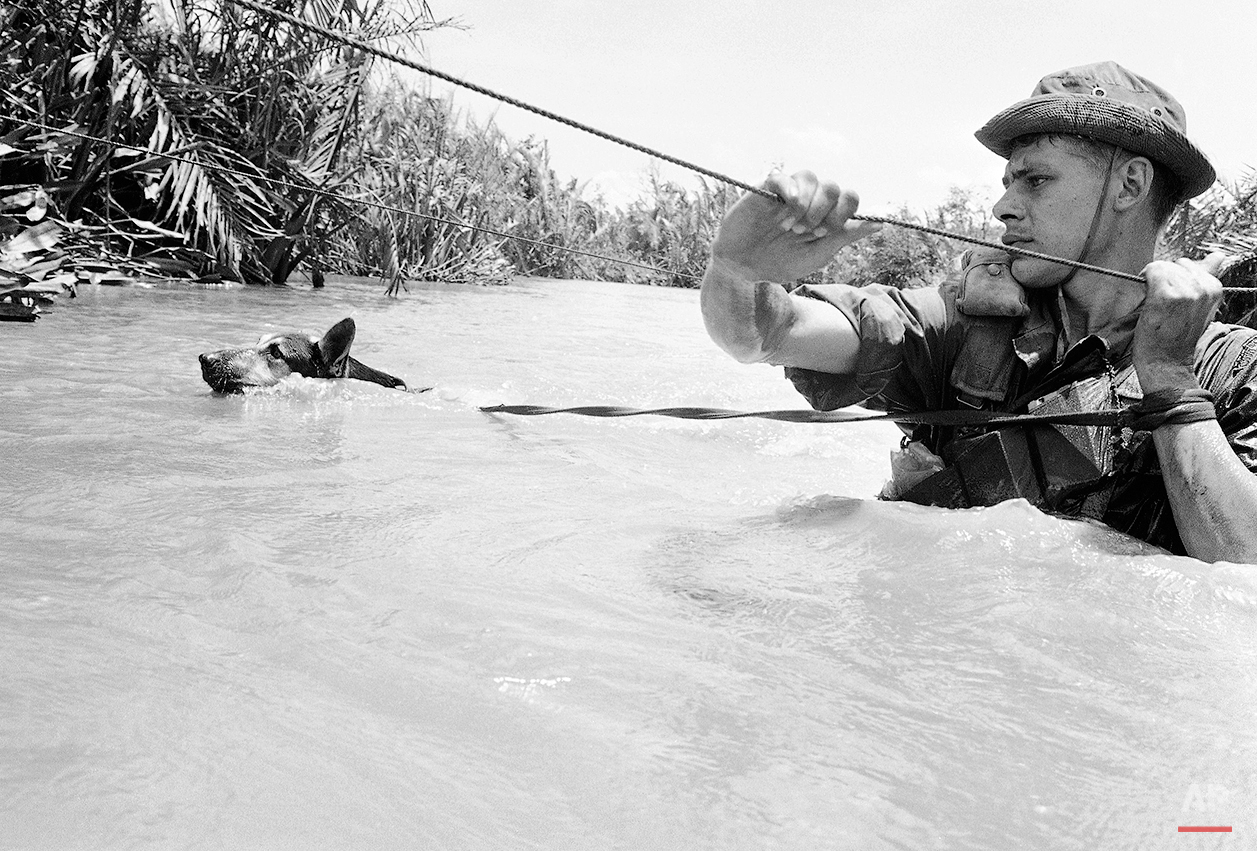 Scout Dog, fighting against a strong current, swims across a muddy stream during operation west of Saigon on Sept. 13, 1968. His handler uses cable to work his way across. Both are with a unit of the U.S. 199th light infantry brigade patrolling outside Saigon in terrain that is mostly muddy rice paddies and streams. (AP Photo)
This dog who fell in line during a review of the oldest U.S. Army division with a continuous history, appears to be having a good time stepping along briskly, somewhere in the Central Pacific on Sept. 29, 1943. The review celebrated the division's "Organization Day." (AP Photo/Pool)
Tojo, a dog adopted by five American soldiers, has all the conveniences of civilian life provided for him in the jungle in New Guinea on April 16, 1943. He is emerging from his air raid shelter which is placed at a convenient distance from his home. He knows when to go into "Mutt Manor" and when to enter his air raid shelter. (AP Photo)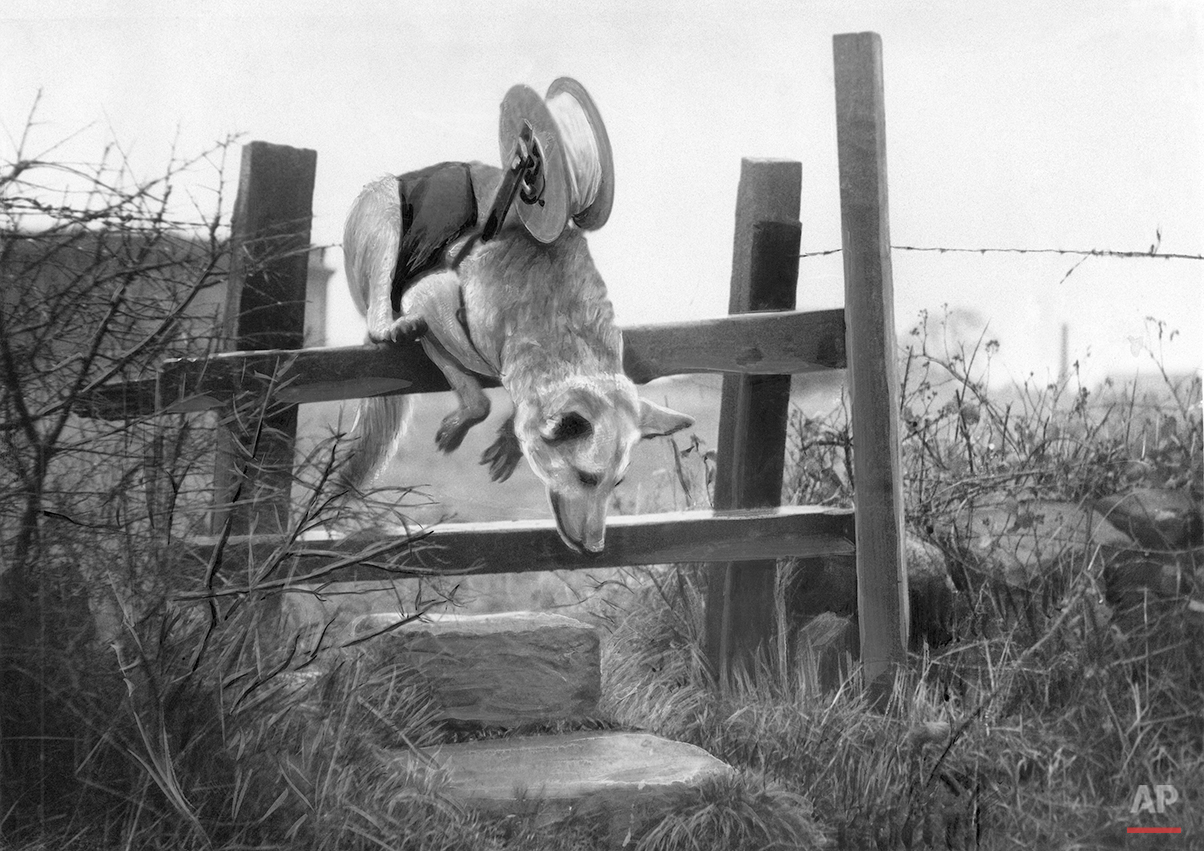 Floss, an Alsatian defense dog, lays a telephone cable in an unknown location on Nov. 12, 1940. Floss will carry a mile of cable, being paid out from a roll on her back, over bomb-pitted, barbed wire entangled ground in two minutes, non-stop. (AP Photo)
Tons of thousands of more troops have poured into England during the night, after heroically fighting their way out of Northern France and Belgium. French troops with the dog they rescued, seen during a halt at a wayside station on June 24, 1940. A large number of dogs have been brought over by the gallant Allied soldiers. (AP Photo)
A dog handler attached to the U.S. 173rd airborne brigade and his dog take a cooling swim in a stream near the Unit's home base at Bien Hoa, near Saigon Oct. 1, 1967. They had just returned from a patrol and both leaped into the water. (AP Photo)
U.S. Marines and their scout dog, its ears barely visible in the high grass, search for Viet Cong in battle zone 20 miles Southwest of Da Nang, Vietnam, Feb. 5, 1967. They were from the 2nd battalion of the 4th Marine division on operation independence. (AP Photo)
Pfc. Robert F. Young, of 805-2nd St. Lancaster, Ohio, peers from a foxhole behind his collie dog "Trix", on alert in Normandy, France, August 20, 1944. "Trix" is one of the U.S. Army Military Police dogs trained to guard restricted areas, airports and various dumps of the 9th Air Force service command. The M.P. Dogs are also rained to hunt snipers. Each dog has its own master. (AP Photo)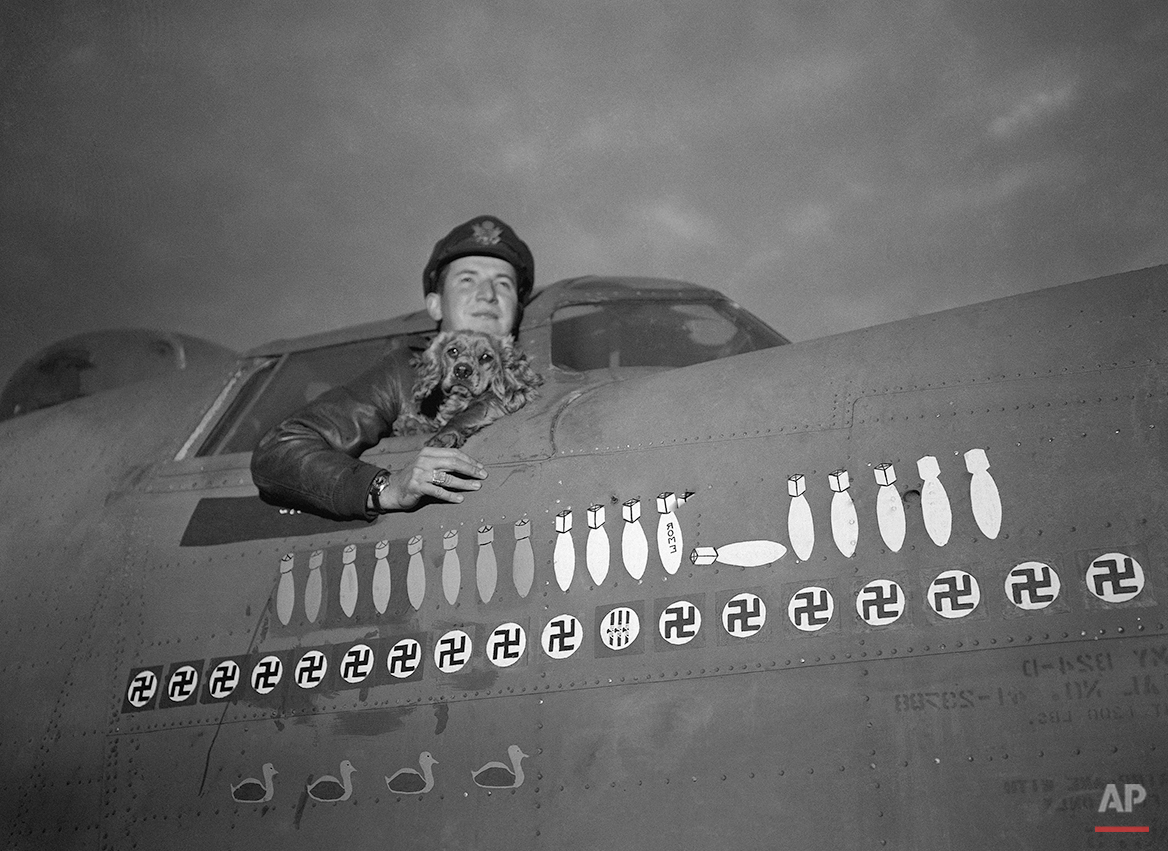 Pilot officer Rusty, mascot of a Liberator operating from this country, was flown to England from the U.S., where he has taken part in numerous bombing raids. Rusty with his owner, First Lieutenant Robert C. Peterson, Navigator of the Liberator on Oct. 25, 1943. (AP Photo)
Veteran of 11 battles and once wounded in action, Sangie, a broad-chested mongrel, looks unhappy as she faces formal retirement with full honors from the Navy at San Diego, Aug. 13, 1947. The dog is being detached in response to appeals from her former master, Landy E. Black, Jr., of Denver. An escort of five blue jackets, including Seaman 1/C James F. O'Brian, left, of Everett, Mass., and Specialist 3/c Donald Harrison, right, of Meridian, Idaho, will deliver Sangie to Denver by station wagon. (AP Photo)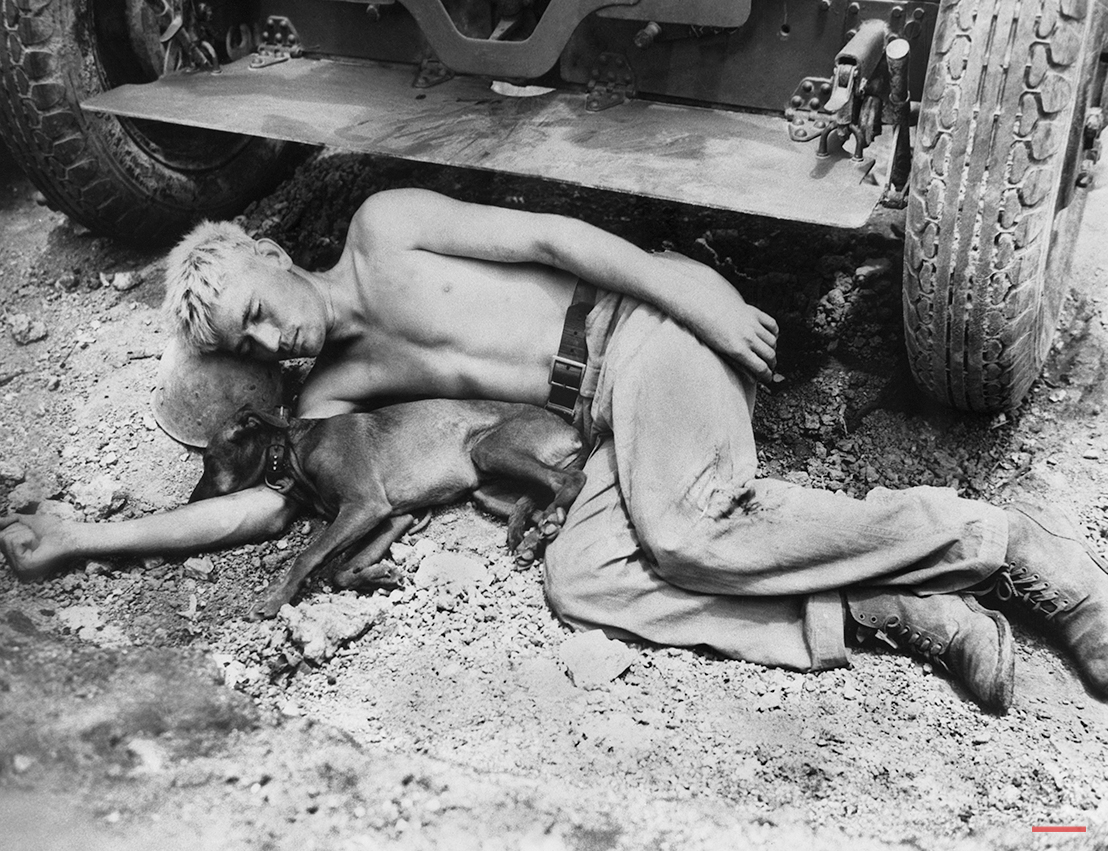 With his helmet liner as a pillow and the coral ground as his bed, Private John W. Emmons, of 110-20th Avenue, Sheffield, Ala., and his "friend" take a well earned rest in front of a 105mm Howitzer on Okinawa on June 27, 1945. The tired artillery man is with the sixth marine division and his friend is a unit mascot. (AP Photo)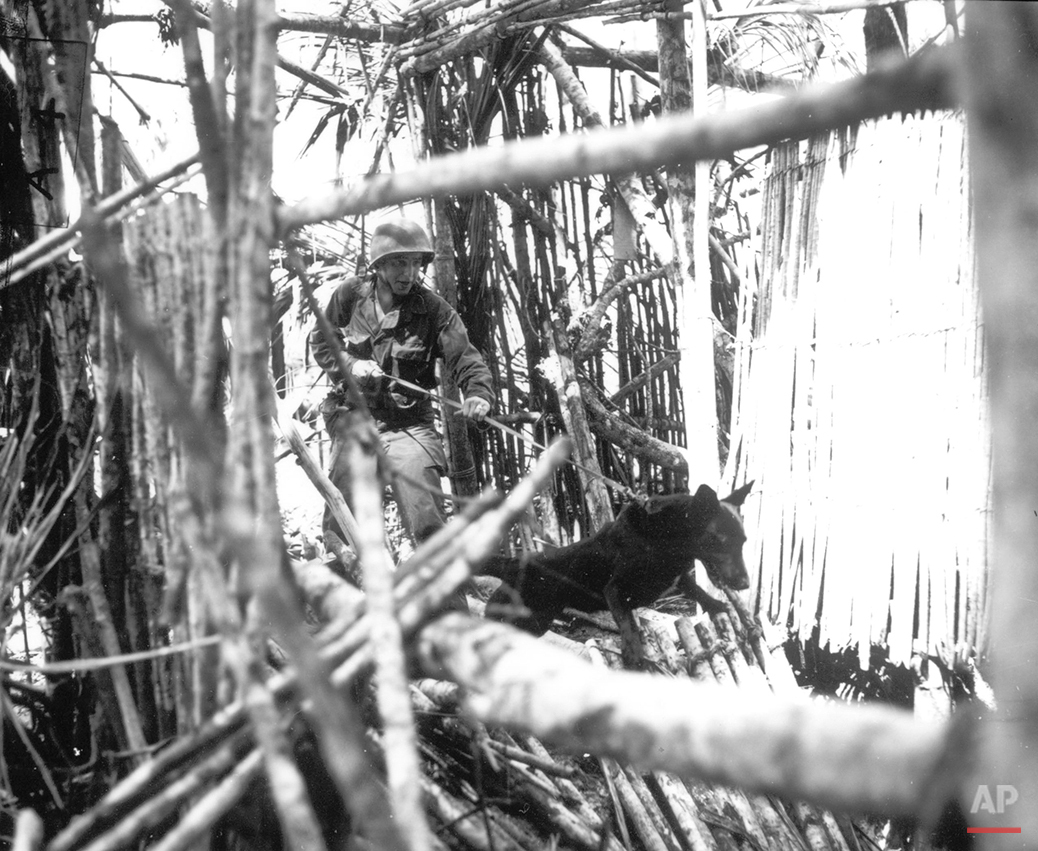 A Marine from the QM War Dog Platoon, his Doberman at the order to attack, is scouting around on Biak island on July 18, 1944. The dogs were used to track down Japanese soldiers hidden in caves or jungle strongholds. (AP Photo)
Judy, a Wembley, England, dog, looks sadder than ever with a gas mask on, as though asking with pained expression, Sept. 17, 1938, "What's all this about, anyway?" Well, Judy, everybody is learning how to don gas masks I quickly in case war comes, and they didn't want to leave you out of it. (AP Photo)
Spotlight is the blog of AP Images, the world's largest collection of historical and contemporary photos. AP Images provides instant access to AP's iconic photos and adds new content every minute of every day from every corner of the world, making it an essential source of photos and graphics for professional image buyers and commercial customers. Whether your needs are for editorial, commercial, or personal use, AP Images has the content and the expert sales team to fulfill your image requirements. Visit apimages.com to learn more.
Written content on this site is not created by the editorial department of AP, unless otherwise noted.
AP Images on Twitter | AP Images on Facebook | AP Images on Instagram