APTOPIX roundup: Oct. 17, 2014
Throughout the day, Associated Press photo editors comb through and designate a selection of the most newsworthy and visually breathtaking images as APTOPIX.
Today, we feature a selection of APTOPIX photos from the last two weeks.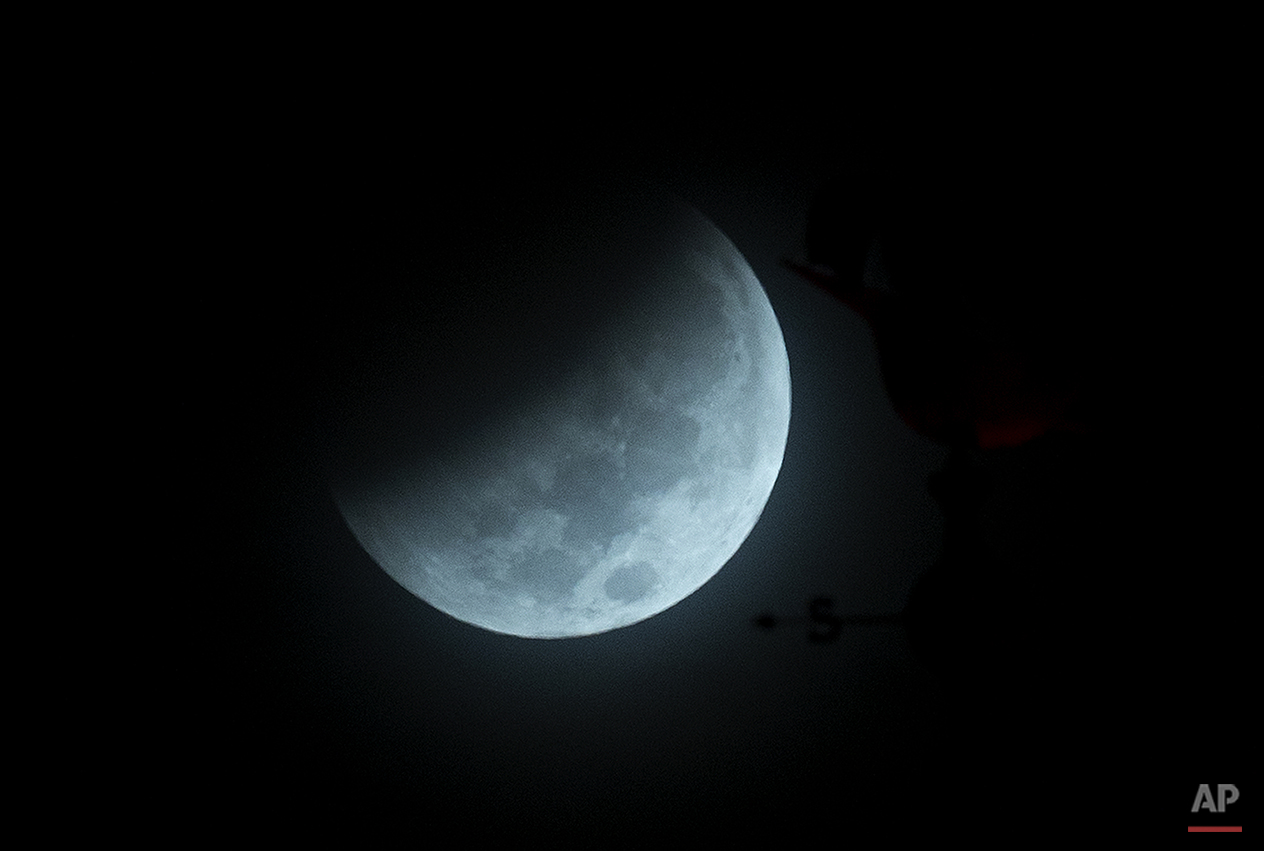 APTOPIX Lunar Eclipse
The Earth's shadow begins to fall on the moon during a total lunar eclipse, as seen above Miami, Wednesday, Oct. 8, 2014. (AP Photo/Wilfredo Lee)
APTOPIX Mideast Palestinians Gaza Reconstruction
Palestinians walk during the sunset between the rubble of their destroyed building in Shijaiyah neighborhood of Gaza City in the northern Gaza Strip, Sunday, Oct. 12, 2014. Delegates representing some 50 nations and 20 regional and international organizations attended a donor conference in Cairo, Egypt, on Sunday to help Gaza rebuild after the war between Israel and Gaza's militant Islamic group Hamas this summer. Organizers of the Cairo conference hope pledges of over 5 billion dollars by donors will be paid over the period of three years to aid reconstruction in the Gaza Strip, which borders Israel and Egypt. Both countries have blockaded Gaza since Hamas took power there in 2007, causing the territory of 1.8 million people economic hardships and high unemployment. (AP Photo/Adel Hana)
APTOPIX Indonesia Volcano
An Indonesian man watches as Mount Sinabung erupts, in Tiga Kicat, North Sumatra, Indonesia, Monday, Oct. 13, 2014. Mount Sinabung, among about 130 active volcanoes in Indonesia, has sporadically erupted since 2010 after being dormant for 400 years. (AP Photo/Binsar Bakkara)
APTOPIX France Eiffel Tower
A Visitors takes a photo on the new glass floor at The Eiffel Tower, during the inauguration of the newly refurbish first floor, in Paris, France, Monday, Oct. 6, 2014. Visitors of the Eiffel Tower can walk on a transparent floor at 188 feet high and look down through solid glass, with safety glass barriers around the edge. (AP Photo/Francois Mori)
APTOPIX Hong Kong Democracy Protest
A protester holds an umbrella during a performance on a main road in the occupied areas outside government headquarters in Hong Kong's Admiralty in Hong Kong Thursday, Oct. 9, 2014. Talks between the Hong Kong government and student leaders of a democracy protest that has blocked main roads in the Asian financial hub for nearly two weeks are canceled because they're unlikely to be constructive, a senior government official said Thursday. (AP Photo/Kin Cheung)
APTOPIX India Eid al Adha
Indian Muslims offer prayers to mark the festival of Eid al-Adha at Jama Masjid in New Delhi, India, Monday, Oct. 6, 2014. Muslims in the country celebrate Eid al-Adha, or the Feast of the Sacrifice, by slaughtering sheep, goats and cows. (AP Photo/Bernat Armangue)
APTOPIX Colombia US Hagel
Colombian Army Special Forces soldiers run in a show of military exercises at the Tolemaida military base during a visit by U.S. Defense Secretary Chuck Hagel, in Melgar, Colombia, Friday, Oct. 10, 2014. Colombia's was Hagel's first stop on his six-day, three-country trip to South America. Hagel will also travel to Chile and Peru, where he will attend a conference of defense ministers from the Americas. (AP Photo/Fernando Vergara)
APTOPIX Supreme Court Gay Marriage Utah
Plaintiff Kody Partridge hoists Peggy Tomsic, attorney for the six people who brought the lawsuit against the Utah's gay marriage ban, during a gay marriage rally Monday, Oct. 6, 2014, in Salt Lake City. Same-sex couples in Utah were celebrating after the U.S. Supreme Court on Monday cleared the way for gay marriages to begin in this state and 30 others. The high court on Monday rejected an appeal from Utah and four other states that had sought to bar weddings between gay couples. (AP Photo/Rick Bowmer)
APTOPIX India Kashmir Protest
A Kashmiri woman blocks a road during a protest demanding rehabilitation of affected people in flooded areas, in Srinagar, India, Wednesday, Oct. 15, 2014. Flooding in the conflict-wracked Himalayan region in early September killed 281 people, destroyed at least 100,000 homes and caused an estimated $17 billion in damage. (AP Photo/Mukhtar Khan)
APTOPIX United States Ebola
Bellevue Hospital nurse Belkys Fortune, left, and Teressa Celia, Associate Director of Infection Prevention and Control, pose in protective suits in an isolation room, in the Emergency Room of the hospital, during a demonstration of procedures for possible Ebola patients, Wednesday, Oct. 8, 2014. The U.S. government plans to begin taking the temperatures of travelers from West Africa arriving at five U.S. airports, including the New York area's JFK International and Newark Liberty International, as part of a stepped-up response to the Ebola epidemic. (AP Photo/Richard Drew)
APTOPIX Mexico Violence
Teachers clash with riot police as tear gas spreads in front of the Guerrero state congress building in the city of Chilpancingo, Mexico, Monday Oct. 13, 2014. Hundreds of protesting teachers demanding answers about the 43 students who went missing on Sept. 26 during a confrontation with police, clashed with police at the local congress and outside the state government palace Monday. Officials are attempting to determine if any of the missing students are in newly discovered mass graves. (AP Photo/Felix Marquez)
APTOPIX Britain Royal
Britain's Queen Elizabeth II walks through a field of ceramic poppies at The Tower of London, Thursday, Oct. 16, 2014. The poppies are part of a ceramic poppy installation called 'Blood Swept Lands and Seas of Red' which marks the centenary of the outbreak of the First World War.(AP Photo/Kirsty Wigglesworth)
APTOPIX Romania Hungary Euro Soccer
Chanting Hungarian soccer fans hold flares while arriving on a train at a railway station in Bucharest, Romania, Saturday, Oct. 11, 2014. Romanian authorities took exceptional security measures to prevent violence between soccer fans ahead of a Euro 2016 Group F qualifier soccer match between Romania and Hungary.(AP Photo/Vadim Ghirda)
APTOPIX Spain National Day
People walk under a huge Spanish flag as they celebrate a holiday known as "Dia de la Hispanidad" or Spain's National Day in Barcelona, Spain, Sunday, Oct. 12, 2014. Spain celebrates the day Christopher Columbus discovered America in the name of the Spanish Crown. (AP Photo/Emilio Morenatti)
APTOPIX Turkey Syria
Syrian Kurdish refugees, who fled the fighting in Kobani, walk at a refugee camp in Suruc, on the Turkey-Syria border, Thursday, Oct. 16, 2014. Kobani, also known as Ayn Arab, and its surrounding areas, has been under assault by extremists of the Islamic State group since mid-September and is being defended by Kurdish fighters.The onslaught has forced more than 200,000 people to flee across the border into Turkey.(AP Photo/Lefteris Pitarakis)
Spotlight is the blog of AP Images, the world's largest collection of historical and contemporary photos. AP Images provides instant access to AP's iconic photos and adds new content every minute of every day from every corner of the world, making it an essential source of photos and graphics for professional image buyers and commercial customers. Whether your needs are for editorial, commercial, or personal use, AP Images has the content and the expert sales team to fulfill your image requirements. Visit apimages.com to learn more.
Written content on this site is not created by the editorial department of AP, unless otherwise noted.
AP Images on Twitter | AP Images on Facebook | AP Images on Google+