APTOPIX roundup: Oct. 3, 2014
Throughout the day, Associated Press photo editors comb through and designate a selection of the most newsworthy and visually breathtaking images as APTOPIX. Today, we feature a selection of APTOPIX photos from the last two weeks.
APTOPIX Mideast Iraq
In this Sunday, Sept. 28, 2014 photo, an Iraqi Shiite militiaman aims his weapon after clashes with militants from the Islamic State group, in Jurf al-Sakhar, 43 miles (70 kilometers) south of Baghdad, Iraq. (AP Photo)
APTOPIX Spain Opus Dei
A chorister holds scores with the image of Alvaro del Portillo during the preparation for Opus Dei Bishop Alvaro del Portillo's mass beatification, in Madrid, Spain, Thursday, Sept. 25, 2014. More than 100,000 Catholics from around the world are expected to attend the open air beatification ceremony Saturday of Opus Dei Bishop Alvaro del Portillo, the 2nd most important figure in the order after founder Jose Maria Escriva. (AP Photo/Andres Kudacki)
APTOPIX Rutgers Navy Football
Members of the U.S. Naval Academy stand in formation on the field near the end zone before an NCAA college football game between Navy and Rutgers in Annapolis, Md., Saturday, Sept. 20, 2014. (AP Photo/Patrick Semansky)
APTOPIX Georgia Daily Life
A child prepares for a run at the Madison Ave. Soapbox Derby in Decatur, Ga. on Saturday, Sept. 27, 2014. The annual event has grown in participation and raises money for families of children with developmental disabilities. (AP Photo/Ron Harris)
APTOPIX Mexico Massacre Anniversary
A young man sprays anarchist slogans on a wall, during a march to mark the anniversary of the Tlatelolco massacre, in Mexico City, Thursday, Oct. 2, 2014. Mexico commemorated the 46th anniversary of the massacre where students and civilians where killed by the military and police on October 2, 1968. The events are considered part of the Mexican Dirty War when the government used its forces to suppress political opposition. The massacre occurred 10 days before the opening of the 1968 Summer Olympics in Mexico City. (AP Photo/Rebecca Blackwell)
APTOPIX Turkey Kurds
Turkish Kurds at the Syrian border near Suruc, Turkey, late Thursday, Sept. 25, 2014. Kurds who are arriving by the busload to join the battle against Islamic State militants are increasingly angry at a wary Turkish government trying to prevent them from crossing the border to defend Syrian Kurds from an onslaught that has left countless dead and about 150,000 fleeing into Turkey in recent days. (AP Photo/Burhan Ozbilici)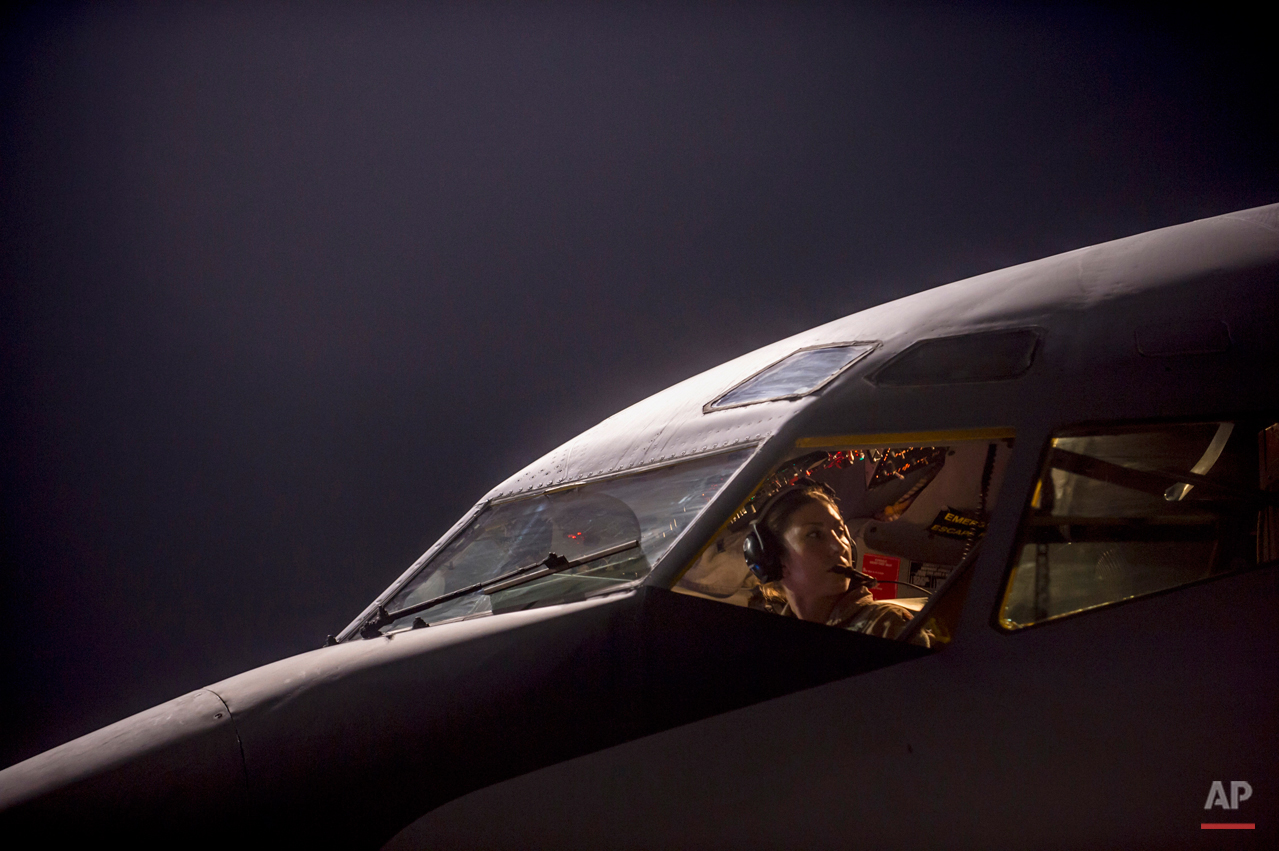 APTOPIX Mideast Syria
In this Tuesday, Sept. 23, 2014, photo, released by the U.S. Air Force, Maj. Gena Fedoruk, a KC-135 Stratotanker pilot with the 340th Expeditionary Air Refueling Squadron, pre-flights her aircraft before taking off from a base in the U.S. Central Command area of responsibility in support of a mission conducting airstrikes in Syria. U.S.-led coalition warplanes bombed oil installations and other facilities in territory controlled by Islamic State militants in eastern Syria on Friday, Sept. 26, 2014, taking aim for a second consecutive day at a key source of financing that has swelled the extremist group's coffers, activists said. (AP Photo/U.S. Air Force, Matthew Bruch)
APTOPIX Britain Ryder Cup Golf
US fans watch players on the 14th tee during a practice round ahead of the Ryder Cup golf tournament, at Gleneagles, Scotland, Wednesday, Sept. 24, 2014. (AP Photo/Matt Dunham)
APTOPIX Paris Fashion Week Dries van Noten
Models sit on the catwalk during Dries van Noten's Spring/Summer 2015 ready-to-wear fashion collection presented in Paris, France, Wednesday, Sept. 24, 2014. (AP Photo/Jacques Brinon)
APTOPIX Belgium WWI Battle Bus
The spires of the Cloth Hall in the background of the Menin Gate during a Last Post ceremony in Ypres, Belgium on Saturday, Sept. 20, 2014. The Last Post is played every evening under the Menin Gate. Saturday evening marks the 29,707th time it has been played. (AP Photo/Virginia Mayo)
APTOPIX Goya Exhibit
Art handlers lift the 1797 Goya painting "The Duchess of Alba," to hang it in a gallery for the "Goya: Order and Disorder," exhibit at the Museum of Fine Arts Boston, Thursday, Sept. 25, 2014, in Boston. The exhibit, which opens to MFA members on Oct. 7, 214 and to the general public on Oct. 12, 2014, has works on loan from private collectors as well as museums around the world, including the Prado and the Louvre. It's the largest Goya exhibition in North America in a quarter century. (AP Photo/Steven Senne)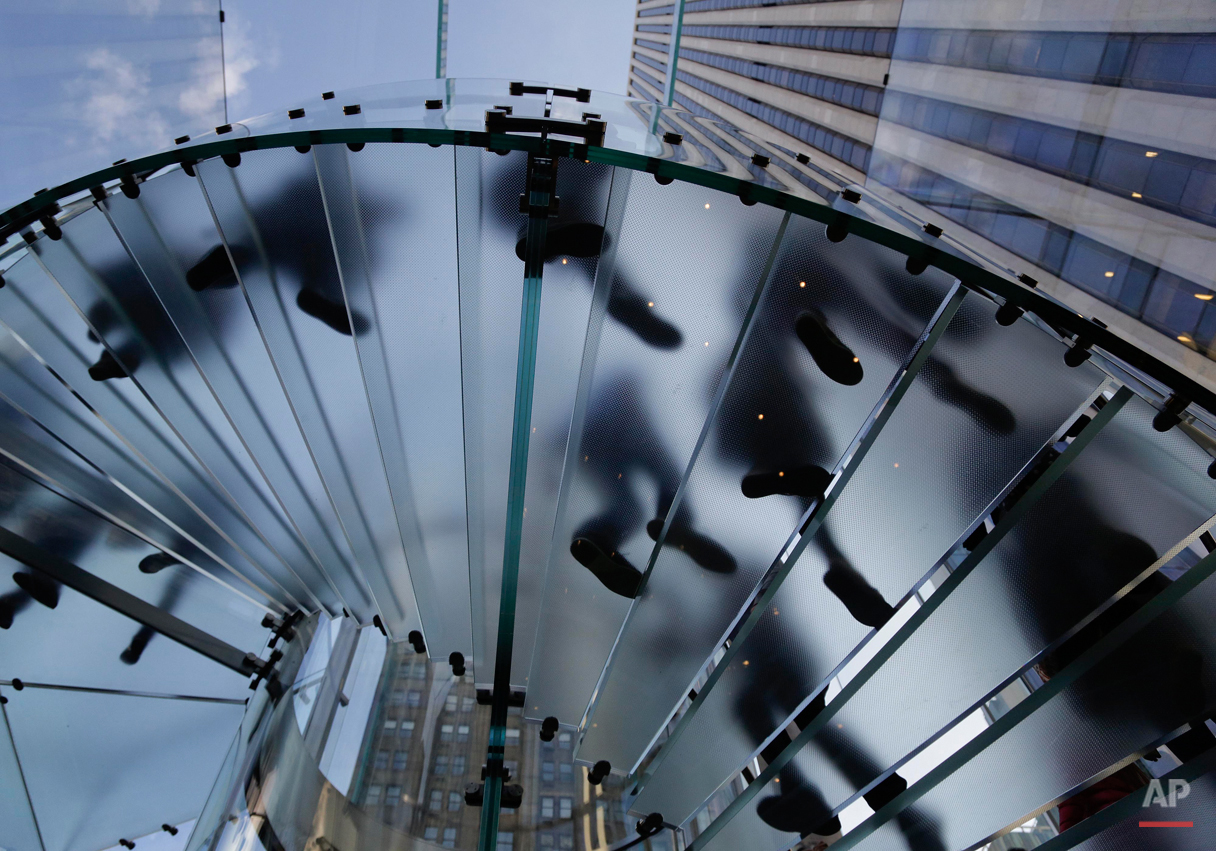 APTOPIX Apple iPhone
Visitors to the Apple store descend a staircase to the showroom below to purchase the iPhone 6 and 6 Plus, Friday, Sept. 19, 2014, in New York. The highly anticipated iPhone 6 and iPhone 6 Plus are being released in stores today. (AP Photo/Julie Jacobson)
APTOPIX Brazil Rio Violence
People take cover behind a concrete guardrail separating lanes on Avenida Brasil during a conflict between Brazilian Navy soldiers and alleged drug traffickers, near an entrance of Vila do Joao slum, part of the Complexo da Mare, in Rio de Janeiro, Brazil, Wednesday, Oct. 1, 2014. Pictured in the background are Navy armored vehicles and soldiers. (AP Photo/Felipe Dana)
APTOPIX South Sudan Fighting
A woman and child from the Nuer ethnic group and a rebel soldier board a canoe to traverse flooded areas in order to reach a makeshift camp for the displaced situated in the United Nations Mission in South Sudan (UNMISS) base in the town of Bentiu, South Sudan Saturday, Sept. 20, 2014. Seyoum Mesfin, the chairman of the South Sudan mediation process said Saturday there is renewed fighting in South Sudan between government and rebel troops and that it is a purposeful act aimed at derailing the next phase of the peace process. (AP Photo/Matthew Abbott)
APTOPIX Obama Clinton
A silhouetted President Barack Obama waves after speaking at the Clinton Global Initiative in New York, Tuesday, Sept. 23, 2014. Obama is in New York for three days of talks with foreign leaders at the annual United Nations General Assembly. (AP Photo/Pablo Martinez Monsivais)
APTOPIX Portugal Daily Life
Portuguese fishermen pull their net out of the sea onto the beach, in Caparica coast, near Lisbon, Wednesday, Oct. 1, 2014. Along side the Caparica coast, local fishermen use a technique of trawling near the shore and pulling the nets out of the sea by using two agricultural tractors. (AP Photo/Francisco Seco)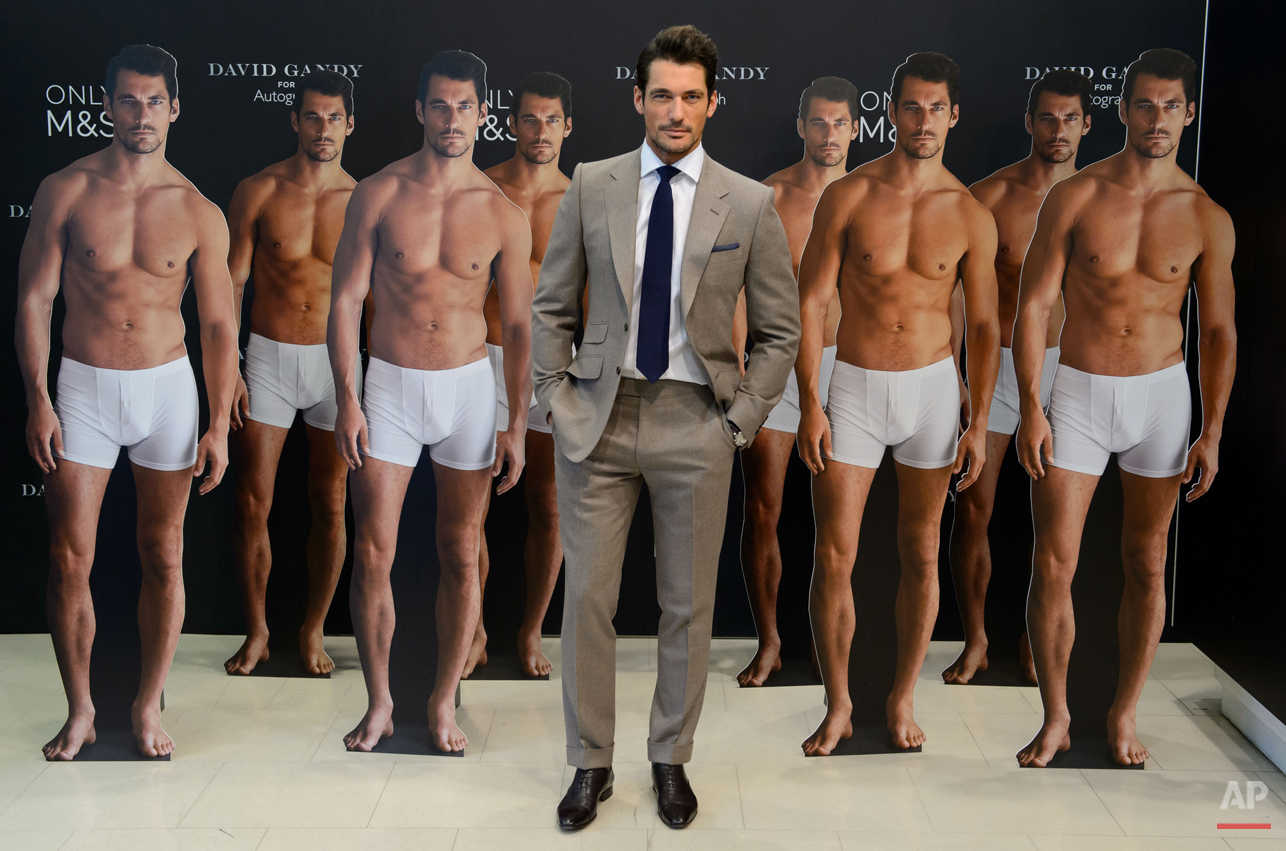 APTOPIX Britain David Gandy Photo Call
British model David Gandy poses for photographers to launch his new clothing range at a central London venue, London, Thursday, Sept. 18, 2014. (Photo by Jonathan Short/Invision/AP)
APTOPIX Mexico Kusama Exhibit
Journalists walk through an installation by Japanese artist Yayoi Kusama during a press tour of her "Infinite Obsession," exhibit, at the Rufino Tamayo Museum in Mexico City, Mexico, Tuesday, Sept. 23, 2014. The retrospective exhibit, which marks the first time Kusama's work has been shown in Mexico, includes more than 100 of the artist's works created between 1949 and 2013. (AP Photo/Rebecca Blackwell)
APTOPIX Mideast Iraq Imperiled Antiquities
This Monday, Sept. 15, 2014 photo shows, bas-relief displayed at the Iraqi National Museum in Baghdad. For more than 5,000 years, numerous civilizations have left their mark on upper Mesopotamia _ from Assyrians and Akkadians to Babylonians and Romans. Their ancient, buried cities, palaces and temples packed with monumental art are scattered across what is now northern Iraq and eastern Syria. Now much of that archaeological wealth is under the control of extremists from the Islamic State group. They have already destroyed some of that heritage in their zealotry to uproot what they see as heresy. (AP Photo/Hadi Mizban)
APTOPIX Panama Latin America Virus Outbreak
In this Sept. 25, 2014 photo, containers hold genetically modified aedes aegypti mosquitoes before being released in Panama City. The Gorgas Memorial Institute for Health Studies, along with British biotechnology company Oxitec Ltd., released the mosquitos to combat and control populations of mosquitoes that transmit dengue. The aedes aegypti mosquito is the main vector for another viral disease called chikungunya that appeared less than a year ago in the Americas and is raging across the region, leaping from the Caribbean to the Central and South American mainland, bringing the total number infected in the epidemic to more than 1 million. (AP Photo/Arnulfo Franco)
APTOPIX Cuba March
Students march carrying Cuban flags during a march against terrorism in Havana, Cuba, Tuesday, Sept. 30, 2014. Youths marched today through downtown Havana in protest against the United States policy towards the island nation and demanding the that U.S. free three Cuban agents imprisoned there. (AP Photo/Ramon Espinosa)
APTOPIX Hong Kong Democracy Protest
Student protesters are overwhelmed with emotions as they hold onto their tent while being threatened by residents and pro-Beijing supporters in Kowloon's crowded Mong Kok district, Friday, Oct. 3, 2014 in Hong Kong. Clashes broke out Friday as Hong Kong residents and pro-Beijing supporters tried to force pro-democracy activists from the streets they were occupying, reviving the possibility that the weeklong standoff could turn violent despite and attempt by the city's leader to defuse the situation. (AP Photo/Wong Maye-E)
APTOPIX Spain Cycling Road Worlds
Spain's Marc Soler Gimenez, Belgium's Kenneth van Rooy, Switzerland's Thery Schir, and Netherland's Timo Roosen, from left to right, pass during the Men Under 23 road race over 182 kilometers (113 miles) of the Road Cycling World Championships in Ponferrada, north-western Spain, Friday Sept. 26, 2014. (AP Photo/Daniel Ochoa de Olza)
APTOPIX Germany Oktoberfest Opening
People celebrate the opening of the 181th Oktoberfest beer festival in Munich, southern Germany, Saturday, Sept. 20, 2014. The world's largest beer festival will be held from Sept. 20 to Oct. 5, 2014. (AP Photo/Matthias Schrader)
APTOPIX Mideast Israel Kaparot
An ultra-Orthodox Jewish man swings a chicken over his head as part of the Kaparot ritual in the ultra-Orthodox city of Bnei Brak, near Tel Aviv, Israel, Thursday, Oct. 2, 2014. Observers believe the ritual transfers one's sins from the past year into the chicken, and is performed before the Day of Atonement, Yom Kippur, the holiest day in the Jewish year which starts at sundown Friday. (AP Photo/Oded Balilty)
APTOPIX Corn Harvest Illinois
A central Illinois corn farmer, on top of his combine, is silhouetted against the setting sun while harvesting corn Saturday, Sept. 27, 2014, in Pleasant Plains, Ill. Wet, cool conditions across much of Illinois have put farmers behind schedule in bringing their corn in from the fields. Illinois' corn harvest continues to lag at a pace roughly one-quarter of the average over the previous five years, according to the U.S. Department of Agriculture's latest weekly update. (AP Photo/Seth Perlman)
APTOPIX India Hindu Festival
In this Wednesday, Oct. 1, 2014 photo, a Hindu devotee performs a traditional Dhunuchi dance inside a temporary worship venue of goddess Durga during the Durga Puja festival in Allahabad, India. (AP Photo/Rajesh Kumar Singh)
Lead Image Caption: People celebrate the opening of the 181th Oktoberfest beer festival in Munich, southern Germany, Saturday, Sept. 20, 2014. The world's largest beer festival will be held from Sept. 20 to Oct. 5, 2014. (AP Photo/Matthias Schrader)
Spotlight is the blog of AP Images, the world's largest collection of historical and contemporary photos. AP Images provides instant access to AP's iconic photos and adds new content every minute of every day from every corner of the world, making it an essential source of photos and graphics for professional image buyers and commercial customers. Whether your needs are for editorial, commercial, or personal use, AP Images has the content and the expert sales team to fulfill your image requirements. Visit apimages.com to learn more.
Written content on this site is not created by the editorial department of AP, unless otherwise noted.
AP Images on Twitter | AP Images on Facebook | AP Images on Google+
Nat Castañeda
Visual artist and Digital Storyteller at The Associated Press