World Cup Match Moments
The World Cup produced indelible images from across Russia, on and off the field. The home team's towering forward leading an unexpected run to the quarterfinal that captured the nation's affection. A golden-haired guy from England knocking the ball into the net six times to win the Golden Boot as top scorer. Standout goalkeepers saving shot after penalty shot. Neymar writhing.
Croatia players finally getting to wear their red-and-white checked jerseys again, only for them to bring bad luck. And young French players running, dancing, and lifting the trophy in a Moscow downpour.
Portugal's Cristiano Ronaldo celebrates his side's opening goal during the group B match between Portugal and Spain at the 2018 soccer World Cup in the Fisht Stadium in Sochi, Russia on June 15, 2018. (AP Photo/Francisco Seco)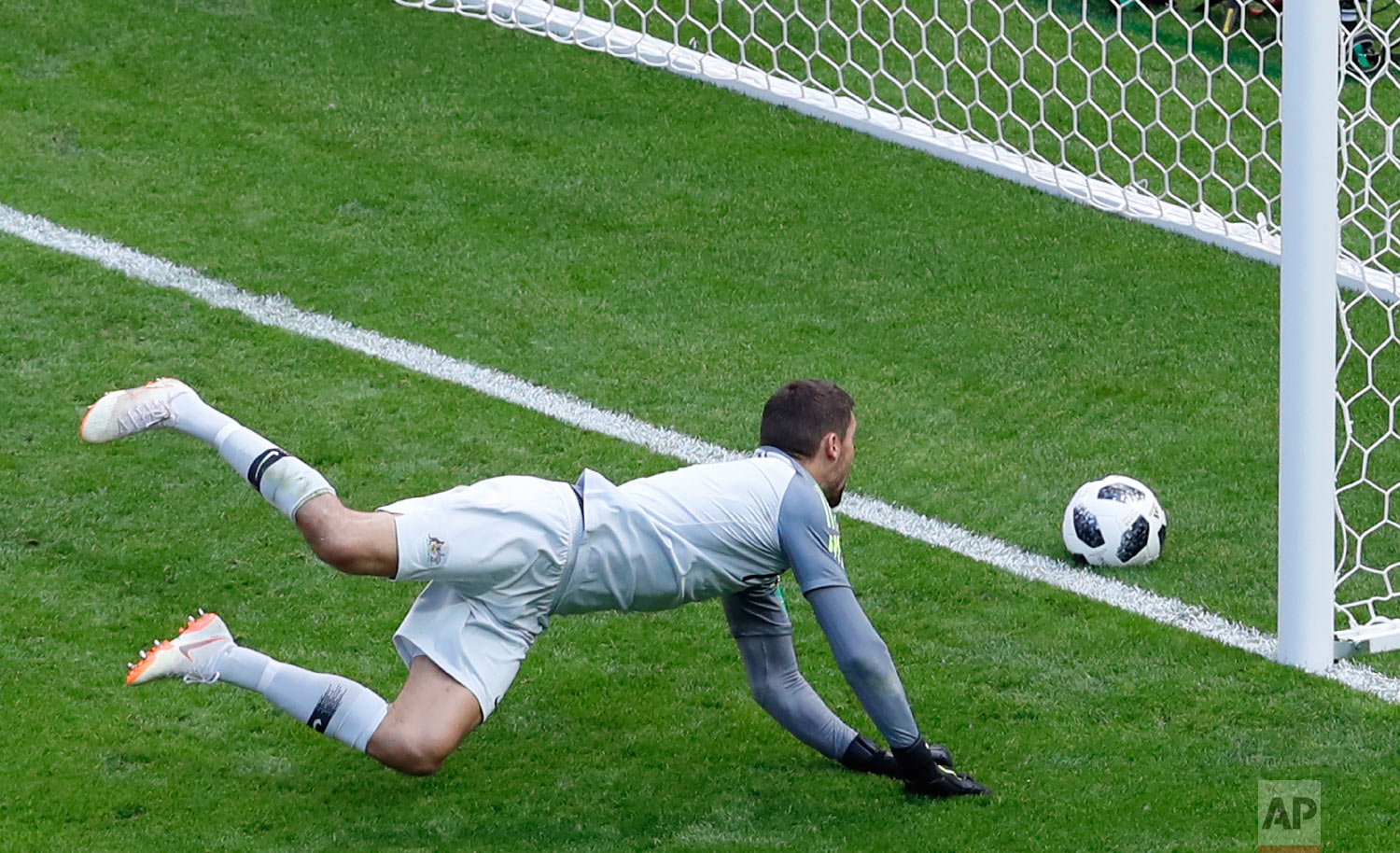 Australia goalkeeper Mathew Ryan fails to save the ball as France's Paul Pogba his side's second goal during the group C match between France and Australia at the 2018 soccer World Cup in the Kazan Arena in Kazan, Russia on June 16, 2018. (AP Photo/Hassan Ammar)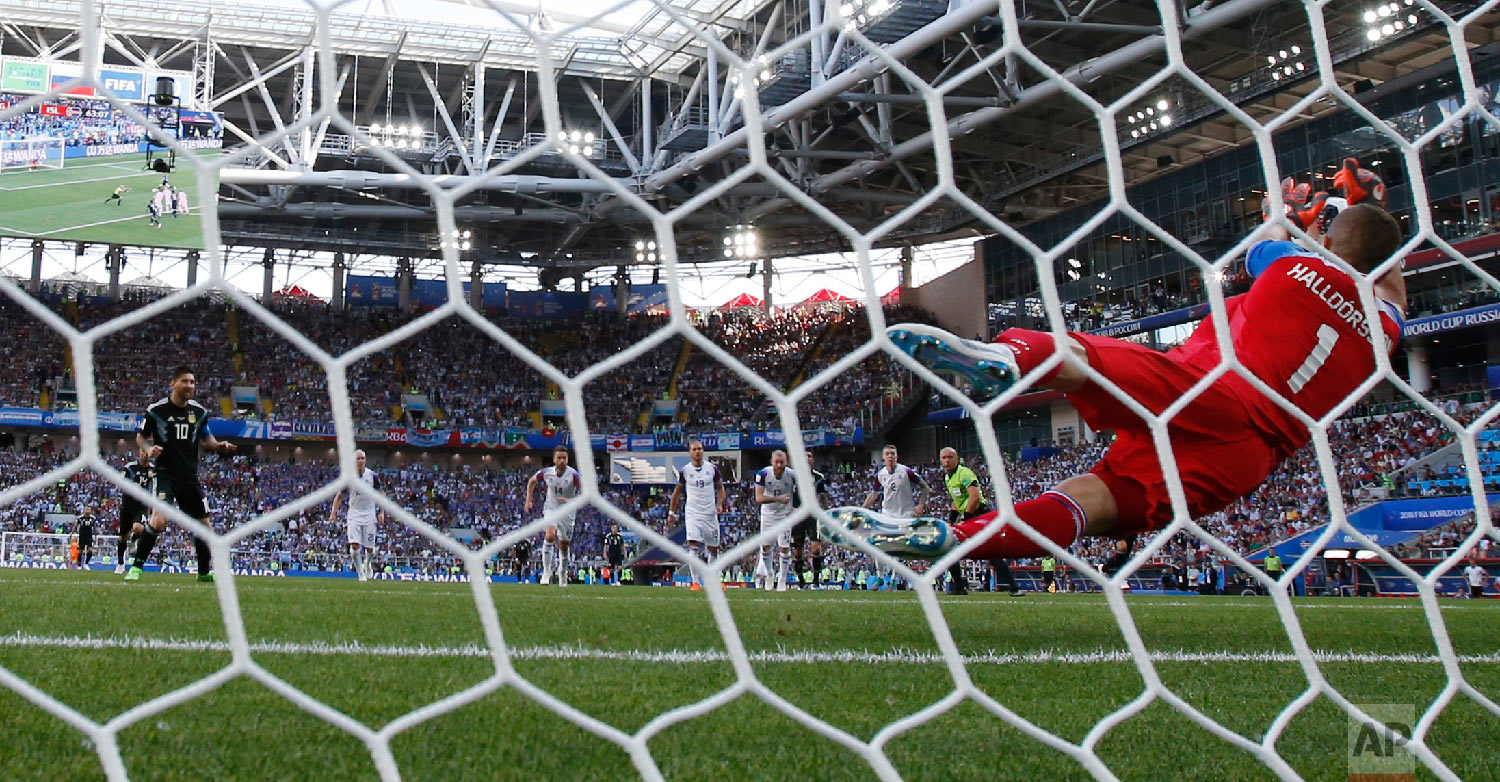 Iceland goalkeeper Hannes Halldorsson, right, saves a penalty by Argentina's Lionel Messi during the group D match between Argentina and Iceland at the 2018 soccer World Cup in the Spartak Stadium in Moscow, Russia on June 16, 2018. (AP Photo/Antonio Calanni)
Switzerland's Breel Embolo, left, and Brazil's Fernandinho fall during the group E match between Brazil and Switzerland at the 2018 soccer World Cup in the Rostov Arena in Rostov-on-Don, Russia on June 17, 2018. (AP Photo/Andre Penner)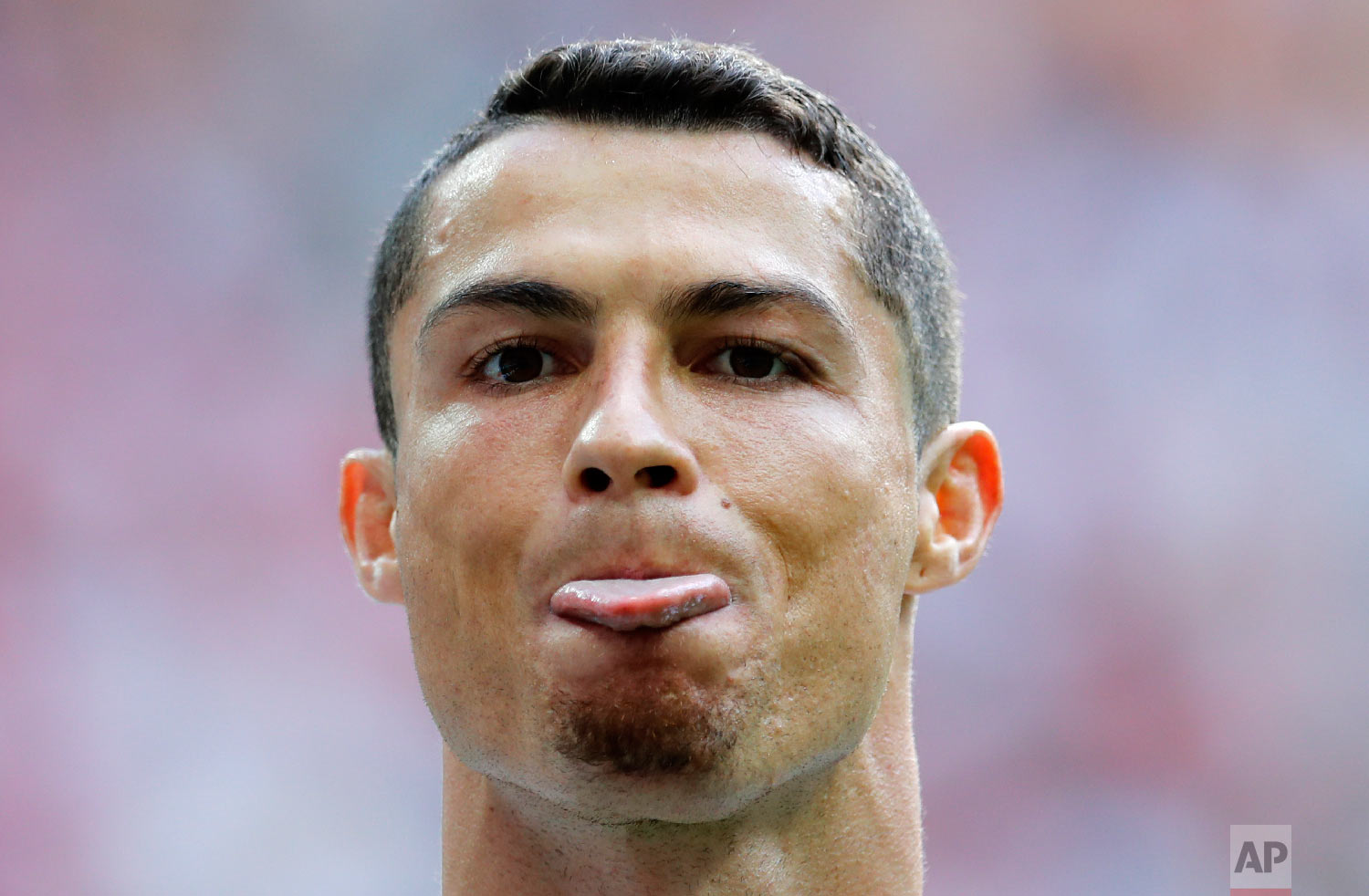 Portugal's Cristiano Ronaldo sticks out his tongue during the group B match between Portugal and Morocco at the 2018 soccer World Cup in the Luzhniki Stadium in Moscow, Russia on June 20, 2018. (AP Photo/Hassan Ammar)
France's Paul Pogbais tackled by Peru's Pedro Aquino during the group C match between France and Peru at the 2018 soccer World Cup in the Yekaterinburg Arena in Yekaterinburg, Russia on June 21, 2018. (AP Photo/Vadim Ghirda)
Nigeria's John Obi Mikel, left, and Iceland's Gylfi Sigurdsson compete for the ball during the group D match between Nigeria and Iceland at the 2018 soccer World Cup in the Volgograd Arena in Volgograd, Russia on June 22, 2018. (AP Photo/Darko Vojinovic)
Germany's Toni Kroos, far left, scores his side's second goal during the group F match between Germany and Sweden at the 2018 soccer World Cup in the Fisht Stadium in Sochi, Russia on June 23, 2018. (AP Photo/Sergei Grits)
England's Jesse Lingard celebrates as he celebrates after scoring his team's third goal during the group G match between England and Panama at the 2018 soccer World Cup at the Nizhny Novgorod Stadium in Nizhny Novgorod , Russia on June 24, 2018. (AP Photo/Matthias Schrader)
Russia's Igor Smolnikov stops Uruguay's Diego Laxalt during the group A match between Uruguay and Russia at the 2018 soccer World Cup at the Samara Arena in Samara, Russia on June 25, 2018. (AP Photo/Rebecca Blackwell)
Germany's players walk off the pitch as South Korea's Ju Se-jong, front celebrates after the group F match between South Korea and Germany, at the 2018 soccer World Cup in the Kazan Arena in Kazan, Russia on June 27, 2018. (AP Photo/Lee Jin-man)
Argentina's Lionel Messi reacts after France takes the lead during the round of 16 match between France and Argentina, at the 2018 soccer World Cup at the Kazan Arena in Kazan, Russia on June 30, 2018. (AP Photo/Thanassis Stavrakis)
Uruguay's Luis Suarez, right, challenges for the ball with Portugal's Ricardo during the round of 16 match between Uruguay and Portugal at the 2018 soccer World Cup at the Fisht Stadium in Sochi, Russia on June 30, 2018. (AP Photo/Andre Penner)
Russia's Artyom Dzyuba, front , and Spain's Sergio Busquets challenge for the ball during the round of 16 match between Spain and Russia at the 2018 soccer World Cup at the Luzhniki Stadium in Moscow, Russia on July 1, 2018. (AP Photo/Antonio Calanni)
Russia's Fyodor Smolov, right, dives as he celebrates with teammates after Russia defeated Spain in a penalty shoot out during the round of 16 match between Spain and Russia at the 2018 soccer World Cup at the Luzhniki Stadium in Moscow, Russia on July 1, 2018. (AP Photo/Manu Fernandez)
Russia goalkeeper Igor Akinfeev catches a penalty shot during the round of 16 match between Spain and Russia at the 2018 soccer World Cup at the Luzhniki Stadium in Moscow, Russia on July 1, 2018. (AP Photo/Victor R. Caivano)
Croatia goalkeeper Danijel Subasic saves the decisive penalty during a penalty shoot out after extra time during the round of 16 match between Croatia and Denmark at the 2018 soccer World Cup in the Nizhny Novgorod Stadium, in Nizhny Novgorod , Russia on July 1, 2018. (AP Photo/Efrem Lukatsky)
Brazil's Neymar celebrates after scoring his side's opening goal during the round of 16 match between Brazil and Mexico at the 2018 soccer World Cup in the Samara Arena, in Samara, Russia on July 2, 2018. (AP Photo/Frank Augstein)
Belgium's Vincent Kompany jumps for the ball in front of Japan goalkeeper Eiji Kawashima during the round of 16 match between Belgium and Japan at the 2018 soccer World Cup in the Rostov Arena, in Rostov-on-Don, Russia on July 2, 2018. (AP Photo/Petr David Josek)
A Japan supporter cries after losing the round of 16 match between Belgium and Japan at the 2018 soccer World Cup in the Rostov Arena, in Rostov-on-Don, Russia, Monday, July 2, 2018. (AP Photo/Petr David Josek)
England's Harry Kane tries to control the ball during the round of 16 match between Colombia and England at the 2018 soccer World Cup in the Spartak Stadium, in Moscow, Russia on July 3, 2018. (AP Photo/Matthias Schrader)
England goalkeeper Jordan Pickford saves a penalty during the round of 16 match between Colombia and England at the 2018 soccer World Cup in the Spartak Stadium, in Moscow, Russia on July 3, 2018. (AP Photo/Matthias Schrader)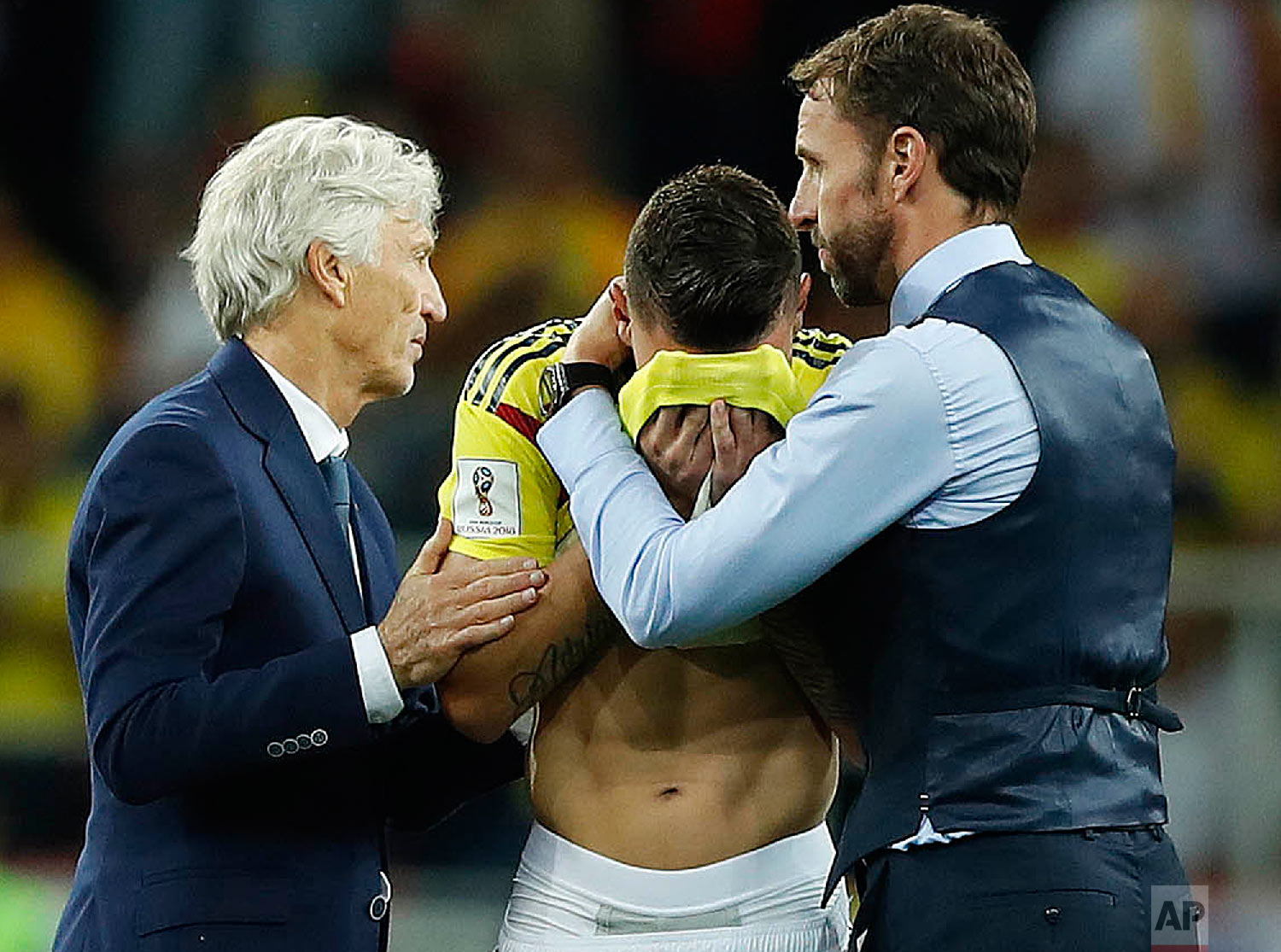 Colombia head coach Jose Pekerman, left, and England head coach Gareth Southgate, right, comfort Colombia's Mateus Uribe after the round of 16 match between Colombia and England at the 2018 soccer World Cup in the Spartak Stadium, in Moscow, Russia on July 3, 2018. (AP Photo/Alastair Grant)
Brazil's Neymar holds his shinbone during the quarterfinal match between Brazil and Belgium at the 2018 soccer World Cup in the Kazan Arena, in Kazan, Russia on July 6, 2018. (AP Photo/Francisco Seco)
Belgium's Axel Witsel, centre celebrates after the final whistle as Belgium defeat Brazil in their quarterfinal match between Brazil and Belgium at the 2018 soccer World Cup in the Kazan Arena, in Kazan, Russia on July 6, 2018. (AP Photo/Matthias Schrader, File)
Croatia's Mario Mandzukic, left, challenges for the ball with Russia's Mario Fernandes during the quarterfinal match between Russia and Croatia at the 2018 soccer World Cup in the Fisht Stadium, in Sochi, Russia on July 7, 2018. (AP Photo/Rebecca Blackwell)
France goalkeeper Hugo Lloris goes for the ball during the semifinal match between France and Belgium at the 2018 soccer World Cup in the St. Petersburg Stadium in St. Petersburg, Russia on July 10, 2018. (AP Photo/Dmitri Lovetsky)
France's Samuel Umtiti, second from left, is congratulated by his teammates France's Antoine Griezmann, Raphael Varane and Paul Pogba, from left, after scoring the opening goal during the semifinal match between France and Belgium at the 2018 soccer World Cup in the St. Petersburg Stadium in St. Petersburg, Russia on July 10, 2018. (AP Photo/Martin Meissner)
France's Kylian Mbappe runs with the ball during the semifinal match between France and Belgium at the 2018 soccer World Cup in the St. Petersburg Stadium, in St. Petersburg, Russia on July 10, 2018. (AP Photo/Petr David Josek)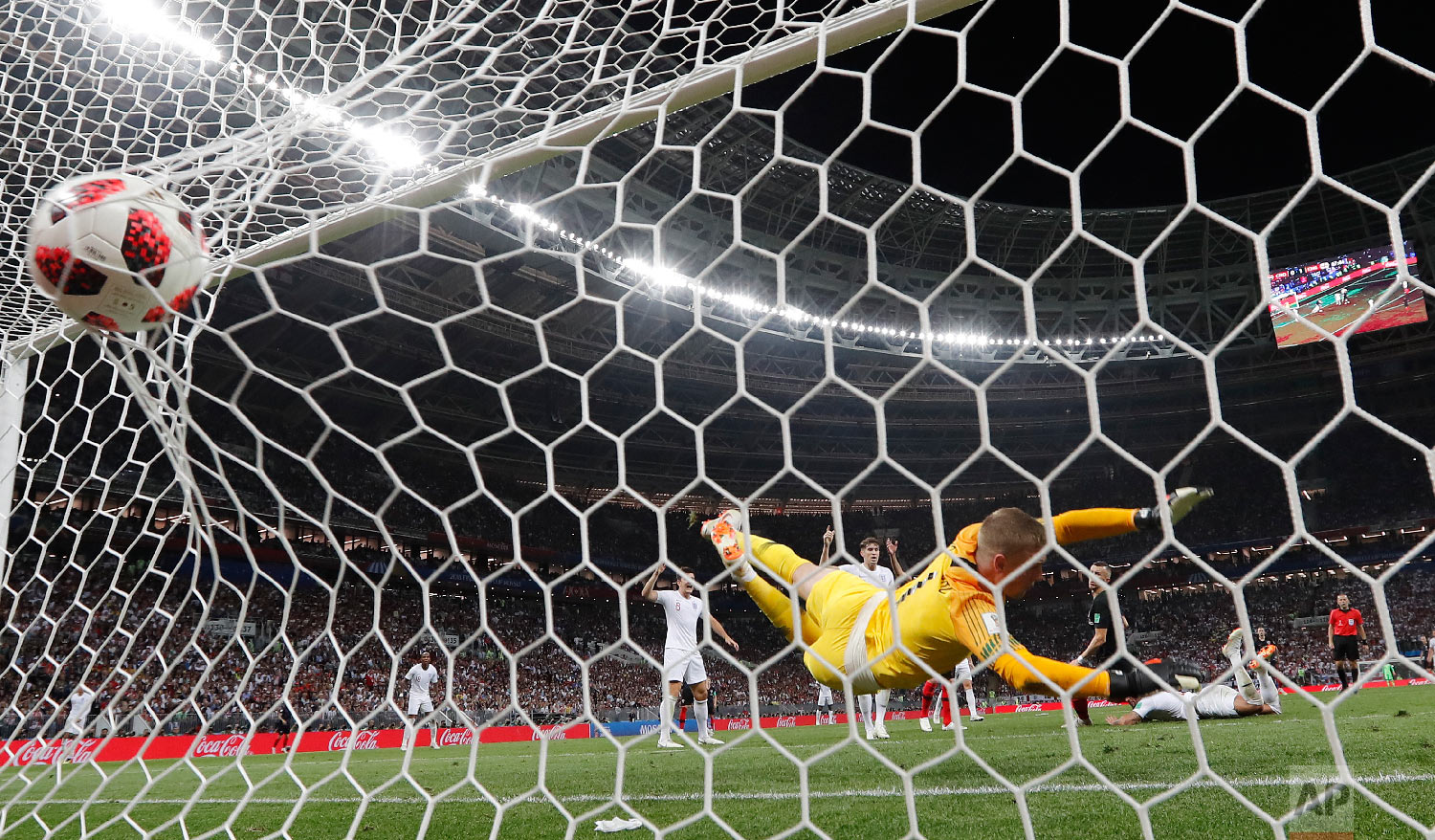 Croatia's Ivan Perisic scores his side's first goal past England goalkeeper Jordan Pickford during the semifinal match between Croatia and England at the 2018 soccer World Cup in the Luzhniki Stadium in Moscow, Russia on July 11, 2018. (AP Photo/Frank Augstein)
Croatia's Mario Mandzukic, center, scores an own goal during the final match between France and Croatia at the 2018 soccer World Cup in the Luzhniki Stadium in Moscow, Russia, Sunday, July 15, 2018. (AP Photo/Matthias Schrader)
France's Antoine Griezmann, right, celebrates after scoring a penalty kick during the final match between France and Croatia at the 2018 soccer World Cup in the Luzhniki Stadium in Moscow, Russia, Sunday, July 15, 2018. (AP Photo/Frank Augstein)
France's Paul Pogba celebrates after scoring his side's third goal during the final match between France and Croatia at the 2018 soccer World Cup in the Luzhniki Stadium in Moscow, Russia, Sunday, July 15, 2018. (AP Photo/Martin Meissner)
French players celebrate winning the final match against Croatia at the 2018 soccer World Cup in the Luzhniki Stadium in Moscow, Russia, Sunday, July 15, 2018. (AP Photo/Natacha Pisarenko)
The French team celebrate after the final match between France and Croatia at the 2018 soccer World Cup in the Luzhniki Stadium in Moscow, Russia, Sunday, July 15, 2018. France won the final 4-2. (AP Photo/Matthias Schrader)