World Cup Match Moments: Day 23
England and France. The two youngest teams in the World Cup, destined to meet in the final after a parade of greater soccer nations with veteran stars had gone home. France did its part Tuesday by beating Belgium, a more experienced side loaded with talent, and five minutes into Wednesday's match against Croatia, England was following the same script. For the second straight game, an English player scored his first international goal in a World Cup knockout match, this time Kieran Trippier sending a sweet free kick into Croatia's net.
Surely youth would win out, especially with Croatia ragged from running a gantlet of two straight shootouts. Except somehow, the Croats took control against their youthful foes and kept getting stronger, tying it with an inspired volley from Ivan Perisic and sucker-punching the English with a sudden strike from Mario Mandzukic in the second period of extra time. The whistle blew and the Croats suddenly forgot their exhaustion, mobbing their coach, jumping into their fans' arms and playing on the pitch with their kids as Moscow's main stadium emptied out.
Croatia and France. A team of "hardened warriors," in the words of England's coach, against a scintillating young French side, destined to meet in the final of a World Cup that has utterly refused to follow any script.
England's Kieran Trippier scores his side's opening goal during the semifinal match between Croatia and England at the 2018 soccer World Cup in the Luzhniki Stadium in, Moscow, Russia, Wednesday, July 11, 2018. (AP Photo/Alastair Grant)
England's Kieran Trippier celebrates after scoring the opening goal during the semifinal match between Croatia and England at the 2018 soccer World Cup in the Luzhniki Stadium in Moscow, Russia, Wednesday, July 11, 2018. (AP Photo/Francisco Seco)
Croatia's Dejan Lovren, left, and England's Harry Kane challenge for the ball during the semifinal match between Croatia and England at the 2018 soccer World Cup in the Luzhniki Stadium in, Moscow, Russia, Wednesday, July 11, 2018. (AP Photo/Alastair Grant)
Croatia goalkeeper Danijel Subasic, right, makes a save in front of England's Harry Kane during the semifinal match between Croatia and England at the 2018 soccer World Cup in the Luzhniki Stadium in Moscow, Russia, Wednesday, July 11, 2018. (AP Photo/Darko Bandic)
Croatia's Ivan Strinic, right, challenges for the ball England's Jesse Lingard, left, during the semifinal match between Croatia and England at the 2018 soccer World Cup in the Luzhniki Stadium in Moscow, Russia, Wednesday, July 11, 2018. (AP Photo/Francisco Seco)
England's Harry Kane, right, challenges for the ball Croatia's Marcelo Brozovic, left, during the semifinal match between Croatia and England at the 2018 soccer World Cup in the Luzhniki Stadium in Moscow, Russia, Wednesday, July 11, 2018. (AP Photo/Francisco Seco)
Croatia's Ivan Perisic scores his side's first goal past England goalkeeper Jordan Pickford during the semifinal match between Croatia and England at the 2018 soccer World Cup in the Luzhniki Stadium in Moscow, Russia, Wednesday, July 11, 2018. (AP Photo/Frank Augstein)
Croatia's Ivan Perisic, 2nd right, scores his side's first goal during the semifinal match between Croatia and England at the 2018 soccer World Cup in the Luzhniki Stadium in Moscow, Russia, Wednesday, July 11, 2018. (AP Photo/Thanassis Stavrakis)
Croatia's Ivan Perisic scores his side's opening goal during the semifinal match between Croatia and England at the 2018 soccer World Cup in the Luzhniki Stadium in, Moscow, Russia, Wednesday, July 11, 2018. (AP Photo/Alastair Grant)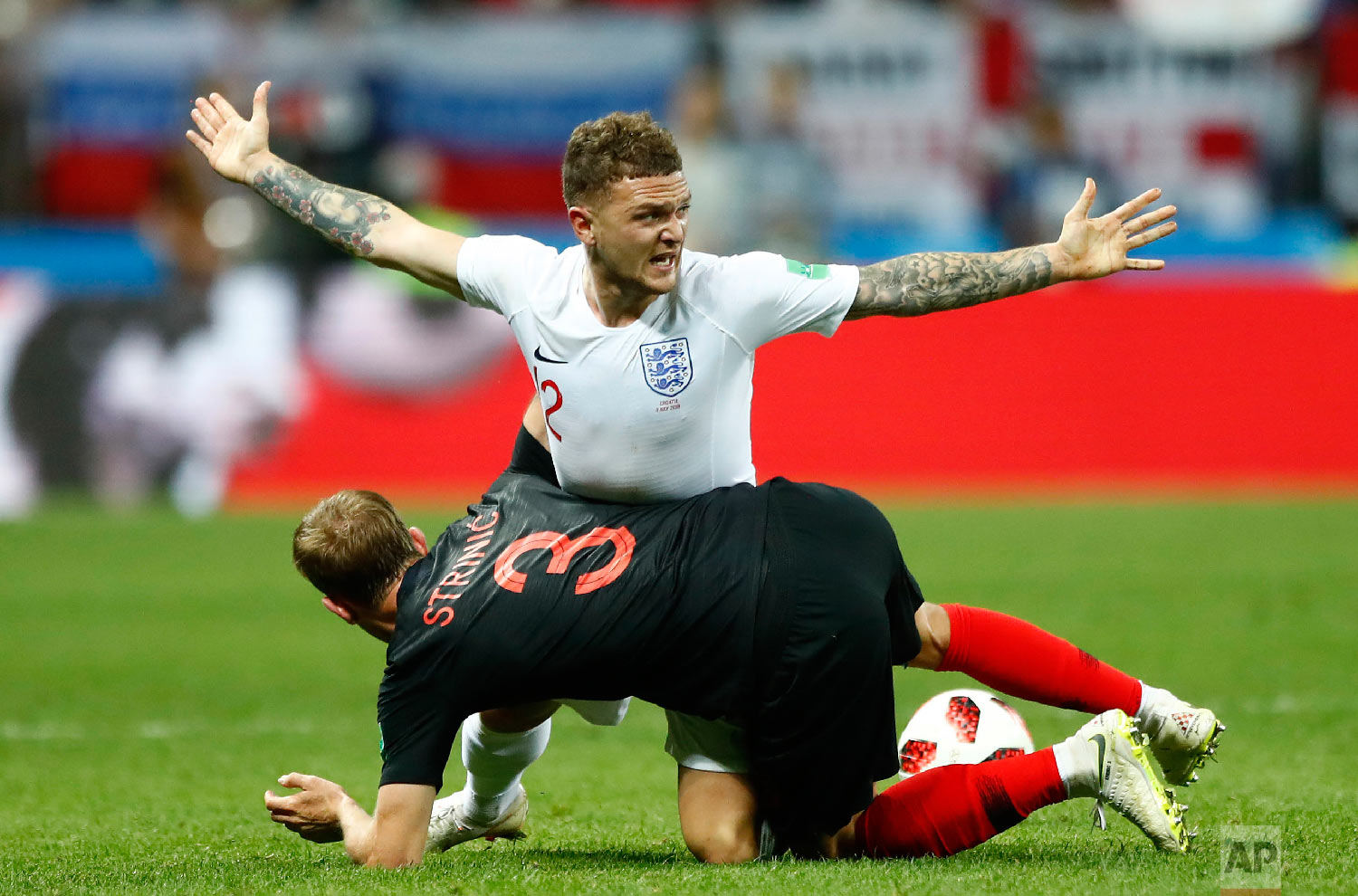 England's Kieran Trippier, up, and Croatia's Ivan Strinic challenge for the ball during the semifinal match between Croatia and England at the 2018 soccer World Cup in the Luzhniki Stadium in Moscow, Russia, Wednesday, July 11, 2018. (AP Photo/Matthias Schrader)
Croatia's Mario Mandzukic, 2nd right, scores his side's second goal during the semifinal match between Croatia and England at the 2018 soccer World Cup in the Luzhniki Stadium in Moscow, Russia, Wednesday, July 11, 2018. (AP Photo/Thanassis Stavrakis)
Croatia's Mario Mandzukic, second right, scores his side's second goal during the semifinal match between Croatia and England at the 2018 soccer World Cup in the Luzhniki Stadium in Moscow, Russia, Wednesday, July 11, 2018. (AP Photo/Frank Augstein)
Croatia's Mario Mandzukic celebrates after scoring his side's second goal during the semifinal match between Croatia and England at the 2018 soccer World Cup in the Luzhniki Stadium in Moscow, Russia, Wednesday, July 11, 2018. (AP Photo/Frank Augstein)
Croatia's Mario Mandzukic, center, celebrates after scoring his side's second goal during the semifinal match between Croatia and England at the 2018 soccer World Cup in the Luzhniki Stadium in Moscow, Russia, Wednesday, July 11, 2018. (AP Photo/Frank Augstein)
Players of Croatia celebrate after the semifinal match between Croatia and England at the 2018 soccer World Cup in the Luzhniki Stadium in Moscow, Russia, Wednesday, July 11, 2018. (AP Photo/Francisco Seco)
England's Phil Jones hugs with England's Harry Kane, right, during the semifinal match between Croatia and England at the 2018 soccer World Cup in the Luzhniki Stadium in Moscow, Russia, Wednesday, July 11, 2018. (AP Photo/Francisco Seco)
Croatia's Luka Modric, right, celebrates next to England goalkeeper Jordan Pickford, on the ground, at the end of the semifinal match between Croatia and England at the 2018 soccer World Cup in the Luzhniki Stadium in Moscow, Russia, Wednesday, July 11, 2018. (AP Photo/Thanassis Stavrakis)
Croatia's Sime Vrsaljko celebrates after his team advanced to the final during the semifinal match between Croatia and England at the 2018 soccer World Cup in the Luzhniki Stadium in Moscow, Russia, Wednesday, July 11, 2018. (AP Photo/Alastair Grant)
England head coach Gareth Southgate, 2nd left, comforts England's Danny Rose, left, after loosing the semifinal match between Croatia and England at the 2018 soccer World Cup in the Luzhniki Stadium in Moscow, Russia, Wednesday, July 11, 2018. (AP Photo/Francisco Seco)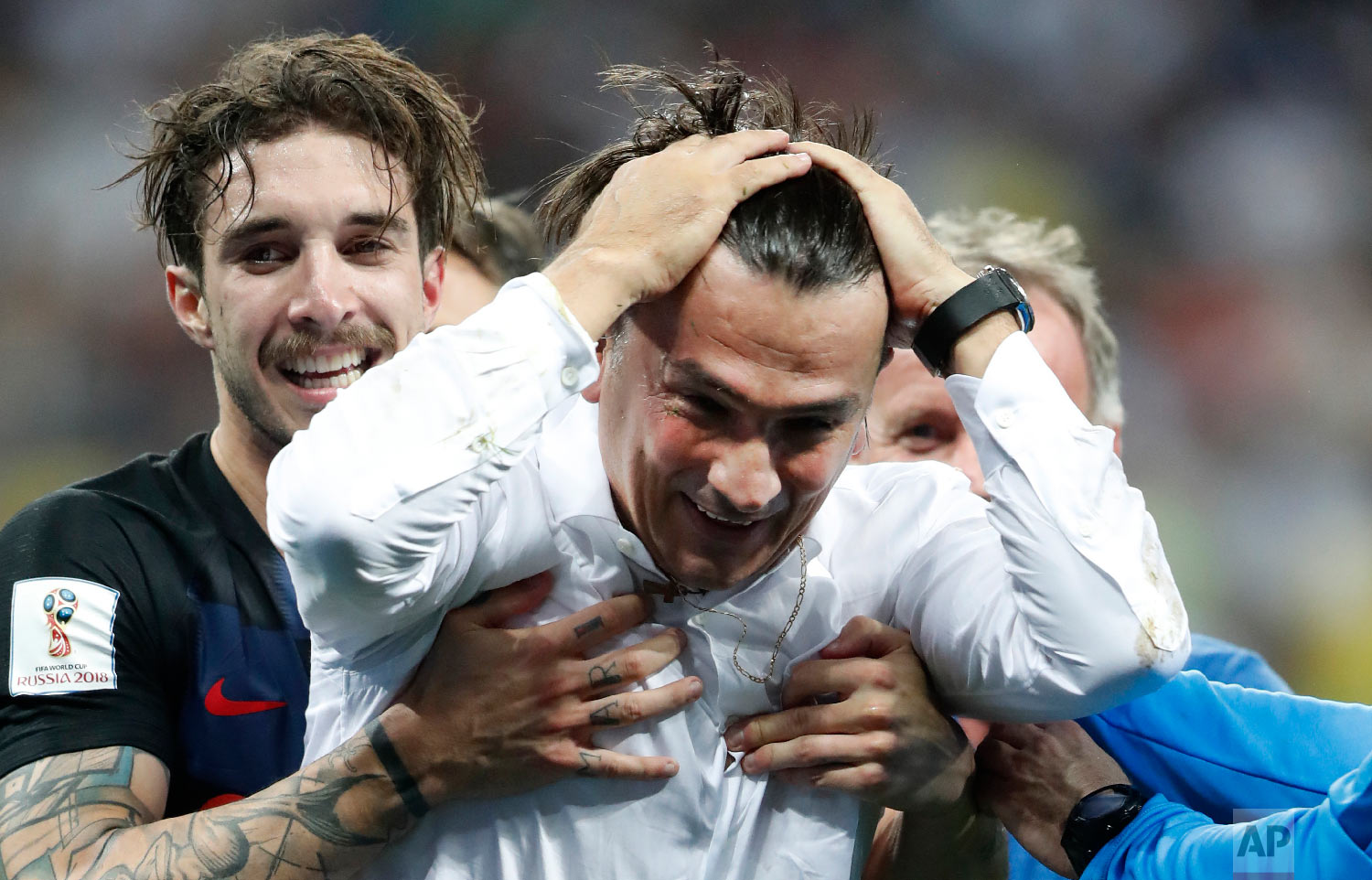 Croatia head coach Zlatko Dalic celebrates with Sime Vrsaljko, left, after his team advanced to the final during the semifinal match between Croatia and England at the 2018 soccer World Cup in the Luzhniki Stadium in Moscow, Russia, Wednesday, July 11, 2018. (AP Photo/Frank Augstein)