World Cup Match Moments: Day 14
The curse of the champions reared its head again on Day 14 at the World Cup when title-holder Germany crashed out of the tournament. Germany's 2-0 loss to South Korea in Kazan and Sweden's 3-0 win over Mexico in Yekaterinburg in the early set of games meant the 2014 champions leave with one win and two losses. Mexico backed its way into the round of 16 alongside group winner Sweden.
Five-time champion Brazil and Neymar avoided a similar fate, finessing their way to a 2-0 win over Serbia in Moscow to win Group F. Switzerland and Costa Rica dueled to a 2-2 tie in Nizhny Novgorod that ensured the Swiss would advance and the Ticos wouldn't go home as the only team not to score.
Mexico's Jesus Gallardo, right, and Sweden's Mikael Lustig challenge for the ball during the group F match between Mexico and Sweden, at the 2018 soccer World Cup in the Yekaterinburg Arena in Yekaterinburg , Russia, Wednesday, June 27, 2018. (AP Photo/Eduardo Verdugo)
South Korea's Koo Ja-cheol, right, and South Korea's Moon Seon-min, left, vie for the ball with Germany's Sami Khedira, centre, during the group F match between South Korea and Germany, at the 2018 soccer World Cup in the Kazan Arena in Kazan, Russia, Wednesday, June 27, 2018. (AP Photo/Frank Augstein)
Sweden's Andreas Granqvist, rear, and Mexico's Javier Hernandez, front, challenge for the ball during the group F match between Mexico and Sweden, at the 2018 soccer World Cup in the Yekaterinburg Arena in Yekaterinburg , Russia, Wednesday, June 27, 2018. (AP Photo/Gregorio Borgia)
Germany's Leon Goretzka fights for the ball with South Korea's Lee Jae-sung, right, during the group F match between South Korea and Germany, at the 2018 soccer World Cup in the Kazan Arena in Kazan, Russia, Wednesday, June 27, 2018. (AP Photo/Sergei Grits)
Germany's Leon Goretzka, right, and South Korea's Jang Hyun-soo challenge for the ball during the group F match between South Korea and Germany, at the 2018 soccer World Cup in the Kazan Arena in Kazan, Russia, Wednesday, June 27, 2018. (AP Photo/Michael Probst)
South Korea's Son Heung-min, 2nd left, challenges for the ball Germany's Niklas Suele, 2nd right, during the group F match between South Korea and Germany, at the 2018 soccer World Cup in the Kazan Arena in Kazan, Russia, Wednesday, June 27, 2018. (AP Photo/Lee Jin-man)
South Korea's Son Heung-min controls a ball during the group F match between South Korea and Germany, at the 2018 soccer World Cup in the Kazan Arena in Kazan, Russia, Wednesday, June 27, 2018. (AP Photo/Michael Probst)
Sweden's Andreas Granqvist, left, celebrates with teammates after scoring his side's second goal during the group F match between Mexico and Sweden, at the 2018 soccer World Cup in the Yekaterinburg Arena in Yekaterinburg , Russia, Wednesday, June 27, 2018. (AP Photo/Martin Meissner)
Germany's players walk off the pitch as South Korea's Ju Se-jong, front celebrates after the group F match between South Korea and Germany, at the 2018 soccer World Cup in the Kazan Arena in Kazan, Russia, Wednesday, June 27, 2018. (AP Photo/Lee Jin-man)
Germany's Thomas Mueller wipes his face after the group F match between South Korea and Germany, at the 2018 soccer World Cup in the Kazan Arena in Kazan, Russia, Wednesday, June 27, 2018. (AP Photo/Lee Jin-man)
South Korea's Son Heung-min celebrates after scoring his side's second goal during the group F match between South Korea and Germany, at the 2018 soccer World Cup in the Kazan Arena in Kazan, Russia, Wednesday, June 27, 2018. (AP Photo/Michael Probst)
South Korea's Kim Young-gwon celebrates scoring his sides first goal during the group F match between South Korea and Germany, at the 2018 soccer World Cup in the Kazan Arena in Kazan, Russia, Wednesday, June 27, 2018. (AP Photo/Frank Augstein)
Germany's Niklas Suele, left, is dejected as South Korea's Son Heung-min, right, celebrates after the group F match between South Korea and Germany, at the 2018 soccer World Cup in the Kazan Arena in Kazan, Russia, Wednesday, June 27, 2018. South Korea won the match 2-0. (AP Photo/Frank Augstein)
From left, Germany's Julian Brandt goalkeeper Manuel Neuer and Joshua Kimmich walk on the pitch at the end of the group F match between South Korea and Germany, at the 2018 soccer World Cup in the Kazan Arena in Kazan, Russia, Wednesday, June 27, 2018. South Korea won 2-0. (AP Photo/Thanassis Stavrakis)
Brazil's Willian, right, is challenged by Serbia's Filip Kostic during the group E match between Serbia and Brazil, at the 2018 soccer World Cup in the Spartak Stadium in Moscow, Russia, Wednesday, June 27, 2018. (AP Photo/Rebecca Blackwell)
Brazil's Willian, left, and Serbia's Aleksandar Kolarov battle for the ball during the group E match between Serbia and Brazil, at the 2018 soccer World Cup in the Spartak Stadium in Moscow, Russia, Wednesday, June 27, 2018. (AP Photo/Rebecca Blackwell)
Switzerland's Blerim Dzemaili, top celebrates after scoring his side's first goal during the group E match between Switzerland and Costa Rica, at the 2018 soccer World Cup in the Nizhny Novgorod Stadium in Nizhny Novgorod , Russia, Wednesday, June 27, 2018. (AP Photo/Natasha Pisarenko)
Costa Rica's Rodney Wallace, left, and Switzerland's Mario Gavranovic jump for the ball during the group E match between Switzerland and Costa Rica, at the 2018 soccer World Cup in the Nizhny Novgorod Stadium in Nizhny Novgorod , Russia, Wednesday, June 27, 2018. (AP Photo/Natasha Pisarenko)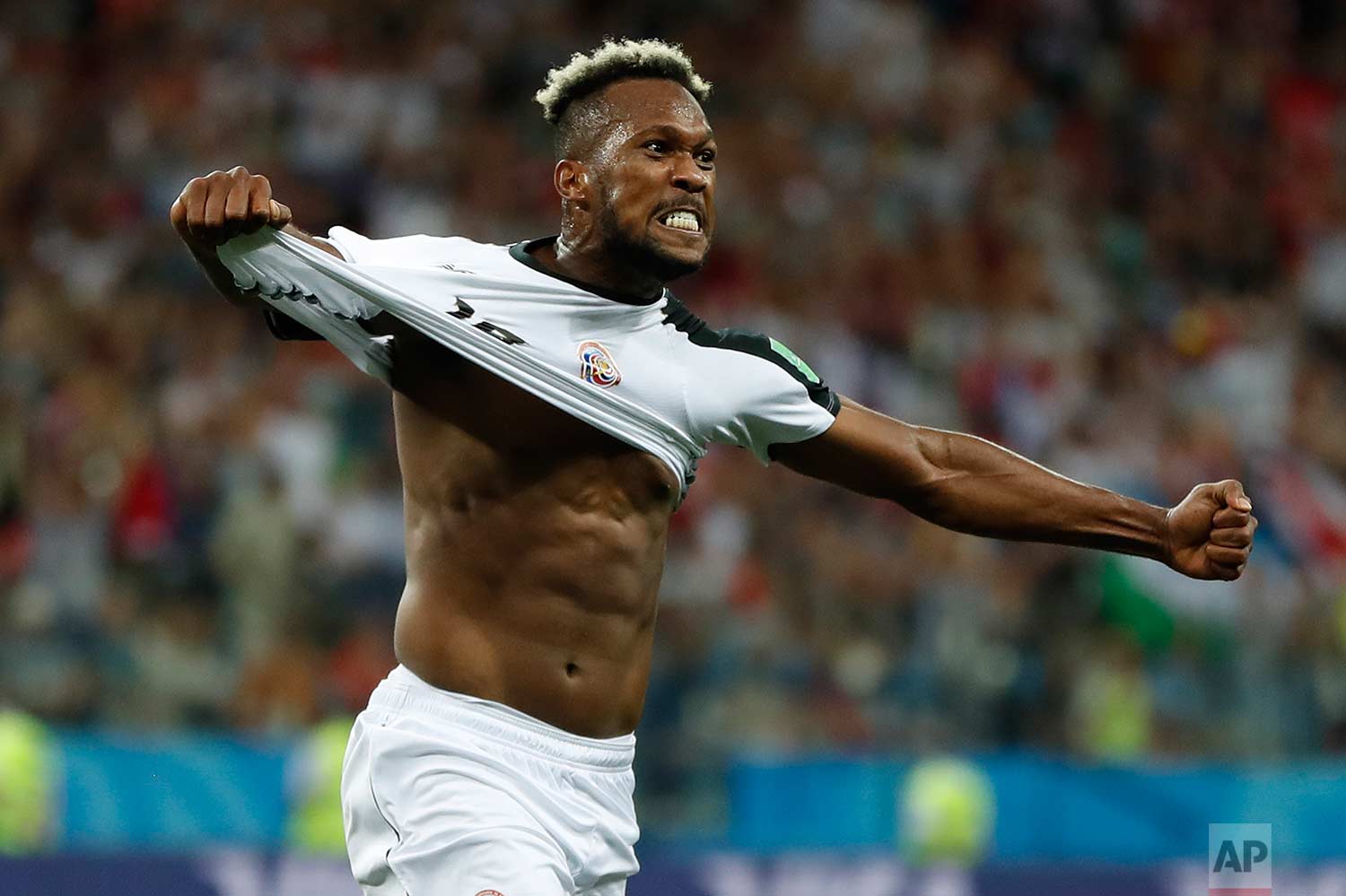 Costa Rica's Kendall Waston celebrates after scoring his side's first goal during the group E match between Switzerland and Costa Rica, at the 2018 soccer World Cup in the Nizhny Novgorod Stadium in Nizhny Novgorod , Russia, Wednesday, June 27, 2018. (AP Photo/Natasha Pisarenko)
Brazil's Gabriel Jesus, left, fights for the ball with Serbia's Nemanja Matic during the group E match between Serbia and Brazil, at the 2018 soccer World Cup in the Spartak Stadium in Moscow, Russia, Wednesday, June 27, 2018. (AP Photo/Matthias Schrader)
Serbia's Aleksandar Kolarov applauds fans at the end of the group E match between Serbia and Brazil, at the 2018 soccer World Cup in the Spartak Stadium in Moscow, Russia, Wednesday, June 27, 2018. (AP Photo/Matthias Schrader)
Brazil's Neymar gestures as Brazil won the group E match between Serbia and Brazil, at the 2018 soccer World Cup in the Spartak Stadium in Moscow, Russia, Wednesday, June 27, 2018. (AP Photo/Rebecca Blackwell)
Brazil's Thiago Silva, face to camera, celebrates with teammate Neymar after scoring his side's second goal during the group E match between Serbia and Brazil, at the 2018 soccer World Cup in the Spartak Stadium in Moscow, Russia, Wednesday, June 27, 2018. (AP Photo/Rebecca Blackwell)