World Cup Match Moments: Day 8
Lionel Messi's goal drought continued on Day 8 of the World Cup after Croatia thrashed Argentina 3-0 to advance from the group.
France also goes through after beating Peru 1-0 and eliminating the South Americans, the fourth team to be going home after this round. Kylian Mbappe became the youngest player to score for France at a World Cup at 19 years and 183 days.

Denmark and Australia drew 1-1 in the early match, leaving both teams fighting for the second spot in Group C.
Argentina's Lionel Messi reaches for the ball during the group D match between Argentina and Croatia at the 2018 soccer World Cup in Nizhny Novgorod Stadium in Nizhny Novgorod, Russia, Thursday, June 21, 2018. (AP Photo/Ricardo Mazalan)
Argentina's Lionel Messi, left, and Croatia's Luka Modric fight for the ball during the group D match between Argentina and Croatia at the 2018 soccer World Cup in Nizhny Novgorod Stadium in Nizhny Novgorod, Russia, Thursday, June 21, 2018. (AP Photo/Petr David Josek)
Argentina's Lionel Messi reacts after the third goal of Croatia during the group D match between Argentina and Croatia at the 2018 soccer World Cup in Nizhny Novgorod Stadium in Nizhny Novgorod, Russia, Thursday, June 21, 2018. Croatia won 3-0. (AP Photo/Petr David Josek)
Argentina's Lionel Messi stands on the pitch at the end of the group D match between Argentina and Croatia at the 2018 soccer World Cup in Nizhny Novgorod Stadium in Nizhny Novgorod, Russia, Thursday, June 21, 2018. Croatia defeated Argentina 3-0. (AP Photo/Ricardo Mazalan)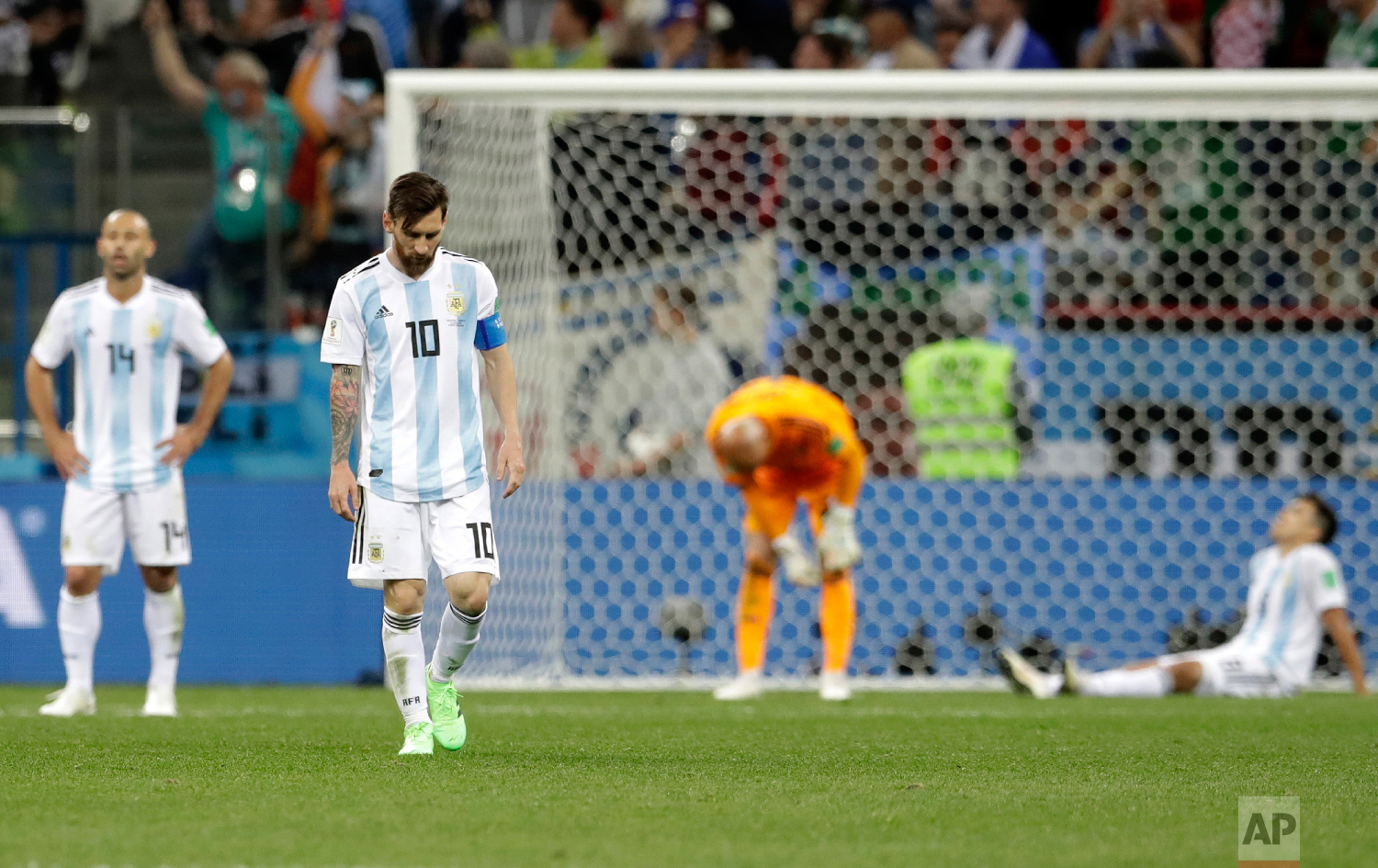 Argentina's Lionel Messi, foreground, looks down as he walks on the pitch after the group D match between Argentina and Croatia at the 2018 soccer World Cup in Nizhny Novgorod Stadium in Nizhny Novgorod, Russia, Thursday, June 21, 2018. Croatia won 3-0. (AP Photo/Petr David Josek)
Argentina's Lionel Messi walks along the pitch at the end of the group D match between Argentina and Croatia at the 2018 soccer World Cup in Nizhny Novgorod Stadium in Nizhny Novgorod, Russia, Thursday, June 21, 2018. Croatia defeated Argentina 3-0. (AP Photo/Ricardo Mazalan)
Argentina's Lionel Messi looks down after Croatia's Luka Modric scored his side's second goal during the group D match between Argentina and Croatia at the 2018 soccer World Cup in Nizhny Novgorod Stadium in Novgorod, Russia, Thursday, June 21, 2018. (AP Photo/Pavel Golovkin)
Argentina goalkeeper Wilfredo Caballero holds his head after Croatia's Ante Rebic, background right, scored the opening goal during the group D match between Argentina and Croatia at the 2018 soccer World Cup in Nizhny Novgorod Stadium in Nizhny Novgorod, Russia, Thursday, June 21, 2018. (AP Photo/Ricardo Mazalan)
Denmark's Christian Eriksen celebrates after scoring the opening goal during the group C match between Denmark and Australia at the 2018 soccer World Cup in the Samara Arena in Samara, Russia, Thursday, June 21, 2018. (AP Photo/Martin Meissner)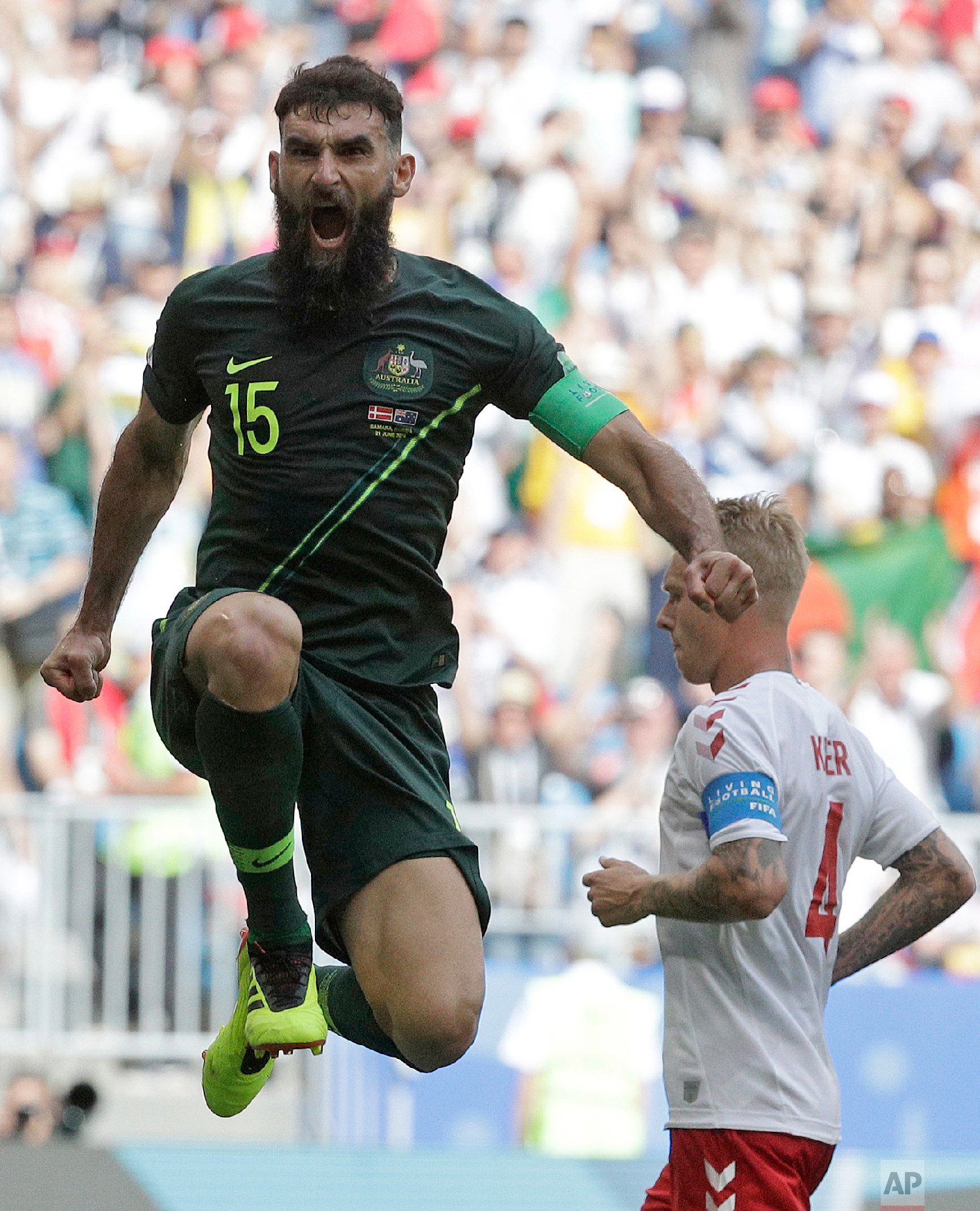 Australia's Mile Jedinak, left, celebrates scoring his side's opening goal during the group C match between Denmark and Australia at the 2018 soccer World Cup in the Samara Arena in Samara, Russia, Thursday, June 21, 2018. (AP Photo/Gregorio Borgia)
Australia's Mile Jedinak celebrates scoring his side's opening goal during the group C match between Denmark and Australia at the 2018 soccer World Cup in the Samara Arena in Samara, Russia, Thursday, June 21, 2018. (AP Photo/Gregorio Borgia)
Australia's Tom Rogic, left, is challenged by Denmark's Thomas Delaney during the group C match between Denmark and Australia at the 2018 soccer World Cup in the Samara Arena in Samara, Russia, Thursday, June 21, 2018. (AP Photo/Gregorio Borgia)
Denmark's Andreas Cornelius, right, shouts out after a challenge from Australia's Trent Sainsbury during the group C match between Denmark and Australia at the 2018 soccer World Cup in the Samara Arena in Samara, Russia, Thursday, June 21, 2018. (AP Photo/Gregorio Borgia)
Argentina coach Jorge Sampaoli gives instructions to his players as Serbia's Ivan Perisic passes by and Mario Mandzukic lies on the pitch, during the group D match between Argentina and Croatia at the 2018 soccer World Cup in Nizhny Novgorod Stadium in Nizhny Novgorod, Russia, Thursday, June 21, 2018. (AP Photo/Petr David Josek)
France's Paul Pogba, right lies on the pitch following a challenge by Peru's Pedro Aquino during the group C match between France and Peru at the 2018 soccer World Cup in the Yekaterinburg Arena in Yekaterinburg, Russia, Thursday, June 21, 2018. (AP Photo/Vadim Ghirda)
France's Kylian Mbappe, left celebrates with teammate France's Antoine Griezmann after scoring the opening goal of the game during the group C match between France and Peru at the 2018 soccer World Cup in the Yekaterinburg Arena in Yekaterinburg, Russia, Thursday, June 21, 2018. (AP Photo/David Vincent)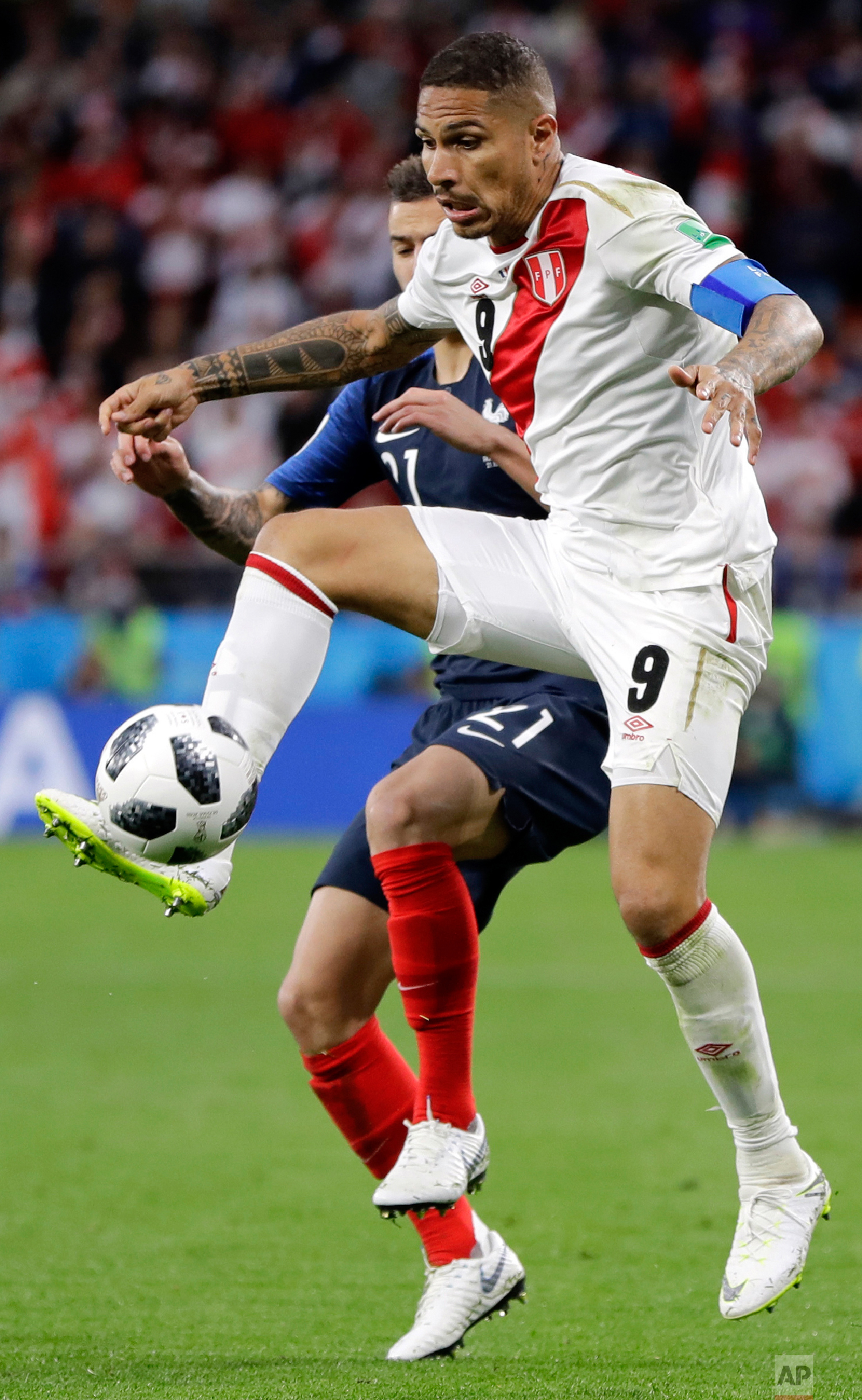 Peru's Paolo Guerrero is challenged by France's Lucas Hernandez, background, during the group C match between France and Peru at the 2018 soccer World Cup in the Yekaterinburg Arena in Yekaterinburg, Russia, Thursday, June 21, 2018. (AP Photo/Natacha Pisarenko)
Peru's Pablo Guerrero, right, is challenged by France's Benjamin Pavard during the group C match between France and Peru at the 2018 soccer World Cup in the Yekaterinburg Arena in Yekaterinburg, Russia, Thursday, June 21, 2018. (AP Photo/Natacha Pisarenko)
Peru's Paolo Guerrero looks up during the group C match between France and Peru at the 2018 soccer World Cup in the Yekaterinburg Arena in Yekaterinburg, Russia, Thursday, June 21, 2018. (AP Photo/Vadim Ghirda)
Croatia's Luka Modric, right, celebrates after scoring his side's second goal during the group D match between Argentina and Croatia at the 2018 soccer World Cup in Nizhny Novgorod Stadium in Nizhny Novgorod, Russia, Thursday, June 21, 2018. (AP Photo/Ricardo Mazalan)