Athletes are a blur of motion at Pyeongchang Olympics
Athletics is all about putting bodies in motion and the Olympians at Pyeongchang don't disappoint.
Figure skaters spin around the ice like a top on a table. Bobsledders and lugers slide down the track in a riot of color. Ski jumpers leap into mid-air.
If you blink, you just may miss them.
Thankfully, Associated Press photographers are there to capture the moment.
Julianne Seguin and Charlie Bilodeau, of Canada, perform in the pairs free skate figure skating final in the Gangneung Ice Arena at the 2018 Winter Olympics in Gangneung, South Korea, Thursday, Feb. 15, 2018. (AP Photo/David J. Phillip)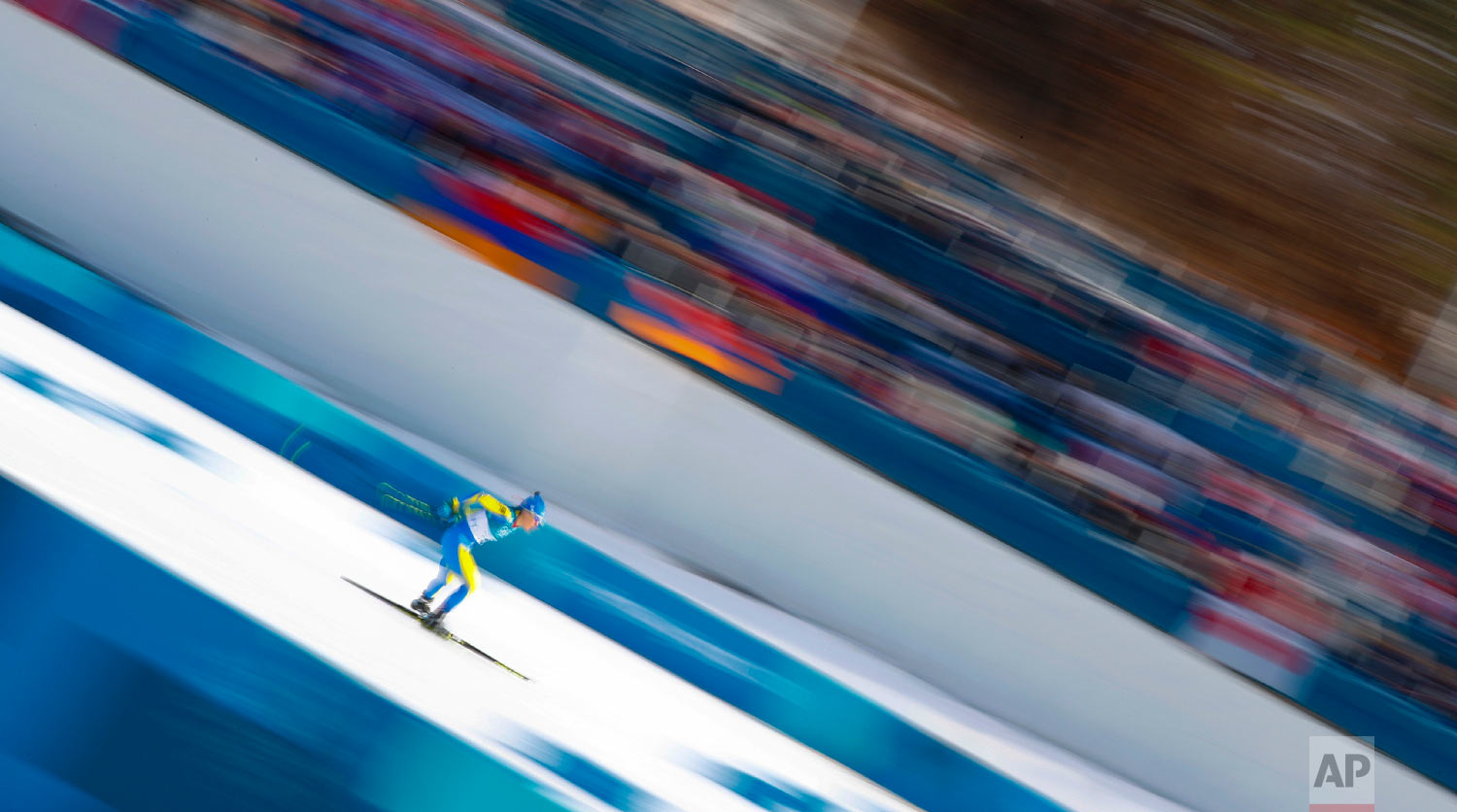 Maryna Antsybor, of Ukraine, competes during the women's 10km freestyle cross-country skiing competition at the 2018 Winter Olympics in Pyeongchang, South Korea, Thursday, Feb. 15, 2018. (AP Photo/Matthias Schrader)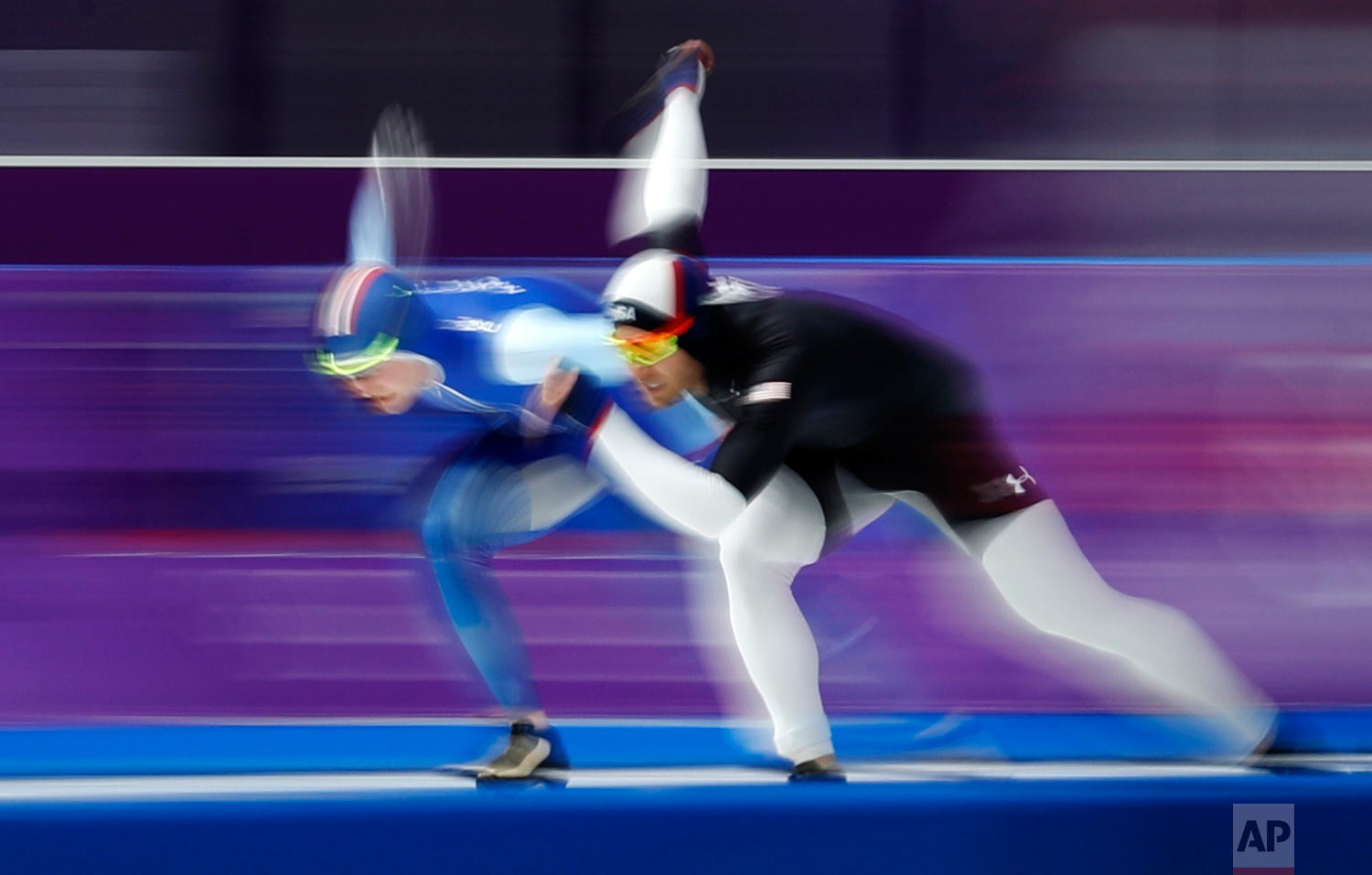 Joey Mantia of the U.S., right, and Norway's Sverre Lunde Pedersen compete during the men's 1,500 meters speedskating race at the Gangneung Oval at the 2018 Winter Olympics in Gangneung, South Korea, Tuesday, Feb. 13, 2018. (AP Photo/John Locher)
Jacqueline Loelling of Germany begins a training run for the women's skeleton at the 2018 Winter Olympics in Pyeongchang, South Korea, Wednesday, Feb. 14, 2018. (AP Photo/Patrick Semansky)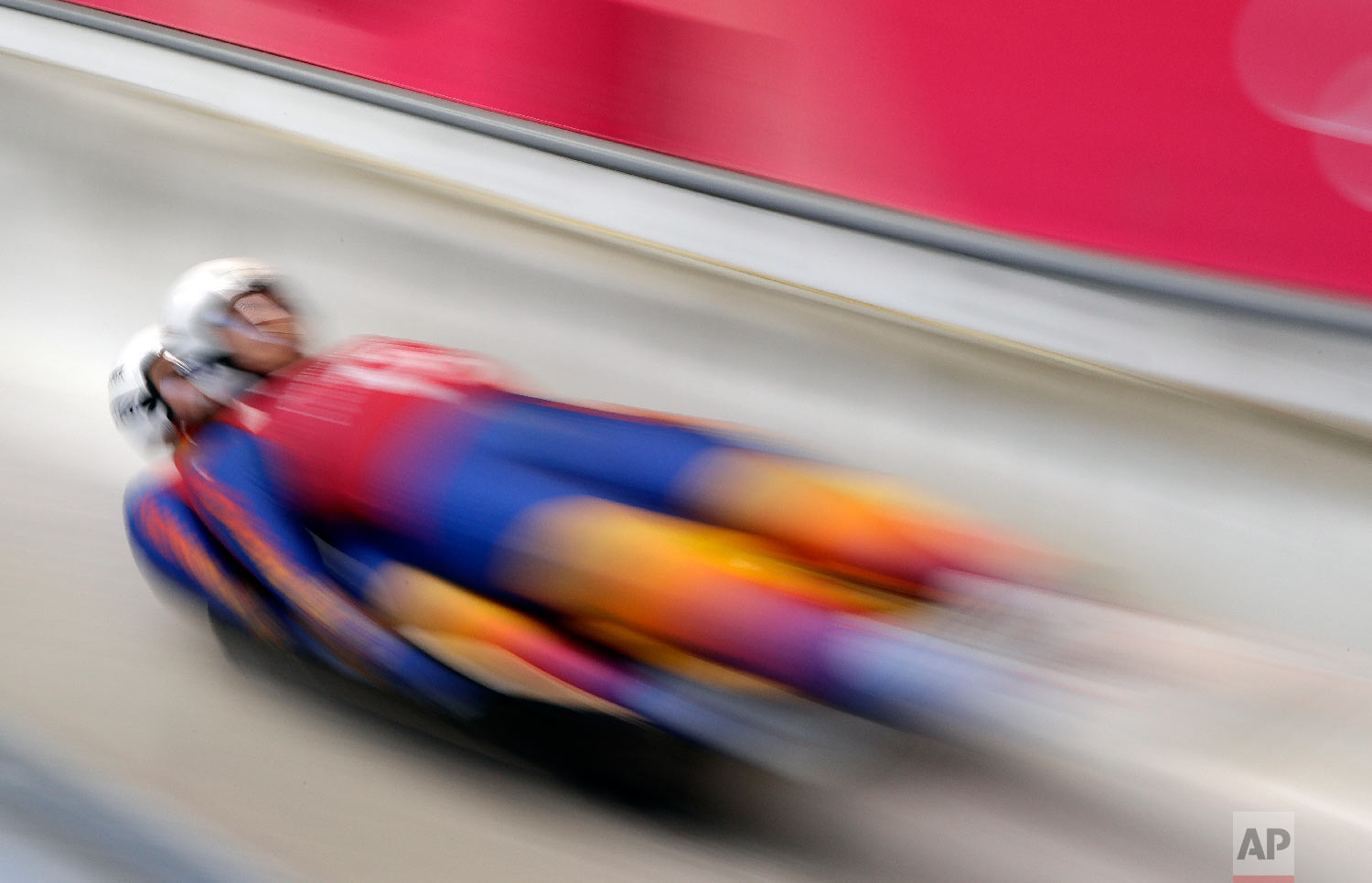 Cosmin Atodiresei and Stefan Musei of Romania start a run during the doubles luge training at the 2018 Winter Olympics in Pyeongchang, South Korea, Monday, Feb. 12, 2018. (AP Photo/Wong Maye-E)
Brittany Bowe of the U.S. competes during the women's 1,000 meters speedskating race at the Gangneung Oval at the 2018 Winter Olympics in Gangneung, South Korea, Wednesday, Feb. 14, 2018. (AP Photo/John Locher)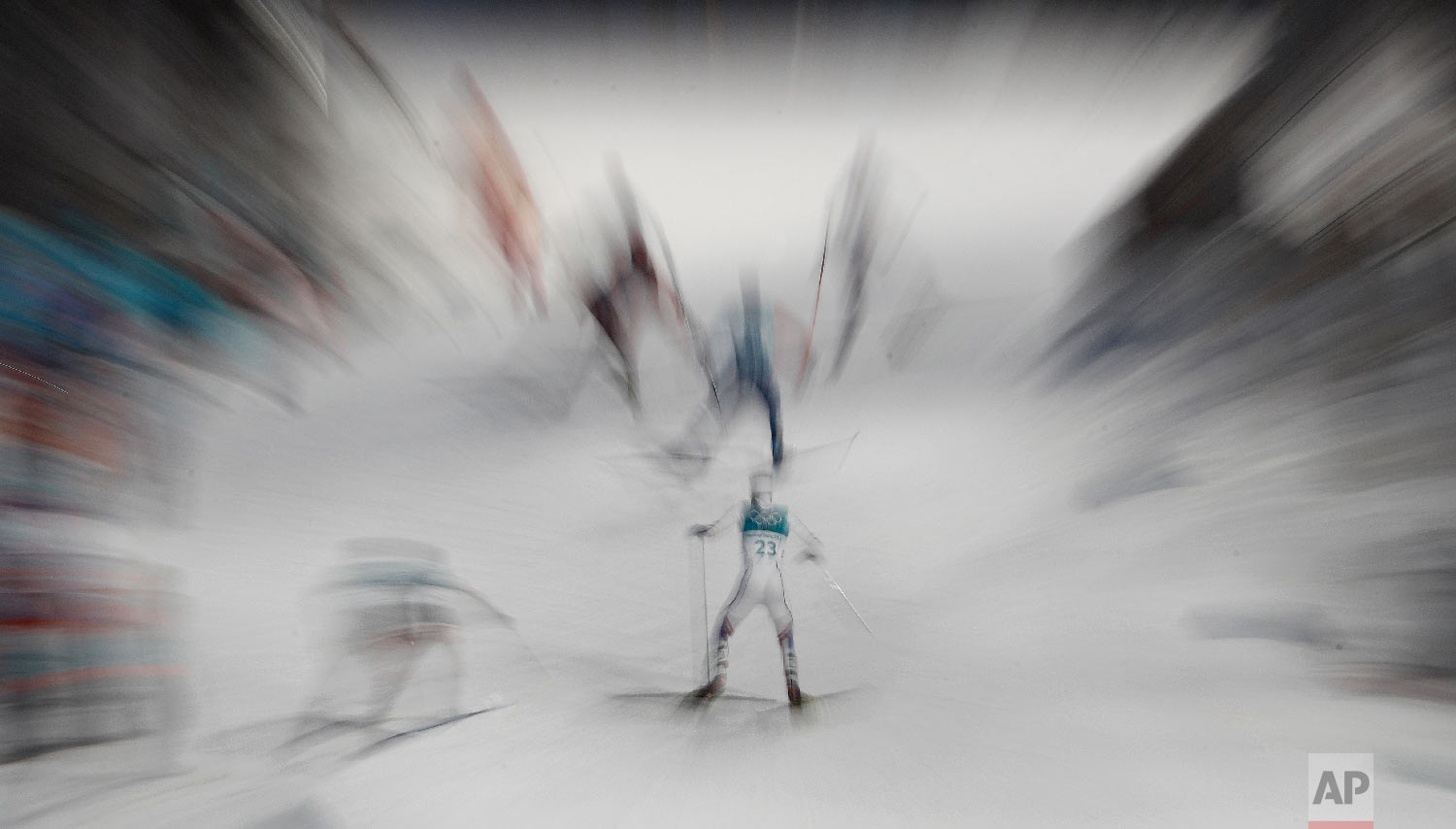 Joergen Graabak, of Norway, and other athletes climbed a hill during the 10km cross-country skiing portion of the nordic combined event at the 2018 Winter Olympics in Pyeongchang, South Korea, Wednesday, Feb. 14, 2018. (AP Photo/Charlie Riedel)
Yan Han of China performs during the men's short program figure skating in the Gangneung Ice Arena at the 2018 Winter Olympics in Gangneung, South Korea, Friday, Feb. 16, 2018. (AP Photo/Julie Jacobson)
Yuki Ito, of Japan, practices for the women's ski jump competition in the 2018 Winter Olympics at the Alpensia Ski Jumping Center in Pyeongchang, South Korea, Saturday, Feb. 10, 2018. (AP Photo/Charlie Riedel)
Racers compete competes during the men's cross-country skiing sprint classic at the 2018 Winter Olympics in Pyeongchang, South Korea, Tuesday, Feb. 13, 2018. (AP Photo/Dmitri Lovetsky)
Maryna Zuyeva of Belarus competes during the women's 5,000 meters speedskating race at the Gangneung Oval at the 2018 Winter Olympics in Gangneung, South Korea, Friday, Feb. 16, 2018. (AP Photo/Vadim Ghirda)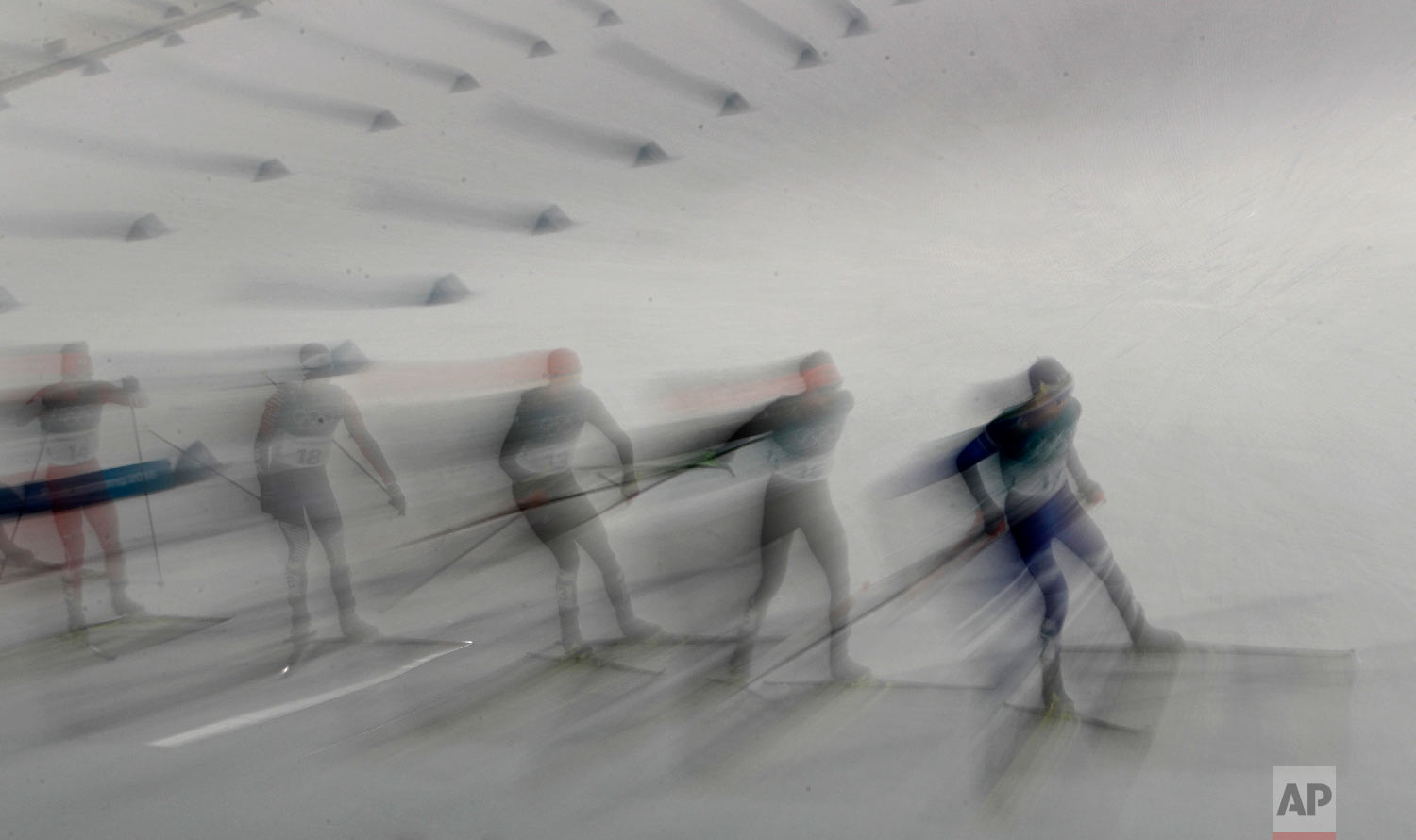 Athletes compete in the 10km cross-country skiing portion of the nordic combined event at the 2018 Winter Olympics in Pyeongchang, South Korea, Wednesday, Feb. 14, 2018. (AP Photo/Charlie Riedel)
Skaters practice at the Gangneung Oval during a speed skating training session prior to the 2018 Winter Olympics in Gangneung, South Korea, Thursday, Feb. 8, 2018. (AP Photo/Petr David Josek)
Driver Codie Bascue and Samuel McGuffie of the United States take a practice run during training for the two-man bobsled at the 2018 Winter Olympics in Pyeongchang, South Korea, Thursday, Feb. 15, 2018. (AP Photo/Wong Maye-E)
Monaco's Olivier Jenot skis during the downhill portion of the men's combined at the 2018 Winter Olympics in Jeongseon, South Korea, Tuesday, Feb. 13, 2018. (AP Photo/Alessandro Trovati)
Natalie Geisenberger of Germany takes a training run at the 2018 Winter Olympics in Pyeongchang, South Korea, Saturday, Feb. 10, 2018. (AP Photo/Patrick Semansky)
Canada's Kaitlyn Lawes throws a stone during a mixed doubles curling match against Olympic Athletes from Russia Anastasia Bryzgalova and Aleksandr Krushelnitckii at the 2018 Winter Olympics in Gangneung, South Korea, Saturday, Feb. 10, 2018. (AP Photo/Natacha Pisarenko)