Pictures of the week
Here's your look at highlights from the weekly AP photo report, a gallery featuring a mix of front-page photography, the odd image you might have missed and lasting moments our editors think you should see.
This week's gallery includes a Little League player reaching to make a catch; a West Virginia coal-fired power plant lighting up the night sky; and Eid al-Adha celebrations in a Rohingya refugee camp.
This gallery contains photos from the week of Aug. 18-24, 2018.
The John E. Amos Power Plant is seen from a field outside of Winfield, W. Va., on Thursday night, Aug. 23, 2018. Built in the 1970's, the coal-fired facility is the largest in the American Electric Power company's portfolio. Many of AEP's smaller coal-fired power plants in Appalachia closed in response to environmental regulations such as the Clean Power Plan in 2015. (Craig Hudson/Charleston Gazette-Mail via AP)
Mireya Marquez uses candlelight to cook her dinner of boiled cassava, also known as yuca and manioc, during a blackout in Maracaibo, Venezuela on Sunday, Aug. 19, 2018. For months, Maracaibo's residents have endured rolling blackouts, but things turned dire on August 10 when a fire destroyed a main power line supplying the city of 1.5 million people. (AP Photo/Fernando Llano)
People watch the sunset on Waikiki Beach ahead of Hurricane Lane, Thursday, Aug. 23, 2018, in Honolulu. (AP Photo/John Locher)
A bicycle is hung from a tree branch to avoid being washed away in flood waters as a man rows past with his dog in a country boat at Kuttanad in Alappuzha in the southern state of Kerala, India, Monday, Aug. 20, 2018. Kerala has been battered by torrential downpours since Aug. 8, with floods and landslides killing at least 250 people. About 800,000 people now living in some 4,000 relief camps. (AP Photo/Tibin Augustine)
A vendor uses a crane to bring a bull down from the rooftop of his house so he can sell him at a livestock market set up for the upcoming Muslim Eid al-Adha holiday, in Karachi, Pakistan, Sunday, Aug. 12, 2018. Eid al-Adha, or Feast of Sacrifice, Islam's most important holiday marks the willingness of the Prophet Ibrahim (Abraham to Christians and Jews) to sacrifice his son. (AP Photo/Fareed Khan)
A recently unveiled waxwork statue of Pope Francis is displayed next to a Frankenstein figure outside the National Wax Museum in Dublin, Ireland, Friday, Aug. 24, 2018. Pope Francis arrives on Saturday for a two-day visit to Ireland. (AP Photo/Matt Dunham)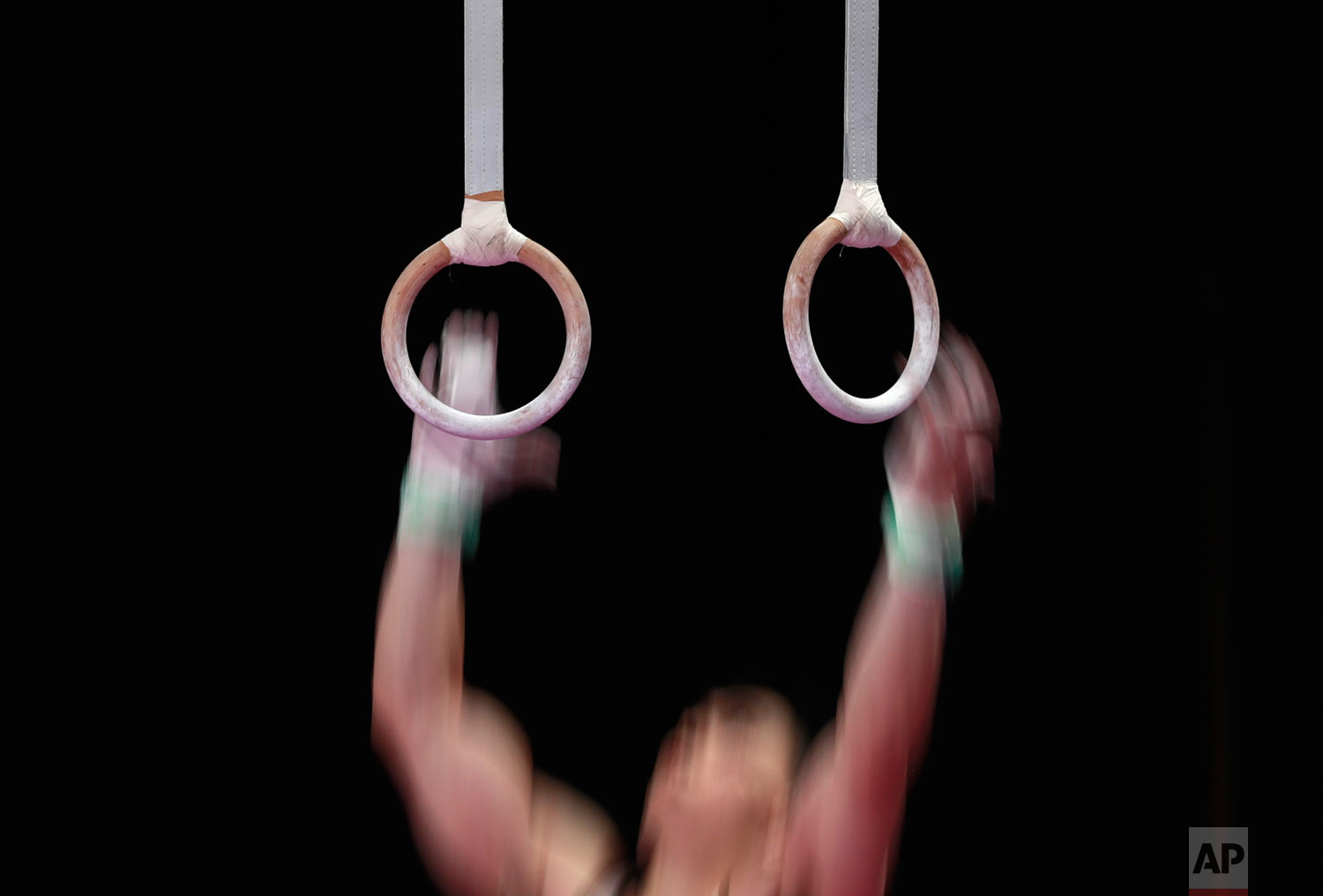 Hong Kong's Ng Kiu Chung performs on the rings during the men's apparatus gymnastics final at the 18th Asian Games in Jakarta, Indonesia, Thursday, Aug. 23, 2018. (AP Photo/Dita Alangkara)
Houston, Texas' Carter Pitts (6) unsuccessfully reaches for a catch on an infield pop up by Peachtree City, Ga.'s Cayden Olvey (14) during the seventh inning of an elimination baseball game in United States pool play at the Little League World Series tournament in South Williamsport, Pa., Monday, Aug. 20, 2018. (AP Photo/Gene J. Puskar)
Rohingya refugee boys greet each other as girls ride in a ferris wheel, specially brought in to the camps for Eid al-Adha celebrations at the Kutupalong refugee camp in Bangladesh, Wednesday, Aug. 22, 2018. Hundreds of thousands of Rohingya refugees are celebrating the Feast of Sacrifice in sprawling Bangladeshi camps where they have been living amid uncertainty over their future after they fled Myanmar to escape violence. (AP Photo/Altaf Qadri)
President Donald Trump writes in a coloring book during a visit with a group of children at the Nationwide Children's Hospital, Friday, Aug. 24, 2018, in Columbus, Ohio. (AP Photo/Evan Vucci)
A bench is surrounded by water after recent heavy rains caused the Tidal Basin in Washington to overflow its banks Wednesday, Aug. 22, 2018. (AP Photo/J. David Ake)
A woman prays over the belly of another woman at a prophetic church held in a closed street market in San Salvador, El Salvador, just after midnight on Tuesday, Aug. 21, 2018.(AP Photo/Rebecca Blackwell)
This gallery was produced by Patrick Sison in New York.