Pictures of the week
Here's your look at highlights from the weekly AP photo report, a gallery featuring a mix of front-page photography, the odd image you might have missed and lasting moments our editors think you should see.
This week's gallery includes horse herding at the foothills of a mountain in Turkey, kids sitting on top of a car to watch wildfires in California and a demonstrator confronting riot police in Romania.
___
This gallery contains photos from the week of Aug. 4-10, 2018
Princess Bass, 5, rests her head on the shoulder of her brother, King, 6, as they sit and watch the Holy Fire burn from on top of their parents' car Thursday night, Aug. 9, 2018 in Lake Elsinore, Calif. More than a thousand firefighters battled to keep a raging Southern California forest fire from reaching foothill neighborhoods Friday before the expected return of blustery winds that drove the flames to new ferocity a day earlier. (AP Photo/Patrick Record)
A demonstrator in support of decriminalizing abortion stands outside the congress building in Buenos Aires, Argentina, Wednesday, Aug. 8, 2018. Following months of increasingly tense debate, lawmakers in Argentina met on Wednesday ahead of a vote on a bill that would decriminalize abortions up to the first 14 weeks of pregnancy. (AP Photo/Natacha Pisarenko)
The mother, center, of two young children is comforted after she found them stabbed to death in their father's apartment in Houston on Saturday, Aug. 4, 2018. Authorities say that Jean Pierre Ndossoka, the man suspected of fatally stabbing his two children, has been hospitalized after police found him Sunday with a self-inflicted gunshot wound in his car. Court records show he has been charged with capital murder. (Elizabeth Conley/Houston Chronicle via AP)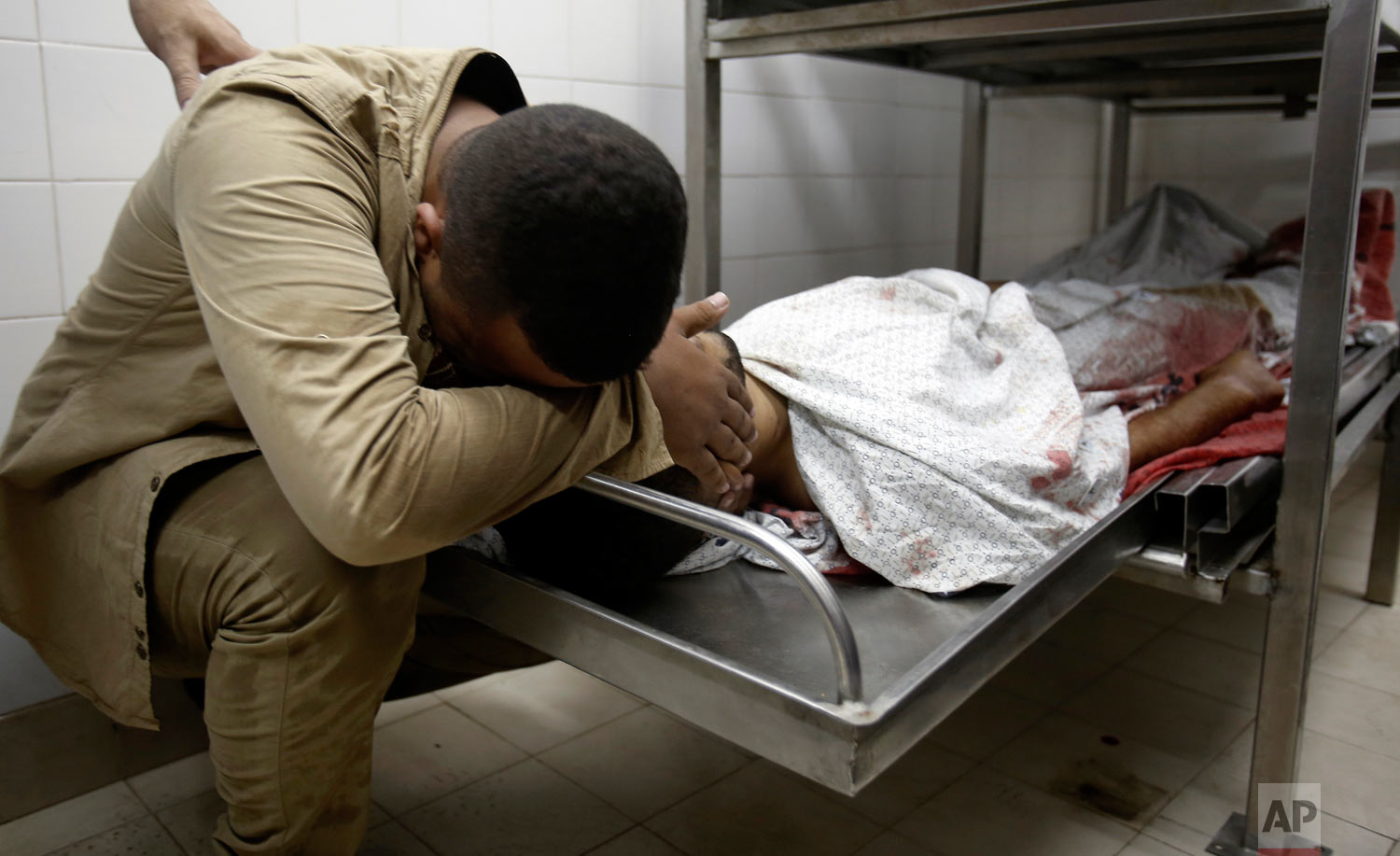 A relative mourns over the body of Abdullah al-Qutati, 26, at the morgue of the European hospital east of Khan Younis, southern Gaza Strip, east of Khan Younis, Friday, Aug. 10, 2018. Two Palestinians, including a paramedic, were shot and killed by Israeli fire at a Hamas-led protest along the border, Gaza's Health Ministry said. (AP Photo/Adel Hana)
A Palestinian protester wears a plastic bag on his head as a protection from teargas as he waves a national flag during a protest at the Gaza Strip's border with Israel, Friday, Aug.10, 2018. Violence erupted at the Gaza border Friday after the territory's militant Islamic Hamas rulers and Israel appeared to be honoring a cease-fire that ended two days of intense violence amid efforts by neighboring Egypt to negotiate between the two sides. (AP Photo/Khalil Hamra)
A man throws a plastic bottle at riot police during protests outside the government headquarters, in Bucharest, Romania, Friday, Aug. 10, 2018. Tens of thousands of Romanians flocked to an anti-government protest in Bucharest on Friday, urging the left-wing government to resign and call an early election. (AP Photo/Vadim Ghirda)
A Kashmiri rebel fires his gun to salute fallen comrades during their joint funeral in Malikgund village, south of Srinagar, Indian controlled Kashmir, Saturday, Aug. 4, 2018. At rebels and an Indian army soldier were killed in gunbattles in disputed Kashmir, triggering violent protests by residents opposed to Indian rule, officials said Saturday. (AP Photo/Dar Yasin)
A military paramedic tends to a boy who's head was injured from Sunday's earthquake at a makeshift hospital in Kayangan, Lombok Island, Indonesia, Wednesday, Aug. 8, 2018. The north of Lombok has been devastated by the magnitude 7.0 quake that struck Sunday night, damaging thousands of buildings and killing dozens. (AP Photo/Fauzy Chaniago)
Crocodiles rest at a farm in the Jordan Valley, West Bank on Monday, Aug. 6, 2018. Hundreds of crocodiles are stuck at the farm where they were brought in the mid-90s to serve as a tourist attraction. Ensuing Palestinian-Israeli violence kept visitors away, prompting the crocodiles' purchase by an entrepreneur hoping to sell them for their skin, but his venture flopped after Israel passed a law in 2012 defining the crocodile as a protected animal, and banning raising the animals for sale as meat or merchandise. (AP Photo/Dusan Vranic)
Ali Kemer, a 50-year-old horse-breeder, herds horses in the village of Hormetci, on the foothill of Mount Erciyes, in the central Anatolian province of Kayseri, Turkey on Sunday, Aug. 5, 2018. Kemer is a third-generation horse breeder in the village where the residents have a special affinity with the "yilki," as the untamed horses are called. He cares for about 350 of them and charges visitors 50 Turkish lira (US $8) to photograph the horses, money he says he uses for their upkeep. Thousands of other wild horses roam free on the mountains and plains of Turkey's Anatolia region, the descendants of horses that were abandoned by farmers. (AP Photo/Emrah Gurel)
This gallery was produced by Patrick Sison in New York.