Cuba transition sparks hope among many generations
From a 93-year-old former intelligence agent to a 28-year-old economist working as a maintenance man, Cubans of every generation are watching this week as Raul Castro leaves the presidency as part of a broader handoff to a group of younger leaders.
Few expect deep or rapid change in Cuba, a nation ruled by the same party for six decades. But the transition is sparking some hope that the new generation of leaders will make progress on deep problems, including an economy long unable to provide people with enough well-paying jobs. Cubans are also hoping for improved relations with the United States.
In this April 12, 2018 photo, artist and former diplomat Hector Pascual Gallo Portieres poses at his home in the Alamar public housing complex in Havana, Cuba. The barber by profession was approached in 1960 to go on a mission to find out how the U.S. would attack Cuba. He found answers in Costa Rica, and was highly decorated for alerting Cuba to the 1961 U.S. invasion of the Bay of Pigs. After years in diplomacy, he returned home to teach intelligence and retired after 30 years. Gallo, now 93, says he hopes the next generation will be faithful to national hero Jose Marti and to the process Fidel Castro started. (AP Photo/Ramon Espinosa)
In this April 12, 2018 photo, Armando Ricart Batista, a teacher by training, a former boxer and actor, poses next to Cuban and U.S. flags at his home, with the Cuban one carrying photos of Fidel and Raul Castro, in Havana, Cuba. Ricart, 65, said he's not affiliated with the Communist Party but hopes a new generation of leaders will follow the ideals of the Castros. He said he hangs the U.S. flag because relations with the U.S. improved under then-President Barack Obama, and the majority of American people are in favor of relations with Cuba. "The American people are good," he said. (AP Photo/Ramon Espinosa)
In this April 12, 2018 photo, newly-weds Dariel Verdecia, a 24-year-old computer engineer, and Roxana Cruz, a 26-year-old chemical engineer, pose for their wedding portraits in a vintage American car on the coast of Havana, Cuba. The couple said President Raul Castro's stepping down will be another step forward in Cuba's history, giving an entrance to new generations, and have hope the economy will continue growing. (AP Photo/Ramon Espinosa)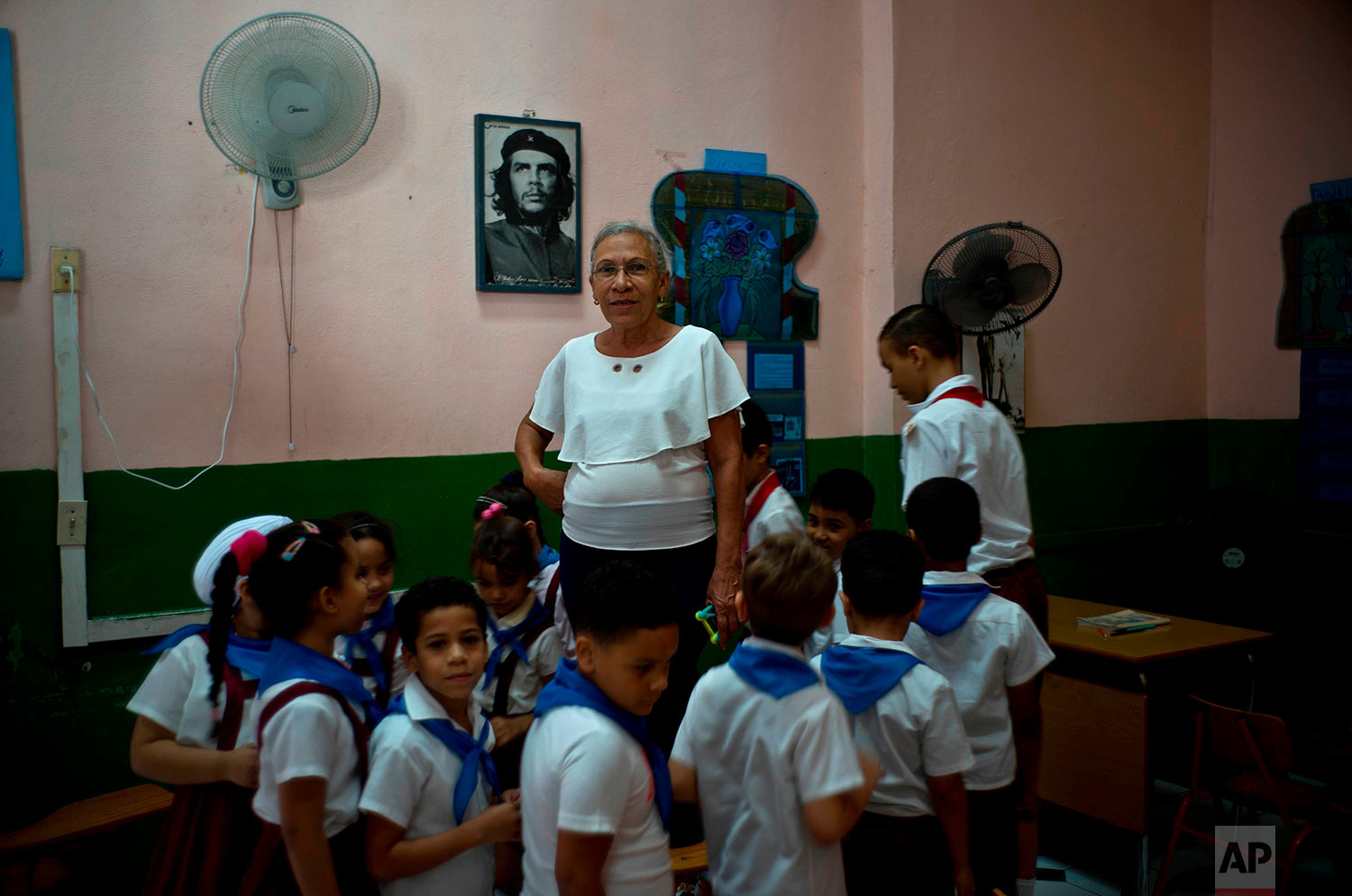 In this April 13, 2018 photo, teacher Luisa Pacheco, 65, poses with her students in Havana, Cuba. Pacheco, who began teaching at the age of 14 in the Sierra Maestra's rural schools, said she likes education because she wants to train new generations for a good future and achieve what she did. When asked about Raul Castro's successor, she said "I hope the new president will do what our commander Fidel Castro did," adding that she wants the U.S. to remove its embargo against Cuba to help improve the economy. (AP Photo/Ramon Espinosa)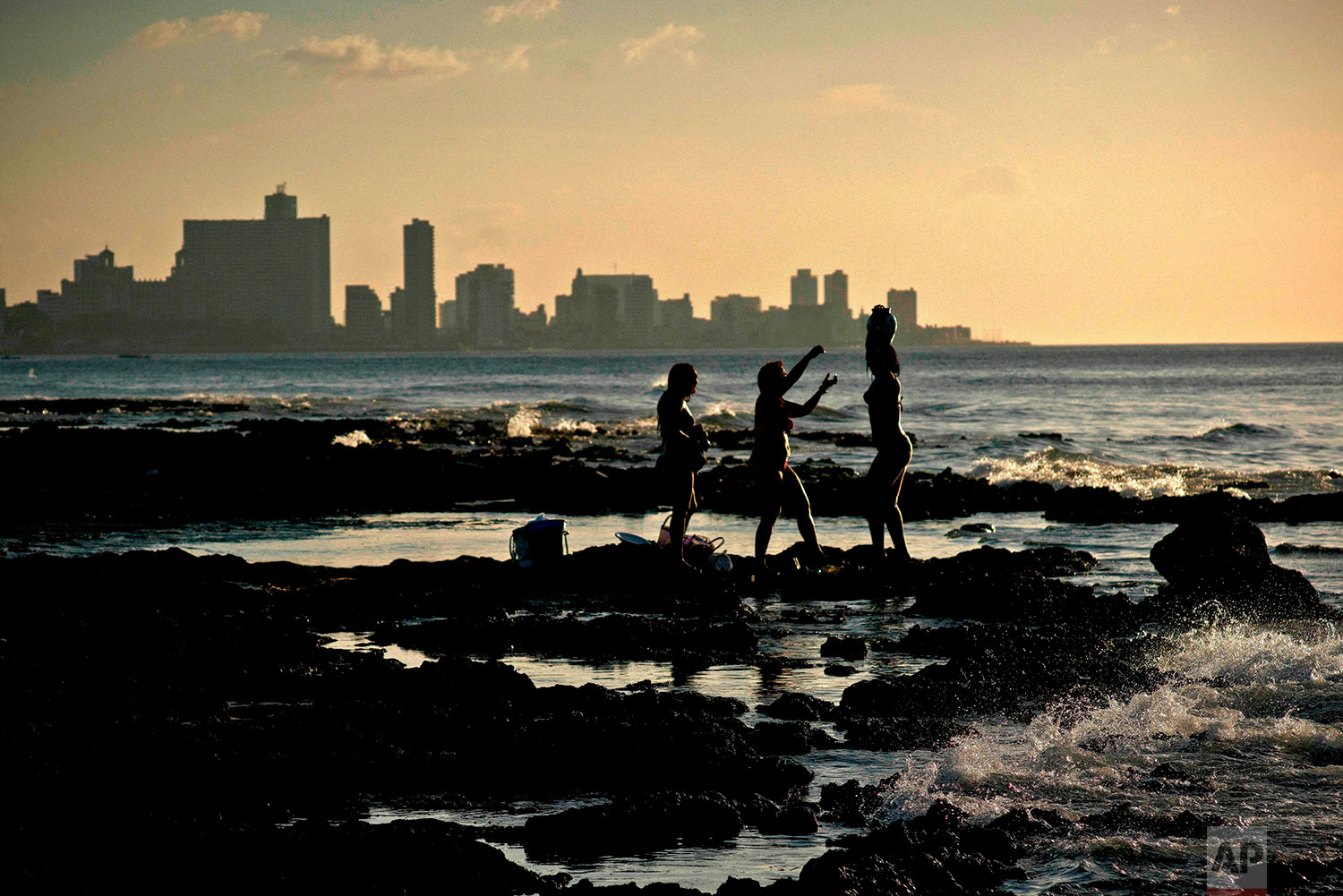 In this April 14, 2018 photo, Santera Mailyn Lopez, center, performs a ritual with Mili Garcia Perez, right, and Zulay De Las Mercedes, on Chivo beach in Havana, Cuba. Mili and Zulay, who work at a restaurant, came to evoke the presence of "Olokun," a saint who according to Santeria lives in the sea and brings one health, prosperity and stability. (AP Photo/Ramon Espinosa)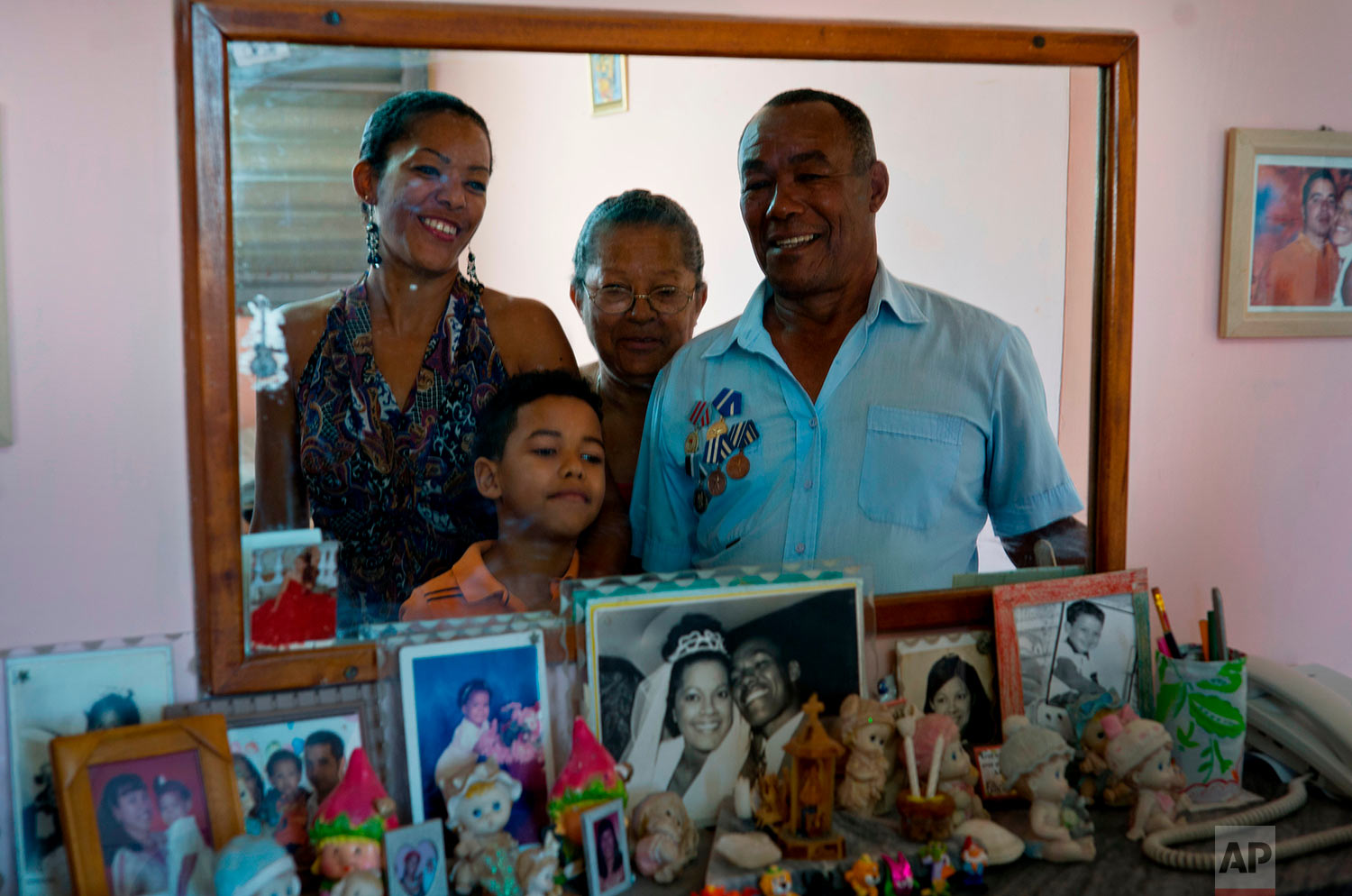 In this April 14, 2018 photo, Amable Lopez, right, a Angola war veteran, poses with his family in Havana, Cuba. Lopez, a 69-year-old retiree, quit his university studies to join the team that built the famed, Soviet-style Alamar buildings. The former carpenter, firefighter and oil refinery worker said that compared to his generation's time, there is more development in Cuba and youths have everything they need to improve their lives. "They need to improve the economy, raise salaries, lower prices. There are things that can be improved. Let's see what happens," Lopez said. (AP Photo/Ramon Espinosa)
In this April 13, 2018 photo, motorcycle taxi driver Ricardo Medina, 60, transports vegetable vender Rigoberto Herrera Mendez, left, and coconut vendor Osvaldo Ochoa in Campo Florido, east of Havana, Cuba. The three men expressed hope that new government leadership will improve things, saying the country cannot move backwards. "We survive life with our work," said Medina. (AP Photo/Ramon Espinosa)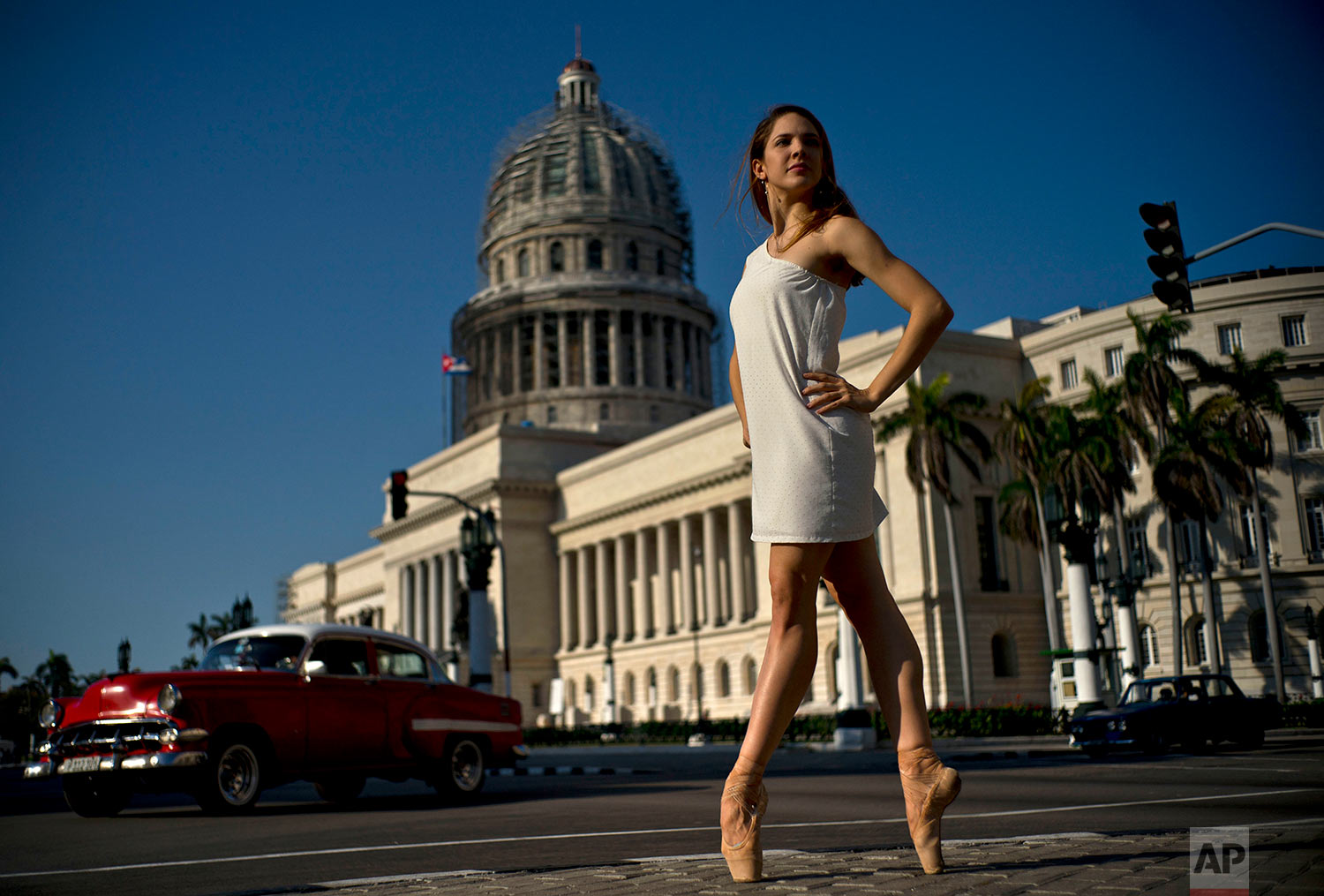 In this April 14, 2018 photo, National Ballet of Cuba dancer Daniela Gomez Perez stands on point as she poses outside the Capitol in Havana, Cuba. Gomez, who says Cubans love dancing, trusts the next generation of leaders will continue such traditions and that art will continue to be the engine of Cuban society. Gomez said she is proud to represent Cuba during a dance trip in May to Washington, Tampa and Chicago, and that the Cuban state has always supported dance. (AP Photo/Ramon Espinosa)
In this April 13, 2018 photo, musician Lazaro Martinez poses with his trombone on the Malecon sea wall in Havana, Cuba. Since 1991, Martinez has regularly played his music at the Malecon. "My politics are music," said the 52-year-old. (AP Photo/Ramon Espinosa)
In this April 13, 2018 photo, Santera Lourdes Nusa, 57, poses with her doll representing the Yoruba sea goddess "Yemaya" in Regla, across the bay from Havana, Cuba. Lourdes became a self-employed Santera at a very young age, reading people's futures. "The world is subject to change. Our country has always adopted a policy of improving relations with the entire world," she said, adding Donald Trump's position toward Cuba will not change Cuba's position to open relations with the U.S. (AP Photo/Ramon Espinosa)
In this April 12, 2018 photo, Yojany Perez, 28, poses for a photo with his 2-year-old daughter Coraline Perez Padilla, at a skateboarding park in Havana, Cuba. Perez, who has an economy degree but works in maintenance, said with the arrival of a new Cuban president on April 19, people are expecting an improvement in the economy, for prices to decline or salaries rise. "Our current economy does not give for many luxuries," Perez said. (AP Photo/Ramon Espinosa)
In this April 14, 2018 photo, Lazaro Rodriguez, 42, connects his cell phone at a public internet hot spot at night in Havana, Cuba. Lazaro, who studied baking and is currently working in maintenance, said he's seen very positive changes in the economy in recent years, and would like to see development continue. "The generation that comes after me will have much more. I lived 'the special period' in the 90s, and the country is still blocked," referring to the U.S. embargo. (AP Photo/Ramon Espinosa)