Trump's travel ban jolts globe
President Donald Trump's decision to suspend the U.S. Refugee Admissions Program for 120 days and institute a 90-day ban on all entry to the United States from citizens of seven predominantly Muslim countries has sent ripples across the globe, provoked a political reaction at home and led to high-stakes legal maneuvering.
In signing the order Friday, January 27, Trump was fulfilling a campaign pledge to put in place "extreme vetting" procedures to keep potential terrorists out of the U.S.
The temporary ban on admissions applies to citizens of Iraq, Syria, Iran, Sudan, Libya, Somalia and Yemen. The order also halts entry to the U.S. by Syrian refugees indefinitely.
Trump Travel Ban Boston
Izzy Berdan, of Boston, center, wears an American flags as he chants slogans with other demonstrators during a rally against President Donald Trump's order that restricts travel to the U.S., Sunday, Jan. 29, 2017, in Boston. Trump signed an executive order Friday, Jan. 27, 2017 that bans legal U.S. residents and visa-holders from seven Muslim-majority nations from entering the U.S. for 90 days and puts an indefinite hold on a program resettling Syrian refugees. (AP Photo/Steven Senne)
Trump Travel Ban New York
Protesters assemble at John F. Kennedy International Airport in New York, Saturday, Jan. 28, 2017, after earlier in the day two Iraqi refugees were detained while trying to enter the country. On Friday, Jan. 27, President Donald Trump signed an executive order suspending all immigration from countries with terrorism concerns for 90 days. Countries included in the ban are Iraq, Syria, Iran, Sudan, Libya, Somalia and Yemen, which are all Muslim-majority nations. (AP Photo/Craig Ruttle)
Trump Travel Ban San Francisco
In this Saturday, Jan. 28, 2017 photo, a protester holds a sign at San Francisco International Airport during a demonstration to denounce President Donald Trump's executive order that bars citizens of seven predominantly Muslim-majority countries from entering the U.S., in San Francisco. Just two days after banning travelers from seven Muslim-majority nations, U.S. President Donald Trump invited the Saudi monarch, whose kingdom includes Islam's holiest sites, to fly to Washington. It points to the delicate balancing act Trump faces as he tries to deliver on campaign promises to exterminate "radical Islamic terrorism" without endangering political and economic ties with U.S. allies in the region, many of which are countries where the Trump Organization has business interests. (AP Photo/Marcio Jose Sanchez)
Trump Travel Ban San Francisco
Reem Alrubaye, of Fremont, Calif., places flowers on the floor as she waits for her mother Mason Jadoaa to return from a visit to Baghdad, Iraq, at San Francisco International Airport, Monday, Jan. 30, 2017, in San Francisco. President Donald Trump's executive order bars citizens of seven predominantly Muslim-majority countries from entering the U.S. (AP Photo/Marcio Jose Sanchez)
Trump Travel Ban Atlanta
A plane takes off as demonstrators hold signs and chant at Hartsfield-Jackson International Airport during a demonstration to denounce President Donald Trump's executive order that bars citizens of seven predominantly Muslim-majority countries from entering the U.S., Sunday, Jan. 29, 2017, in Atlanta. (AP Photo/Branden Camp)
Trump Travel Ban New York
Protesters listen to an speaker as the hold a sign during a rally against President Donald Trump's order cracking down on immigrants living in the US at Washington Square Park in New York, Wednesday, Jan. 25, 2017. (AP Photo/Andres Kudacki)
Trump Travel Ban Impact Atlanta
A demonstrator holds a sign at Hartsfield-Jackson International Airport during a demonstration to denounce President Donald Trump's executive order that bars citizens of seven predominantly Muslim-majority countries from entering the U.S., Sunday, Jan. 29, 2017, in Atlanta. (AP Photo/Branden Camp)
Trump Travel Ban New York
Muslims, members of the Yemeni community and others wave American and Yemeni flags as they gather on the steps of Brooklyn's Borough Hall to protest President Donald Trump's temporary travel ban on citizens from seven predominantly Muslim countries, Thursday, Feb. 2, 2017, in New York. Yemen is one of seven countries affected. The others are Libya, Iraq, Iran, Somalia, Sudan and Syria. (AP Photo/Kathy Willens)
Trump Travel Ban Seattle
Emtisal Bazara cries as she and her husband, Ahmad Bazara, both recent Syrian immigrants, look on at a rally to oppose President Donald Trump's executive order barring citizens from several countries from entering the United States, Sunday, Jan. 29, 2017, in downtown Seattle. The couple arrived in the Seattle area with two of their four children in December, four years after leaving Aleppo as refugees. The said that their two adult children have been denied entry because of Trump's order. (AP Photo/Elaine Thompson)
Trump Travel Ban Los Angeles
Demonstrators chant outside Tom Bradley International Terminal during a protest by airport service workers from United Service Workers West union Monday, Jan. 30, 2017, at Los Angeles International Airport. The vigil in support of travelers affected by the executive order restricting travel from seven primarily Muslim countries. (AP Photo/Chris Carlson)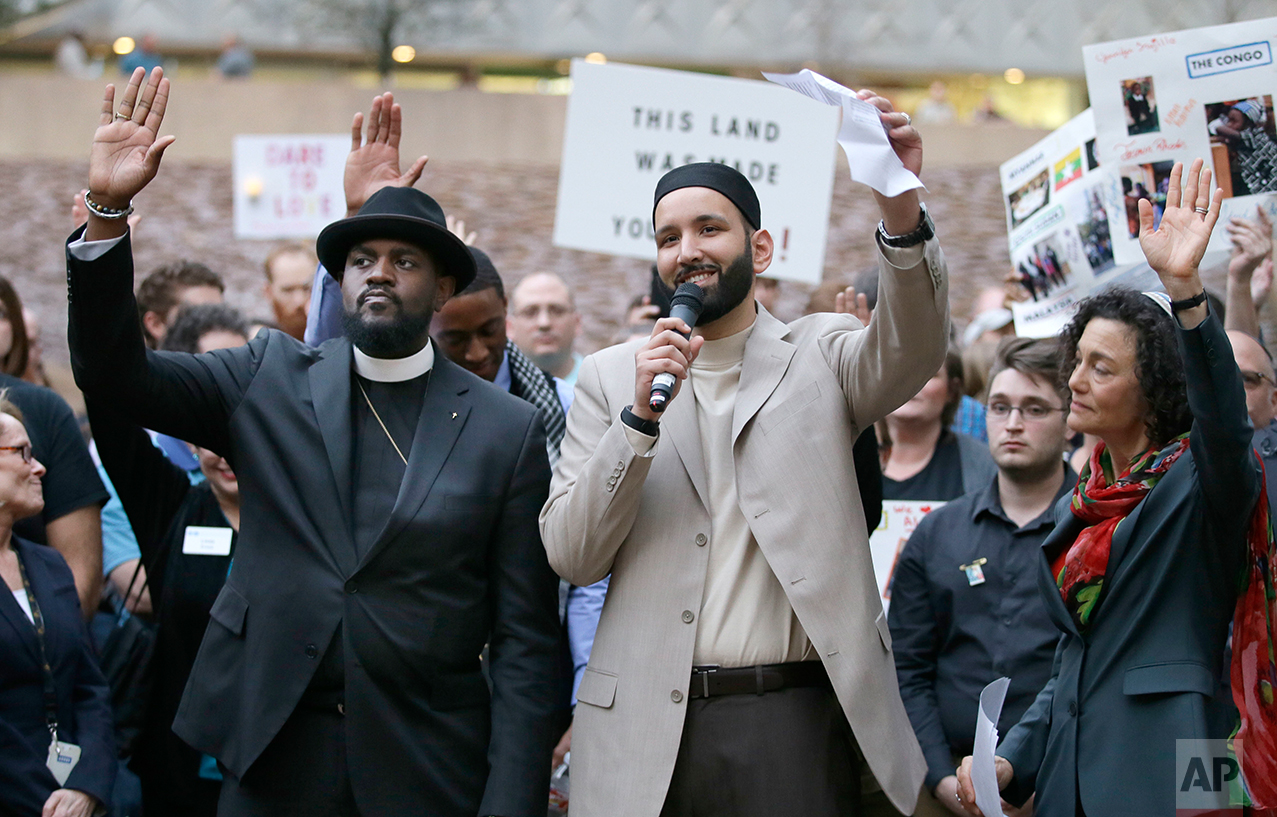 Trump Travel Ban Texas
Iman Omar Suleiman, center, raises his hand with Rabbi Nancy Kasten, right, and the Rev. Michael W. Waters while speaking before a candlelight vigil at Thanksgiving Square in downtown Dallas, Monday, Jan. 30, 2017. Community activist gathered to protest against President Donald Trump's executive order temporarily banning immigrants from seven Muslim-majority countries from entering the U.S. and suspending the nation's refugee program. (AP Photo/LM Otero)
Trump Travel Ban Cincinnati
Demonstrators chant against President Donald Trump's executive order temporarily banning immigrants from seven Muslim-majority countries from entering the U.S. and suspending the nation's refugee program Monday, Jan. 30, 2017, outside City Hall in Cincinnati. In addition, earlier in the day Mayor John Cranley declared Cincinnati a "sanctuary city," meaning city will not enforce federal immigration laws against people who are here illegally, in keeping with current policy. (AP Photo/John Minchillo)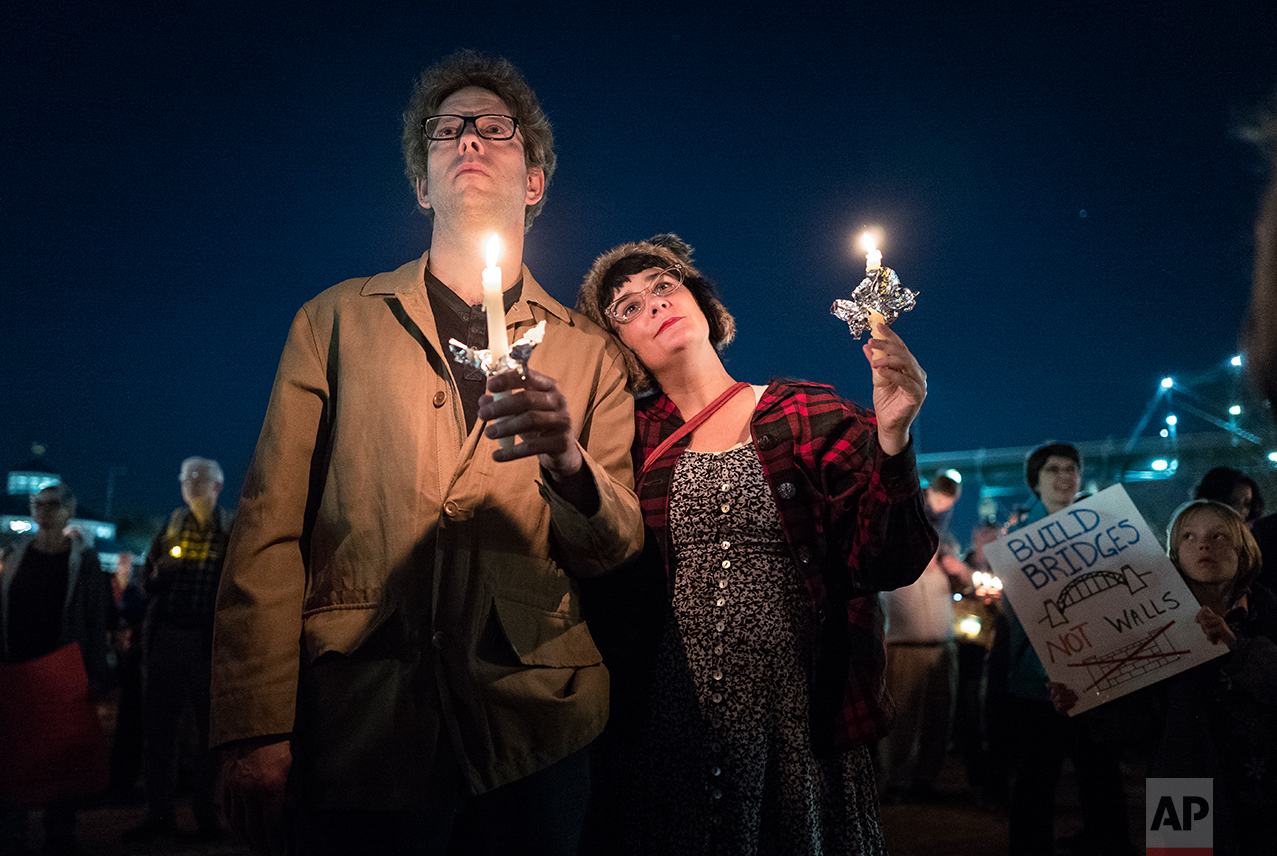 Trump Travel Ban Tennessee
Berry Carroll, left, and Beth Long hold candles at a vigil in support of immigrants held at Coolidge Park on Wednesday, Feb. 1, 2017, in Chattanooga, Tenn., in the wake of President Donald J. Trump's executive order on immigration. (Doug Strickland/Chattanooga Times Free Press via AP)
Trump Travel Ban Philadelphia
Madison Gray, a Temple University student, holds up her sign during a protest against President Donald Trump's executive order banning travel to the U.S. by citizens of Iraq, Syria, Iran, Sudan, Libya, Somalia or Yemen, Sunday, Jan. 29, 2017, at Philadelphia International Airport in Philadelphia. (AP Photo/Corey Perrine)
Trump Travel Ban Philadelphia
A protester holds up a cutout sign during a protest of President Donald Trump's executive order banning travel to the U.S. by citizens of Iraq, Syria, Iran, Sudan, Libya, Somalia or Yemen Sunday, Jan. 29, 2017, at Philadelphia International Airport in Philadelphia. (AP Photo/Corey Perrine)
Nat Castañeda
Visual artist and Digital Storyteller at The Associated Press