The Year in Photos: Middle East
2017 Middle East in Review is an annual gallery that features some of the top photojournalism made by AP staff photographers and freelancers based in AP's Middle East East, Afghanistan & Pakistan region.
In this year's gallery, AP staff photographers share their favorite pictures from 2017, selected by Middle East Regional Photo Editor Maya Alleruzzo.
This was the year that saw the Islamic State militant group pushed from its strongholds in Iraq and Syria and a high civilian cost, as buildings in the cities of Raqqa and Mosul were completely erased from the landscape. It remains to be seen what form the group will take, but already a more militant faction has carried out an attack in Egypt.
In Pakistan, ordinary citizens broke their silence to tell their stories about a long-held social taboo. A boy told The Associated Press about his abuse at the hands of his teacher at a madrassa, or religious school. An AP investigation found sexual abuse is pervasive in the country's religious schools that educate some two million students
The region was rocked by U.S. President Donald Trump's recognition of Jerusalem as the capital of Israel, paving the way for the U.S. embassy to move from Tel Aviv. Angered by the move, Palestinians took to the streets and so did their supporters across the Arab world.
Yemen's raging two-year conflict has turned the country into an incubator for lethal cholera: primitive sanitation and water systems put Yemenis at risk of drinking feces-contaminated water; wells are dirtied by runoff from rainfall on piles of garbage left uncollected for weeks; farmland is irrigated with broken sewers due to lax oversight and corruption; medical intervention is delayed due to unpaid government employees and half of the country's health facilities are out of service.
Afghan livestock merchants display animals for sale prior to the upcoming Eid al-Adha holiday, at a market in Kabul, Afghanistan, Tuesday, Aug. 29, 2017. (AP Photo/Rahmat Gul)
History enthusiasts and descendants of Australian Mounted Division and ANZAC (Australian and New Zealand Mounted Division) Mounted Division soldiers ride their horses during rehearsal of the reenactment of the Battle of Beersheba when British and ANZAC forces captured Beersheba from the Ottoman Empire during the World War I, as part of the 100 years anniversary in near Beersheba, southern Israel, Monday, Oct. 30, 2017. (AP Photo/Oded Balilty)
History enthusiasts and descendants of Australian Mounted Division and ANZAC (Australian and New Zealand Mounted Division) Mounted Division soldiers ride their horses during the reenactment of the Battle of Beersheba when British and ANZAC forces captured Beersheba from the Ottoman Empire during the World War I, as part of the 100 years anniversary in near Beersheba, southern Israel, Monday, Oct. 30, 2017. (AP Photo/Oded Balilty)
A youth stands on a rock as waves crash on the Mediterranean Sea shore during cold, stormy weather in Gaza City, Tuesday, Nov. 21, 2017. (AP Photo/Adel Hana)
Men swimming during an early morning swim in the Mediterranean sea in cool temperatures of 8 degrees celsius, 46.4 Fahrenheit, across Beirut, Lebanon, Thursday, Feb. 16, 2017. (AP Photo/Hassan Ammar)
A woman holds balloons as she participates in the first Gay Pride Parade in Beersheba, Israel, Thursday, June 22, 2017. (AP Photo/Ariel Schalit)
An Ultra-Orthodox Jewish child wears U.S. President Donald Trump's mask and costume during the Purim festival in Bnei Brak, near Tel Aviv, Israel, Sunday, March 12, 2017.(AP Photo/Ariel Schalit)
Intoxicated ultra-Orthodox Jewish men celebrate the holiday of Purim in the Mea Shearim neighborhood of Jerusalem, Monday, March 13, 2017. Purim celebrates the Jews' salvation from genocide in ancient Persia, as recounted in the Scroll of Esther. (AP Photo/Oded Balilty)
People take part in the Mud Day race, a 13 kilometer obstacle course in Tel Aviv, Israel, Friday, March 24, 2017. (AP Photo/Oded Balilty)
A Sikh pilgrim takes a holy bath with his child during a religious festival in Hasan Abdal near Islamabad in Pakistan, Friday, April 14, 2017. AP Photo/B.K. Bangash)
Russian-Israeli World War II veterans gather for a street parade marking Victory Day, in Ashdod, Israel, Monday, May 8, 2017. Israeli World War II veterans from the former Soviet Union marched together with their families across the country Monday to celebrate the 72nd anniversary of the allied victory over Nazi Germany in 1945. (AP Photo/Oded Balilty)
Ibrahim poses with his animal at a cattle market ahead of Muslim Eid al-Adha holiday in Islamabad, Pakistan, Friday, Aug. 25, 2017.(AP Photo/B.K. Bangash)
Two youths are covered in mud during the annual Sea of Galilee swim, the oldest and largest popular swimming event, near Tiberias, northern Israel, Saturday, Sept. 16, 2017. Some 10,000 swimmers of all ages took part in the 64th Sea of Galilee Crossing in memory of the late Ya'acov Hassid. (AP Photo/Oded Balilty)
People are silhouetted by the sunset at the Gaza port, in Gaza City, Tuesday, Jan. 10, 2017. The beach is one of the few open public spaces in this densely populated city. (AP Photo/Hatem Moussa)
A Palestinian man reads verses of the Quran, Islam's holy book, during the month of Ramadan at Al Emari mosque in Gaza City, Monday, May 29, 2017. Muslims across the world are observing the holy fasting month of Ramadan, where they refrain from eating, drinking and smoking from dawn to dusk. (AP Photo/Hatem Moussa)
In this March 13, 2017 photo, people are seen from the window of a metro car, at El Zahraa metro station in Cairo, Egypt. Cairo's subway is perhaps the cheapest in the world, 11 cents to ride as far as you want across the overcrowded, traffic-choked Egyptian capital -- but even that feels like a burden to many Egyptians at a time of tough economic reforms. (AP Photo/Nariman El-Mofty)
A Pakistani Sailor stands guard at the mausoleum of Muhammad Ali Jinnah, founder of Pakistan during a parade to celebrate the 70th Independence Day in Karachi, Pakistan, Monday, Aug. 14, 2017. Pakistanis commemorated its independence from British colonial rule in 1947. (AP Photo/Shakil Adil)
Archaeologists work on mummies found in the New Kingdom tomb that belongs to a royal goldsmith in a burial shaft, in Luxor, Egypt, Saturday, Sept. 9, 2017. Egypt has announced the discovery in the southern city of Luxor of a pharaonic tomb belonging to a royal goldsmith who lived more than 3,500 years ago during the reign of the 18th dynasty. (AP Photo/Nariman El-Mofty)
Hezbollah supporters listen to the story of Imam Hussein during activities to mark the ninth of Ashura, a 10-day ritual commemorating the death of Imam Hussein, in a southern suburb of Beirut, Lebanon, Saturday, Sept. 30, 2017. (AP Photo/Hassan Ammar)
In this Monday, Nov. 6, 2017, photo, a journalist walks under the lights coming through of the dome at the Louvre Abu Dhabi, United Arab Emirates. The Louvre Abu Dhabi is preparing its grand opening _ unveiling its treasures to the world after a decade-long wait and questions over laborers' rights. The museum, which opens on Saturday to the public, encompasses work from both the East and West. (AP Photo/Kamran Jebreili)
Jerusalem Old City is seen trough a door with the shape of star of David, in Jerusalem, Wednesday, Dec. 6, 2017. U.S. officials say President Donald Trump will recognize Jerusalem as Israel's capital Wednesday, Dec. 6, and instruct the State Department to begin the multi-year process of moving the American embassy from Tel Aviv to the holy city. His decision could have deep repercussions across the region. (AP Photo/Oded Balilty)
Palestinians clash with Israeli troops during a protest against U.S. President Donald Trump's decision to recognize Jerusalem as the capital of Israel in the West Bank city of Bethlehem, Friday, Dec.8, 2017.(AP Photo/Nasser Shiyoukhi)
Israeli police evicts settlers from the West Bank settlement of Ofra, following the evacuation of Amona outpost, Thursday, Feb. 2, 2017. Israeli police removed the remaining Israeli protesters from the West Bank outpost of Amona, which forces are evacuating under court order. (AP Photo/Oded Balilty)
Heba Nakhleh, center is comforted by mourners during the funeral of her son Jasim Nakhleh, 17, who died of injuries sustained in clashes with Israeli forces last month, in the West Bank refugee camp of Jalazoun, at the outskirts of Ramallah, Tuesday, April 11, 2017. (AP Photo/Nasser Nasser)
Palestinian protesters burn tires and clash with Israeli troops following protests against U.S. President Donald Trump's decision to recognize Jerusalem as the capital of Israel, in the West Bank city of Ramallah, Friday, Dec. 8, 2017. (AP Photo/Nasser Nasser)
Palestinian youths watch a masked militant from the Izzedine al-Qassam Brigades, a military wing of Hamas, marching with a dog along the streets of Nusseirat refugee camp, Central Gaza Strip, Thursday, Jan. 19, 2017. Hamas armed wing has added a new dogs unit to its battalions. (AP Photo/Adel Hana)
Lucy, mother of Leanne Nasser, center, mourns during the funeral of her daughter, who was killed in a New Year's Eve attack in Istanbul, in the town of Tira, Israel, Tuesday, Jan. 3, 2017. (AP Photo/Ariel Schalit)
Iraq Mosul
Iraqi civilians fleeing walk past the destroyed al-Nuri mosque as Iraqi forces continue their advance against Islamic State militants in the Old City of Mosul, Iraq, Tuesday, July 4, 2017. (AP Photo/Felipe Dana)
A U.S.-backed Syrian Democratic Forces fighter, looks through a window as he takes his position inside a destroyed apartment on the front line, in Raqqa city, northeast Syria, Thursday, July 27, 2017. (AP Photo/Hussein Malla)
Blood stains pews inside the St. George Church after a suicide bombing, in the Nile Delta town of Tanta, Egypt, Sunday, April 9, 2017. Bombs exploded at two Coptic churches in the northern Egyptian cities of Tanta and Alexandria as worshippers were celebrating Palm Sunday, killing over 40 people and wounding scores more in assaults claimed by the Islamic State group. (AP Photo/Nariman El-Mofty)
An elderly woman and a child are pulled on a cart as civilians flee heavy fighting between Islamic State militants and Iraqi special forces in western Mosul, Iraq on Wednesday, May 10, 2017. (AP Photo/Maya Alleruzzo)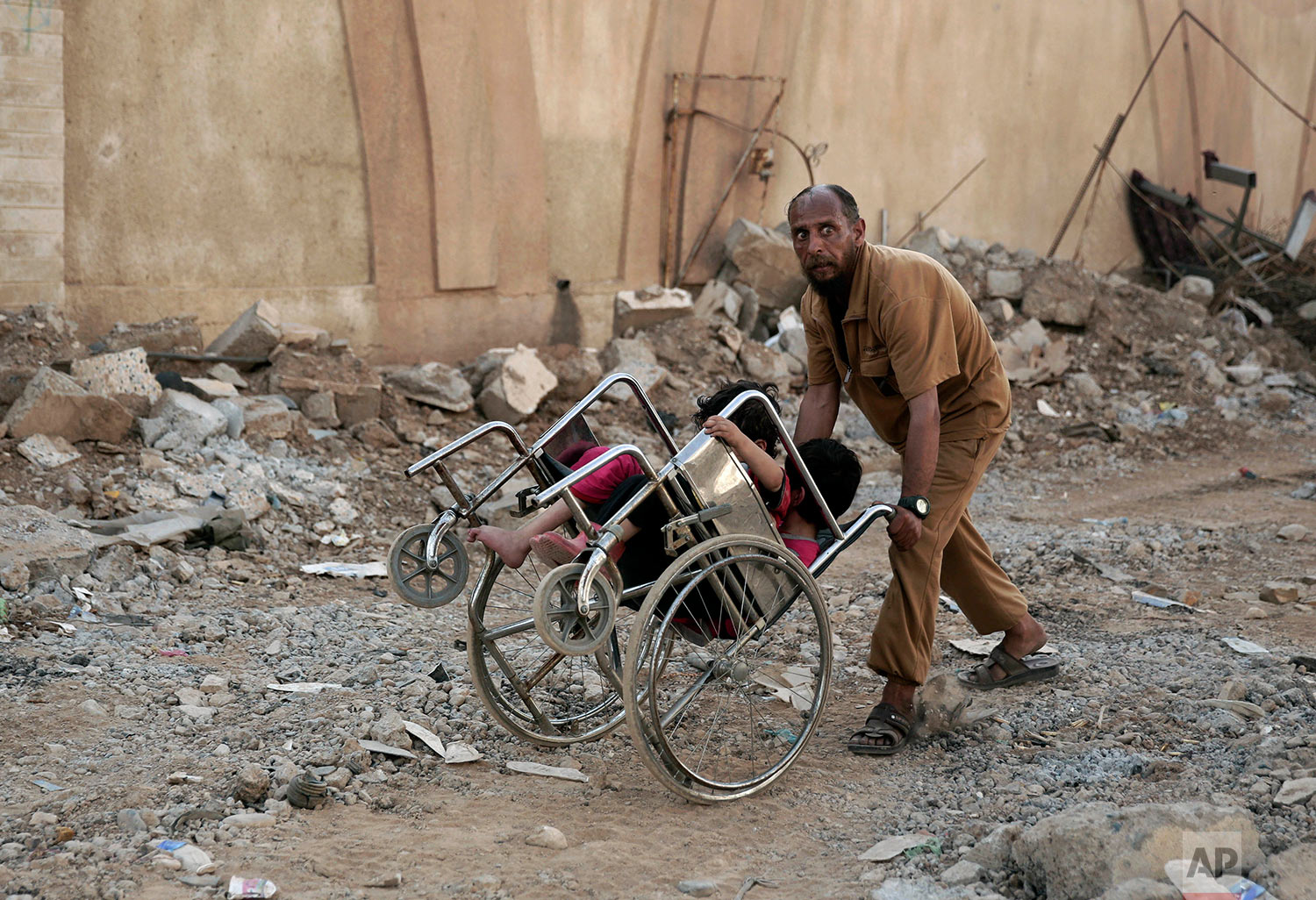 A man pushes two children in a wheelchair as they flee heavy fighting between Islamic State militants and Iraqi special forces in Mosul, Iraq, Wednesday, May 10, 2017. (AP Photo/Maya Alleruzzo)
A girl with a shaved head and her father cry as the family flees the al-Rifai neighborhood while Iraqi special forces battle Islamic State militants in western Mosul, Iraq, Wednesday, May 17, 2017.(AP Photo/Maya Alleruzzo)
A man checks the damage at the mountain resort town of Zabadani in the Damascus countryside, Syria, Thursday, May 18, 2017.(AP Photo/Hassan Ammar)
A water bottle painted with a face to represent an Islamic State fighter, left by U.S.-backed Syrian Democratic Forces fighters on a window sill, on the front line, in Raqqa city, northeast Syria, Thursday, July 27, 2017. (AP Photo/Hussein Malla)
A U.S.-backed Syrian Democratic Forces fighter runs in front of a damaged building as he crosses a street on the front line, in Raqqa city, Syria, Thursday, July 27, 2017. (AP Photo/Hussein Malla)
A blindfolded Islamic State suspect stands against a wall at a Kurdish screening center in Dibis, Tuesday, Oct. 3, 2017. Displaced people from Hawija are brought to the center where men are being separated from the women and children and are investigated for involvement in the Islamic State group. (AP Photo/Bram Janssen)
More than 100 Islamic State suspects sit inside a small room in a prison south of Mosul, Tuesday, July 18, 2017. A total of more 370 IS suspects are being held in bad conditions in the prison. (AP Photo/Bram Janssen)
A federal police officer puts his machine gun on the edge of the bath in the Hamam Alil spa, south of Mosul, Iraq, Thursday April, 27, 2017. The spa reopened several months ago after the town was liberate from the Islamic State group. Many Iraqi soldiers visit the spa, located half an hour south of Mosul, in between fighting against the Islamic State group for relaxation. (AP Photo/Bram Janssen)
In this July 11, 2017 photo, destroyed buildings are framed by the window of a damaged hotel on the west side of Mosul, Iraq. Iraq???s U.S.-backed forces succeeded in wresting Mosul from the Islamic State group but at the cost of enormous destruction. The nearly 9-month fight culminated in a crescendo of devastation _ the blasting of the historic Old City to root out the militants??? final pockets. (AP Photo/Felipe Dana)
Smoke billows over the Old City after several strikes as Iraqi forces continue their advance against Islamic State militants in Mosul, Iraq, Monday, July 3, 2017. (AP Photo/Felipe Dana)
Iraq Mosul
A boy rides his bike past destroyed cars and houses in a neighbourhood recently liberated by Iraqi security forces on the western side of Mosul, Iraq, Sunday, March 19, 2017. (AP Photo/Felipe Dana)
Iraq Mosul
An Iraqi Special Forces soldier exchanges fire with Islamic State militants in the Old City of Mosul, Iraq, Friday, June 30, 2017. (AP Photo/Felipe Dana)
A woman carries an injured young girl as Iraqi forces continue their advance against Islamic State militants in the Old City of Mosul, Iraq, Monday, July 3, 2017. (AP Photo/Felipe Dana)
Civilians trying to flee get undressed to be checked for explosives after suicide bombers exploded as Iraqi forces continue their advance against Islamic State militants in the Old City of Mosul, Iraq, Monday, July 3, 2017. (AP Photo/Felipe Dana)
Iraq Mosul
Zeid Ali, 12, left, and Hodayfa Ali, 11, comfort each other after their house was hit and collapsed during fighting between Iraqi forces and Islamic State militants in Mosul, Iraq, Saturday, June 24, 2017. The Ali cousins said some of their family members are still under the rubble. (AP Photo/Felipe Dana)
A newly recruited Shiite fighter, known as Houthi, displays his skills during a parade aimed at mobilizing more fighters into battlefronts to fight pro-government forces in several Yemeni cities, in Sanaa, Yemen, Thursday, Jan. 5, 2017. (AP Photo/Hani Mohammed)
Supporters of Shiite Houthi rebels attend a rally in Sanaa, Yemen, Tuesday, Dec. 5, 2017. The killing of Yemen's ex-President Ali Abdullah Saleh by the country's Shiite rebels on Monday, as their alliance crumbled, has thrown the nearly three-year civil war into unpredictable new chaos. (AP Photo/Hani Mohammed)
A former detainee covers his face for fear of being detained again, as he shows how he was kept in handcuffs and leg shackles while held in a secret prison at Riyan airport in the Yemeni city of Mukalla on May 11, 2017. More than two years of civil war have led to continually compounding disasters in Yemen. Fighting rages on in a deadly stalemate, the economy has been bombed into ruins, hunger is widespread, and a new misery has been added: Cholera, the world's biggest current outbreak with more than 200,000 cases. (AP Photo/Maad El Zikry, File)
A girl drinks water from a well that alleged to be contaminated water with the bacterium Vibrio cholera, on the outskirts of Sanaa, Yemen on July 12, 2017. Yemen's raging two-year conflict has served as an incubator for lethal cholera. (AP Photo/Hani Mohammed)
A Yemeni man offers prayers at the grave of his relative who were killed during Yemen's ongoing conflict, during "martyr week" marked by Shiite rebels known as Houthis, at a cemetery in Sanaa, Yemen, Saturday, Feb. 18, 2017. (AP Photo/Hani Mohammed)
An infant receives a polio vaccination during a house-to-house polio immunization campaign in Sanaa, Yemen, Tuesday, Feb. 21, 2017. (AP Photo/Hani Mohammed)
People stand on the rubble of houses at the site of a Saudi-led airstrike near Yemen's Defense Ministry complex in Sanaa, Yemen, Saturday, Nov. 11, 2017. (AP Photo/Hani Mohammed)
Pakistani acid attack victim Rukhsana Sharafuddin gets ready to attend a gathering at an NGO office to mark the International Women's Day in Karachi, Pakistan, Wednesday, March 8, 2017. (AP Photo/Shakil Adil)
Kausar Parveen comforts her child who was allegedly raped by a mullah or religious cleric, in Kehror Pakka, Pakistan on May 4, 2017. The Associated Press interviewed more than a dozen children or relatives of children who had been sexually assaulted by a maulvi or cleric at the madrassa where they studied. (AP Photo/K.M. Chaudary)
An Afghan health worker gives a vaccination to a child during a polio campaign in the old part of Kabul, Afghanistan, Tuesday, Sept. 26, 2017. (AP Photo/Rahmat Gul)
Curated by Middle East Regional Photo Editor Maya Alleruzzo
Nat Castañeda
Visual artist and Digital Storyteller at The Associated Press