The Year in Photos: Latin America and the Caribbean
In this photo gallery, The Associated Press highlights some of the top images made during 2017 by photojournalists based in Latin America and the Caribbean.
Across the region, severe weather and natural disasters had fatal consequences. Mexico was struck by two deadly earthquakes and a string of hurricanes battered the Caribbean. Wildfires caused historic devastation in Chile and flash flooding surprised residents in Peru's desert capital, Lima.
Violence surged again in Mexico, with the resort city of Acapulco hit particularly hard. Brazilian police lost control of more of Rio de Janeiro's slums to gangs. Political unrest in Venezuela killed 369 people. A fire at an overcrowded children's home killed 40 girls in Guatemala, while domestic violence left scars on survivors across Argentina.
Despite all the bad news, the region's peoples found solace in their traditions and community. Peruvians dolled up in fantastical costumes for the Snow Star festival. Mexican indigenous in Chiapas worked to launch their first presidential candidate: a woman known as "MariChuy." And Pope Francis visited Colombia where the rebels of the Revolutionary Armed Forces of Colombia laid down their arms under the peace deal signed with the government.
In the world of sports, female boxers worked to pave the way to Cuba's first women's boxing team, and cowboys were bucked off horses in Uruguay. Latin America soccer darling Leonel Messi tied the knot in his native Argentina.
NEWS
A couple walks through a neighborhood destroyed by wildfires in Chile's Santa Olga community, Thursday, Jan. 26, 2017. The town was consumed by the country's worst wildfires, engulfing the post office, a kindergarten and hundreds of homes. (AP Photo/Esteban Felix)
A military police officer conducts a head count of inmates at the Alcacuz prison in Nisia Floresta, Brazil, Tuesday, Jan. 24, 2017. Military police entered the prison in northeastern Brazil where a temporary wall separating two rival gangs was being built, after a week of chaos and fighting between rival gangs that left dozens of inmates dead. (AP Photo/Felipe Dana)
Lourdes Vasquez, who is disabled, casts her vote two days before general elections, from her bed in Quito, Ecuador, Friday, Feb. 17, 2017. Ecuadoreans elected a new president, vice-president and National Assembly alongside a referendum on tax havens. (AP Photo/Dolores Ochoa)
A woman who's child died in a fire is held by her sister outside the children's shelter in San Jose Pinula, Guatemala, Wednesday, March 8, 2017 photo. The fire that killed 40 girls at the Virgen de la Asunción Safe Home started when ringleaders took a match to a foam mattress to protest the abuse they had suffered there. (AP Photo/Luis Soto)
Charred-stained dolls placed on a bed of charcoal are part of artists' installation placed at the front gate of presidential house in remembrance of the victims of a fire at a girls' home in Guatemala City, Thursday, March 9, 2017. About 700 children lived in the Virgen de la Asunción Safe Home with a maximum capacity for 500. Some dormitories housed more than twice the number of children authorized for the space. (AP Photo/Luis Soto)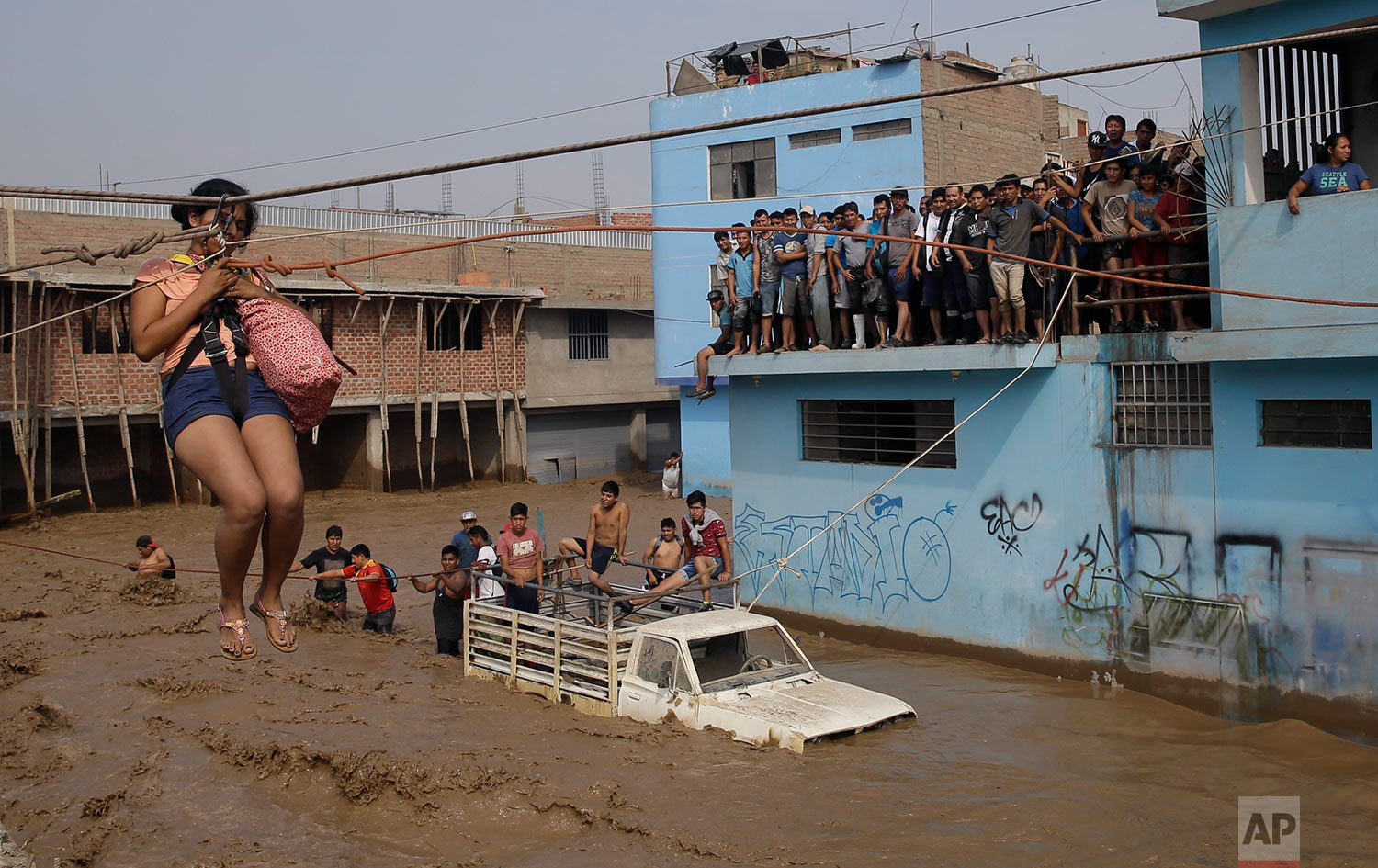 A woman is pulled to safety in a zipline harness in Lima, Peru, Friday, March 17, 2017. Intense rains and mudslides over three days wrought havoc around the Andean nation and caught residents in Lima, a desert city of 10 million where it almost never rains, by surprise. (AP Photo/Martin Mejia)
Inmates climb to the roof as a fire breaks out during a riot at the youth and men's reformatory Centro Correccional Etapa II in San Jose Pinula, Guatemala, Sunday, March 19, 2017. At least one man died, a jail monitor, during the riot, according the police spokesman Pablo Castillo. (AP Photo/Oliver de Ros)
Women cry over the coffin of a relative who died in an avalanche during heavy rains, during a mass burial in Mocoa, Colombia, Monday, April 3, 2017. Rivers sent an avalanche of floodwaters, mud and debris through the small city, killing more than 260 people and leaving many more injured and homeless. (AP Photo/Fernando Vergara)
A presidential guard walks past a window that allows a view into the Planalto presidential palace's main lounge, decorated with an image of a Brazilian national flag, in Brasilia, Brazil, Thursday, April 13, 2017. (AP Photo/Eraldo Peres)
An anti-government protester holds a Bible under the watch of riot police during a march in Caracas, Venezuela, Thursday, April 20, 2017. Tens of thousands of protesters asking for the resignation of President Nicolas Maduro flooded the streets the day after three were killed and hundreds arrested in the biggest anti-government demonstrations in years. (AP Photo/Fernando Llano)
Children run off with boxes they filled with merchandise salvaged from a cargo truck allegedly set on fire by drug traffickers in Rio de Janeiro, Brazil, Tuesday, May 2, 2017. Several public buses and cargo trucks were torched in what military police said was likely gang retaliation for a large anti-drug operation. (AP Photo/Silvia Izquierdo)
Anti-government protesters work together to aim a giant slingshot holding a glass bottle of fecal matter, at security forces blocking their march from reaching the Supreme Court in Caracas, Venezuela, Wednesday, May 10, 2017. Protests triggered after the Supreme Court stripped the opposition-controlled congress of its last powers swelled into a general airing of grievances against President Nicolas Maduro's government over high crime, sky-high inflation and shortages of food and medicine. (AP Photo/Ariana Cubillos)
Engulfed in a cloud of tear gas, an anti-government protester protects himself from a jet of water with a shield bearing the Spanish word for "Freedom" during clashes with security forces in Caracas, Venezuela, Wednesday, May 10, 2017. Venezuelan state security forces systematically abused opposition protesters detained during months of deadly political unrest earlier this year, Human Rights Watch charged. (AP Photo/Ariana Cubillos, File)
A protester takes cover from police using this makeshift shield adorned with a rosary, a religious image and Spanish message written above: "This fight is for you Venezuela" during a march to the Ombudsman's Office to protest President Nicolas Maduro in Caracas, Venezuela, Monday, May 29, 2017. According to Human Rights Watch, some of the more than 5,000 people detained were beaten, sexually assaulted or given electrical shocks in what the New York-based rights group describes in a report as a level of repression "unseen in Venezuela in recent memory." (AP Photo/Fernando Llano)
Opposition lawmakers brawl with pro-government militias trying to force their way into the National Assembly during a special session coinciding with Venezuela's independence day, in Caracas, Wednesday, July 5, 2017. At least five lawmakers were injured in the attack which came after the election of a pro-government constitutional assembly now ruling with virtually unlimited powers. (AP Photos/Fernando Llano)
Bolivarian National Guards fire rubber bullets as they charge anti-government demonstrators in Caracas, Venezuela, Friday, July 28, 2017, two days before the vote to begin the rewriting of Venezuela's constitution. President Nicolas Maduro said the new constitutional assembly's first task in rewriting the constitution would be "a total transformation" of the office of Venezuela's chief prosecutor, a former government loyalist who split from the president. (AP Photo/Ariana Cubillos)
Federal police investigators take notes by the body of a man shot in broad daylight on a central avenue in Acapulco, Mexico, Sunday, Aug. 13, 2017. At least four people were shot in this Pacific coast city Sunday, after Mexico had recently recorded its highest monthly murder total in at least 20 years. (AP Photo/Bernandino Hernandez)
An altar to the Virgin of Guadalupe is covered with fallen debris inside the earth-damaged home where Larissa Garcia, 24, lived with her family in Juchitan, Oaxaca state, Mexico, Saturday, Sept. 9, 2017. The family was caught under rubble when the house partially collapsed, leaving Garcia with a broken arm and her father with a head injury. Her mother, who had to be pulled out from underneath a foot-thick section of wall which collapsed on her back, remained in a wheelchair and unable to walk. (AP Photo/Rebecca Blackwell)
Relatives of 38-year-old earthquake victim, police officer Juan Jimenez Regalado, weep during his funeral in Juchitan, Oaxaca state, Mexico, Sunday, Sept. 10, 2017. An massive 8.1 earthquake struck the center of the Zapotec culture, killing at least 96 people in Chiapas and neighboring Oaxaca. (AP Photo/Felix Marquez)
Pope Francis' greets people in the San Francisco neighborhood of Cartagena, Colombia, Sunday, Sept. 10, 2017. The Argentine pontiff is in the port city to honor St. Peter Claver, a 17th-century Jesuit who ministered to the tens of thousands of African slaves who arrived to be sold. (AP Photo/Andrew Medichini)
A man walks through a door in a building that collapsed during a 7.1 magnitude earthquake in the Condesa neighborhood of Mexico City, Tuesday, Sept. 19, 2017. (AP Photo/Marco Ugarte)
Rescue workers carry a body recovered from a building felled by a 7.1 magnitude earthquake in the Ciudad Jardin neighborhood of Mexico City, Thursday, Sept. 21, 2017, two days after the quake. Thousands worked frantically at dozens of wrecked buildings across the capital and nearby states looking for survivors of the powerful quake that killed 369 people. (AP Photo/Moises Castillo)
A woman presses herself against the wall as soldiers patrol an alley in Rocinha slum in Rio de Janeiro, Brazil, Friday, Sept. 22, 2017. Shootouts erupted in several areas of Rio de Janeiro on Friday, prompting Brazilian authorities to shut roads, close schools and ask for the army to intervene. (AP Photo/Leo Correa)
Residents from Juana Matos look for groceries at Catano Mini Market in the middle of a supply shortage caused by the passage of Hurricane Maria in Catano, Puerto Rico, Wednesday, Sept. 27, 2017. Since the devastating impact of the hurricane, the supply of goods has been interrupted in the US territory, causing endless lines in gas stations and comercial centers. (AP Photo/Carlos Giusti)
Police lift the coffin of fellow officer Luis Angel Gonzalez Lorenzo, who was killed while trying to cross a river in his car during the passage of Hurricane Maria, as they bury him in Aguada, Puerto Rico, Friday, Sept. 29, 2017. The Category 4 storm destroyed tens of thousands of homes and killed at least 55 people across the U.S. territory. (AP Photo/Ramon Espinosa)
Juana Sortre Vazquez sits on her soaked couch in what remains of her home, destroyed by Hurricane Maria in the San Lorenza neighborhood of Morovis, Puerto Rico, Saturday, Sept. 30, 2017. "The night of the hurricane I spent the night at a niece's house. I did not come back for the next nine days because the roads where out. When I made it home I saw that is was all gone. This is a disaster," reflected Vazquez. (AP Photo/Ramon Espinosa)
A member of the Puerto Rican National Guard delivers food and water brought via helicopter to victims of Hurricane Maria, to the San Lorenzo neighborhood of Morovis, Puerto Rico, Saturday, Oct. 7, 2017. Puerto Rico could face more than a decade of further economic stagnation and a steep drop in population as a result of Hurricane Maria, experts say. (AP Photo/Ramon Espinosa)
Rodrigo Diaz Mejia climbs over a crushed car into what was a second-story apartment at 517 Tokio street, felled by the earthquake almost one month prior in the Portales Norte neighborhood of Mexico City, Wednesday, Oct. 18, 2017. The 38-year-old mechanic who lives nearby said he ran to help rescue people trapped atop the buildings roofs on the day of the quake, Sept. 19, and has since been making risky trips into the ruptured structures to retrieve valuable possessions for displaced residents. (AP Photo/Rebecca Blackwell)
Images of Cuba's late leader Fidel Castro are projected on a screen during a vigil to commemorate the first anniversary of his death at the University of Havana, Cuba, Saturday, Nov. 25, 2017. Fidel Castro came to power through a 1959 revolution that overthrew Cuban dictator Fulgencio Batista. (AP Photo/Ramon Espinosa)
Presidential candidate Salvador Nasralla looks at his watch as his wife Iroshka Elvir wipes sweat from his brow during a press conference in Tegucigalpa, Honduras, Wednesday, Nov. 29, 2017. The opposition candidate said he will not recognize an official vote count by the country's electoral court and alleged manipulation of the Nov. 26 election. (AP Photo/Rodrigo Abd)
A woman dressed for la "La Diablada" festival walks down a road in Pillaro, Ecuador, Friday, Jan. 6, 2017. Local legend holds that anyone who adopts a costume for the celebration and wears it at the event six years in a row will have good luck. (AP Photo/Dolores Ochoa)
Judeley Hans Debel squats down to remove a boot from Tic Tac, holding out his prosthetic leg after his therapeutic riding lesson at the Chateaublond Equestrian Center in Petion-Ville, Haiti, Saturday, Jan. 7, 2017. Anne-Rose Schoen, who founded the equestrian center, said perhaps the most important thing about therapeutic riding is it makes youngsters happy in a country where disabled people face enormous challenges. (AP Photo/Dieu Nalio Chery)
Residents watch the forest burn in Portezuelo, Chile, Sunday, Jan. 29, 2017. The fires were one of the country's biggest natural disasters in decades, according to a government report. (AP Photo/Esteban Felix)
A girl holds a bowl of hot food as the Avila family has lunch inside their home in Coata, a small village on the shore of Lake Titicaca in the Puno region of Peru, Saturday, Feb. 4, 2017. Lake Titicaca was once worshipped by Incas who proclaimed its deep blue waters the birthplace of the sun, but today high levels of mercury, cadmium, zinc and copper are found in the fish locals consume, according to a 2014 government study. (AP Photo/Rodrigo Abd)
Melinda Quispe walks on the trash strewn shore of Lake Titicaca, holding her dog in her village Kapi Cruz Grande in Peru's Puno region, Saturday, Feb. 4, 2017. The governments of Peru and Bolivia signed a pact in January to spend more than $500 million to attack the pollution problem of Lake Titicaca, though the details were vague. (AP Photo/Rodrigo Abd)
Inmates sit inside an overcrowded cell in a police station near Manaus, Brazil, Monday, Feb. 6, 2017. The beginning of the chain that feeds Brazilian gangs are improvised cells at police stations, where 10 percent of Brazil's more than 600,000 inmates await trial. (AP Photo/Felipe Dana)
Belen Torres poses for a portrait in Buenos Aires, Argentina, Wednesday, Feb. 8, 2017. Torres was beaten by her boss, just a few days after starting her first job in the capital doing administrative paperwork for an anesthesiologist, to help her family pay the bills. The doctor asked her to get high and tried to have sex with her. After he beat her, she was able to escape and run outside, where an unknown man called 911. (AP Photo/Natacha Pisarenko)
Costumed patients from the Nise da Silveira Mental Health Institute wait for the start of their Carnival parade, coined in Portuguese: "Loucura Suburbana," or Suburban Madness, in the streets of Rio de Janeiro, Brazil, Thursday, Feb. 23, 2017. Patients, their relatives and institute workers held their parade one day before the official start of Carnival. (AP Photo/Silvia Izquierdo)
A guest wearing a mask attends a traditional Carnival ball at the Copacabana Palace hotel in Rio de Janeiro, Brazil, Saturday, Feb. 25, 2017. In stark contrast to the hundreds of hard-charging street parties across Rio that are open to anyone, the "Baile do Copa" bills itself as a fairytale event where the country's elite can see and be seen in a hotel known for both opulence and a lengthy tradition of welcoming world leaders and stars. (AP Photo/Leo Correa)
A man dressed as a "devil" performs near the San Felipe church during the Congos and Devils festival in Portobelo, Panama, Saturday, March 18, 2017. The Portobelo festival, a blend of Catholic and African beliefs, was established in 1999 by the community to preserve their culture in honor of their ancestors, who were escaped former slaves from the Congo known as "Cimarrons." (AP Photo/Arnulfo Franco)
People stand in a bus waiting to go home after their work day at a "maquiladora" for car accessories in Matamoros, Tamaulipas state, Mexico, across the border from Brownsville, Texas, Tuesday, March 21, 2017. (AP Photo/Rodrigo Abd)
Zoologist Marta Llanes caresses baby chimpanzee Anuma II, left, while Ada hangs on to her leg, at Llanes' apartment in Havana, Cuba, Tuesday, April 4, 2017. Llanes has forgiven them every transgression. It's hard to stay angry at a baby chimpanzee when it clambers up your leg and into your arms and plants a kiss on your cheek in a plea for forgiveness. (AP Photo/Ramon Espinosa)
Tourists ride a cable car in the form a of a Chiva, a bus used to serve rural routes, in Pitalito, Colombia, Tuesday, April 5, 2017. The ride called "La Chiva Voladora" costs about $0.70 and you zip along about 800 meters from one side of a hill to another. (AP Photo/Fernando Vergara)
Batel Delciner, 23, removes wood from a furnace to lower the heat that cooks sugar juice at the Ti Jean distillery, which produces clairin, a sugar-based alcoholic drink, in Leogane, Haiti, Friday, June 16, 2017. The broth is cooked for about four hours after a fermentation period of four to eight days. (AP Photo/Dieu Nalio Chery)
This combo shows portraits of people dressed in costume for the Qoyllur Rit'i festival, translated from the Quechua language as Snow Star, in Sinakara Valley, Peru's Cusco region, Monday, June 12, 2017. At left, Alexio Marveli is dressed as the mystical character, "El Auqui," a wise old man and protector. At center, Ivan Flores represents "La Emilia," a man dressed as a woman in order to carry kindling hidden under his skirt while dancing. At right, Jefferson Valdivia of the Quispicanchis nation is dressed as the protagonist of a dance called "Mal Genio," or "Bad-tempered" that lampoons women who do not care for housework. (AP Photo/Rodrigo Abd)
Giraffes named Shaki, left, Ciro, center, and Buddy, look out from their enclosure at a former city zoo known as Eco Parque in Buenos Aires, Argentina, Sunday, July 2, 2016. A year after the 140-year-old Buenos Aires zoo closed its doors and was transformed into a park, hundreds of animals remain behind bars and in a noisy limbo. (AP Photo/Natacha Pisarenko)
Chile's President Michelle Bachelet throws a flower into the river during a visit to Memory Park which honors the victims of the country's dictatorship in Buenos Aires, Argentina, Thursday, July 20, 2017. Argentina's so-called "dirty war" during the 1976-1983 military dictatorship still haunts Argentines four decades after the end of state-sponsored violence against leftists. (AP Photo/Natacha Pisarenko)
A man rides a bull during a running of the bulls event coined "Pamplonada Pillarense" in Pillaro, Ecuador, Saturday, Aug. 5, 2017. The small Andean city sets loose about 40 bulls during the town's annual fair. (AP Photo/Dolores Ochoa)
A group of friends fill the viewfinder of Luis Maldonado's old wooden old box camera, during a fair marking Independence Day in Santiago, Chile, Sept. 4, 2016. The image making process lasts about 20 minutes, resulting in a vintage-looking image. (AP Photo/Esteban Felix)
Children slide on a puddle near trash as they play in a squatter building that used to house the Brazilian Institute of Geography and Statistics (IBGE) in the Mangueira slum of Rio de Janeiro, Brazil, Sunday, Sept. 10, 2017. Toddlers roam in the abandoned building where mounds of trash create pockets of stench. (AP Photo/Felipe Dana)
Jayanne Pessanha, right, smokes a cigarette while playing cards with her neighbors in the former IBGE building in Mangueira favela, Rio de Janeiro, Brazil, Saturday, Sept. 16, 2017. The deepest recession in Brazil's history and cuts to the subsidy programs is raising the specter that this continent-sized nation has lost its way in addressing wide inequalities that go back to colonial times. (AP Photo/Felipe Dana)
People who lost access to water in the wake of Hurricane Maria gather at pipes carrying water from a mountain creek, on the side of the road in Utuado, Puerto Rico, Saturday, Oct. 14, 2017. Nearly 10 percent of people were still without water almost two months after the storm. (AP Photo/Ramon Espinosa)
Members of the Zapatista National Liberation Army (EZLN) provide security for a campaign rally by presidential candidate for the National Indigenous Congress, Maria de Jesus Patricio, in the Zapatista stronghold of La Garrucha in the southern state of Chiapas, Mexico, Monday, Oct. 16, 2017. The mural features Mexican revolutionary leader Emiliano Zapata. (AP Photo/Eduardo Verdugo)
A person dressed in a diabolical clown costume looks in the mirror at the start of the Zombie Walk in La Paz, Bolivia, Saturday, Oct. 28, 2017. The annual walk is a Halloween charity event to collect money to feed street animals, according to organizers. (AP Photo/Juan Karita)
A moto-taxi driver transports a La Saline slaughterhouse customer and his newly acquired goats, in Port-au-Prince, Haiti, Thursday, Nov. 9, 2017. La Saline slaughterhouse is an essential part of the economy of the Haitian capital, supplying meat to restaurants, street vendors and stores. (AP Photo/Dieu Nalio Chery)
Crosses depicting people murdered for defending the forest stand on a large map of the Amazon, during a protest against the illegal timber trade, in front of the Brazilian National Congress building, in Brasilia, Brazil, Tuesday, Nov. 21, 2017. Greenpeace Brazil released the report "Blood-Stained Timber - Rural Violence and the Theft of Amazon Timber," alerting that the U.S., Germany, France, Netherlands, Denmark, Italy, Belgium and Japan imported timber from a Brazilian sawmill linked to a massacre in a remote area of Mato Grosso State, in Colniza, that took place last April 19. (AP Photo/Eraldo Peres)
Men and boys joke around as they take a break from collecting plastic and cardboard to resell, at "El Crematorio" or The Crematory, the biggest dump on the outskirts of Tegucigalpa, Honduras, Friday, Nov. 24, 2017. (AP Photo/Rodrigo Abd)
People carry coffins with the remains of civil war victims, to place in niche graves in Santa Avelina, Guatemala, Thursday, Nov. 30, 2017. After seven years of work by forensic anthropologists, including DNA tests to locate relatives, the remains of 172 indigenous Ixil Mayans killed during the civil war between 1978 and 1982 were buried in their community in the western mountains of Guatemala. (AP Photo/Luis Soto)
A samba band member turns a broom, beer can and rubber band into a selfie stick at the Oswaldo Cruz neighborhood, marking Samba Day in Rio de Janeiro, Brazil, Saturday, Dec. 2, 2017. The Samba Train is made up of several normal commuter metro trains filled with Samba musicians to transport revelers to the Oswaldo Cruz neighborhood for music shows, all in commemoration of National Samba Day. (AP Photo/Leo Correa)
Suzuki car driver Tim Coronel, of the Netherlands, is covered in dirt after completing the second stage of the Dakar Rally between Resistencia and San Miguel de Tucuman, Argentina, Tuesday, Jan. 3, 2017. The race started in Paraguay and passed through Bolivia as well. (AP Photo/Martin Mejia)
In this Jan. 30, 2017 photo, boxers Idamerys Moreno, left, and Legnis Cala, train during a photo session on Havana's sea wall in Cuba. Moreno and Cala are part of a group of up-and-coming female boxers on the island who want government support to form Cuba's first female boxing team and help dispel a decades-old belief once summed up by a former top coach: "Cuban women are meant to show the beauty of their face, not receive punches." (AP Photo/Ramon Espinosa)
American pro wrestler Sam Polinsky, a.k.a. Sam Adonis, takes the ring at Arena Mexico waving a U.S. flag emblazoned with a photo of U.S. President Donald Trump, in Mexico City, Sunday, Feb. 12, 2017. He's the guy Mexicans love to hate: The wrestler has become a sensation in Mexico City by adopting the ring persona of a flamboyant Trump supporter. (AP Photo/Eduardo Verdugo)
"Mike" dressed in a boxer costume takes part in the "Blocao" dog carnival parade in Rio de Janeiro, Brazil, Saturday, Feb. 25, 2017. Carnival went to the dogs as pet owners took to the streets for their own party, with their four-legged friends in ornate costumes. (AP Photo/Silvia Izquierdo)
Brazil's Neymar celebrates scoring against Paraguay at a 2018 World Cup qualifying soccer match in Sao Paulo, Brazil, Tuesday, March 28, 2017. (AP Photo/Andre Penner)
A gaucho is thrown off a wild horse during the Criolla del Prado rodeo in Montevideo, Uruguay, Wednesday, April 12, 2017. During holy week the city of Montevideo organizes the rodeo to reward the best horse riders. (AP Photo/Matilde Campodonico)
Marcos Rocha, top, of Brazil's Atletico Mineiro, fights for the ball with Santiago Salcedo, of Paraguay's Libertad, during a Copa Libertadores soccer match in Asuncion, Paraguay, Wednesday, April 19, 2017. (AP Photo/Jorge Saenz)
A crowd watches drivers Ott Tanak and Jarveoja Martin, from Estonia, race their Ford Fiesta WRC during the FIA World Rally Championship in El Condor, Cordoba, Argentina, Sunday, April 30, 2017. (AP Photo/Nicolas Aguilera)
Cassio, goalkeeper of Brazil's Corinthians, left, fights for the ball with Leandro Benegas, of Universidad de Chile during a Copa Sudamericana soccer match in Santiago, Chile, Wednesday, May 10, 2017. (AP Photo/Luis Hidalgo)
U.S.' Eric Spicely, top, fights Brazil's Antonio Carlos Junior during their UFC middleweight mixed martial arts bout in Rio de Janeiro, Brazil, Saturday, June 3, 2017. (AP Photo/Leo Correa)
Honduras' Alberth Elis celebrates after scoring against Panama during a 2018 Russia World Cup qualifying soccer match at Rommel Fernandez Stadium in Panama City, Tuesday, June 13, 2017. The game ended in a 2-2 tie. (AP Photo/Arnulfo Franco)
Newlywed Lionel Messi flashes a thumbs up as he and his bride Antonella Roccuzzo walk on a red carpet to pose for photographers after tying the knot in a civil ceremony in Rosario, Argentina, Friday, June 30, 2017. Guests including teammates and former teammates of the Barcelona star attended the highly anticipated ceremony. (AP Photo/Victor R. Caivano)
Bodybuilder Spely Laventure trains for an upcoming competition between Haiti and Dominican Republic in Port-au-Prince, Haiti, Thursday, July 20, 2017. Laventure could not find a coach when he began training, so he studied YouTube videos and followed bodybuilders on Instagram to learn about the sport and imitate workouts. (AP Photo/Dieu Nalio Chery)
South Africa's Andries Coetzee is tackled by Argentina's Los Pumas Joaquin Tuculet during a Rugby Championship match in Salta, Argentina, Saturday, Aug. 26, 2017.(AP Photo/Natacha Pisarenko)
British driver Lewis Hamilton celebrates wining his fourth Formula One championship with a member of his team after the Mexican Formula One Grand Prix auto race at the Hermanos Rodriguez racetrack in Mexico City, Sunday, Oct. 29, 2017. (AP Photo/Moises Castillo)
Peru's players celebrate after a play-off qualifying match for the 2018 Russian World Cup against New Zealand in Lima, Peru, Wednesday, Nov. 15, 2017. Peru beat New Zealand 2-0 to win a two-leg playoff and earn the 32nd and last spot in the World Cup field in Russia. (AP Photo/Rodrigo Abd)
Brazil's Gremio soccer players carry their coach Renato Gaucho after winning the Copa Libertadores championship following their game against Argentina's Lanus in Buenos Aires, Argentina, Wednesday, Nov. 29, 2017. (AP Photo/Esteban Felix)
Ernesto Benavides rides a wave in the waters of La Pampilla beach in Lima, Peru, April 26, 2017. As most Lima residents prepare to sleep, a handful of hardcore surfers descend on the only beach in Peru where they can ride the waves at night. (AP Photo/Rodrigo Abd)
Curated by photo editors Enric Marti, Leslie Mazoch, Anita Baca, and Dario Lopez-Mills in Mexico City.
Nat Castañeda
Visual artist and Digital Storyteller at The Associated Press