This Week in History
From iconic moments to lesser known captures, This Week in History is a look at pictures from The Associated Press archive taken during the week of October 1 - 7.
In this week's edit, a delighted Franklin D. Roosevelt meets his party's mascot in 1932, and a symbolic scene unfolds in a Texas drugstore diner between two soldiers in 1963. Next, two little French girls head to their first day of school in 1948, and dancers take to the stage to perform 'A Dance Tribute to Michael Jordan' in 1989.
Roosevelt Mascot | October 1, 1932
Governor Franklin D. Roosevelt shaking hands with a synthetic symbol of his party - the donkey - as he sits beside Mayor Anton J. Cermak of Chicago on Oct. 1, 1932 in Chicago in the Union Station. Gov. Roosevelt arrived from Milwaukee for a two-day visit in Chicago. (AP Photo)
Kennedy Brothers | October 1, 1962
U.S. President John F. Kennedy, right, confers with his brother Attorney General Robert F. Kennedy at the White House in Washington, D.C., on Oct. 1, 1962 during the buildup of military tensions between the U.S. and the Soviet Union that became Cuban missile crisis later that month. (AP Photo)
Civil Rights | October 1, 1963
A black soldier and his white companion are served in a San Antonio, Texas, drugstore, a scene symbolic of the integration that is the rule in the southern city, Oct. 1, 1963. Because of this integration, city officials say, recent rulings by the military that would put communities practicing blatant segregation off limits will have little meaning in San Antonio. (AP Photo)
Revolutionary Youth | October 2, 1966
Revolutionary youths give their pledge to Chairman Mao, Oct. 2, 1966. (AP Photo)
Smith World Series | October 2, 1959
Chicago White Sox outfielder Al Smith is drenched as a fan tips a cup of beer from the wall ledge while trying to catch Charlie Neal's homer in the stands in fifth inning action of World Series game at Comiskey Park in Chicago, Ill., Oct. 2, 1959. The Los Angeles Dodgers won game two of the series. (AP Photo/Charles Knoblauch)
Syrian Flags | October 2, 1961
Youths fly old Syrian flags from building in Damascus, Syria, Oct. 2, 1961. The Syrian banner which had been replaced by United Arab Republic emblem was restored following the Syrian revolt and establishment of new Syrian government. (AP Photo)
Metal Drive NYC | October 2, 1942
On one of the parking spaces of the old World's Fair grounds in Flushing Meadows, Queens, New York, Oct. 2, 1942, rises a mountain of scrap metal, donated to the war effort by residents of Queens Borough to start a city-wide drive in al boroughs, by rotation. The huge collection above is only the overflow from four other depots. A total of 5,530 tons had been collected by mid-afternoon. (AP Photo)
L.A. Skateboarding | October 2, 1975
Skateboard enthusiasts stage an impromptu race down a suburban sidewalk in Los Angeles, Ca., on Oct. 2, 1975. (AP Photo)
Desert Shield | October 2, 1990
A group of Marine Humvees tear across the Saudi desert under a setting sun on Monday, Oct. 2, 1990 in Saudi Arabia. The Marines are deployed in forward positions as part of Operation Desert Shield. (AP Photo/John Gaps III)
Brooks at Opry | October 2, 1991
Country music singer Garth Brooks tips his hat to the audience at the Grand Ole Opry in Nashville, Oct. 2, 1991, after winning his first award for single of the year during the 25th anniversary of the Country Music Association Awards. Brooks also won the album of the year award. (AP Photo/Mark Humphrey)
Bombs in Desert | October 3, 1942
Five incendiary bombs, jettisoned from a German raider, stick out of the desert sand near a cross that marks the grave of two unknown enemy airmen. The bombs were part of a load carried by a Nazi raider over the North African battle zone. The men were members of its crew. The plane was shot down by an RAF fighter shown Oct. 3, 1942. (AP Photo)
Miracle on Grass | October 3, 1951
French forward Rene Alpster beats English defender Alf Ramsey, centre, and goalkeeper Bert Williams to score France's second goal in the during an international soccer match at Highbury Stadium in London, Oct. 3, 1951. (AP Photo)
Hurricane in Larose | October 3, 1964
A hurricane-spawned tornado cut a death-dealing path through Larose, La., on Saturday, Oct. 3, 1964. Officials said 20 persons were killed. A body, draped by a blanket, awaits an ambulance. (AP Photo)
Back to School Paris | October 4, 1948
Two little French girls dangle their briefcases as they near their school on opening day in Paris, France, Oct. 4, 1948. Schools all over France re-opened later than most schools in the United States. (AP Photo)
Jordan Dance | October 4, 1989
Dancer Amar, center, and members of the Gus Giordano Jazz Dance Chicago troop perform 'A Dance Tribute to Michael Jordan' during their show in Chicago on Tuesday, Oct. 4, 1989. Giordano created the jazz dance tribute to honor Jordan through dance. (AP Photo/John Swart)
Guerrilla Girls | October 5, 1989
The Guerrilla Girls, feminist activist artists, pose in New York, Oct. 5, 1989 where they say they want to combat what they deem sexist in the art world. (AP Photo)
Madrid March | October 6, 1936
A view of one of the daily Communist demonstrations in Madrid, on Oct. 6, 1936. A section of the procession of the Communist youth with their red star and hammer and sickle on their jerseys. (AP Photo)
Sadat Assassination | October 6, 1981
Egyptian President Anwar Sadat, right, and Vice President Hosni Mubarak are seen on the reviewing stand during the Oct. 6, 1981 military parade. Shortly after this photo was made, soldiers opened fire from a truck during the parade at the reviewing stand, killing Sadat and injuring Mubarak. (AP Photo/Bill Foley)
Pittsburgh Smog | October 6, 1943
Pittsburgh's infamous smog, a mixture of smoke and fog, makes the downtown section building stand out as like ghost as the sun tries to break through at 5:10 in the afternoon, Oct. 6, 1943. The smog caused a natural blackout in the downtown section all day. (AP Photo/Walter Stein)
Reynold's Shave | October 7, 1978
Burt Reynolds, who recently shaved off his moustache of 11 years on Johnny Carson's "Tonight Show," gets a laugh when four guides at the Movieland Wax Museum in Buena Park showed up with these fake ones, Oct. 7, 1978. The guides handled the crowds as Burt Reynolds appeared at the unveiling of his wax statue depecting him in his role in the movie "Deliverance." Others are unidentified. (AP Photo/Nick Ut)
Corvette in Paris | October 7, 1965
At the Paris Auto Show opening, this Chevrolet experimental prototype attracts visitors, Oct. 7, 1965 in Paris. The body is made of glass fiber. (AP Photo/Michel Lipchitz)
California Recall | October 7, 2003
In this photo taken Oct. 7, 2003, Republican Arnold Schwarzenegger is joined by wife Maria Shriver as he celebrates his win in the California gubernatorial recall election. (AP Photo/Stephan Savoia)
Protests in Bonn | October 7, 1961
Conscientious objectors carry posters as they demonstrate in downtown Bonn against soviet a-bomb tests on Oct. 7, 1961. The posters read in German "atom tests are murder" or "better active, today than radioactive tomorrow." (AP Photo/Sanden Jr.)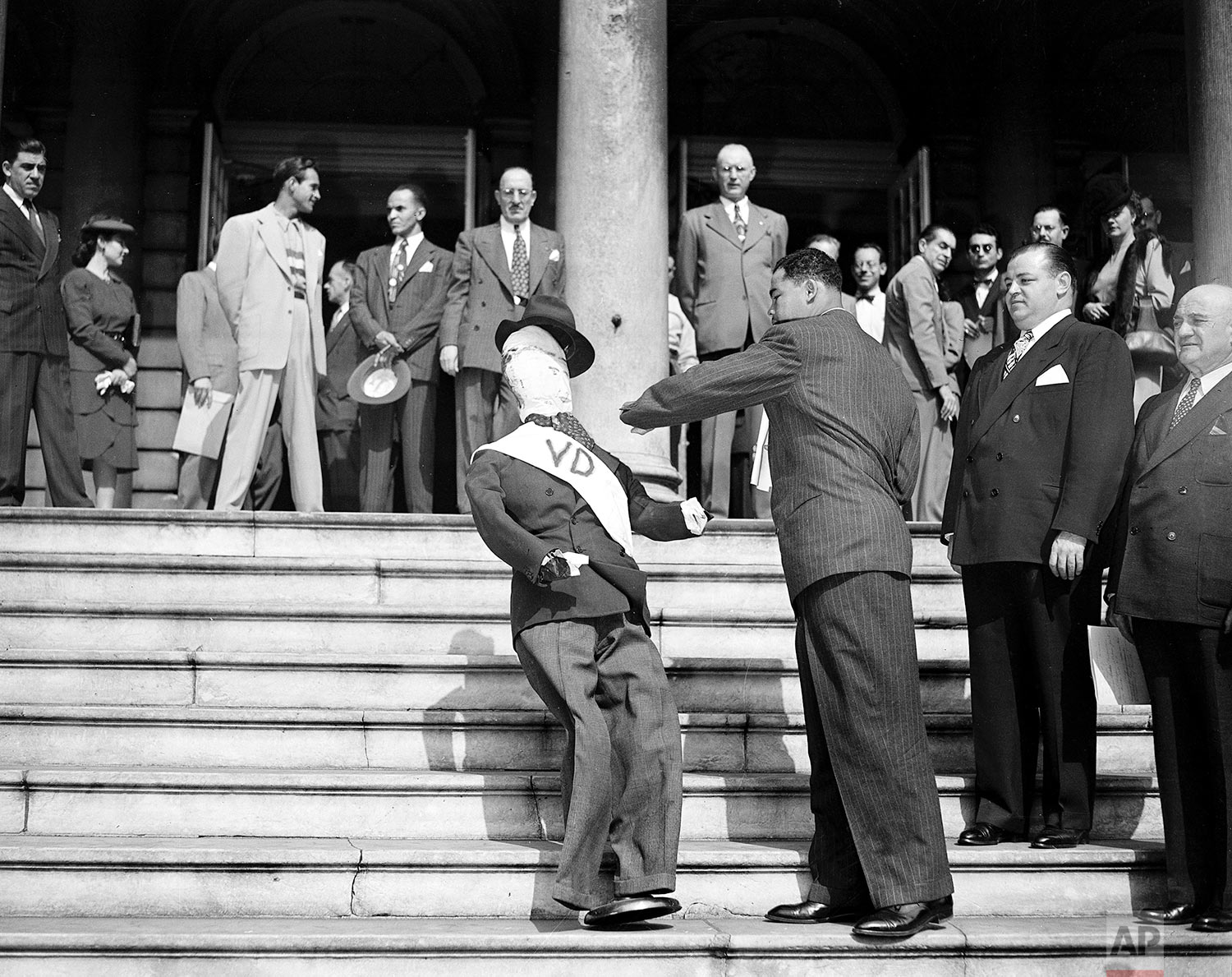 Louis Dummy Punch | October 7, 1946
With his infamous left hook, former World Heavyweight Champion Joe Louis delivers a knockout punch to a dummy representing venereal disease, on October 7, 1946, in New York City. The demonstration was part of a special campaign by the American Social Hygiene Association to raise $300,000 fund to combat the disease. Standing behind Louis on the steps of New York City Hall is Deputy Mayor Thomas L. J. Corcoran, who, on behalf of Mayor William O'Dwyer, proclaimed the period between October 7 and November 7 as "Stamp out V.D. Month." (AP Photo/John Lent)
Yankee Farewell | October 7, 1950
In this Oct. 7, 1950 file photo, New York Yankees catcher Yogi Berra tags the sliding Philadelphia Phillies shortstop Granny Hamner for an out at home plate and second half of double play in the fourth inning in the fourth and final World Series game at Yankee Stadium in New York, as umpire Charley Berry looks on. Now, 85 years after it was opened, Yankee Stadium is about to close. "I'm going to miss it all," Yogi Berra said wistfully. (AP Photo)
Fiat Crisis | October 7, 1974
A Fiat parking lot in the Turin outskirts of Italy where part of the 300,000 unsold Fiat cars are stored, is shown, Oct. 7, 1974. Fiat placed 71,000 workers on a reduced working week today, while unions called for a four hours strike in the Piedmont region threatening a nationwide strike to protest Fiat's decision. (AP Photo/Raoul Fornezza)
Nat Castañeda
Visual artist and Digital Storyteller at The Associated Press