Winter hits refugee camps in Greece
Winter has arrived in Europe, and snow has covered the Ritsona and Oinofyta refugee camps near Athens. The European Commission said conditions for refugees on islands and other camps where they are housed in tents despite severe cold weather, is "untenable." Over 62,000 refugees and migrants are stranded in Greece after a series of Balkan border closures and an European Union deal with Turkey to stop migrant flows.
AP photographer Muhammed Muheisen is on assignment documenting the current conditions in the refugee camps in Greece. Below is a gallery of his work.
Syrian refugee children look out their shelter during snowfall at the refugee camp of Ritsona about 86 kilometers (53 miles) north of Athens, Tuesday, Jan. 10, 2017. (AP Photo/Muhammed Muheisen)
An elderly Syrian refugee man walks back to his shelter on a frozen ground at the refugee camp of Ritsona about 86 kilometers (53 miles) north of Athens, Monday, Jan. 9, 2017. Over 62,000 refugees and migrants are stranded in Greece after a series of Balkan border closures and an European Union deal with Turkey to stop migrant flows. (AP Photo/Muhammed Muheisen)
Laundry of Syrian refugees is covered with snow while hung on a fence at the refugee camp of Ritsona about 86 kilometers (53 miles) north of Athens, Tuesday, Jan. 10, 2017. (AP Photo/Muhammed Muheisen)
A Syrian refugee family walks back to their shelter at the refugee camp of Ritsona about 86 kilometers (53 miles) north of Athens, Tuesday, Jan. 10, 2017. (AP Photo/Muhammed Muheisen)
A Syrian refugee girl looks out her family's shelter during snowfall at the refugee camp of Ritsona about 86 kilometers (53 miles) north of Athens, Saturday, Jan. 7, 2017. (AP Photo/Muhammed Muheisen)
A Syrian refugee family walks back to their shelter at the refugee camp of Ritsona about 86 kilometers (53 miles) north of Athens, Tuesday, Jan. 10, 2017. (AP Photo/Muhammed Muheisen)
Syrian refugee children throw snowballs at eachother while playing at the refugee camp of Ritsona about 86 kilometers (53 miles) north of Athens, Saturday, Jan. 7, 2017. (AP Photo/Muhammed Muheisen)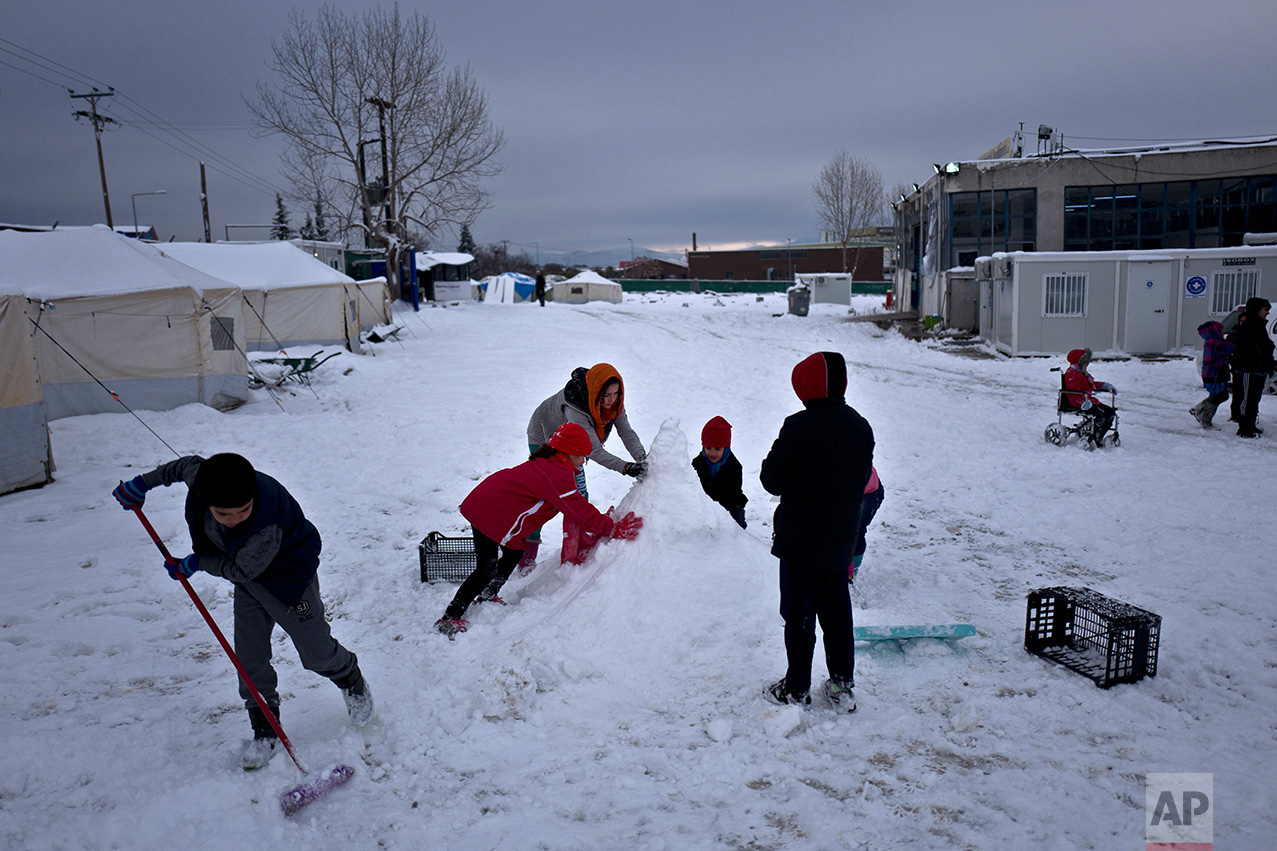 Afghan refugee children build a snowman at the refugee camp of Oinofyta about 58 kilometers (36 miles) north of Athens, Tuesday, Jan. 10, 2017. (AP Photo/Muhammed Muheisen)
An Afghan refugee boy slides while he and other children play at the refugee camp of Oinofyta about 58 kilometers (36 miles) north of Athens, Tuesday, Jan. 10, 2017. (AP Photo/Muhammed Muheisen)
Syrian refugees walk at the refugee camp of Ritsona about 86 kilometers (53 miles) north of Athens, Wednesday, Jan. 11, 2017. (AP Photo/Muhammed Muheisen)
A Syrian refugee child walks barefoot on frozen ground at the refugee camp of Ritsona about 86 kilometers (53 miles) north of Athens, Wednesday, Jan. 11, 2017. (AP Photo/Muhammed Muheisen)
Syrian refugee children look at puppies hiding under their shelter, at the refugee camp of Ritsona about 86 kilometers (53 miles) north of Athens, Tuesday, Jan. 10, 2017. (AP Photo/Muhammed Muheisen)
A Syrian refugee woman hangs her laundry to dry outside her shelter at the refugee camp of Ritsona about 86 kilometers (53 miles) north of Athens, Wednesday, Jan. 11, 2017. (AP Photo/Muhammed Muheisen)
A Syrian refugee couple walks at the refugee camp of Ritsona about 86 kilometers (53 miles) north of Athens, Tuesday, Jan. 10, 2017. (AP Photo/Muhammed Muheisen)
A Syrian refugee man clears the rooftop of his shelter from the snow at the refugee camp of Ritsona about 86 kilometers (53 miles) north of Athens, Saturday, Jan. 7, 2017. (AP Photo/Muhammed Muheisen)
A Syrian refugee girl holds her younger sister while walking back to their shelter at the refugee camp of Ritsona about 86 kilometers (53 miles) north of Athens, Wednesday, Jan. 11, 2017. (AP Photo/Muhammed Muheisen)
Photos by Muhammed Muheisen
Nat Castañeda
Visual artist and Digital Storyteller at The Associated Press