2016 in Review - Features
Every year, The Associated Press chooses a selection of photos that best documents the year's top features stories as chronicled by photojournalists around the world. Today, this collection was distributed by the AP to its members and subscribers worldwide.
This year's set of 50 compelling and newsworthy images was selected by Acting Director of Photography Denis Paquin.
Below is a gallery featuring this year's features selection.
Members of "Vella de Xiquets de Valls" try to complete their human tower during the 26th Human Tower Competition in Tarragona, Spain, on Oct. 2, 2016. The tradition of building human towers, or Castells, dates back to the 18th century and takes place during festivals in Catalonia, where "colles," or teams, compete to build the tallest and most complicated towers. The structure of the castells varies depending on their complexity. A castell is considered completely successful when it is loaded and unloaded without falling apart. The highest castell in history was a 10 floor structure with 3 people in each floor. In 2010 castells were declared by UNESCO one of the Masterpieces of the Oral and Intangible Heritage of Humanity. (AP Photo/Emilio Morenatti)
A woman looks across as a gay parade participant poses for pictures during Gay Pride parade in Madrid, Spain, July 2, 2016. (AP Photo/Daniel Ochoa de Olza)
People enjoy a chair swing ride as the sun sets at an amusement park in Athens on June 29, 2016. (AP Photo/Petros Giannakouris)
A jay picks kernels in the forest on the outskirts of Novogrudok, 150 km (93 miles) west of the capital Minsk, Belarus, on Jan. 17, 2016. (AP Photo/Sergei Grits)
Fields of canola blossoms extend into the horizon as Bob Calvey looks under the hood of a 1949 Pontiac that sits at his salvage yard in Oak Grove, Ky., on April 12, 2016. (AP Photo/David Goldman)
Fireworks light the sky over Copacabana beach during New Year's Eve celebrations in Rio de Janeiro, Brazil, on Jan. 1, 2016. (AP Photo/Mauro Pimentel)
Four Palestinian friends who were injured during conflicts walk by the sea at Gaza's small fishing harbor on Oct. 24, 2016. Fighting has left thousands of people with disabilities or no limbs in this Palestinian enclave. (AP Photo/Hatem Moussa)
The barrel of a tank protrudes as it moves across challenging terrain during a competition in Alabino, outside Moscow, Russia, on July 30, 2016. The competition, called the International Army Games, involves troops from Russia and several other nations. (Vadim Savitsky/Russian Defense Ministry Press Service pool photo via AP)
A bee flies over a sunflower on a field near Frankfurt, Germany, on Aug. 30, 2016. (AP Photo/Michael Probst)
A couple kisses in front of graffiti depicting Russian President Vladimir Putin, left, and Republican presidential candidate Donald Trump, on the walls of a bar in the old town in Vilnius, Lithuania, on May 14, 2016. (AP Photo/Mindaugas Kulbis)
A car makes its way on a winding road through flowering canola fields on the L401 highway near Nienstedt, Germany, on May 12, 2016. (Julian Stratenschulte/dpa via AP)
Rosa Graber, third from left, Margerie Steury, second left, and Joanne Steury, left, look out to sea as they touch Pacific Ocean waters for the first time during a family trip from their Amish community in Michigan, on June 9, 2016, in Coronado, Calif. (AP Photo/Gregory Bull)
Volkswagen cars are presented to media inside a delivery tower prior to the company's annual press conference in Wolfburg, Germany, on April 28, 2016. (AP Photo/Markus Schreiber)
France's team dives into the pool during a training session of the Synchronized Swimming Olympic Games Qualification Tournament at the Maria Lenk Aquatics Center in Rio de Janeiro, Brazil, on March 4, 2016. (AP Photo/Felipe Dana)
France's Zelimkhan Khadjiev, red, and Japan's Sohsuke Takatani compete in the men's wrestling freestyle 74-kg competition at the 2016 Summer Olympics in Rio de Janeiro, Brazil, on Aug. 19, 2016. (AP Photo/Charlie Riedel)
Summer Sharif looks at an Owl butterfly feeding on an orange during a photo call for hundreds of tropical butterflies being released to launch the Natural History Museum's Sensational Butterflies exhibition in London on March 23, 2016. (AP Photo/Kirsty Wigglesworth)
A 120-meter long sculpture of the 17th-century London skyline is set alight in a retelling of the story of the Great Fire of London in 1666, in London, on Sept. 4, 2016. The event was part of a collaboration between American 'burn' artist David Best and Artichoke, commemorating the fire. (AP Photo/Frank Augstein)
Floral Spinner is washed down after a Handicap Hurdle horse race during Classic Chase Day at Warwick Racecourse, Warwick, central England, on Jan. 16, 2016. (David Davies/PA via AP)
The Soyuz TMA-19M capsule carrying NASA's Jeff Williams, and Russian cosmonauts Alexey Ovchinin and Oleg Skripochka descends beneath a parachute near the town of Zhezkazgan, Kazakhstan, on Sept. 7, 2016. The record-setting American and two Russians landed safely back on Earth after a six-month mission aboard the International Space Station. (Maxim Shipenkov/Pool Photo via AP)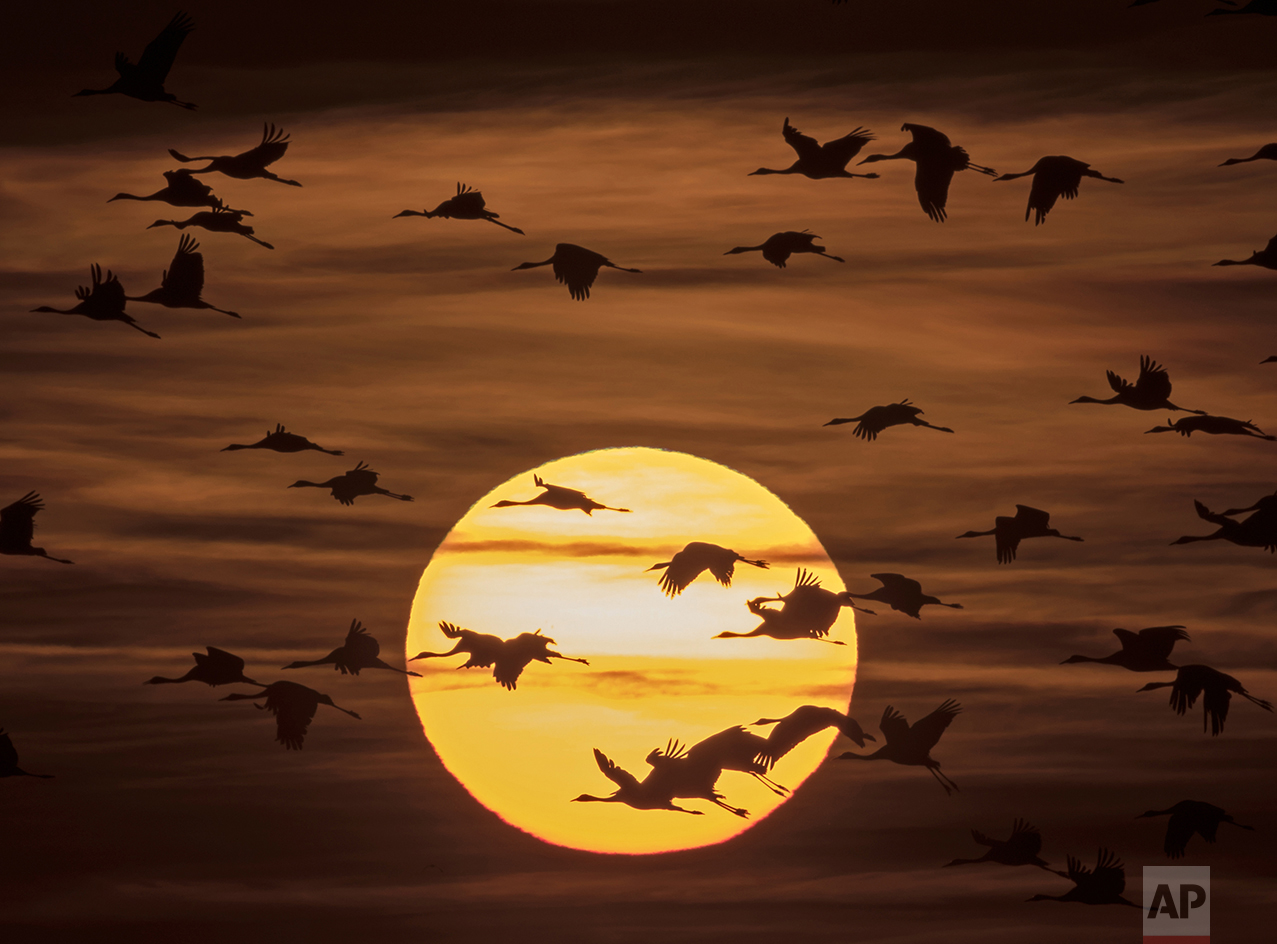 Migrating cranes fly during sunset near Straussfurt, central Germany, on Oct. 31, 2016. The cranes rest in central Germany on their way from breeding places in the north to their wintering grounds in the south. (AP Photo/Jens Meyer)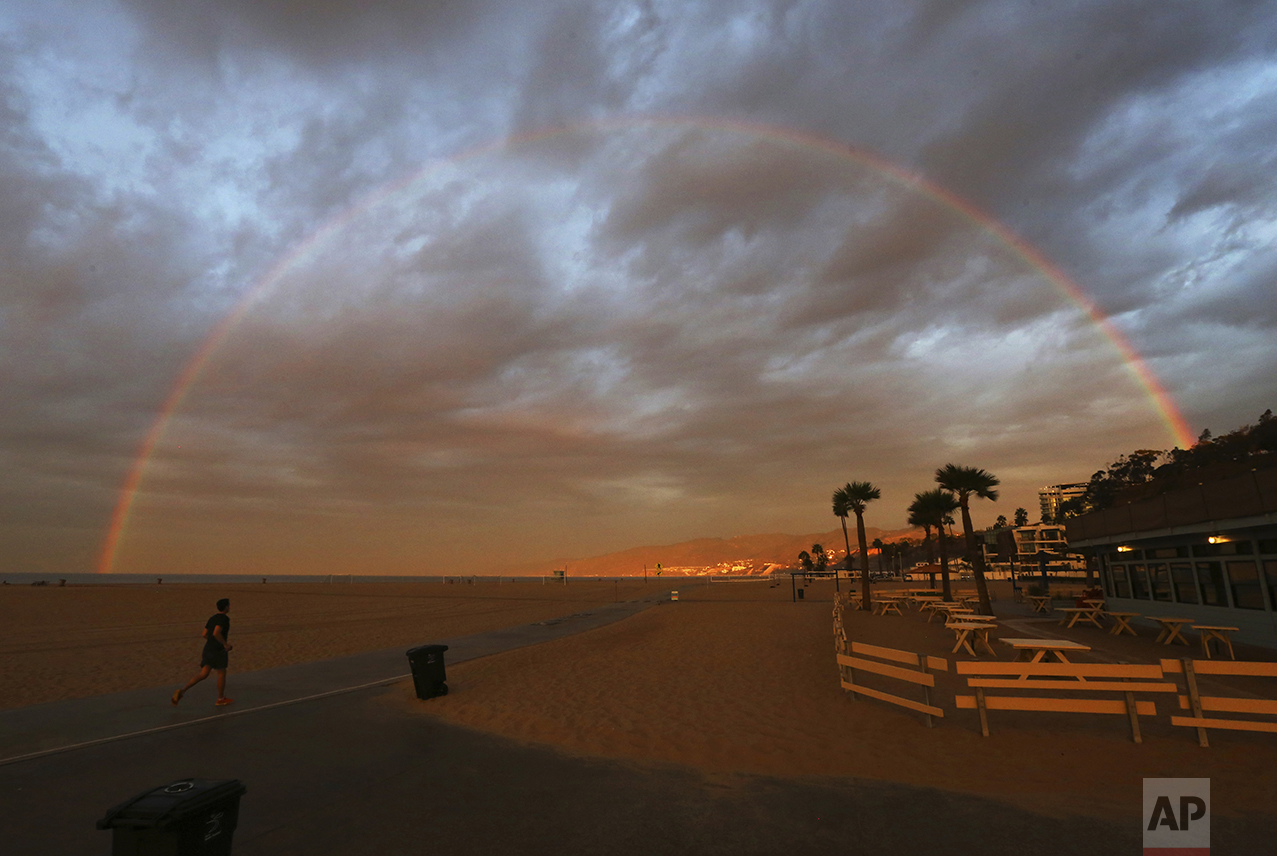 A rainbow appears over the beach and ocean shortly after dawn in Santa Monica, Calif., as one of a series of storms sweeps through California on Oct. 28, 2016. (AP Photo/Reed Saxon)
The Thufa hill in Reykjavik, Iceland, is shown on Oct. 28, 2016. (AP Photo/Frank Augstein)
Sea gulls fly over beach chairs at the beach of the Baltic Sea in Timmendorfer Strand, on Oct. 22, 2016. (AP Photo/Michael Probst)
Ultra-Orthodox Jews gather by the Yarkon springs as they participate in a Tashlich ceremony near Rosh Haain, central Israel, on Oct. 10, 2016. Tashlich, which means "to cast away" in Hebrew, is a practice in which Jews go to a large flowing body of water and symbolically "throw away" their sins by throwing a piece of bread, or similar food, into the water before the Jewish holiday of Yom Kippur. (AP Photo/Oded Balilty)
Models wear a creation for Chanel's Spring-Summer 2017 ready-to-wear fashion collection presented in Paris on Oct. 4, 2016. (AP Photo/Francois Mori)
Colored by the setting sun, European starlings mass in the sky in the town of Rakov, about 45 kilometers (28 miles) northwest of Minsk, Belarus, on Oct. 4, 2016. (AP Photo/Sergei Grits)
Red deer fight during the rutting season at a wildlife park on a fall day in Bonn, western Germany, on Oct. 27, 2016. (AP Photo/Markus Schreiber)
Members of a South Korean military honor guard throw their guns into the air during the 68th anniversary of Armed Forces Day at the Gyeryong military headquarters in Gyeryong, South Korea, on Oct. 1, 2016. (AP Photo/Lee Jin-man, Pool)
A fish splashes as it is caught by fish farm workers at a drained pond outside the village of Shkolny, 60 km (38 miles) west of Minsk, Belarus, on Oct. 18, 2016. The farm supplies their produce, mainly carp, to local stores. (AP Photo/Sergei Grits)
Men on horseback ride trough a pine tree forest chased by a bull in Tordesillas, Spain, on Sept. 13, 2016. Men on horseback and on foot traditionally have chased the bull and speared it in front of thousands of onlookers in what became known as one of Spain's goriest spectacles, but amid increasing protests by animal rights activists the regional government last year banned the killing of bulls at town festivals, though traditional bullfights were not affected. (AP Photo/Daniel Ochoa de Olza)
A man holds a fishing rod as floating trash hits the coastline of the Mediterranean Sea in Beirut, Lebanon, on Sept. 29, 2016. (AP Photo/Hassan Ammar)
A model named feebee poses as part of art installation "Narcissism : Dazzle room" made by artist Shigeki Matsuyama at rooms33 fashion and design exhibition in Tokyo on Sept. 14, 2016. Matsuyama's installation featured a strong contrast of black and white, which he learned from dazzle camouflage used mainly in World War I. (AP Photo/Eugene Hoshiko)
Pyrotechnics explode as a military parachutist descends upon Kalma Airport in Wonsan, North Korea, on Sept. 25, 2016. Thousands of Koreans and hundreds of foreign tourists and journalists invited to Wonsan, a port city, for the Wonsan International Friendship Air Festival, were given a glimpse of North Korea's own Air Force fighters, remote-controlled scale mock-up planes including an F-16 fighter jet, and demonstrations of military parachuting, with the first two skydivers descending with huge North Korean and ruling party flags. (AP Photo/Wong Maye-E)
Jim Kowalczik plays with Jimbo, a 1500-pound Kodiak bear, at the Orphaned Wildlife Center in Otisville, N.Y., on Sept. 7, 2016. (AP Photo/Mike Groll)
Israeli Arab boys jump into the Mediterranean sea from the ancient wall surrounding the old city of Acre, northern Israel, on Aug. 2, 2016. (AP Photo/Ariel Schalit)
The sun sets over the the Giza Pyramids near Cairo, Egypt, on Aug. 19, 2016. (AP Photo/Amr Nabil)
A giant panda named Nuan Nuan is shown at the Giant Panda Conservation Center at the National Zoo in Kuala Lumpur, Malaysia, on Aug. 23, 2016. The giant panda has been reclassified as vulnerable from endangered on the International Union for the Conservation of Nature's list of endangered species, which was released on Sept. 4, 2016 at the World Conservation Congress in Hawaii. (AP Photo/Joshua Paul)
In this underwater picture a woman floats in a swimming pool during a summer day in Madrid, Spain, Aug. 28, 2016. (AP Photo/Daniel Ochoa de Olza)
Young Nepalese Hindu priests take a bath as a part of holy rituals during Janai Purnima festival at Pashupatinath temple in Kathmandu, Nepal, on Aug. 18, 2016. During this festival Hindus take holy baths and perform annual change of the Janai, a sacred cotton string worn around their chest or tied on the wrist, in the belief that it will protect and purify them. (AP Photo/Niranjan Shrestha)
A mobile screen is reflected on a fan's sunglasses as she plays "Pokemon Go" in Hong Kong on July 25, 2016. Pokemon fans participated in creature hunting as the app was released to both iPhone and Android users. (AP Photo/Kin Cheung)
The sun rises behind the Christ the Redeemer statue, above the Guanabara bay in Rio de Janeiro, Brazil, on July 19, 2016, ahead of the 2016 summer Olympics. (AP Photo/Felipe Dana)
Ben Blaque, a crossbow sharpshooter, stands still after firing a crossbow wearing a hood, that then triggered a series of pre-set crossbows culminating in an arrow piercing the apple above his head, during media event to promote the magic show, The Illusionists 1903, at the National Auditorium in Mexico City, on July 13, 2016. (AP Photo/Rebecca Blackwell)
A model wears a creation for Jean-Paul Gaultier's Haute Couture Fall-Winter 2016-2017 fashion collection presented on July 6, 2016, in Paris. (AP Photo/Thibault Camus)
The Soyuz-FG rocket booster with Soyuz MS space ship carrying a new crew to the International Space Station, ISS, blasts off at the Russian leased Baikonur cosmodrome, Kazakhstan, on July 7, 2016. (AP Photo/Dmitri Lovetsky)
A motorcycle rider carries his cat, Chiquinho, on his bike, near Maracana stadium in Rio de Janeiro, Brazil, on June 19, 2016. (AP Photo/Silvia Izquierdo)
U.S. first lady Michelle Obama sits in a car upon her arrival at Torrejon de Ardoz military base near Madrid, Spain, on June 29, 2016, on the final leg of a three-nation tour to promote her global girls' education initiative. (AP Photo/Daniel Ochoa de Olza)
People walk past World War II tanks at Dvortsovaya (Palace) Square in St.Petersburg, Russia, in the early morning at the time Nazi Germany attacked the Soviet Union 75 years ago, on June 22, 2016. Zimny (Winter) palace is in the background. (AP Photo/Dmitri Lovetsky)
Heat waves distort this image of drivers following the pace car during the NASCAR Xfinity series auto race at Michigan International Speedway, on June 11, 2016, in Brooklyn, Mich. (AP Photo/Carlos Osorio)
People visit the artwork titled Seven Magic Mountains by artist Ugo Rondinone on May 11, 2016, near Jean, Nev., south of Las Vegas. (AP Photo/John Locher)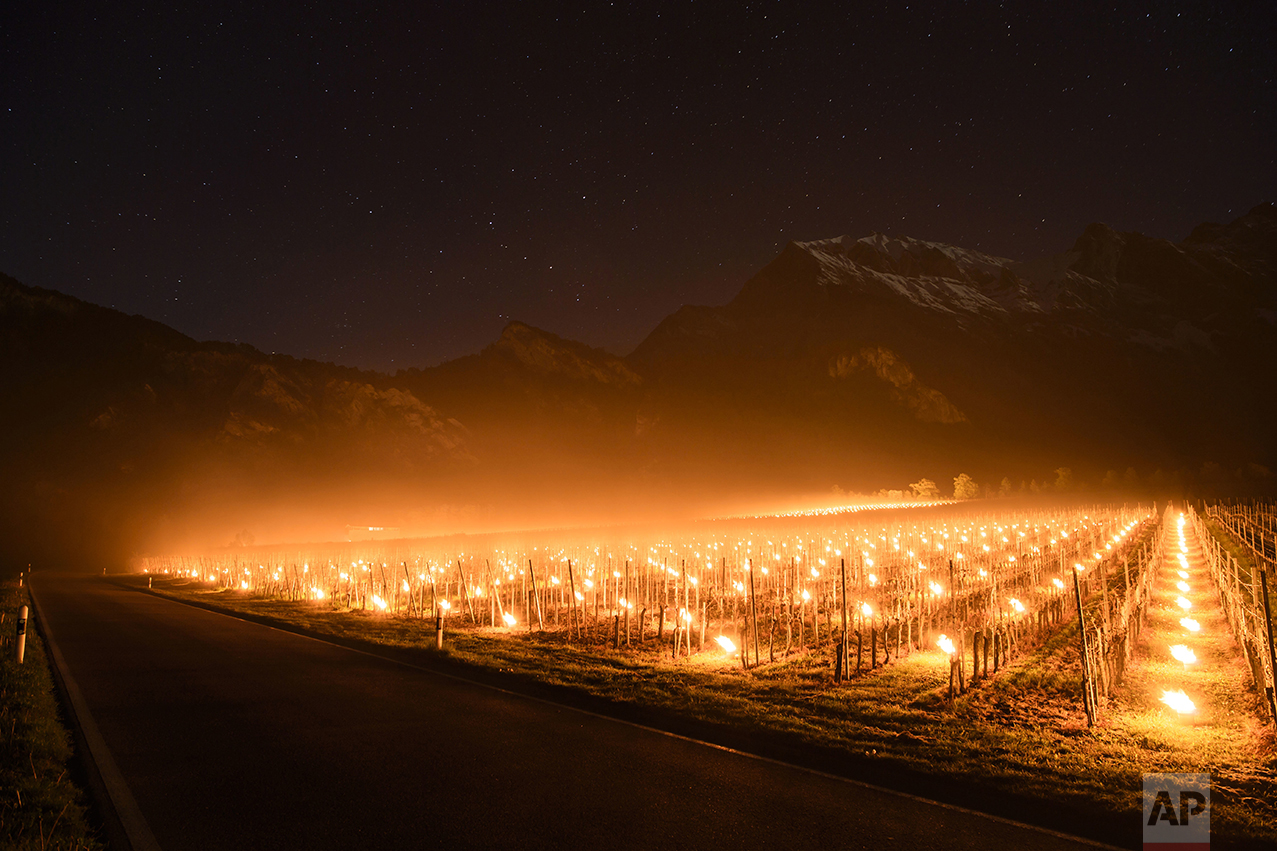 Anti-frost candles burn in a vineyard in Flaesch, in the Swiss canton of Grisons, on April 28, 2016. Due to unusual low temperatures wine growers try to protect their grape shoots with anti-frost candles. (Gian Ehrenzeller/Keystone via AP)
To see all of the top photos of 2016 galleries, click here.
Follow AP photographers on Twitter
Written content on this site is not created by the editorial department of AP, unless otherwise noted.
Nat Castañeda
Visual artist and Digital Storyteller at The Associated Press