Photos of the day
A selection of AP photos taken over the past 24 hours.
Bangladesh Daily Life
A Bangladeshi laborer is seen silhoutted amid smoke emitting from heating construction material as he works with others to repair a road in Dhaka, Bangladesh, Wednesday, July 27, 2016. On an average, each worker earns less than US$4 a day. (AP Photo)
Baltimore Police Death
Massieka Holness, of Baltimore, with her four-month-old son, Tavon, reacts after prosecutors dropped all charges against police in Baltimore, Wednesday, July 27, 2016. Prosecutors on Wednesday dropped all remaining charges against the three Baltimore police officers who were still awaiting trial in Freddie Gray' death, blaming police for a biased investigation that failed to produce a single conviction. (AP Photo/Steve Ruark)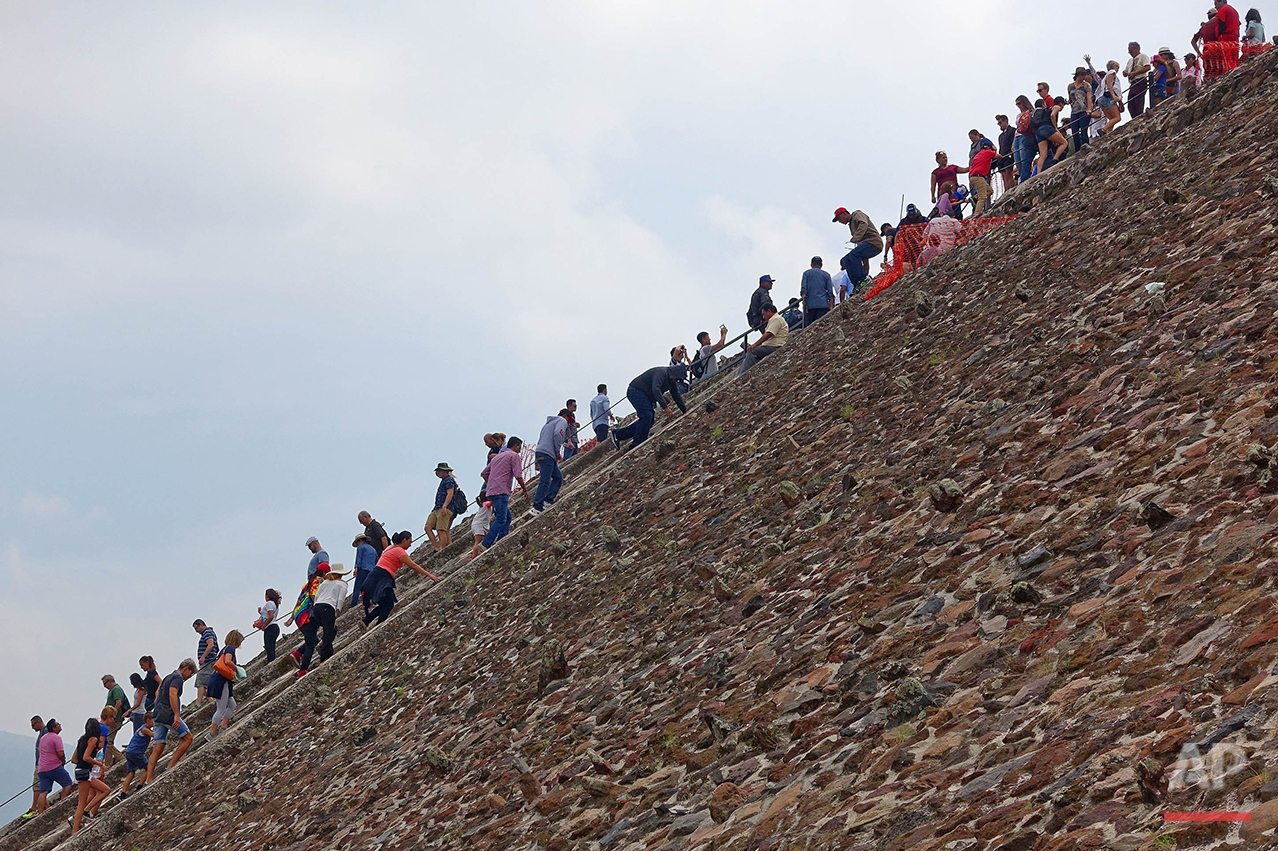 Mexico Daily Life
Tourists climb up and descend the steep stairs at the Pyramid of the Sun at the ancient archeological grounds of Teotihuacan Wednesday, July, 27, 2016, in Mexico. Teotihuacan is an ancient Mesoamerican city located in a sub-valley of the Valley of Mexico. (AP Photo/Ross D. Franklin)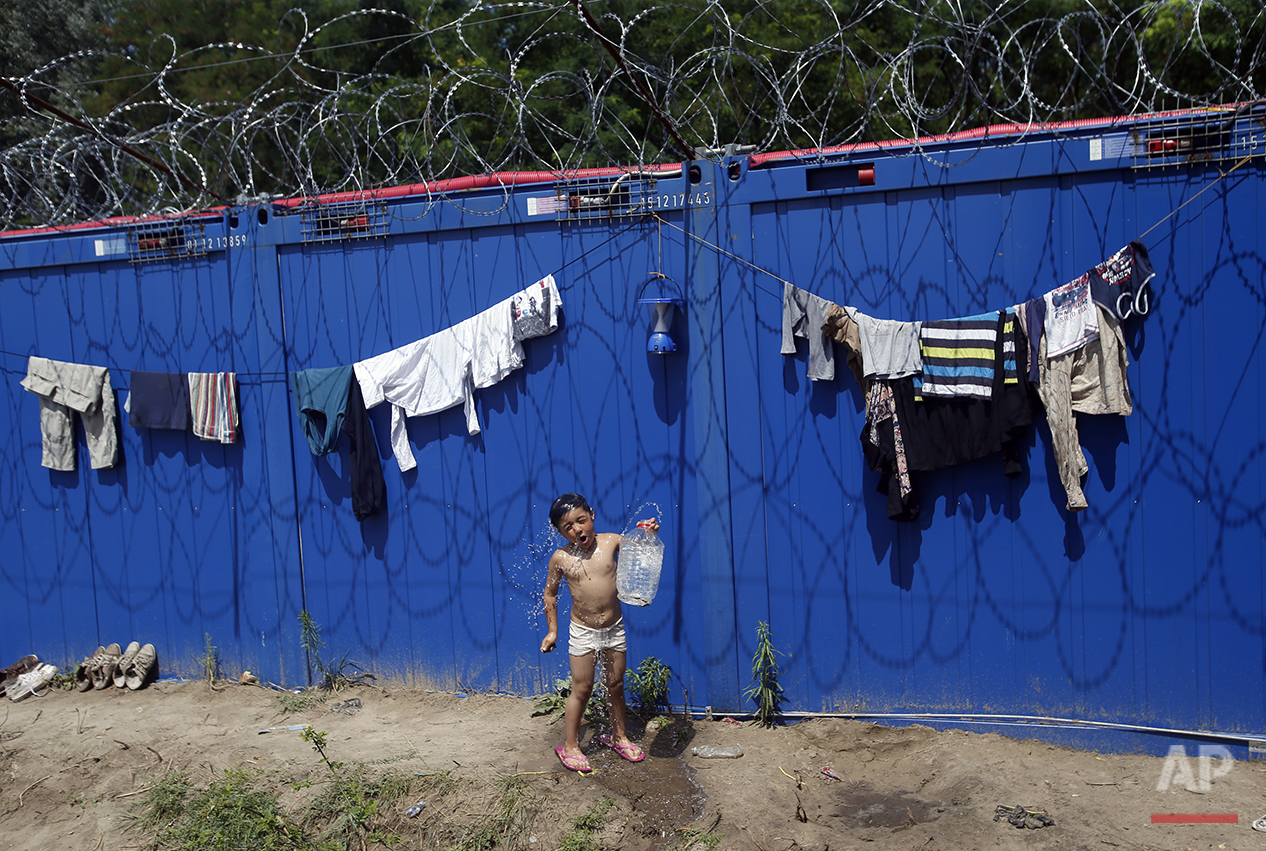 Serbia Protesting Migrants
A child cools off with water at a makeshift camp for migrants in Horgos, Serbia, meters away from Serbia's border with Hungary, Wednesday, July 27, 2016. Some one hundred men and boys, mostly from Afghanistan and Pakistan, have been protesting Europe's migrant policies for several days now, staging a protest march to Serbia's border with EU-member Hungary where they sat down in a dusty field, without any facilities and accepting only water from humanitarian groups. (AP Photo/Darko Vojinovic)
Poland Pope
A group of folk dancers rehearse prior to the arrival of Pope Francis at the military airport in Krakow, Poland, Wednesday, July 27, 2016. Pope Francis is traveling to Poland to meet young Catholics from around the globe and visit the Auschwitz death camp and many Catholic places in this deeply religious nation. It will be the pope's first visit to central or Eastern Europe. (AP Photo/Alik Keplicz)
Rio Olympics
People enter the water for a morning swim on Copacabana beach in Rio de Janeiro, Brazil, Wednesday, July 27, 2016. The iconic Copacabana beach will be the starting point for the road cycling race, marathon swimming and triathlon competitions during the Olympics. (AP Photo/Felipe Dana)
DEM 2016 Convention
Senate Minority Leader Harry Reid of Nev., is shown on the television monitor on the wall as a shadow projects a person going down on an elevator at Wells Fargo Arena during the third day session of the Democratic National Convention in Philadelphia, Wednesday, July 27, 2016. (AP Photo/John Locher)
Ukraine Religious Procession
Orthodox believers and clergymen march to prayer in downtown Kiev, Ukraine, Wednesday, July 27, 2016 in observance of the holiday marking the adoption of Christianity by what is now Russia and Ukraine in the 10th century. They are to commemorate the day at the hillside monument in central Kiev to Saint Volodymyr, the prince who enacted the adoption of Christianity. (AP Photo/Efrem Lukatsky)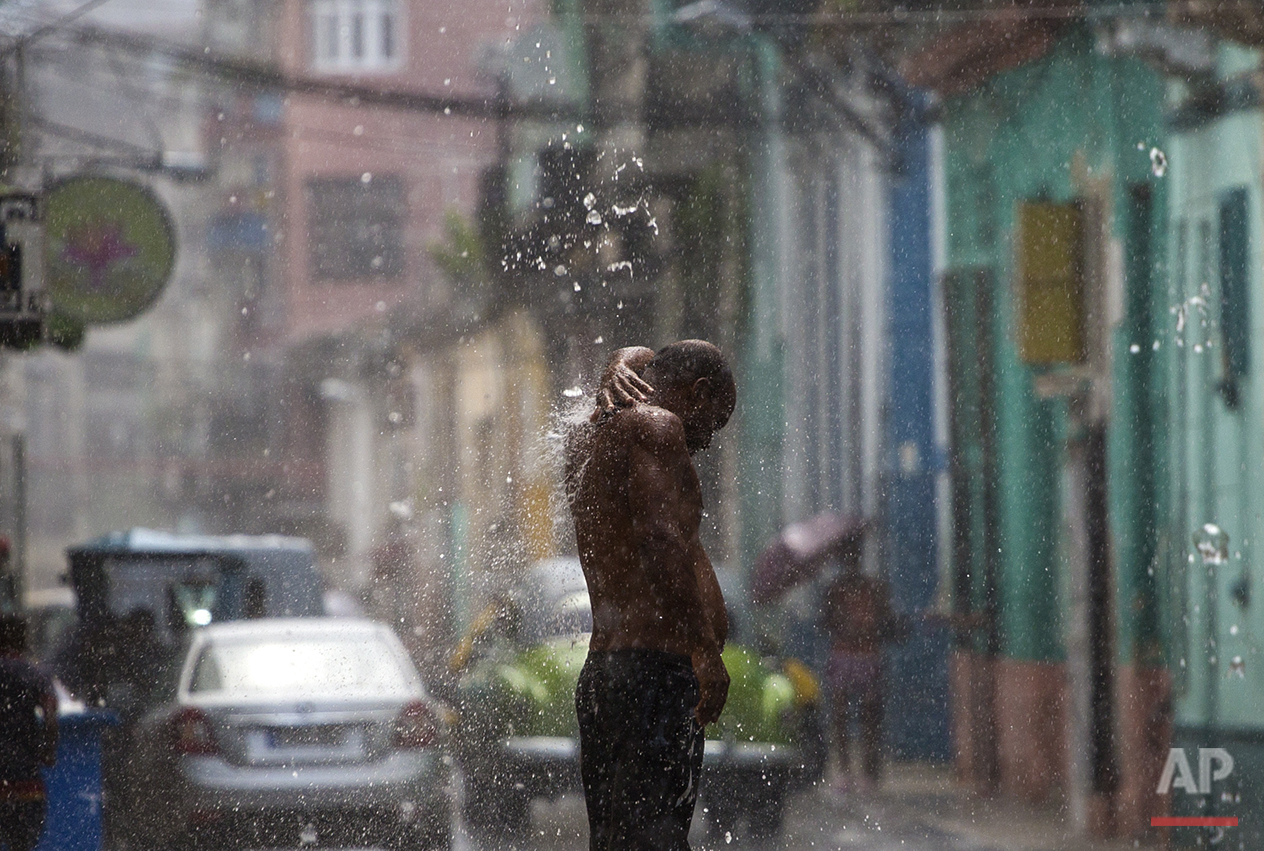 Cuba Daily Life
A man takes a shower on a street from water coming from a drainpipe as it rains in Havana, Cuba, Wednesday, July 27, 2016. During la last couple of weeks short but intense tropical downpours have been coming down of Havana every afternoon. (AP Photo/Desmond Boylan)
Mideast Israel Palestinians
Palestinians stand around a house demolished after a shootout between the Israeli military and a group of Palestinians in the village of Surif, near Hebron, West Bank, Wednesday, July 27, 2016. Israeli forces tracked down a group of suspects behind the deadly ambush of a family car in the West Bank earlier this month and killed the man who pulled the trigger in that attack in a shootout early on Wednesday in Surif, the military said. (AP Photo/Mahmoud Illean)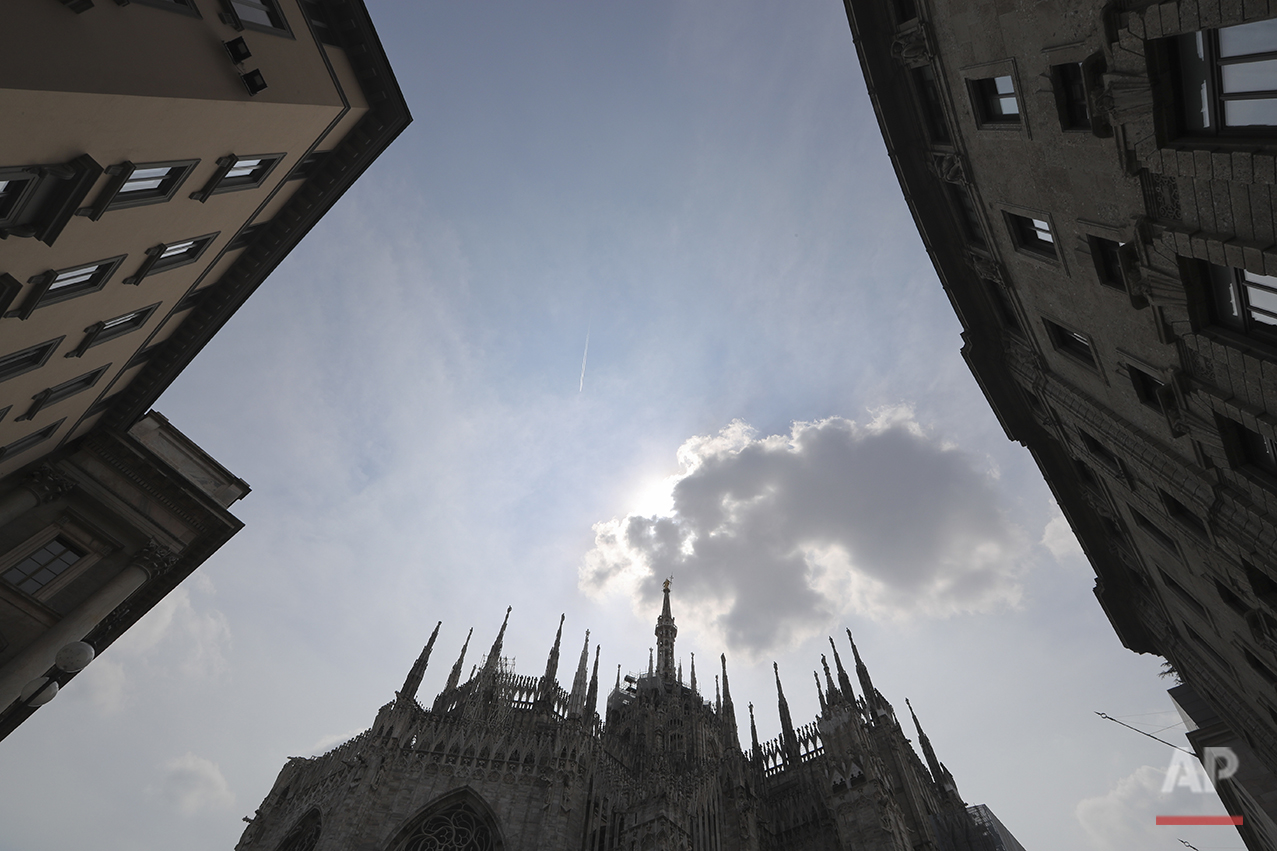 Italy Locked Inside Duomo
A view of the Duomo gothic cathedral in Milan, Italy, Wednesday, July 27, 2016. Italian police say an American tourist spent a night locked on the spectacular rooftop of Milan's Gothic-inspired Duomo cathedral after being overlooked by security. (AP Photo/Luca Bruno)
Rays Dodgers Baseball
Tampa Bay Rays first baseman Logan Morrison catches a foul fly ball hit by Los Angeles Dodgers' Howie Kendrick during the seventh inning of a baseball game in Los Angeles, Wednesday, July 27, 2016. The Rays won 3-1. (AP Photo/Alex Gallardo)
Follow AP photographers on Twitter: http://twitter.com/AP/lists/ap-photographers
Spotlight is the blog of AP Images, the world's largest collection of historical and contemporary photos. AP Images provides instant access to AP's iconic photos and adds new content every minute of every day from every corner of the world, making it an essential source of photos and graphics for professional image buyers and commercial customers. Whether your needs are for editorial, commercial, or personal use, AP Images has the content and the expert sales team to fulfill your image requirements. Visit apimages.com to learn more.
Written content on this site is not created by the editorial department of AP, unless otherwise noted.
AP Images on Twitter | AP Images on Facebook | AP Images on Instagram