Photos of the day
A selection of AP photos taken over the past 24 hours.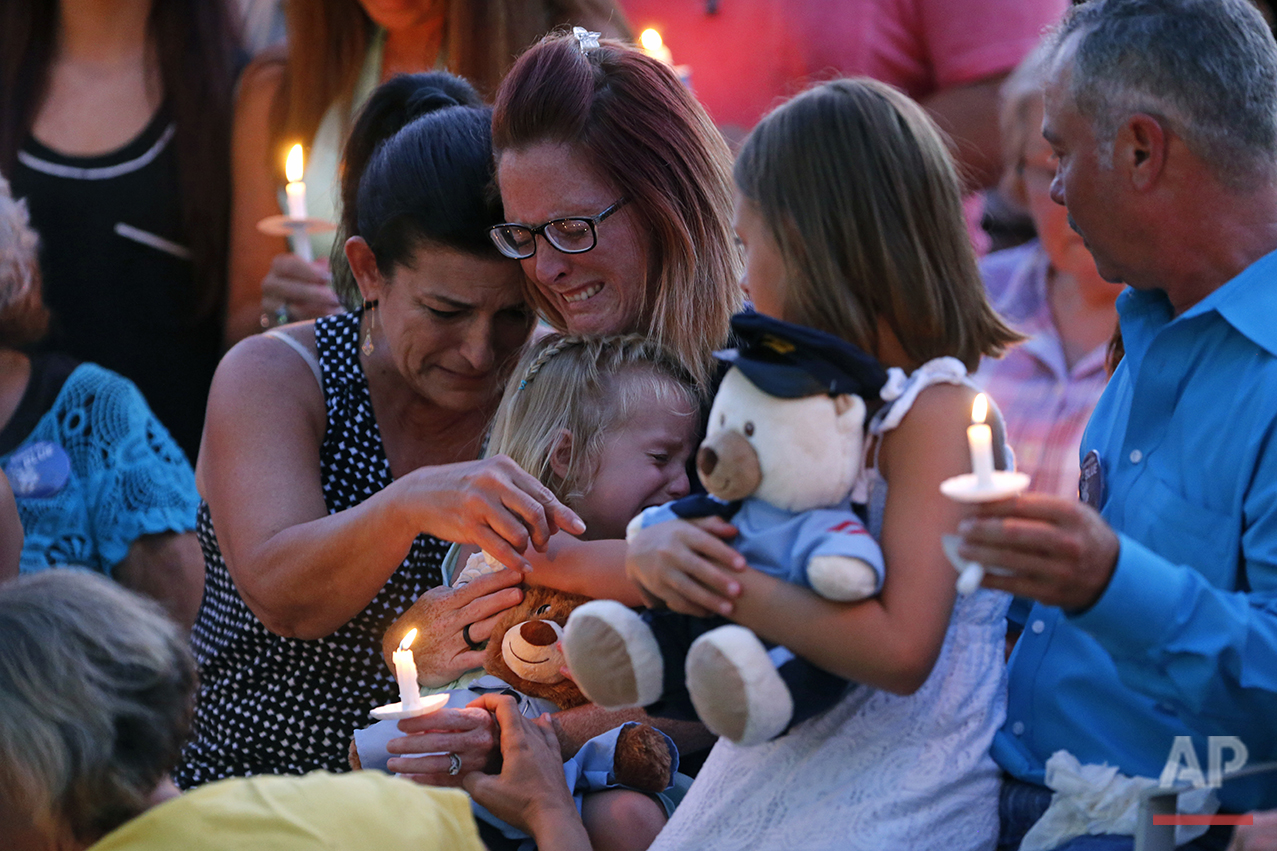 Police Shot Baton Rouge
Dechia Gerald, wife of slain Baton Rouge police officer Matthew Gerald, cries while holding their children Fynleigh, left, and Dawclyn, right, during a candlelight vigil at the Healing Place Church in Baton Rouge, La., Monday, July 18, 2016. At Left is Dechia's mother, Denna Badeaux. Multiple police officers were killed and wounded Sunday morning in a shooting near a gas station in Baton Rouge. (AP Photo/Gerald Herbert)
Japan Daily Life
A staff works at a glass tank placed outside the Sony Building where tropical fish from Okinawan sea are on display at Tokyo's Ginza shopping district Tuesday, July 19, 2016. (AP Photo/Eugene Hoshiko)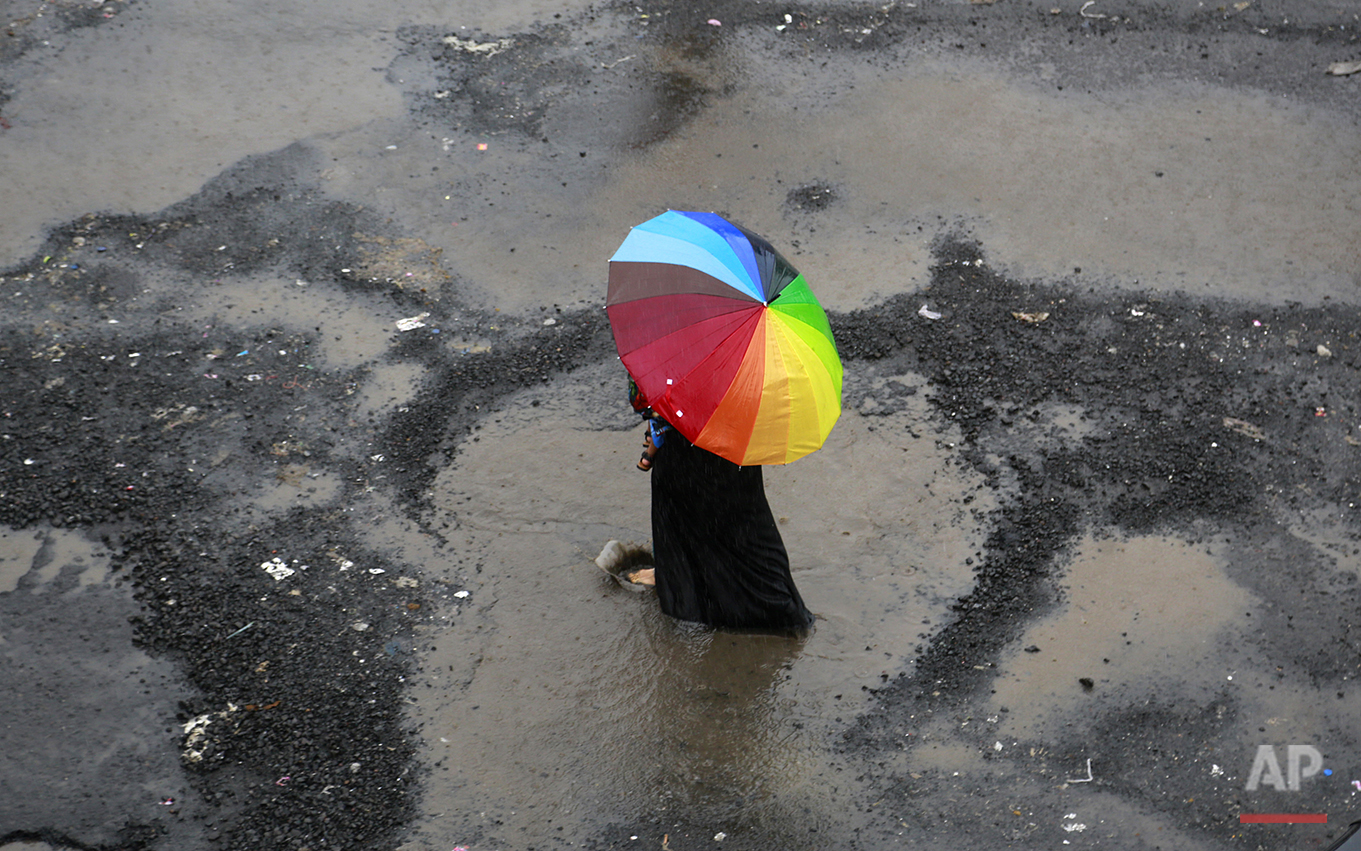 India Monsoon
A woman holds an umbrella and walks in the rain in Mumbai, India, Tuesday, July 19, 2016. India receives its monsoon rains from June to September. (AP Photo/Rafiq Maqbool)
Italy Fuksas
Italian architect Massimiliano Fuksas poses in his studio in Rome next to a wooden scale model of his Rome Congress Center nicknamed "The Cloud", Tuesday, July 19, 2016. The congress center that includes a hotel is scheduled open in October. (AP Photo/Domenico Stinellis)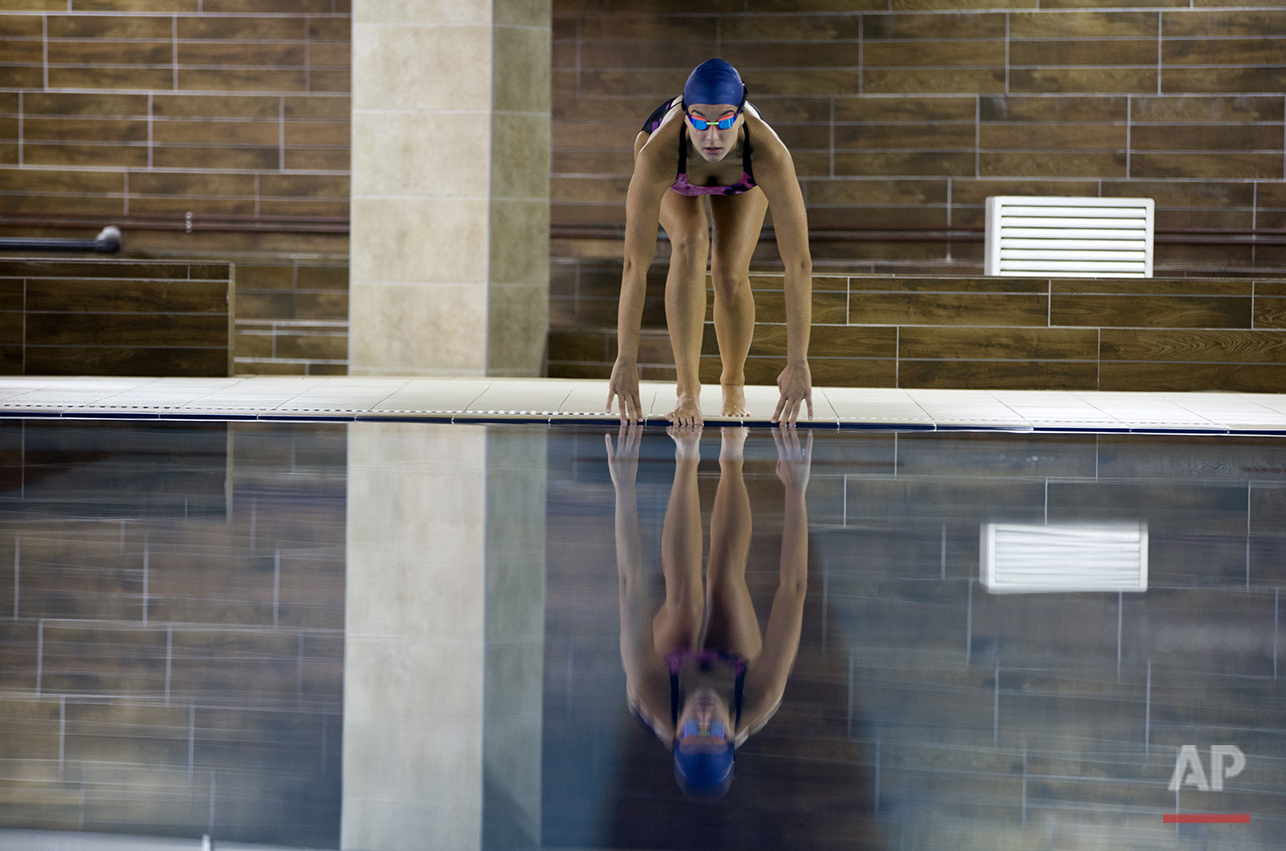 Kosovo Olympic Team
Kosovo swimmer Rita Zeqiri prepares to dive into the pool during her training session in the village of Hajvalia near Kosovo capital Pristina on Tuesday, July 19, 2016. Zeqiri, a 20 year old law student, will swim in backstroke event on Aug. 7. "Taking part in the first Olympic Games for Kosovo is an honor. I'm prepared well and I will do my best to represent my country as best as I can," Zeqiri told The Associated Press at her training pool. Kosovo, will take part at its first-ever Olympics since it declared independence eight years ago. (AP Photo/Visar Kryeziu)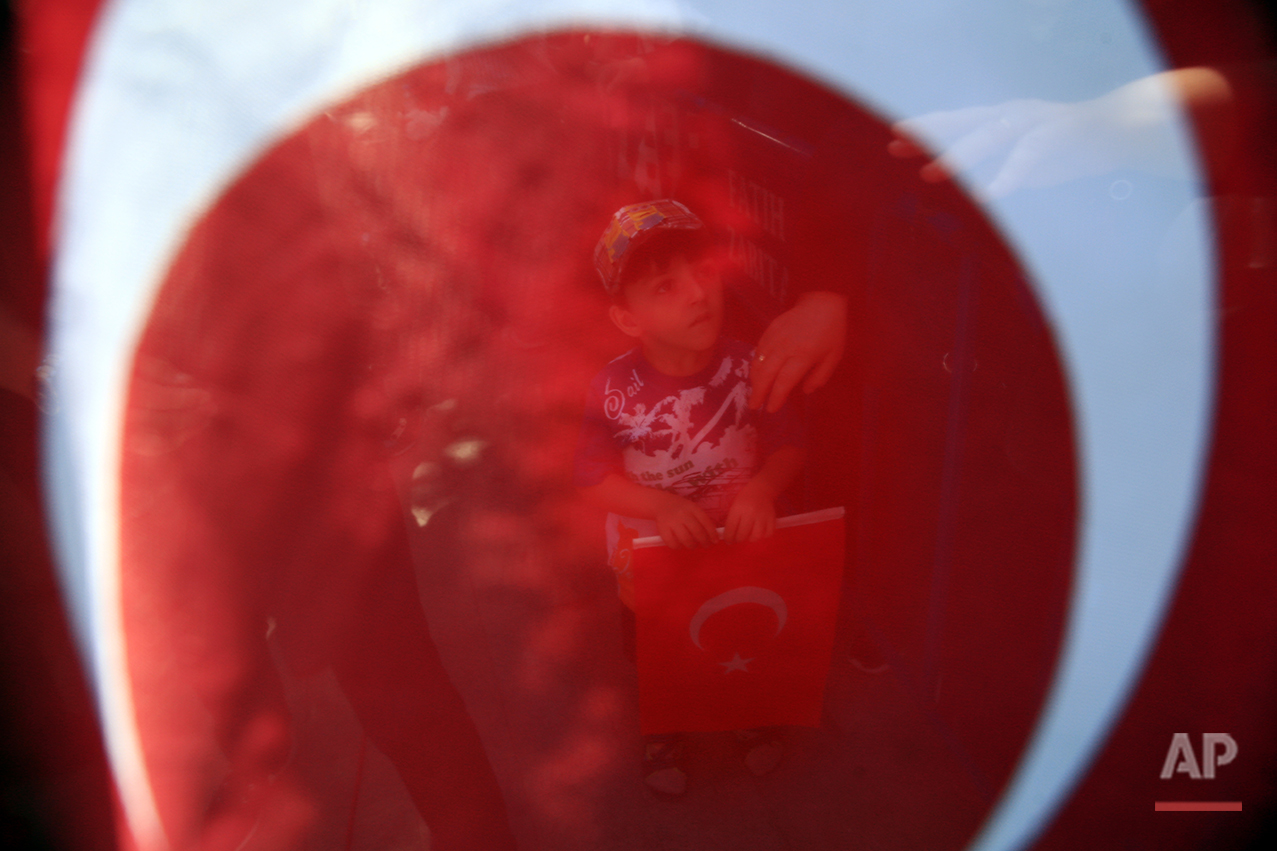 Turkey Military Coup
Seen through a Turkish flag, a child stands as pro-government supporters chant slogans and wave Turkish flags during a protest against the attempted coup, in Istanbul, Tuesday, July 19, 2016. The Turkish government accelerated its crackdown on alleged plotters of the failed coup against President Recep Tayyip Erdogan. The rebellion, which saw warplanes firing on key government installations and tanks rolling into major cities, was quashed by loyal government forces and masses of civilians who took to the streets. (AP Photo/Lefteris Pitarakis)
Tappan Zee Bridge-Crane
A construction crane is sprawled across lanes in both directions after collapsing on the Tappan Zee Bridge, Tuesday July 19, 2016, in New York. (Peter Carr/The Journal News via AP)
Cyprus Annversary Invasion
A soldier passes the graves of soldiers killed in the 1974 Turkish invasion of Cyprus in the Tymvos Macedonitissas military cemetery, during the 42th anniversary in the divided capital of Nicosia, Cyprus, Tuesday, July 19, 2016. Greek and Cypriot soldiers were killed in 1974 during the Turkish invasion and subsequent occupation of the northern part of the island of Cyprus. Cyprus was split into Greek Cypriot south and Turkish Cypriot north in 1974 when Turkey invaded in response to a coup by supporters of union with Greece. (AP Photo/Petros Karadjias)
Republican Convention in Cleveland
Law enforcement stands watch near a large poster of Republican presidential candidate Donald Trump at Public Square on Tuesday, July 19, 2016, in Cleveland, during the second day of the Republican convention. (AP Photo/Patrick Semansky)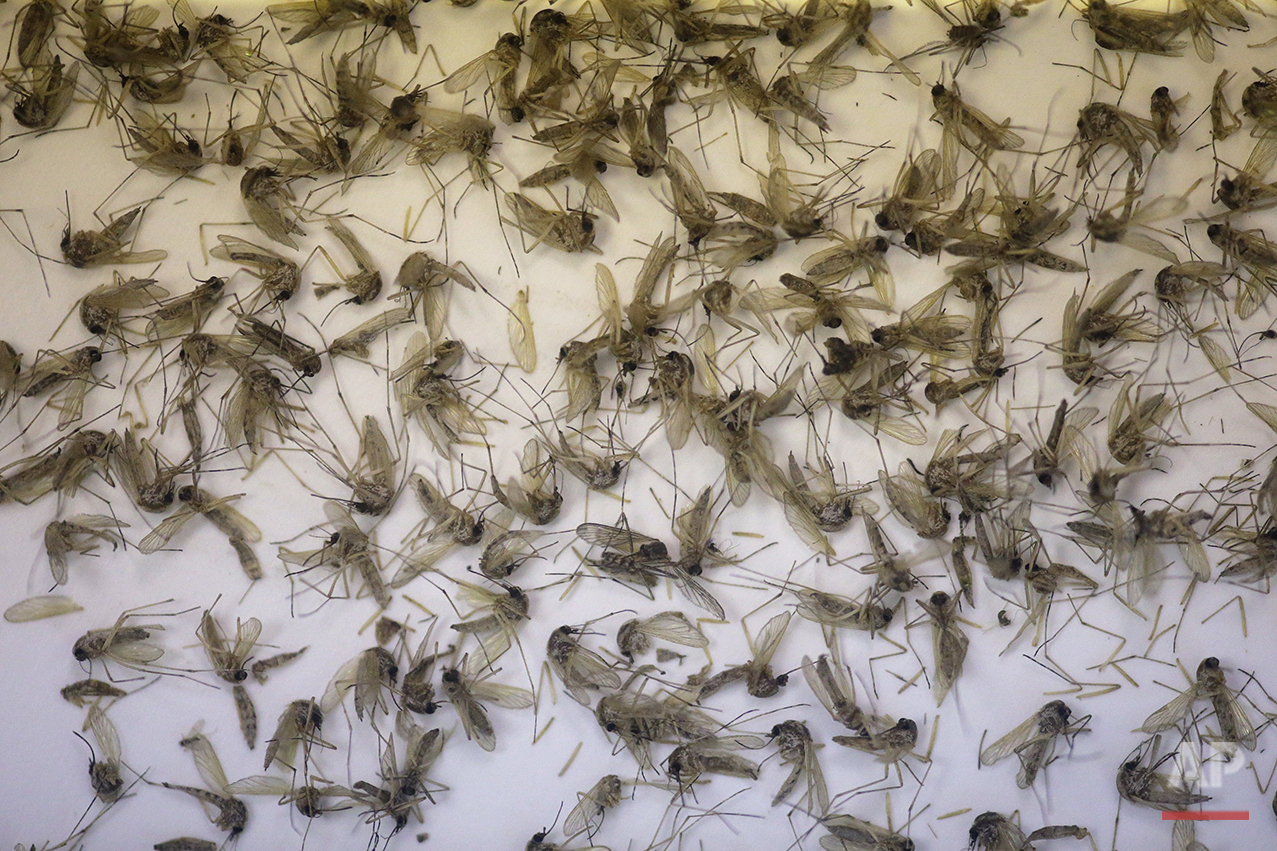 Zika Related Death New Case
A tray of Aedes dorsalis and Culex tarsalis mosquitos are shown collected at the Salt Lake City Mosquito Abatement District Tuesday, July 19, 2016, near Salt Lake City. Health authorities in Utah are investigating a unique case of Zika found in a person who had been caring for a relative who had an unusually high level of the virus in his blood. Exactly how the disease was transmitted is still a mystery, though the person has since recovered. (AP Photo/Rick Bowmer)
Hillary Clinton Campaign
Democratic presidential candidate Hillary Clinton speaks at a rally at the Culinary Academy of Las Vegas in Las Vegas, Tuesday, July 19, 2016. (AP Photo/Andrew Harnik)
Republican National Convention
Delegates cheer on the convention floor during the second day session of the Republican National Convention in Cleveland, Tuesday, July 19, 2016. (AP Photo/Matt Rourke)
Hollywood Hills Wildfire
Firefighters stand on a scorched hillside as a wildfire burns in the Hollywood Hills section of Los Angeles, Tuesday, July 19, 2016. The blaze broke out shortly after 3 p.m. Tuesday near the Hollywood Reservoir. Fire crews and the dramatic sight of flames and smoke combined to slow traffic on the nearby U.S. 101 Freeway as rush hour was beginning. (AP Photo/Jae C. Hong)
Police Shot Baton Rouge
People hold hands at a candlelight vigil for Baton Rouge police officer Montrell Jackson, outside Istrouma High School, where he graduated in 2001, in Baton Rouge, Tuesday, July 19, 2016. Multiple police officers were killed and wounded Sunday morning in a shooting near a gas station in Baton Rouge, less than two weeks after a black man was shot and killed by police here, sparking nightly protests across the city. (AP Photo/Gerald Herbert)
Follow AP photographers on Twitter: http://twitter.com/AP/lists/ap-photographers
Spotlight is the blog of AP Images, the world's largest collection of historical and contemporary photos. AP Images provides instant access to AP's iconic photos and adds new content every minute of every day from every corner of the world, making it an essential source of photos and graphics for professional image buyers and commercial customers. Whether your needs are for editorial, commercial, or personal use, AP Images has the content and the expert sales team to fulfill your image requirements. Visit apimages.com to learn more.
Written content on this site is not created by the editorial department of AP, unless otherwise noted.
AP Images on Twitter | AP Images on Facebook | AP Images on Instagram