Photos of the day
A selection of AP photos taken over the past 24 hours.
Britain EU
UKIP Leader Nigel Farage makes a speech in London, Wednesday June 22, 2016 on the final day of the EU referendum campaign before Britain goes to the polls to vote on continuing its membership of the EU. (AP Photo/Alastair Grant)
North Korea
North Koreans are dwarfed against giant portraits of the late North Korean leaders Kim Il Sung and Kim Jong Il as they walk past an apartment building on Wednesday, June 22, 2016, in Wonsan, North Korea. (AP Photo/Wong Maye-E)
Britain Lawmaker Killed
People hold hands during a gathering to celebrate the life of murdered British MP Jo Cox, in Trafalgar Square, London, Wednesday, June 22, 2016. Jo Cox, a 41-year-old Labour lawmaker who had championed the cause of Syrian refugees, was stabbed and shot to death outside a library in her northern England constituency on Thursday. The suspect gave his name in court as "death to traitors, freedom for Britain." (AP Photo/Alastair Grant)
Germany Poland
German Chancellor Angela Merkel,right, and Poland's Prime Minister Beata Szydlo,left, stand side by side as they pose with members of their governments for a group photo during consultations at the chancellery in Berlin, Wednesday, June 22, 2016. (AP Photo/Markus Schreiber)
Belarus WWII
Surrounded by morning fog spectators watch the mock battles between Soviet and Nazi forces during a ceremony to mark the Day of Remembrance and Sorrow, on the 75th anniversary of Germany's attack on the Soviet Union in World War II in the Brest Fortress memorial, 360 kilometers (225 miles) southwest of Minsk, Belarus, early Wednesday, June 22, 2016. The garrison of the 19-century fortress was encircled hours after the Nazis invaded the Soviet Union on June 22, 1941, but the Brest fortress' Soviet defenders held out for 28 days. (AP Photo/Sergei Grits)
Gun Control Democrats
This photo provided by Rep. John Yarmuth, D-Ky., shows Democrat members of Congress, including Rep. John Lewis, D-Ga., center, and Rep. Joe Courtney, D-Conn., left, participate in sit-down protest seeking a a vote on gun control measures, Wednesday, June 22, 2016, on the floor of the House on Capitol Hill in Washington. (Rep. John Yarmuth via AP)
Russia WWII Remembered
Russian President Vladimir Putin, right, holds flowers during a wreath laying ceremony at the Tomb of the Unknown Soldier in Moscow, Russia, on Wednesday, June 22, 2016, marking the 75th anniversary of the Nazi invasion of the Soviet Union. (AP Photo/Alexander Zemlianichenko, Pool)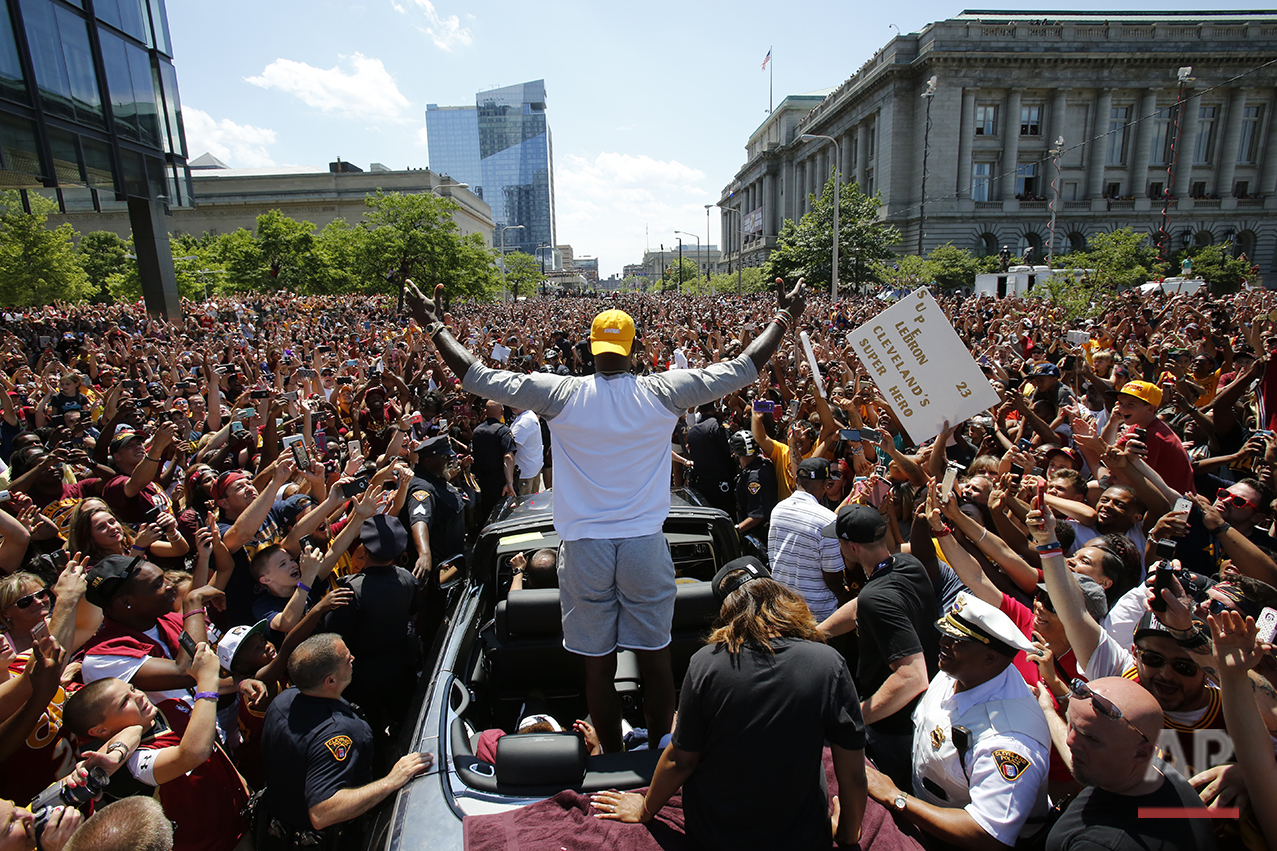 Cavaliers Parade
Cleveland Cavaliers' LeBron James, center, stands in the back of a Rolls Royce as it makes it way through the crowd lining the parade route in downtown Cleveland, Wedensday, June 22, 2016, celebrating the Cleveland Cavaliers' NBA Championship. (AP Photo/Gene J. Puskar)
Western Wildfires Colorado
In this photo provided by Kiowa County, Colo., Sheriff Casey Sheridan, a railroad trestle burns near the tiny town of Haswell, Colo., Wednesday, June 22, 2016. For days, wildfires have raged amid spiking heat across Southern California and much of the West, forcing many to evacuate. (Casey Sheridan/Kiowa County, Colo., Sheriffs Department via AP)
Texas Daily Life
Justin Hughes, 8, left, and Jordan Pitman, 6, play in the water from a fire hydrant Wednesday, June 22, 2016, in Houston. (AP Photo/David J. Phillip)
Soccer Euro 2016 Iceland Austria
Iceland's Arnor Ingvi Traustason, bottom, holds team mate Birkir Bjarnason as he celebrates scoring his team's second goal during the Euro 2016 Group F soccer match between Iceland and Austria at the Stade de France in Saint-Denis, north of Paris, France, Wednesday, June 22, 2016. (AP Photo/Martin Meissner)
Soccer Euro 2016 Sweden Belgium
Sweden's Zlatan Ibrahimovic controls the ball during the Euro 2016 Group E soccer match between Sweden and Belgium at the Allianz Riviera stadium in Nice, France, Wednesday, June 22, 2016. (AP Photo/Thanassis Stavrakis)
Follow AP photographers on Twitter: http://twitter.com/AP/lists/ap-photographers
Spotlight is the blog of AP Images, the world's largest collection of historical and contemporary photos. AP Images provides instant access to AP's iconic photos and adds new content every minute of every day from every corner of the world, making it an essential source of photos and graphics for professional image buyers and commercial customers. Whether your needs are for editorial, commercial, or personal use, AP Images has the content and the expert sales team to fulfill your image requirements. Visit apimages.com to learn more.
Written content on this site is not created by the editorial department of AP, unless otherwise noted.
AP Images on Twitter | AP Images on Facebook | AP Images on Instagram