Photos of the day
APTOPIX Mideast Palestinians Daily Life
Palestinians are silhouetted by the sunset, as they stand at the Gaza port at sunset in Gaza City, Thursday, March 31, 2016. (AP Photo/Hatem Moussa)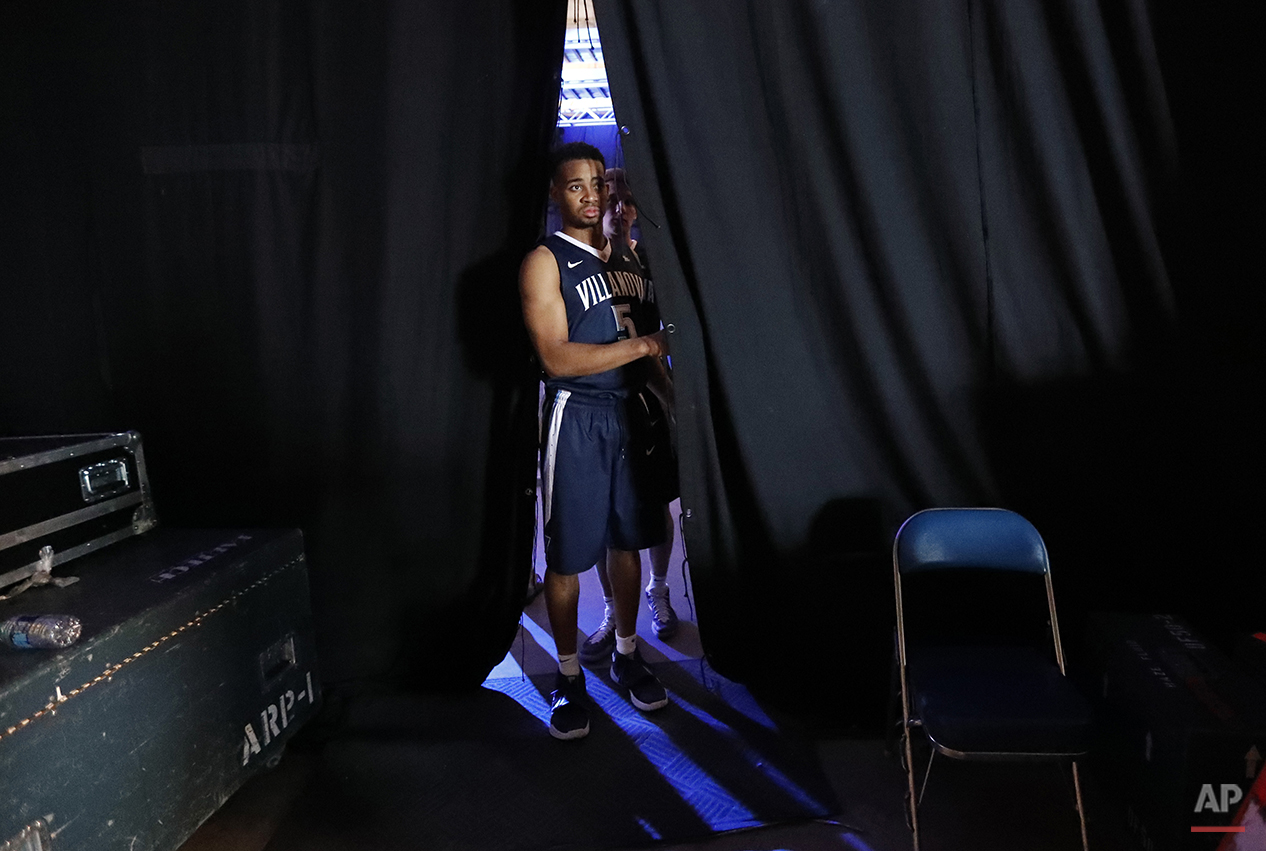 NCAA Final Four Basketball
Villanova's Phil Booth waits for the start of a closed practice session for the NCAA Final Four college basketball tournament Thursday, March 31, 2016, in Houston. (AP Photo/David J. Phillip)
Mideast Egypt
An Egyptian souvenir vendor waits for customers at the Valley of the Kings in Luxor, Egypt, Thursday, March 31, 2016. The hijacking dealt a new blow to Egypt's efforts to project an image of stability to tourists and investors five months after a Russian passenger crashed in the Sinai peninsula in a suspected bombing claimed by Islamic State. Militant attacks have surged since 2013, though most have been centered in north Sinai. (AP Photo/Amr Nabil)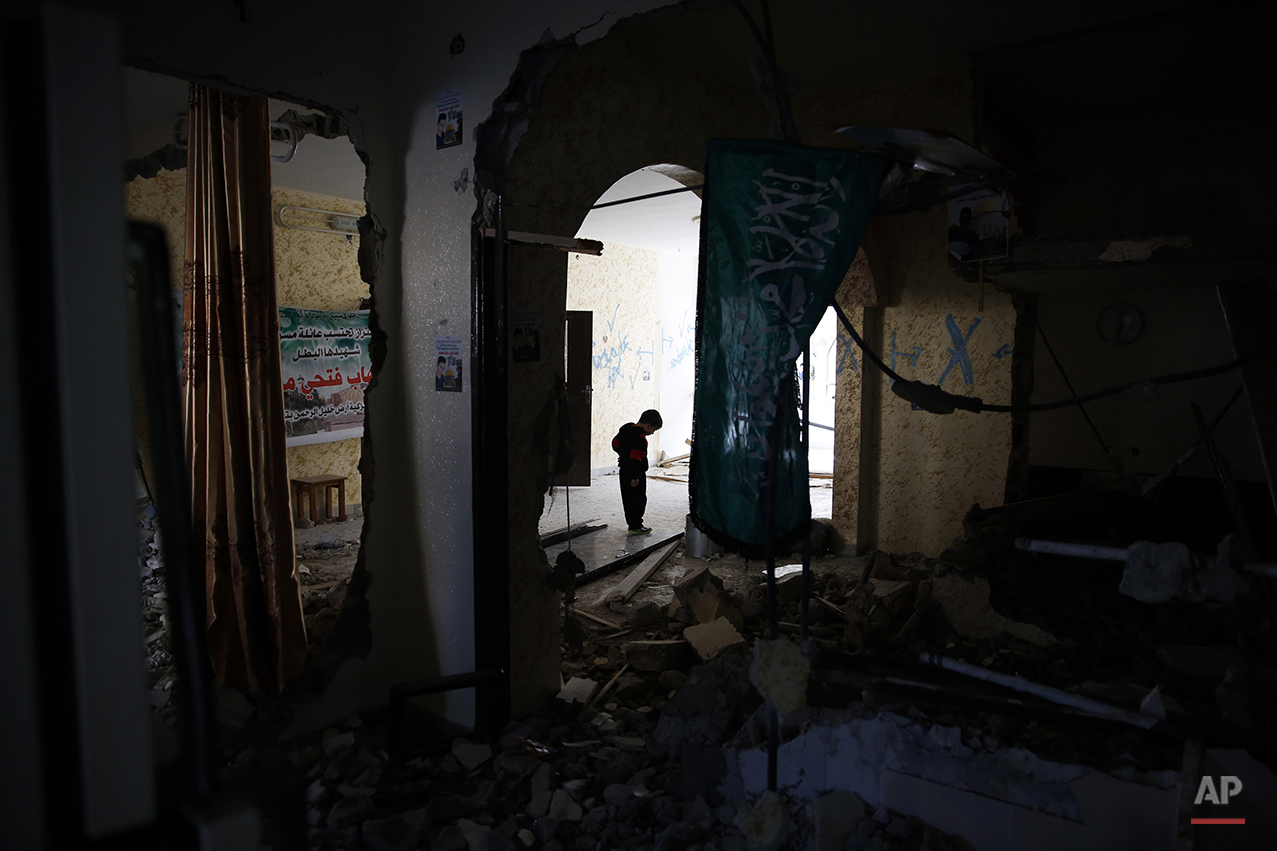 Mideast Israel Palestinians
A Palestinian child walks through the home of Ehab Maswada that was demolished by the Israeli army in the West Bank city of Hebron, Thursday, March 31, 2016. Maswada fatally stabbed an Israeli civilian in the West Bank city of Hebron late last year. Israel says home demolitions are an effective tool to deter attacks, but critics say the tactic amounts to collective punishment. (AP Photo/ Nasser Shiyoukhi).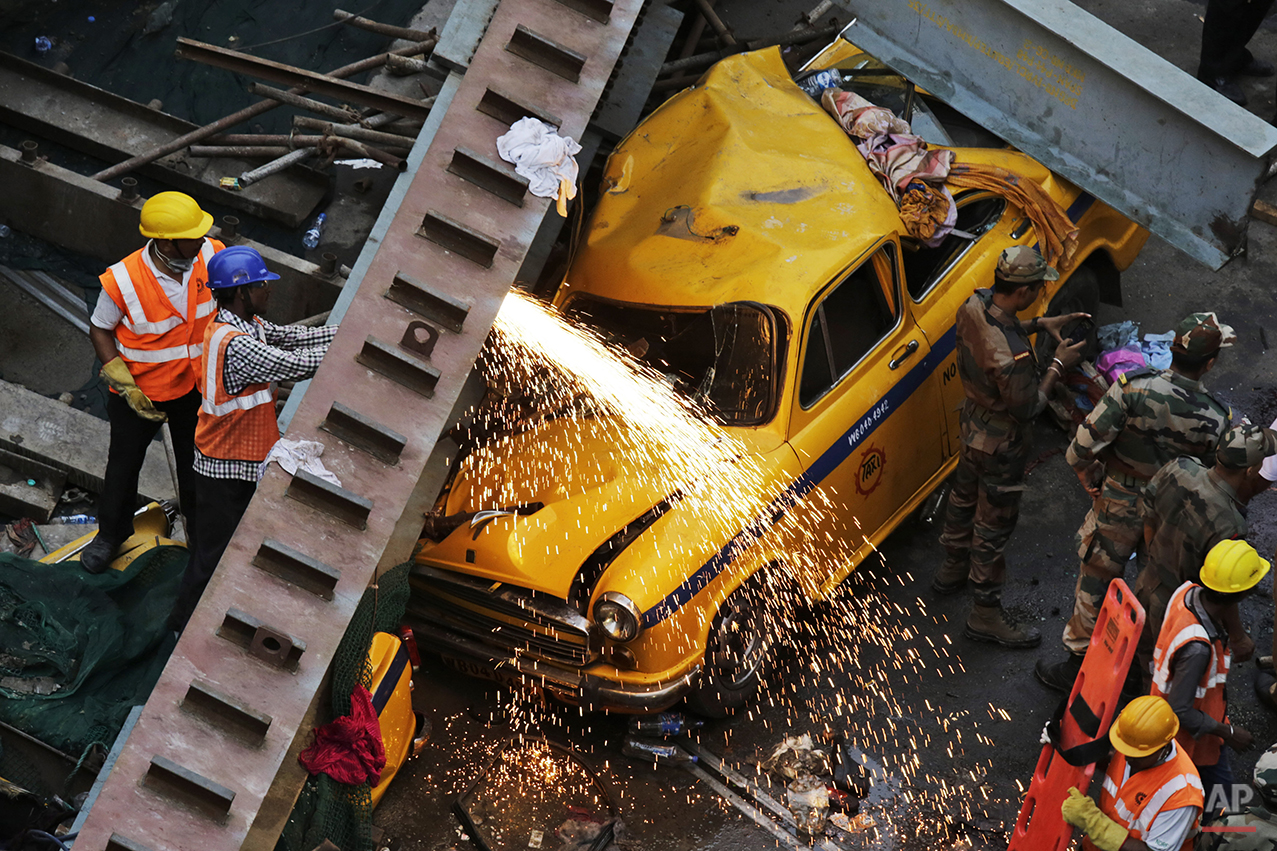 APTOPIX India Overpass Collapse
Rescue workers cut through parts of a partially collapsed overpass in Kolkata, India,Thursday, March 31, 2016. A long section of a road overpass under construction collapsed Wednesday in a crowded Kolkata neighborhood, with tons of concrete and steel slamming into midday traffic, killing several and injuring many. (AP Photo/Bikas Das)
Germany Zoo
A peacock displays its colorful feathers at the zoo in Duisburg, Germany, Thursday, March 31, 2016. (AP Photo/Martin Meissner)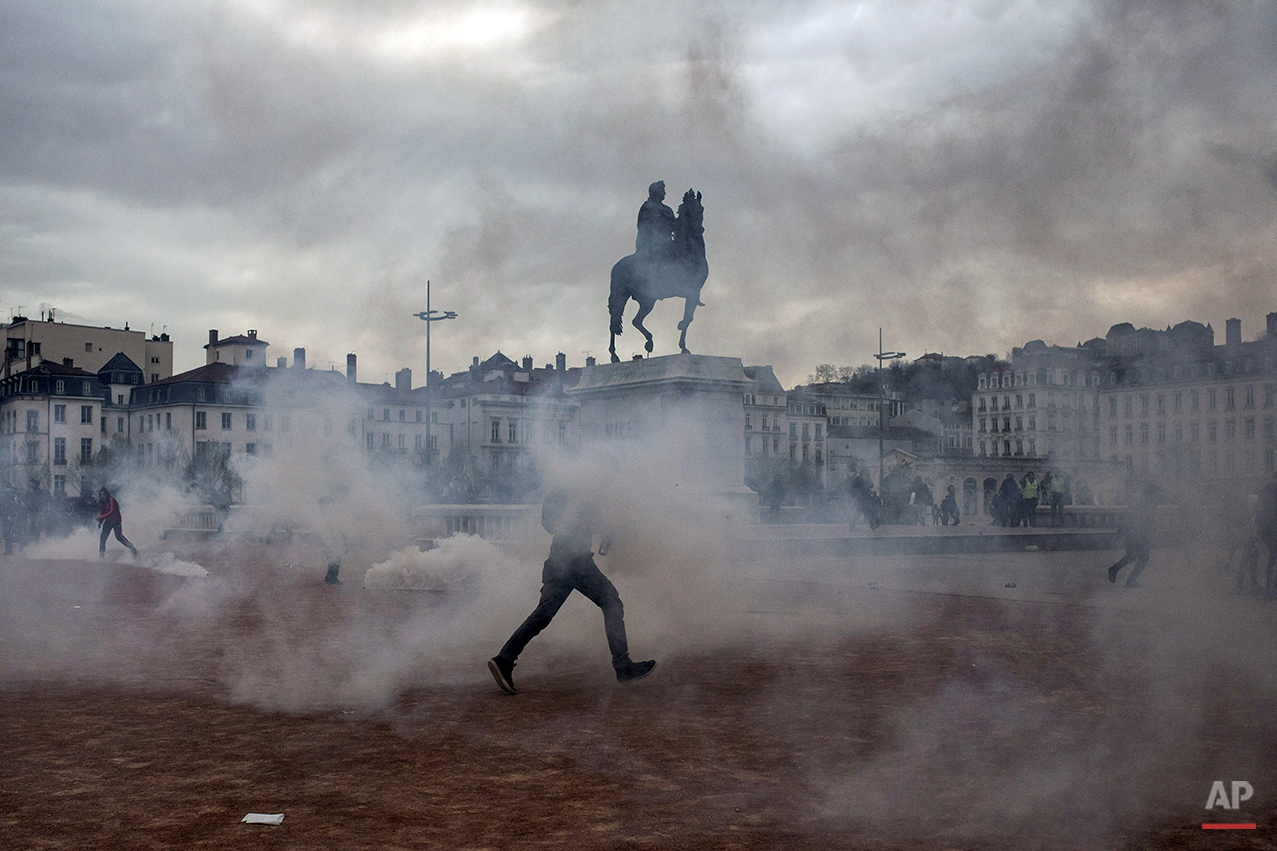 APTOPIXFrance Strike
A protestor runs in the smoke of tear gas during a demonstration in Lyon, central France, Thursday, March 31, 2016. Tens of thousands of workers and youths took to the streets of France to protest, sometimes violently, a government reform meant to make it easier to hire and fire employees and to relax the country's strict 35-hour workweek. As train drivers, teachers and others went on strike, student organizations and seven employee unions combined to condemn the Socialist government's bill, which they argue will badly erode hard-won worker protections. (AP Photo/Laurent Cipriani)
APTOPIX Russia Jailed Artist
Russian artist Petr Pavlensky, left, sits in a cage in court room as a member of the punk provocateur band Pussy Riot Maria Alekhina, top right, takes a picture of him, in Moscow, Russia, Thursday, March 31, 2016. A Moscow court extended Pavlensky's detention until the beginning of April. The artist is known for his political art performances, including nailing his scrotum to the paving stones of the Red Square. (AP Photo/Ivan Sekretarev)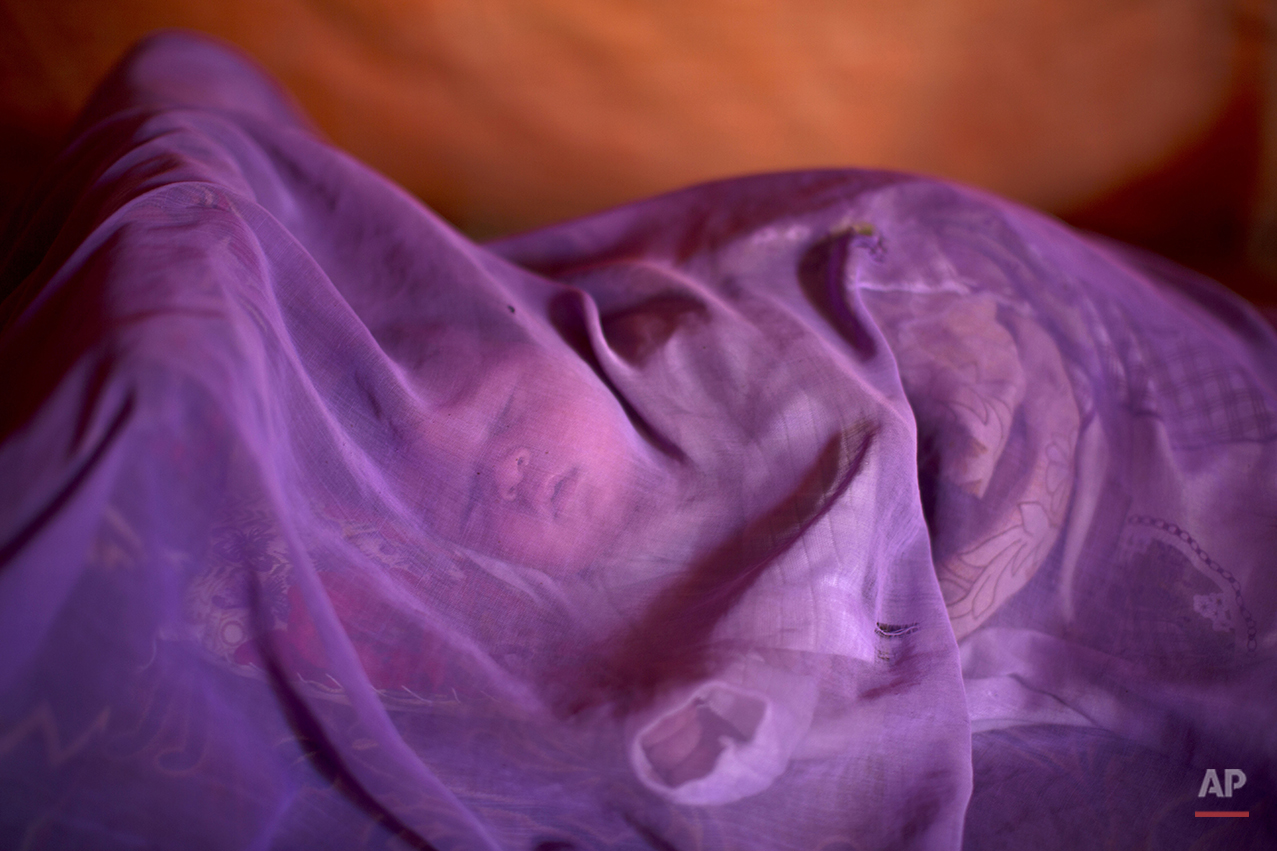 Mideast Jordan Syrian Refugees Daily Life
One-month-old Syrian refugee Ali Jassim sleeps under a sheet to be protected from mosquitos and flies inside his family's tent at an informal tented settlement in the Jordan Valley, Jordan, Thursday, March 31, 2016. (AP Photo/Muhammed Muheisen)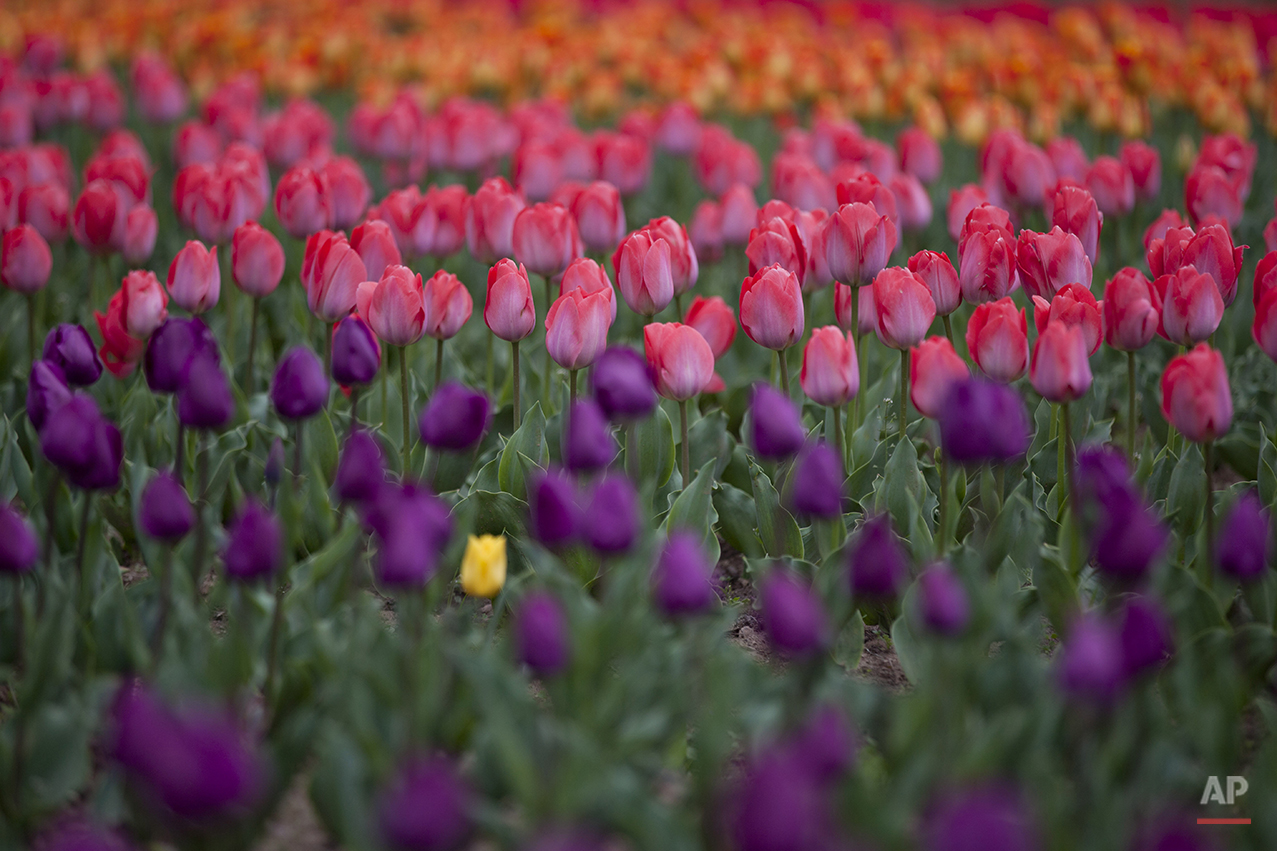 APTOPIX India Kashmir
Tulips are seen in full bloom at a garden in the outskirts of Srinagar, Indian controlled Kashmir, Thursday, March 31, 2016. Kashmir, known for its mountains, lakes, forests and moderate weather, was one of Asia's most popular tourist destinations until a Muslim separatist movement broke out in the region since1989 claiming thousands of lives. With the situation improving, many tourists have started returning to Kashmir. (AP Photo/Dar Yasin)
APTOPIX Singapore Blue Man Group
Blue Man Group performs with paint during a media preview on Thursday, March 31, 2016, in Singapore where they will start their world tour to mark the founding of their group 25 years ago. Blue Man Group was started by three friends in New York in 1991 as a way to celebrate the human spirit through music, science, art and theater. (AP Photo/Wong Maye-E)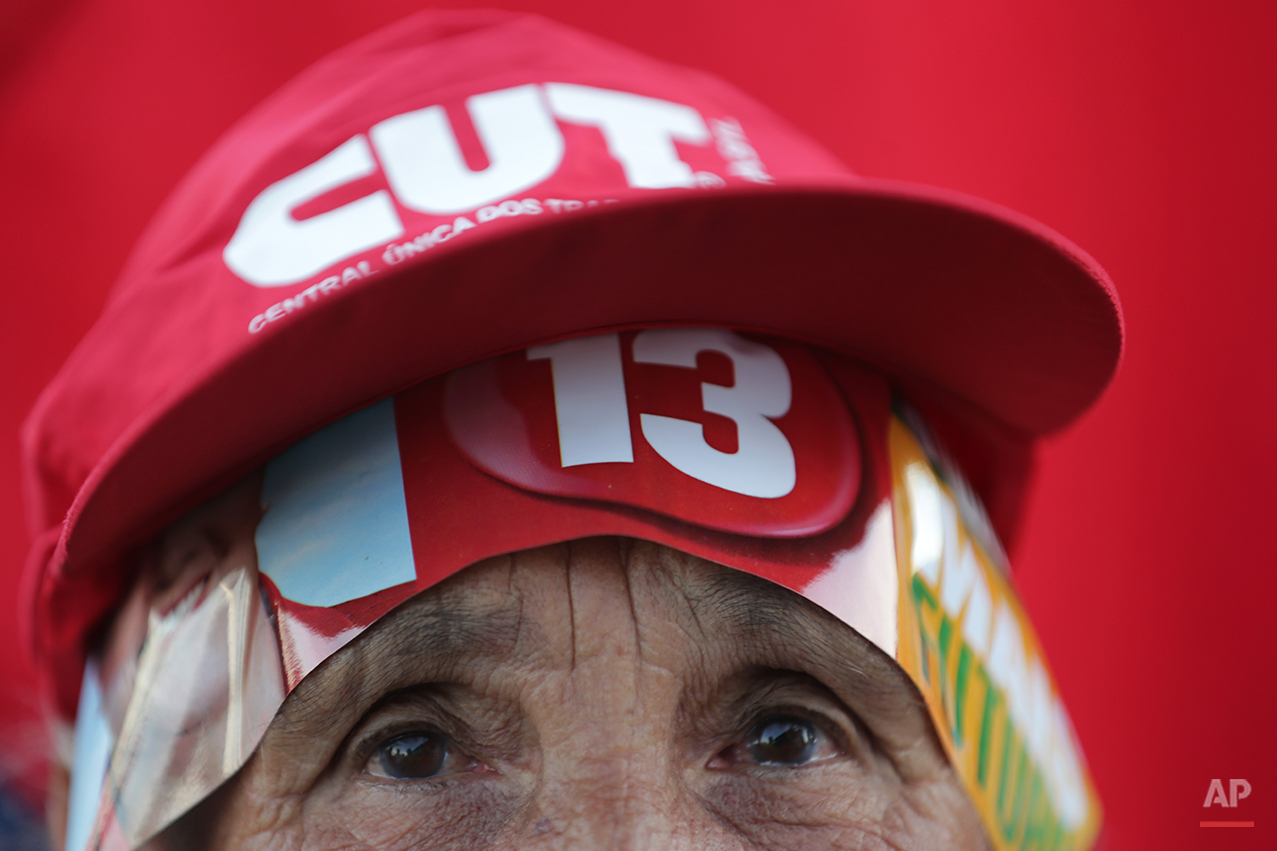 APTOPIX Brazil Political Crisis
A government supporter wears the number 13 on her cap, the number associated with the ruling Workers Party, as people rally in support of Brazil's President Dilma Rousseff and former President Luiz Inacio Lula da Silva in Brasilia, Brazil, Thursday, March 31, 2016. Rousseff is facing impeachment proceedings as her government faces a stalling national economy and multiple corruption scandals. (AP Photo/Eraldo Peres)
APTOPIX Minimum Wage California
State Sen. Mark Leno, D-San Francisco, left, one of the authors of a bill to raise California's minimum wage, is hugged by Sen. Ben Hueso, D-San Diego, as the Senate voted on the bill, Thursday, March 31, 2016, in Sacramento, Calif. The bill, SB3, to gradually raise the state's minimum wage to a nation-leading $15 an hour by 2022, was approved by both houses of the Legislature and sent to Gov. Jerry Brown. (AP Photo/Rich Pedroncelli)
DEM 2016 Sanders
Democratic presidential candidate Sen. Bernie Sanders, I-Vt., speaks during a campaign rally at St. Mary's Park, Thursday, March 31, 2016, in the Bronx borough of New York. (AP Photo/Julie Jacobson)
---
Follow AP photographers on Twitter: http://twitter.com/AP/lists/ap-photographers
Spotlight is the blog of AP Images, the world's largest collection of historical and contemporary photos. AP Images provides instant access to AP's iconic photos and adds new content every minute of every day from every corner of the world, making it an essential source of photos and graphics for professional image buyers and commercial customers.  Whether your needs are for editorial, commercial, or personal use, AP Images has the content and the expert sales team to fulfill your image requirements. Visit apimages.com to learn more.
Written content on this site is not created by the editorial department of AP, unless otherwise noted. 
AP Images on Twitter | AP Images on Facebook | AP Images on Instagram