Photos of the day
A selection of AP photos taken over the past 24 hours.
Greece Migrants
A volunteer warms herself by a makeshift fire as she waits for more refugees and migrants to arrive in the northeastern Greek island of Lesbos, Monday, March 21, 2016. The number of stranded migrants in Greece exceeded 50,000 Monday as the number of daily arrivals showed no sign of dropping. (AP Photo/Petros Giannakouris)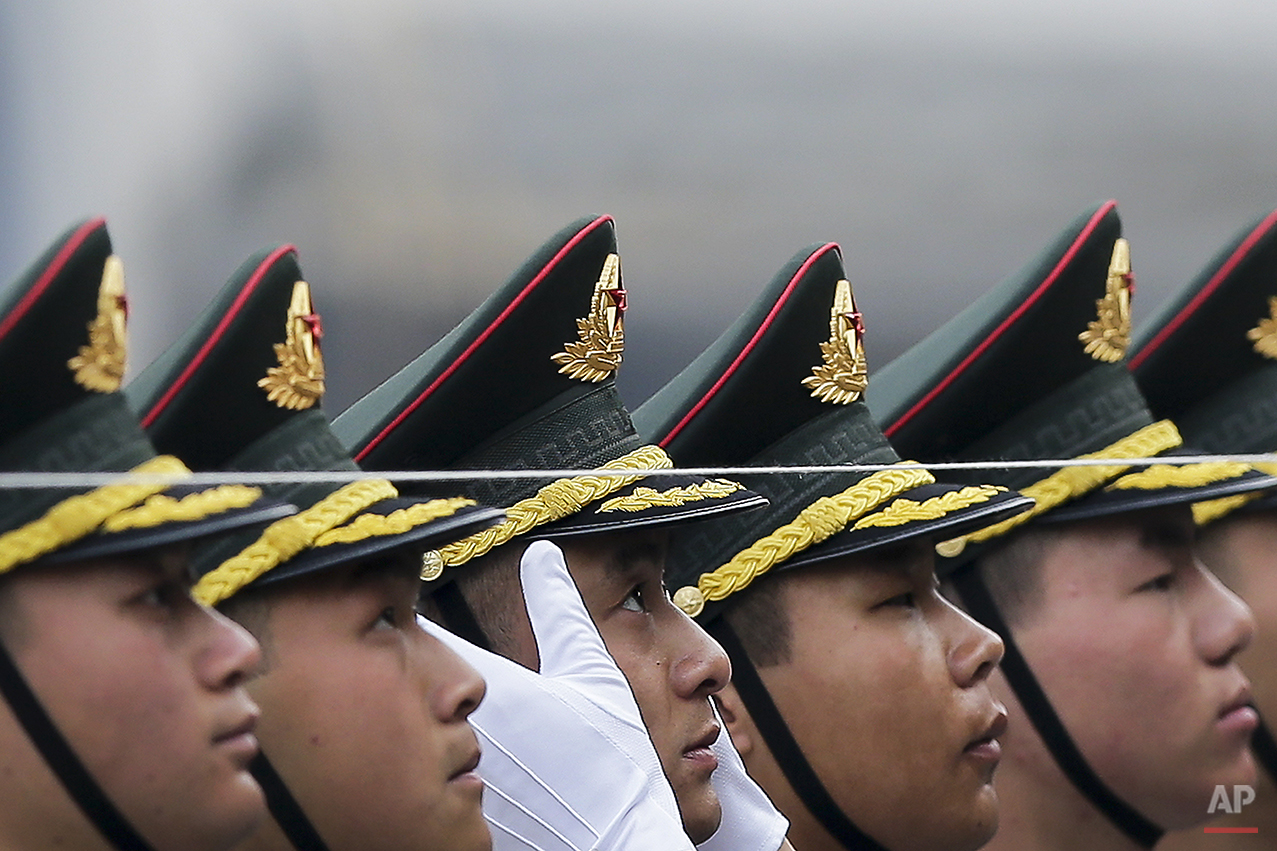 China Germany
A Chinese People's Liberation Army soldier adjusts a hat of a member of an honor guard as they prepare for a welcome ceremony for visiting German President Joachim Gauck, outside the Great Hall of the People in Beijing, Monday, March 21, 2016. (AP Photo/Andy Wong)
Turkey Kurds Newroz
Celebrators, some holding portraits of jailed Kurdish rebel leader Abdullah Ocalan, top left, shout as they gather to celebrate Nowruz in Diyarbakir, Turkey, Monday, March 21, 2016. Thousands of people have gathered in the mainly Kurdish city of Diyarbakir to celebrate the Newroz spring festival. Authorities made arrests in other parts of the country where the festivities were banned. (AP Photo/Murat Bay)
Romania World Down Syndrome Day
3 year-old Ilinca, blows a kiss to a steward after completing a gymnastics routine during a competition marking the World Down Syndrome Day, in Bucharest, Romania, Monday, March. 21, 2016. (AP Photo/Andreea Alexandru) ROMANIA OUT
Israel
Israeli mourners stand during the funeral of Simha Damari, 60 years old, one of three Israelis killed in a suicide bomb attack in Istanbul on Saturday, in Dimona, southern Israel, Monday, March 21, 2016. An Islamic State group suicide bomber killed himself, two Israeli-Americans, an Israeli and an Iranian in Istanbul's busiest pedestrian shopping street. (AP Photo/Tsafrir Abayov)
India Widows Holi
Hindu widows apply colour powder to each other during Holi celebrations at the Gopinath temple, 180 kilometres (112 miles) south-east of New Delhi, India, Monday, March 21, 2016. A few years ago this joyful celebration was forbidden for Hindu widows. Like hundreds of thousands of observant Hindu women they would have been expected to live out their days in quiet worship, dressed only in white, their very presence being considered inauspicious for all religious festivities. (AP Photo /Manish Swarup)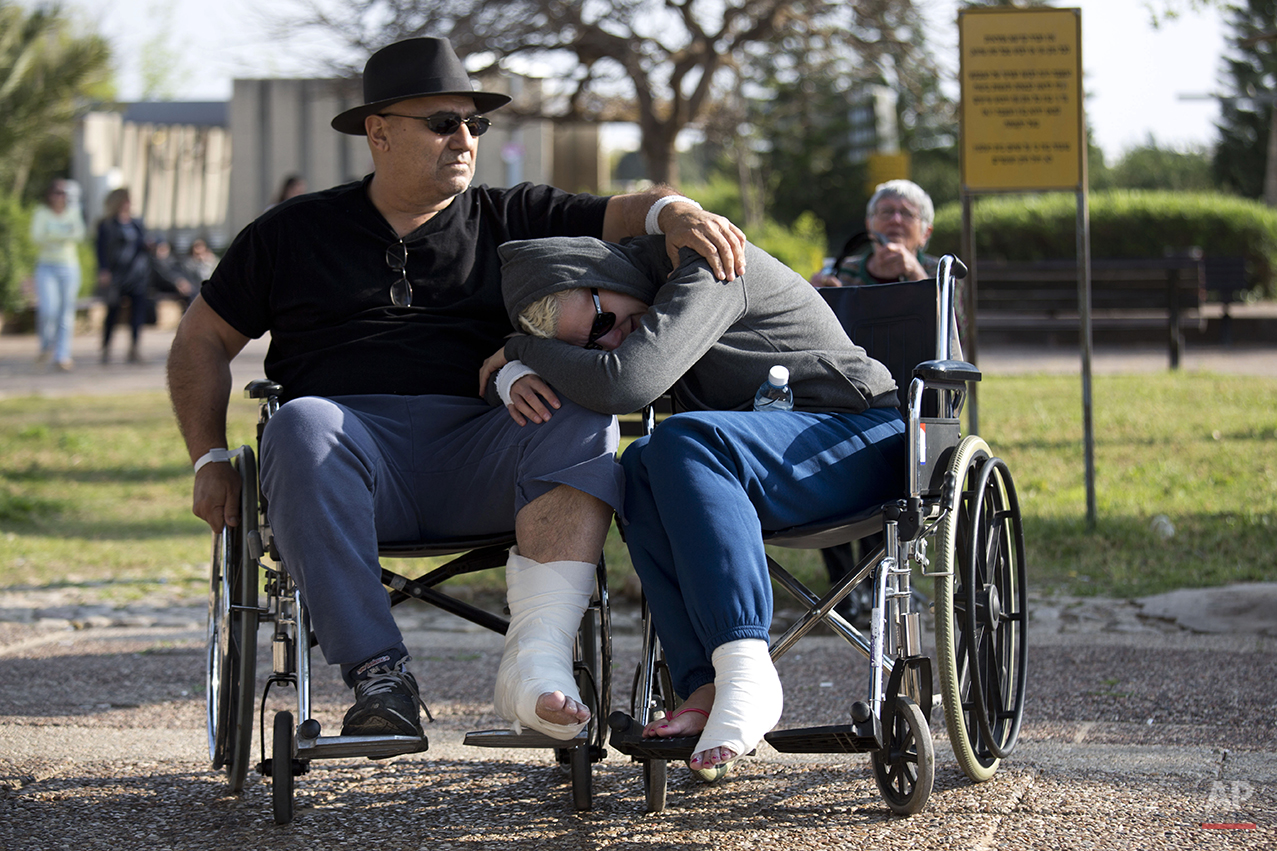 Israel Turkey Explosion
David Califa and Naama Peleg, tour guides that were injured with American Israeli Avraham Goldman who was killed in a suicide attack in Turkey, mourn during his funeral in Holon near Tel Aviv, Israel, Monday, March 21, 2016. Turkey's interior minister on Sunday identified the suicide bomber who killed four foreign tourists in Istanbul as a militant with links to the Islamic State group. (AP Photo/Ariel Schalit)
Hillary Clinton AIPAC
Democratic presidential candidate Hillary Clinton speaks at the 2016 American Israel Public Affairs Committee (AIPAC) Policy Conference, March 21, 2016, at the Verizon Center in Washington. (AP Photo/Andrew Harnik)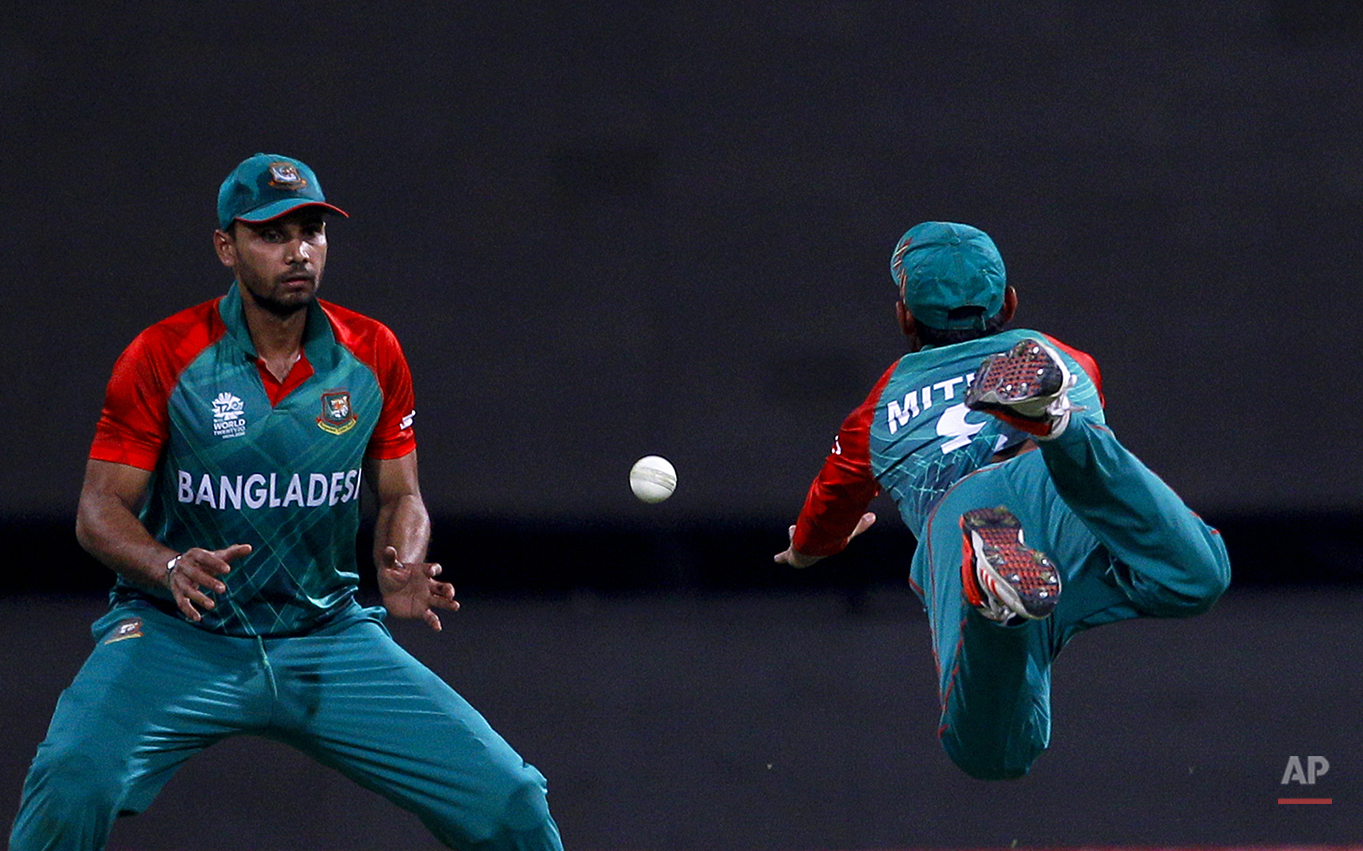 India World T20 Cricket Australia Bangladesh
Bangladesh's captain Mashrafe Mortaza, left, watches the ball after teammate Mohammad Mithun, right, dropped the catch of Australia's Shane Watson during their ICC World Twenty20 2016 cricket match in Bangalore, India, Monday, March 21, 2016. (AP Photo/Aijaz Rahi)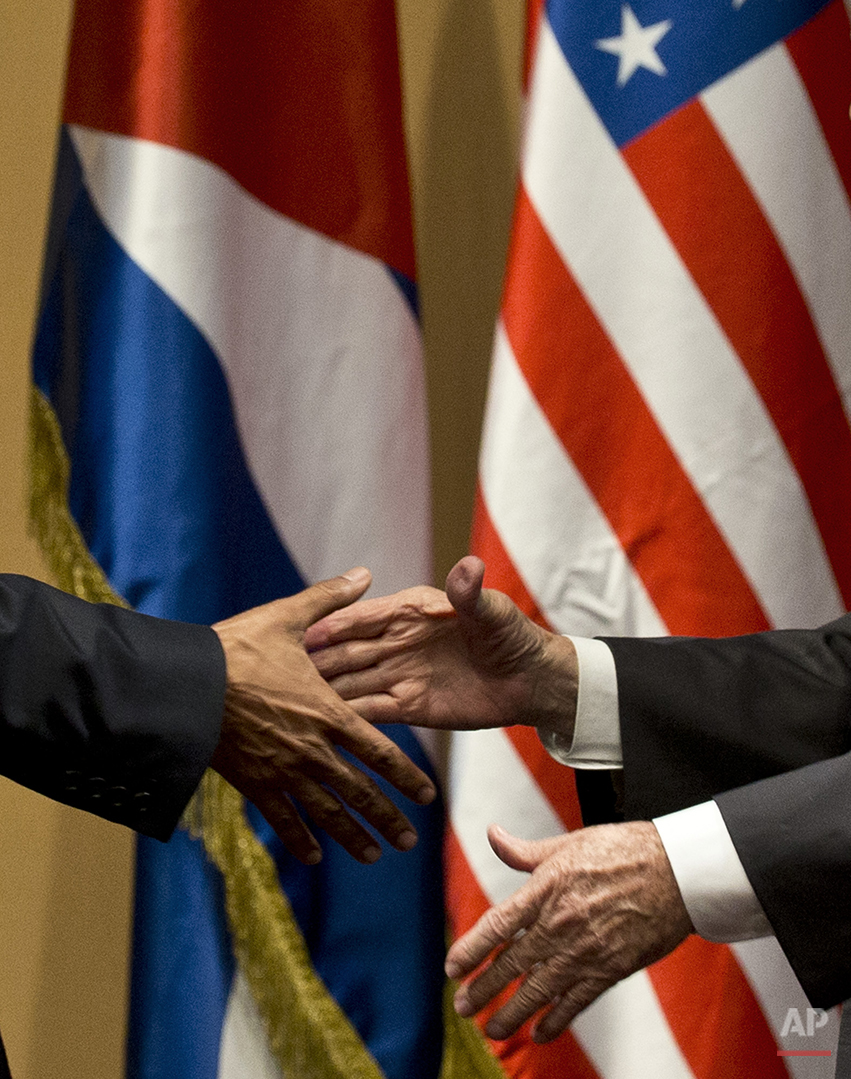 Obama in Cuba
Back dropped by the US and Cuban flags, US President Barack Obama, left, and Cuba's President Raul Castro shake hands after a joint statement in Havana, Cuba, Monday, March 21, 2016. Brushing past differences, President Obama and President Castro sat down for a historic meeting, offering critical clues about whether Obama's sharp U-turn in policy will be fully reciprocated.(AP Photo/Ramon Espinosa)
Wintry Weather
A snowplow truck passes a shoveler, Monday, March 21, 2016, in North Andover, Mass. Steady snowfall made for a sloppy Monday morning commute across much of New England. (AP Photo/Elise Amendola)
Spain Holy Week
A hooded penitent from "Vera Cruz" walks before a a Holy Week procession in Cordoba, Spain, Monday, March 21, 2016. Hundreds of processions take place throughout Spain during the Easter Holy Week. The procession was cancelled due to bad weather. (AP Photo/Manu Fernandez)
See these photos on APImages.com
Follow AP photographers on Twitter: http://twitter.com/AP/lists/ap-photographers
Spotlight is the blog of AP Images, the world's largest collection of historical and contemporary photos. AP Images provides instant access to AP's iconic photos and adds new content every minute of every day from every corner of the world, making it an essential source of photos and graphics for professional image buyers and commercial customers. Whether your needs are for editorial, commercial, or personal use, AP Images has the content and the expert sales team to fulfill your image requirements. Visit apimages.com to learn more.
Written content on this site is not created by the editorial department of AP, unless otherwise noted.
AP Images on Twitter | AP Images on Facebook | AP Images on Instagram