Photos of the day
A selection of AP photos taken over the past 24 hours.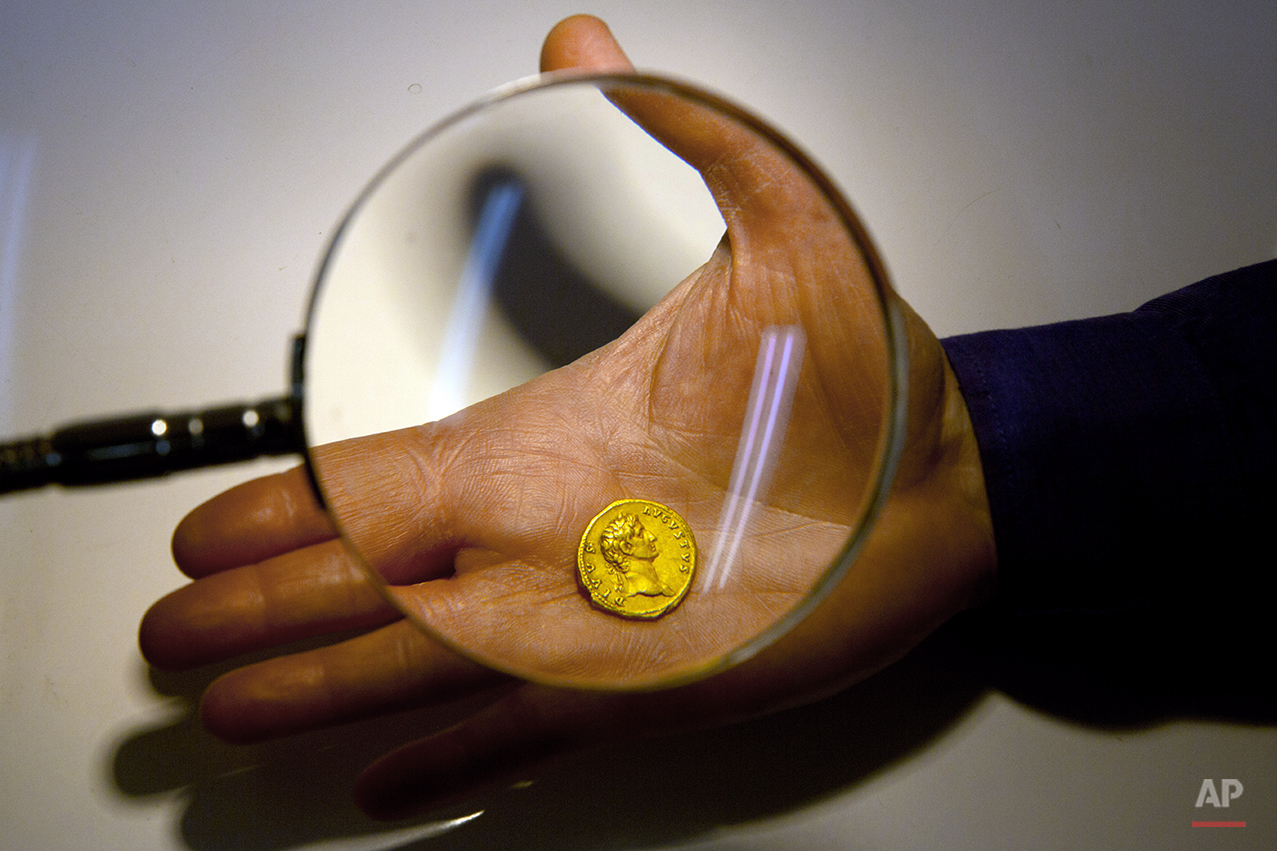 Mideast Israel Rare Coin
Israeli Antiquities Authority official Donald T. Ariel holds a rare, nearly 2,000-year-old gold coin, at the Antiquities Authority office inside the Israel Museum in Jerusalem, Monday, March 14, 2016. Israel's Antiquities Authority says a hiker has found a rare, nearly 2,000-year-old gold coin. The authority said Monday that the ancient coin appears to be only the second of its kind to have been found. It said London's British Museum possesses the other coin. (AP Photo/Ariel Schalit)
Turkey Explosion
Members of the Cermik family attend a funeral procession for three members of their family killed in Sunday's explosion in Ankara, Turkey, Monday, March 14, 2016. A senior government official told The Associated Press that authorities believe the attack was carried out by two bombers, one of them a woman, and was the work of Kurdish militants. It was the second deadly attack blamed on Kurdish militants in the capital in the past month. (AP Photo)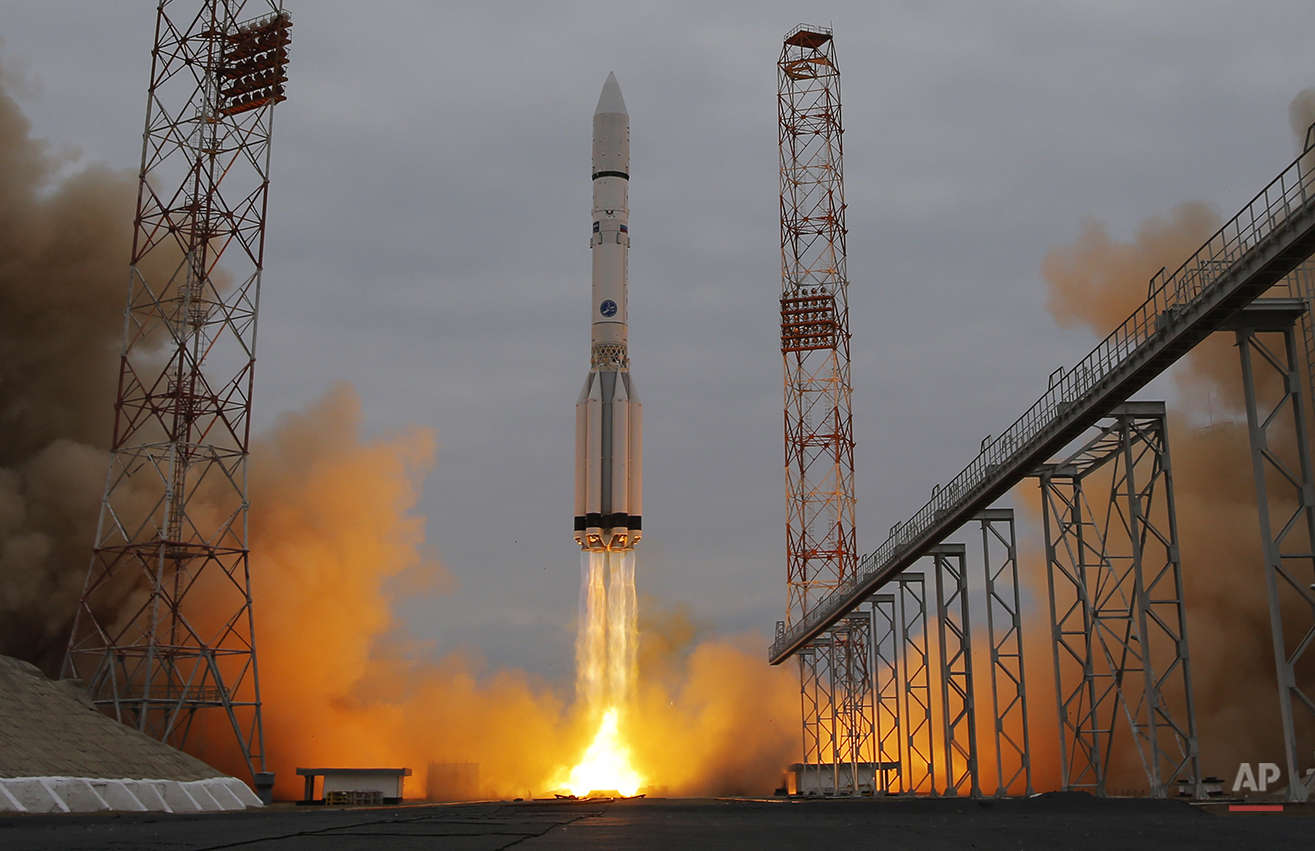 Kazakhstan Mars Mission
The Proton-M rocket booster blasts off at the Russian leased Baikonur cosmodrome, Kazakhstan, Monday, March 14, 2016. Europe and Russia launched a joint mission Monday to explore the atmosphere of Mars and hunt for signs of life on the red planet. The unmanned ExoMars probe, a collaboration between the European Space Agency and Roscosmos, took off aboard a Russian rocket and is expected to reach Mars in October. (AP Photo/Dmitri Lovetsky)
Belgium EU Farmers demonstration
Pigs sleep in a pen during a demonstration outside EU headquarters in Brussels on Monday, March 14, 2016. Farmers demonstrated in Brussels Monday against falling food prices. (AP Photo/Virginia Mayo)
Greece Migrants
Group of migrants walks north of Idomeni, Greece, attempting to reach Macedonia on a route that would bypass the border fence, Monday, March 14, 2016. Hundreds of migrants and refugees walked out of an overcrowded camp on the Greek-Macedonian border Monday, determined to use a dangerous crossing to head north. (AP Photo/Visar Kryeziu)
Donald Trump Protest
Protesters wait before dawn outside a church at Lenoir-Rhyne University before a rally for Republican presidential candidate Donald Trump in Hickory, N.C., Monday, March 14, 2016. (AP Photo/Chuck Burton)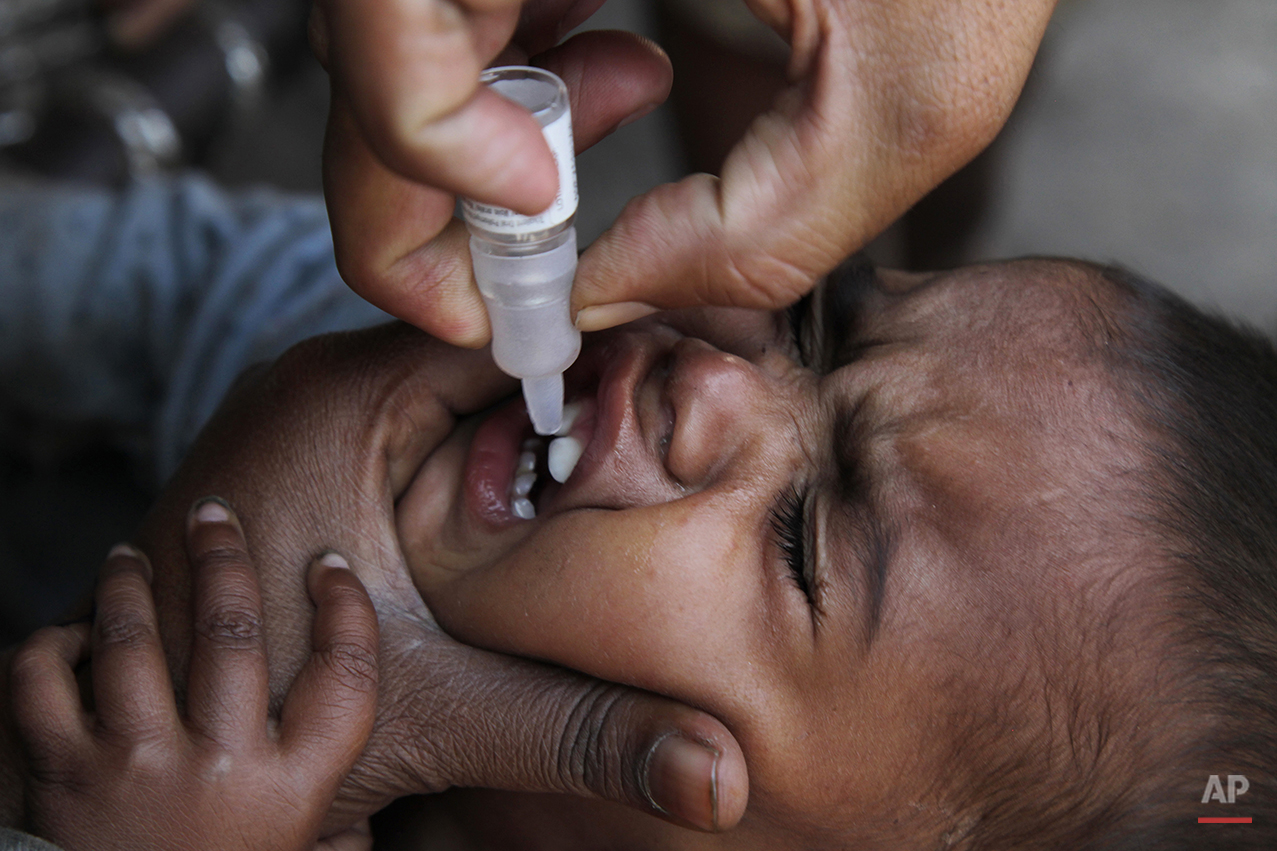 Pakistan Polio
A Pakistani health worker gives a polio vaccine to a child in Lahore, Pakistan, Monday, March 14, 2016. Polio remains endemic in Pakistan after the Taliban banned vaccinations, attacks targeted medical staffers and suspicions lingered about the inoculations. (AP Photo/K.M. Chaudary)
Indonesia Beached Whale
An Indonesian puts an offering on a stranded sperm whale for praying, in Bali, Indonesia Monday, March 14, 2016. The whale was found dead early Monday on a beach after being washed ashore. (AP Photo/Firdia Lisnawati)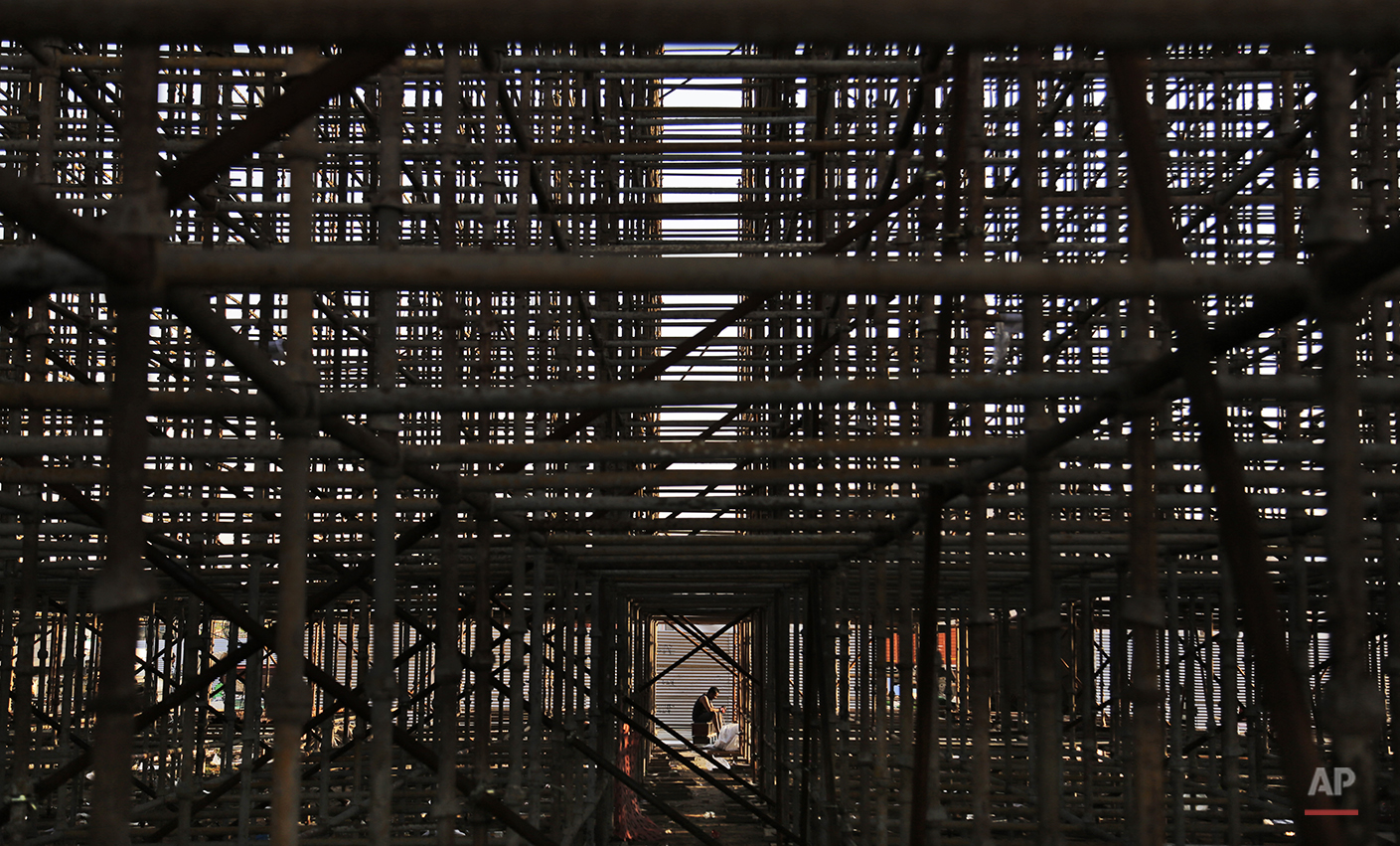 India Cultural Festival
A worker takes a break as they dismantle stadia temporarily erected for massive three-day cultural festival organized by the Art of Living Foundation on the banks of the river Yamuna in New Delhi, India, Monday, March 14, 2016. The three day event which concluded Sunday attracted a lot of flak from environmentalists with concerns that the sprawling construction of roads, ramps and pontoon bridges would irreparably damage the river's floodplains. (AP Photo/Altaf Qadri)
T rex Ancestor
Hans Dieter Sues, chair of the Department of Paleobiology at the Smithsonian's National Museum of Natural History, holds up a claw from a new dinosaur, Timurlengia euotica, during a news conference in Washington, Monday, March 14, 2016. (AP Photo/Susan Walsh)
China Conclave
Delegates stand and sing the Chinese national anthem during the closing session of the Chinese People's Political Consultative Conference (CPPCC) at the Great Hall of the People in Beijing, Monday, March 14, 2016. (AP Photo/Mark Schiefelbein)
Spain Soccer Champions League
PSV's head coach Phillip Cocu talks to journalists during a news conference at the Vicente Calderon stadium in Madrid, Monday, March 14, 2016. PSV Eindhoven will play a Champions League second leg soccer match against Atletico Madrid on Tuesday 15. Red light on the right is an out of focused bottle of soft drink. (AP Photo/Francisco Seco)
Germany Elections
In this photo taken through a window with reflections, Frauke Petry, chairwoman of the y AfD, Alternative for Germany party , attends a news conference in Berlin, Germany, Monday, March 14, 2016. On Sunday, March 13, 2016 state elections took place in German states of Saxony-Anhalt, Rhineland-Palatinate and Baden-Wuerttemberg. The nationalist, anti-migration Alternative for Germany party, or AfD, powered into three state legislatures Sunday after campaigning against Merkel's welcome for a huge influx of migrants last year. (AP Photo/Markus Schreiber)
China Conclave
A Chinese military band conductor gestures before starting rehearsals prior to the start of closing session of the Chinese People's Political Consultative Conference (CPPCC) at the Great Hall of the People in Beijing, Monday, March 14, 2016. (AP Photo/Mark Schiefelbein)
New Jersey House Fire
Firefighters remove a bag from the wreckage of a house destroyed by fire in Orange, N.J., Monday, March 14, 2016. (AP Photo/Seth Wenig)
Brewers Dodgers Spring Baseball
A grounds crew member lays a chalk line on the field before a spring training baseball game between the Los Angeles Dodgers and the Milwaukee Brewers, Monday, March 14, 2016, in Phoenix. (AP Photo/Jae C. Hong)
See these photos on APImages.com
Follow AP photographers on Twitter: http://twitter.com/AP/lists/ap-photographers
Spotlight is the blog of AP Images, the world's largest collection of historical and contemporary photos. AP Images provides instant access to AP's iconic photos and adds new content every minute of every day from every corner of the world, making it an essential source of photos and graphics for professional image buyers and commercial customers. Whether your needs are for editorial, commercial, or personal use, AP Images has the content and the expert sales team to fulfill your image requirements. Visit apimages.com to learn more.
Written content on this site is not created by the editorial department of AP, unless otherwise noted.
AP Images on Twitter | AP Images on Facebook | AP Images on Instagram