AP Images Team
Aaron Favila, Ashwini Bhatia, B-K- Bangash, Charlie Riedel, Eugene Hoshiko, Hassan Ammar, India, Jae C- Hong, Japan, Jordan, Khalil Hamra, Luca Bruno, Mohammad Sajjad, Muhammed Muheisen, Nariman El-Mofty, Pakistan, Pavel Golovkin, Sergei Grits, Tsering Topgyal, United States
Comment
Daily life around the world
Our Daily Life series is a visual exploration of everyday imagery from around the globe. For January's installment, our selection includes photos from New Delhi, Minsk, Moscow, and Beirut by AP photographers Hassan Ammar, Charlie Riedel, Eugene Hoshiko, Nariman El-Mofty, Sergei Grits, and more.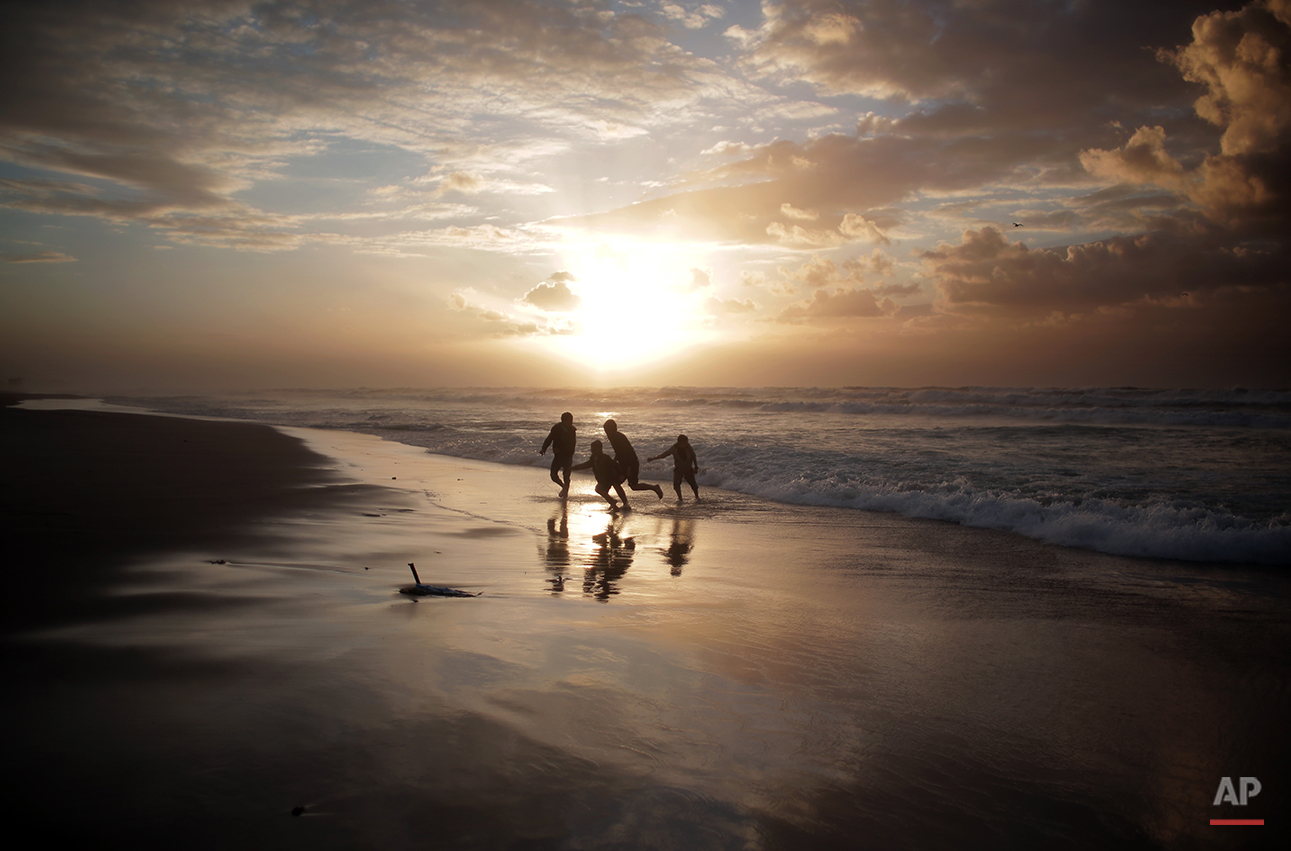 Palestine
Palestinian children play on the beach as the sun sets in Gaza City, Tuesday, Jan. 19, 2016. (AP Photo/ Khalil Hamra)
Japan
A man walks in front of an advertisement of cosmetic company in Tokyo, Wednesday, Jan. 13, 2016. (AP Photo/Eugene Hoshiko)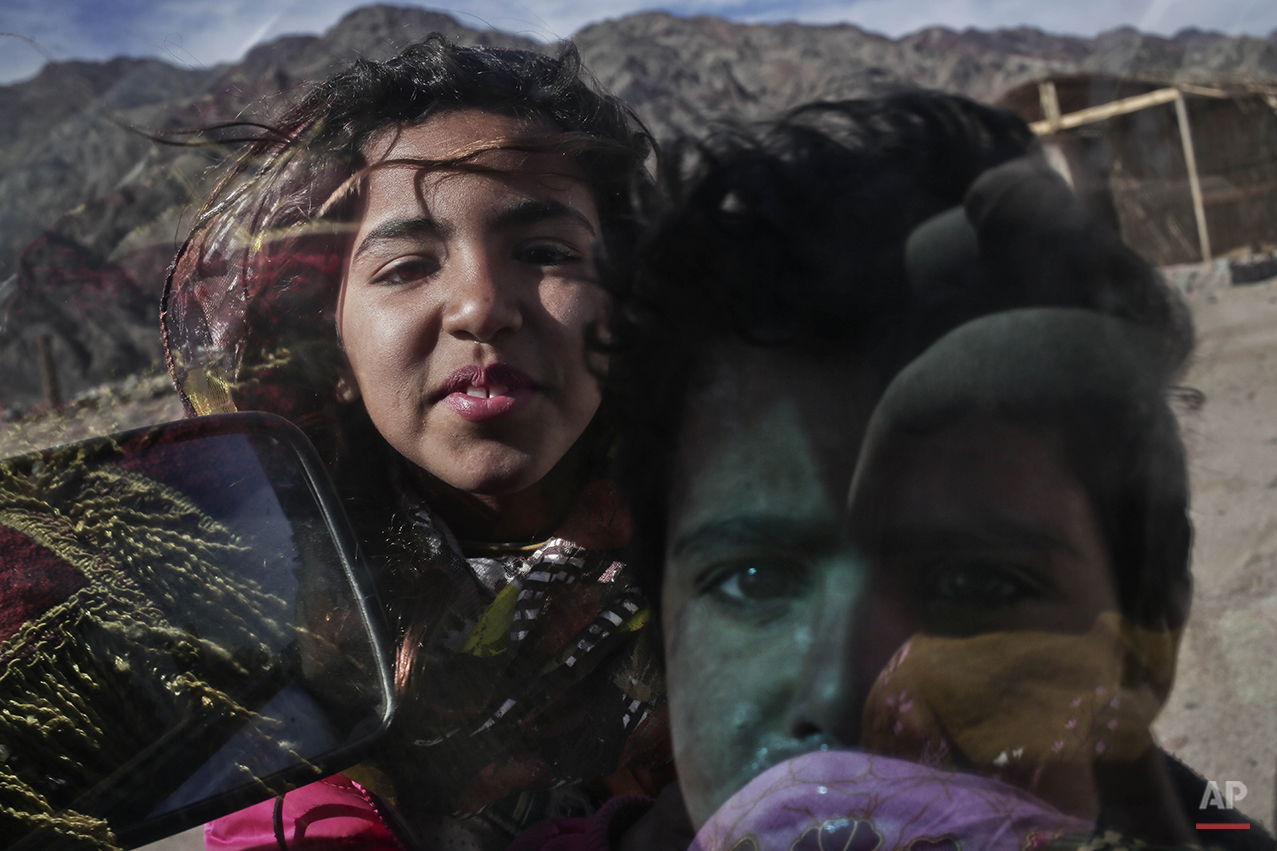 Egypt
In this Saturday, Jan. 2, 2016 photo, Bedouin children run after a pick up truck in Abu Galoum, South Sinai, Egypt. (AP Photo/Nariman El-Mofty)
Jordan
Syrian refugee girls, Ayat Mahmoud, 16, and Farah Ali, 5, plays at an informal tented settlement near the Syrian border on the outskirts of Mafraq, Jordan, Friday, Jan. 22, 2016. (AP Photo/Muhammed Muheisen)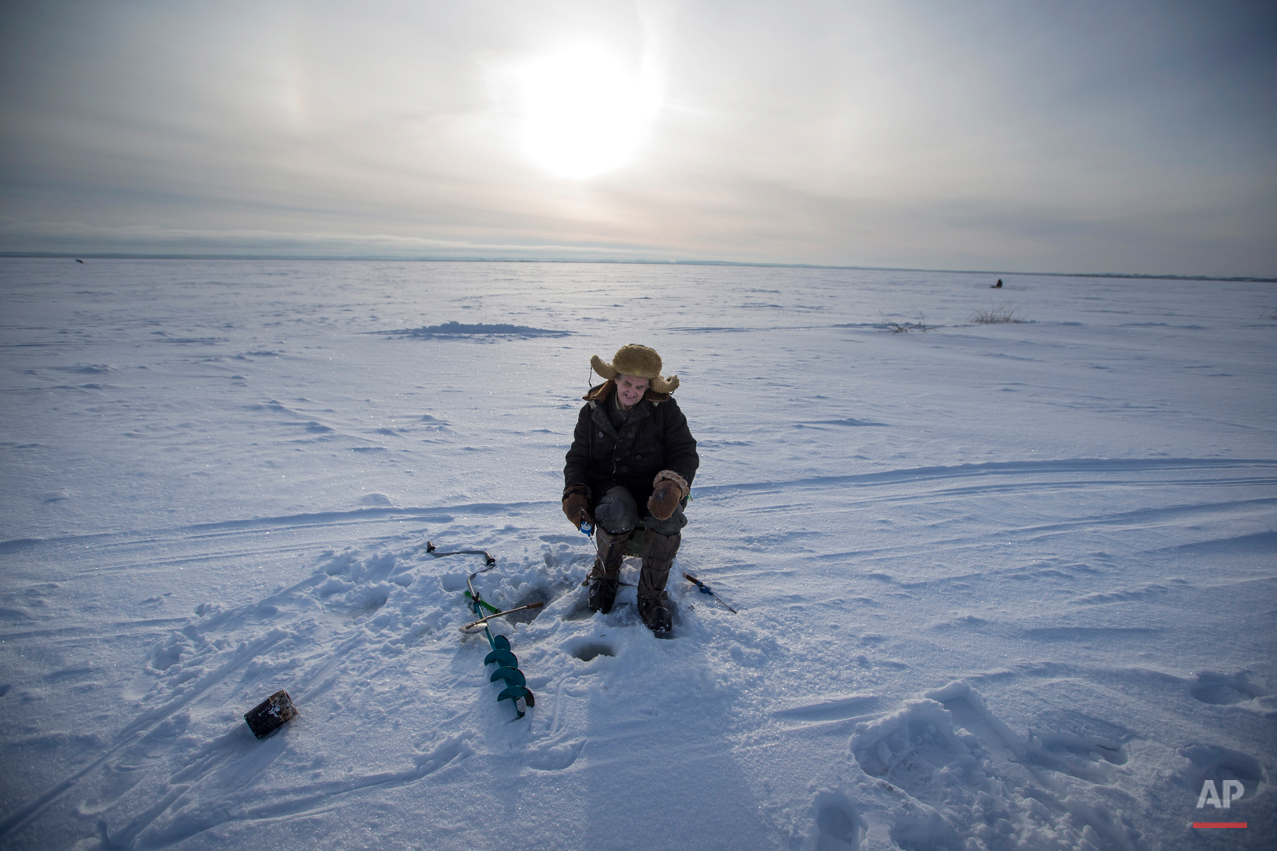 Russia
Yuri tries to catch a fish on a frozen lake Nero in Rostov, about 250 kilometers (150 miles) northeast from Moscow, Russia, Monday, Jan. 18, 2016. (AP Photo/Pavel Golovkin)
India
A baby girl sleeps on a cart beneath clothes hanged to dry as her father works at a market place in New Delhi, India, Wednesday, Jan. 13, 2016. (AP Photo /Tsering Topgyal)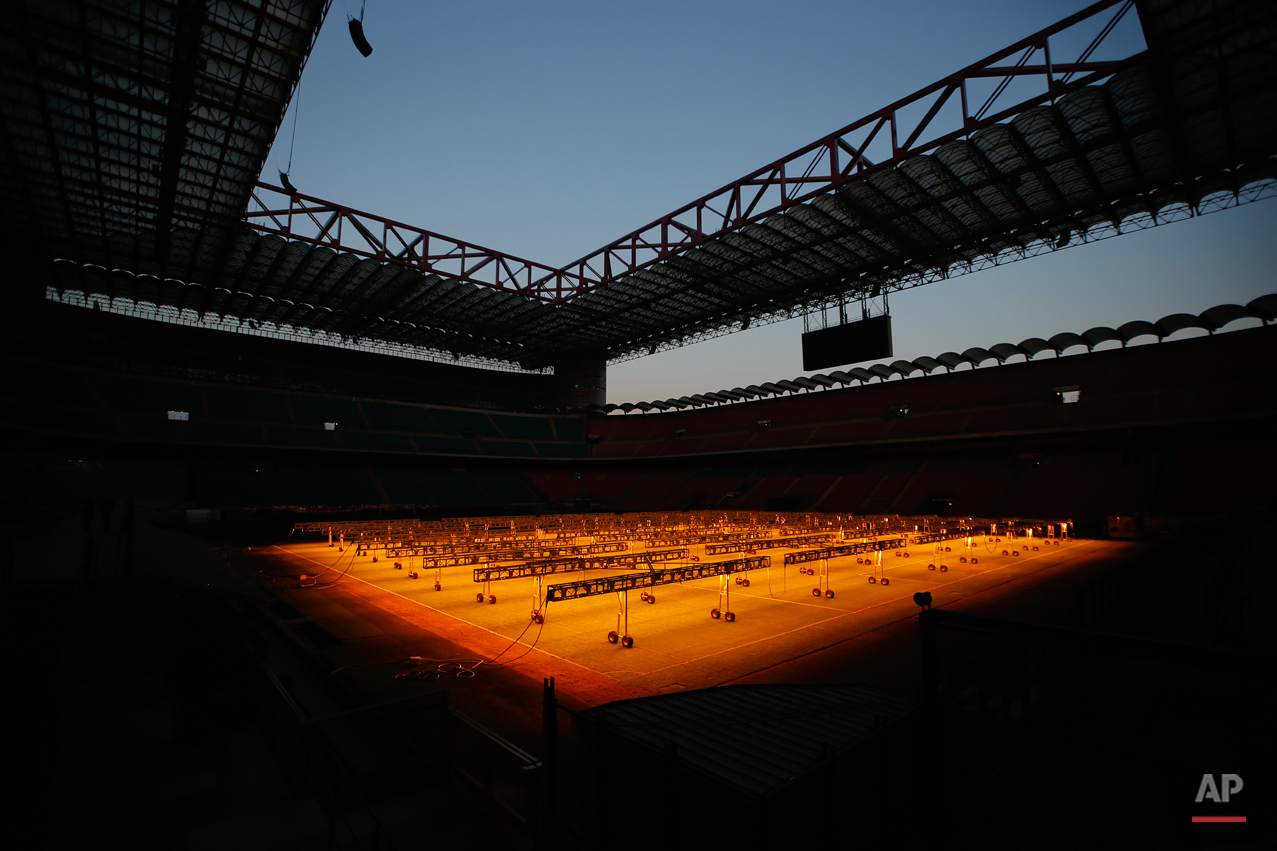 Italy
Artificial lights illuminate the field of play of the San Siro stadium in Milan, Italy, Wednesday, Jan. 20, 2016. Sixty 1,000W lamps suspended on mobile rigs some two meters above the field, allow the grass to grow during the winter. The grass of San Siro stadium had suffered badly ever since the stadium was covered on occasion of the 1990 World Cup. (AP Photo/Luca Bruno)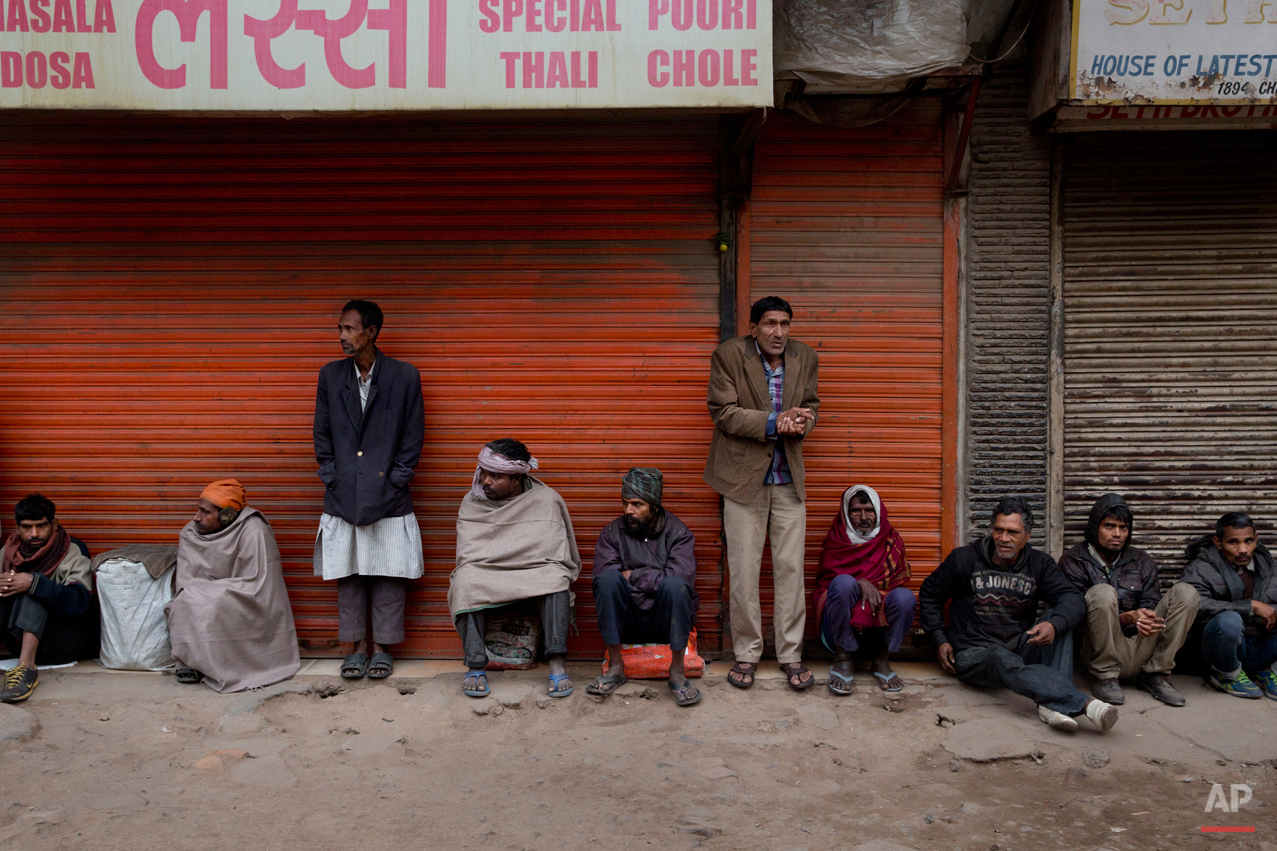 India
Poor Indian men sit outside closed shops as they wait for odd jobs as the commercial establishments in the old quarter of New Delhi, India, Thursday, Jan. 14, 2016. (AP Photo/Tsering Topgyal)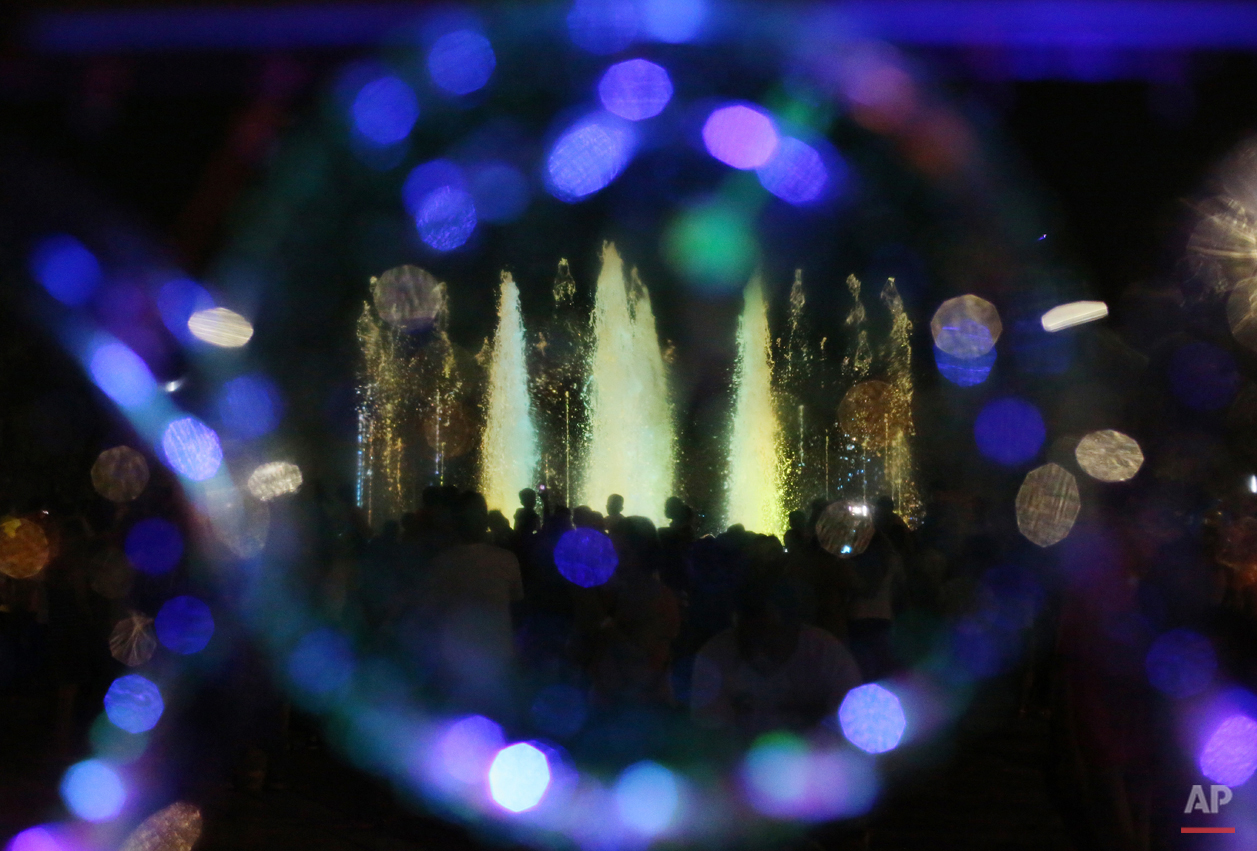 Philippines
Filipinos are seen through a transparent rubber ball while watching a fountain display as the long Christmas season holidays come to an end in this largely Roman Catholic nation on Sunday, Jan. 3, 2016, in suburban Quezon city, north of Manila, Philippines. (AP Photo/Aaron Favila)
Egypt
In this Saturday, Jan. 2, 2016 photo, a Husky puppy stands near kites for kite surfing by the shore in Abu Galoum, South Sinai, Egypt. (AP Photo/Nariman El-Mofty)
Pakistan
in this Monday, Jan. 11, 2016 photo, a Pakistani woman carries wood she has collected from jungle to be used as fuel for cooking and heating, in Islamabad, Pakistan. Pakistan,Shortage of natural gas in severe winter has forced people to cut wood from jungles and look for other sources of fuel for cooking and keeping their homes warm. (AP Photo/B.K. Bangash)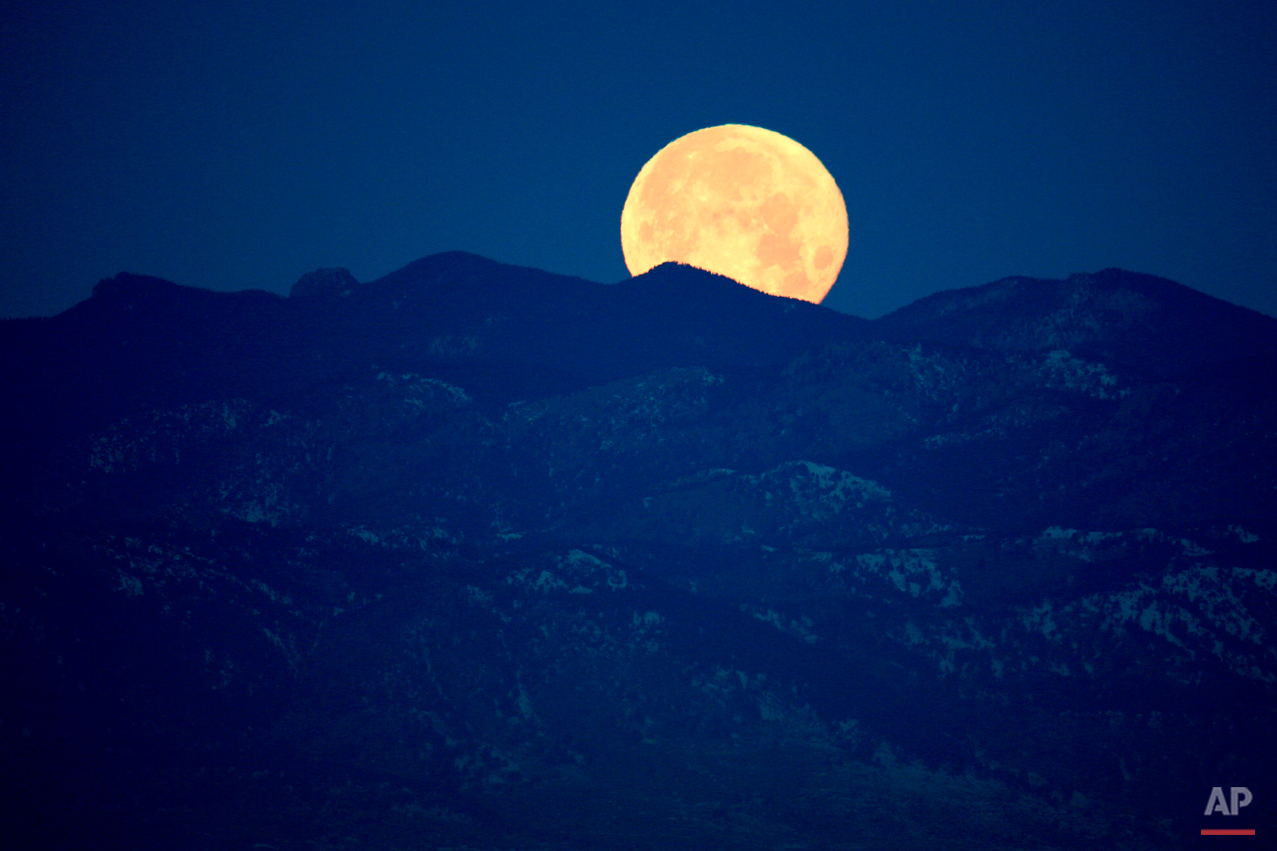 Colorado
The full moon sets beyond the Rocky Mountains beyond Denver Sunday, Jan. 24, 2016. (AP Photo/Charlie Riedel)
Iowa
Snow falls Wednesday, Jan. 6, 2016, in West Des Moines, Iowa. (AP Photo/Jae C. Hong)
Pakistan
A farmer collects cauliflower harvested from a field on the outskirts of Peshawar, Pakistan, Sunday, Jan. 24, 2016. (AP Photo/Mohammad Sajjad)
India
An exile Tibetan monk gestures as he makes a point in a dialectics debate with another monk, sitting right, at the Kirti monastery in Dharmsala, India, Monday, Jan. 18, 2016. The debate is an essential part of their training as Buddhist monks. (AP Photo/Ashwini Bhatia)
Lebanon
A Lebanese man rinses with fresh water after swimming in the Mediterranean Sea as the sun sets, at the Ramlet al Bayda public beach, Beirut, Lebanon, Saturday, Jan. 9, 2016. (AP Photo/Hassan Ammar)
Belarus
A jay picks kernels in the forest on outskirts of Novogrudok, 150 km (93 miles) west of the capital Minsk, Belarus, Sunday, Jan. 17, 2016. (AP Photo/Sergei Grits)
See these photos on APImages.com
Written content on this site is not created by the editorial department of AP, unless otherwise noted.