Daily Life, News, Sep 2015 - 2
Nat Castañeda
Ben Curtis, Bernat Armangue, Charles Dharapak, Daily Life, Hassan Ammar, India, Israel, Jacquelyn Martin, Oded Balilty, Rwanda, South Korea, Spain
Comment
Daily life around the world
AP's Daily Life series is a visual exploration of imagery from around the globe. For this month's installment, our selection includes photos from South Korea, India, Israel, Spain and Rwanda from AP award-winning photographers Charles Dharapak, Bernat Armangue, Oded Balilty, Jacquelyn Martin, Hassan Ammar, Ben Curtis and more.
---
APTOPIX Spain Daily Life
A flock of sheep graze on the land during as the sun sets, in Navaz, near to Pamplona, northern Spain, Wednesday, Sept. 16, 2015. (AP Photo/Alvaro Barrientos)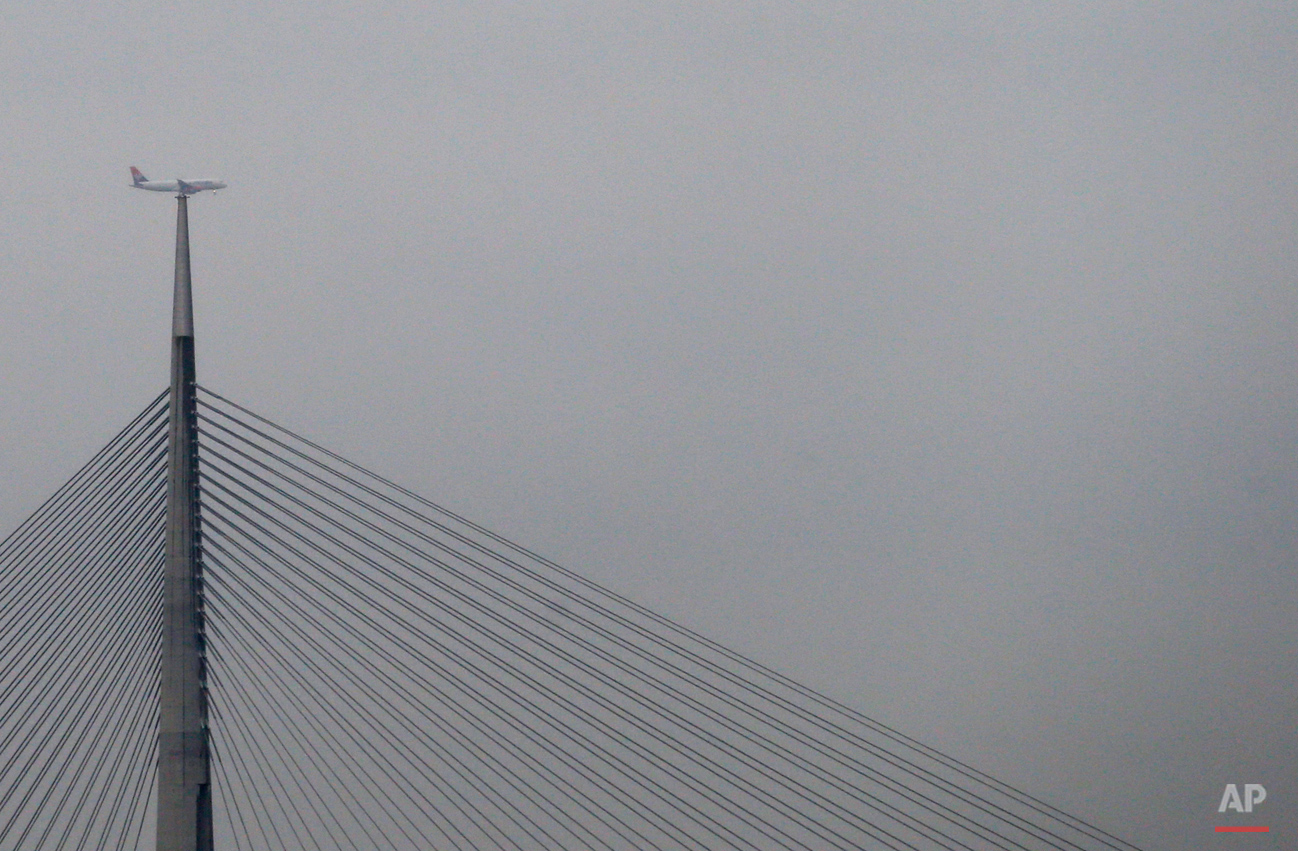 Serbia Daily Life
A passenger plane flies over the cable-stayed Ada Bridge over the Sava river during the rainy day in Belgrade, Serbia, Sunday, Sept. 27, 2015. (AP Photo/Darko Vojinovic)
North Korea Daily Life
Books on late North Korea leaders Kim Jong Il and Kim Il Sung are seen on a shelf at the airport in Pyongyang, North Korea, Wednesday, Sept. 16, 2015. (AP Photo/Charles Dharapak)
France Daily Life
Tourists take photos next to Sky Mirror, a sculpture by British-Indian artist Anish Kapoor in the gardens of the palace of Versailles, outside Paris, France, Sunday Sept. 6, 2015. (AP Photo/Christophe Ena)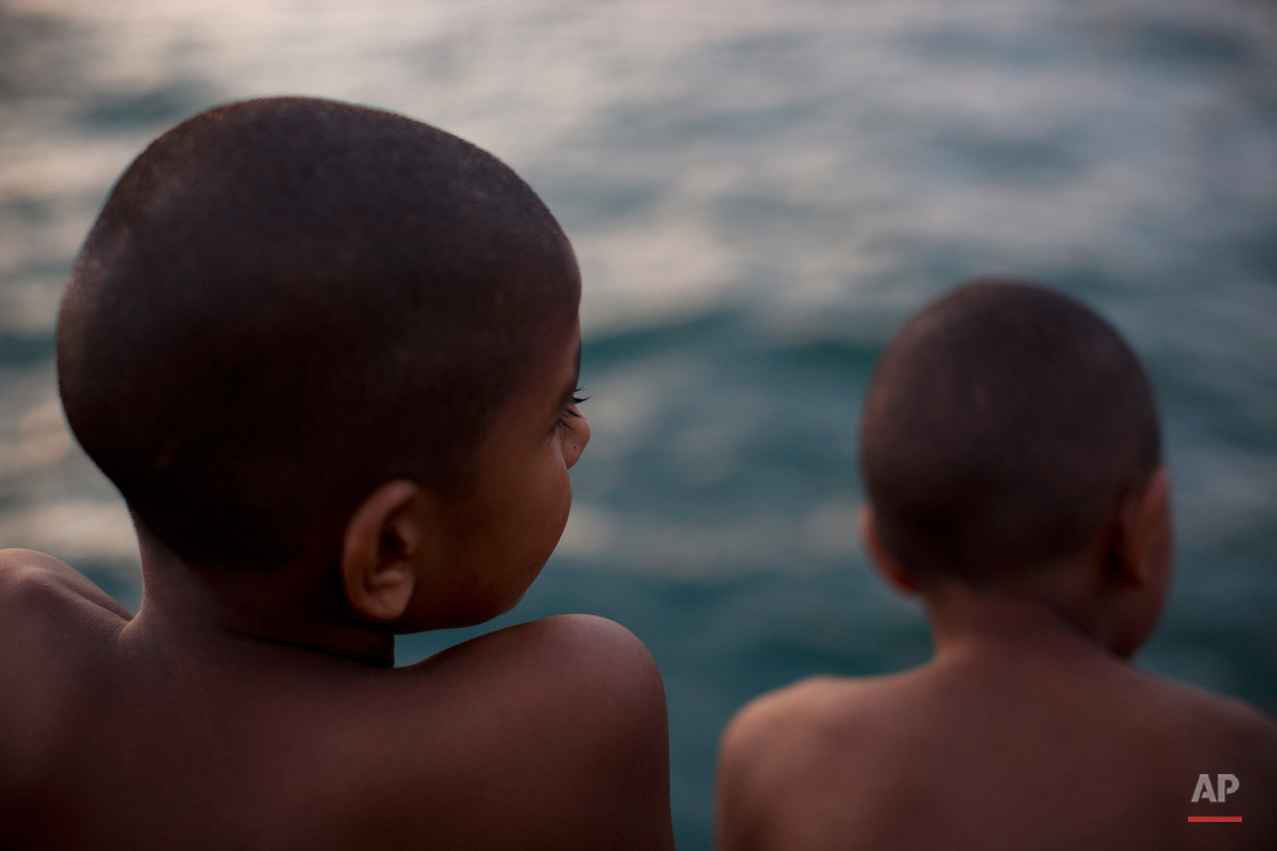 Mideast Israel Daily Life
Israeli Arab youths prepare to jump into the water at the old port of Jaffa, a mixed Jewish-Arab part of Tel Aviv, Israel, Thursday, Sept 3, 2015. (AP Photo/Oded Balilty)
APTOPIX China Daily Life
Visitors take photos as paintings by Vincent van Gogh are projected during an exhibition at a shopping mall in Beijing, Saturday, Sept. 12, 2015. The "Van Gogh Alive" exhibit includes over 3,000 images of the Dutch painter's work as part of a multimedia display. (AP Photo/Mark Schiefelbein)
Mideast Lebanon Daily Life
A kitten walks through the barbed wire on a road block installed to prevent anti-government protesters from reaching to the government house in downtown Beirut, Lebanon, Monday, Sept. 21, 2015. (AP Photo/Hassan Ammar)
APTOPIX Philippines Daily Life
Filipino sculptor Frederic Caedo concentrates as he works on an image of the Virgin Mary at his workshop in suburban Quezon city, north of Manila, Philippines on Tuesday, Sept. 29, 2015. Religious images are popular in the Philippines, Asia's largest Roman Catholic nation. (AP Photo/Aaron Favila)
APTOPIX Mideast Lebanon Daily Life
A dog named Lucky gets a ride on the back of his owner as the man swims at the beach of the southern port city of Tyre, Lebanon, Sunday, Sept. 20, 2015. (AP Photo/Hassan Ammar)
North Korea Daily Life
Two North Korean traffic police women stand together near an intersection in Pyongyang, North Korea, Wednesday, Sept. 16, 2015. (AP Photo/Charles Dharapak)
California Daily Life
A man rides a bike past unmatched women's shoes for sale lined up along the curb Thursday, Sept. 10, 2015, in the Skid Row area of Los Angeles. Skid Row, an area in downtown Los Angeles, is home to thousands of homeless people. (AP Photo/Jae C. Hong)
Mideast Egypt Daily Life
In this Saturday, Sept. 26, 2015 photo, men dance with flares during a wedding in Al Omraniayah, a suburb on the outskirts of Cairo. Since the 2011 uprising, the music of "Mahraganat," Arabic for "festivals," has emerged from and spread through impoverished communities, where local musicians play, especially during weddings, their auto-tuned beats and songs that tackle social, political and cultural issues. (AP Photo/Amr Nabil)
APTOPIX Rwanda Daily Life
A mother reaches out to hold the hand of her young daughter, as they walk home after a church service in the village of Rwinkwavu, near to Akagera National Park, in Rwanda Sunday, Sept. 6, 2015. (AP Photo/Ben Curtis)
Mideast Lebanon Daily Life
A Lebanese angler casts a fishing pole from a rocky coastal area at the Mediterranean Sea in Beirut, Lebanon, Thursday, Sept. 3, 2015. (AP Photo/Hassan Ammar)
APTOPIX California Daily Life
Jie Quan, second from right, of China, dips Juan Wang, also of China, as they pose for family members in front of the sculpture "Unconditional Surrender," Friday, Sept. 18, 2015, in San Diego. The sculpture by Seward Johnson is inspired by Alfred Eisenstaedt's iconic photo of a sailor kissing a nurse in Times Square on V-J Day. (AP Photo/Gregory Bull)
South Korea Daily Life
Couples take pictures in the middle of a cosmos field at Olympic Park in Seoul, South Korea, Friday, Sept. 11, 2015. (AP Photo/Ahn Young-joon)
APTOPIX Washington Daily Life
Jackson Eagleton, 5, covers his eyes as he puts his face in a fountain at Georgetown Waterfront Park in Washington, Sept. 2, 2015. Jackson and his younger brother were sad that the pools in the area are beginning to close for the season, "Georgetown Park was the last resort for water," says their father Jonathan Eagleton. (AP Photo/Jacquelyn Martin)
AP10ThingsToSee Florida Daily Life
AP10ThingsToSee - Pablo Dona, of Miami pauses while paddleboarding as sheets of rain fall in front of him off the shores of Bal Harbour, Fla., on Tuesday, Sept. 22, 2015. (AP Photo/Wilfredo Lee)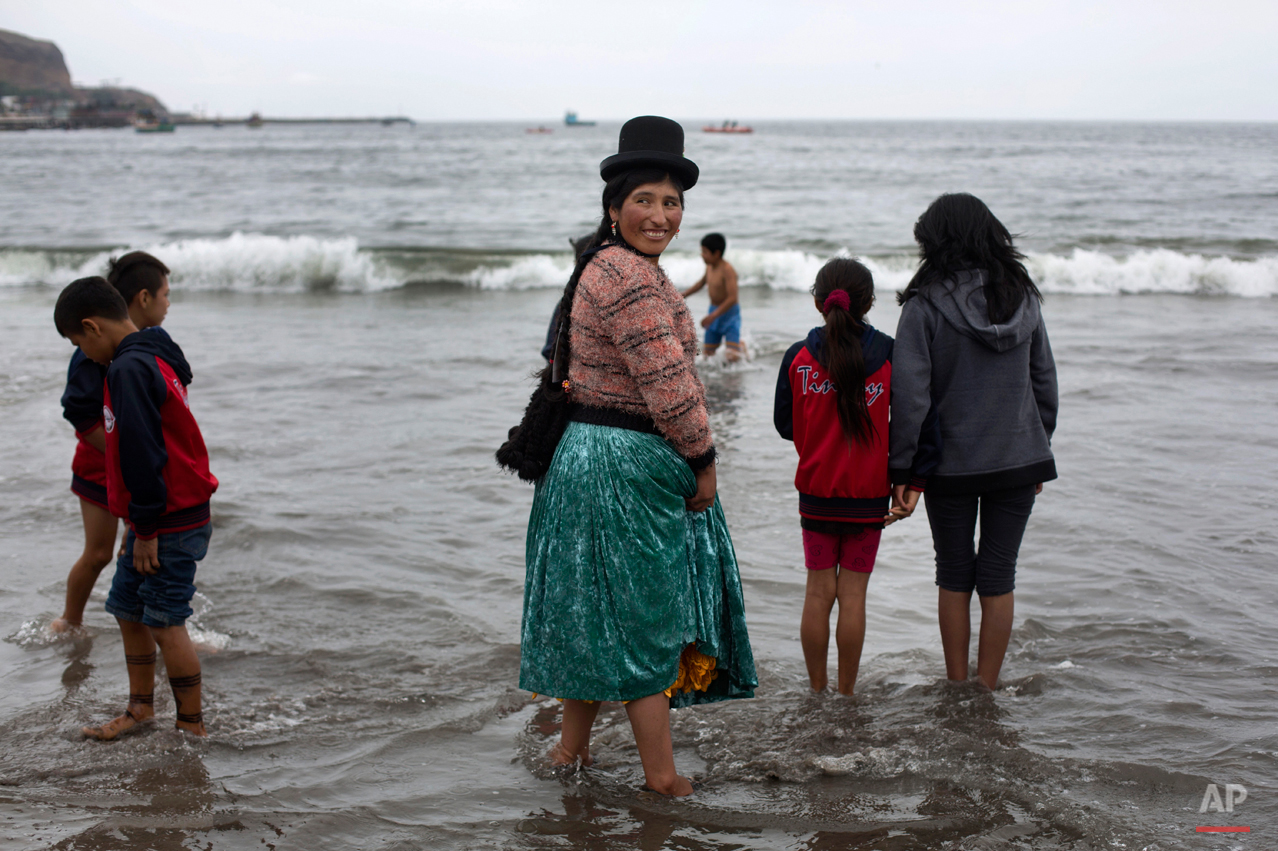 Peru Daily Life
Beatriz Chunga of the Andean city Ayacucho, smiles as she wades in the waters of Agua Dulce Beach in Lima, Peru, Sunday, Sept. 20, 2015. This is Chunga's first visit to the beach. (AP Photo/Martin Mejia)
Washington Daily Life
A bumble bee collects pollen on flowers at Georgetown Waterfront Park in Washington, Wednesday Sept. 2, 2015. (AP Photo/Jacquelyn Martin)
Spain Daily Life
Passers-by are silhouetted by the sunlight as they walk along the Malasana neighbourhood at sunset, in Madrid, Spain, Tuesday, Sept. 1, 2015. The Malasana quarter is a lively area full of restaurants, pubs and clothes shops. (AP Photo/Francisco Seco)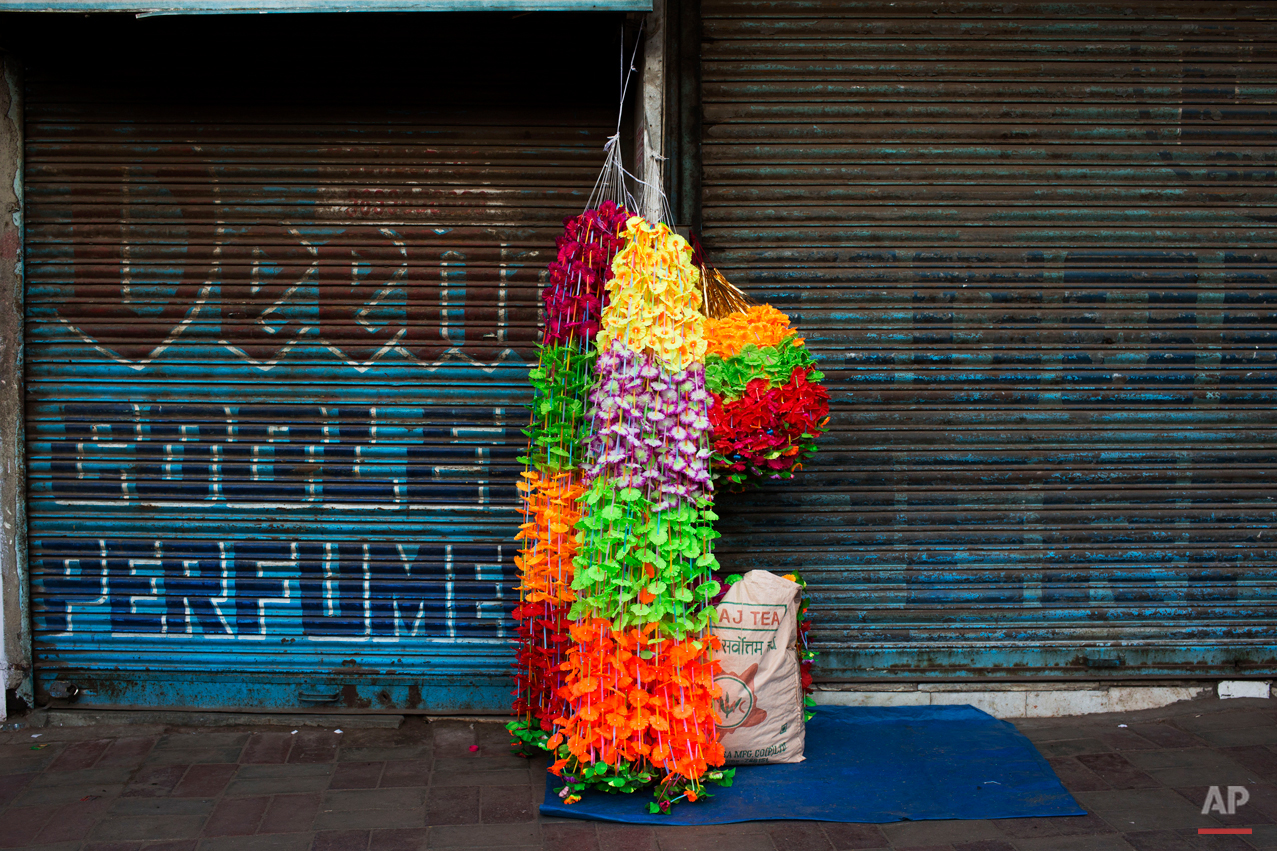 India Daily Life
Artificial floral garlands are displayed outside closed shops by a street vendor in the morning in New Delhi, India, Wednesday, Sept. 30, 2015.People buy these to decorate their homes. (AP Photo/Bernat Armangue)
---
Spotlight is the blog of AP Images, the world's largest collection of historical and contemporary photos. AP Images provides instant access to AP's iconic photos and adds new content every minute of every day from every corner of the world, making it an essential source of photos and graphics for professional image buyers and commercial customers.  Whether your needs are for editorial, commercial, or personal use, AP Images has the content and the expert sales team to fulfill your image requirements. Visit apimages.com to learn more.
Written content on this site is not created by the editorial department of AP, unless otherwise noted. 
AP Images on Twitter | AP Images on Facebook | AP Images on Google+
Nat Castañeda
Visual artist and Digital Storyteller at The Associated Press