AP Monthly Staff Photo Contest
Each month The Associated Press management honors photographers for outstanding photo coverage while on assignment.
The winners for the June 2015 AP Staff Photo Contest are David Goldman in News Photography for "Charleston Shooting," Amr Nabil in Feature Photography for "Whirling Dervish," and Ivan Fernandez, Luis Hidalgo, Silvia Izquierdo, Ricardo Mazalan and Natacha Pisarenko in Sports Photography for "Copa America."
Congratulations to all the photographers for their outstanding work. This month's winning images are featured below.
News Photography | Charleston Shooting by David Goldman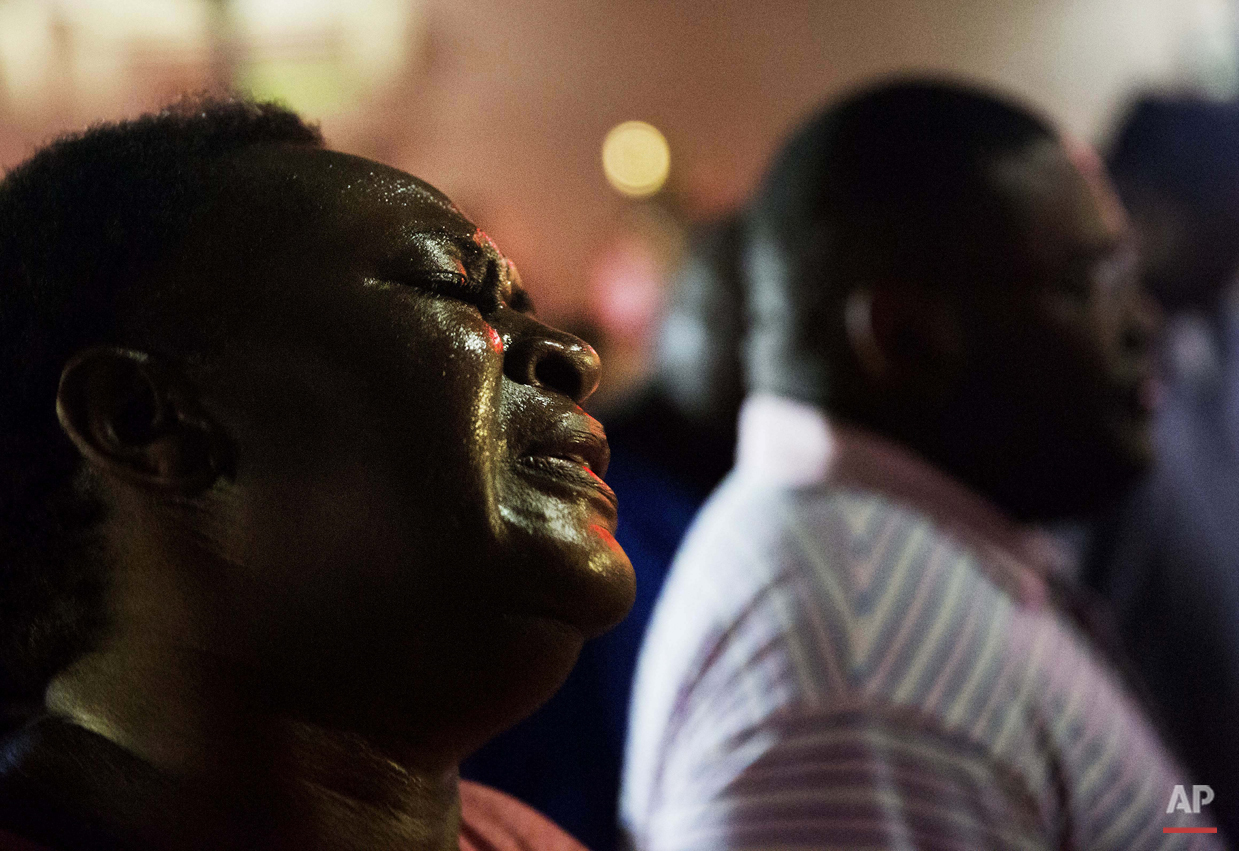 Lisa Doctor joins a prayer circle down the street from the Emanuel AME Church following a mass shooting that claimed the lives of its pastor and eight others Wednesday, June 17, 2015, in Charleston, S.C. (AP Photo/David Goldman)
Gary and Aurelia Washington, center left and right, the son and granddaughter of Ethel Lance who died in Wednesday's shooting, leave a sidewalk memorial in front of Emanuel AME Church comforted by fellow family members Thursday, June 18, 2015, in Charleston, S.C. (AP Photo/David Goldman)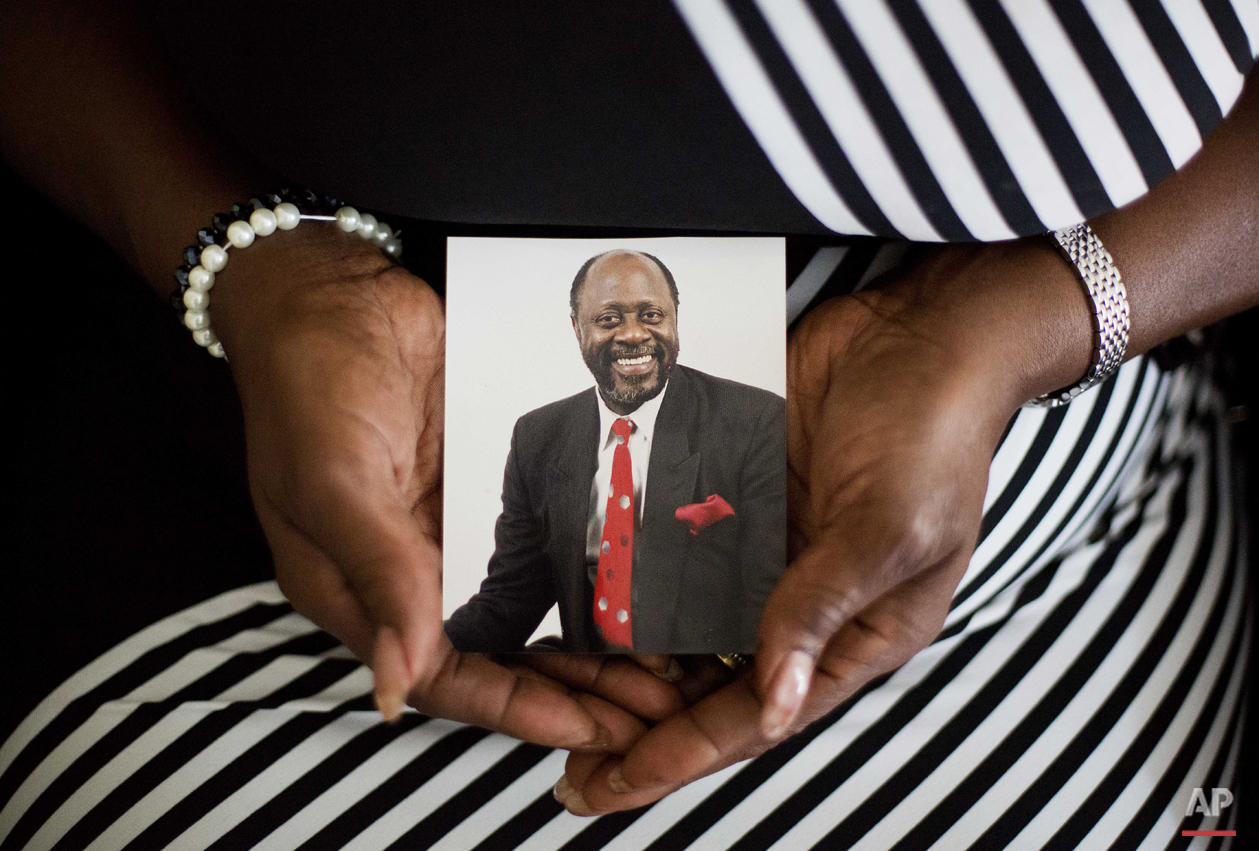 Annie Simmons, wife of 24 years of Daniel Simmons Sr., one of the nine people killed in Wednesday's shooting at Emanuel AME Church, holds a photo of her husband at her home Friday, June 19, 2015, in North Charleston, S.C. (AP Photo/David Goldman)
A rose is affixed to a fence along a sidewalk memorial in memory of the shooting victims in front of Emanuel AME Church Saturday, June 20, 2015, in Charleston, S.C. (AP Photo/David Goldman)
A woman crosses the street on her way to visit a sidewalk memorial to the Emanuel AME Church shooting victims as the sun rises next to the church's steeple Sunday, June 21, 2015, in Charleston, S.C. Congregation members say the historic black church where nine people were killed is going to re-open for Sunday morning service. (AP Photo/David Goldman)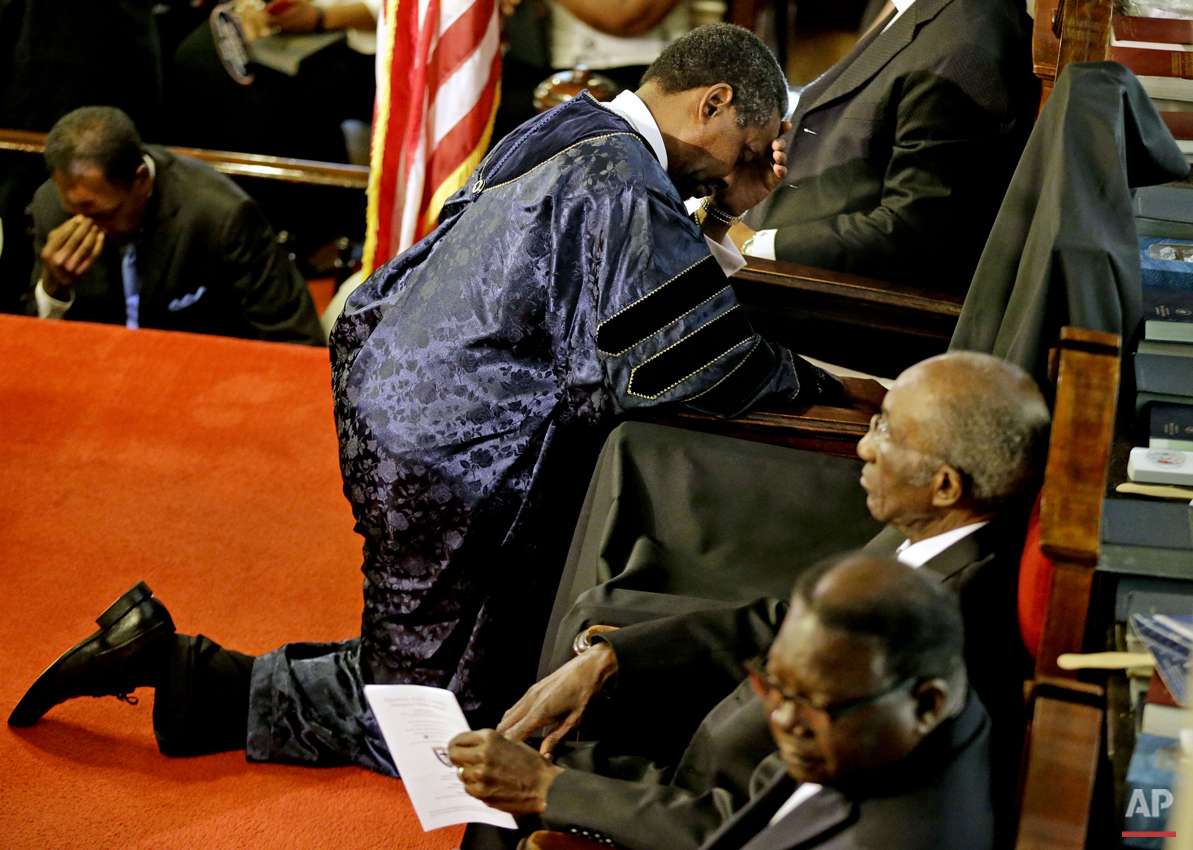 Rev. Norvel Goff prays at the empty seat of the Rev. Clementa Pinckney during the first service at the Emanuel A.M.E. Church Sunday, June 21, 2015, in Charleston, S.C., since a mass shooting claimed the lives of Pinckney and eight others four days earlier. (AP Photo/David Goldman, Pool)
Parishioners pray and weep during the first service at the Emanuel A.M.E. Church Sunday, June 21, 2015, in Charleston, S.C., since a mass shooting claimed the lives of its pastor and eight others four days earlier. (AP Photo/David Goldman, Pool)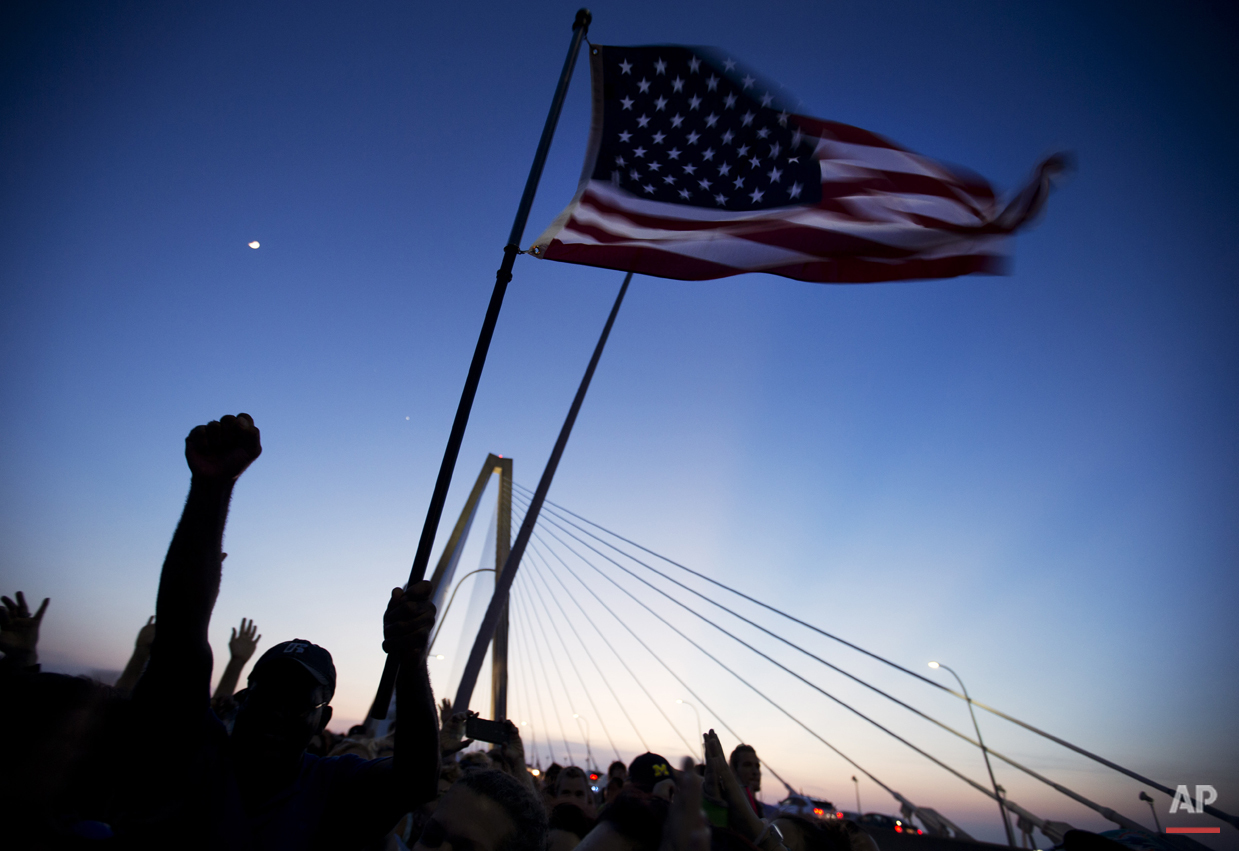 People walk with an American flag as thousands march on Charleston's main bridge in a show of unity after nine black church parishioners were gunned down during a Bible study, Sunday, June 21, 2015, in Charleston, S.C. (AP Photo/David Goldman)
Mourners gather before the funeral service for Ethel Lance, 70, the first one for the nine people killed in the shooting at Emanuel AME Church, Thursday, June 25, 2015, in North Charleston, S.C. (AP Photo/David Goldman)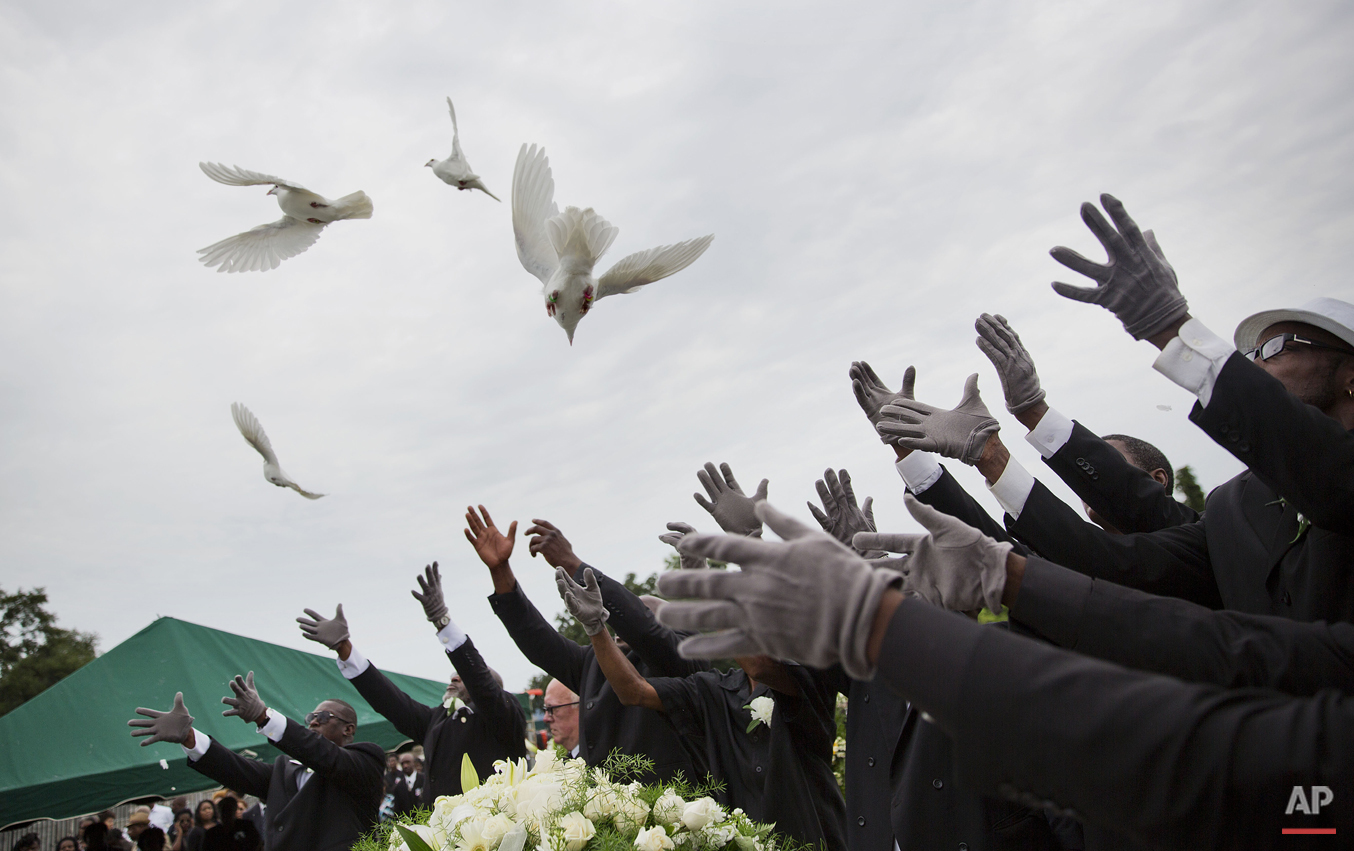 Pallbearers release doves over the casket of Ethel Lance during her burial service, the first one for the nine people killed in the shooting at Emanuel AME Church, Thursday, June 25, 2015, in Charleston, S.C. (AP Photo/David Goldman)
Brandon Risher, left, is pulled away by a friend as he cries over the casket of his grandmother, Ethel Lance, following her burial service, the first one for the nine people killed in the shooting at Emanuel AME Church, Thursday, June 25, 2015, in Charleston, S.C. (AP Photo/David Goldman)
Pallbearers carry the casket of Sen. Clementa Pinckney, one of the nine killed in a shooting rampage, from a hearse into Emanuel AME Church for his wake, Thursday, June 25, 2015, in Charleston, S.C. (AP Photo/David Goldman)
Feature Photography | Whirling Dervish by Amr Nabil
Egyptian whirling dervishes dance in traditional costumes as they perform Sufi dance known as "whirling dervish." in Cairo, Egypt, Thursday, April 23, 2015. Whirling dervishes of al-Tannura entertain visitors with their colorful and artistic spinning dance. (AP Photo/Amr Nabil)
In this Thursday, April 23, 2015 photo, whirling dervishes from the Al-Tannoura Egyptian Heritage Dance Troupe during a performance at the El Sawy cultural center in Cairo, Egypt. The spinning of the dervishes is partially meant to symbolize the way Muslim pilgrims performing the Hajj pilgrimage ritually circle the cube-shaped Kabaa in Mecca, Saudi Arabia. (AP Photo/Amr Nabil)
In this Friday, June 12, 2015 photo, whirling dervish Mahmoud Rizk, spins during a performance held by the Al-Tannoura Egyptian Heritage Dance Troupe, at the Darb 1718 cultural center, in Cairo, Egypt. (AP Photo/Amr Nabil)
In this Thursday, April 30, 2015 photo, a whirling dervish from the Al-Tannoura Egyptian Heritage Dance Troupe, interacts with the audience, during a performance at the El Dammah Theatre in Cairo, Egypt. Many Egyptians and visitors to Cairo are familiar with the Whirling Dervishes as the stylized spinning dancers who perform across the city at cultural centers, cruise ships, hotels and weddings. (AP Photo/Amr Nabil)
In this Thursday, April 30, 2015 photo, musicians play tambourines during a performance in collaboration with the Al-Tannoura Egyptian Heritage Dance Troupe at the ?El Dammah Theatre in Cairo, Egypt. (AP Photo/Amr Nabil)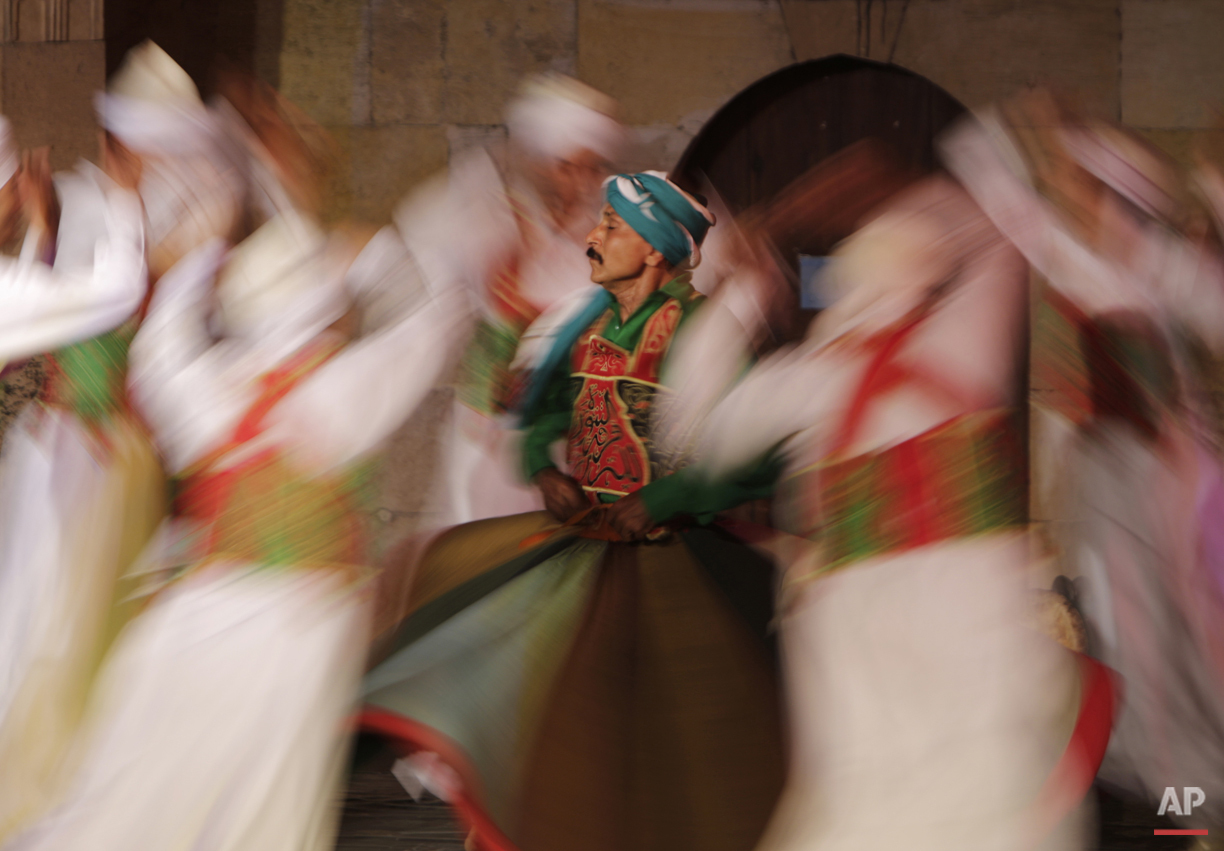 In this Saturday, May 30, 2015 photo, whirling dervishes members of the Al-Tannura Egyptian Heritage Dance Troupe Al-Tannoura Egyptian Heritage Dance Troupe spin during a performance at the 15th century Ghouri Palace, in Cairo, Egypt. Religious devotion is at the heart of almost everything. (AP Photo/Amr Nabil)
In this Thursday, April 23, 2015 photo, whirling dervish Sayed Abdel Basir, center, a member of the Al-Tannoura Egyptian Heritage Dance Troupe, prays inside a dressing room, before the group performs at the El Sawy cultural center in Cairo, Egypt. (AP Photo/Amr Nabil)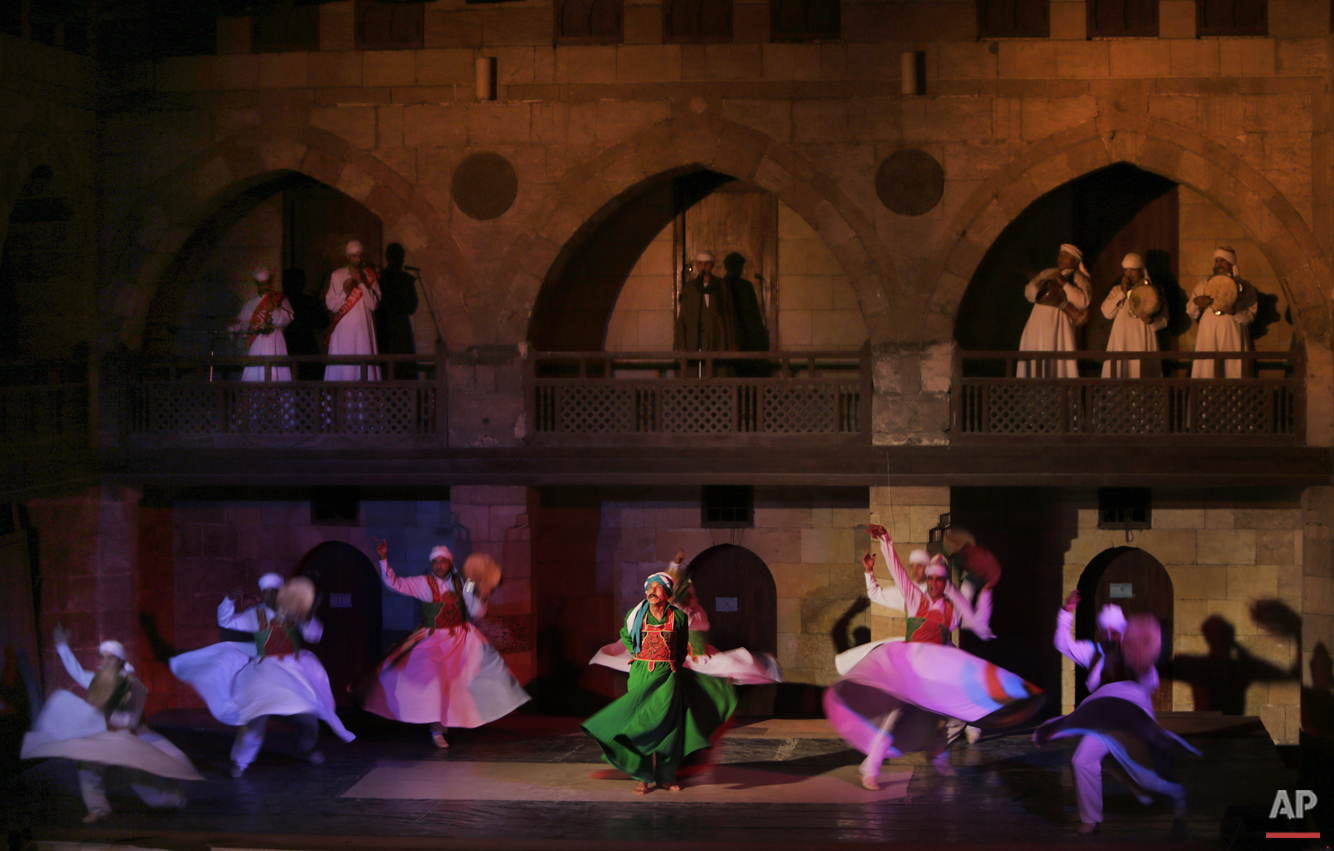 In this Saturday, May 30, 2015 photo, whirling dervishes from the Al-Tannoura Egyptian Heritage Dance Troupe spin during a performance at the 15th century El-Ghouri Palace, in Cairo, Egypt. (AP Photo/Amr Nabil)
In this Friday, June12, 2015 photo, Amr el-Toney, founder of the Mawlawiyah dervish dance troupe prepares songs ahead of a performance at the Darb 1718 cultural center in Cairo, Egypt. "We aim to keep the balance between the Sufi recitations and modern signing style, looking to leave our own heritage to the coming generations," el-Toney said. "All of the words of our recitations are about loving God." (AP Photo/Amr Nabil)
In this Thursday, April 30, 2015 photo, a whirling dervish spins during a performance in collaboration with the Al-Tannoura Egyptian Heritage Dance Troupe at the El Dammah Theatre in Cairo, Egypt. (AP Photo/Amr Nabil)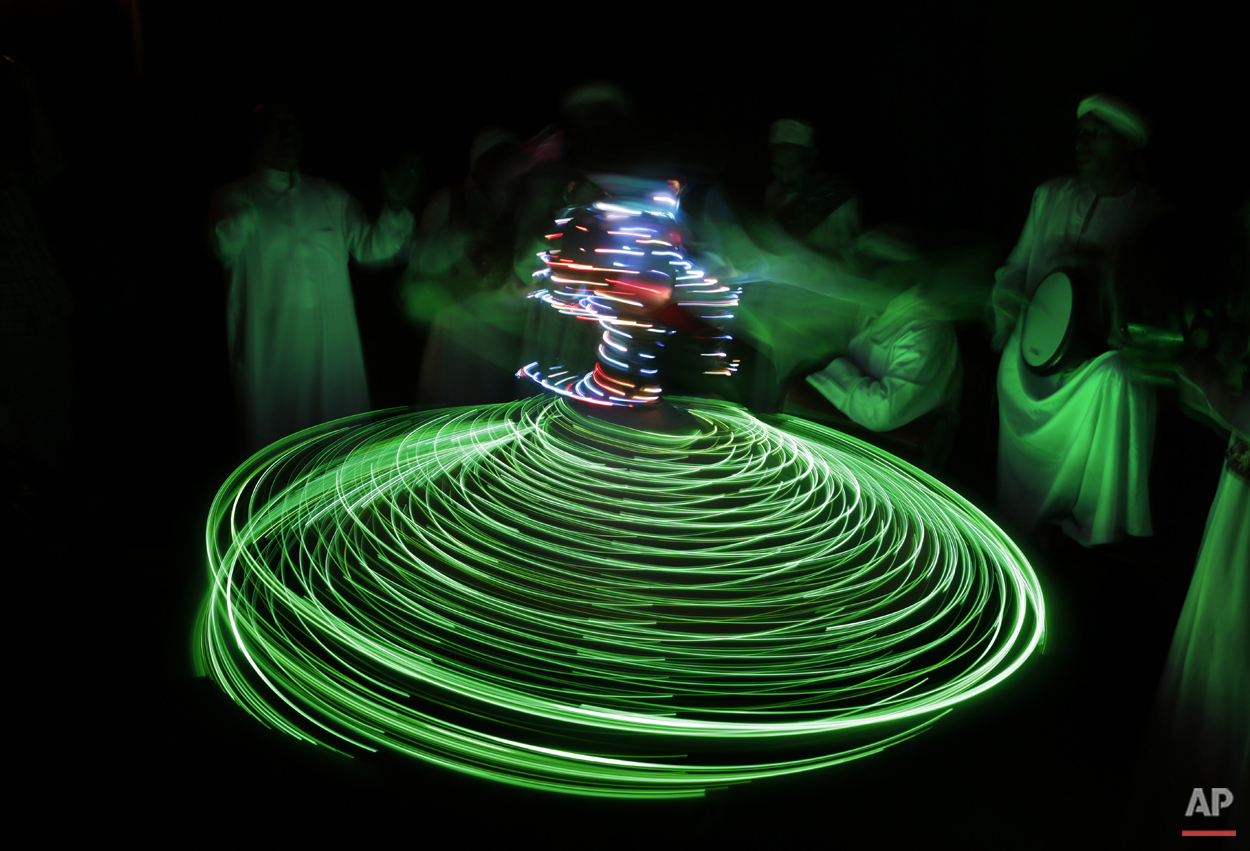 In this Thursday, April 30, 2015 photo, a whirling dervish with the Al-Tannoura Egyptian Heritage Dance Troupe spins the El Dammah Theatre in Cairo, Egypt. (AP Photo/Amr Nabil)
In this Thursday, May 28, 2015 photo, whirling dervish Ali Taha, a member of the Al-Tannoura Egyptian Heritage Dance Troupe, waits backstage before a performance, at the El Sawy culture center in Cairo, Egypt. "I'm ready to dance for free, especially with the Mawlawiyah dervishes," said Taha. "While whirling I feel like a white bird flying in the sky." (AP Photo/Amr Nabil)
Sports Photography | Copa America by Ivan Fernandez, Luis Hidalgo, Silvia Izquierdo, Ricardo Mazalan, Natacha Pisarenko and Jorge Saenz
Brazil's Neymar kicks the ball through two Peruvian players during a Copa America Group C soccer match at the Bicentenario Germ·n Becker stadium in Temuco, Chile, Sunday, June 14, 2015. (AP Photo/Jorge Saenz)
Chile's goalkeeper Claudio Bravo lifts the Copa America trophy after defeating Argentina in the final soccer match at the National Stadium in Santiago, Chile, Saturday, July 4, 2015. Chile became Copa America champions for the first time after defeating Argentina in a penalty shootout. (AP Photo/Luis Hidalgo)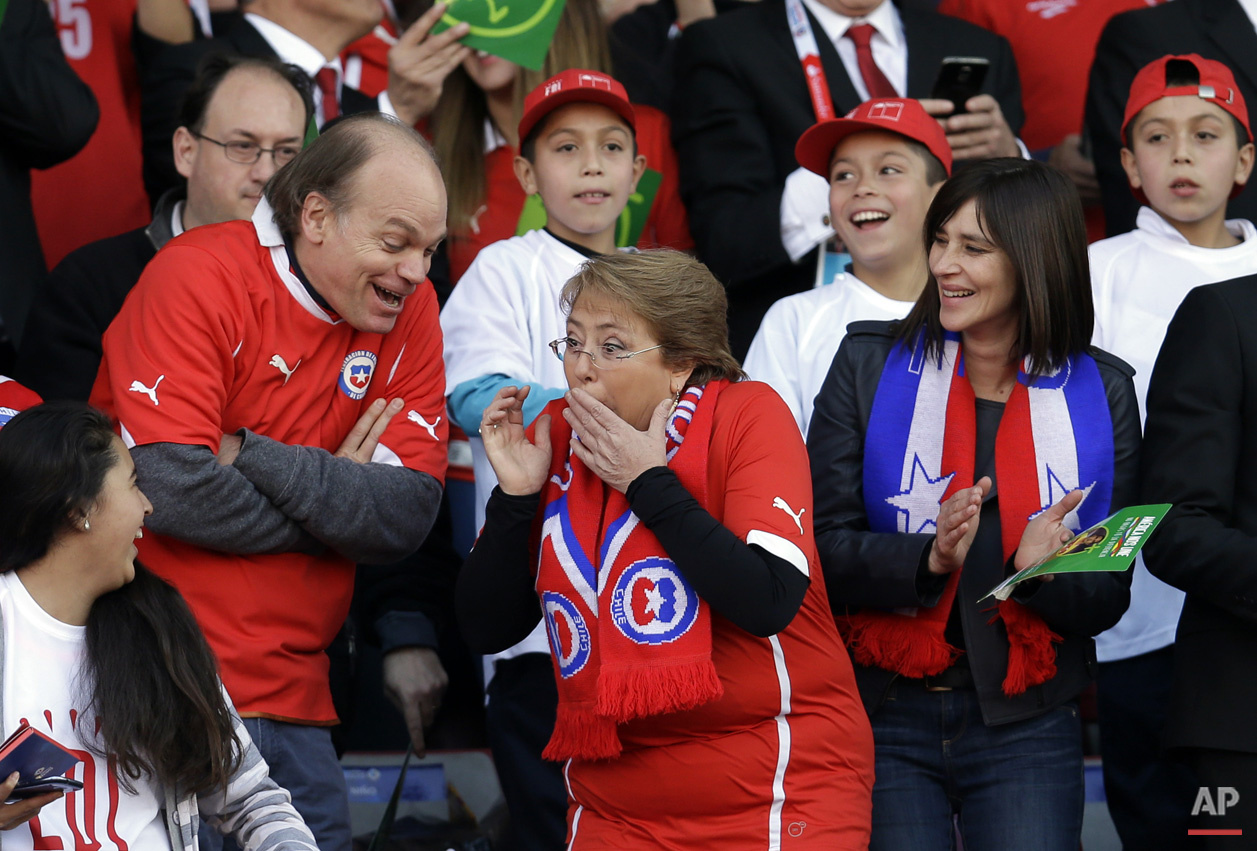 Chile's President Michelle Bachelet, center, shares a laugh before the Copa America final soccer match between Chile and Argentina at the National Stadium in Santiago, Chile, Saturday, July 4, 2015. (AP Photo/Natacha Pisarenko)
Argentina's Lionel Messi walks by the Copa America trophy after receiving the silver medal after the final game with Chile at the National Stadium in Santiago, Chile, Saturday, July 4, 2015. Chile goalkeeper Claudio Bravo made a save and striker Alexis Sanchez converted the winning penalty as host Chile defeated Argentina 4-1 in a shootout after a 0-0 draw in the Copa America final.(AP Photo/Natacha Pisarenko)
An Argentina soccer fan sits on the sidewalk after watching his team loose the final Copa America match to Chile, in downtown Buenos Aires, Argentina, Saturday, July 4, 2015. Argentina lost in a penalty shootout. (AP Photo/Ivan Fernandez)
Chile's Alexis Sanchez celebrates after scoring the winning penalty kick against Argentina during the Copa America final soccer match at the National Stadium in Santiago, Chile, Saturday, July 4, 2015. Chile became Copa America champions for the first time after it defeated Argentina in a penalty shootout. (AP Photo/Ricardo Mazalan)
Chile's Charles Aranguiz, bottom, tackles Argentina's Lionel Messi, right, during the Copa America final soccer match at the National Stadium in Santiago, Chile, Saturday, July 4, 2015. (AP Photo/Ricardo Mazalan)
Uruguay's Edinson Cavani, center left, argues with Chile's Gonzalo Jara, 2nd right, during a Copa America quarterfinal soccer match at the National Stadium in Santiago, Chile, Wednesday, June 24, 2015. Cavani was expelled from the game after receiving a double yellow card. Chile won the match 1-0 (AP Photo/Ricardo Mazalan)
Argentina's Lionel Messi kicks the ball during a Copa America semifinal soccer match against Paraguay at the Ester Roa Rebolledo Stadium in Concepcion, Chile, Tuesday, June 30, 2015. Argentina beat Paraguay 6-1 in the Copa America semifinals on Tuesday, setting up a final against host Chile.(AP Photo/Silvia Izquierdo)
Chile's Alexis Sanchez falls over Mexico's Carlos Salcedo, bottom, during a Copa America Group A soccer match at El Nacional stadium in Santiago, Chile, Monday, June 15, 2015. The match ended in a 3-3 draw. (AP Photo/Natacha Pisarenko)
Ecuador's Juan Carlos Paredes kicks the ball during a Copa America Group 1 soccer match against Chile at the National Stadium in Santiago, Chile, Thursday, June 11, 2015. (AP Photo/Ricardo Mazalan)
Brazil's Douglas Costa, second left, celebrates his goal against Peru with teammate Brazil's Dani Alves, left, as Brazil's David Luiz, second right, hugs Brazil's Neymar, right, during a Copa America Group C soccer match at the German Becker stadium in Temuco, Chile, Sunday, June 14, 2015. Brazil won the match 2-1. (AP Photo/Silvia Izquierdo)