Worldview: Haiti daily life
For today's installment of AP's Worldview: Daily Life series, we focus on Haiti. From revelers preparing for the "Carnival of Flowers" celebrations, to Voodoo pilgrims bathing in a waterfall, to children jumping rope in a camp for people displaced by the 2010 earthquake, photographers Dieu Nalio Chery and Rodrigo Abd capture everyday life in Haiti.
Haiti Carnival Photo Gallery
A reveler stands still as his face is painted in preparation for the "Carnival of Flowers" celebrations in Port-au-Prince, Haiti, Monday, July 29, 2013. Tens of thousands of revelers have poured into downtown Port-au-Prince for the Caribbean nationís second "Carnival of Flowers," a three-day celebration President Michel Martelly has revived from the Duvalier era. ( AP Photo/Dieu Nalio Chery)
APTOPIX Haiti Wrestling
In this April 19, 2014, photo, Fefene Delit, 33, is lifted by his supporters as he celebrates his wrestling victory in "Lutte sauvage" in French, or "Savage fight", an annual event held during Holy Week in Petion-Ville, Haiti, Saturday April 19, 2014. Wrestlers square off on a dusty soccer field in the Haitian capital for a cash prize of $285. The matches, held each year at the end of Holy Week, pit amateur wrestlers before a lively audience of gamblers, musicians and onlookers. ( AP Photo/Dieu Nalio Chery)
Haiti Earthquake
In this photo taken Tuesday, Feb. 2, 2010, Tulia Ulysse hugs her son Emmanuel, left, and nephew Ulise at her home in Gros Morne, about 105 miles (170 km) northeast of Port-au-Prince. Ulysse received a flow of relatives from the capital after Haiti's Jan. 12 earthquake. A half-million Haitians who fled their shattered capital are starting to flow back to a maze of rubble piles, refugee camps and food lines, complicating ambitious plans to rebuild a better Haiti. (AP Photo/Rodrigo Abd)
Haiti Cardinal
Seminarians attend the first Mass by newly-appointed Cardinal Chibly Langlois in Port-au-Prince, Haiti, Sunday, March 9, 2014. Langlois reminded Sunday's crowd at a soccer stadium that many would go hungry or wouldn't be able to survive were it not for the kindness of others. (AP Photo/Dieu Nalio Chery)
Haiti Martelly
A supporter of Haiti's President Michel Martelly lies on the ground as he says "I'm proud of Martelly" at an event marking Martelly's two years in office in Port-au-Prince, Haiti, Tuesday, May 14, 2013. Martelly defended his administration Tuesday as he marked two years in office, pointing to a national school-tuition program, social protection projects and the return of tourism as his leading achievements. (AP Photo/Dieu Nalio Chery)
Haiti Camp Evictions
A young girl jumps rope inside the Jean-Marie Vincent camp for people displaced by the 2010 earthquake in Port-au-Prince, Haiti, Monday, April 22, 2013. The number of people still living in camps has become a barometer of the success or failure of how to house Haitians, though it's unclear what happens to most people after they leave the formal camps. (AP Photo/Dieu Nalio Chery)
APTOPIX Haiti Day of the Dead
A human skull sits on a concrete block at the National cemetery during a Voodoo ritual that pays tribute to Baron Samdi and the Gede family of spirits during Day of the Dead celebrations in Port-au-Prince, Haiti, Sunday, Nov. 2, 2014. Day of the Dead traditions coincide with All Saints Day and All Souls Day on Nov. 1 and 2. (AP Photo/Dieu Nalio Chery)
Haiti Puerto Rico Migrant Smuggling
In this May 4, 2013 photo, boat maker Audit Volmar, walks inside the shell of a sail boat he's building on the beach of Leogane, Haiti. The 30-foot-long boats are purchased by smugglers for around $12,000 and then taken to northern Haiti to find passengers. In another major migration trend, Brazil also has become an increasingly common destination for Haitians since the 2010 earthquake. The South American nation initially opened its doors to Haitians seeking asylum, then later said it would issue 1,200 visas annually to allow them to work there for a five-year period. More than 4,000 Haitians have moved to Brazil, both legally and illegally, since the disaster. (AP Photo/Dieu Nalio Chery)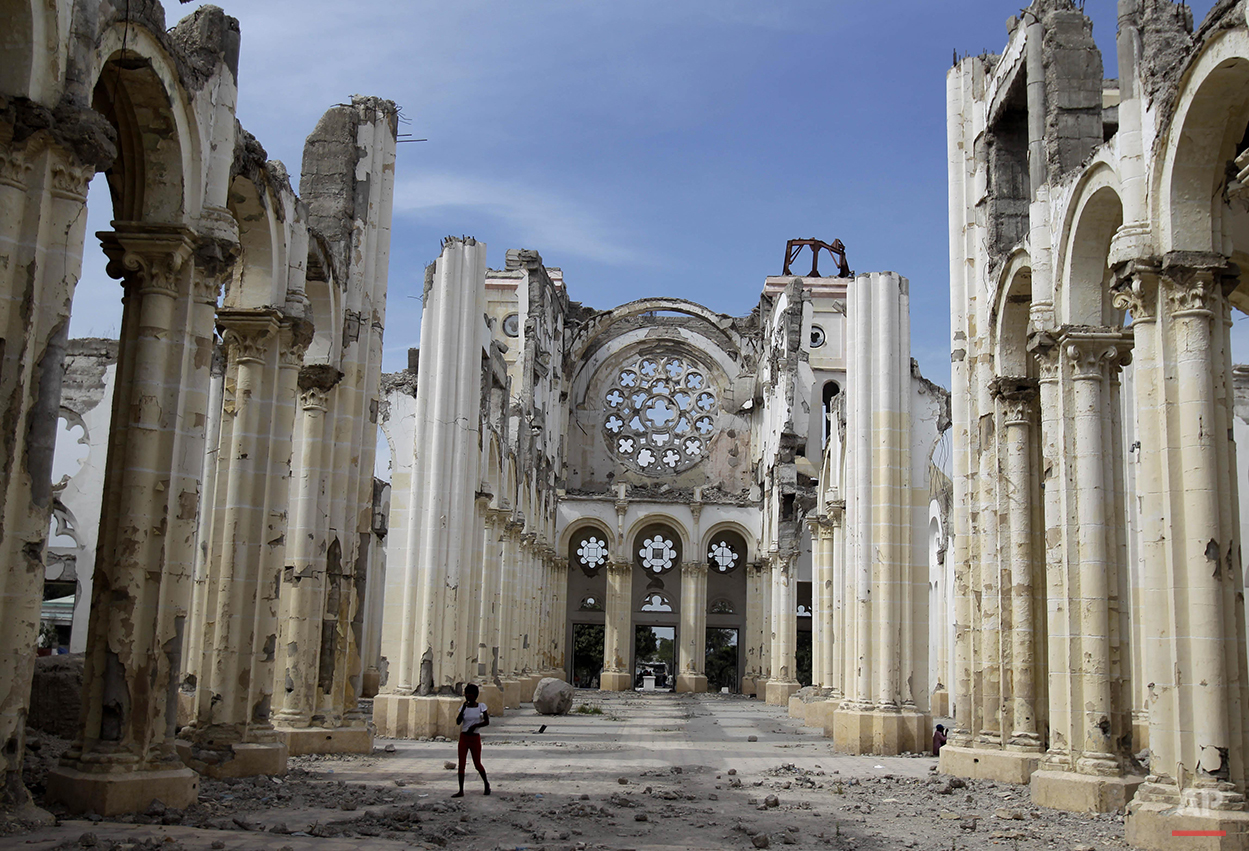 Haitian Cathedrals
FILE - In this file photo taken on Jan. 7, 2012, a youth walks inside the earthquake damaged Notre Dame De l'Assomption Cathedral in Port-au-Prince, Haiti. Almost three years after the Roman Catholic and Episcopal cathedrals in Haiti's capital toppled in an earthquake, visions for their resurrection are starting to take shape as officials from both churches begin to review proposals to rebuild them. (AP Photo/Dieu Nalio Chery, File)
Haiti Voodoo Celebration
Voodoo pilgrims bathe in a waterfall believed to have purifying powers during the annual celebration in Saut d' Eau, Haiti, Wednesday, July 16, 2014. An annual pilgrimage is made in honor of Haiti's most celebrated patron saint, Our Lady of Mount Carmel, who is believed to have appeared on a palm tree in 1847 in the Palm Grove in Saut d'Eau and integrated into Haiti's voodoo culture as the goddess of love. (AP Photo/Dieu Nalio Chery)
Haiti Recycling Centers
In this April 16, 2014 photo, a worker arranges a sack of plastic bottles at a recycling center in Cite Soleil, Port-au-Prince, Haiti. With just one landfill in Port-au-Prince, Haiti's trash problem got worse when international aid workers swooped into the country after an earthquake devastated the capital in 2010. (AP Photo/Dieu Nalio Chery)
Dominican Republic Border Killings
Flerillia Similien, 41, from Haiti, lies on the ground with her children who were born in the Dominican Republic, Anolin Similien, 11, center, and Ketleine Jeune, 13, left, at a shelter after they were deported by Dominican Republic authorities to Croix-des-Bouquets, Haiti, Monday, Nov. 25, 2013. Expulsions and voluntary departures from the DR to Haiti follow violence that engulfed the town of Neiba in the southwestern corner of the Dominican Republic. Relations between the two have soured since September when a Dominican court threatened to revoke citizenship for residents of the Dominican Republic of Haitian descent. (AP Photo/Dieu Nalio Chery)
Haiti Olde Good Things
In this Nov. 13, 2013 photo, a young boy stands in his room in the U.S.-based Church of Bible Understanding orphanage in Kenscoff, Haiti. The orphanage is run by a Christian missionary group funded by the Olde Good Things antique store on Manhattan's Upper West Side. While many other orphanages also have failed the Caribbean country's new national standards, and conditions are far worse in some, the group's three-story building on the hilly outskirts of Port-au-Prince stands out because it's run by an organization with such an unusual, and successful fundraising operation. The failure to meet the standards would seem to contradict their financial position.(AP Photo/Dieu Nalio Chery)
Haiti Displacement Camps
Servinia Dantesque, 44, burns the rest of her tent as she is evicted from the Petion Ville Golf Club, a camp for displaced people of the 2010 earthquake, in Port-au-Prince, Haiti, Wednesday Jan. 22, 2014. The camp that was erected on Haiti's only golf course in the days and weeks after the 7.0-magnitude earthquake hit the country, was cleared by police Wednesday leaving many homeless. (AP Photo/Dieu Nalio Chery)
Haiti Drought
In this Monday, March 24, 2014 photo, an aid worker fills a bottle with cooking oil during distribution of food by the U.N. World Food Program at a local school in Bombardopolis, northwestern Haiti. The agency said it has given food to 164,000 people in the region so far, as well as 6,000 seed kits for farmers. (AP Photo/Dieu Nalio Chery)
See these photos on apimages.com
Spotlight is the blog of AP Images, the world's largest collection of historical and contemporary photos. AP Images provides instant access to AP's iconic photos and adds new content every minute of every day from every corner of the world, making it an essential source of photos and graphics for professional image buyers and commercial customers. Whether your needs are for editorial, commercial, or personal use, AP Images has the content and the expert sales team to fulfill your image requirements. Visit apimages.com to learn more.
Written content on this site is not created by the editorial department of AP, unless otherwise noted.
AP Images on Twitter | AP Images on Facebook | AP Images on Google+