Rush Hour Around The World
On packed subways and crowded highways, billions of people participate in a short-distance population shift twice a day: the rhythmic ritual of the daily commute to and from work. More than 300 million people use the United States' transport systems every day, and in 2012 a whopping 76 percent of them got to work by driving alone, a U.S. Department of Transportation report out last week noted. That can make for a lot of gridlock.
Associated Press photographers the world over set out to see how workers on five continents endure their morning and evening rush-hour commutes. This collection of 20 photos shows what they found.
To read more, visit AP's Big Story.
Beijing, China
In this Sept. 22, 2014, photo, commuters rush into a train garage during a morning rush hour at a subway station in Beijing. (AP Photo/Andy Wong)
Sydney, Australia
In this Wednesday, Sept. 17, 2014, photo, the headlights and taillights of moving cars streak past stationary cars waiting for their turn at an intersection during the evening rush hour in Sydney. (AP Photo/Rick Rycroft)
Rio de Janeiro, Brazil
In this Sept. 17, 2014, photo, a man closes his eyes as he stands with other commuters in a crowded metro car during rush hour in Rio de Janeiro. On packed subways and crowded highways, billions of people worldwide participate in the daily commute to and from work. (AP Photo/Leo Correa)
New York City
In this Sept. 17, 2014 photo, commuters walk along Manhattan's 34th Street, in New York. (AP Photo/John Minchillo)
La Paz, Bolivia
In this Thursday, Sept. 18, 2014 photo, cable-cars move in the fog as people commute between the capital of La Paz with El Alto, Bolivia. The system is the worldís highest cableñcar system, and transports thousands of passengers, about 4,000 meters above sea level. (AP Photo/Juan Karita)
Soweto, South Africa
In this Sept. 18, 2014, photo, train commuters hold on to the front and side of an overcrowded passenger train in Soweto, South Africa. (AP Photo/Themba Hadebe)
Harare, Zimbabwe
In this Sept. 18, 2014, photo, people cross the road in the high density suburbs of Mbare in Harare, Zimbabwe. (AP Photo/Tsvangirayi Mukwazhi)
Pyongyang, North Korea
In this Sept. 1, 2014, photo, North Korean commuters ride on a subway in Pyongyang, North Korea. Foreign visitors are usually only allowed to take one to two stops on Pyongyang's north-south Chollima subway line. (AP Photo/Wong Maye-E)
Hong Kong
In this Sept. 10, 2014, photo, pedestrians cross the road in the Hong Kong shopping district of Mongkok during rush hour. On packed subways and crowded streets, billions of people worldwide participate in a short-distance population shift twice a day: the rhythmic ritual of the daily commute to and from work. (AP Photo/Kin Cheung)
Bangkok, Thailand
In this Sept. 15, 2014, photo, commuters get off a motorized boat during rush hour on a pier at the Saen Saeb canal in Bangkok, Thailand. (AP Photo/Sakchai Lalit)
Chicago
In this Sept. 19, 2014, photo, morning commuters ride a water taxi up the Chicago River to Michigan Avenue in Chicago. (AP Photo/M. Spencer Green)
San Francisco
In this Sept. 3, 2014, picture made with a long exposure, lights from evening rush hour traffic move over the San Francisco Oakland Bay Bridge in San Francisco. (AP Photo/Marcio Jose Sanchez)
Dubai, United Arab Emirates
In this Sept. 17, 2014, photo, passengers look at the Sheikh Zayed highway towers from the front window of a remote control metro during afternoon rush hour in Dubai, United Arab Emirates. The 5-year-old Dubai metro has grown from serving 60,000 passengers daily in 2009 to 500,000 commuters. (AP Photo/Kamran Jebreili)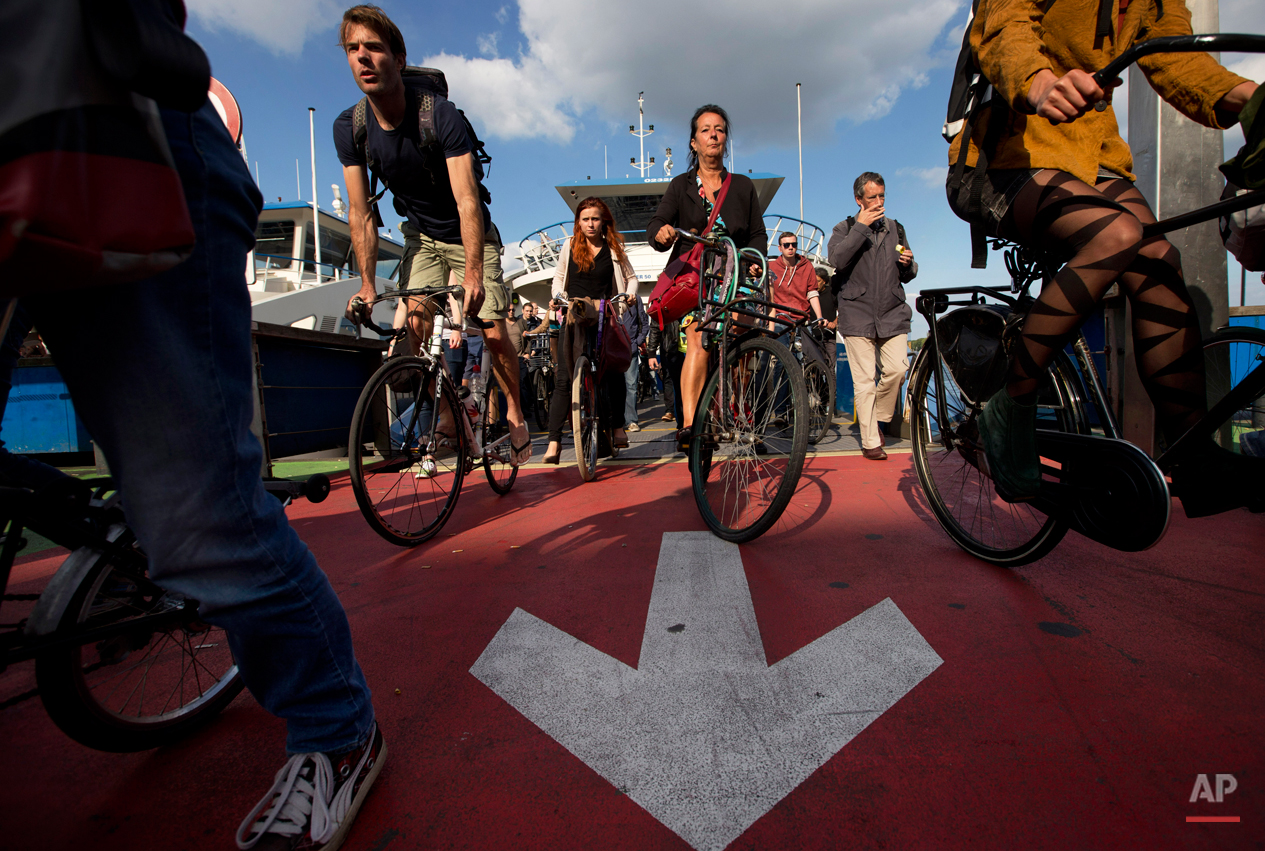 Amsterdam, Netherlands
In this Sept. 8, 2014, photo, commuters get off a free ferry connecting parts of Amsterdam. (AP Photo/Peter Dejong)
Los Angeles
In this Sept. 9, 2014, photo, a woman smells her bouquet while walking on the Wilshire Boulevard overpass as traffic moves along the 110 Freeway during evening rush hour in Los Angeles. (AP Photo/Jae C. Hong)
Hong Kong
In this Sept. 15, 2014, photo, passengers sit in a tram during a rush hour in Hong Kong. (AP Photo/Kin Cheung)
Tijuana, Mexico
In this Sept. 10, 2014 photo, Irma Ortiz applies makeup while waiting in line at the Western Hemisphere's busiest border crossing in Tijuana, Mexico. An average of 50,000 cars and 25,000 pedestrians cross daily through the San Ysidro Port of Entry - many waiting for hours on their way to jobs, schools and shopping malls in the U.S. (AP Photo/Gregory Bull)
Rome, Italy
In this Sept. 5, 2014, photo, commuters grasp the poles on a subway during the evening rush hour in Rome. On packed subways and crowded highways, billions of people participate in a short-distance worldwide population shift twice a day: the rhythmic ritual of the daily commute to and from work. (AP Photo/Alessandra Tarantino)
Taipei, Taiwan
In this Sept. 4, 2014, photo, thousands of motor scooters wait at a stoplight during the morning commute in Taipei, Taiwan. There are 15.09 million motorcycles in Taiwan, or 67.6 for every 100 people according to statistics from Taiwan's 2013 official Directorate General of Budget, Accounting and Statistics (DGBAS). (AP Photo/Wally Santana)
New Delhi, India
In this Sept. 10, 2014, photo, a boy sells coconuts during rush hour in the middle of heavy traffic near an intersection in New Delhi, India. (AP Photo/Tsering Topgyal)
Nat Castañeda
Visual artist and Digital Storyteller at The Associated Press