Worldview: Peru daily life
For today's installment of AP's Daily Life series, we feature the South American country of Peru and the work of Pulitzer Prize winning photographer Rodrigo Abd.
Rodrigo was born in Buenos Aires, Argentina, and is a staff photographer for the Associated Press currently based in Lima, Peru.
Abd, along with fellow AP photographers, Manu Brabo, Khalil Hamra, and Muhammed Muheisen, were awarded the 2013 Pulitzer Prize for Breaking News Photography for his gripping work covering the Syrian civil war.
The following photos are a selection from Rodrigo Abd's coverage of daily life in Peru.
German Palencia rests on a pile of dirt after digging ditches for a telecommunications company in Lima Peru, Friday, June 6, 2014. (AP Photo/Rodrigo Abd)
A man rides a motorcycle attached to a makeshift container that serves as a vendors' stand when stationary, in Huancavelica, Peru, Tuesday, Aug. 20, 2013. (AP Photo/Rodrigo Abd)
Vendor Alberto Ponce poses for a picture holding parts of a fish as he waits for customers at the Villa Maria del Triunfo market, one of the largest fish markets in Lima, Peru, Wednesday, Nov. 28, 2012. Ponce says he wears a red clown nose in hopes of attracting the attention of would-be customers. (AP Photo/Rodrigo Abd)
A potato vendor takes a catnap as she waits for customers at the San Pedro market in downtown Cuzco, Peru, Friday, Sept. 13, 2013. The potato is a source of Peruvian national pride, with some 3,000 varieties reportedly cultivated in the country. (AP Photo/Rodrigo Abd)
A newspaper vendor shows the cover of a newspaper with the headline in Spanish "Police kill two petty thieves inside a bus" in Lima, Peru, Monday, Nov. 5, 2012. (AP Photo/Rodrigo Abd)
A man hauls a suitcase on along a dirt road in the Santa Rosa Chuquitanta neighborhood in Lima, Peru, Thursday, July 25, 2013. (AP Photo/Rodrigo Abd)
Manuel and his five-year-old brother Diego, right, wait for people to pose with their goat, for a nominal fee, near the Battle of Ayacucho monument, in Ayacucho, Peru, Friday, March 29, 2013. The brothers put sunglasses on their goat to attract the attention of the passing tourists. The battle was the last major confrontation and marked the definitive end of Spanish colonial rule in South America. The battle took place in the Pampa de Quinoa, Ayacucho on Dec. 9, 1824. (AP Photo/Rodrigo Abd)
A fisherman takes a nap on his boat after deep sea fishing all night in El Callao, Peru, Nov. 3, 2012. Small scale fishermen in this area work 24 hour shifts, catching mostly anchovy, mackerel and silverside. (AP Photo/Rodrigo Abd)
A dog sits in front of a yield of sacks filled with wool in downtown Huancavelica, Peru, Tuesday, Aug. 20, 2013. (AP Photo/Rodrigo Abd)
A doll left momentarily by a girl who was playing with it lays on the wall the lookout point from Cerro San Cristobal, Lima, Peru, Monday, Nov. 5, 2012. (AP Photo/Rodrigo Abd)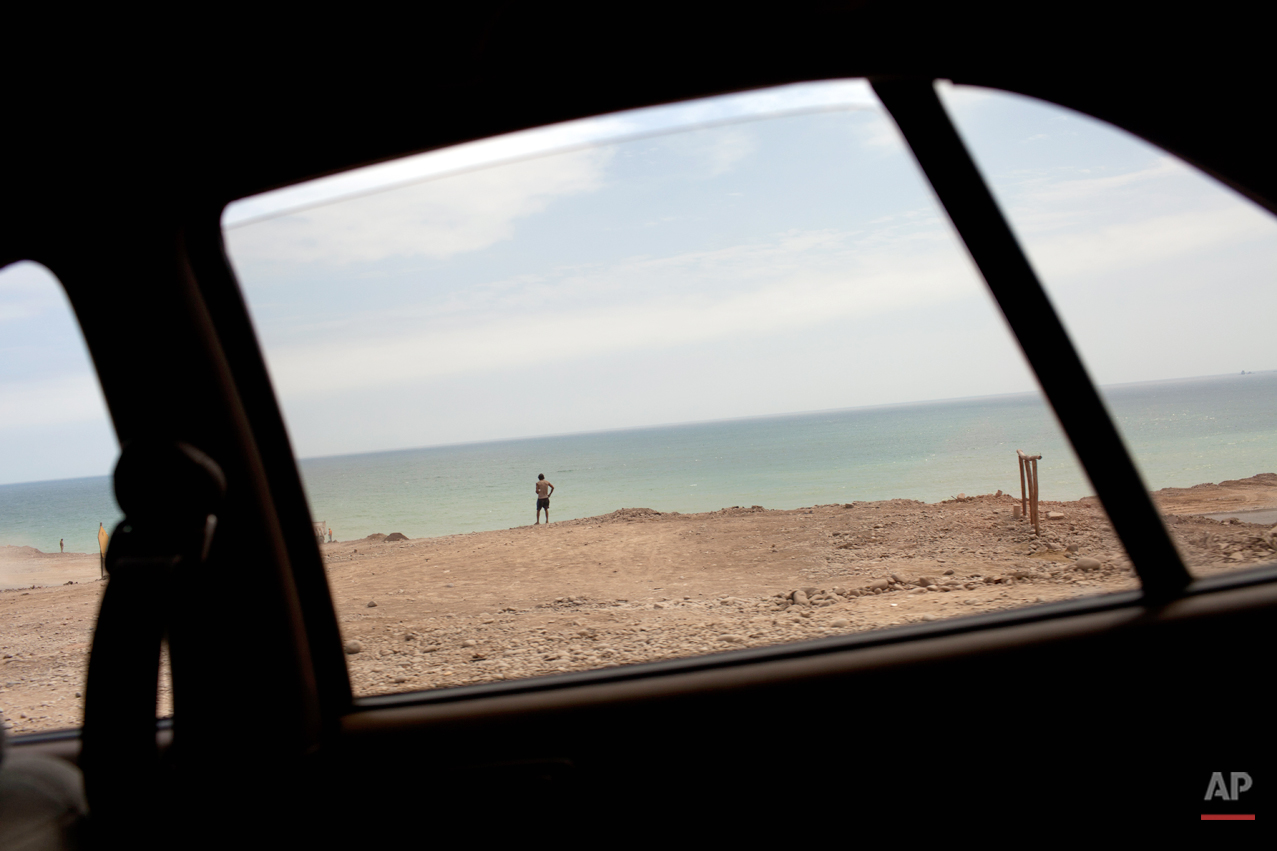 A man stands on top of a cliff overlooking at the Pacific Ocean in Lima, Peru, Thursday, Nov. 29, 2012. (AP Photo/Rodrigo Abd)
People walk through a mud street in Villa Maria del Triunfo district, Lima, Peru, Wednesday, July 24, 2013. (AP Photo/Rodrigo Abd)
People walk past Martin Flores, top, from Colombia, as he performs as a living statue in Lima, Peru, Tuesday, Jan. 22, 2013. (AP Photo/Rodrigo Abd)
Maria Esperanza Vargas Lopez, 28, embraces her daughter Saomi, 5, as they gather in their house with her mother Felicita Lopez in the Vista Alegre neighborhood in Lima, Peru, Thursday, July 25, 2013. (AP Photo/Rodrigo Abd)
Eduardo, a street vendor who sells snacks to beach goers, strikes a pose on the shore of La Herradura beach in Lima, Peru, Saturday, March 15, 2014. Some street vendors in Lima will dress to achieve a voluptuous body type using balloons and banter with potential customers to attract attention, in hopes of increasing their sales. (AP Photo/Rodrigo Abd)
People climb the stairs in a public bus station in Lima, Peru, Thursday, Jan. 24, 2013. (AP Photo/Rodrigo Abd)
A cross paying reverence to the "The Lord of Miracles," one Peru's most popular religious image, is seen at the entrance of the shanty town Tupac Amaru in Lima, Peru, Tuesday, Aug. 19, 2014. (AP Photo/Rodrigo Abd)
Harbor workers push a boat on to a trailer at the Ancon Harbor on the outskirts of Lima, Peru, Thursday, Aug. 21, 2014. Ancon is an old town that was known as the "Fishermen's Town of Lancon" during the Spanish Colonial period, and continues to be an active cove for local fishermen after the town became popular with beach goers. (AP Photo/Rodrigo Abd)
Children play on the shore of the Pacific Ocean in Lima, Peru, Sunday, Jan. 13, 2013. (AP Photo/Rodrigo Abd)
Nat Castañeda
Visual artist and Digital Storyteller at The Associated Press