Aug 2014, News
Nat Castañeda
alpaca, Animal, Animal Friendship, AP Images, AP Photo Gallery, aptopix, Cat, chick, Daily Life, Deer, dog, Elephant, Hippo, India, Lassie, Monkey, mouse, Pig, pigeon, piglet, turtle, Unusual Animal Friendships
Comment
Unusual animal friends
The animal kingdom is full of surprises, and from time to time, strong bonds form between species. With this in mind, we looked through our photo archive and found a wide variety of unlikely animal friendships throughout the years.
Animals Unusual Combos
Mother love, Bassett hound style, takes on all comers. These two ducklings, leftover from Easters, at the home of Susan Norris, daughter of Mr. and Mrs. James D. Norris, are constant companions of her sleepy-eyed, long-eared hours named Henrietta in Miami, Florida, April 13, 1961. The ears are especially handy during cool weather. (AP Photo)
Animals Unusual Combos
A cat and dog and hamster life is one of harmony, in the case of this trio in Sun Valley, California, May 1, 1961. The three belong to Frank Inn, who trains them for movies and television. They live together and like it. (AP Photo/Harold Filan)
Animals Unusual Combos
Bunnifer who was just a ball of fur when found last fall has grown into a somewhat confused rabbit. But no more so than Tippie, the year-old German shepherd-type dog, who has the mixed up idea that Bunnifer is her pup in Louisville, Kentucky, Dec. 14, 1961. To further confuse the menage of Mr. and Mrs. Harry Beam the rabbit prefers sardines, cooked broccoli and an occasional sip of beer to his normal raw vegetable diet. Since no one has explained to the dog and rabbit their attitude is not normal they go on enjoying each others company. (AP Photo)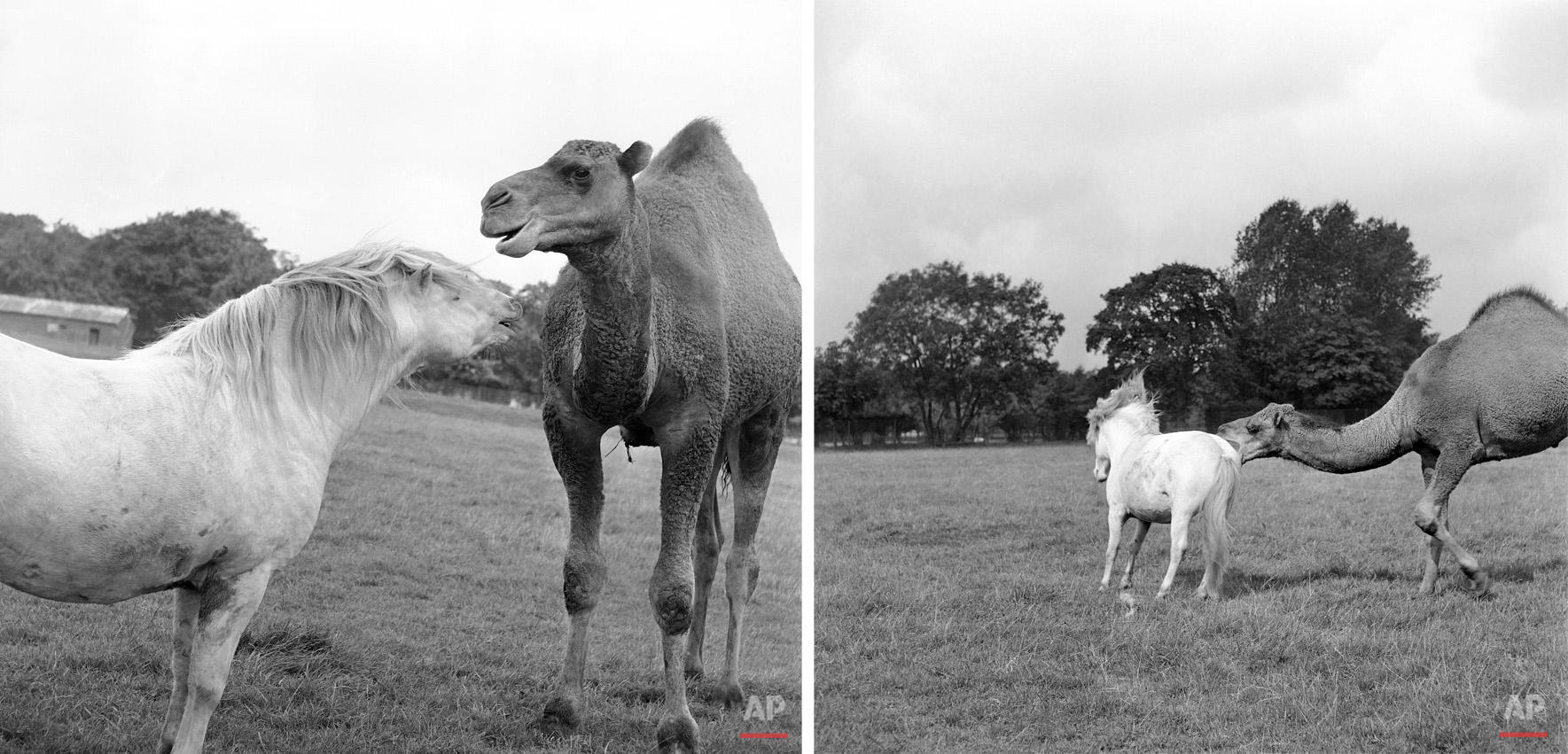 Animals Unusual Combos
Stretching out for a gossip with Cissie, a cream pony, is Cecilia the Camel, a lady with the things on her mind. Both girls are residents of Whipsand in Bedfordshire, England, Sept. 6, 1963. (AP Photo)
Animals Unusual Combos
Susie, a chimpanzee, runs around the lawns of Castle Combe with ìPolanesiaî the parrot. Both appear in the film ìDoctor Dolittleî currently in production in this little village in Wiltshire Valley, England, July 21, 1966. (AP Photo)
Animals Unusual Combos
Two Sumatran tiger cub sleep with two baby orangutans in a nursery room at the Taman Safari zoo Wednesday Feb. 28, 2007, in Bogor, Indonesia. The tiger and orangutan babies, which would never be together in the wild, have become inseparable playmates after they were abandoned by their mothers.(AP Photo/Achmad Ibrahim)
Animals Unusual Combos
Nan, a two-year old female monkey, takes good care of one and a half month old cat as her own baby at a private zoo in the outskirt of Bangkok Tuesday, September 7, 1998. The two animals were set to stay together two weeks ago after both of them were abandoned by their mothers. (AP Photo/Apichart Weerawong)
Animals Unusual Combos
A baby hippo named Owen walks along with its 'mother', a giant male Aldabran tortoise, at the Mombasa Haller Park, Wednesday, Dec. 28, 2005 in Mombasa, Kenya .The odd couple have stayed together now for one year after they got together after Kenya Wildlife Service rangers rescued the baby hippo in the sea off Malindi after the Asian tsumani reached the Kenyan shore and separated the calf from its mother. (AP Photo)
Animals Unusual Combos
In this three picture combo, played out on the front walk of an Amish family in Middlefield, Ohio, Wednesday, Sept. 17, 2008, a black cat approaches a resting dog, and then makes herself quite comfortable with her new-found friend. Family members, who preferred not to share their names, said that the dog belonged to a neighbor, and the feline was one of their many barn cats. (AP Photo/Amy Sancetta)
Animals Unusual Combos
Cattle dog Clarence plays with an alpaca named Cindy on a meadow of the "Alpaca Land" in Goeming, Austrian province of Salzburg, Friday, Sept. 10, 2010. Both animals have lived together on the farm since they were 3-months old. A total of 87 alpacas live on the farm and it is the biggest flock in Austria. (AP Photo/Kerstin Joensson)
Animals Unusual Combos
French bulldog named Baby, left, attends the feeding of wild boar piglets at the Lehnitz animal sanctuary outside Berlin, Germany, Wednesday, Feb. 15, 2012. Six little pigs have found a new friend in a maternal French bulldog named Baby. The Lehnitz animal sanctuary outside Berlin says Baby took straight to the wild boar piglets when they were brought in Saturday, three days old and shivering from cold. Sanctuary worker Norbert Damm said Wednesday as soon as the furry striped piglets were brought in, Baby ran over and started snuggling them and keeping them warm, even though they're already about her size. He says the piglets' mother was likely killed by a hunter and the litter was found abandoned in a forest. The piglets are being bottlefed right now and should be released to an animal sanctuary when they can feed themselves in about three months. (AP Photo/Michael Sohn)
Animals Unusual Combos
An elephant and a dog peer apprehensively from a freight car before debarking at the Harlem River freight yards in New York City, April 1, 1963. The animals were on the Ringling Brothers and Barnum and Bailey Circus train arriving in New York for the opening of the Circus at Madison Square Garden on April 3. (AP Photo/Goldberg)
Animals Unusual Combos
Lassie befriends a pigeon near the tar pits of Los Angeles, June 3, 1966, where she is visiting on the rebroadcast episode of ìLassieî. (AP Photo)
Animals Unusual Combos
There's a disparity in size between Micky, the mouse, and its feline companions, Tigger, a tom cat, and Tiki, a kitten, as they sample milk at the Oswald home Weston-under-Lizard, Shropsh England on Oct. 12, 1969. (AP Photo)
Animals Unusual Combos
In this Wednesday, May 23, 2012 photograph, a young deer and a large cat touch noses in a French village near Jodhpur, Rajasthan state, India. (AP Photo) INDIA OUT
Animals Unusual Combos
A cat and a dog share a backpack during a protest against stray dog euthanasia outside the government headquarters in Bucharest, Romania, Saturday, March 8, 2014. Activists called for a revision of a bill allowing the euthanasia of stray dogs, drafted by the government after a 4-year-old boy was fatally mauled in Bucharest while left unattended for an extended period of time in a park by his grandmother. (AP Photo/Andreea Alexandru/Mediafax) ROMANIA OUT
Animals Unusual Combos
Juno, 7-year-old Great Dane owned by head keeper Carley at Twycross Zoo, Leicestershire England, Oct. 4, 1968, has been recruited to be ìbaby sitter to a leopard cub born at the zoo. The cubís mother had twins and took to one and not the other so head keeper Carley hand reared the baby and now at eight weeks the cub is flourishing and plays around Juno most of the waking hours. Juno makes out to bite of the cubs head in play and the as yet unnamed cub jumps over her back. The pair are great friends but soon the leopard cubí claws will come out and the kissing will stop, the cubs and Juno will have to go their separate ways. (AP Photo)
---
Lead Image Caption: A pet dog and a goat peer out of a doorway as clothes are seen laid out on a line to dry after being washed, at a poor neighborhood in New Delhi, India, Thursday, Jan. 30, 2014. (AP Photo/Saurabh Das)
AP Images is the world's largest collection of historical and contemporary photos. AP Images provides instant access to AP's iconic photos and adds new content every minute of every day from every corner of the world, making it an essential source of photos and graphics for professional image buyers and commercial customers. Whether your needs are for editorial, commercial, or personal use, AP Images has the content and the expert sales team to fulfill your image requirements. Visit apimages.com to learn more.
AP Images on Twitter | AP Images on Facebook | AP Images on Google+
Nat Castañeda
Visual artist and Digital Storyteller at The Associated Press